This delicious mini meatless vegetarian tourtiére is a favourite at holiday time. But, it would be unfair not to make it all year long! I love to make them in mini tart shells, making them a perfect appetizer for any occasion!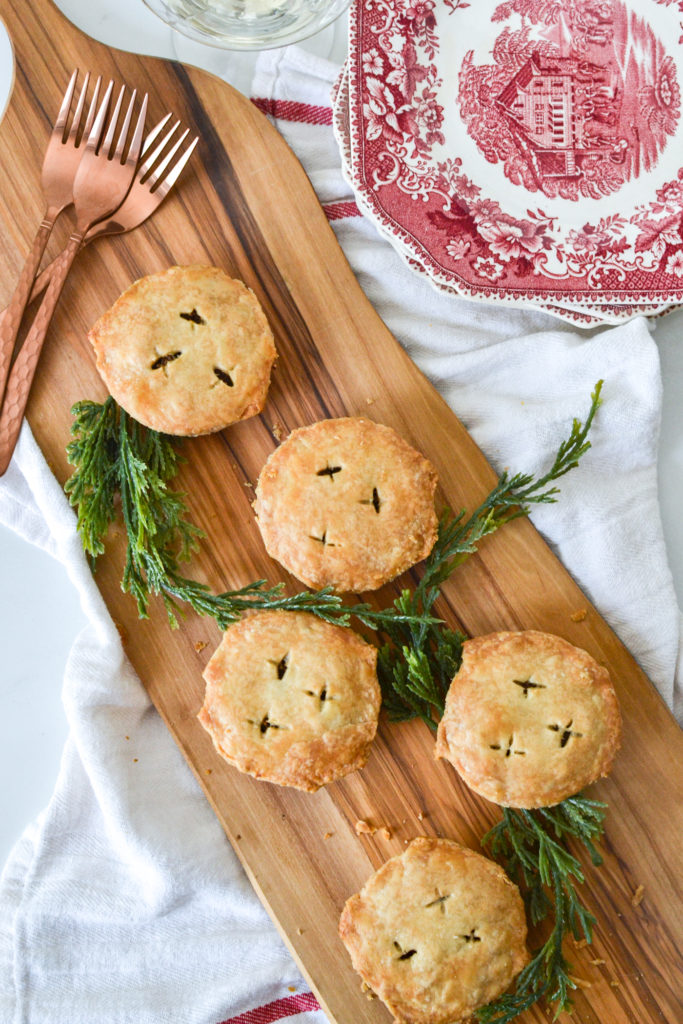 Tourtiere is a favourite of my husband, but he hasn't been able to enjoy it since we has embraced a plant based lifestyle. It finally occurred to me to try and create my own recipe using a meatless veggie based ground. And, I am so pleased with the result!
It is the blend of spices that make a tourtiére extra special. Since they are often a staple in the French Canadian holiday celebrations, each family likely has their own blend of spices that has been in the family for years.
I didn't have the advantage of having a recipe passed down to me, so I did a little experimenting and came up with a delicious combination!
Big Mountain Foods graciously provided me with ingredients to create a holiday recipe as part of the Big Mountain Foods Recipe Challenge! The recipe and content are all my own. Follow them on Instagram and Facebook for more recipe ideas!
Why you will love this recipe
It is super easy to make using pre-made (vegetable shortening) tart shells
I found the plant based grounds are often less expensive than ground pork and ground beef that are traditionally used in tourtiére recipes. I used, Big Mountain Foods Broccoli Boost Ground
Kids will love them, and you can sneak in some extra veggies without them ever knowing!
They aren't just for holidays! They make great Super Bowl party appetizers
They are just as delicious as their meat filled counterparts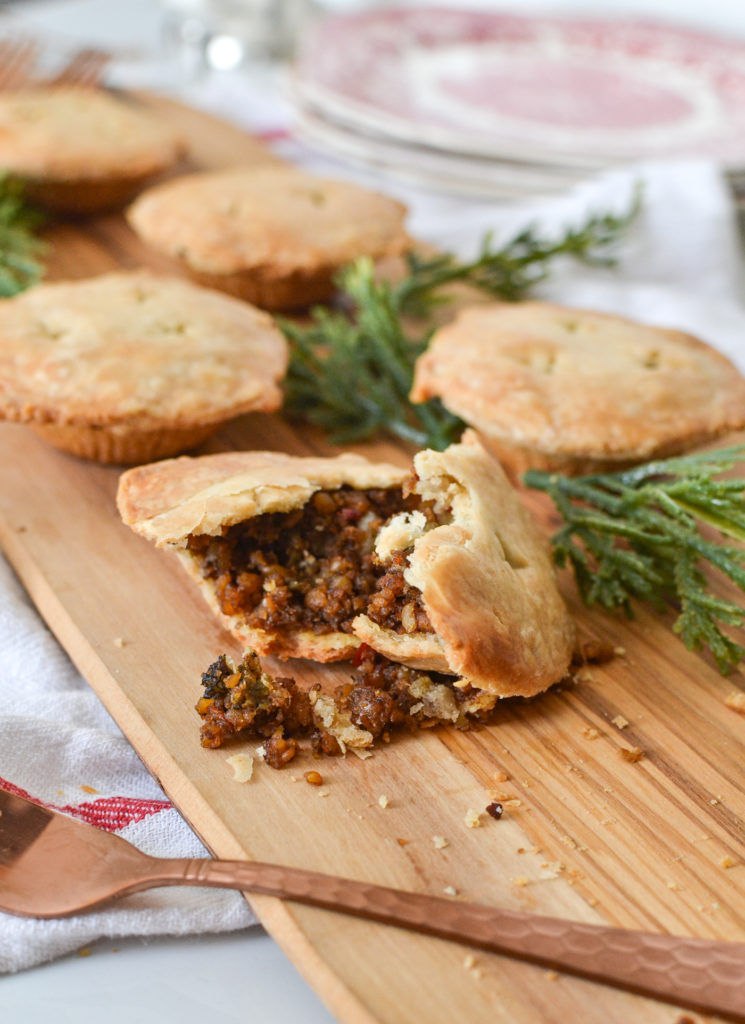 Vegetarian Tourtiére Ingredients
340 gram package of Big Mountain Foods Broccoli Boost Ground or other plant based ground
1 medium onion
1 cup mashed potatoes
olive oil
Cinnamon, Poultry Seasoning, Cloves, Garlic powder, Allspice, Sage, salt and pepper
How to make a Tourtiére
Cook onions in olive oil over medium eat for 2 to 3 minutes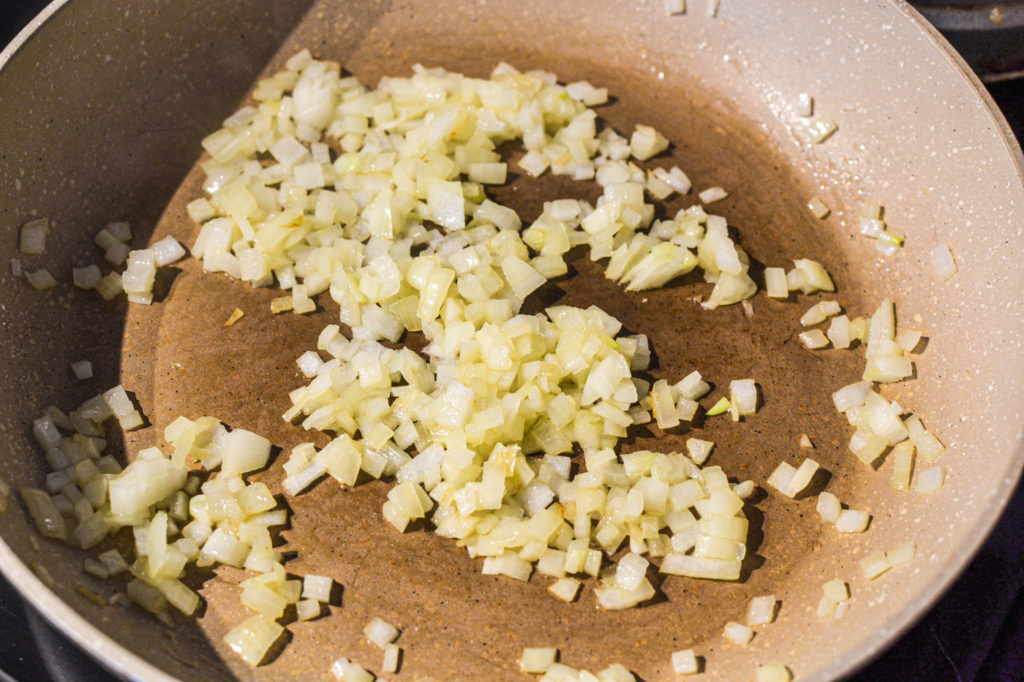 Add plant-based grounds and cook for 3 minutes, stirring occasionally. Add spices and potatoes and cook for 1 to 2 minutes until heated through and spices are well incorporated.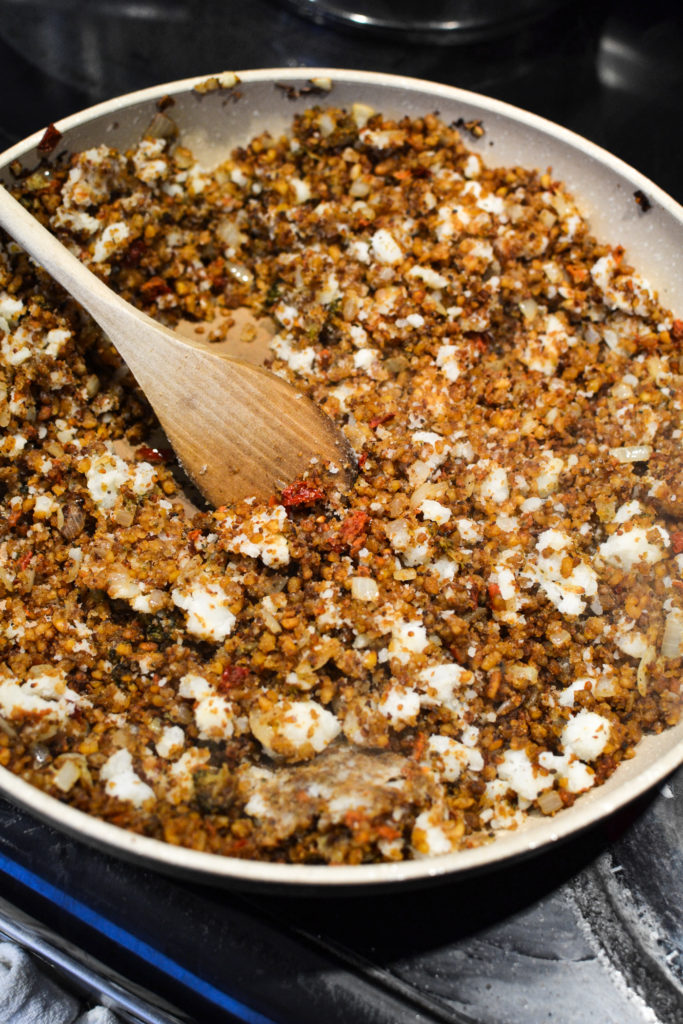 Fill 18 tart shells pressing the filling into each shell. Roll the other 18 tart shells into balls and roll out to cover the filling.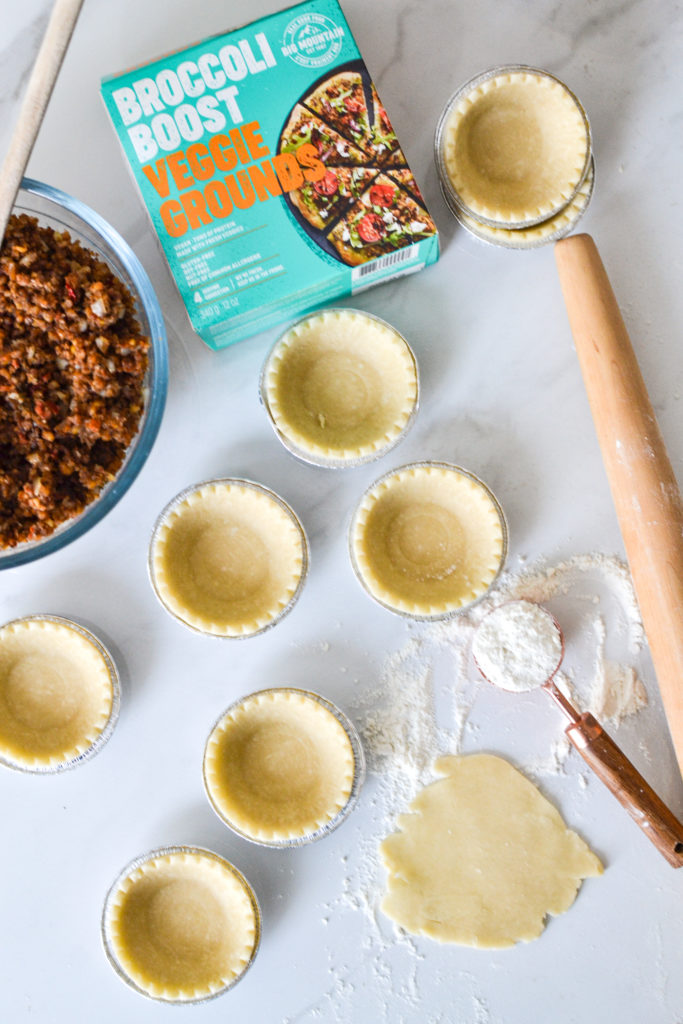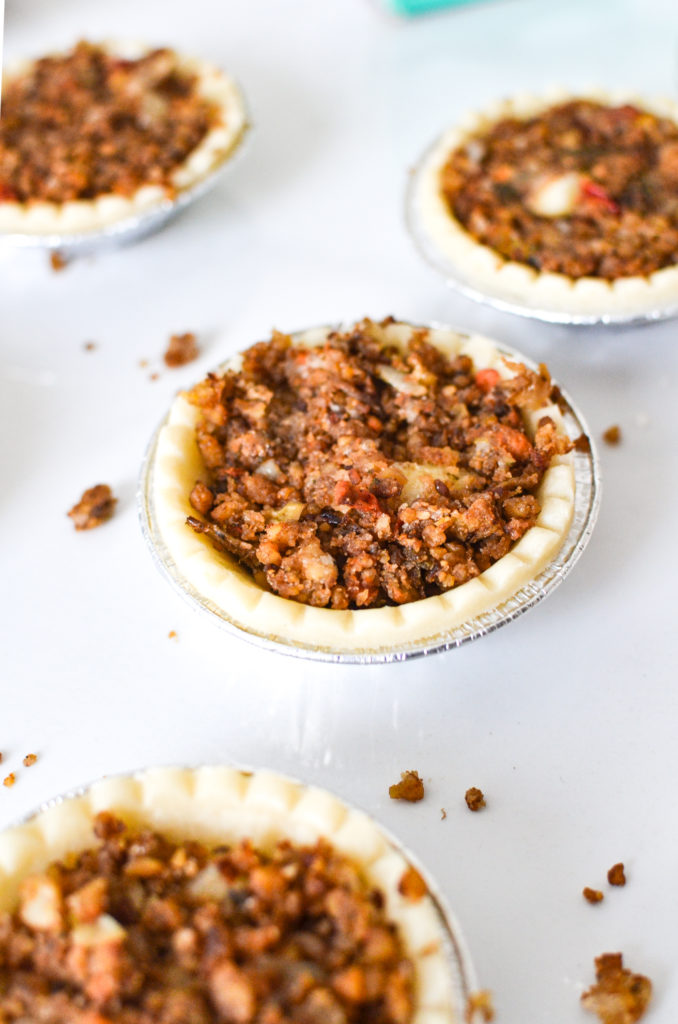 Brush the edge of each bottom shell with almond milk (or other plant based milk), place the rolled pastry dough on top and press the edges to seal. Brush the tops with more almond milk before baking.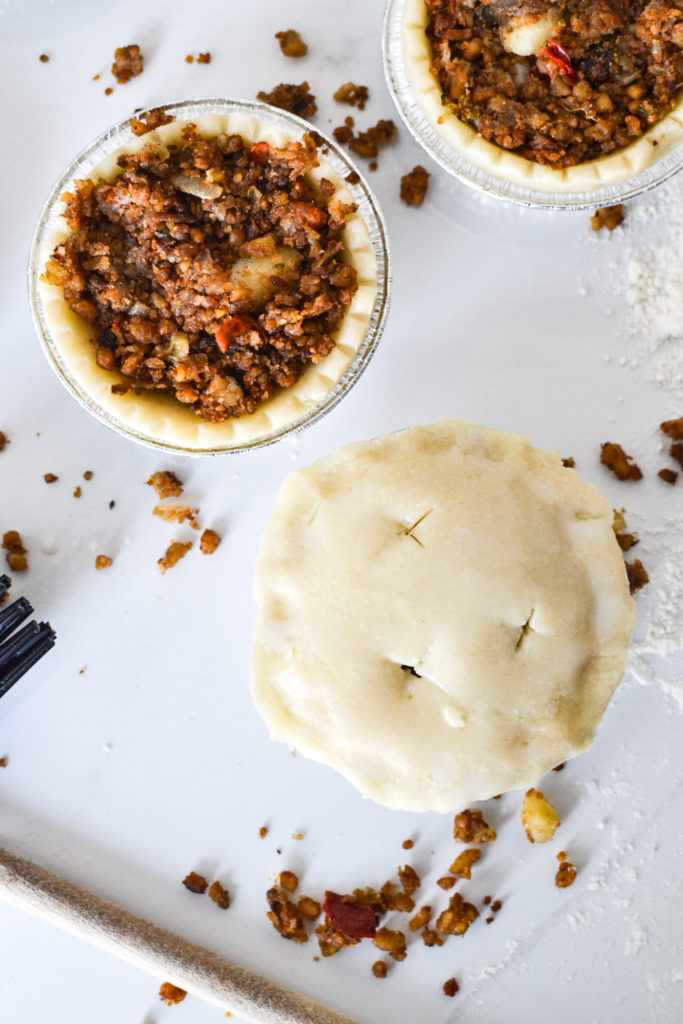 Arrange on a baking sheet and bake at 370 degrees for 20-25 minutes, until pastry is nicely browned.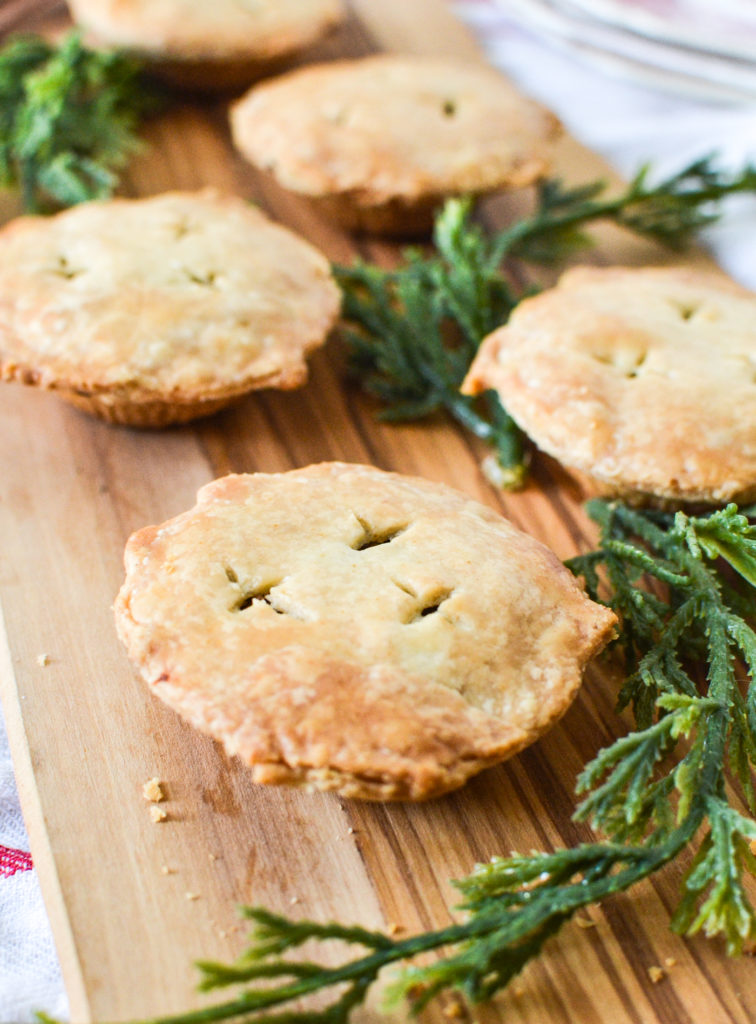 These vegetarian tourtiére appetizers are delicious served with ketchup for dipping! They are equally yummy hot or cold.
These bite sized plant-based pies are vegan friendly when made in a vegetable shortening pastry.
You can prepare the filling a day ahead, and then fill and bake the shells the next day! Or, prepare the filling, assemble the tarts and freeze until you are ready to bake and serve! Just bring tarts to room temperature before baking!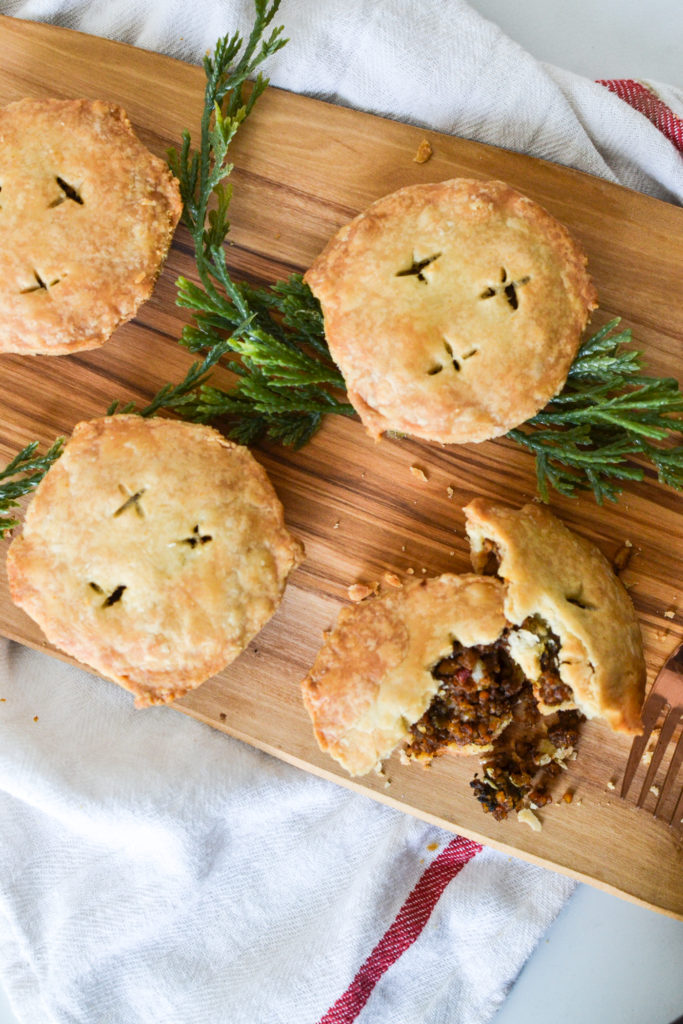 More vegetarian recipes you may enjoy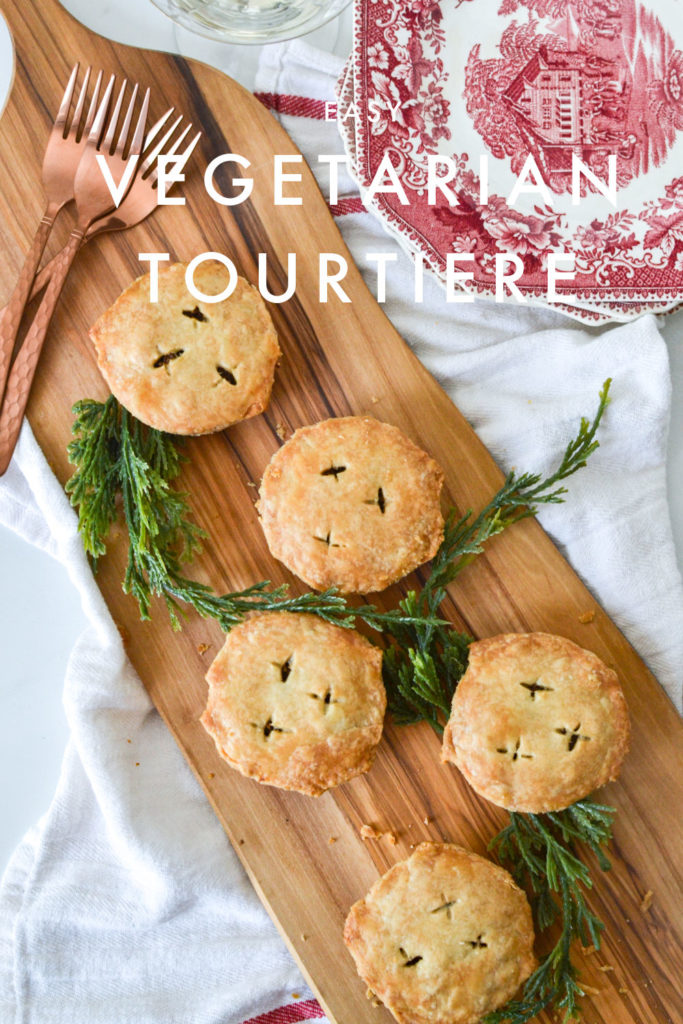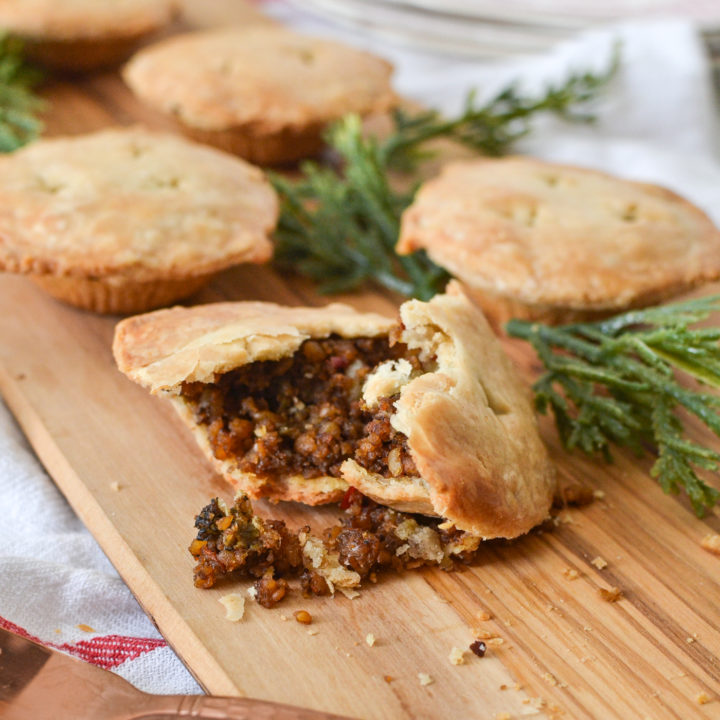 Easy Vegetarian Tourtiere Recipe
These mini vegetarian tourtiére are the perfect appetizers for the holidays, Super Bowl or just for a quick evening meal
Ingredients
36 frozen pie shells, defrosted but cold
1 tablespoon olive oil
1 medium onion
1 340 gram package plant-based grounds such as Big Mountain Foods Broccoli Boost rounds
1 cup mashed potatoes
1/2 teaspoon cinnamon
1/2 teaspoon garlic powder
1/4 teaspoon poultry seasoning
1/8 teaspoon cloves
1/8 teaspoon all spice
Instructions
Arrange 18 defrosted tart shells on a baking sheet. Roll the remaining 18 into small balls. Set aside
Preheat oven to 375 degrees.
In a large frying pan heat olive oil over medium heat. Add onion and reduce heat to medium low. Cook, stirring occasional for 2 to 3 minutes, until onions are softened.
Add plant-based grounds to the onion and cook for 2 to 3 minutes. Add spices and stir well to distribute evenly. Add mased potatoes and stir to incorporate well.
Fill tart shells with filling, roll out the do small pastry dough balls big enough to cover each tart. Moisten edges of the bottom shells and dough rounds with almond milk and arrange the cover the filling, pressing down around the edge to seal.
Cut small slits into the pastry to vent. Brush the tops well with almond milk and bake at 375 degrees for 20-24 minutes, until nicely golden. Remove from oven and enjoy!
Notes
Make the filling a day ahead. Fill and bake tarts the next day.
To freeze, assemble the tarts and freeze before baking. Defrost and bake when you are ready to serve.