I had a really good berry dessert planned for this last day of #FarmersMarketWeek, but someone ate my berries! Not to worry, this Cashew Vegetable Fried Rice will quickly become a family favourite!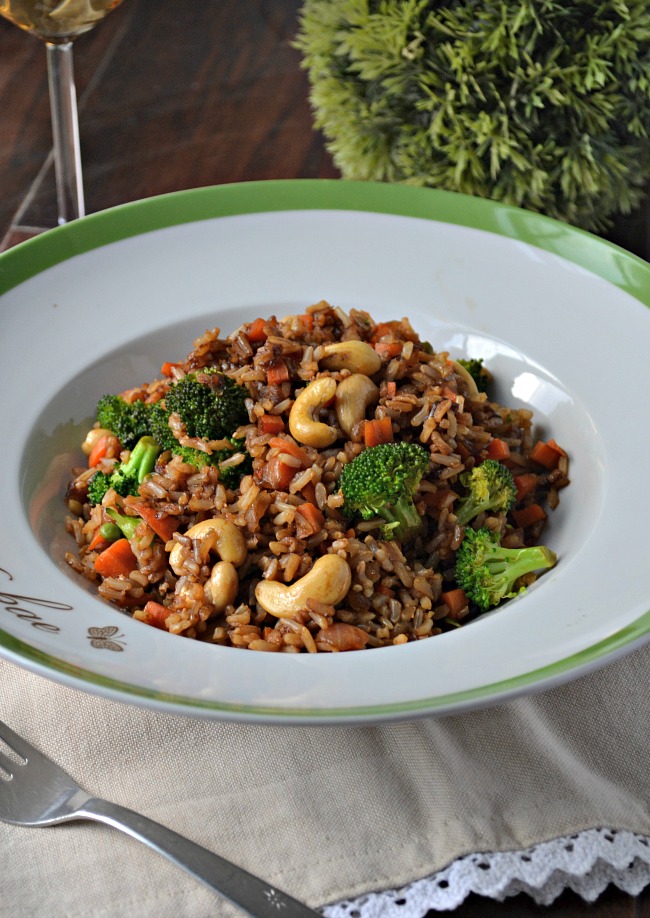 I usually double this recipe so there are leftovers for lunch the next day. It is that good, that it tastes delicious even cold.
While I love all the on-farm markets in our area, our community Farmer's Market that is held at (oddly enough) Market Square every Tuesday, Thursday and Saturday. Saturday brings in the most vendors and you can buy everything from fresh eggs, honey, produce, flowers, locally made essential oils, meats, cheeses, and the list goes on and on.
Visiting the Saturday market is often a family affair, with at least one of the girls or my mom joining us. It is always very busy and like any marketplace, it is often a place where you inevitably run into someone you know. It is nice to see little groups of family and friends spending a few minutes chit chatting while picking out the perfect produce!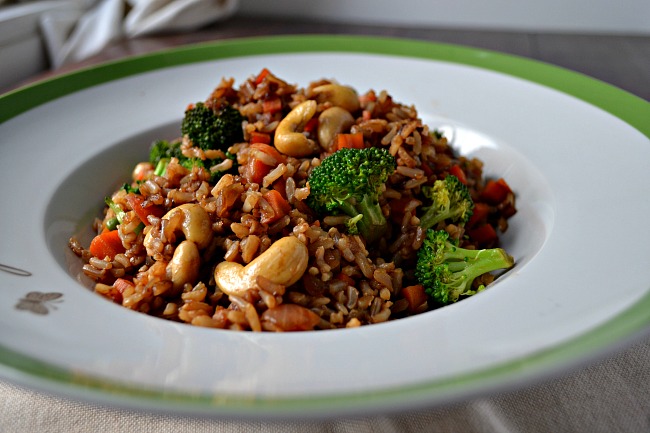 We always buy at least a pound of cashews at the Saturday Market, but quite often more. The nut vendor has the absolute best cashews I have ever eaten. I buy the raw cashews for cooking, and the roasted & salted cashews for snacking. Either way, they have the most rich, almost buttery flavour. We usually break open the bag as soon as we get in the car.
Of course, fresh carrots, broccoli and onions are plentiful at the market every week. The beauty of this Cashew Vegetable Fried Rice though, is that you can throw in whatever veggies suit your fancy. Cauliflower or even Brussels sprouts would be delicious too!
I often cook a big batch of brown rice and refrigerate it to use through the week. It makes prepping a dish like this easy, which makes dinner time a breeze.
Going to the Saturday Market almost guarantees a beautiful bunch of market flowers like these ones. I look forward to seeing what is new, especially during the winter months when my own garden is sound asleep!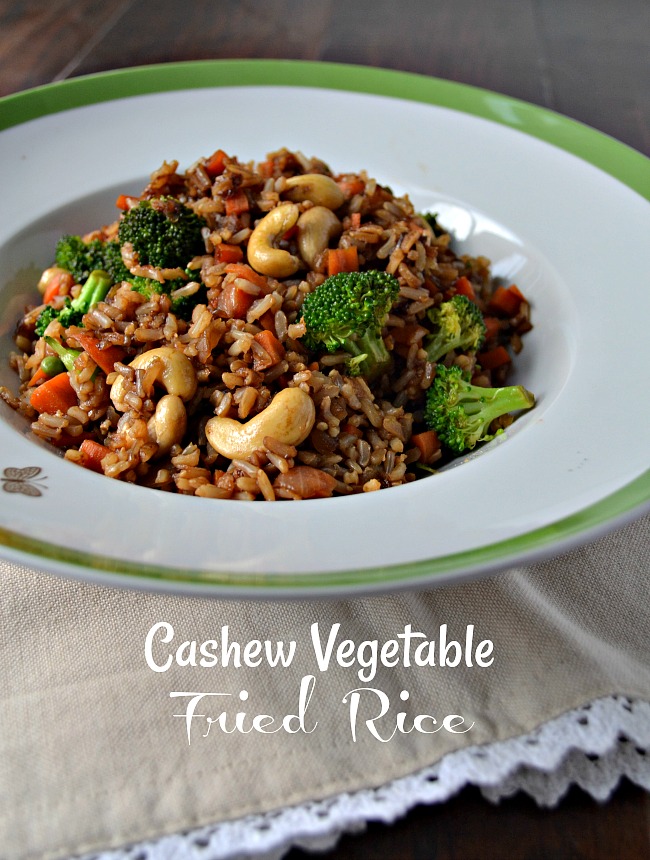 I sincerely hope you have enjoyed market week as much as I have. I know I have pinned a whole bunch of recipes from all of the wonderful bloggers who have participated all week! Don't forget to check out all the new recipes below!
Cashew Vegetable Fried Rice
2017-08-10 17:47:13
Serves 4
Ingredients
2 large carrots, diced small
1 onion, diced small
2 cloves garlic, minced
1 tablespoon olive oil
1 cup small broccoli florets
1/2 cup cashews
4 cups cooked brown rice
3/4 cup frozen peas,
1/4 cup soya sauce, low sodium
Instructions
Heat olive oil in large skillet over medium-high heat, add carrot and onion and saute until almost tender. Add garlic and continue to saute for 1 more minute. Add cashews and broccoli florets to the pan and continue to cook over medium heat for about 5 minutes or until broccoli is fork tender.
Add the cooked rice, soya sauce and peas. Season with salt and pepper, stir occasionally until peas are cooked and rice is heated through.
Red Cottage Chronicles https://www.redcottagechronicles.com/
#FarmersMarket Friday Recipes
Avocot Salad with Raspberries by Palatable Pastime
Fresh Peach Milkshake by Family Around The Table
Grilled Basil Chicken & Tomatoes by Jolene's Recipe Journal
K.C.'s Zucchini Bread by Cooking with Carlee
Raspberry Lemon Cupcakes by The Redhead Baker
Rustic Tomato and Ricotta Tart by A Kitchen Hoor's Adventures
Sweet Potatoes? I'm still thinking by New South Charm
TBD by Feeding Big
Veggie Noodle Salad by Simple and Savory
Watermelon Cucumber Mojitos by Culinary Adventures with Camilla
Until next time…..