It has been awhile since I posted a Taste of Home recipe review, and do I ever have a good one for you today! While I was looking for an easy appetizer recipe, I came across this recipe for Cranberry Brie Pinwheels.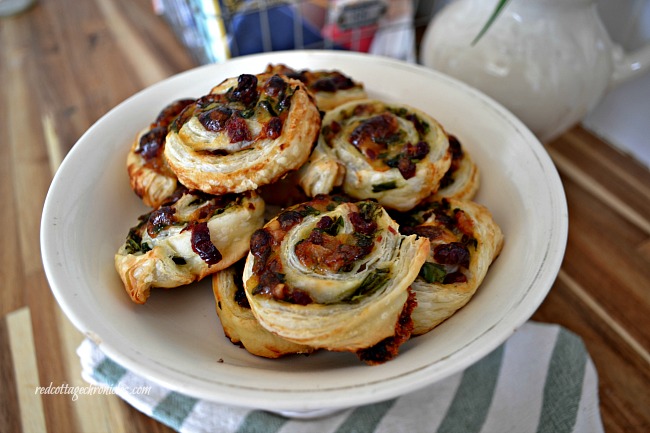 While we are trying to eat a more plant based diet these days, it was Mother's Day after all! A little buttery puff pastry filled with spinach, walnuts, cranberry and brie certainly couldn't hurt.
With summertime on the doorstep is it nice to have an easy appetizer recipe in my collection that I can whip up when we are entertaining. Since our house is so small we do most of our entertaining of friends during the warm weather months. I love dining Alfresco on warm summer evenings and taking the time to really relax and enjoy good food and good company.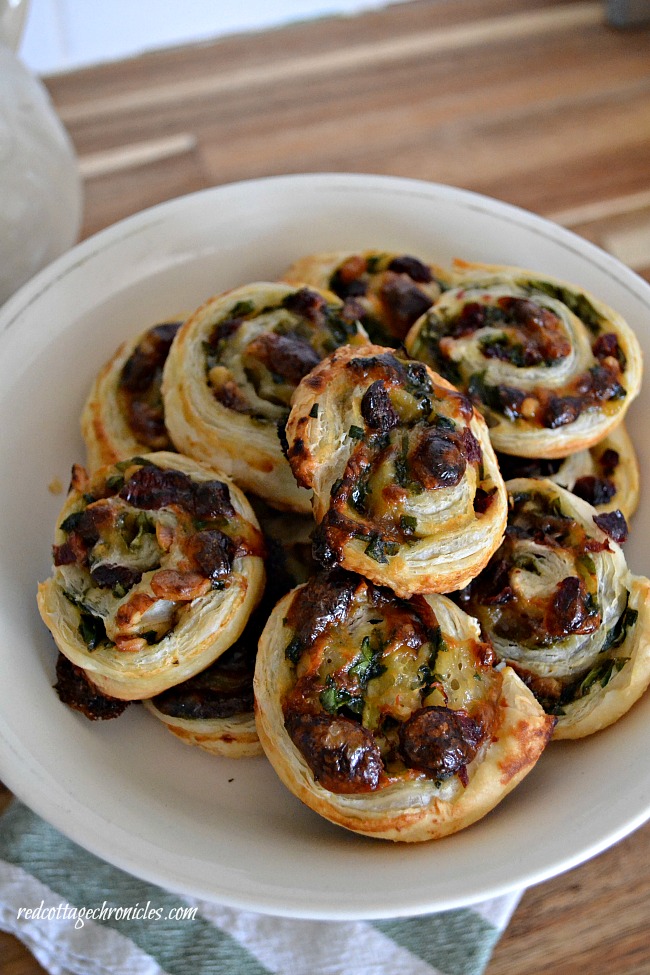 These scrumptious pinwheels are also the perfect picnic food. My second favorite thing to do in the summer is to head out for a picnic with Tim. A leisurely Sunday afternoon stretched out on a blanket, reading a book or just catching up after a busy week is often where you will find us on a sunny weekend. I pack up my roomy round picnic basket with simple finger foods, some fresh fruit and a cold drink or two.
Whatever your reason for needing an easy appetizer recipe, this will fit the bill!
Simply roll out the defrosted puff pastry dough, leaving it on the parchment paper. Spread with honey dijon mustard mixture. Sprinkle with chopped spinach and bits of chopped brie.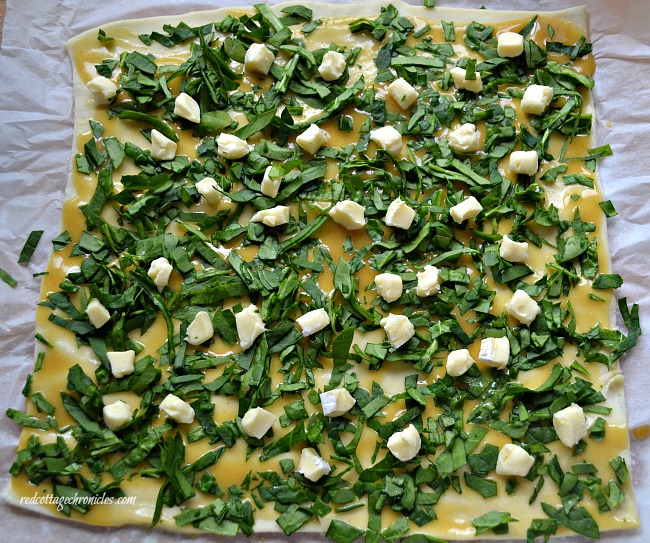 Scatter the finely chopped walnuts and cranberries….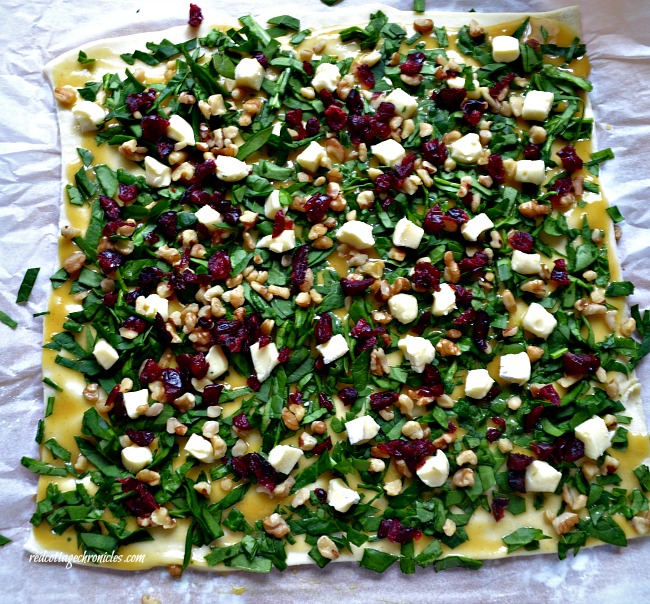 ……using the parchment paper as a guide, roll the whole thing up and slice into 12 equal pieces.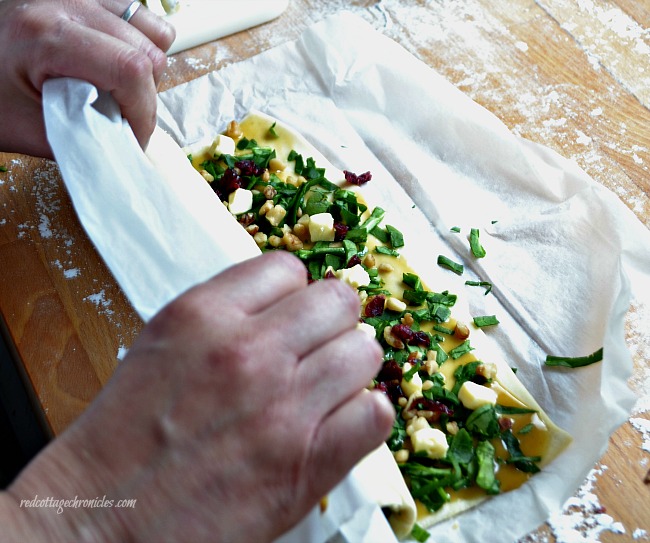 Place the parchment paper onto a baking sheet, and arrange each slice leaving a bit of room between each. Bake and enjoy!
Don't ask me why I floured the countertop first! Habit from working with pastry I guess. In any case, it isn't needed!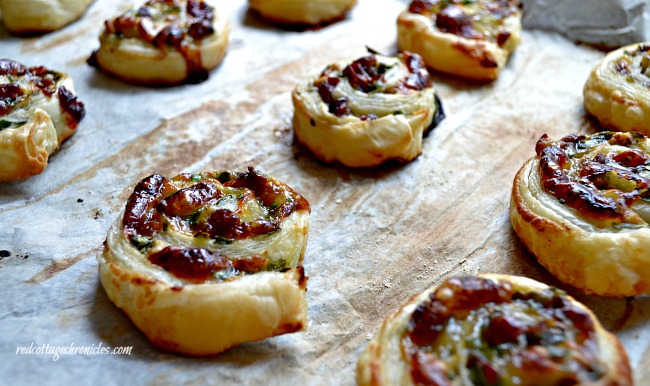 The original recipe is from Taste of Home and you can find it here!
I have missed joining up with some of my Taste of Home Field Editor colleagues and I am so happy to be joining Jolene and Ellen today! Check out their recipes by following the links below!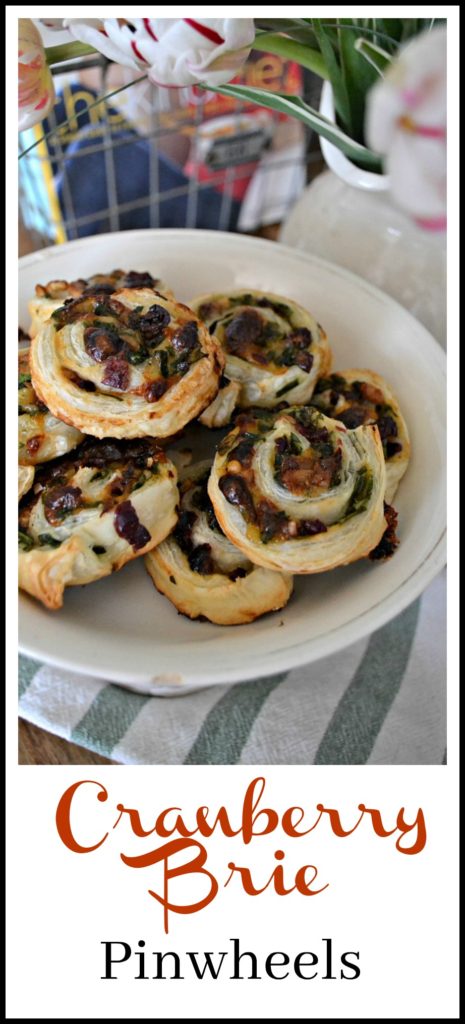 I was so happy to get back into my kitchen again after living in complete turmoil for almost 6 weeks during the One Room Challenge! I already have several new recipes I want to try out and looking forward to sharing them all with you!
Until next time….