This is not your average chocolate peanut butter cheesecake! A secret ingredient takes it to the next level!
If you ask me, the 1980's was probably the best decade ever. The best for music, the best teen movies and the best big hairstyles. Okay, maybe not the hairstyles, but definitely a fun decade.
If you were a child of the 1980's you might remember a certain chocolate and peanut butter confections television commercial. It featured two random strangers walking along minding their own business, one carrying an open jar of peanut butter, and one eating a chocolate bar, when suddenly they bump into each other.
"You got peanut butter on my chocolate"! "No, you got chocolate on my peanut butter"! They both take a bite, and the rest is history!
Sure, the irresistible combination of peanut butter and chocolate was created long before the 1980's, but that commercial summed up the most iconic flavor combination at the most basic level.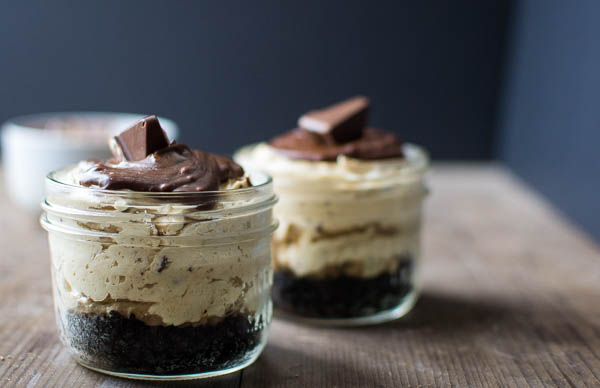 When I set out to make this cheesecake in a jar, I wanted to put my own delicious twist on it. Make it way better than basic! But, I wondered if it that was even possible.
I can assure you it is possible. And, one secret ingredient is all you need to take it from basic to BAM!
What I am about to share with you is not your average chocolate peanut butter cheesecake. It is however the most velvety smooth, decadent no-bake cheesecake that will make you the queen of desserts!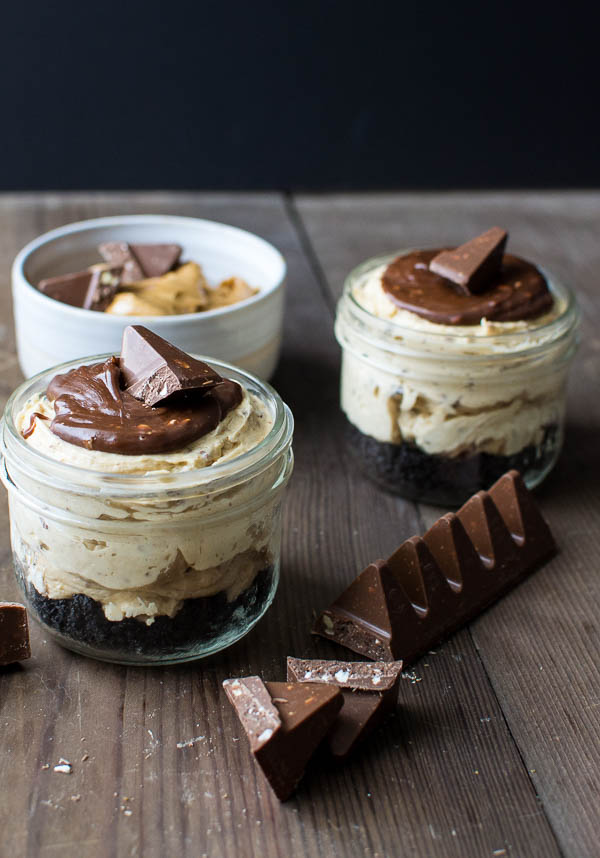 The secret to this scrumptious chocolate peanut butter cheesecake in a jar?
Toblerone! Yup. Swiss milk chocolate with filled little bits of nougat. No plain old chocolate for this cheesecake.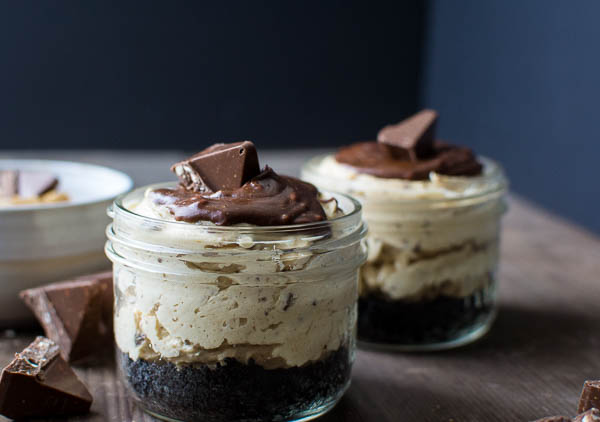 Little pieces are swirled into a whipped peanut butter and cream cheese filling, then topped with a delicious Toblerone ganache topping. All set upon a chocolate cookie crumb crust.
The best part. NO BAKE! Just fill up cute little jars and set them in the refrigerator to chill. I used wide mouth canning jars like these.
They are the perfect portable dessert that are perfect for packing in picnic baskets or lunch bags. They also make wonderful little treats for bake sales, or pot lucks. Just twist on the lid and they are ready to go!
These no-bake pumpkin cheesecake in a jar is another easy dessert that is perfectly delicious and perfectly portable!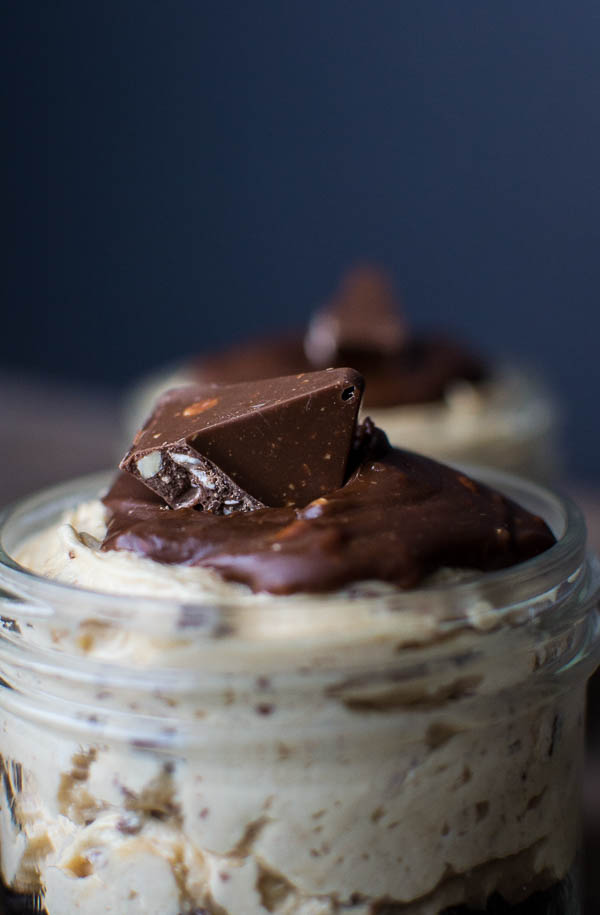 You might also want to give these melt in your mouth Toblerone shortbread a try!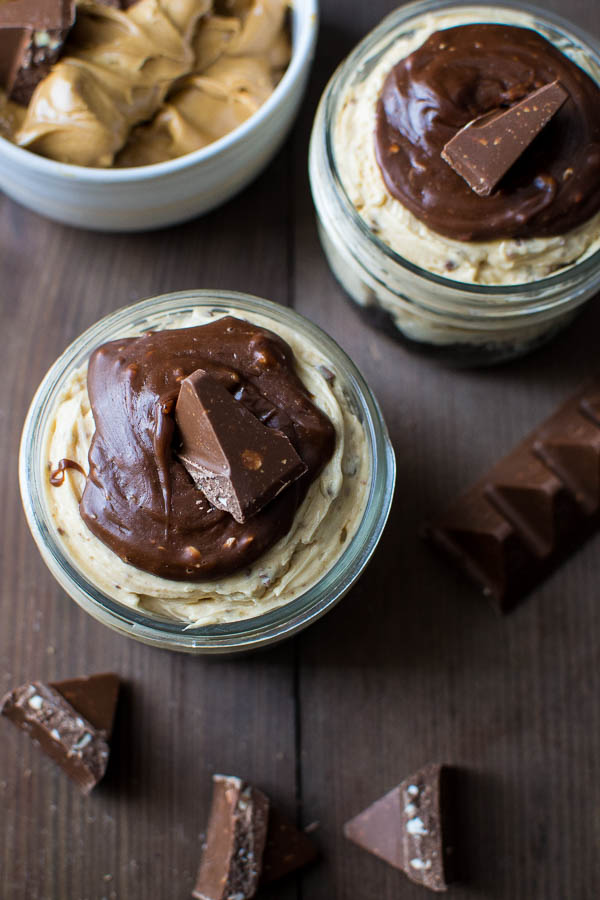 Be in the know! It may be a delicious recipe, a stunning tablescape, or decor tips to make your house a home! Simply click here to subscribe. I never sell or share your information, and you can unsubscribe at any time!
Until next time…

Not only will you find the full recipe for this yummy Toberlone chocolate peanut butter cheesecake down below, but I am also joining some other recipe loving bloggers today for Peanut Butter Lovers Day! Scroll down for links to their delicious recipes.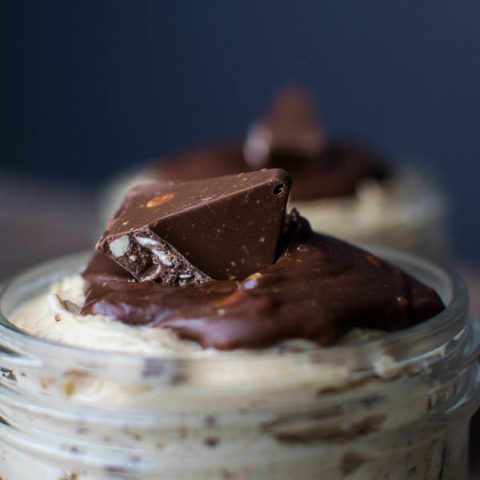 Toblerone Chocolate Peanut Butter Cheesecake
Total Time:
1 hour
20 minutes
Not your ordinary chocolate peanut butter cheesecake! This decadent creamy no-bake dessert is made with Toberlone Swiss chocolate.
Ingredients
1 1/4 cup chocolate cookie crumbs
1/4 cup butter or margarine, melted
2 250 gram pkgs cream cheese
1 cup smooth peanut butter
1 cup sugar
2 100 gram Toblerone chocolate bars, chopped and divided
+ one for garnish (optional)
1 1/2 cups Cool Whip topping, divided
Instructions
Combine cookie crumbs and melted chocolate and press into the bottom of jars.
Refrigerate for 10 minutes.
In the bowl of electric mixer combine cream cheese, peanut butter and sugar on medium speed until well combined.
Mix in 1/2 of the chopped Toblerone.
Using a spatula, fold in 1 cup of the Cool Whip.
Divide mixture evenly between prepared jars, smoothing carefully over chilled crust.
Melt remaining chopped Toblerone and remaining 1/2 cup Cool Whip in the microwave on high for 1 minute. Stir and let cool slightly.
Divide evenly over cheesecakes, spreading to cover and refrigerate until set.
Peanut Butter Lovers Day

We share Recipes From Our Dinner Table! Join our group and share your recipes, too! While you're at it, join our Pinterest board, too!