Easy One Pot Vegetable Noodle Soup
This vegetable noodle soup will be on rotation in our kitchen all winter long! Filled with loads of healthy ingredients, it makes a hearty meal that is easy enough to prepare any day of the week.
Is there anything more comforting than a big bowl of noodle soup on a damp, chilly day or when you are feeling under the weather?
This post contains affiliate links that should you click the link and make a purchase, I may receive a small commission with no extra cost to you!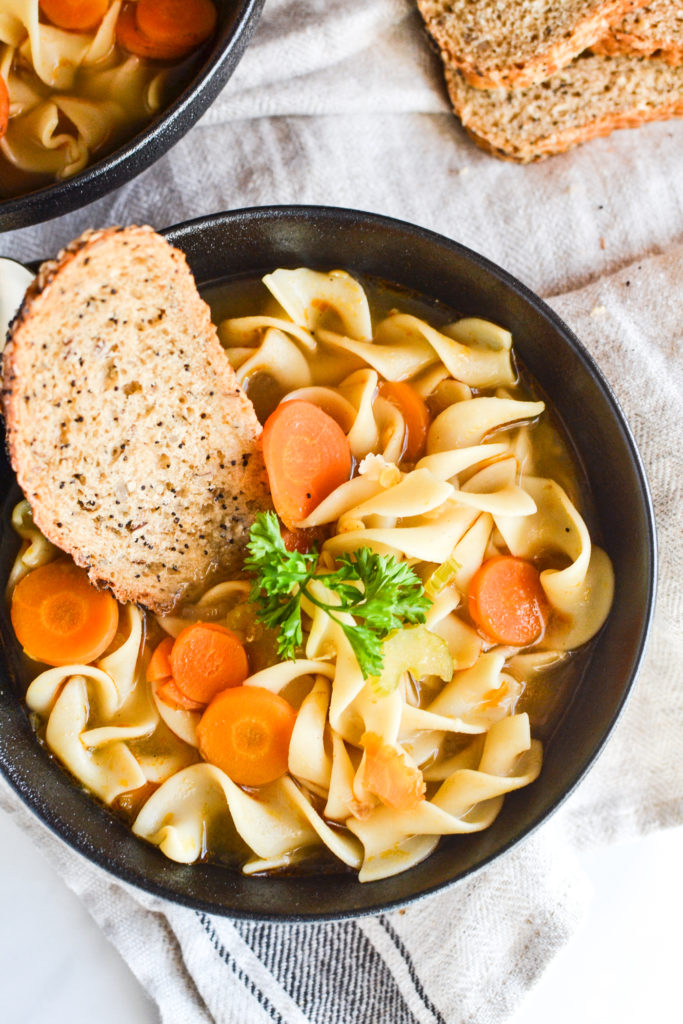 Yes, noodle soup is made without chicken, but trust me you won't miss it! It is seasoned to perfection and has all the delicious flavour you want in a noodle soup.
In fact the secret to this delicious soup is the seasoning itself!
If it were up to me, I could eat soup every single day! One of my favourites is this maple roasted butternut squash soup.
I find that the process of making soup and the delicious aromas that fill the kitchen are just as comforting as the soup itself!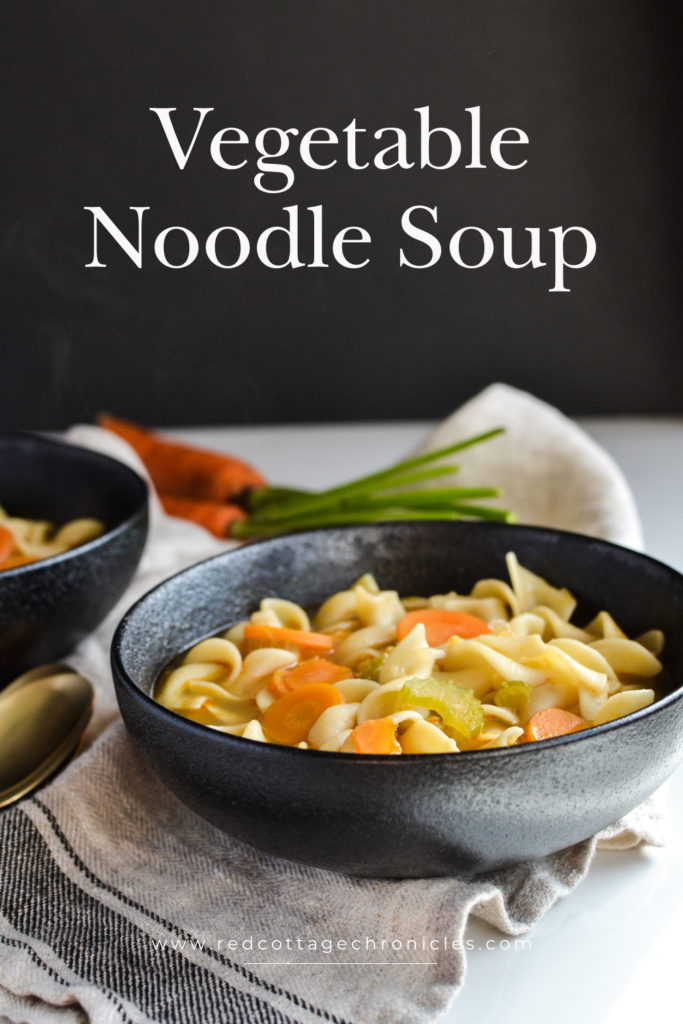 The ingredients for Vegetable Noodle Soup
Another benefit of this easy one pot soup recipe is the simplicity of the ingredients. All you need is:
carrots
celery
onions
garlic
vegetable broth
broad noodles
red lentils (optional)
Old Bay Seasoning
Salt and Pepper
olive oil
What is Old Bay Seasoning?
When I first encountered Old Bay Seasoning blend I thought it was specifically made for seafood. But when I encountered a recipe that did not involve seafood, or meat of any kind I quickly discovered how versatile this spice blend is. And, how delicious! It originated in the Chesapeake Bay Area in 1939.
The predominant spices are celery salt, mustard and paprika, but there is also allspice, cloves, ginger, nutmeg, mace, cardamon, cayenne pepper and cinnamon.
A few tips before getting started!
Using a mandoline to slice the vegetables makes the prep work easy and fast.
Use extra-broad egg noodles for a vegetarian soup or try pappardelle broad noodles for a vegan option.
Red lentils add fibre and protein and quick up quickly making them the best choice for this soup.
Whenever possible choose organic vegetables, broth and lentils. Great Value brand has a very inexpensive and flavourful vegetable broth that I always stock up year round.
How the soup is made
Gather and measure your ingredients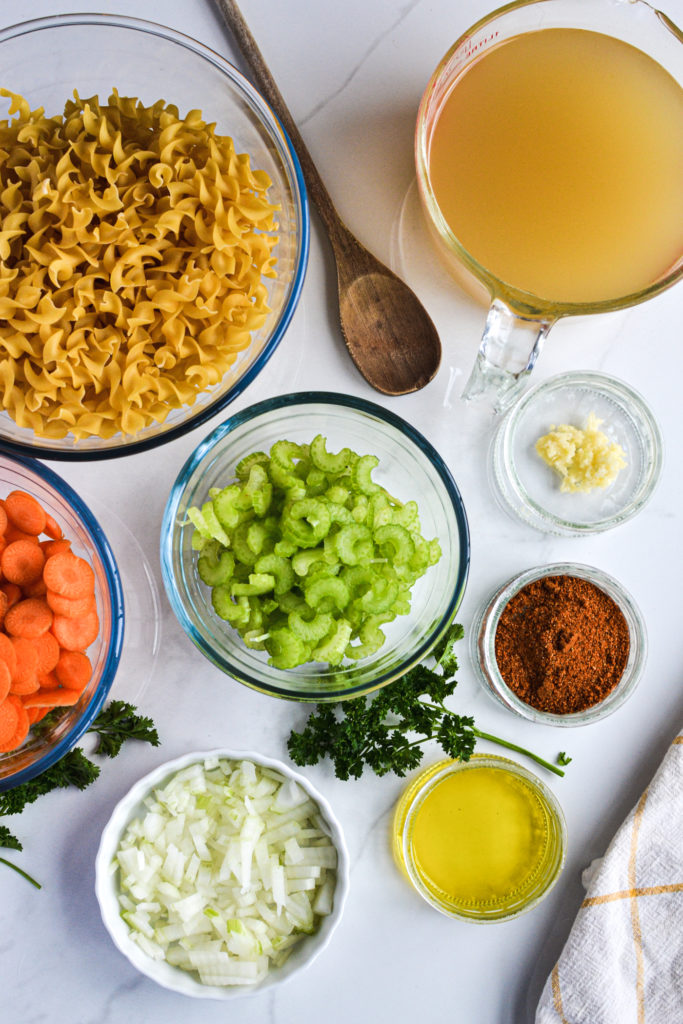 Heat Oil over medium heat and sauté onions, carrots and celery for 4-5 minutes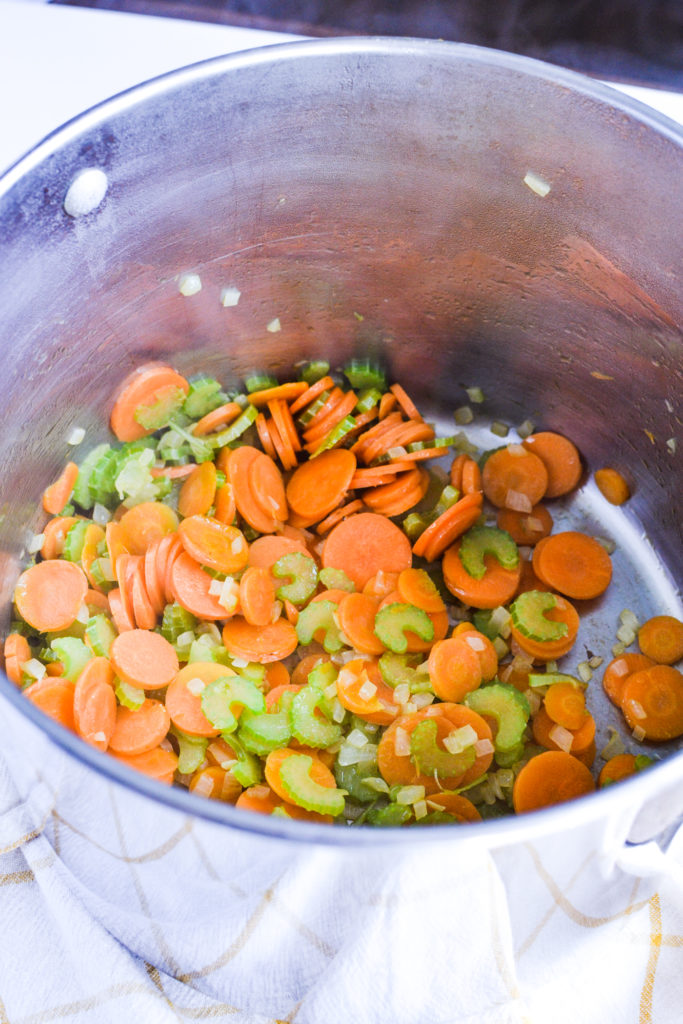 Add garlic, Old Bay, salt and pepper, stirring to coat vegetables and cook for 1 minute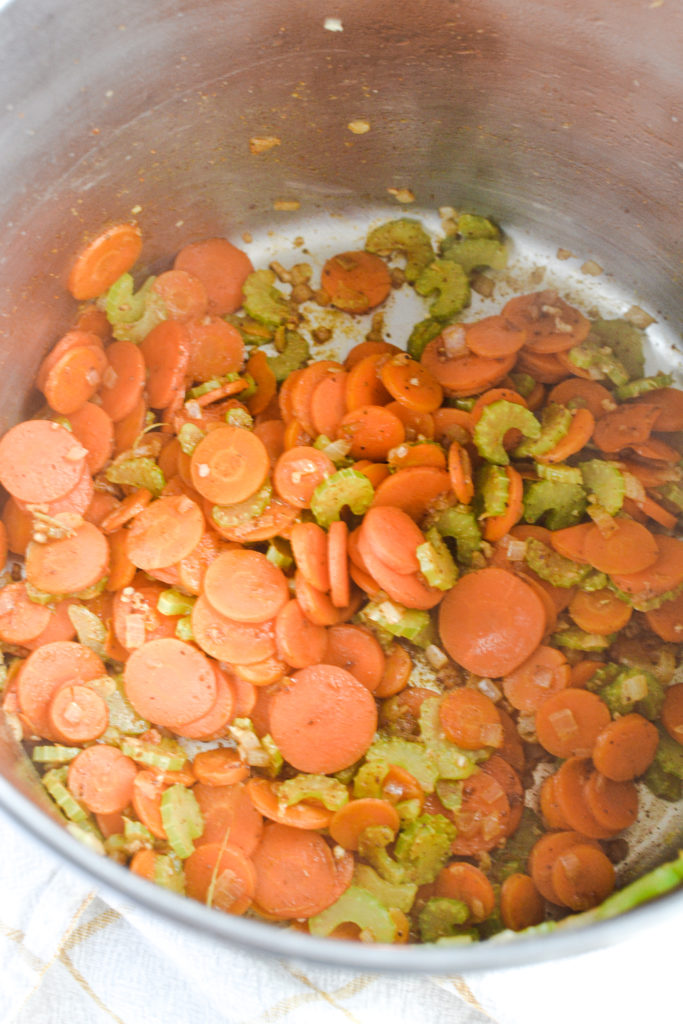 Add vegetable broth, noodles and lentils (if you are using). Stir, bring to boil and then simmer for 10 minutes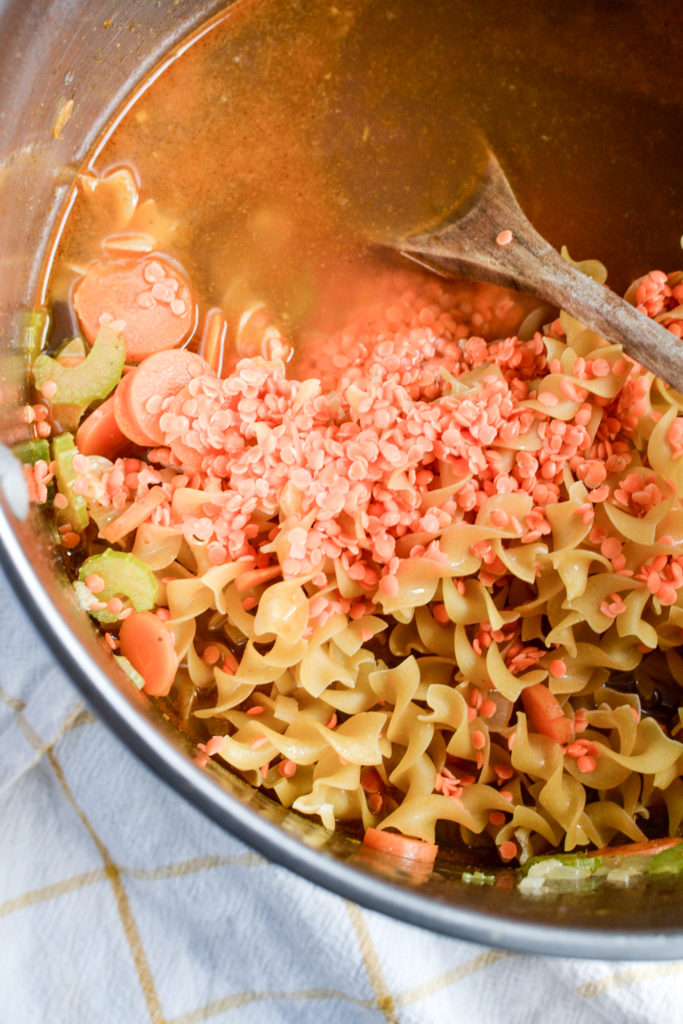 Serve with fresh sour dough bread or croutons.
When we switched to a meatless lifestyle, I really missed chicken noodle soup. Especially on those cold, dark days of winter when I was feeling less than my best.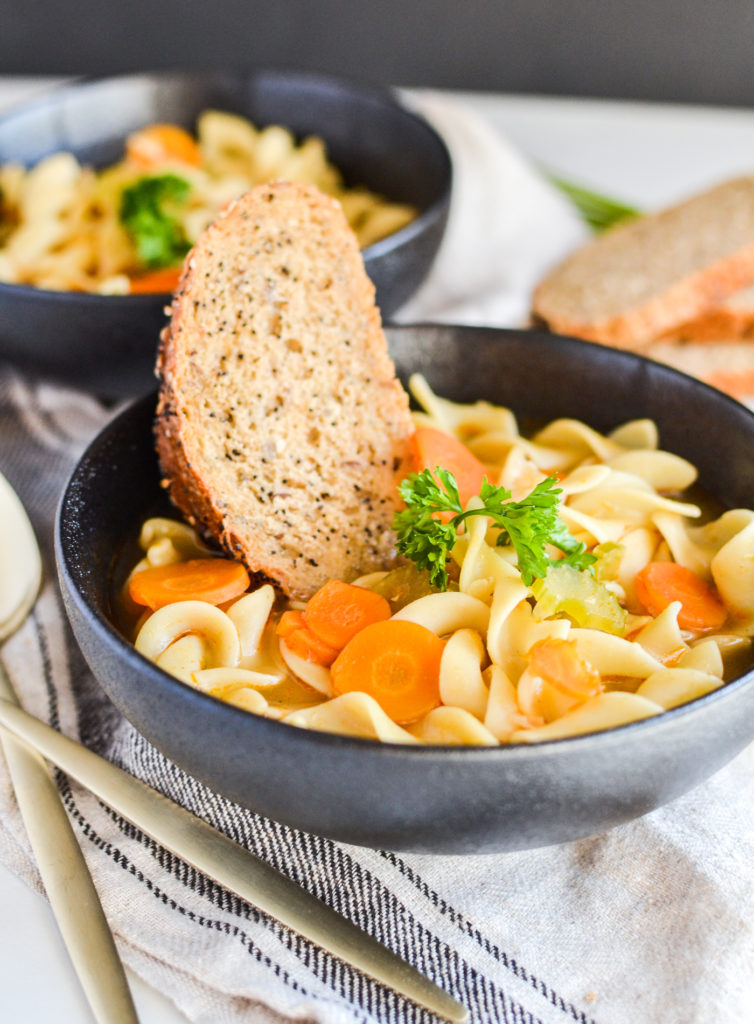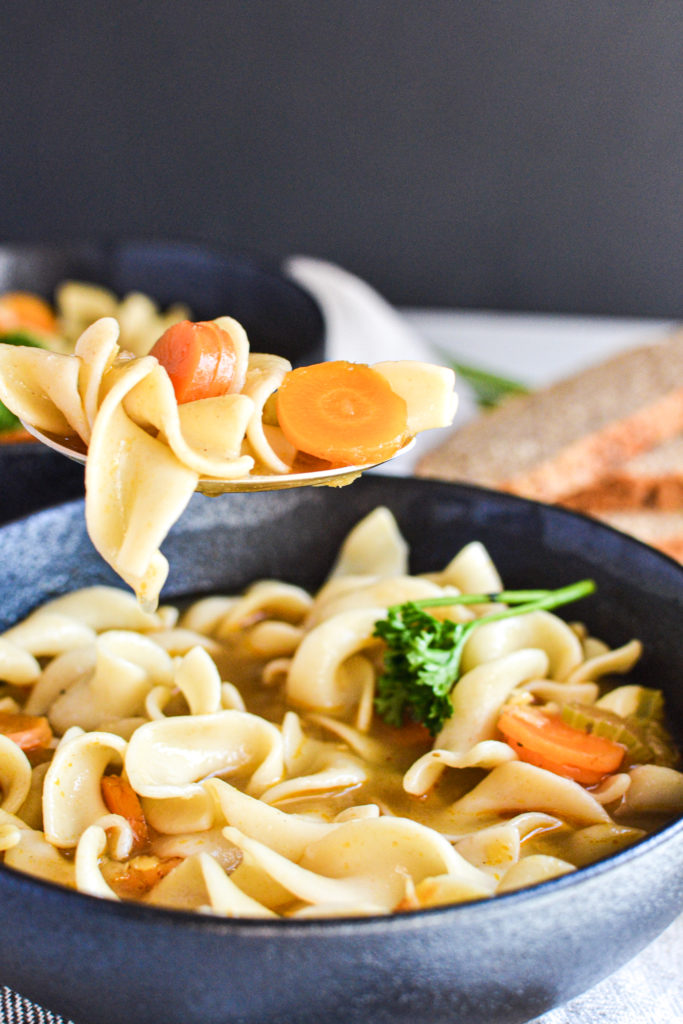 Trust me when I tell you that you will not miss the chicken in this noodle soup!
This vegetable noodle soup recipe makes enough for 8 generous servings. Refrigerate any leftovers and simply reheat with a bit of extra broth.
More Hearty Soup Recipes to try
Maple Roasted Butternut Squash Soup
Easy One Pot Vegetable Noodle Soup
This hearty one pot vegetable noodle soup is easy and delicious. It makes the perfect healthy meatless weeknight meal.
Ingredients
2 tablespoons olive oil
4 large carrots, sliced thin
4 stalks celery, sliced thin
1 cup chopped onion
4 garlic cloves, minced
1 tablespoon Old Bay Seasoning
10 cups vegetable broth
12 ounce package broad noodles, such as Pappardelle or egg noodles
3/4 cup red lentils, rinsed and drained (optional)
salt and pepper
Instructions
Heat olive oil in a large soup pot over medium heat, add the carrots, celery and onions. Sauté 4 to 5 minutes or until tender
Add garlic, Old Bay Seasoning, salt and pepper. Stir to combine and continue to sauté for 1 minute
Add chicken broth, noodles and lentils (if using) stir to combine. Bring to a boil and the reduce heat to simmer for 10 minutes
Season with salt and pepper to your liking
Remove from heat and serve
Notes
Refrigerate any leftovers. When reheating you can add a little bit more broth to your liking