Today I am celebrating National Cheesecake Day with some of my cheesecake loving friends! Since temperatures have been reaching the high 30's (celsius) I was delighted when I found for this recipe no bake lemon cheesecake when I was looking through some of my mom's recipes recently.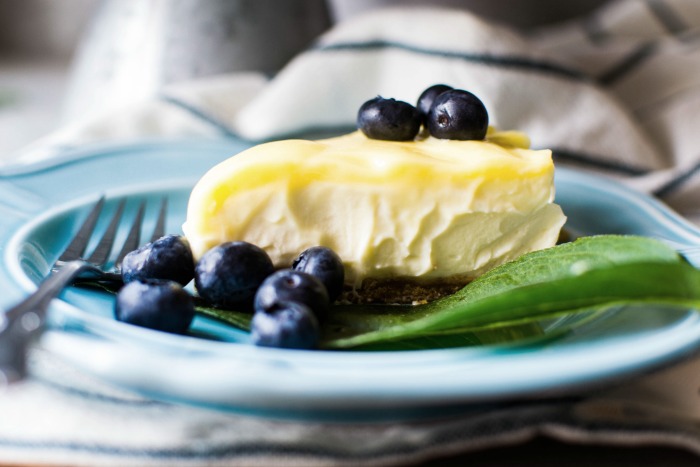 You will find links to all the bloggers cheesecake recipes below, so don't forget check them out!
After my mom passed away in May I knew right away I wanted to finish the little project she had started for me. That was to create a binder with all the recipes she so often made, and had became family favorites. I already have about twenty recipes that she typed out and slid into plastic sleeves. Recipes like incredibly popular Cherry Chews that a MUST at holiday time!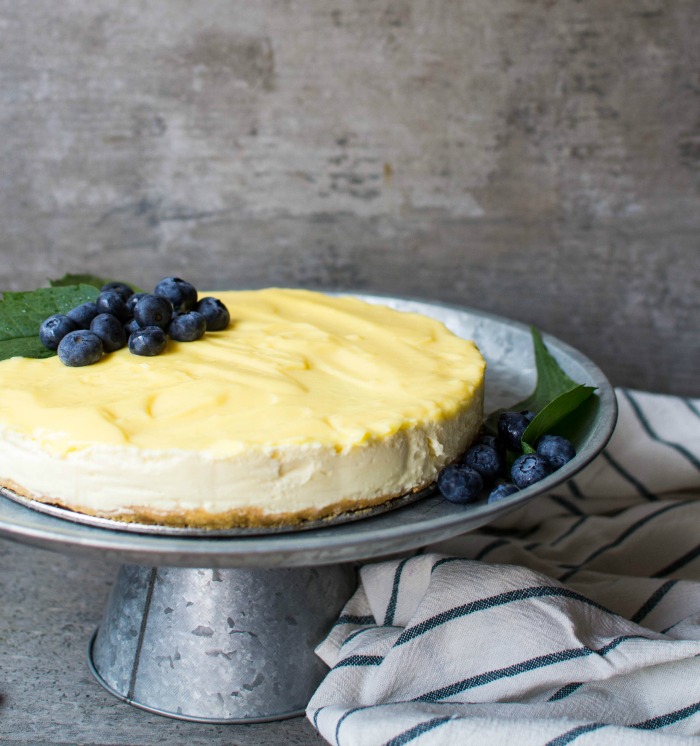 My plan is to take these recipes, plus some others she hadn't yet given to me and create cookbooks to give to my family. I want to prepare each recipe, photograph it and have it professionally printed and bound. My own daughter has already started to request her recipes, and I think it would be a great legacy to the way she so lovingly baked for her family.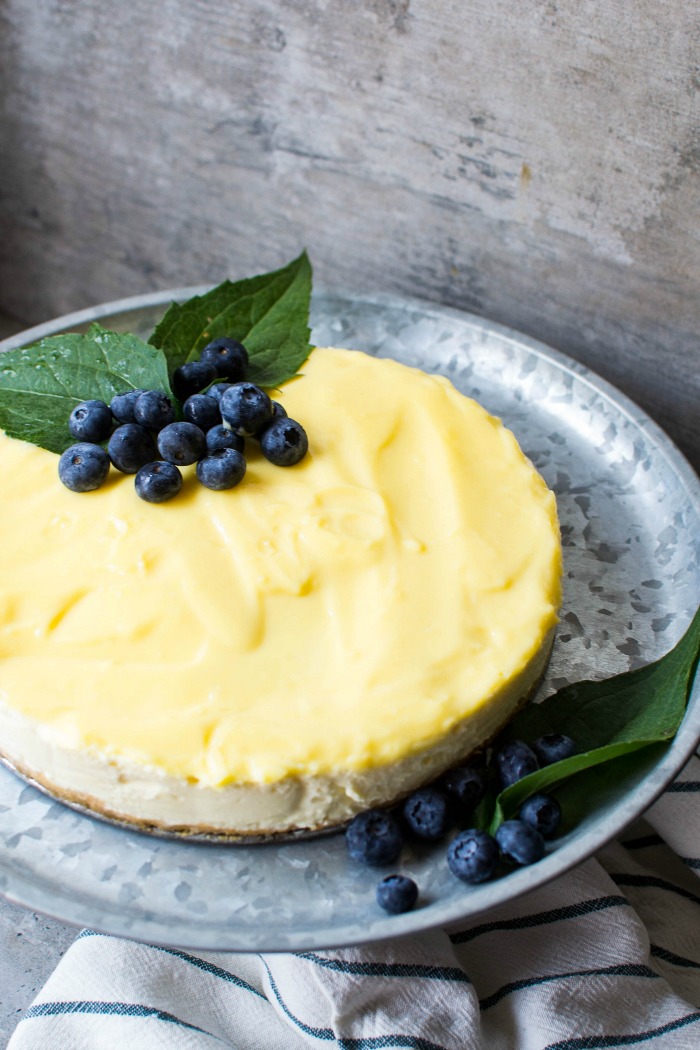 While I was at Mom's house visiting my brother one day, I grabbed a handful of recipe cards and clippings from her vast collection. I wanted to quickly flip through them to see if any of them were the favorites I was looking for. That is when I found this recipe for no bake lemon cheesecake. In fact, I found lots of recipes she scribbled down, as Mom's tend to do.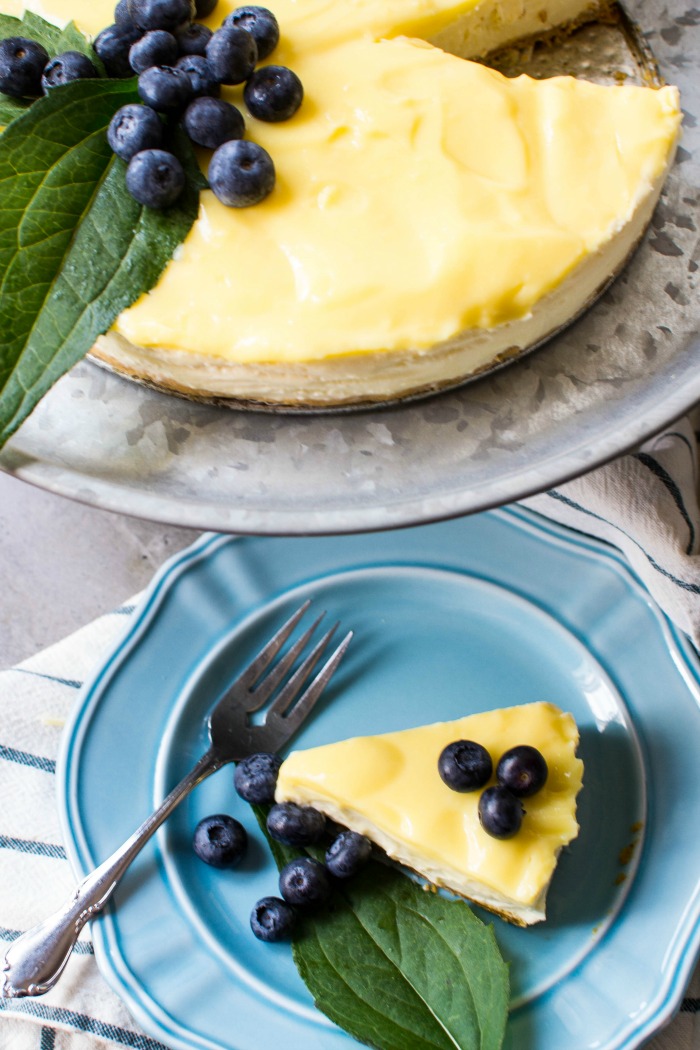 Since lemon recipes are a favorite, I knew I had to give it a try! I think they were a favorite of hers too. I made this triple lemon buttercream cake for her birthday one year and she raved about it!
What I found interesting about this no bake lemon cheesecake recipe is that it calls for mascarpone cheese as well as cream cheese. This is no bake, there is some stove top cooking involved for the lemon curd but it is well worth the effort.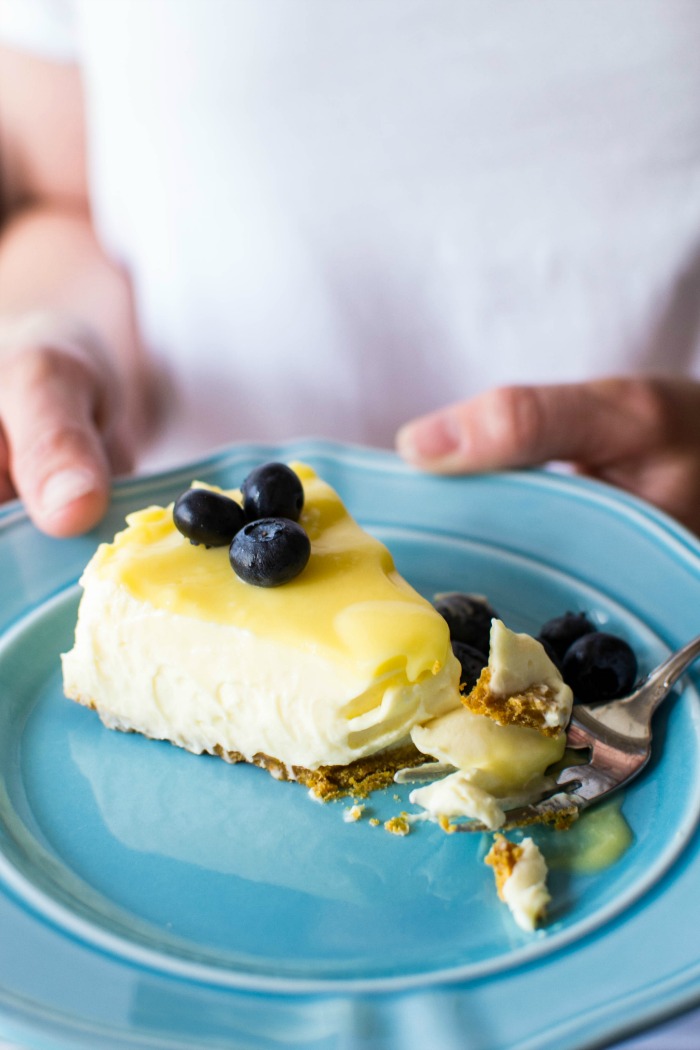 The result is a perfectly tart, slightly sweet, silky cheesecake that might just become your family favorite! It is rich and decadent and makes a stunning dessert when dressed up with some fresh fruit.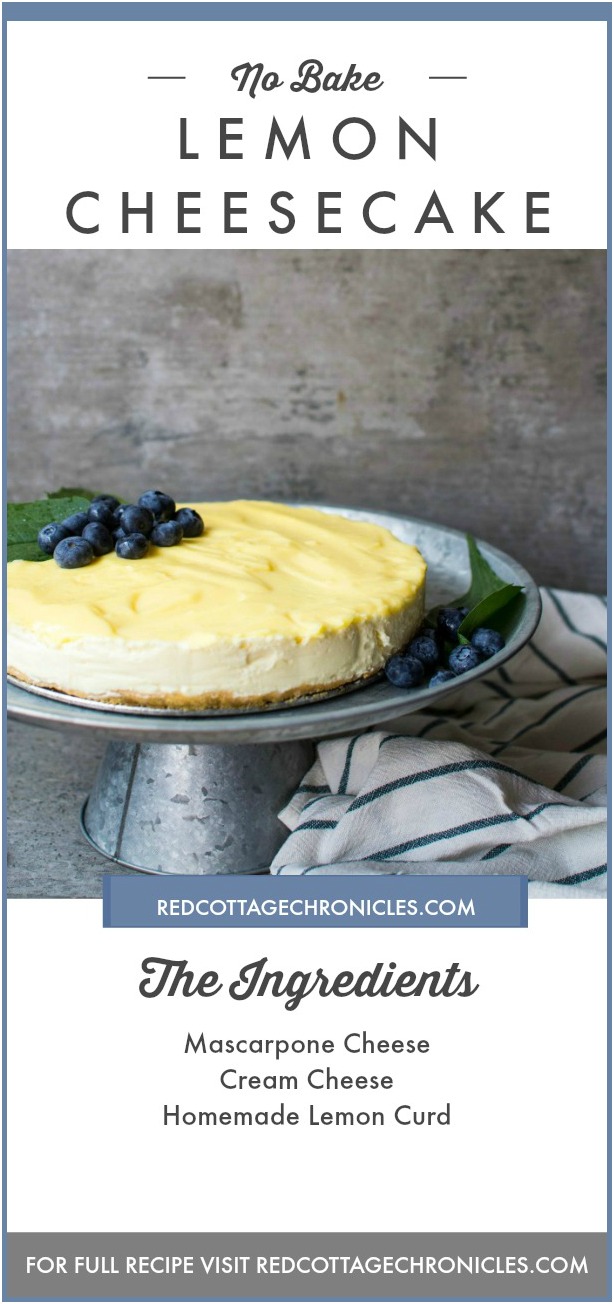 Since this cheesecake recipe is no bake, it does require significant chilling time, so keep that in mind when you plan to make it. It is a good idea to make it a day ahead and refrigerate it over night.
So glad you stopped by today and would love to have you as a subscriber. I send out an email only when a new post is available, and you can unsubscribe at any time. Simply click here!
And, don't forget to scroll down for more cheesecake recipes. There is something for everyone!
Until next time…..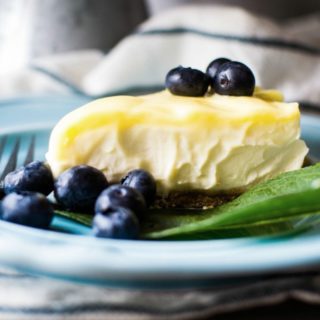 No Bake Lemon Cheesecake
Total Time:
5 hours
30 minutes
Ingredients
Lemon Curd
1 1/4 cup sugar
1/2 cup butter, room temperature
3 whole eggs, plus 4 egg yolks, at room temperature
small pinch salt
1 cup freshly squeezed lemon juice (about 6 lemons)
Crust
1/3 cup butter
1 1/2 cup graham cracker or Nella wafer crumbs
Filling
1 pound tub (475 grams) mascarpone cheese
8 ounce (250 gram) package cream cheese
Instructions
Spray bottom of 9 inch spring form pan with non-stick spray and line with parchment paper. Spray sides and line with a strip of parchment.
In the bowl of stand mixer, beat sugar, 1/2 cup butter, eggs, egg yolks and salt on high until creamy. Add lemon juice and beat until well combined. Mixture will curdle.
Transfer to a medium saucepan and heat over medium high heat, whisking constantly, until thickened and coats the back of a wooden spoon. About 4 or 5 minutes. Transfer to a shallow bowl, cover the surface with plastic wrap and chill until cold.
While lemon curd is cooling, prepare the crust by melting 1/3 cup butter in a saucepan, add graham crumbs and stir well to combine. Press crumbs into prepared pan and chill for 20 minutes.
To prepared filling combine mascarpone cheese and cream cheese and beat until light and fluffy, scraping sides of bowl as necessary. Add 1 1/2 cups of the prepared cold lemon curd and beat well. Spread over cooled prepared crust and smooth out to an even surface. Freeze for 30 minutes.
Remove from freezer and spread remaining lemon curd evenly over the top of cheese layer. Return to refrigerator and chill for 6 hours or over night.
To serve, carefully removed spring form pan and parchment, and decorate with fresh fruit or whipped cream
Notes
Please note that this recipe does require significant chilling time!