A Romantic Table Setting for Valentine's Day
In my opinion there are four things that make up a romantic table setting. Be it for Valentine's Day, a special anniversary or just because!
I am so glad you are joining me today! It is our first tablescape blog hop of the year, and I am grateful for Rita from Panoply who once again is our gracious host! At the bottom of this post you will find 19 inspirational Valentine's Day tablescapes! Each one unique and full of inspiration!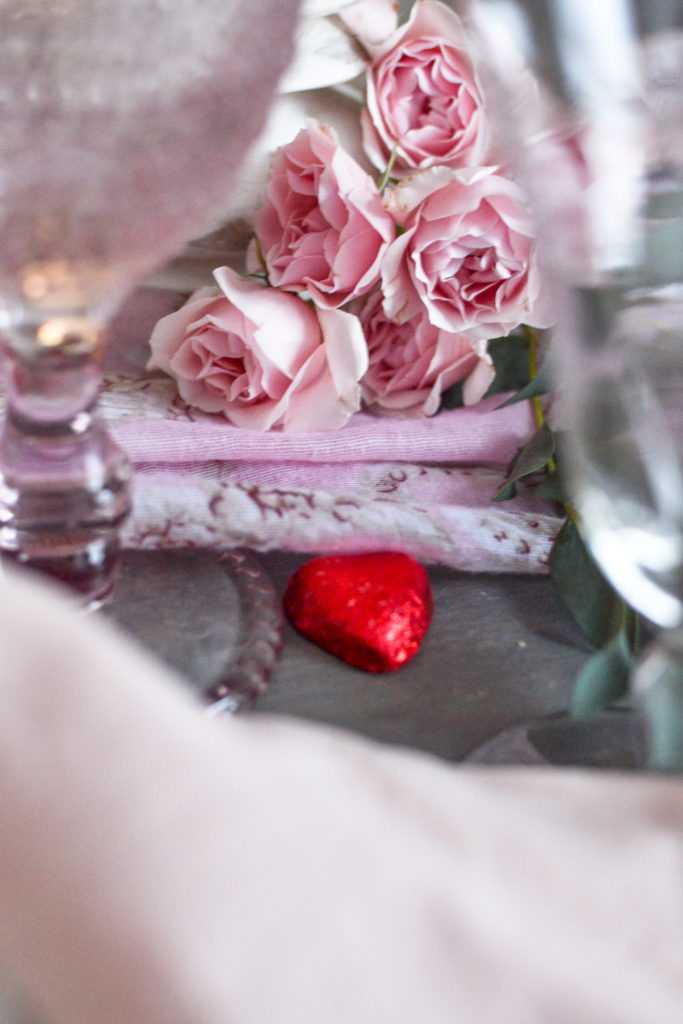 When it comes to Valentine's Day table decor, I often lean towards a fun, playful setting that could be perfect for a Galantine's Day dinner or a family Valentine's celebration!
This year I couldn't resist getting back to a more romantic table setting.
4 Elements that make a romantic table setting
There are 4 key things that make up a romantic table. They are all simple things, and can work for any budget!
So, let's take a closer look at what makes up a romantic Valentine's Day table.
Flowers
Flowers are always a welcome addition to any tablescape, but they are a MUST for a romantic table. And, they don't have to be all roses!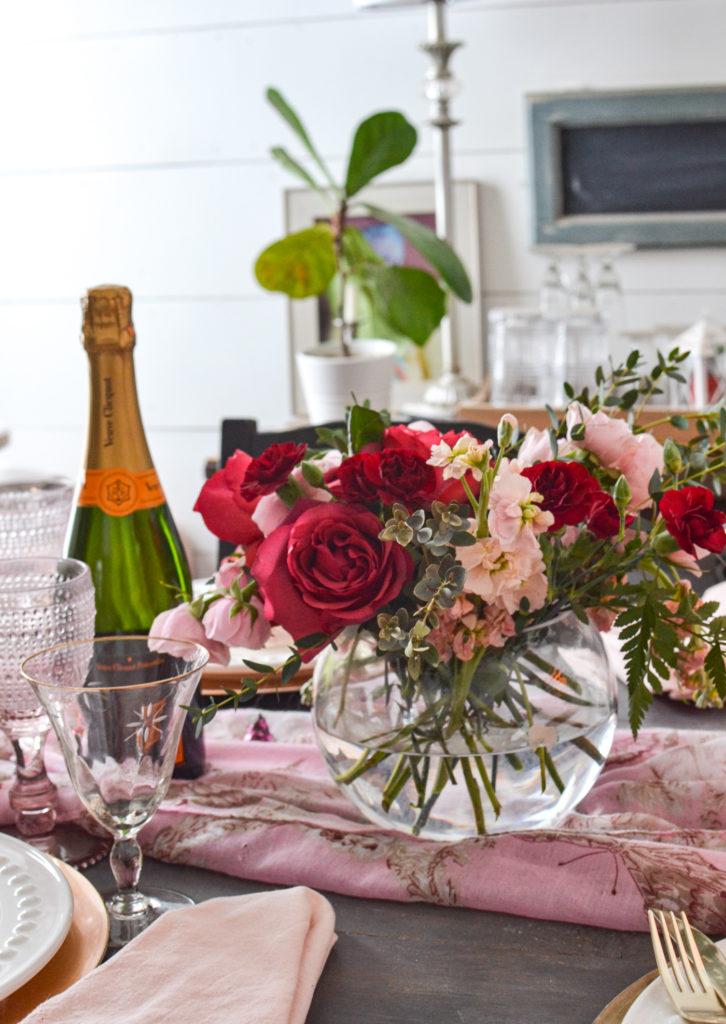 This simple centrepiece is made up of grocery store flowers and cost under $30.
A couple of red roses and mini carnations, and pink spray roses and stock flowers add a variety of romantic colours. Airy eucalyptus add a height and whimsy to the arrangement!
If roses are your favourite, although they can be very expensive when purchased from florists at Valentine's Day, you can purchase a dozen from the grocery store for a fraction of the price. With my tutorial on how to arrange roses you can create a beautiful centrepiece in no time.
Just like the one below I made with a $15 dollar dozen pink roses and a dollar store rose bowl.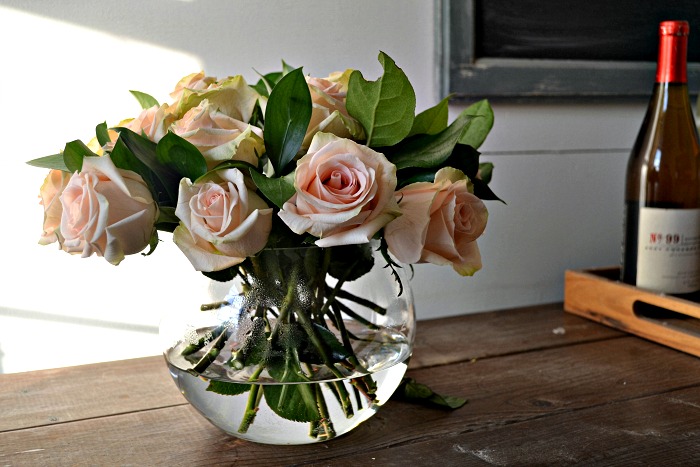 Sweet Desserts & Chocolate
There is just something about sweets that add a touch of romance! Especially when they are heart shaped!
Think of sweet desserts as the love language of food!
I whipped up these easy heart shaped cakes by making 2 – 8 inch round cakes from a boxed cake mix. I used a heart shaped cookie cutter to cut out heart shapes. Simple buttercream icing and fresh raspberries make for a pretty finished dessert!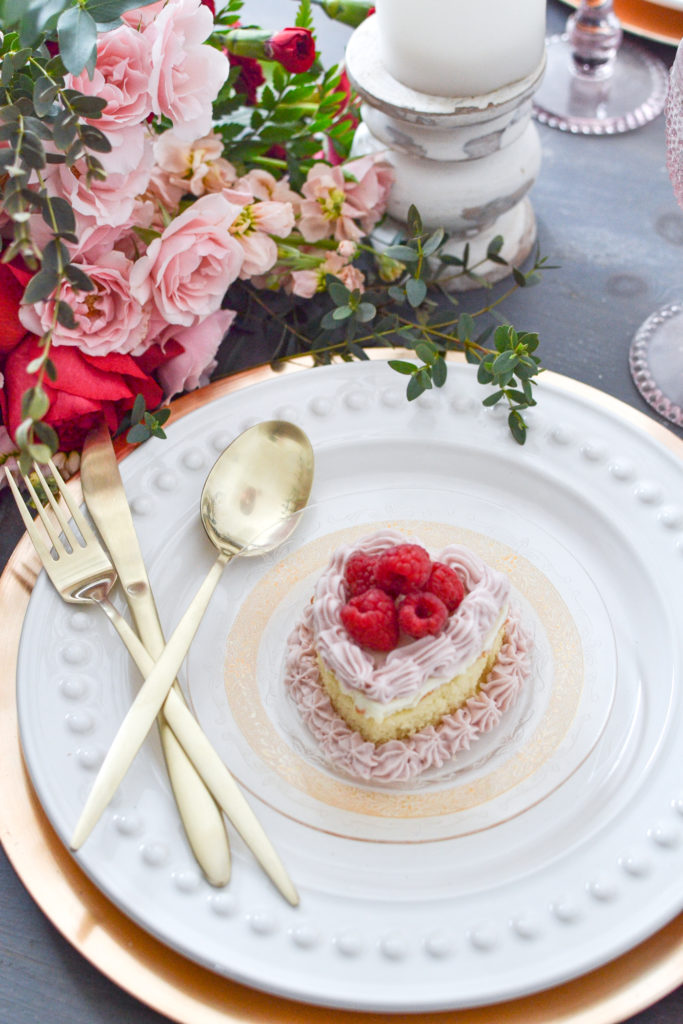 If baking isn't your piece of cake (see what I did there!), you can find an abundance of heart shaped cakes and other sweet treats at both grocery store bakeries and boutique bakeries!
And, don't forget the chocolates! A sprinkle of heart shaped chocolates or chocolate kisses are the perfect after dinner treat!
Champagne or Sparkling Wine
The highlight of any romantic meal is a sparkling wine or champagne! Again, you can choose a lower cost sparkling wine or a high end champagne, depending on your budget and preference!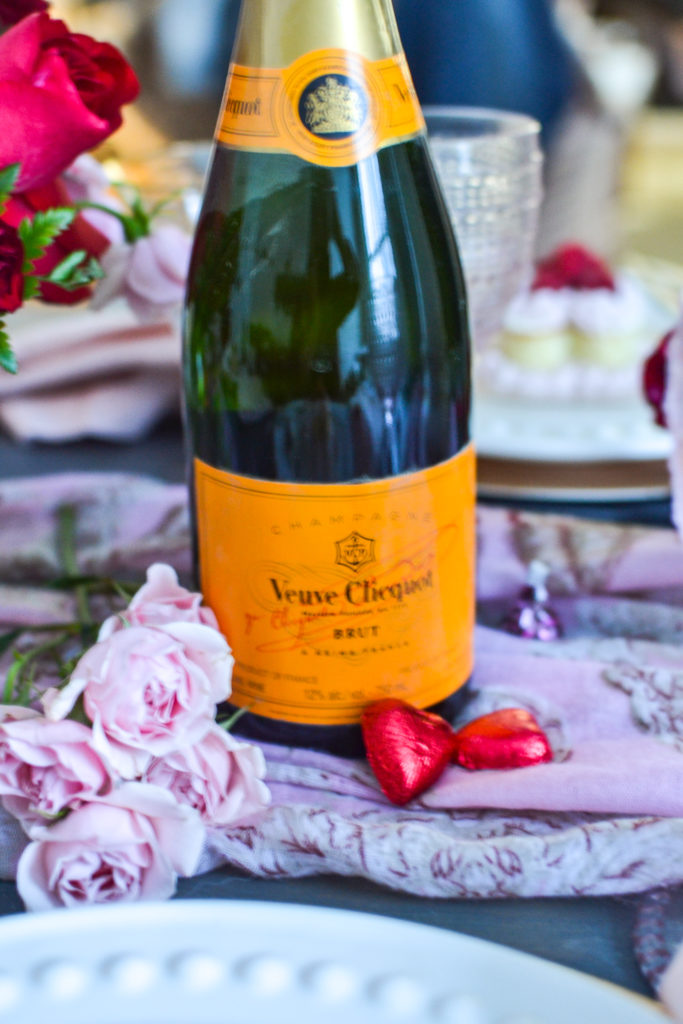 There are many non-alcoholic options that also make for a very romantic table setting!
To be honest, ginger ale is my favourite bubbly of choice!
Don't forget the candles
No romantic dinner is complete with out the flickering of candlelight!
Mixing and Matching makes the best romantic table setting
Unfortunately my camera memory card malfunctioned and I was only able to access a few photos of my Valentine's Day tablescape this year.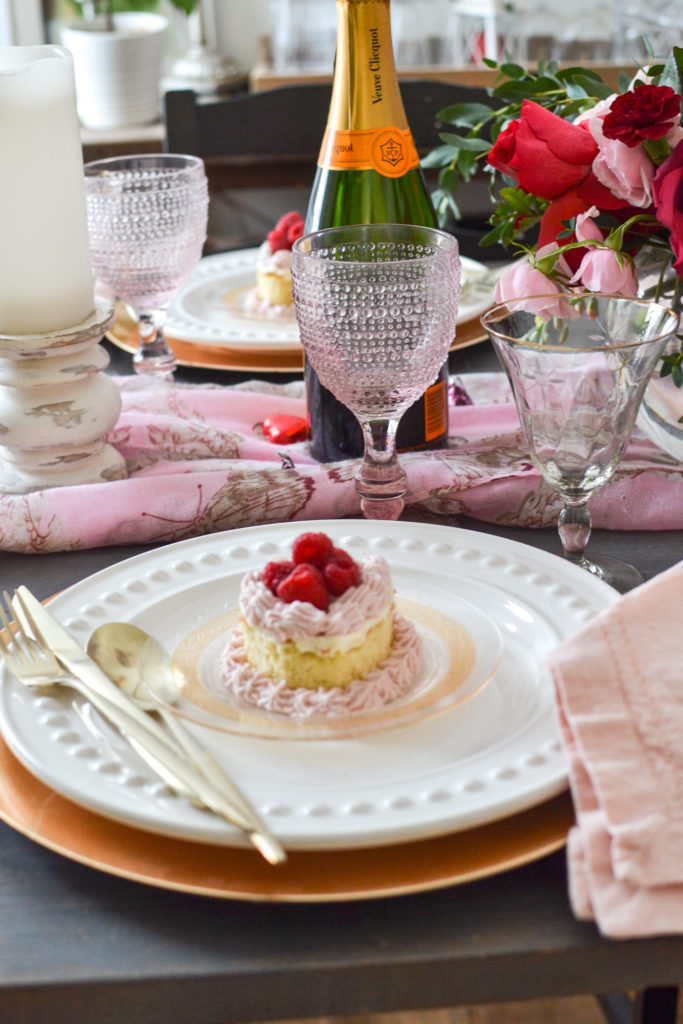 But, I wanted to share how I mixed both old and new to create this table. As well as higher priced and budget items. These are tips that would work no matter what occasion you are styling a table for.
Dinnerware
For this table I started with very inexpensive plastic gold charger plates from the dollar store!
Next I stacked on my everyday white dinner plates purchased from HomeSense for just $4.99 each.
On the more high end, I topped the plate stack with antique gold embossed crystal plates that belonged to my grandmother.
Flatware
I used simple gold flatware, also purchased from HomeSense for under $30. Amazon also has similar gold flatware at very good prices.
Glassware
I love combining old and new glassware. Here I have used inexpensive pink pressed glass from Winners (just $3.99 each) purchased a few years ago, and antique gold rimmed crystal wine glasses that play into that romantic theme.
Table Covering
I opted not to use a tablecloth, as I often do since I really love our aged gray wood dining table. Instead of using my usual pink linen table runner, I used a pretty pink scarf placed down the centre of the table.
It adds a bit of colour and softens the wood backdrop. The bonus is that it cost me nothing since I have had it for years!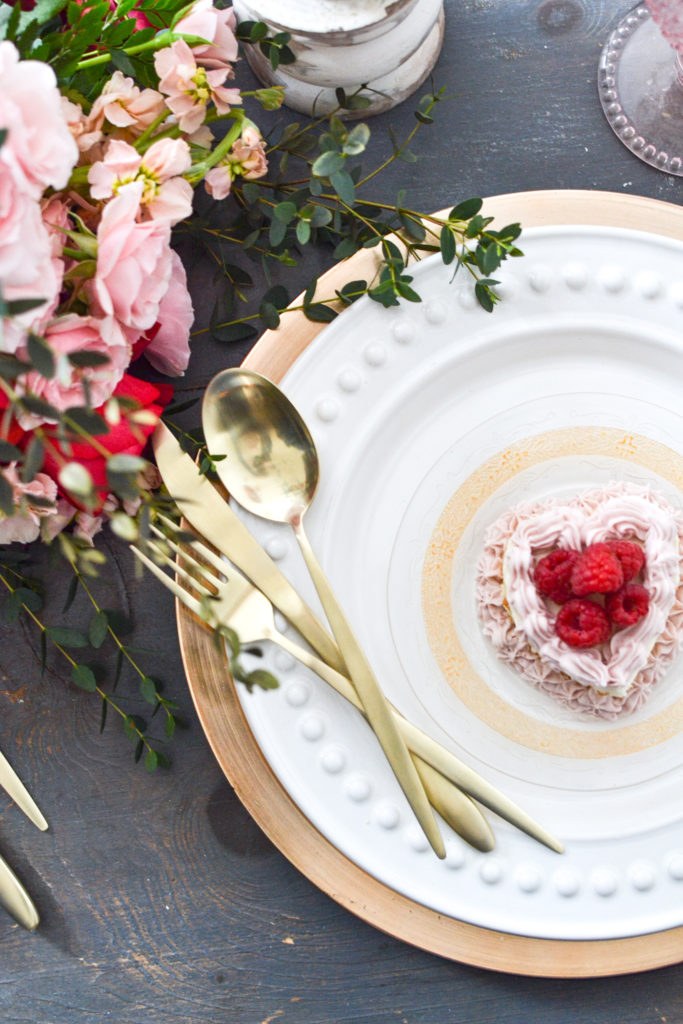 Other Decor Element Details for a Romantic Table
No cost: I always shop my home for different elements to use for my tablescapes and encourage you to do the same.
These battery operated flickering candles sit atop up cycled thrift store candle pillars (they also double as cake plates) that usually reside on my fireplace mantel.
Low cost: Semi-homemade mini cakes were just the cost of a cake mix and icing sugar. Foil covered heart shaped chocolates and Hershey's Kisses in a Valentine's theme are inexpensive additions to the table
High cost: While you definitely do not have to splurge on expensive bubbly, I did use one on the higher priced end. But, only because I had it in my wine fridge!
I hope I have inspired you to create a romantic table setting for Valentine's Day this year. Even if you are spending the day on your own I think adding a touch of romance to our lives is always a good idea!
Other tablescapes you might enjoy
How to Style an Easter Table Kids Will Love
A Simple Summer Luxury – Dining Al Fresco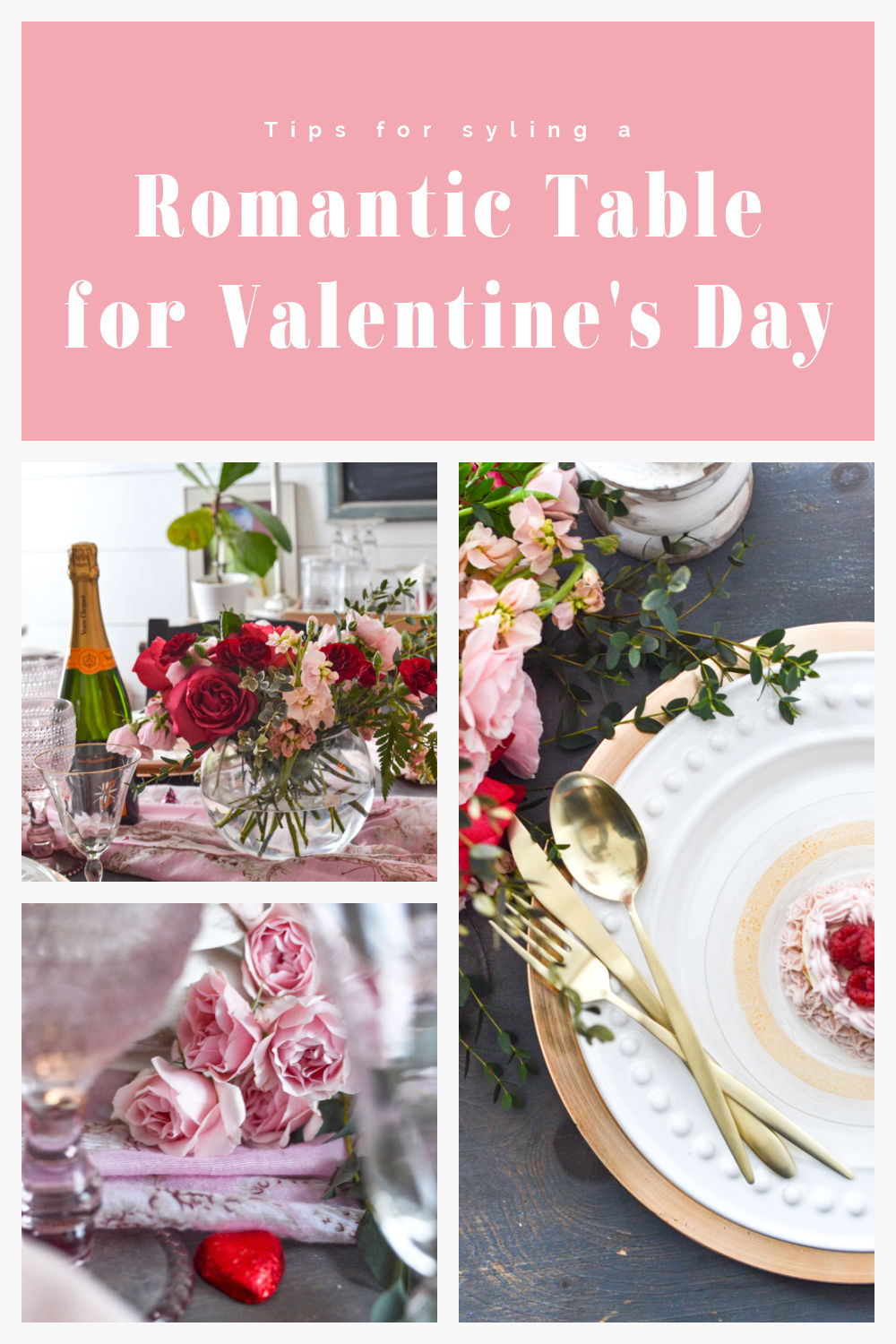 Now, it's time to check out the other bloggers participating today. They are all very seasoned and very talented table stylists who share in my fondness of elevating the every day simply by styling a beautiful table!
Life and Linda – Love Is in The Air!
Debbee's Buzz – Puttin' on the Ritz for Romantic Table.
My Hubbard Home – Valentine's Day Sweet Rustic Table Setting.
Me and My Captain – Be My Valentine
Everyday Living – Reservations for 2 at the Sunshine Cottage
Home is Where the Boat Is – 'Owl' Be Your Valentine
Panoply – I Only Have 'Ice' for You, Valentine
Karins Kottage – Easy Valentine Table Decor Tips
The Little Yellow Corner Store – Having a Big Heart for Plaid and a Valentine's Day Tablescape Blog Hop
My Thrift Store Addiction – Home is Where the Heart Is – Whimsical Valentine Tablescape
Hyacinths for the Soul – Bee Mine, Valentine!
Dinner at Eight – A Little Romance for Valentine's Day
The Painted Apron – Hugs & Kisses & Valentine Wishes
Bleu Belle Interiors – La vie en Rose
The Bookish Dilettante – Valentine's Day Tradition
Zucchini Sisters – Hugs and Kisses Valentine Tablescape

Pandora's Box – Valentine Table for Two
Red Cottage Chronicles – A Romantic Table Setting for Valentine's Day
Corner of Plaid and Paisley – Plant One on Me