These easy no-bake Christmas squares have been a family favourite forever! Confetti squares are their real name, but in our family they are know as Grampie's favourite squares!
(Originally posted October 2012 – Updated December 2021)
No one had any idea what the real name of these squares were, we only knew that my Grammie made them for my Grampie all the time as they were his favorite.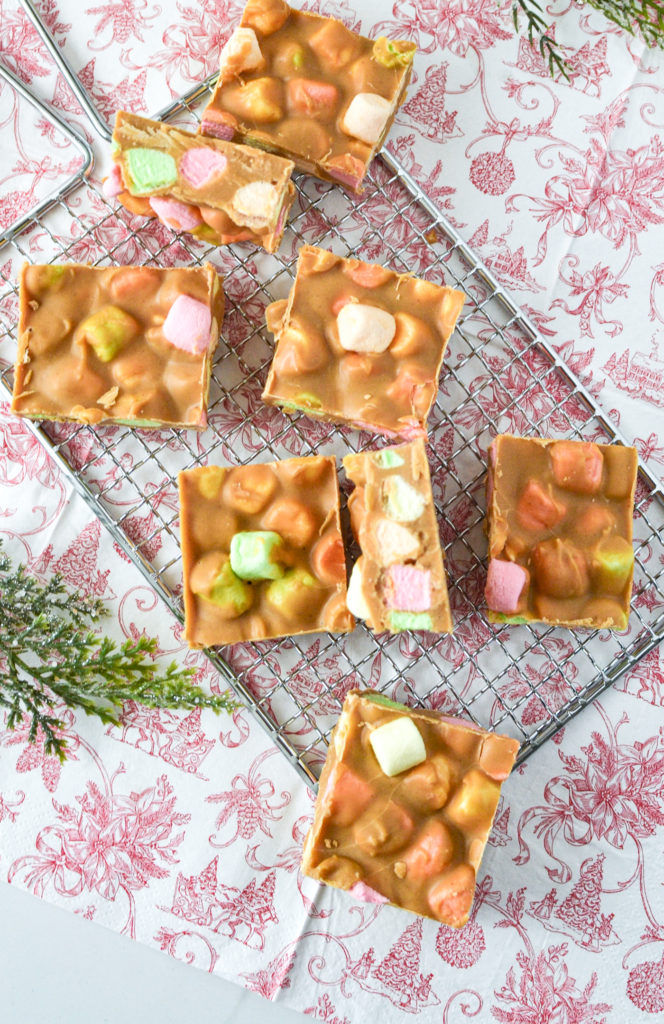 The recipe was passed to my mom who continued to make them for us, but usually only at Christmas, which makes them a special treat.  
This post contains affiliate links. Should you click the link and decide to make a purchase, I may earn a small commission with no additional cost to you!
Why you will love these confetti squares
No-Bake
These are perfect to make at Christmas time! They are easy and take very little hands on time. The set in the refrigerator, leaving you oven free for baking more yummy recipes like these Raspberry Jam Bars
Perfect for Holiday Cookie Platters
I mean really, how gorgeous are these?! I think it was the brightly coloured marshmallows that always drew me to these as a kid, and not much as changed!!
Perfect for hostess gifts
While these will freeze well, these are the perfect treats to make at the last minute hostess gift! Why not make them a pretty 8 inch pan and wrap the whole thing up in cellophane. Add a pretty bow and voila! A gift that will be enjoyed and appreciated.
The trick to smooth Confetti Squares
Even though these confetti squares are super simple to make, I could not make them quite as good as my mom, but I think we figured out why today! 
I could never get the butterscotch chips to blend nicely with the peanut butter despite following the directions exactly.  They seemed to separate and not stick nicely to the marshmallows.  They always tasted okay, but didn't look very appetizing.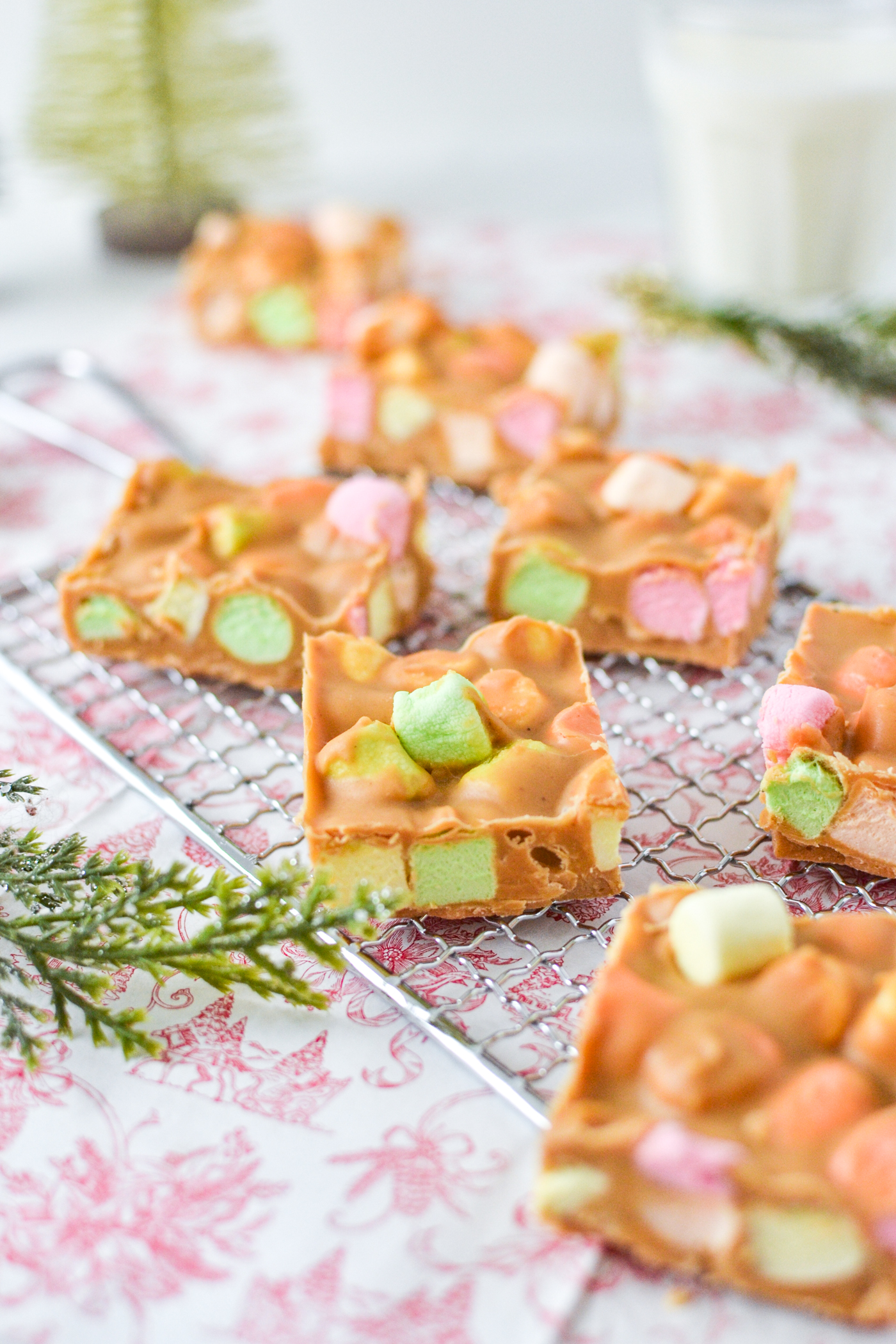 I invited Mom up to help me make these to see if she noticed what I might be doing wrong.  I mean when you see how easy these are you will wonder how I could you screw them up! It turns out I wasn't using authentic Chipits butterscotch chips and this appears to be the secret to getting them just right!  No more butterscotch chips from the bulk food store for me.
So, under Mom's watchful eye, I made these absolutely perfect….using Chipits brand butterscotch chips.  Or maybe it was just because Mom was in the kitchen with me!
No-bake Christmas Treats with Just Four Ingredients
I package Chipits butterscotch chips
smooth peanut butter
pastel coloured mini marshmallows
butter
Kitchen Tools You Will Need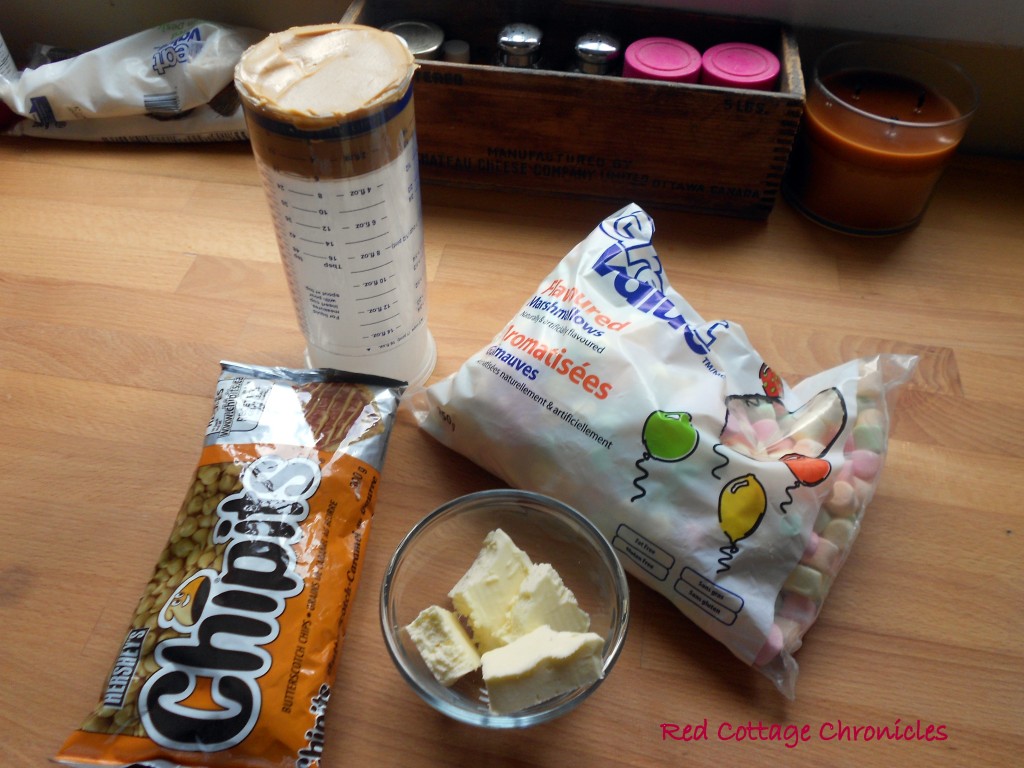 Add Chipits butterscotch chips, peanut butter, and butter to the top of a double boiler of simmering water. Stir with rubber spatula until just melted and smooth.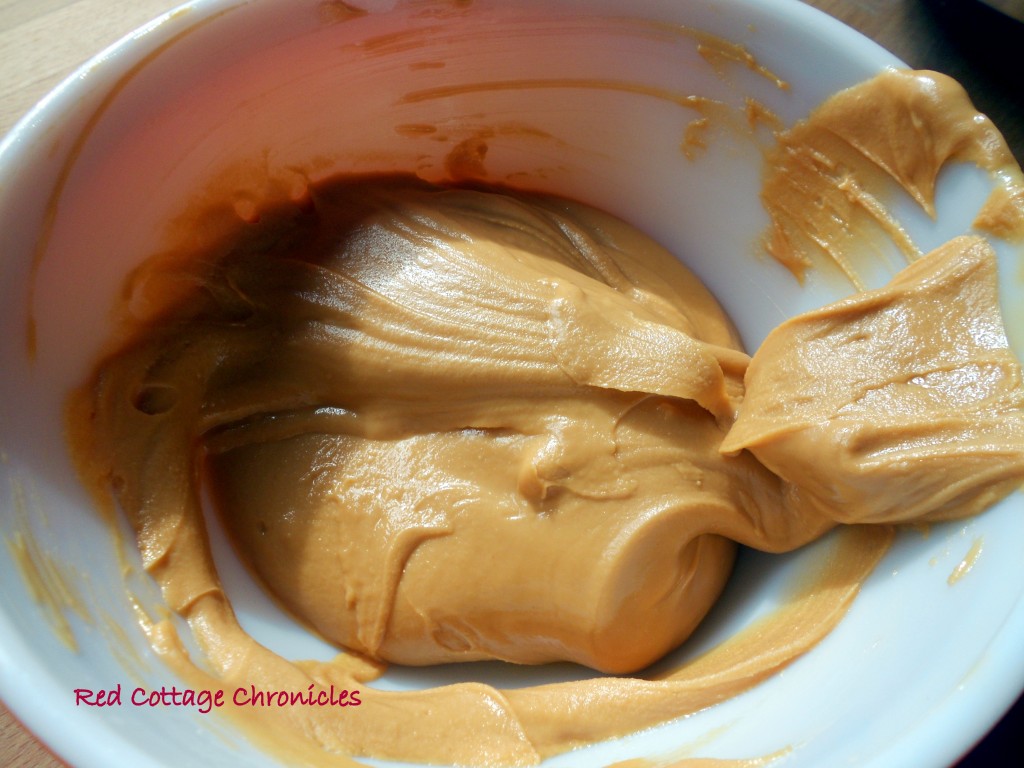 Add marshmallows and stir until combined and marshmallows are well coated.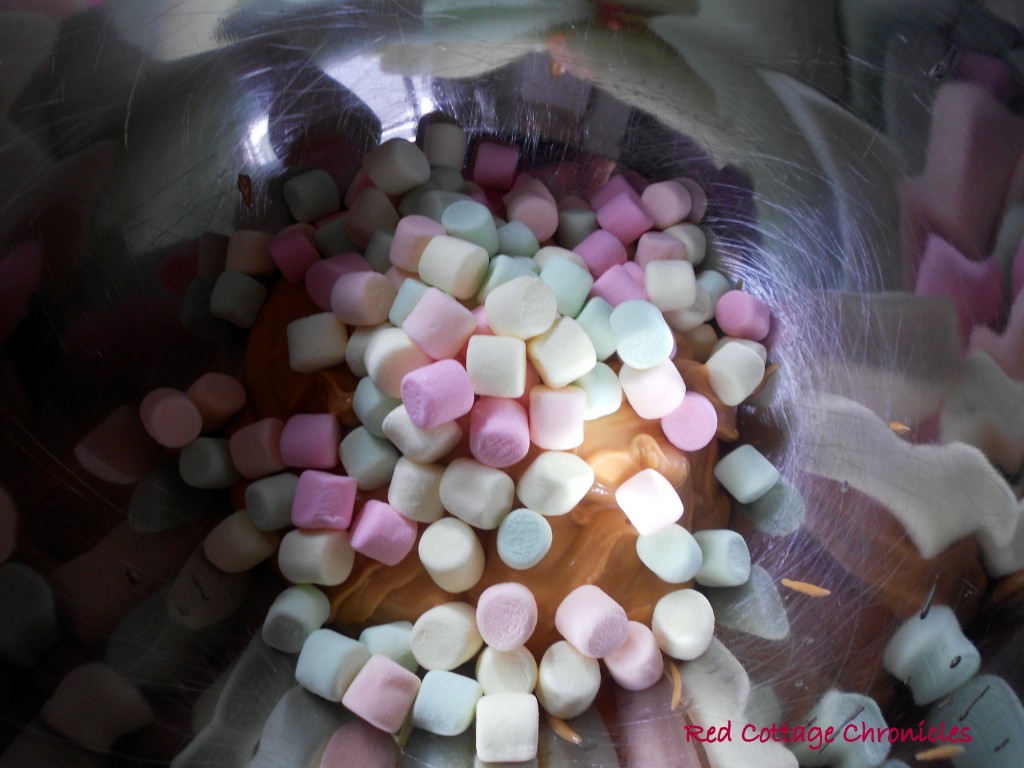 Spread mixture into 8 inch square pan and refrigerator about 2 hours, until firm.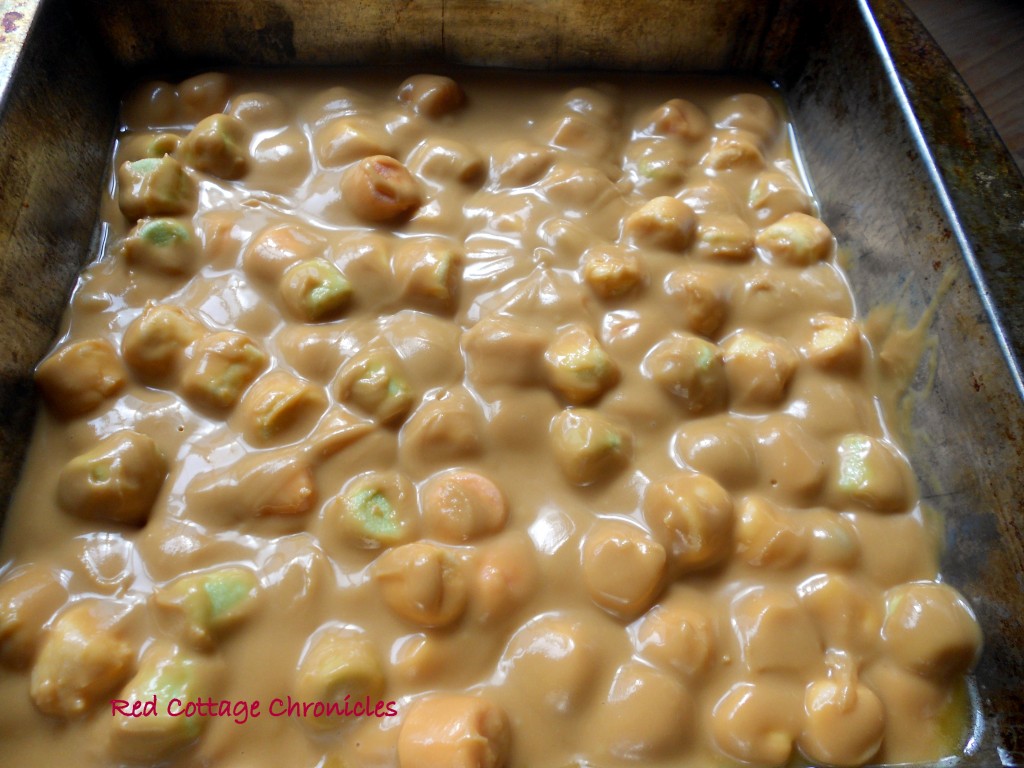 Cut into 16 large or 25 small squares. Store in the refrigerator for up to a week, or freeze for up to three months.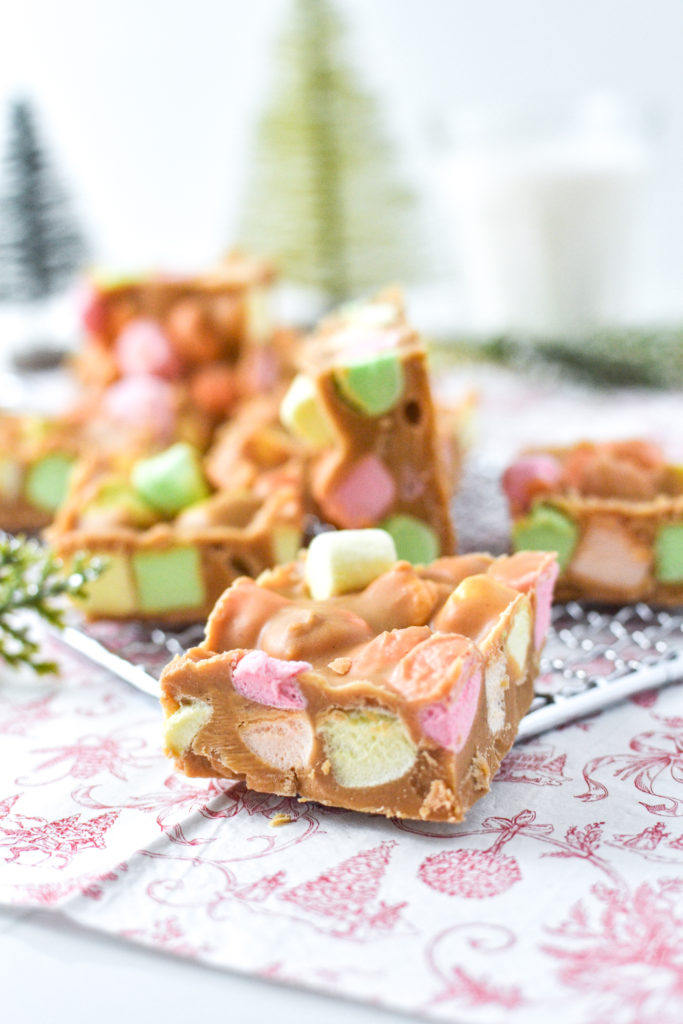 I mean really, how could anyone resist these colour gems?! Smooth and creamy, these confetti squares will be a hit at a Christmas cookie exchange too!
Other Christmas Treats You will Love
Coconut Cherry Snowballs (no-bake)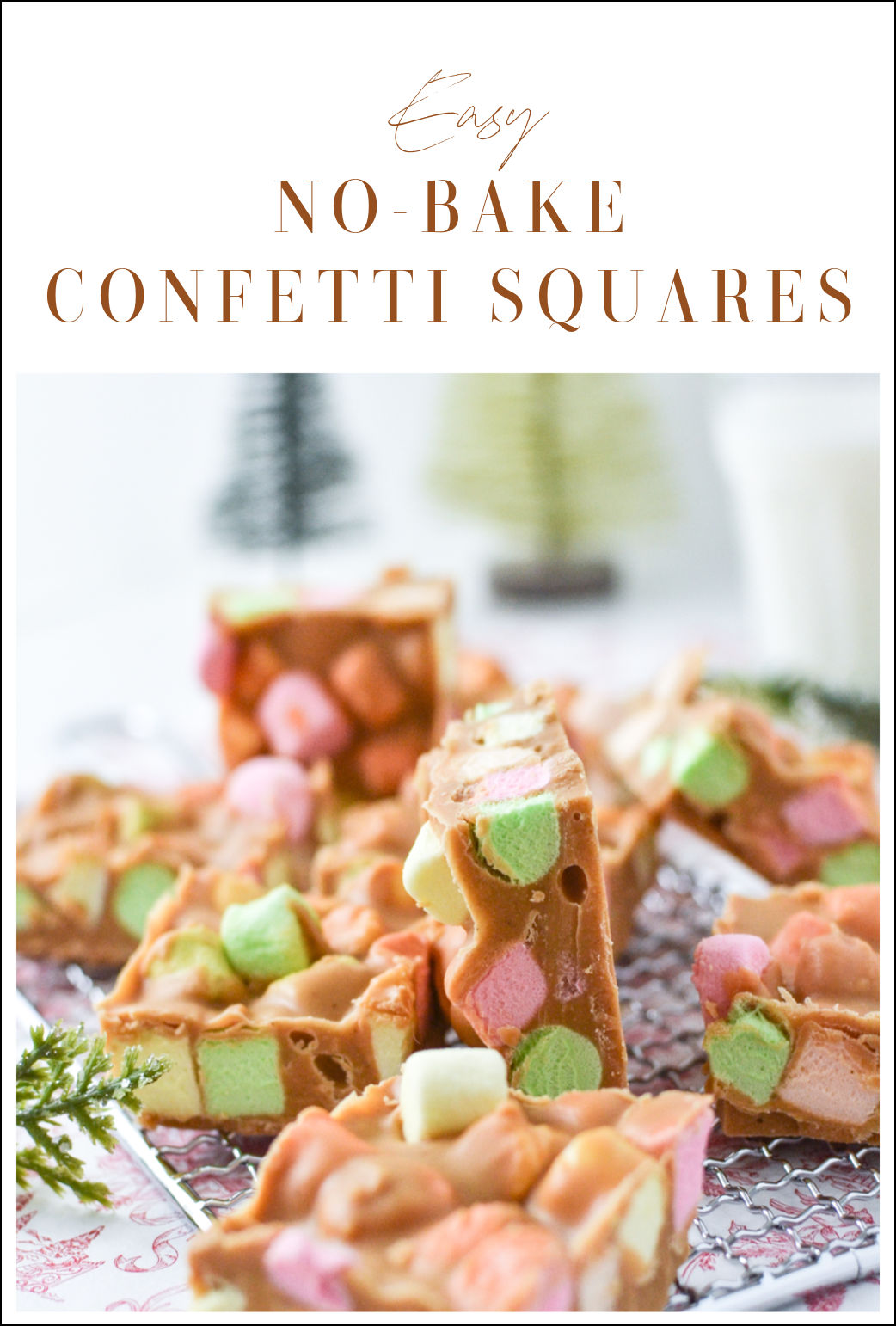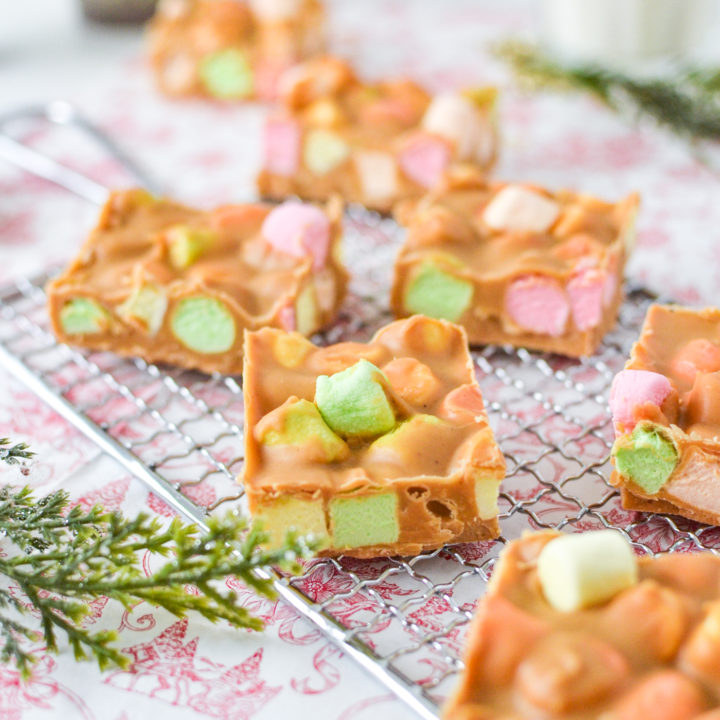 Peanut Butter Butterscotch Confetti Squares
Total Time:
2 hours
10 minutes
These easy no-bake confetti squares bring together butterscotch chips, peanut butter and fruit flavoured mini-marshmallows to create the most delicious Christmas treats! A delicious and pretty addition to any Christmas cookie platter!
Ingredients
1 300 gram pkg Chipits brand butterscotch chips
1/2 cup smooth peanut butter
1/4 cup unsalted butter
1-2 cups multicoloured fruit flavoured mini-marshmallows
Instructions
Spray an 8 inch baking pan with non-stick spray and set aside
Bring a couple of inches of water to a boil in the bottom of a double boiler and reduce to simmer.
Place Chipits, peanut butter and butter in the top pot and place over simmering water. Stir, until everything is melted and smooth. Remove from heat.
Add 1 cup or two of mini-marshmallows (I use about 1 1/2 cups) to the mixture and stir until all the marshmallows are coated and evenly dispersed.
Turn mixture in the prepared baking pan and spread evenly
Refrigerate for 2 hours, or until set-up and firm
Cut into 16 larger or 25 small squares
Store in the referigerator for up to a week
Notes
I swear by using Chipits brand chips to get the smoothest consistency.
Heat the mixture just until melted and smooth. Over heating can cause the sugars in the chips to crystalize resulting in a grainy texture