Even if you have your favourite roasted potato recipes, but I am going to share with you how to make perfectly crispy Dijon roasted potatoes in the oven that will surely become your new favourite!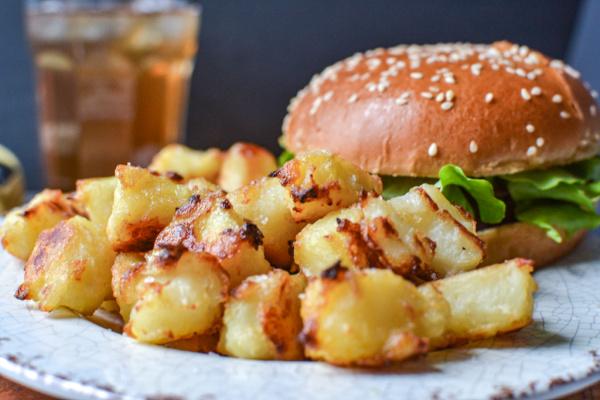 I will never forget the fried potatoes my mom used to make using left over potatoes. They were extra crispy on the outside and soft and tender on the inside. I also remember how long she stood in front of the stove while she carefully fried them to perfection.
Turns out, I can get that same tender, fluffy potatoes with the extra crispy edges made right in the oven. No need to stand at the hot stove fussing over them.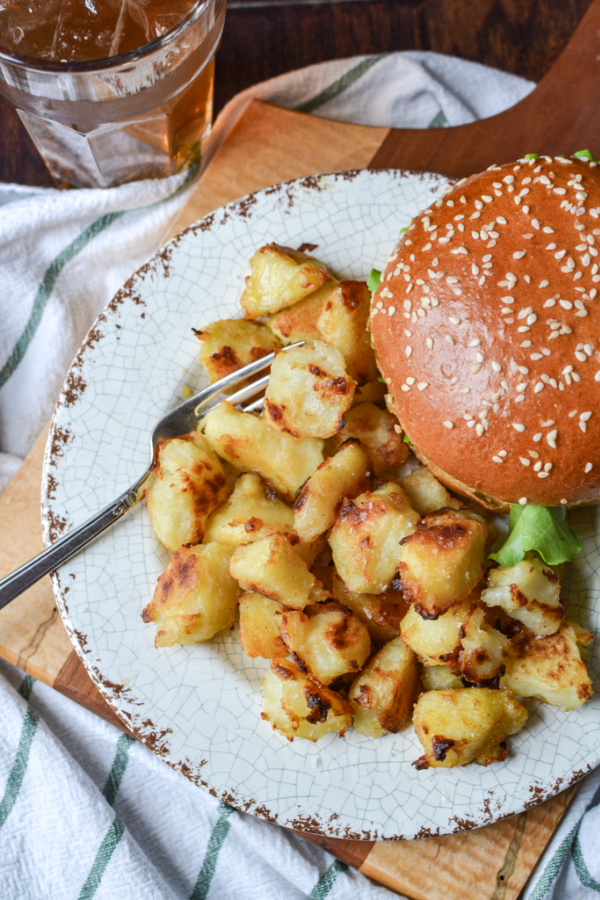 And, as I love to elevate the everyday, I decided to toss them with an easy Dijon sauce that only helps to make them one of the best roasted potato recipes ever!
I do think Mom was on to something though. She always used cooked potatoes that had been "jostled around a bit" making the edges soft and jagged. Perfect for making an extra crispy potato!
This post contains affiliate links to help you find the products I use in my own kitchen. I may earn a small commission should you make a purchase, at no additional cost to you.
So, exactly how do you achieve that perfectly crispy roasted potato?
SECRET # 1 – PARBOIL
SECRET # 2 – DRAIN & SHAKE
Yup, that's it! Parboiling allows the cooking process to start and the potatoes to soften, but not fully cook.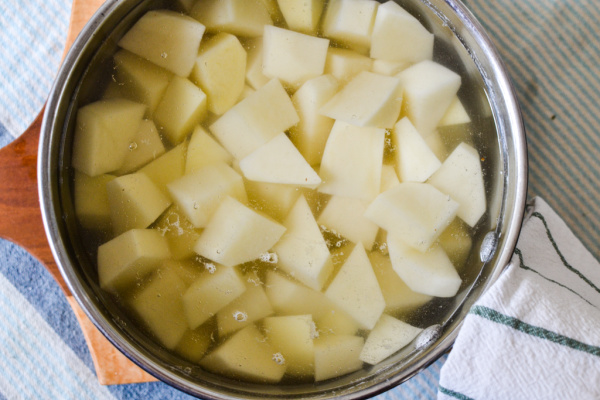 Once the potatoes are drained, put them back in the pot with the lid held tightly closed and give it a good shake, or if you are using a metal colander like I do, simply give it a couple of good shakes.
Shaking the potatoes looses up the edges. I like to call them fluffy edges, that crisp up nice and golden when roasted.
You can see in the photo below, they almost look like they could become potato salad, but they are not fully cooked. Those fluffy edges are going to pick up the dijon sauce and crisp up so well when roasted.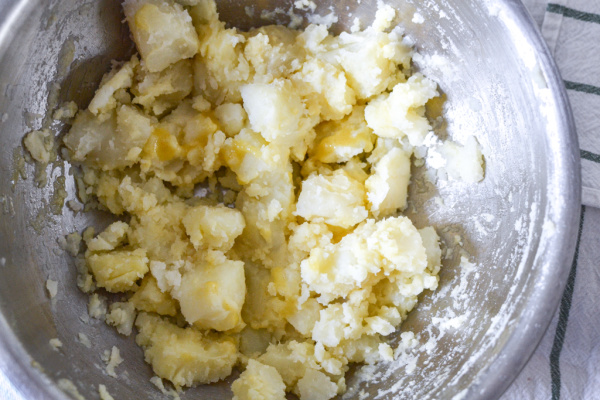 What kind of potato is best for roasting?
It was well into adulthood before I realized that all potatoes are not created equal!
And, all great roasted potato recipes start with the right kind of potato!
Potatoes that are to be roasted, or in this case parboiled and roasted, need to be of the floury (starchy) variety. Good choices are russets, Yukon Gold, and Idaho.
All of these varieties have a fluffy texture when cooked, making them ideal for these crispy roasted potatoes, or ultimate baked potatoes as well as mashed.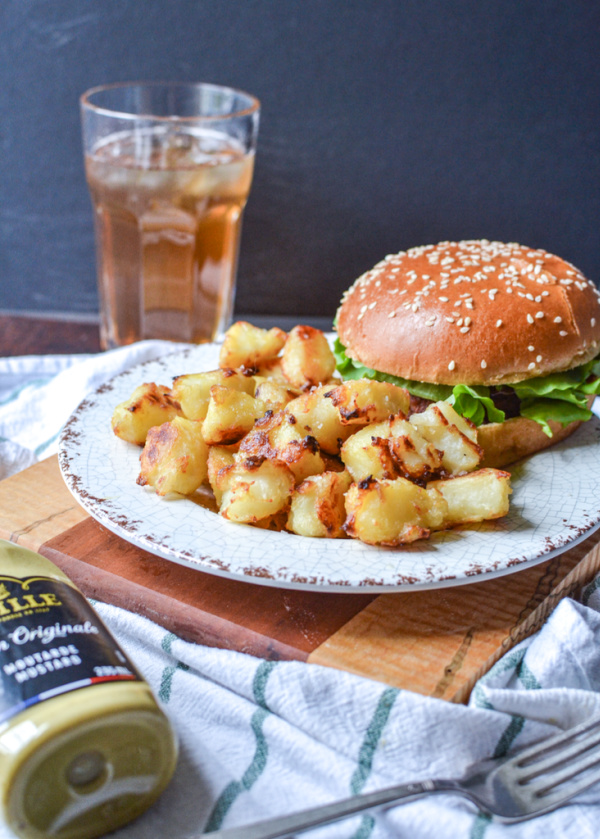 The basics of the best roasted potato:
Wash and peel the potatoes
Cut potatoes into large chunks (about 1 to 1 1/2 inches)
425 degrees is the perfect roasting temperature
Use a parchment paper on your baking sheet to avoid sticking
Don't crowd the potatoes on the baking sheet, arranged in a single layer with a wee bit of space in between each piece
Use tongs (I have several of these ones) to turn each piece after 15 minutes of cooking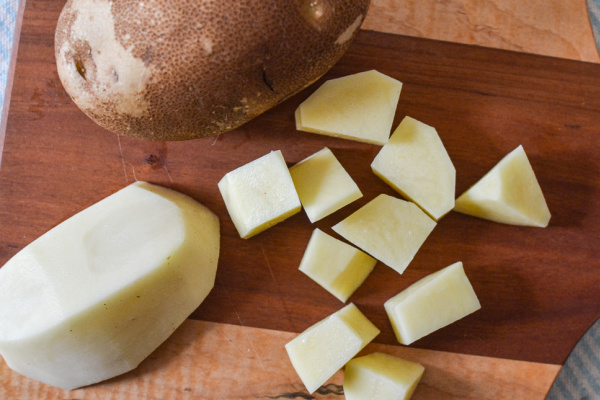 I use a simple combination of olive oil, Dijon mustard and maple syrup to create the perfect coating for these yummy roasted potatoes. Three simple ingredients that turn these potatoes into a wonderfully flavourful side dish!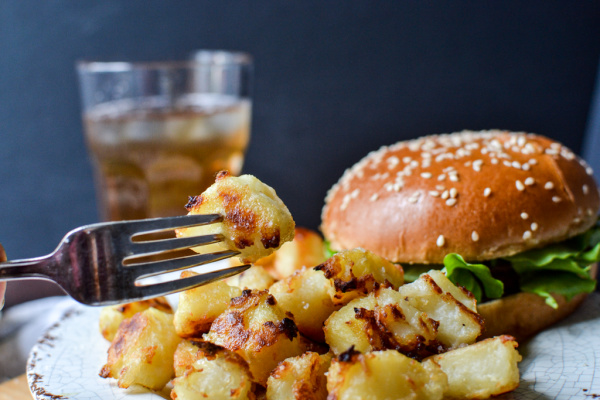 While these are perfect alongside a juicy burger (or in my case a juicy Impossible burger), they are equal delicious for breakfast or brunch. Add some grilled corn on the cob with dilled butter, some homemade banana ice cream for dessert, and you have the makings of a perfect summer meal!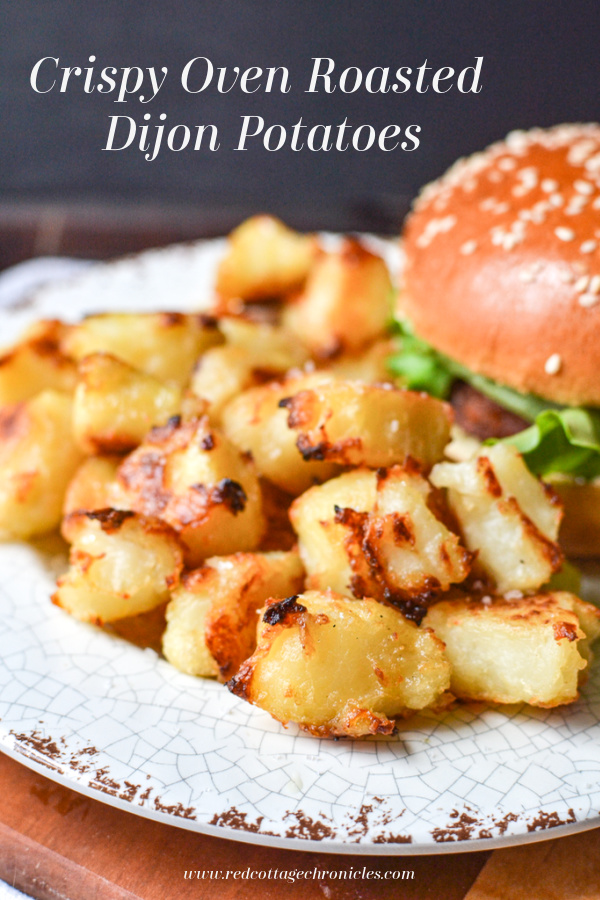 So, what do you think? Why not given them a try! I think they will be one of the best one crispy oven roasted potato recipes you have ever tried!
Until next time….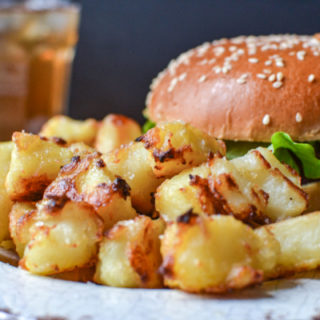 Crispy Dijon Roasted Potatoes
This is one of the best oven roasted potato recipes you will ever find! Crispy on the outside, tender and fluffy on the inside! With a mild Dijon mustard flavour.
Ingredients
5 large russet potatoes
6 tablespoons olive oil
1 tablespoon Dijon mustard
1 tablespoon pure maple syrup
Instructions
Preheat oven to 425 degrees and line rimmed baking sheet with parchment paper.
Wash and peel potatoes, cut into large cubes, and place into a large saucepan. Cover with cold water and bring to boil. Reduce heat and boil gently for 8 minutes.
Drain potatoes and return to the pot. Hold cover tightly over the pot and shake a few times to fluff up edges of potatoes.
Whisk together olive oil, mustard and maple syrup and poor over potatoes, tossing gently to coat. (You an reserve a bit to brush over potatoes when they come out of the oven if you wish)
Arrange potato pieces on parchment line baking sheet, in a single layer. Don't crowd them!
Bake for 15 mintues, turn potatoes, and bake for an addition 15 minutes or until edges are crispy and potatoes are golden.
Brush with additional Dijon and olive oil mixture if desired.