Today we are celebrating Victoria Day here in Canada. That means it is officially BBQ season! While I am not particularly a "summer" person, I do love stepping outside to the scent of someone grilling up something yummy for dinner.
If you are anything at all like me, I am always looking for something to grill other than your typical burgers, steaks and hot dogs.
Today I am joining a group of very talented bloggers to kick off BBQ Week by sharing our favorite grilled asparagus recipes!
But that's not all…….Michigan Asparagus has partnered with our group and is offering one lucky reader a prize package which includes 2 grilling baskets and a $50 Visa Gift Card! How cool is that! (See details below)
I am sharing my recipe using grilled asparagus, which received two very enthusiastic thumbs up from the family!
Grilled Balsamic Asparagus Nachos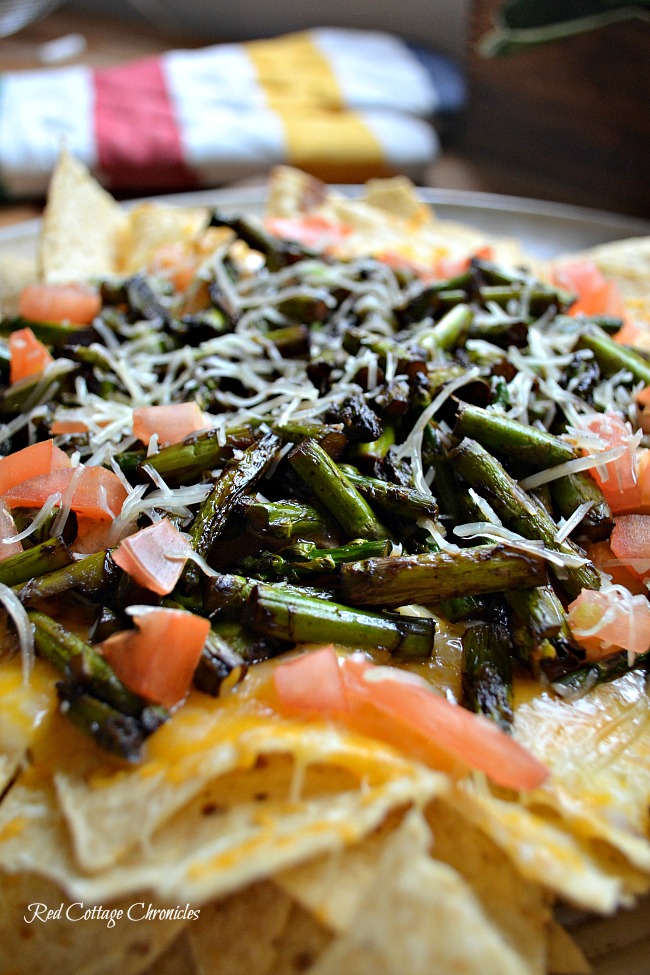 In working with the folks at Michigan Asparagus I learned a few fun facts……
New asparagus spears emerge every day, and in the right growing conditions can grow a half inch per hour
Local Michigan farmers produce approximately 25 million pounds of Michigan Asparagus during the state's 6-7 week harvest
It is a nutrient-dense, low-calorie vegetable with no fat, no cholesterol, and very little sodium
Michigan Asparagus is available mid-May through June and is the only hand snapped harvested asparagus which means more usable asparagus and less waste
I also discovered that my new farmhouse sink with its raised grid makes the perfect place to rinse vegetables!!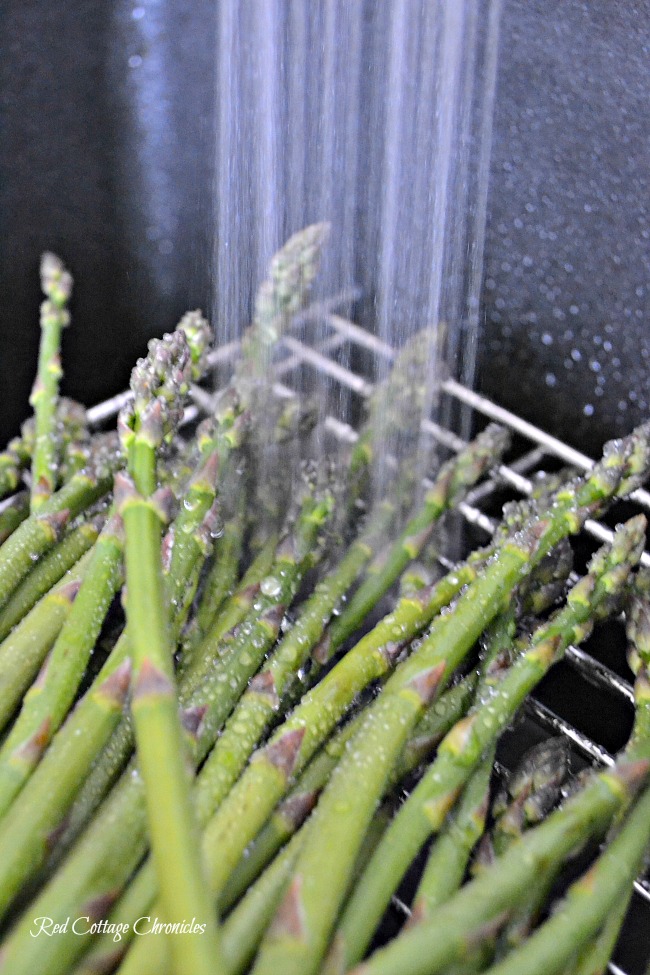 Grilled asparagus are so easy to prepare and take less than 10 minutes to reach that tender and slightly charred stage that bring out their delicious flavor.
A quick rinse, pat them dry and drizzle with olive oil & a sprinkle of salt if you wish.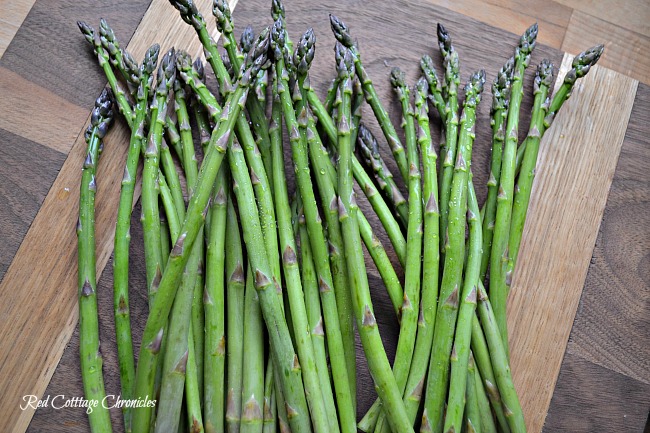 Arrange them in a grilled basket and over low heat grill until tender, using tongs to carefully toss them every few minutes to ensure even cooking.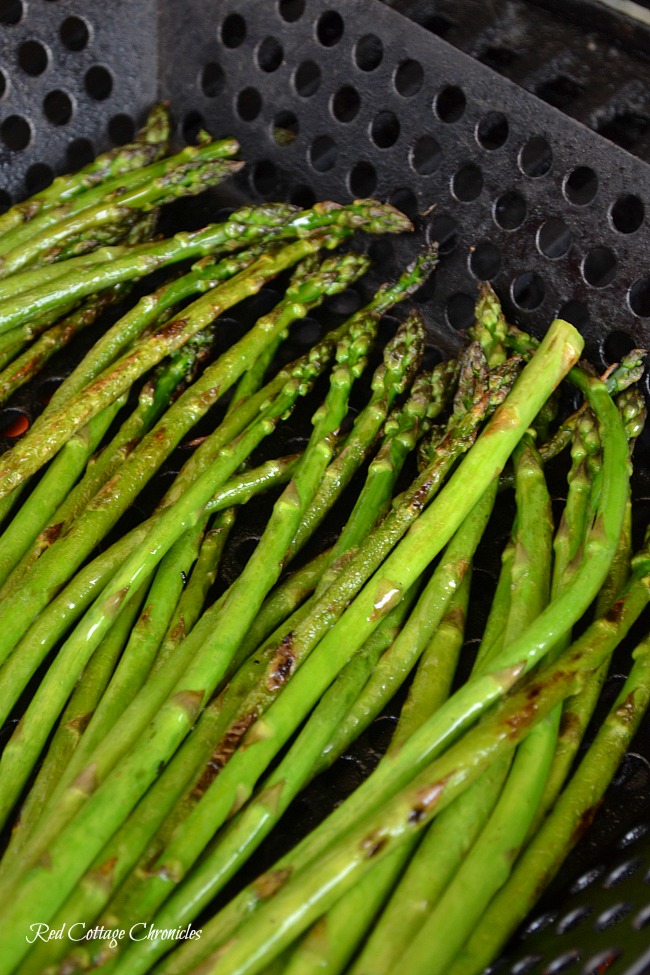 Remove from the grill and carefully transfer grilled asparagus to a cutting board. Roughly chop into 1/2″ to 1″ pieces.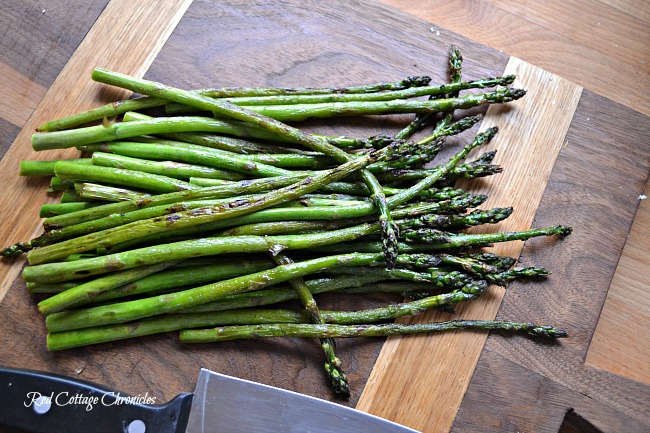 Fresh asparagus is the taste of spring and Michigan is one of the largest domestic asparagus growers in the United States. Michigan Asparagus is available mid-May through June.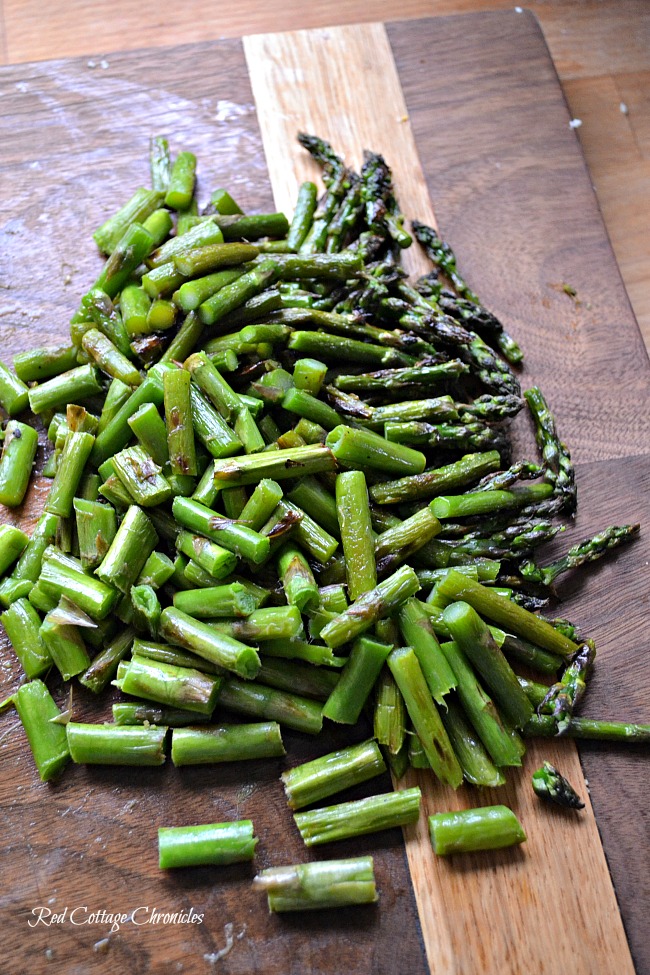 And, now these yummy grilled asparagus are ready to become the highlight of a big plate of cheesy nachos finished off on the BBQ! No need to heat up the house!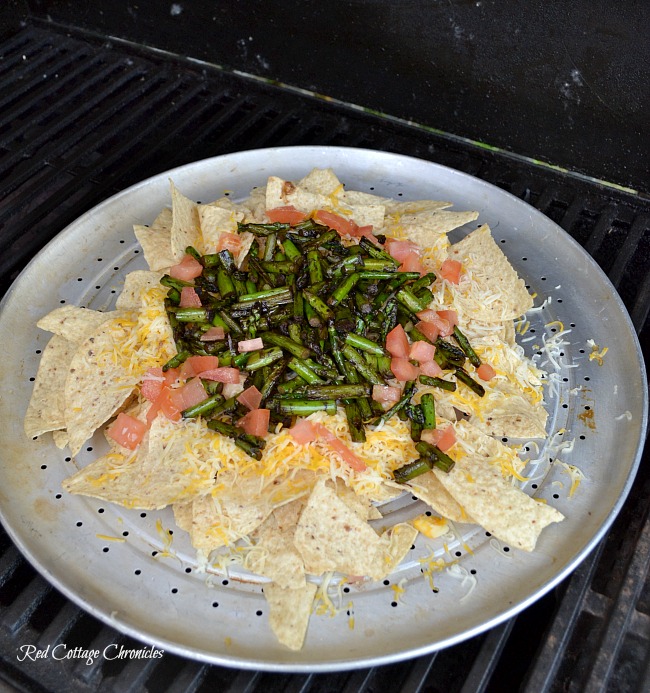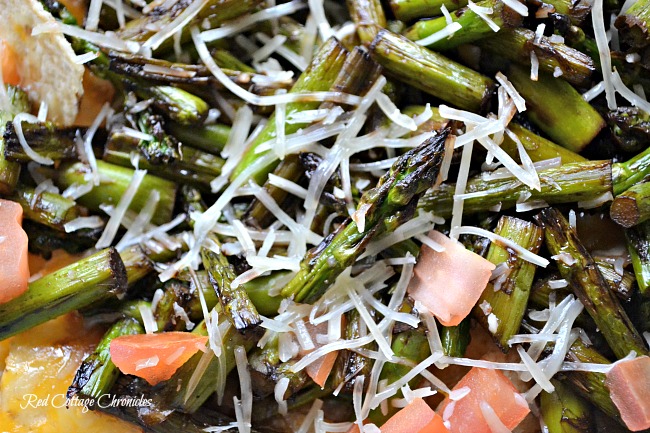 I sprinkled on a few chopped fresh tomatoes and a wee bit of grated Parmesan cheese. The fresh flavor of the asparagus didn't need heaps of salsa or sour cream. They were perfect just like this!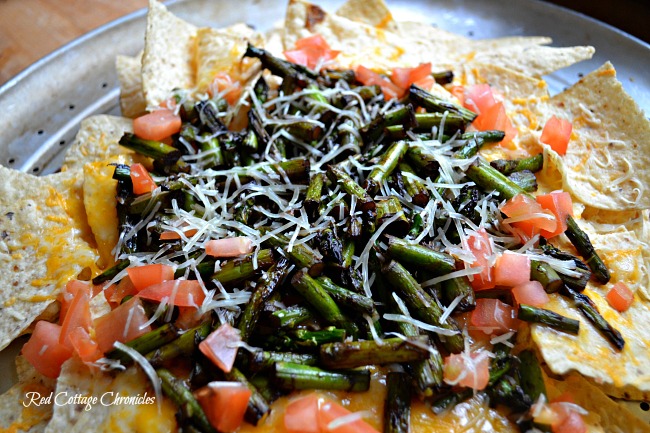 You will find the full recipe for these delicious Grilled Balsamic Asparagus Nachos down below. First you will want to check out these other delicious BBQ recipes featuring grilled Michigan Asparagus….
……oh, and enter for a chance to win a Michigan Asparagus Prize Package too!
Welcome to #BBQWeek
Let's fire up the grill, serve up some burgers or steaks or chicken and some delicious sides and desserts! Follow #BBQWeek so you don't miss one delicious recipe.There are more than 20 recipes this week from some amazing bloggers.
Michigan Asparagus is giving one winner two grilling baskets and $50 gift card.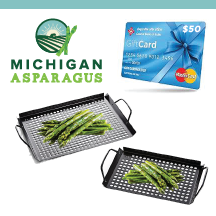 Giveaway is open to residents of the United States who are 18 years of age or older. Prize will be sent after the close of the giveaway. Bloggers are not responsible for prize fulfillment.
Thank you to Michigan Asparagus for sponsoring #BBQWeek and offering the amazing prize package.
Until next time…….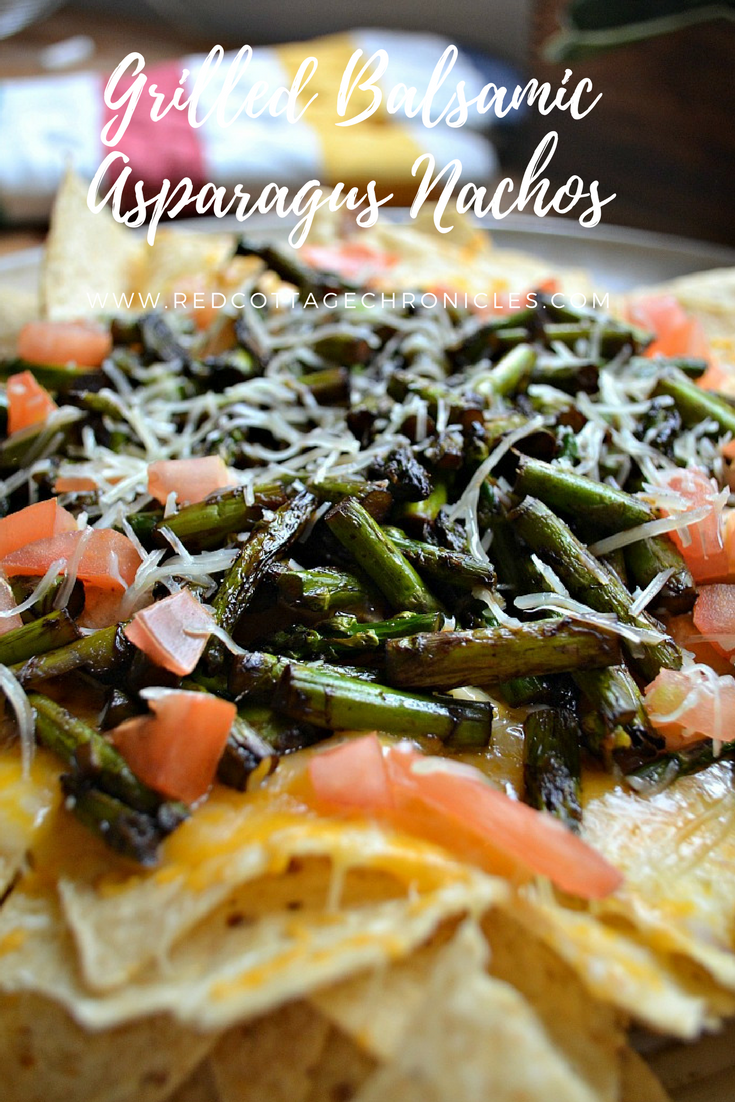 Grilled Balsamic Asparagus Nachos
2017-05-21 18:39:07
Serves 3
Ingredients
1/2 pound fresh asparagus, trimmed
1 tbsp olive oil
1/4 cup good quality balsamic vinegar
Restaurant style nacho chips
1 cup grated cheddar cheese
1/2 fresh tomato, finally chopped
2 tbsp freshly grated Parmesan cheese
Instructions
Arrange asparagus in a grill basket in a single layer, drizzle with olive oil.
Grill over low heat, tossing occasionally until tender and some pieces are slightly charred, 8 to 10 minutes.
Remove from heat and carefully transfer to a cutting board, chop into 1/2 inch to one inch pieces.
In a small saucepan bring balsamic vinegar to a boil, reduce heat and simmer until thickened and reduced by half.
Toss the chopped asparagus with the balsamic glaze.
On a performed pizza pan or rimmed heatproof baking dish, arrange the nachos, top with cheddar, asparagus and chopped tomatos.
Place the pan on the grill over low heat, close the lid and heat for 4 to 5 minutes (checking every couple of minutes) until cheese is melted.
Carefully remove from heat and immediately sprinkle with grated parmesan.
Red Cottage Chronicles https://www.redcottagechronicles.com/