Can you even believe that Halloween is almost here! Today I am sharing some Halloween table setting ideas that will inspire you to get in on the fun!
Thanks goes to Chloe from Celebrate and Decorate for hosting another fun table styling blog hop.
I have to admit, I have much more fun with Halloween now then when I did when the girls were little! No worrying about costumes, and trick or treating (in the snow some years!).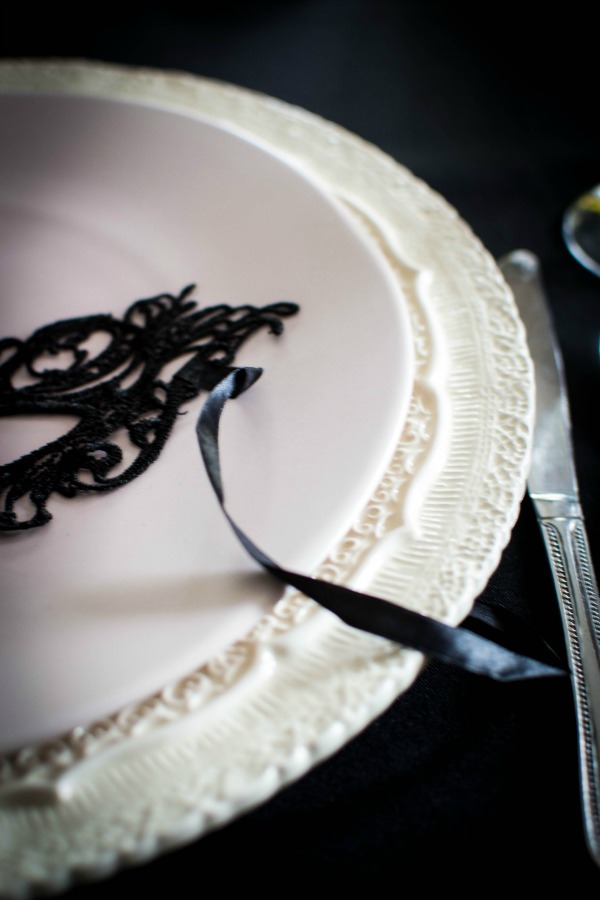 In past years I have gone with a mystical themed table and an eerily elegant table. This year I decided to go simple and classic.
Back a couple of months ago I came across these beautiful black lace masquerade masks and they became the inspiration for my Halloween table.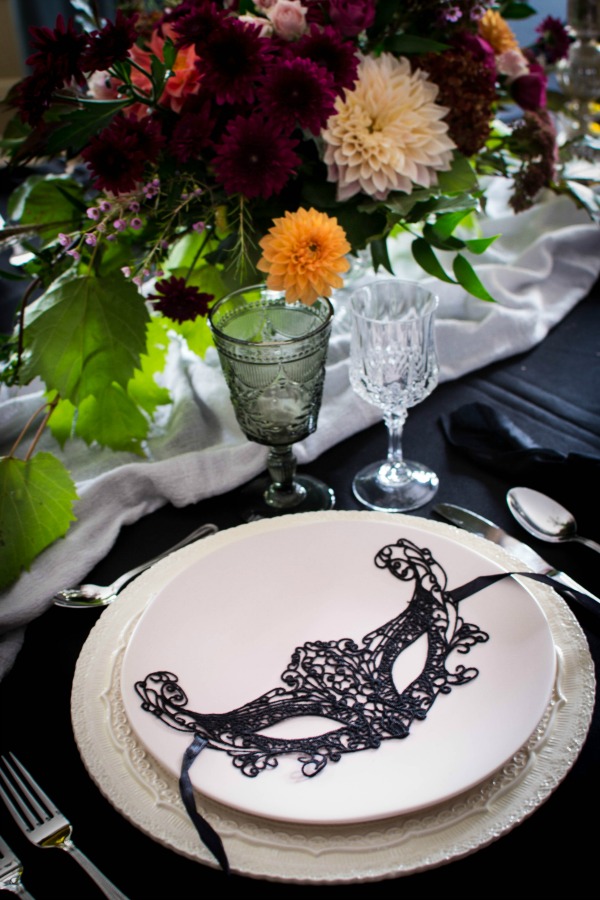 The problem was, to complete my vision would require the purchase of ornate chargers, pink dinner plates, a gauze table runner and dark grey water glasses.
I always aim to have a table that speaks to the occasion and in doing so I have accumulated far more plates, chargers and other table styling accessories than I have room to store.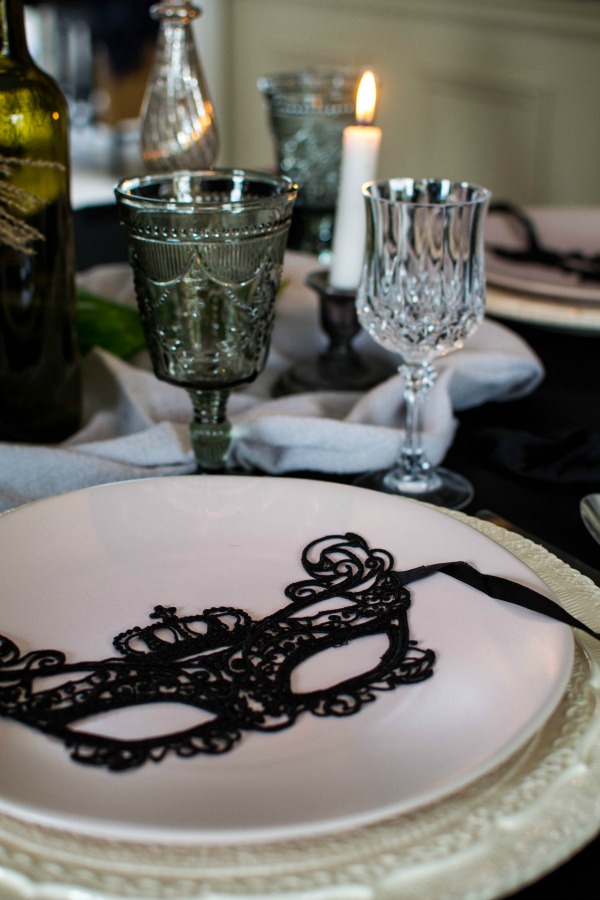 Rather than head to the nearest HomeSense I instead got in touch with Simply Beautiful Décor, a local special occasion rental business that goes above and beyond simple white dinner plates and basic linen choices usually found at "party" rental places.
How could it be that I didn't know about Simply Beautiful before. It was only by luck that I found out about them when I attended the wedding shower for my nephew and his (now) wife. I arranged the flowers for the occasion and when I got to the venue and saw how gorgeous the table setting was, I just had to know how this beautiful setting came to be!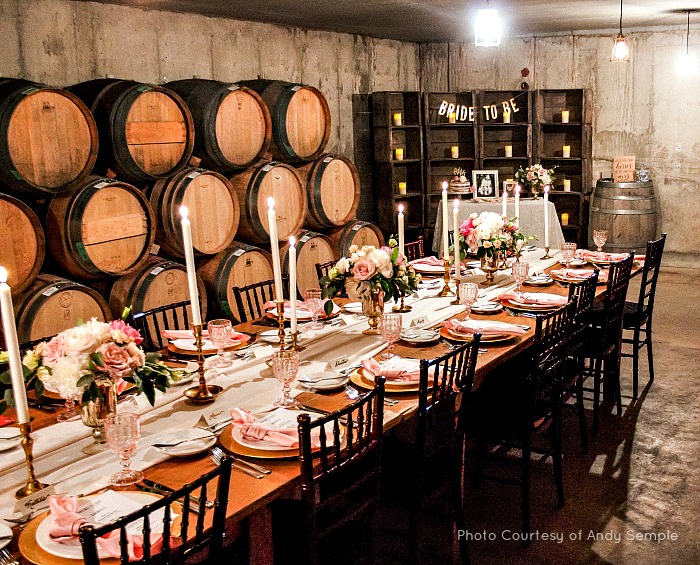 When I found out it was a local business specializing in elegant décor, I knew that I would be paying them a visit real soon! Turns out it is a table stylists heaven!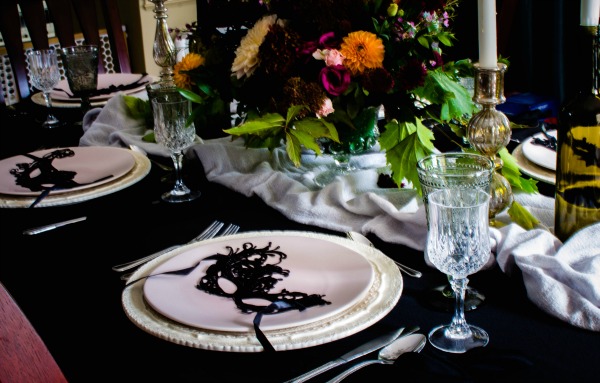 They had everything I needed (and didn't already own) to style my Halloween table exactly how I had envisioned. Classic and simple, almost a romantic spin on a Halloween party!
I think it would be a fun table for hosting a murder mystery dinner!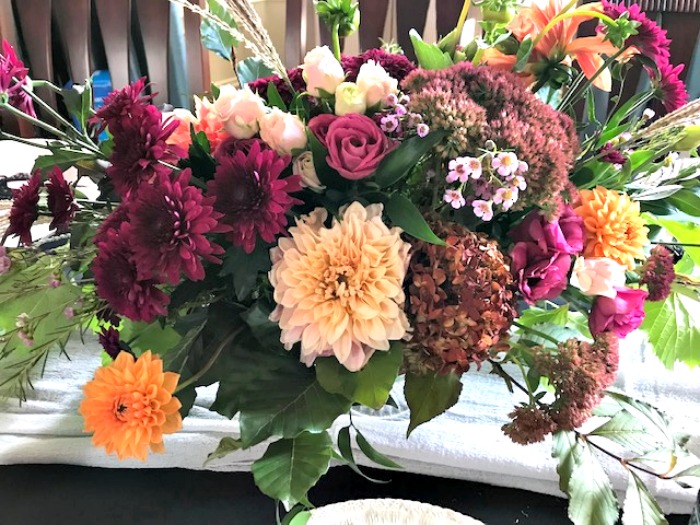 I created this autumn centerpiece for this week's Market Flower Monday with this tablescape in mind. Dark and moody colors with just a pop of creamy pink dahlias and spray roses compliment the pink dinner plates.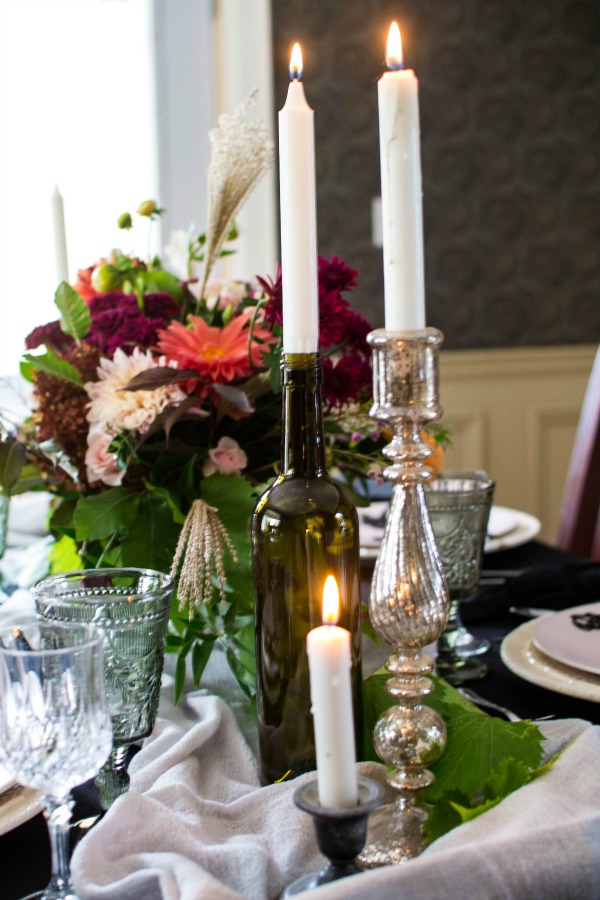 The only other accessories on the table are white taper candles set in dark green empty wine bottles, mercury glass and pewter candle holders. I had thought of adding a few skulls to further create a Halloween theme, but actually much preferred this "less is more" look!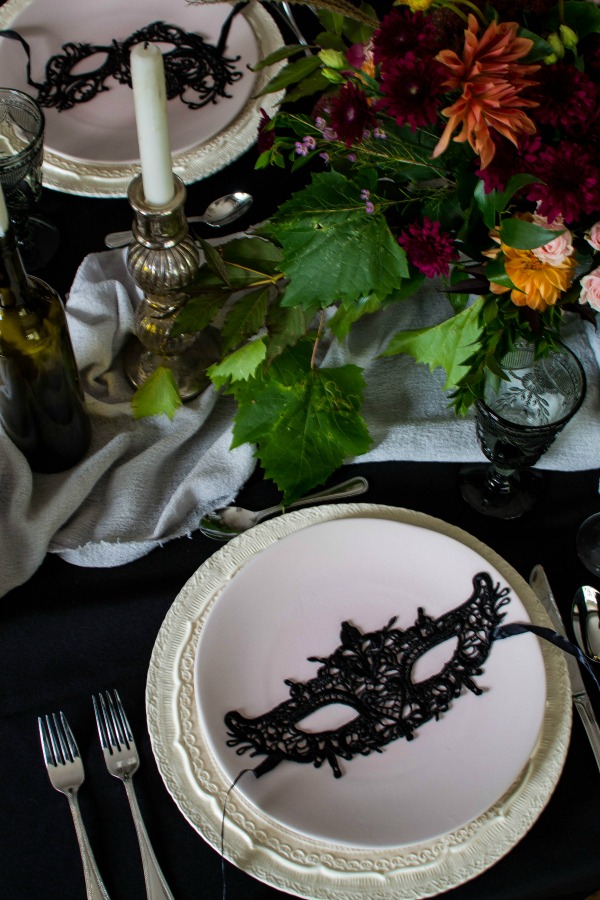 Simple sliver flatware flanks the plate stack, all sitting upon a basic black tablecloth. I used vines growing in the yard to extend the centerpiece and allow it to mingle with the candles.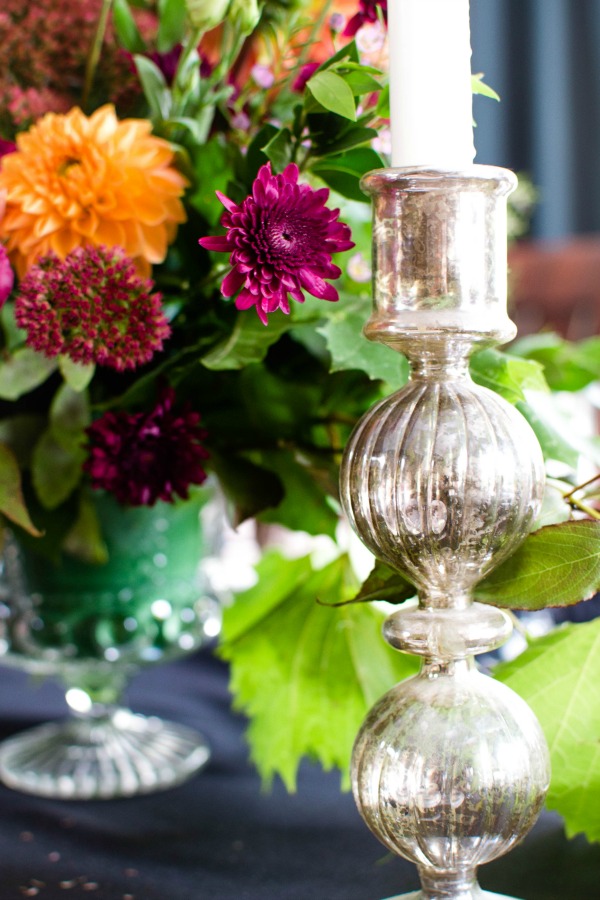 My favorite mask is the one pictured below! It could very well have something to do with the fact that it has a crown!!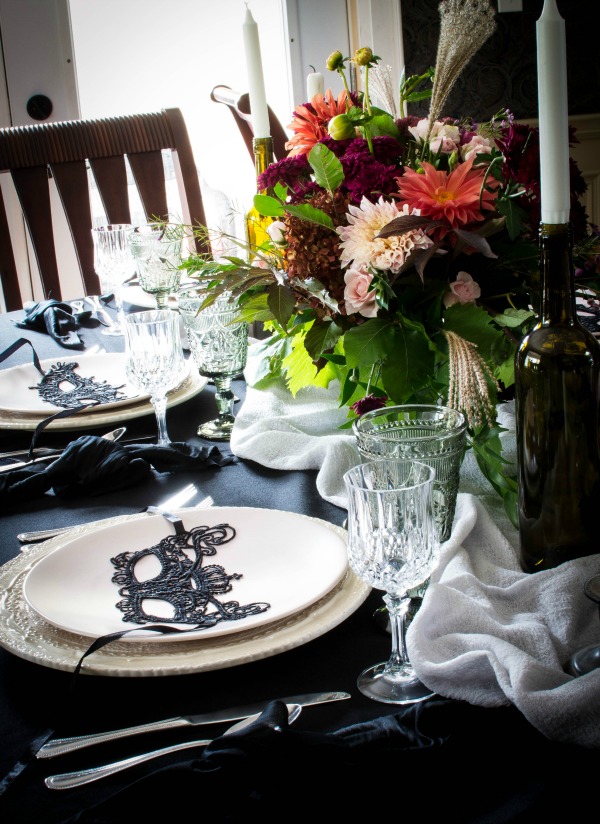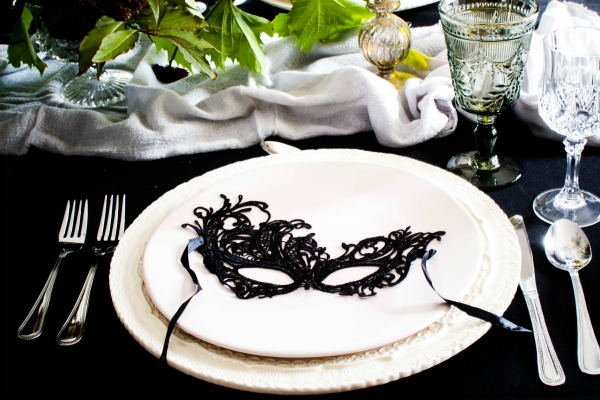 One thing I know for sure is that renting tableware for special occasions is such a smart way to bring your vision to life without breaking the bank or using up precious storage space! Especially those pieces that you may only use once or twice.
RENTED:
Wildflower Ivory Chargers
Heirloom Blush Dinner Plates
Smoke Debutante Water Glass
Light Grey Gauze Runner
ALREADY OWN:
Black Tablecloth
Lagostina Flatware
Black Napkins
Candlesticks, wine bottles, and candles (Ikea)
PURCHASED:
Masquerade masks (Amazon)
Some flowers for the centerpiece (others foraged)
I have had such fun visiting the all the other bloggers so far this week, all sharing their own Halloween table setting ideas. (You can find the links below.) If you are stopping by from Debbee's Buzz, welcome!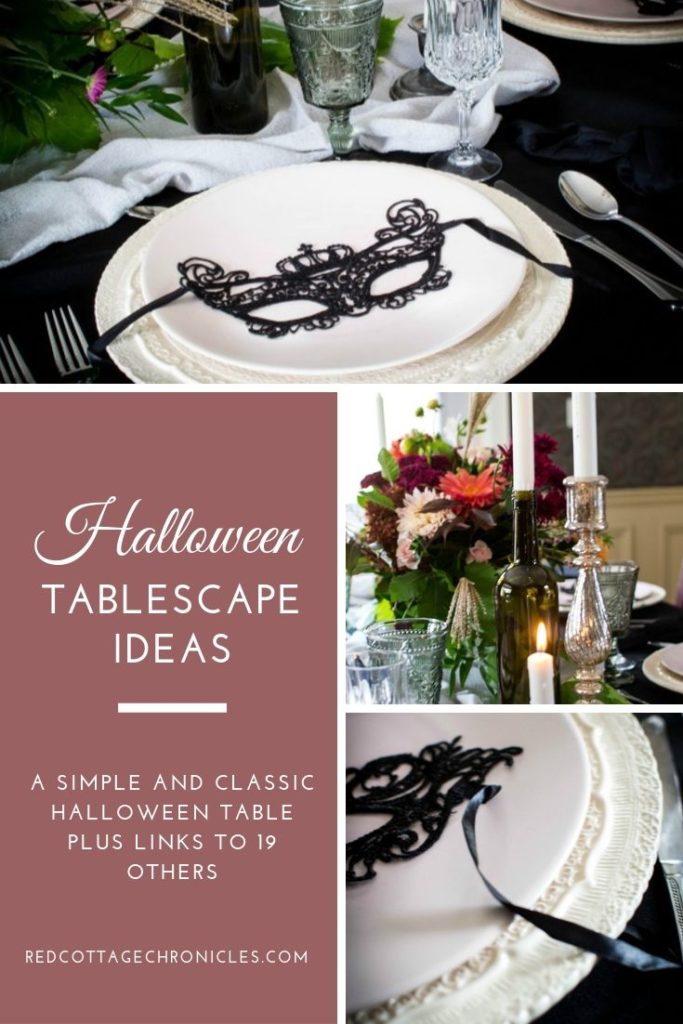 Be in the know! It may be a delicious recipe, a stunning tablescape, or decor tips to make your house a home! Simply click here to subscribe. I never sell or share your information, and you can unsubscribe at any time!
Until next time…..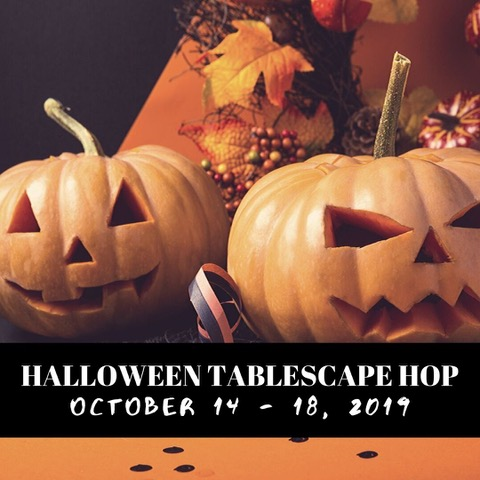 Monday
Intelligent Domestications | A casa di Bianca | The Little Yellow Corner Store
Corner of Plaid and Paisley
Tuesday
Panoply | Life and Linda | Home is Where the Boat Is | Everyday Living
Wednesday
The Painted Apron | Debbee's Buzz | Red Cottage Chronicles | Our Crafty Mom
Thursday
White Arrows Home | Sweet Sensations | Celebrate & Decorate | Zucchini Sisters
Friday
Katherine's Corner | My Thrift Store Addiction | Bluesky at Home | Follow the Yellow Brick Home