Preparing a Thanksgiving feast is no easy task! Today I am delighted to share a few simple Thanksgiving table decor ideas that are easy and take no time at all!
Welcome! I can hardly believe it is already November!! The spring seemed to drag on forever, but the summer whizzed right by. And, autumn seems to be doing the same!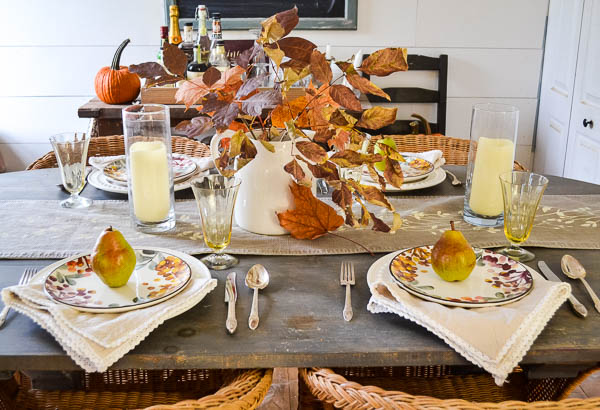 Today I am joining Chloe from Celebrate & Decorate and 16 other bloggers who love table decor! We are sharing our vision for Thanksgiving table decor in hopes you will find some inspiration for your own table!
Being Canadian, our Thanksgiving has long since past, and I can assure you it was so different than years past. Different yes, but still a wonderful celebration of all the things we have to be thankful for. And, despite this crazy year, there are still plenty reasons to be thankful!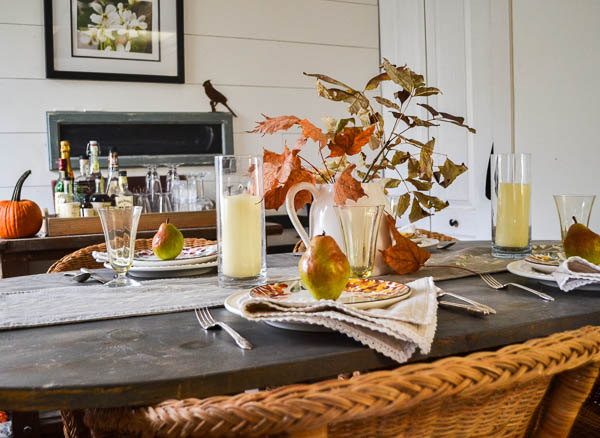 Our simple Thanksgiving table decor
My inspiration for this years table was found in our daily walks with the dog. We are blessed to live in an area where the change of seasons are evident in the beautiful changing landscape.
For the last two years I have really been leaning into design and lifestyle of the English countryside. And, I am drawn to the simplicity I often see in the styling of their tables. Oh, there are also lavish tables as well, but it is those of the rustic country cottages that draw me in.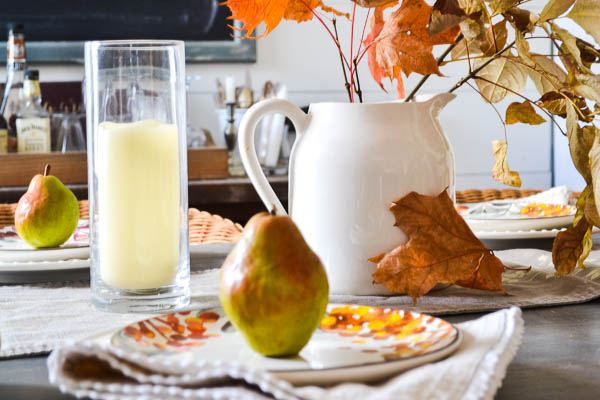 It is with that in mind, I decided to go fairly bare bones with my Thanksgiving table decor, and have to admit I am quite smitten with how it turned out.
How to make a simple Thanksgiving centerpiece
On a recent walk, I took along my garden snips and foraged a few branches that were at their peak autumnal colors. Simply plunked into a stoneware jug filled with fresh water, I let them lay where they may. It doesn't get any simpler than that!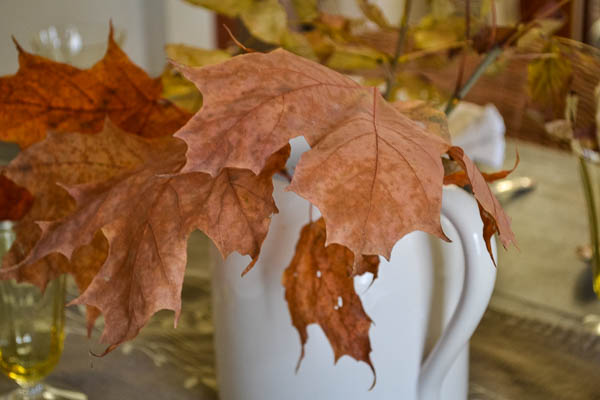 My everyday white dinner plates are topped with pretty salad plates purchased at a local grocery store a couple of years ago, and used for this tablescape last year.
I topped each place setting with a fresh pear from our local farmer's market.
Simple natural colored linen napkins with a delicate lace trim are arranged between the plates.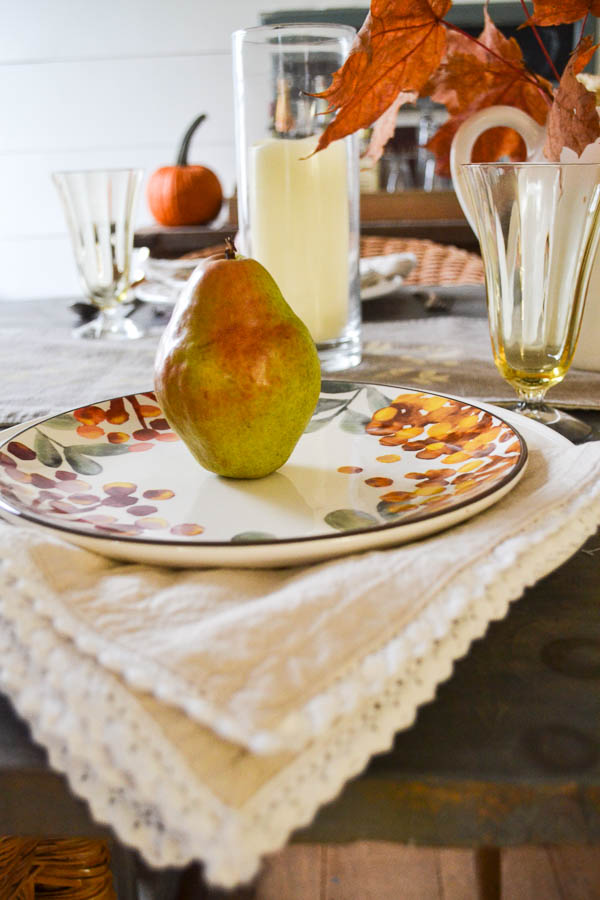 I left the handles of my grandmothers vintage silverware a little tarnished in keeping with the relaxed and rustic feel of the table.
Two simple candles will add a pretty glow come evening.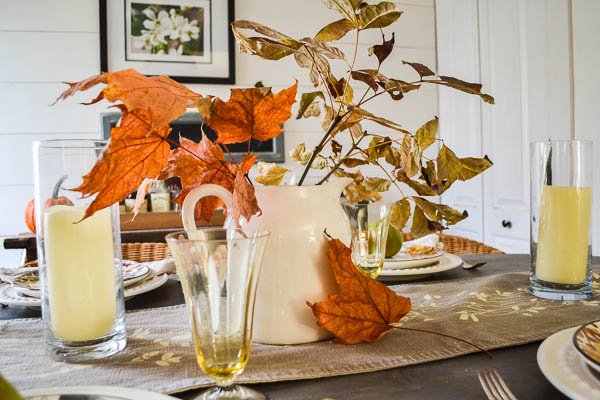 The soft yellow glassware was a thrift store find, and I think are a perfect part of this Thanksgiving table decor.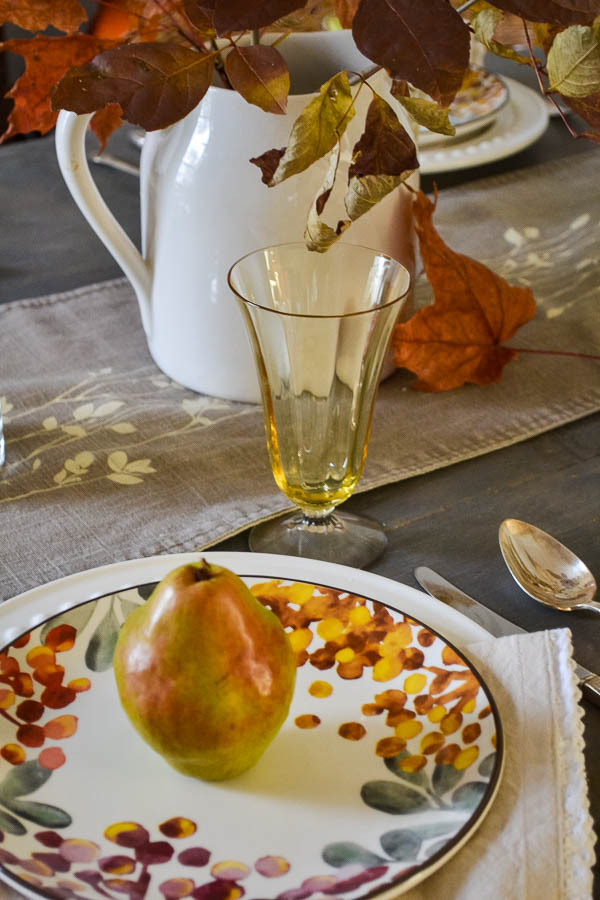 Thanksgiving was definitely quieter than most years. It was just myself and my husband, plus my brother (he is in my bubble) who otherwise would have been alone.
I have much hope that come this time next year we will be gathering around the huge table with all our family as in years' past. But, for now I will continue to celebrate all the simple things,
I hope I have inspired you with my simple Thanksgiving table decor. Be sure to check out all the participating bloggers below for all kinds inspiration for your Thanksgiving table.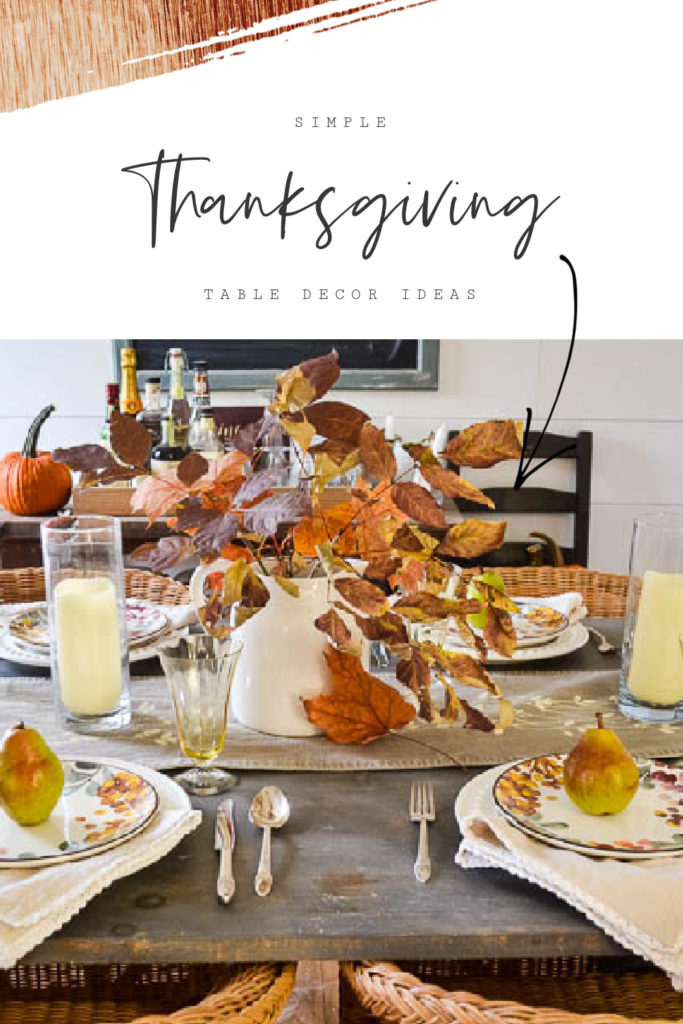 Be in the know! It may be a delicious recipe, a stunning tablescape, or decor tips to make your house a home! Simply click here to subscribe. I never sell or share your information, and you can unsubscribe at any time!
Until next time….