Dining al fresco is my favourite thing about summer! Today I am sharing a summer tablescape that is perfect for leisurely dining outdoors!
Today I am joining 24 table stylists as we share our vision for a beautiful summer tablescape. Thank you to Rita from Panoply for hosting today, and be sure to visit the all the gorgeous inspiration via the links below!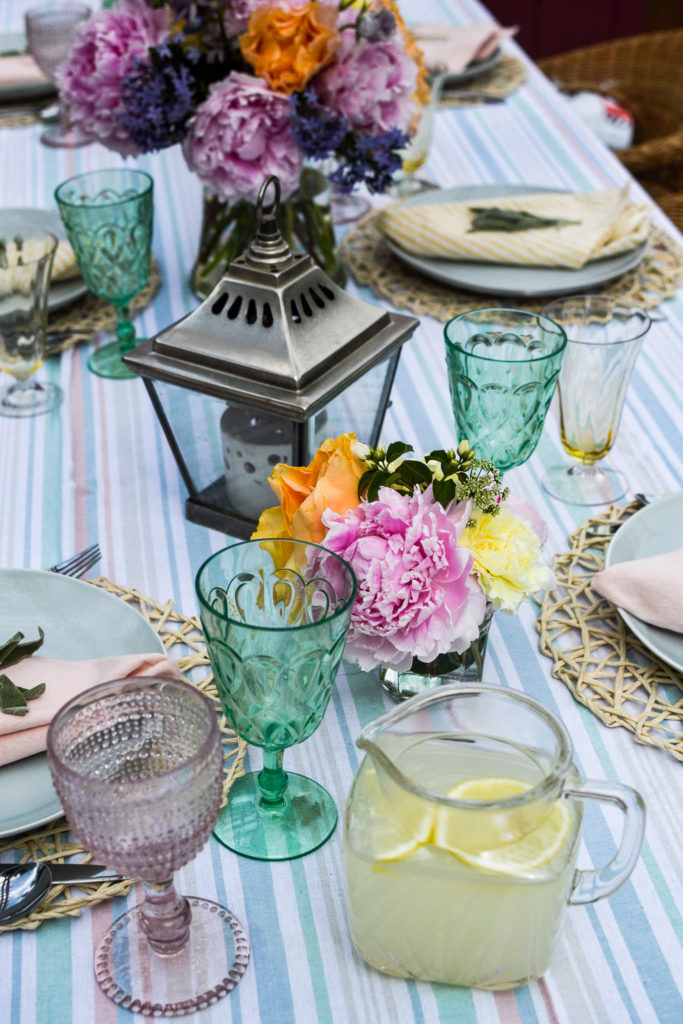 What does dining al fresco mean?
Simply put, al fresco translates to "in fresh air". Hence, dining al fresco is just a fancy way to say eating outdoors!
Since I am all about elevating the everyday, I will choose the fancy every time!
My summer tablescape inspiration
This year I wanted to set a colourful table. I wanted to keep it casual, light and airy. Lots of room for plates of yummy summertime food!
I took cues from the nature around me. My peonies were just coming into bloom, as was my mock orange tree and delphinium.
I set the table for six, which meant I had to do a little mixing and matching to avoid spending any money. And did I mention I live in a tiny home. Hence, my storage space is very limited!
The green dinner plates and rattan place mats set the stage for mismatched napkins, topped with a a sprig of herbs.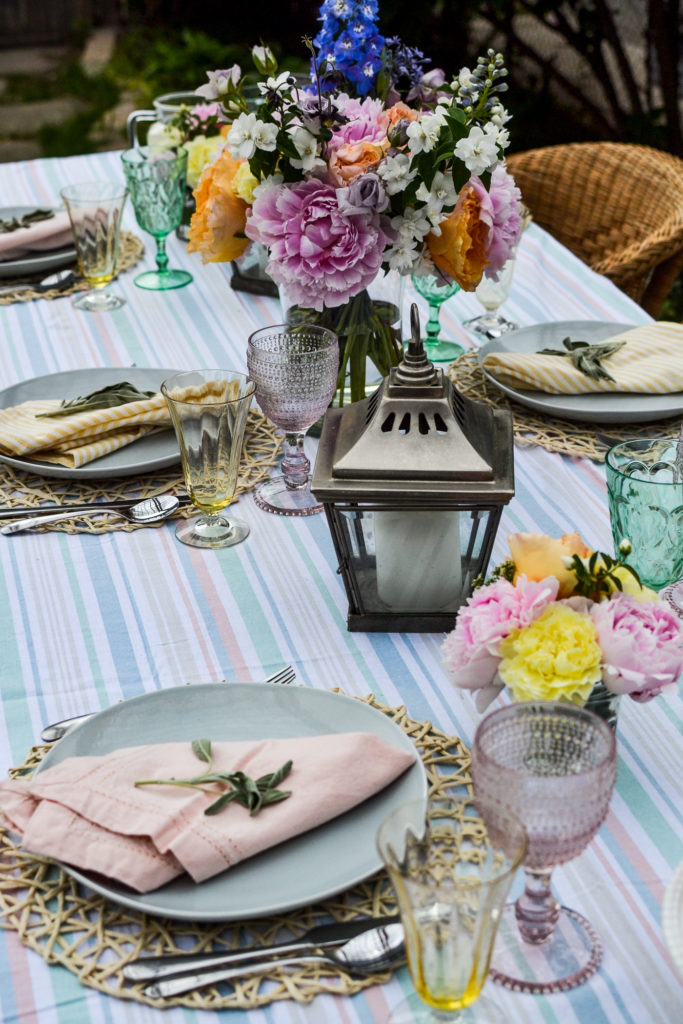 I didn't have six of any one style of glassware in the colours I wanted, but I did have twelve in total. So, as you can see, different combinations are used throughout!
The only colour of napkins that I had more than 4 of was white, and white napkins would have looked out of place. Instead I used pink napkins on the end place settings, and yellow striped napkins in the centre two place settings.
Even the candles are mismatched, but still work together enough that they draw attention away from the otherwise colourful table.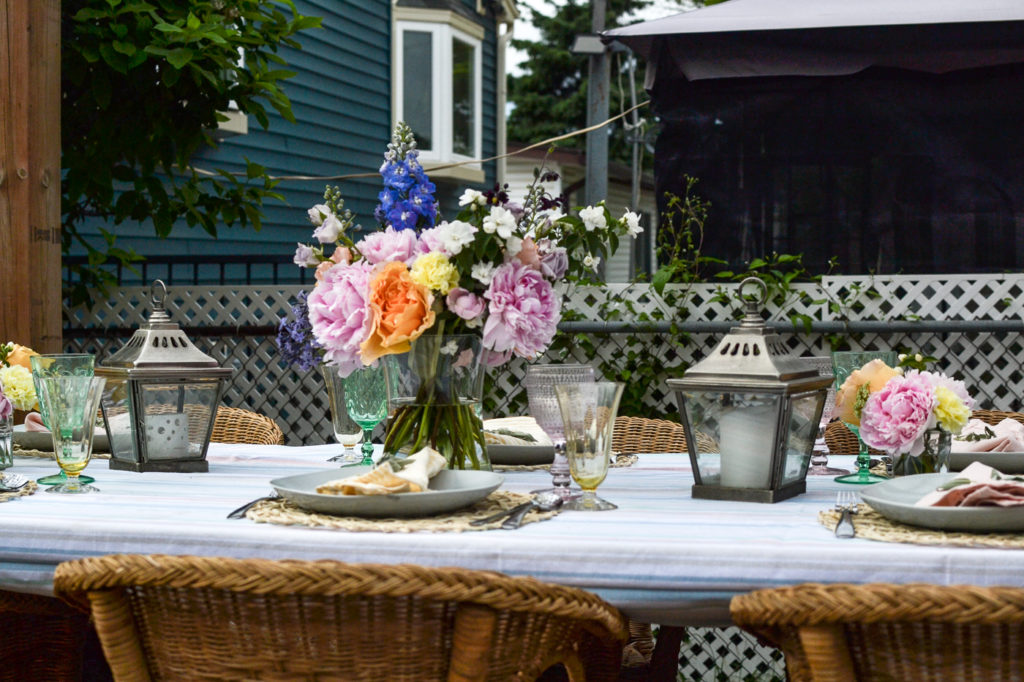 What are the benefits of eating outdoors?
Spending time outdoors is always a benefit! Vitamin D from the sunshine, fresh air, and birdsong are all things that come to mind for me when I think about the benefits of eating outside.
Another benefit for us, and perhaps for you too, is the ability to entertain more than just a couple of people at one time. Our house is tiny which makes it difficult to host more than 2 or 3 people comfortably during the colder months. Being able to spread out on around our large harvest table, with extra seating all around the deck is definitely a benefit!
Do's and don'ts of dining al fresco
Don't stress! Unless you are hosting a very formal gathering, eating outdoors calls for a relaxed setting.
Do keep it simple, or go all out! Whatever your heart desires!
Do think of a theme or style ahead of time. This makes setting the table easy, whether you choose a simple white table cloth, white plates and flowers from the garden, or a more vibrant tablescape with colorful linens, plates and flowers.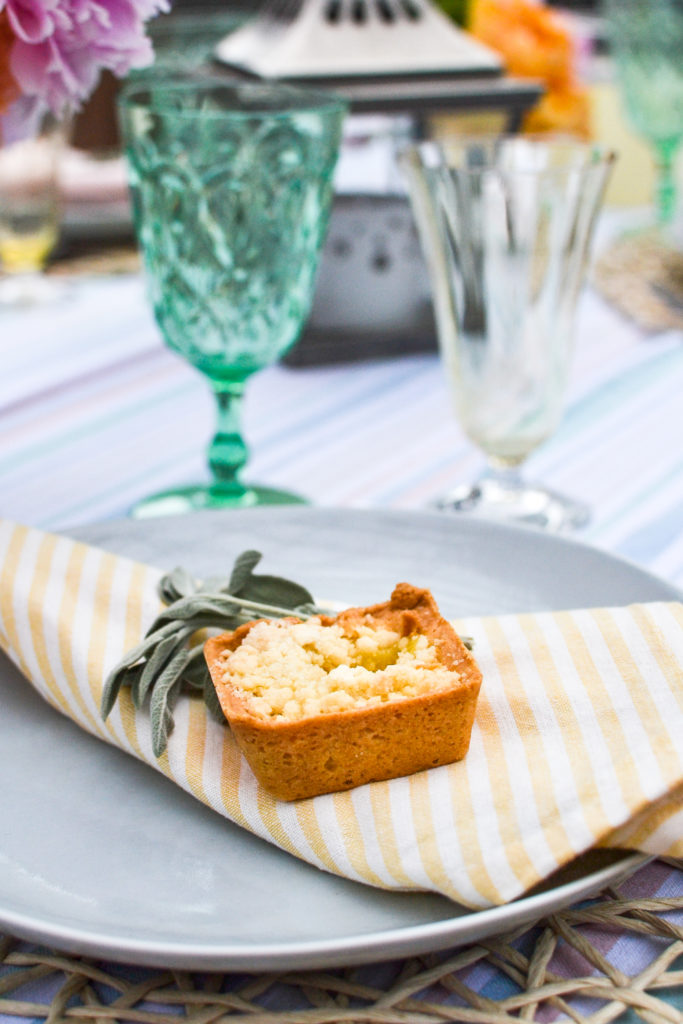 Do check the weather ahead of time and have a back-up plan if it calls for inclement weather.
Do have some sun screen available for guests who may have forgotten. If you will be dining late into the evening (and that is highly encouraged!), keep some bug spray citronella candles nearby.
Do use what you already have! As described above, I worked with what I already had. Cut flowers from you own garden or buy a few bunches from the grocery store and use my video tutorial to make a stunning hand-tied bouquet centrepiece!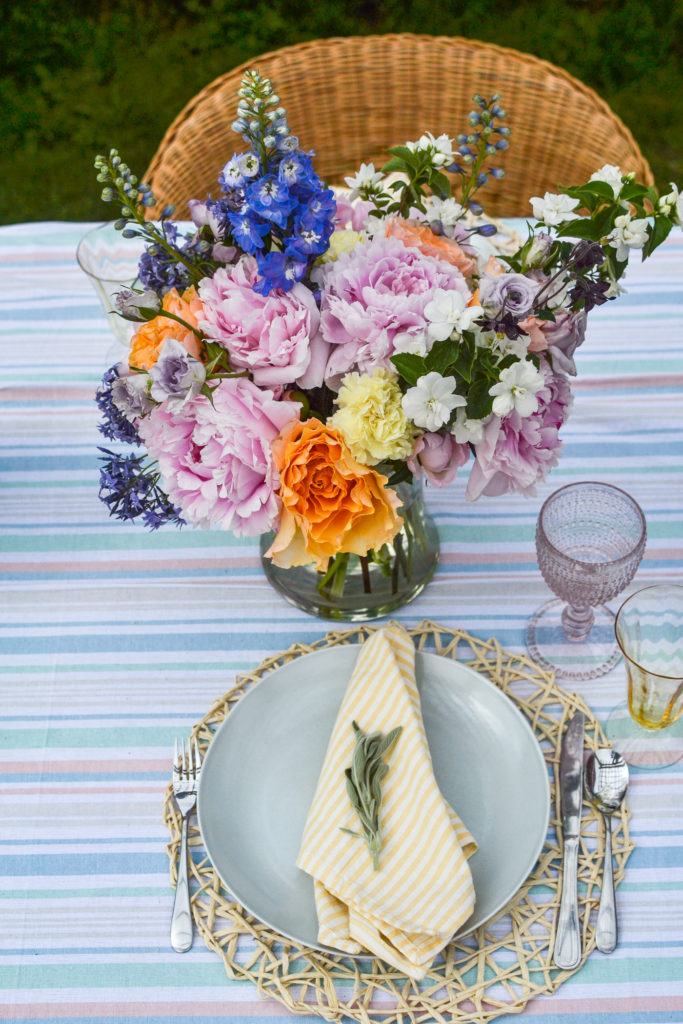 Essentials for outdoor entertaining
Comfortable seating to encourage your guests to stay awhile and linger at the table long into the evening.
Two or three pop-up mesh domes made to cover your food and keep any pesky insects from trying to take a nibble.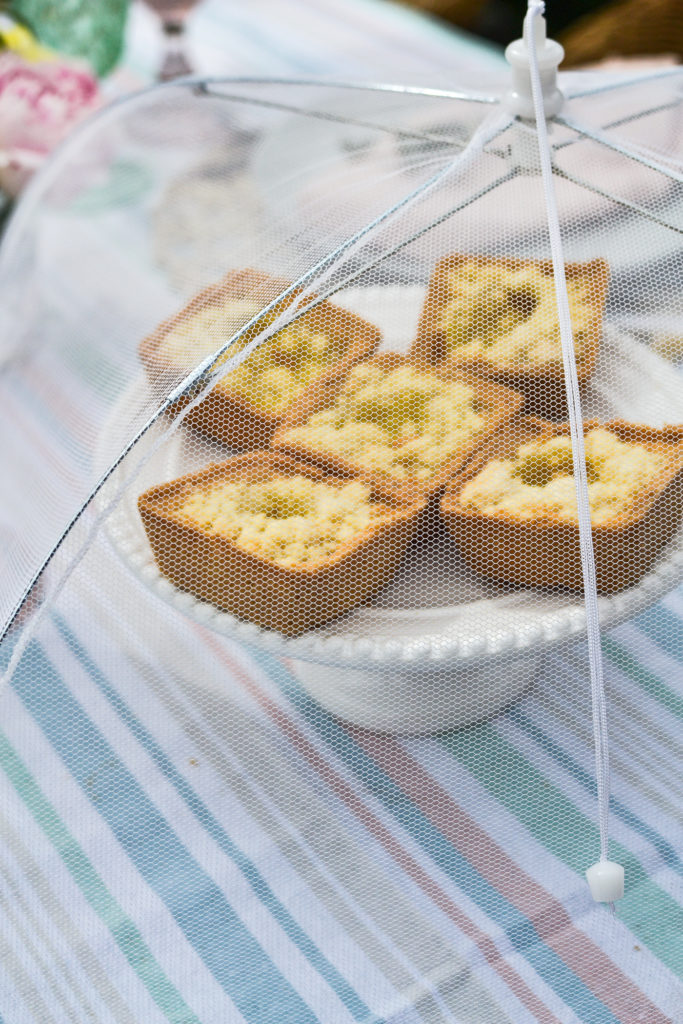 A pretty bucket or vessel to keep beverages cold and ready. This copper ice bucket is similar in size to one that I have.
Consider having a few yard games available such as giant Jenga or croquet. I love this Croquet set from the Hearth & Hand collection. It keeps everything tidy and organized without taking up much space when not in use!
Candles of all shapes and sizes. Using old wine and olive oil bottles with simple drippy white candles is super simple and inexpensive way to create the perfect ambience for outdoor dining.
Dining al fresco is my favourite thing about summer.
Now it's your turn! Get outside and set a table. No matter if it is a tiny table for one or two, or a long table that seats 12!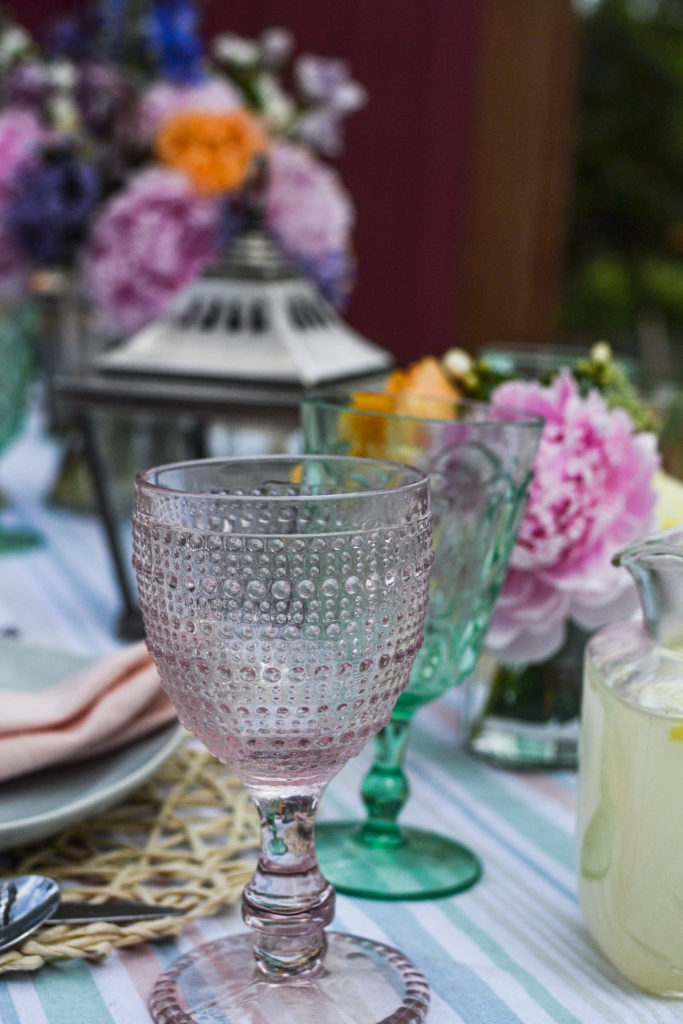 A few more of my summer tablescapes you may enjoy…
A Pretty Picnic in Niagara On The Lake
How to Plan The Perfect Summer Dinner Party
And now 23 more Stunning Summer Tablescapes to Explore!
Be sure to visit all the lovely tablescapes simply by clicking on each link below!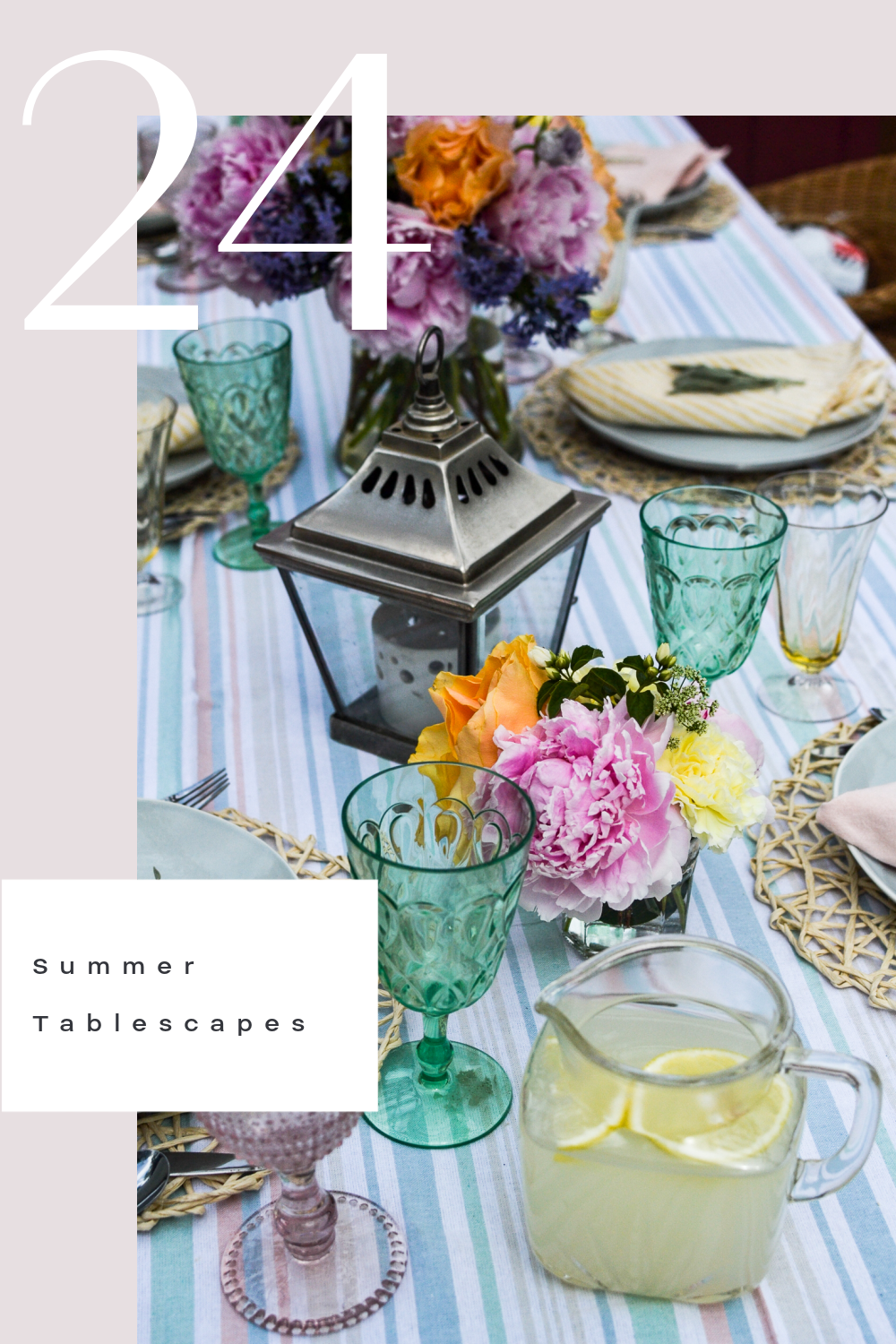 Pandora's Box – Stars, Stripes, and Checks – A Summer Tablescape
Bluesky at Home – Easy Summer Outdoor Table Ideas
Life and Linda – A Taste of the Tropics
Corner of Plaid and Paisley – Yellow and Blue Alfresco Setting
Everyday Living – Celebrate Summer With The Red, White and Blue
Panoply – Summer Garden Party Tablescape
Hyacinths for the Soul – Tis the Season of Patriotic Tablescapes
Home is Where the Boat Is – Anchors Aweigh on the Pontoon
Debbee's Buzz – Botanic Garden Floral & Butterfly Summer Table
My Hubbard Home – Easy Alfresco Dining Table | Tips for Summer
Me and My Captain – Camping, Fishing And Summertime Fun
Thrifting Wonderland – Butterfly Garden Table Setting
My Thrift Store Addiction – Honeysuckle and Hydrangeas Summer Tablescape
The Little Yellow Corner Store – Sweet Old Summertime
Celebrate and Decorate – Inspiration for Designing a Bright and Cheery a Summer Citrus Tablescape
From My Carolina Home – Summer Sunshine Tablescape and Hop
Living With Thanksgiving – Summer Celebrations
Zucchini Sisters – Red and White Tablescape in the Park
The Bookish Dilettante – Beach Reading Tablescape
The Painted Apron – Let's Go Fishing
Belle Bleu Interiors – A Summertime Luncheon in the Garden
Dinner at Eight – Summertime Blossoms on the Table