A Mystically Inspired All Hallows Eve Tablescape
I always look forward for the tablescape blog hops hosted by Chloe from Celebrate and Decorate, and this Halloween Tablescape hop was no exception. I am delighted to be posting on the last day of the hop this week because all the links for the week are live and there are so many creepy Halloween tablescape ideas (and, some awesome not-so-creepy ones too!).
For me Halloween has always been about dressing up in fun costumes and trick or treating, but I couldn't resist a play on the ancient Celtic roots of All Hallows Eve. While kinda creepy, and I do admit I was kind of freaked out by having Tarot cards and a crystal ball in the house, my Halloween tablescape this year is all in fun and the spirit of the day!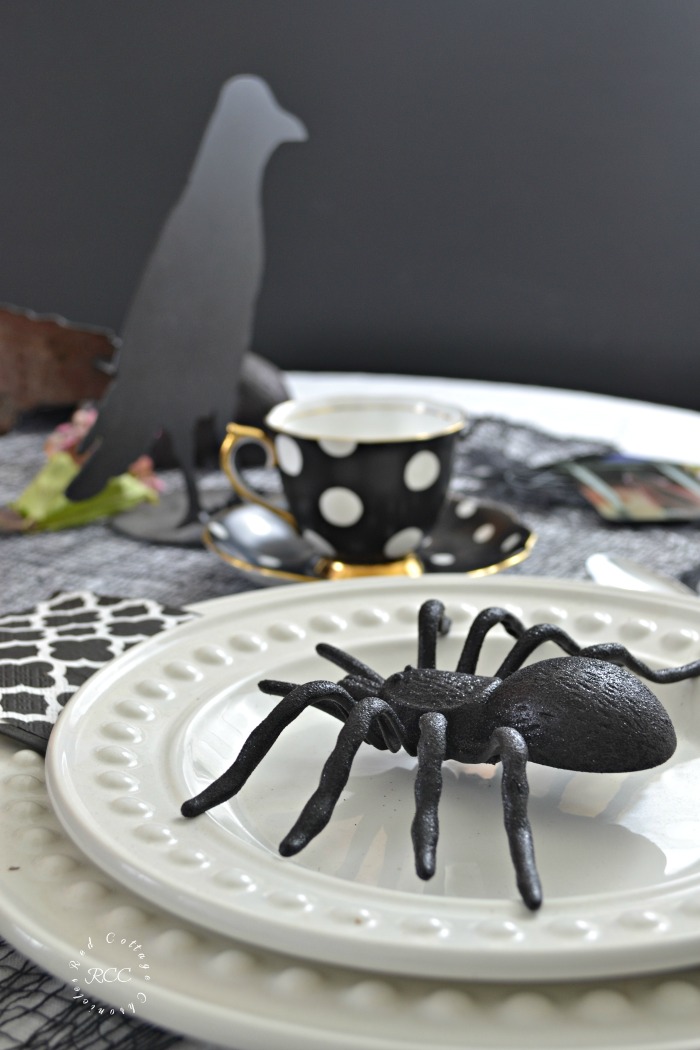 As usual, I hadn't a clue in what direction I would go with my Halloween tablescape. You might remember last years table that started with dead roses ready for the compost. When I was talking to my friend about it she suggested maybe I could use some barbed wire that just happened to be rolled into the shape of a wreath. Rusty barbed wire could definitely take on a creepy vibe. And, this got me to thinking about the really "dark" side of Halloween.
From what I have read All Hallows Eve, now known as Halloween, dates back to a Celtic Festival called Samhain when they celebrated their New Year on November 1st. "Celts believed that on the night before the new year, the boundary between the worlds of the living and the dead became blurred", according to History.com, and "on the night of October 31 they celebrated Samhain, when it was believed that the ghosts of the dead returned to earth." Apparently they dressed in costumes and told each others fortunes!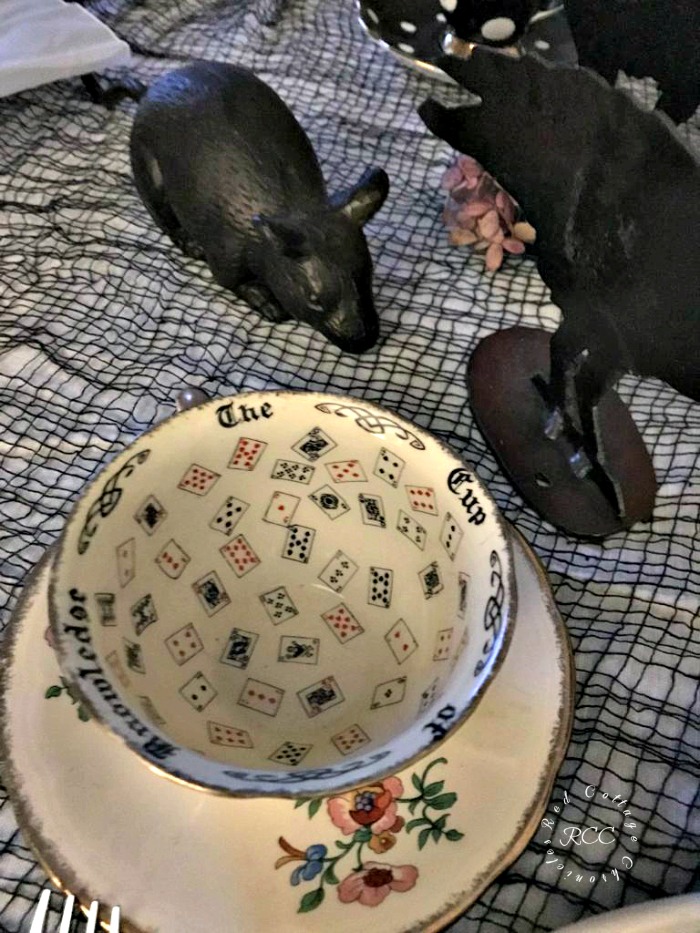 I am fortunate to have my friend Leslie who has some the most wonderful collections of things and a quick trip to her house pretty much set me up for all the things that speak of the supernatural, fortunes, and a few other things that can make your skin crawl!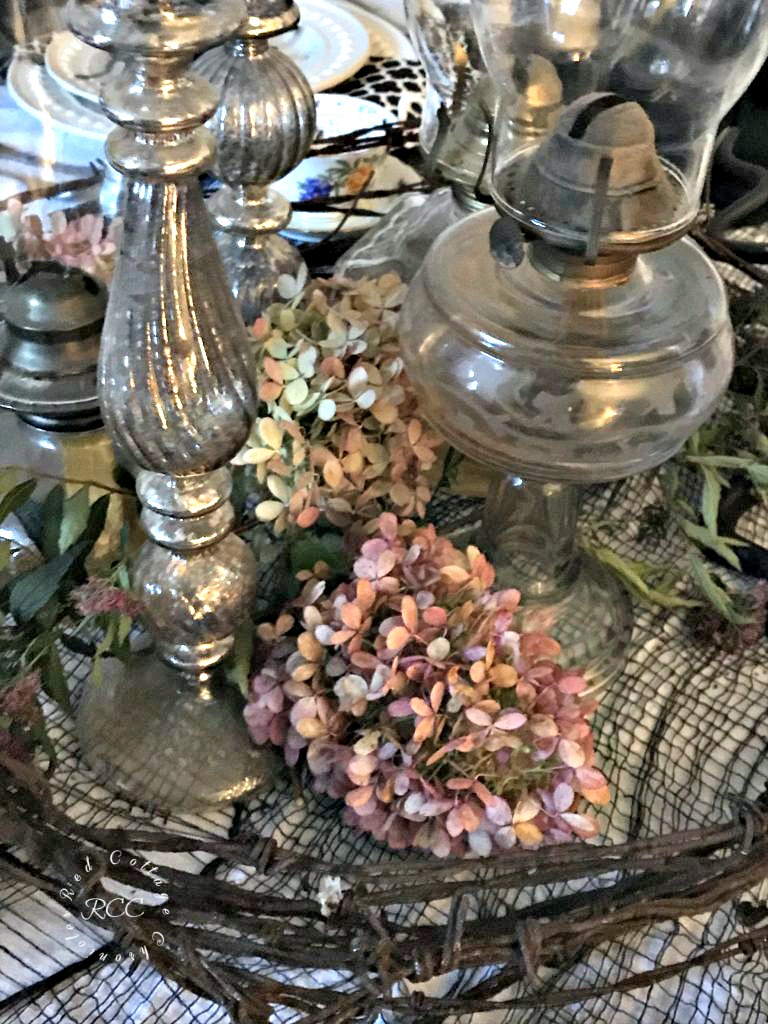 I used a barbed wire wreath to coral a few antique hurricane lanterns and mercury glass candlesticks. Cuttings from the garden add a bit of color to the otherwise monochromatic color scheme.
I had set the tablescape up one evening with the plan to photograph is the next day. My husband came home from work, took one look at the cast iron snake and nearly had a fit! Lets just say snakes are not his thing!!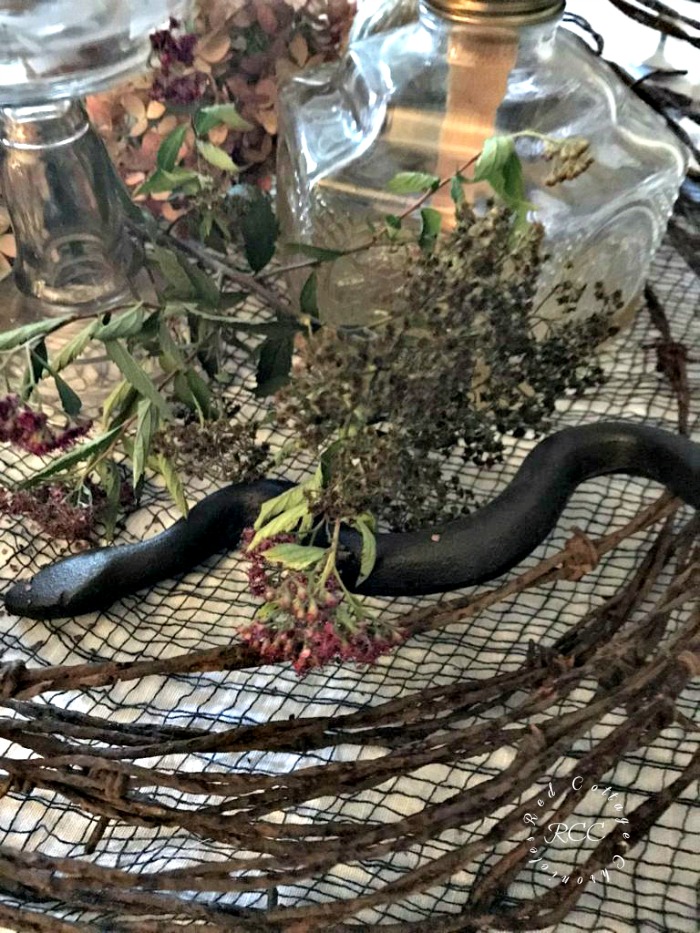 The death card gave me the ibby jibbies, but I was assured the death card in tarot is not to be taken literally, and actually is indicative of a change or rebirth. It is said to mark the end of a dark phase in your life and into a period of light! So, not so scary after all!
Simple white plate stacks are layered with (would you believe?) paper napkins. The white plates make the big block ichy spiders really pop! After the experience I had with spiders several years ago, it took me all guts I could muster up to even bring these home from the dollar store! But, that is a story for another day.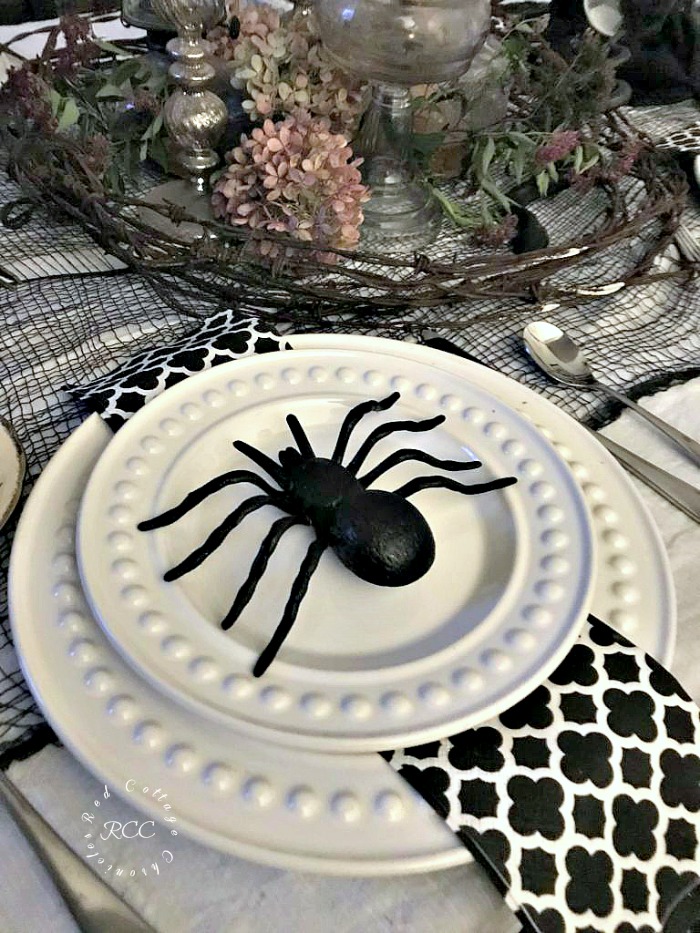 Silhouettes of crows and a cast iron rat ups the creep factor just a bit, don't you think!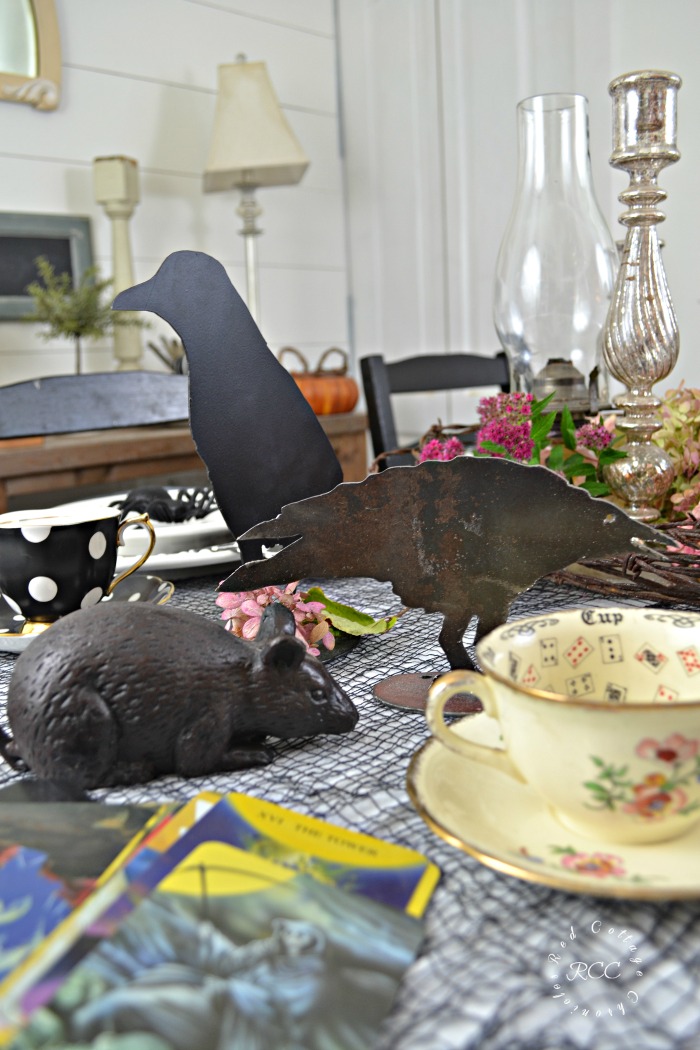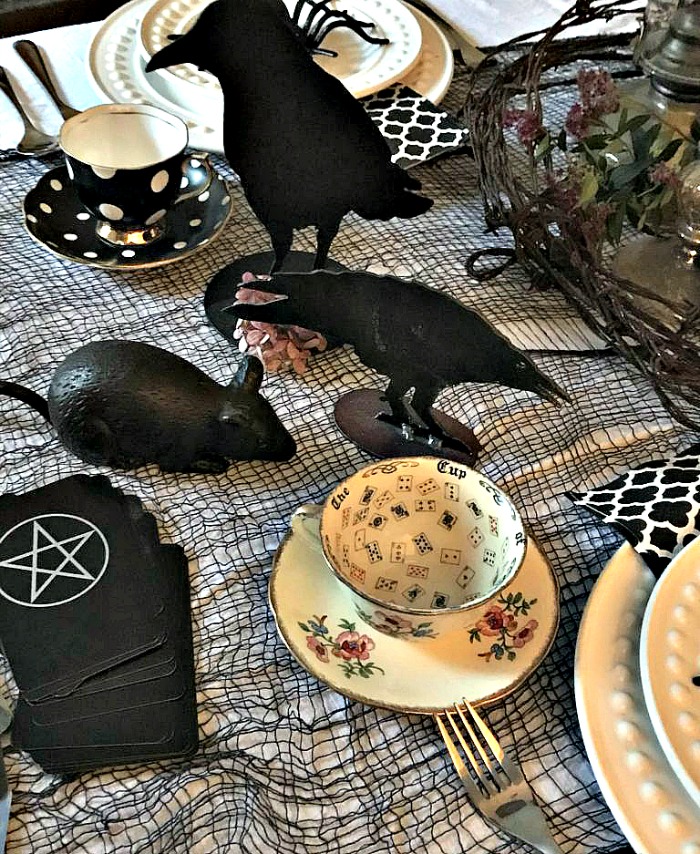 I covered the table with an un-ironed linen table cloth topped with some black cotton webbing, also from the dollar store. Instead of wine or water glasses, tea cups both fortunate telling and regular could be used to read tea leaves if you are so inclined!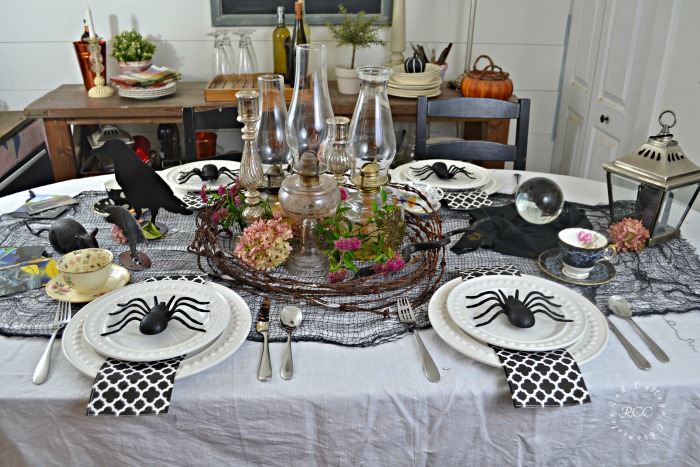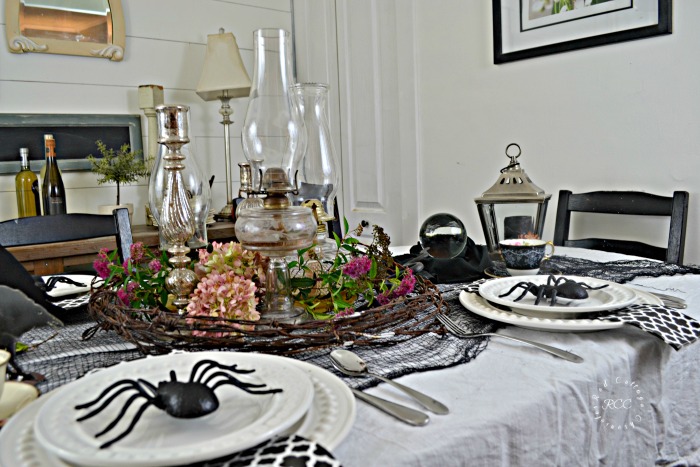 My favorite thing about this Halloween tablescape is that it cost just $3.00 out of pocket to put together!
plastic spiders Dollar Tree $1.00 for a two pack
Black and White Trefoil pattern paper napkins $1.00 pkg Dollar Tree
White Hemstitched tablecloth Home Sense (Similar here)
White dinner and salad plates Home Sense
crows, rat, snake, barbed wire wreath, hurricane oil lamps, tarot cards, and fortune telling tea cups all borrowed
mercury glass candlesticks purchased at various places over the years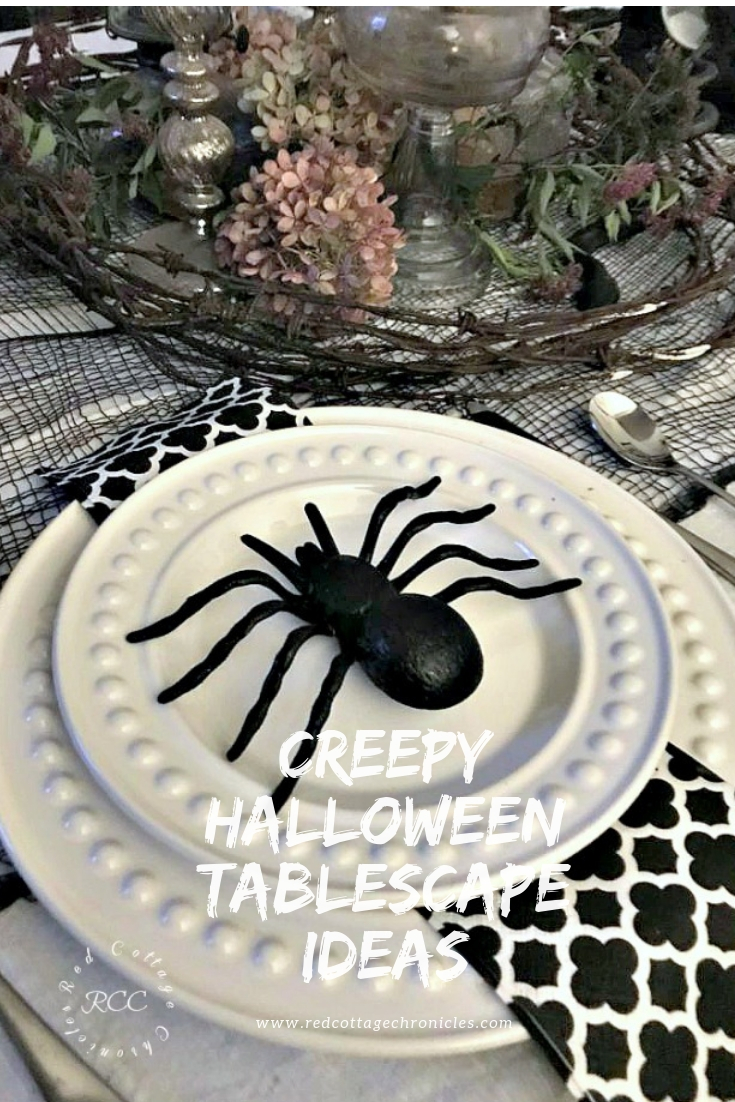 Now that I have managed to freak out my husband with a cast iron snake slithering across a barbed wire wreath and getting more than a bit panicked by the tarot death card I am off to check out the rest of the tablescapes from this week's Halloween Tablescape blog hop.
Want to join me? I double dog dare you to scroll down and join the fun!
Until next time…….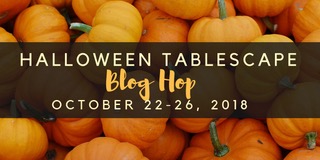 Monday
Home is Where the Boat Is | Follow the Yellow Brick Home
Knock it Off Kim | Stately Home Lane
Tuesday
Life and Linda | The Painted Hinge
Corner of Plaid and Paisley | Loveland Lodge
Wednesday
Me and My Captain | Debbee's Buzz
Sweet Sensations | The Painted Apron
Thursday
Camelot Art Creations | The Little Yellow Corner Store
Zucchini Sisters | Celebrate & Decorate