Orange and Black Halloween Tablescape
Halloween may not be my favourite holiday, but I have to admit creating tablescapes for Halloween is something I thoroughly enjoy!
You are in for a (trick or) treat today! Not only are going to love my cozy orange and black Halloween tablescape, but I am joined by 16 other Halloween tablescape enthusiasts to bring. you loads of ideas for entertaining during this fun and whimsical holiday.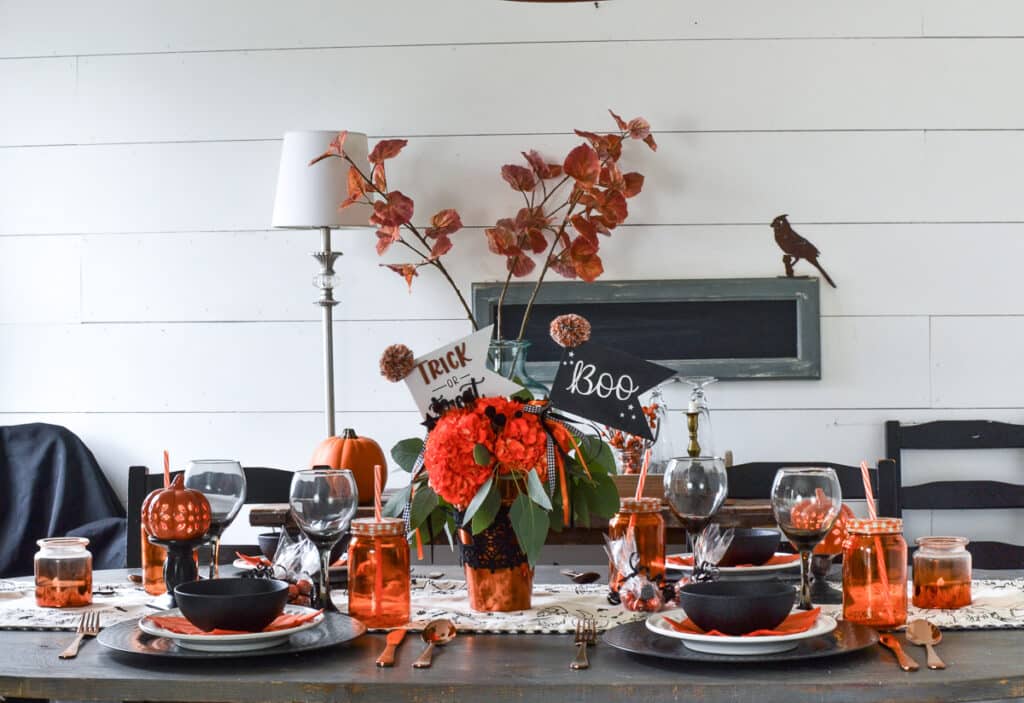 Styling tablescapes for Halloween begins with choosing a theme
But isn't Halloween the theme? Well, yes of course it is. But, I as with any seasonal holiday table the fun really is in choosing the overall style and vibe you want to convey. It is a theme within a theme!
Over the years I have done everything from this classic murder mystery styled table to an elegantly eerie halloween table.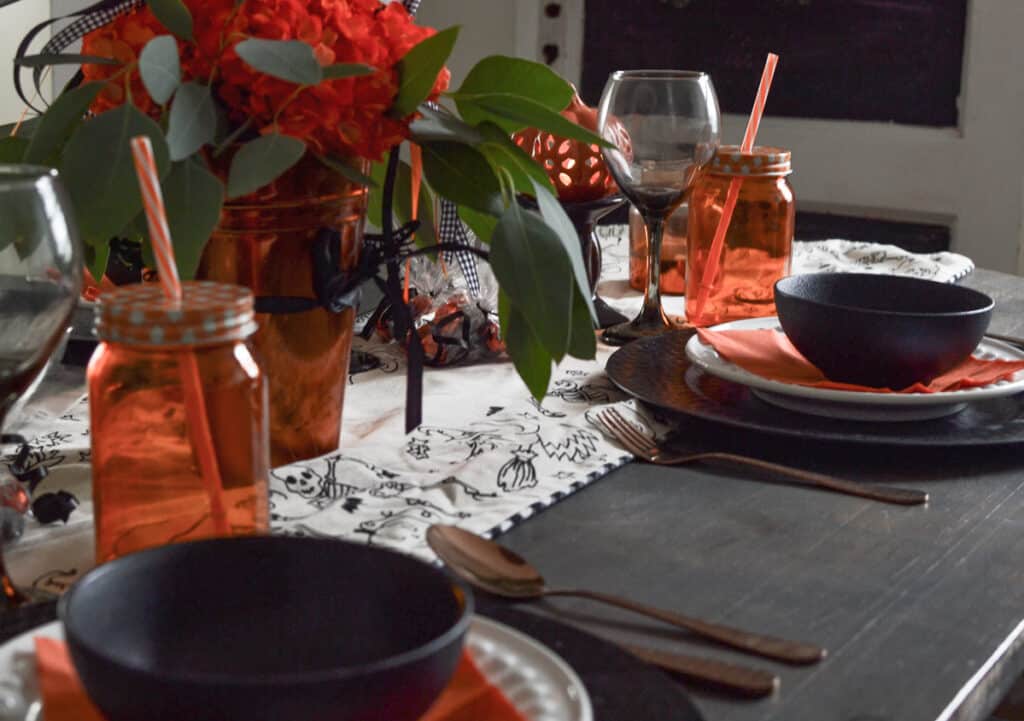 This year, I have really been embracing the English cottage style in my own home, and it was this that inspired todays orange and black tablescape.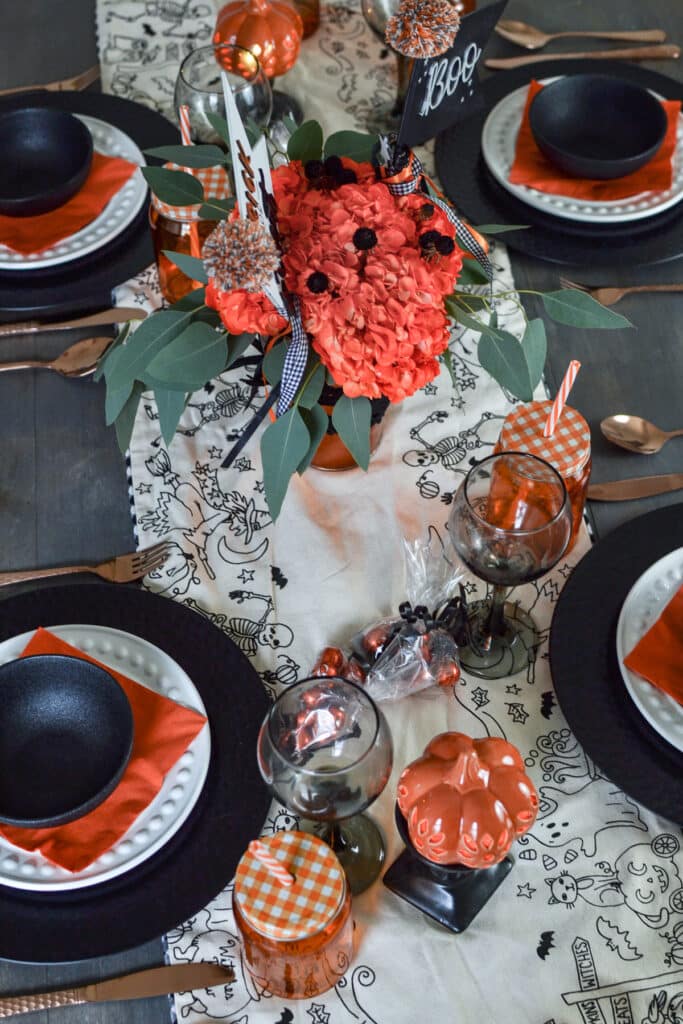 I am all about warm and cozy, and while orange can be a bright and vibrant colour, combining it with black creates a naturally cozy cottage vibe.
The adorable Halloween themed table runner shown above I completely forgot I had. I purchased it years ago, but only because I loved the black and white check print on the other side! I had never intended to use it for Halloween!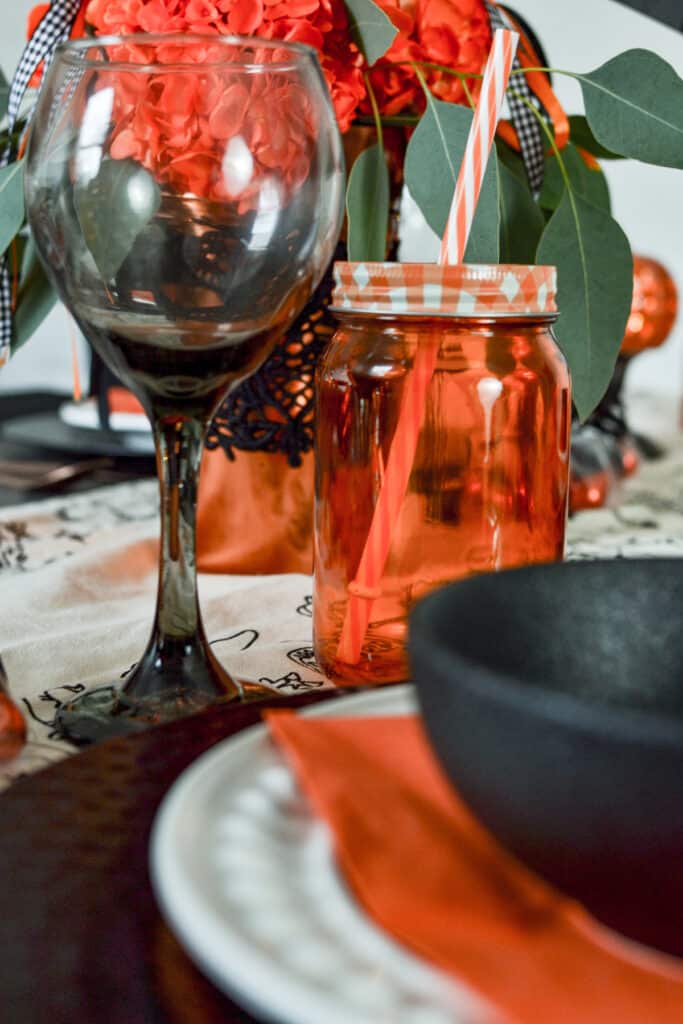 Halloween Decor from Dollar Tree
Styling tablescapes for Halloween, or any occasion for that matter, can get expensive if you aren't careful.
As always, I shop my house and borrow whatever I can before spending any money. But, admittedly, I don't own much orange or black tableware other than black bowls.
Dollar tree to the rescue! I picked up 4 smokey black wine glasses, 4 orange Mason-style jars complete with lids and reasonable straws (which will be great for summertime), 1 black pillar candle holder, 2 glass pumpkins that light up, and 2 wooden halloween buntings for the flower arrangement. All for under $20.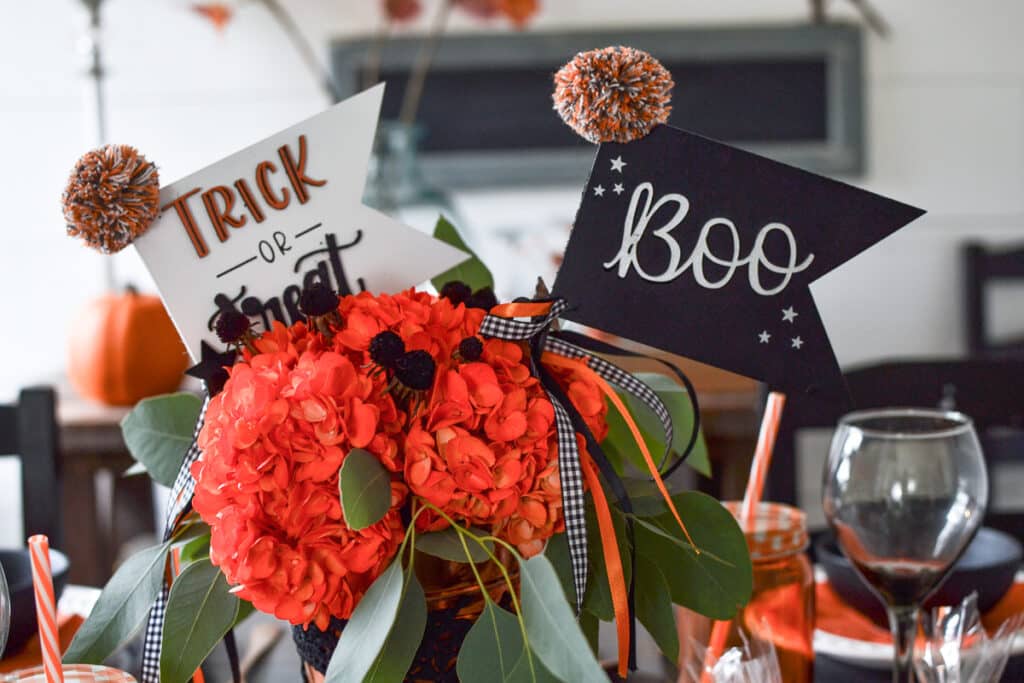 Tablescape elements I shopped from my home
I did have a few things that worked perfectly for this table.
The plate stack is made up of black chargers, my everyday white dinner plates, and Mikasa black stone bowls. My copper flatware is perfect for all the autumn gatherings, including Halloween.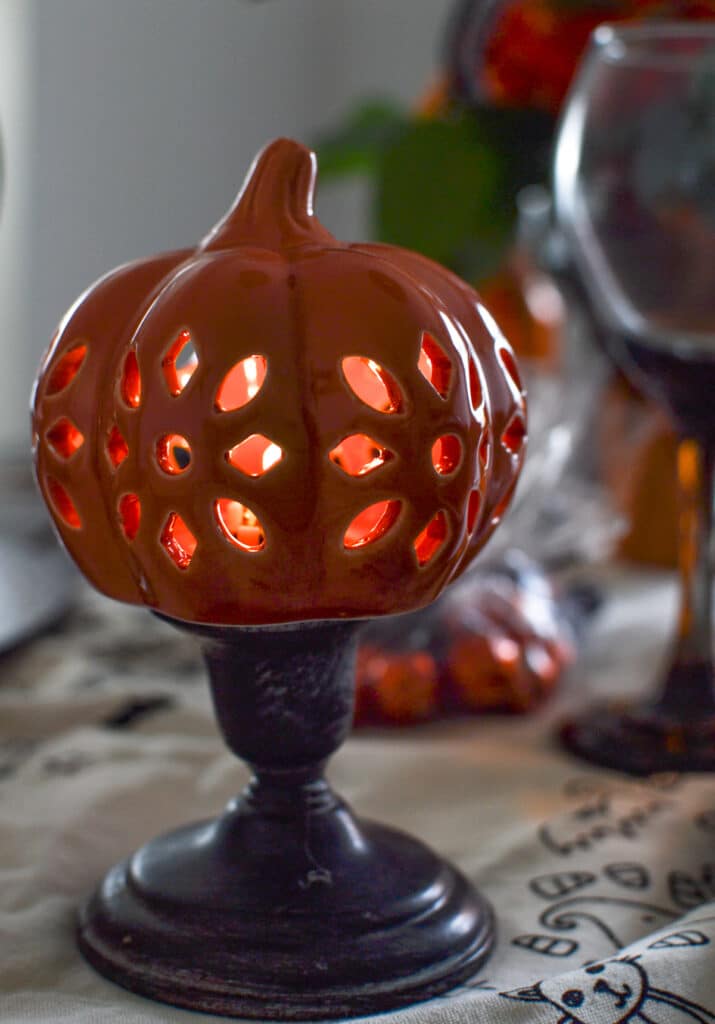 Since I needed one more candle holder for the dollar tree pumpkin, I poked around and found one I had painted years ago.
An old faux copper bucket, which definitely looks way more orange than copper, holds the grocery store hydrangeas and eucalyptus. I clipped a few seed pods from the garden to add a hint of black. A black lace mask around the bucket adds some contrast.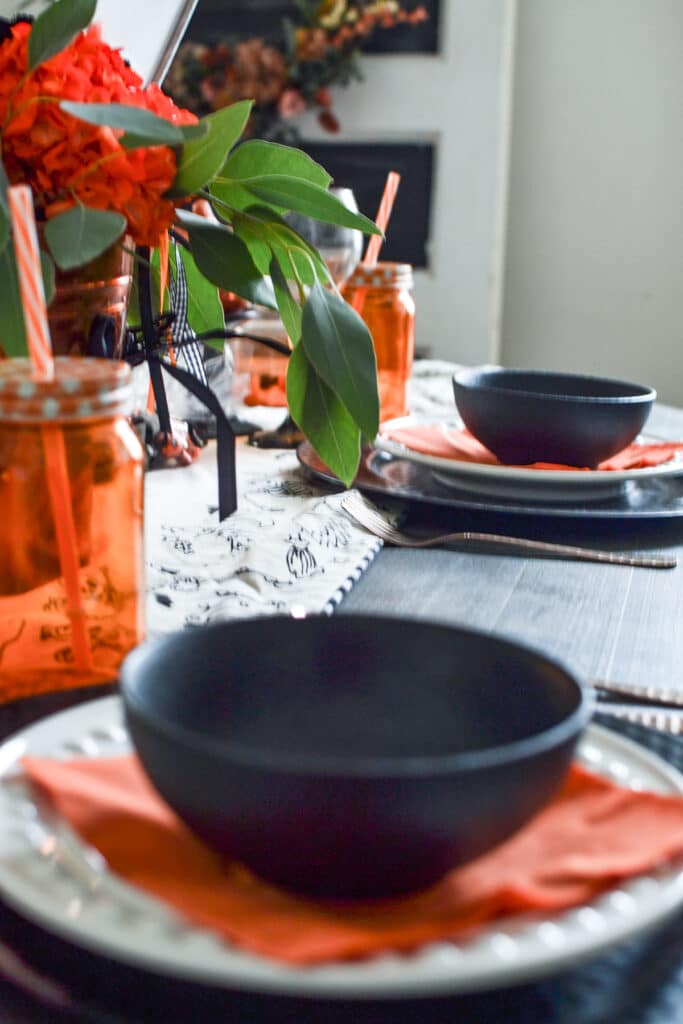 Despite the dreary fall day, a little bit of sunshine peaked into the window for a moment! I love how it softly lights up our dining room while the wind was whipping around outside.
Of course no Halloween table is complete without a few treats! Candy from the bulk store is tucked into cellophane treat bags and tied with ribbon, both from my gift wrapping stash.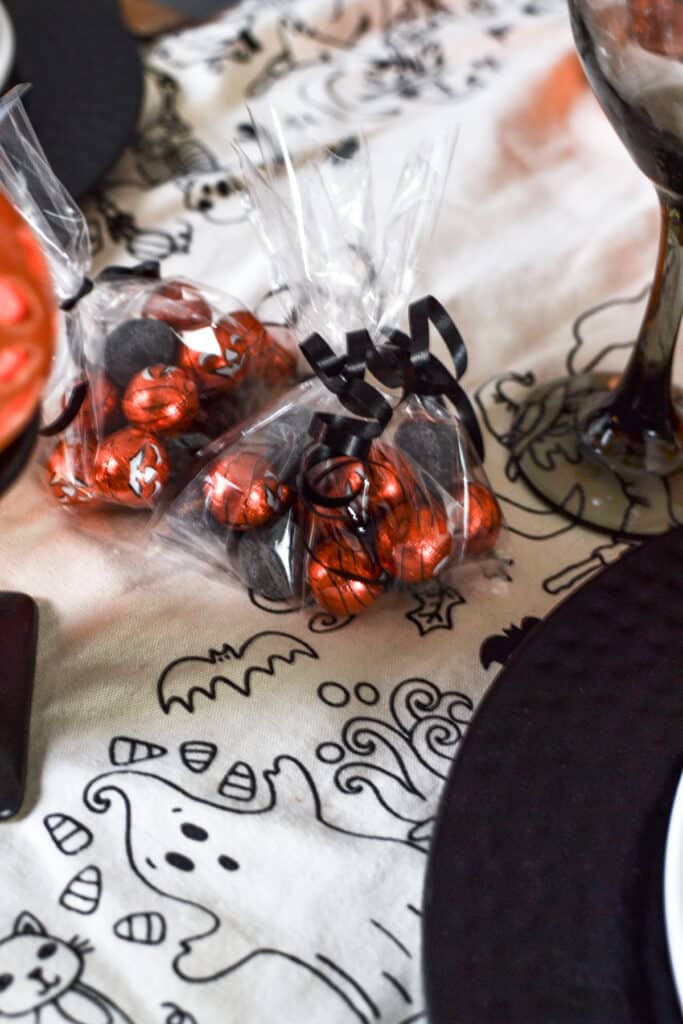 I hope I have inspired you, while at the same time showed you that creating tablescapes for Halloween is as simple as combining the classic colours of orange and black with a few Halloween themed accessories. No need to overcomplicate it!
Now, if you want to go with something a little more spooky. No, horrifying really! These creepy doll heads are just the trick! One simple addition and you have a whole new vibe.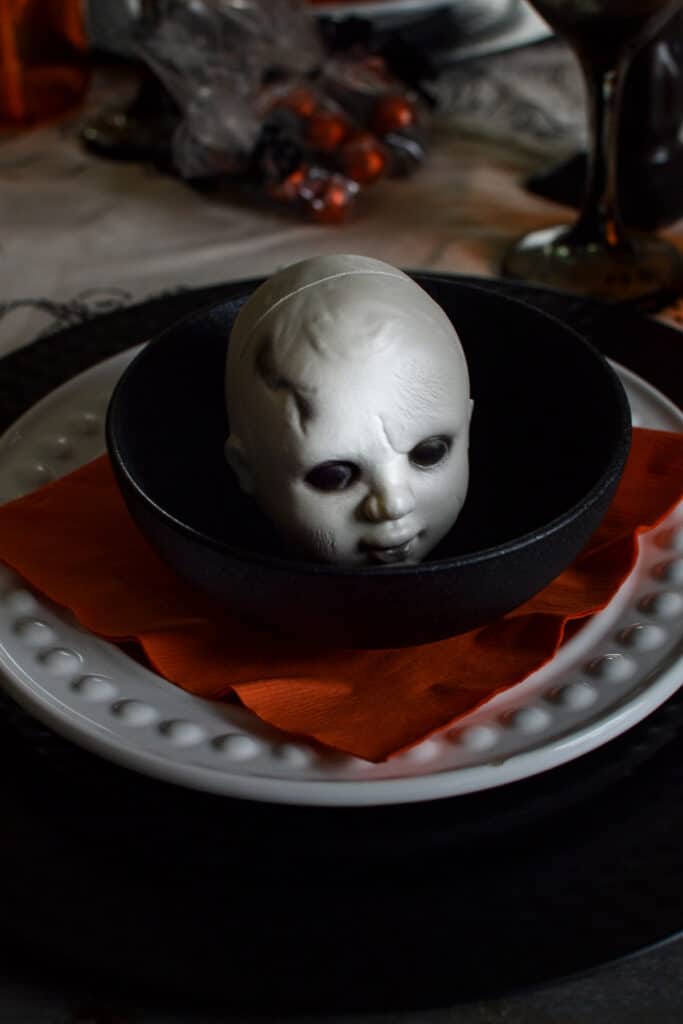 Now it's time to scroll on down for 16 more spooktacular Halloween tables! I love exploring these links right along with you to see what everyone has come up with.
Thank you to Rita from Panoply who never fails to curate a wonderful group of participants!
Panoply – There's a Little Witch in All of Us
Home is Where the Boat Is – Halloween Rules
Hyacinths for the Soul – Pumpkin Wishes and Candy Corn Kisses
Everyday Living – A Grand(s) Halloween Party
Pandora's Box – "Hey Pumpkin, What's for lunch?"
The Bookish Dilettante – October Vignette: Think Pink!
Thrifting Wonderland – Dinner With Ghoulish Gourds
My Thrift Store Addiction – Elegantly Eerie Arachnophile Tea Party
Dinner at Eight – A Hauntingly Delightful Halloween
The Cats' Whiskerz – Quoth the Raven "Nevermore"; a Halloween Tablescape
Life and Linda – Happy Boo Tablescape
The Painted Apron – The Witch's Hat
Me and My Captain – Black is the New Orange
Corner of Plaid and Paisley – Broom Parking – Halloween Tablescape
Celebrate and Decorate – Black & White & Red All Over for Halloween!
Red Cottage Chronicles – Orange and Black Halloween Tablescape
My Hubbard Home – As the Crow Flies| a fun tablescape to celebrate autumn