Blue and White Tablescape for Spring
The combination of blue and white is such a classic pairing, and when I was at the market recently I saw that the gorgeous blue hydrangeas for were popping up for sale, and it was my inspiration for this blue and white tablescape for spring.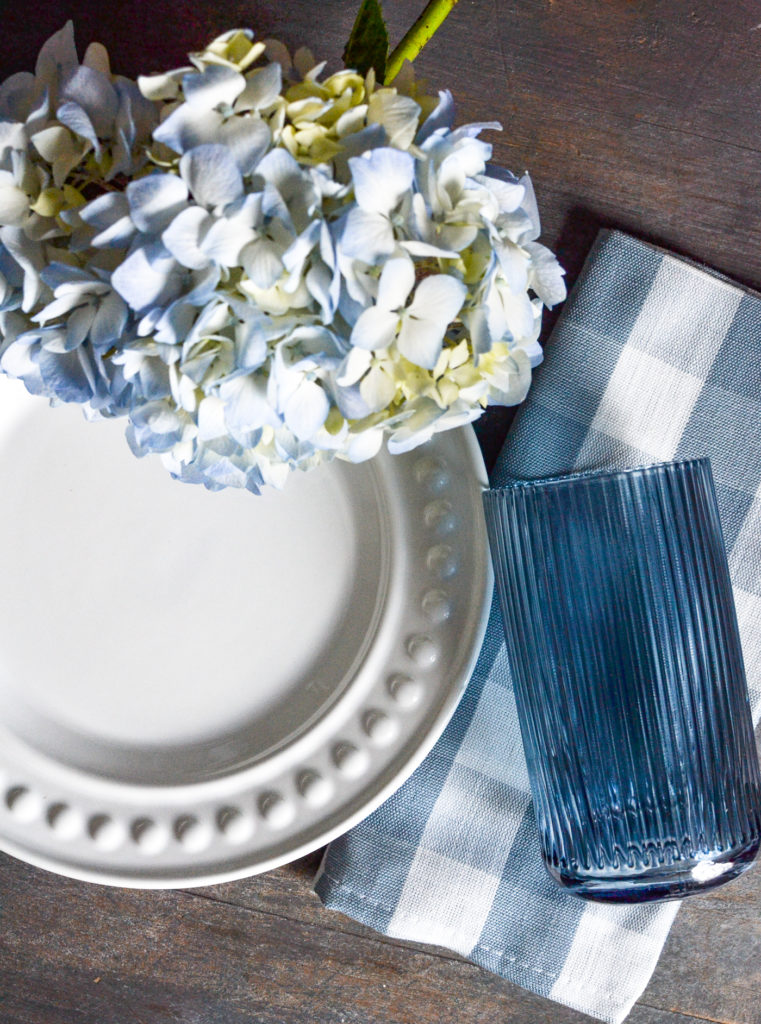 Today I am joining some of my favourite tablescape enthusiasts to bring you a plethora of spring tables to explore! Thank you to Rita from Panoply for getting us all together for another great series. All the links are at the bottom of this post, and you won't want to miss a single one!
While I was setting this tablescape it was snowing and blowing outside. At least we know that snow this time of year won't be around for long!
Not like the absolute timeless combination of blue and white. It's such a fresh look that never goes out of style. And, works in every season!
Another wonderful thing about combining blue and white is that you can go bold and bright, or soft and muted.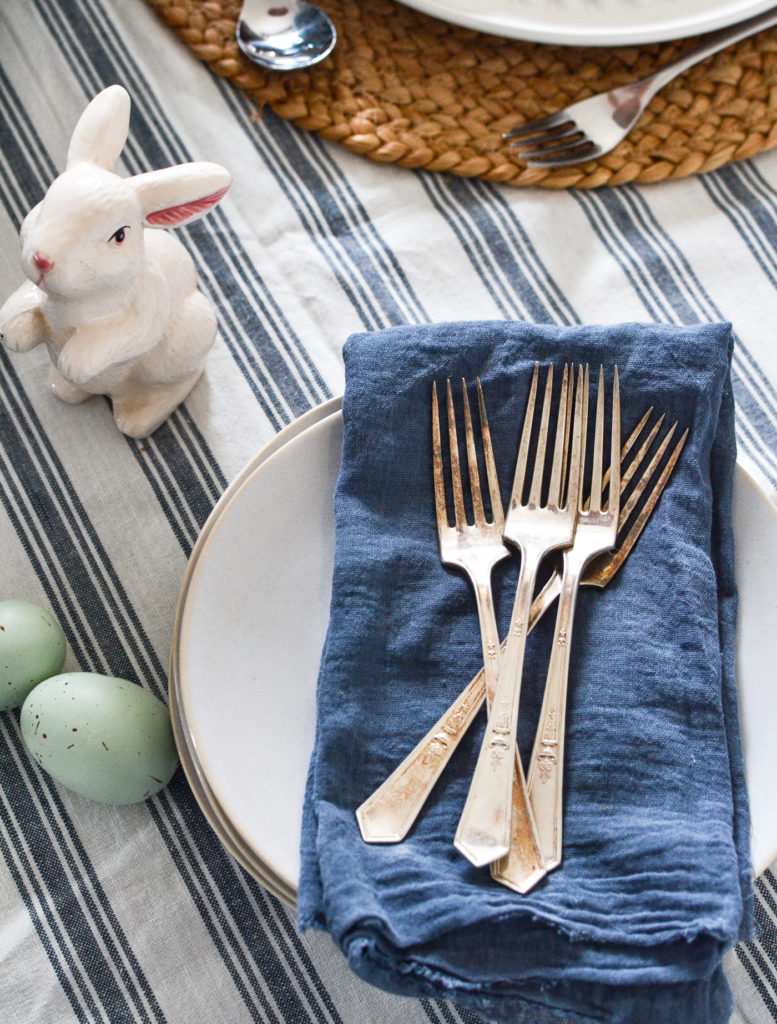 I went the soft and muted route today. I think it lends itself really well to welcome spring, but would also be perfect for an Easter themed tablescape as well. A few little bunnies look perfectly in place on this table!
I went with a simple yet eye-catching centrepiece using only blue hydrangeas. I opted for the soft blue blooms as I thought the bright blue ones would overpower the table.
Be careful using hydrangeas if you have dogs or cats. Especially ones that like to nibble on flowers and plants, as they are quite toxic for them. If that's the case, choose a another type of flower that is pet friendly and arrange them in a similar fashion.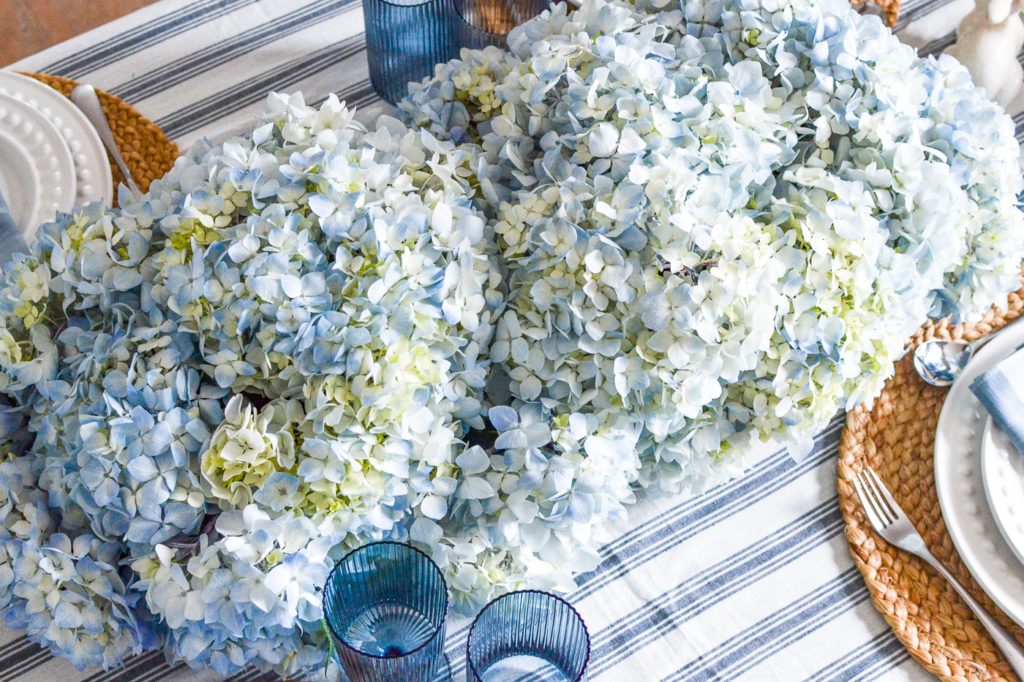 This post contains affiliate links. Should you click a link and decide to make a purchase, I may receive a small commission at no extra cost to you!
Essentials for Setting a Blue and White Tablescape
Blue glassware
I don't often purchase a new things, and try to use what I already have, but I loved this blue glassware as soon as I saw it at HomeSense. I know that I will get a lot of use out of them, and they were very affordable. These blue highball glasses are similar, and have the blue footed wineglasses to match.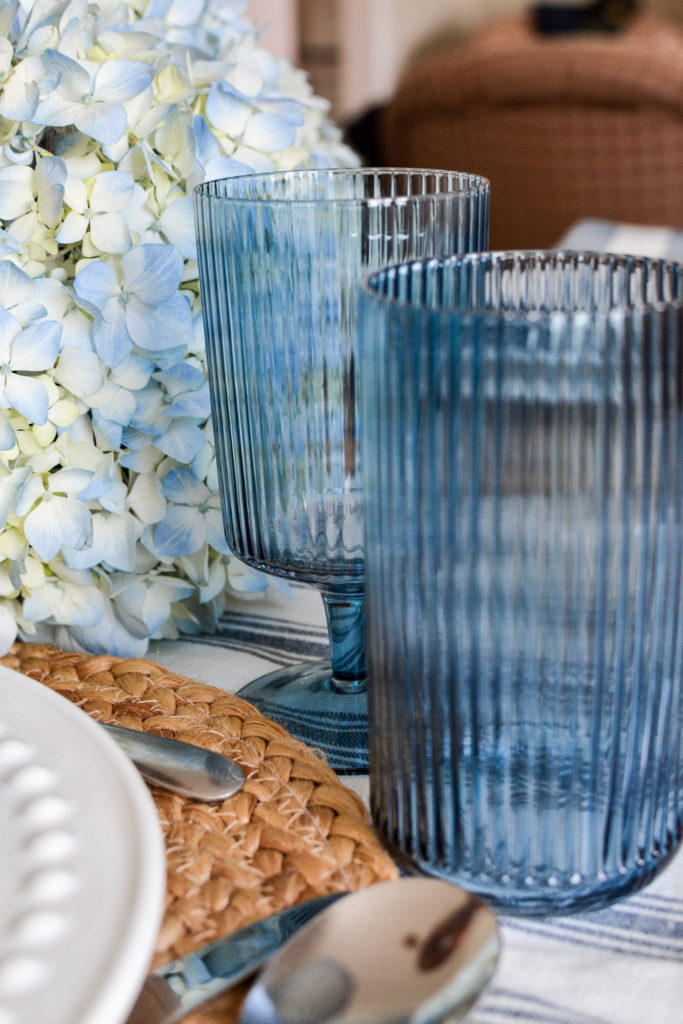 Napkins
I couldn't decide between solid blue or a patterned napkin, so I used both! The blue and white checked napkins are both a classic pattern and a classic colour combination. They add just the right pop of colour on top of the white plates.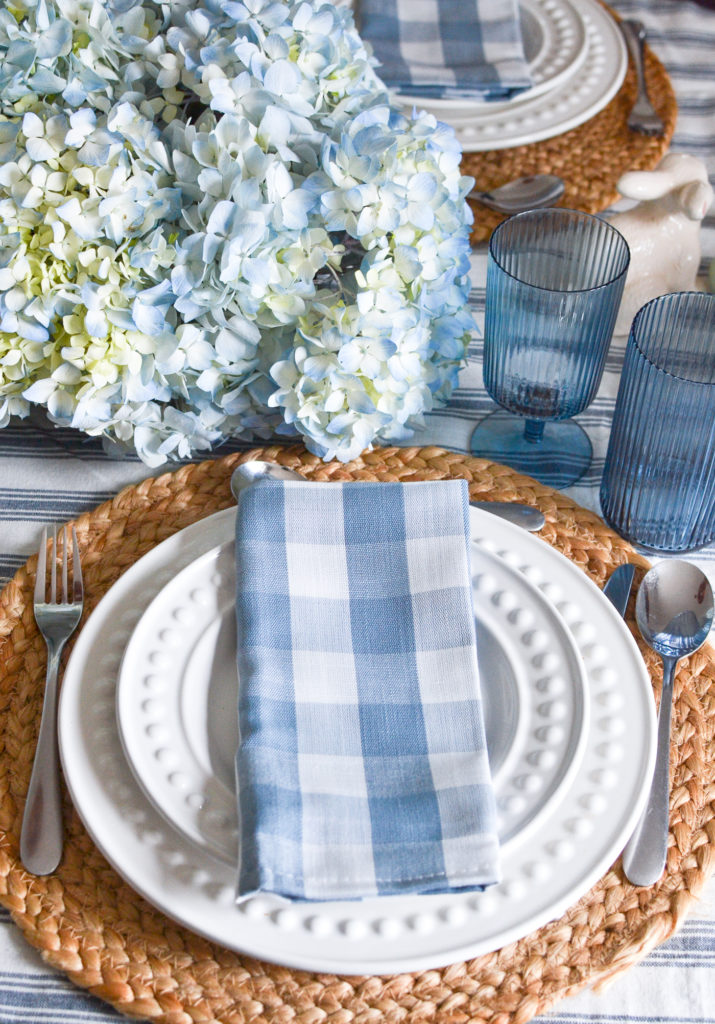 I went with a solid denim blue gauze napkin for the dessert course. Antique silver forks and soft blue dessert plates sit at the ready.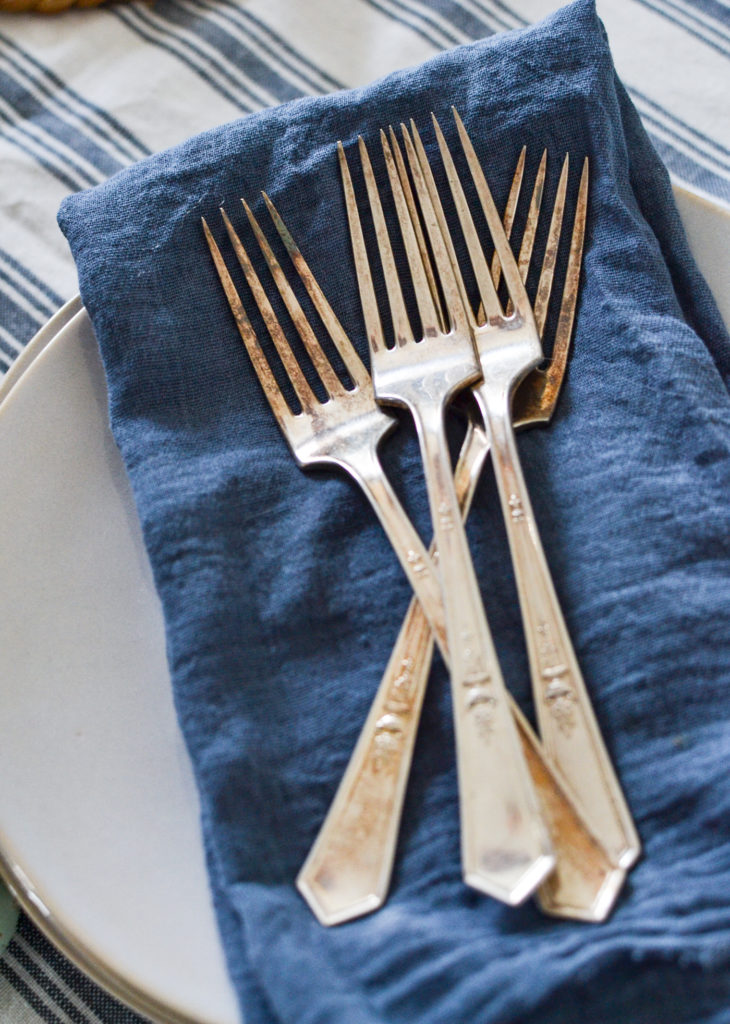 Tablecloth
I went back and forth with about using no tablecloth or a white tablecloth. Then I remembered this blue and white striped tablecloth I used on this early autumn tablescape and gave it a try. I think it creates just the right backdrop, and I love mix of stripes and checks.
Dinnerware
The options are really endless when it comes to what plates to use. I decided on my simple, everyday white dinner and salad plates. I almost went with these these blue and white salad plates stacked on the white dinner plate, but the blue was just too bold for my liking.
Our everyday flatware is the perfect accompaniment to this simple spring tablescape.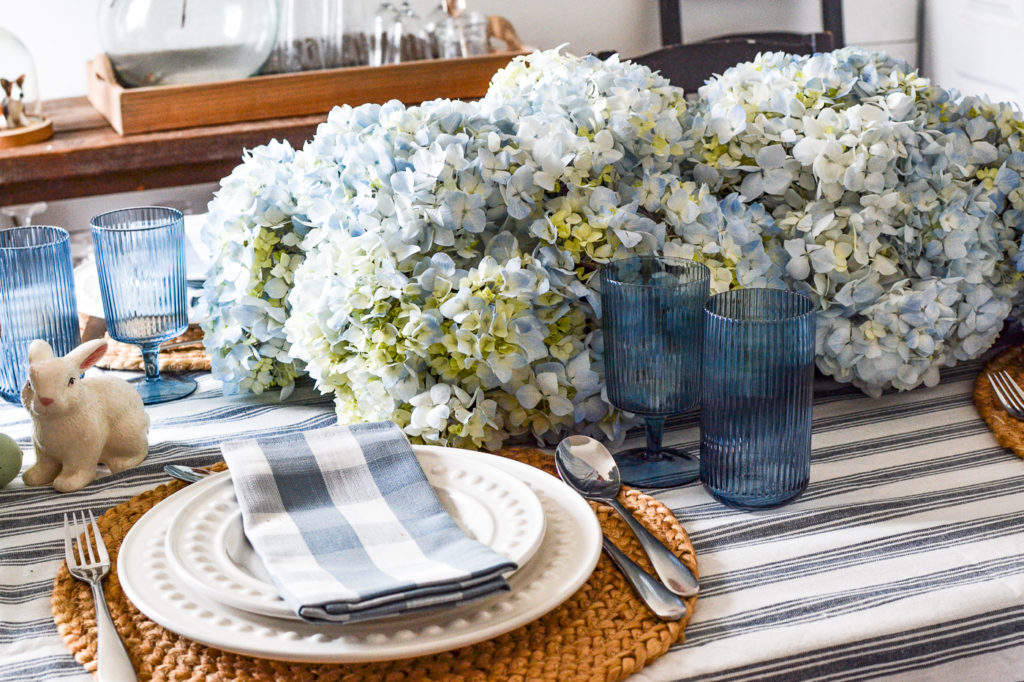 Don't you agree that this classic colour combination, done in soft and muted tones make a crisp and elegant start to spring?!
Add Colour to Your Tablescape with Food
I love adding desserts to my tables. The guests get a glimpse of what's to come and it ties in with the overall theme of the table.
These blueberry cheesecakes were so easy to make, and the sugared fresh blueberries add just the right amount of blue! I will be sharing the recipe later this week.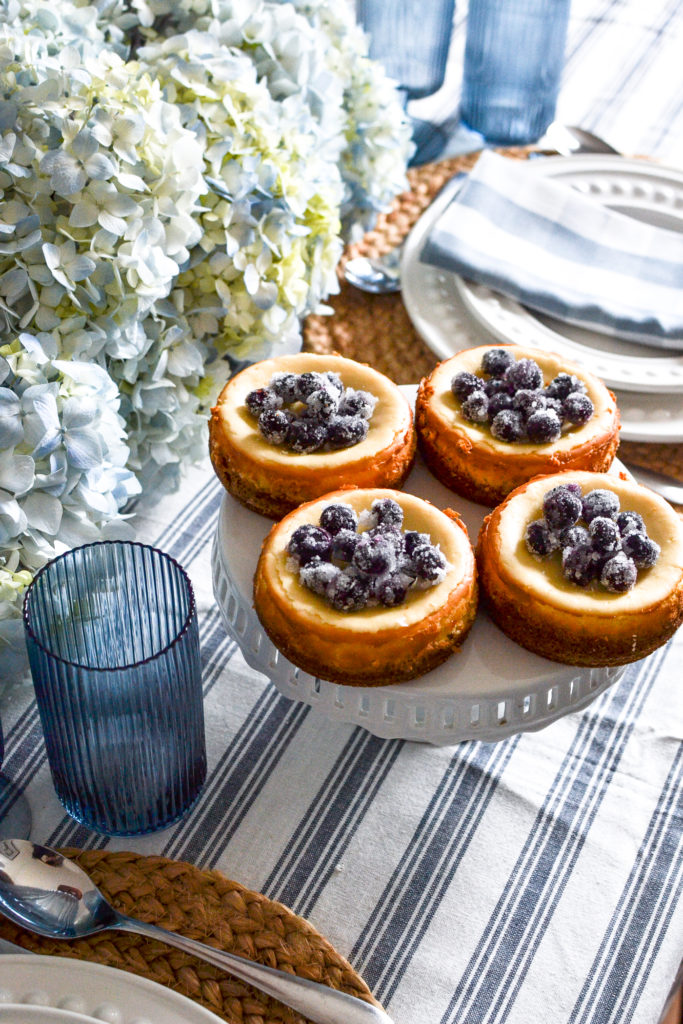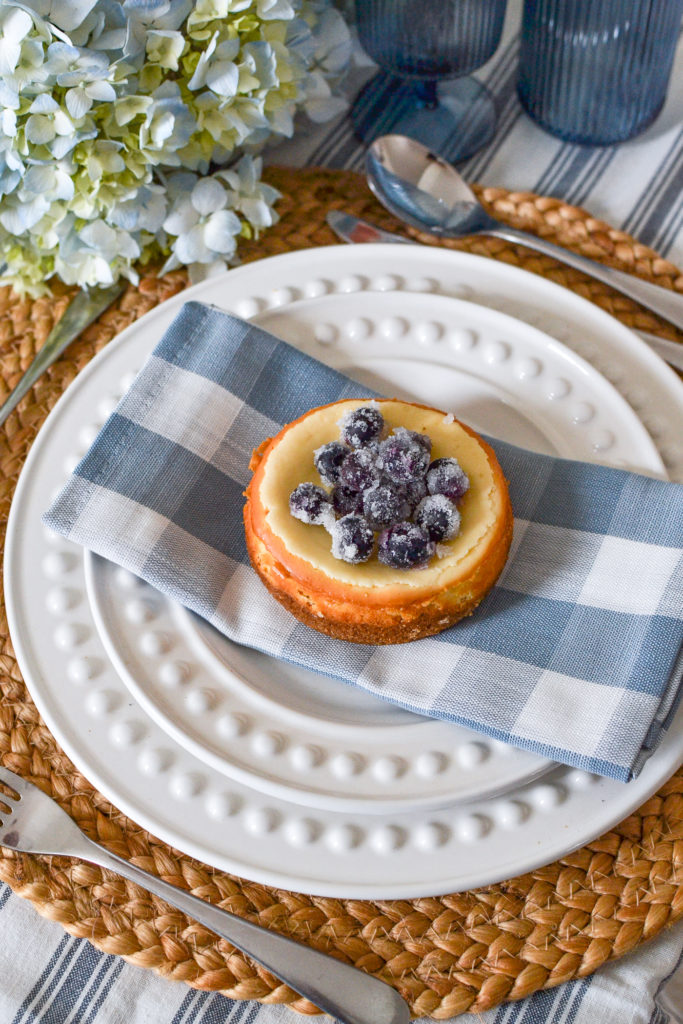 Don't these gorgeous hydrangeas just scream "it's spring!"
Would you believe, I repurposed all of the hydrangea blooms to smaller arrangements and gifted them to my girls, took some to work to brighten up my desk, and set some beside my kitchen sink to enjoy while tackling the evening dishes.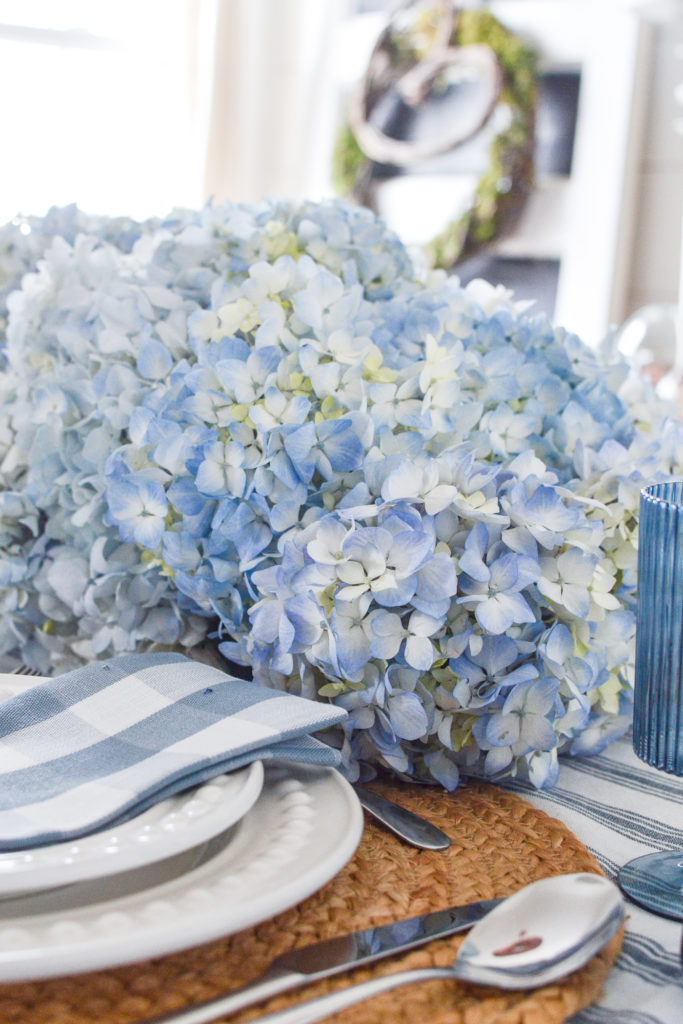 I hope you have enjoyed my little blue and white spring tablescape tour!
I think the arrival of spring is reason enough to celebrate, and what better way to celebrate than to set a pretty table, invite a few friends or family and enjoy a delicious meal and conversation!
Be sure to catch all the other lovely tables via the links below.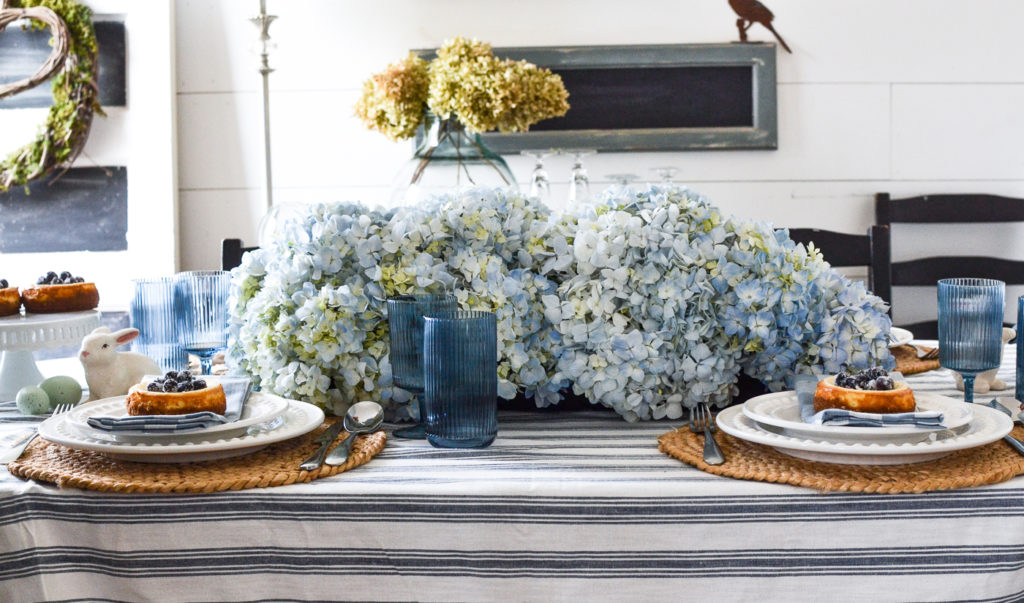 22 Spring Tablescapes That Are Sure to Inspire
Find links to all the spring tables below, and prepare to be inspired!