Welcome to this years' Christmas Tablescapes blog hop. I have to admit, I am pretty chuffed at how this cranberry and gold Christmas tablescape turned out. And, am delighted to share it with all of you lovely readers!
Grab a beverage and settle in! I go into detail in this post as to how I go about choosing a theme, shopping my home, and adding simple touches that make your family and guests feel comfortable and welcome.
Rita, from Panoply has again put together a stellar group of bloggers who are all sharing their Christmas tablescapes! Be sure to visit the links below for all the inspiration you will need this holiday season.
I had no idea what my theme would be for this Christmas tablescape, but when I started shopping the house for things that might work, it became very clear that it was meant to be a cranberry and gold Christmas tablescape!
Choosing a theme for Christmas tablescapes
Yes, the overall theme is Christmas of course, but choosing a theme within that theme can be overwhelming. The possibilities are endless!
When choosing a theme, think about what you already have that you could build the theme around.
Will there be small children around your table? Mostly adults? Do you prefer a formal look or a laid back vibe?
Will you be serving a traditional Christmas dinner or a pot luck?
Do you keep serving dishes on the table during dinner, or on a buffet?
Last year I styled a completely different look. I went with a white themed Christmas table, and it turned out to be one of my all-time favourites! It was definitely a more formal table, ready for many courses of a formal Christmas dinner.
Admittedly, I felt like it would be a hard act to follow, I love it that much!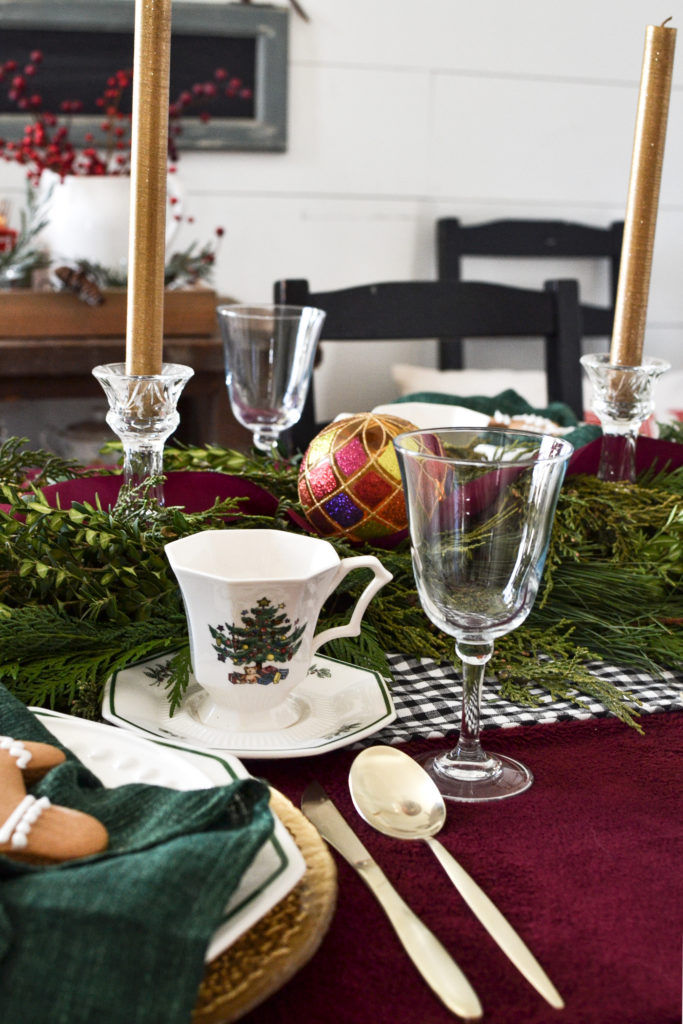 However, that feeling didn't last long! I knew I wanted to style a Christmas table that suited the overall style of my home, which is English country cottage. I always want my family and guests to be comfortable at my table. But, I wanted this years table to be extra cozy and more relaxed.
I will never be a minimalist. I am a very happy maximalist in fact! Rich colours , soft fabrics and a mix of textures, plump pillows and a coffee table full of books.
It has to be comfortable for family and guests first and foremost, but I also like things to be a bit refined. Not scattered and unorganized.
So, with that in mind, I decided on an English Country theme for my table.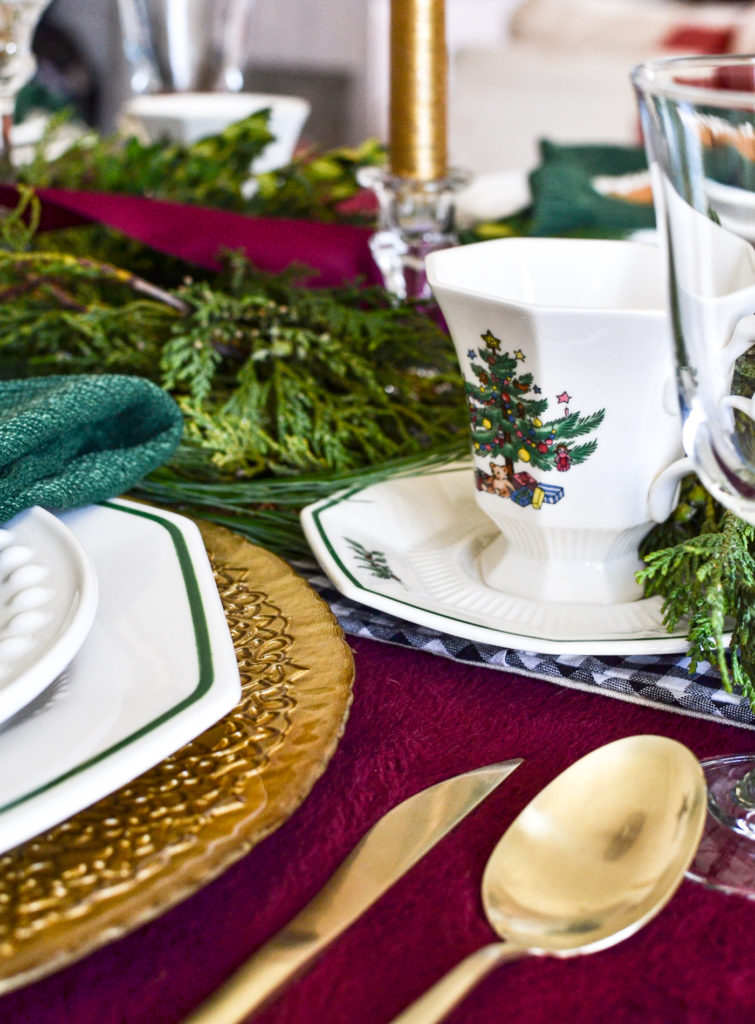 Styling a tablescape from the bottom up
My jumping off point for this table were these gorgeous gold charger plates I recently picked up when a local event rental company had a warehouse sale. They were just $5 each, and are made of heavy glass.
When I was bringing out all our holiday decorations I spotted this cranberry plush blanket and knew it would be so striking against the gold chargers! It also adds texture and a cozy softness to the table.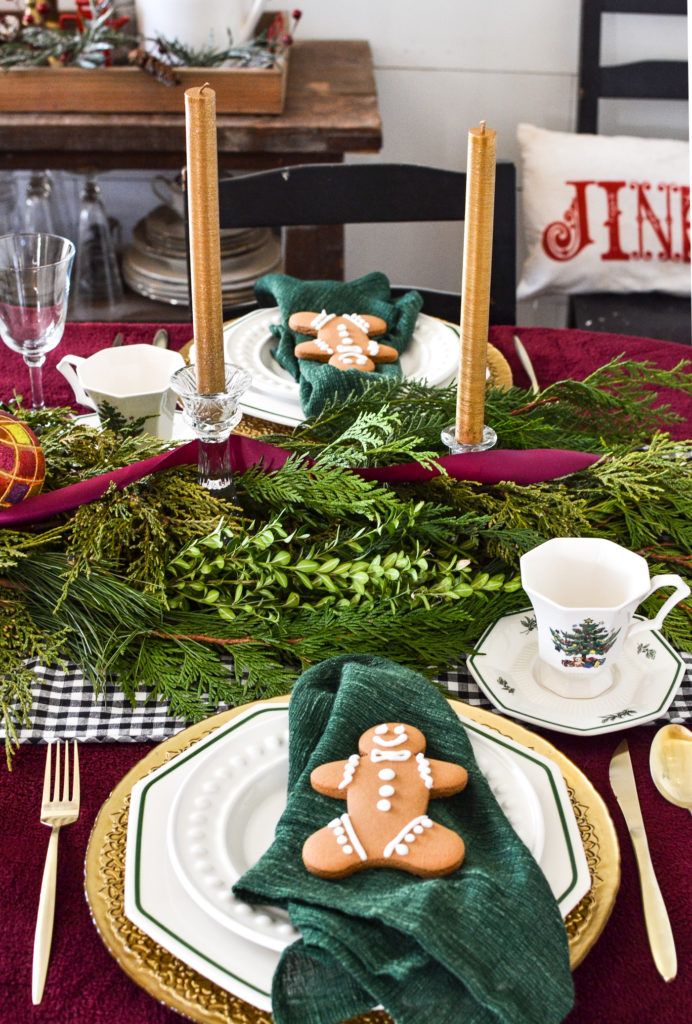 It was my plan to arrange fresh greenery down the centre of the table, but I felt that it needed something to add contrast between the dark cranberry and the rick deep greens. White would be to stark and too formal.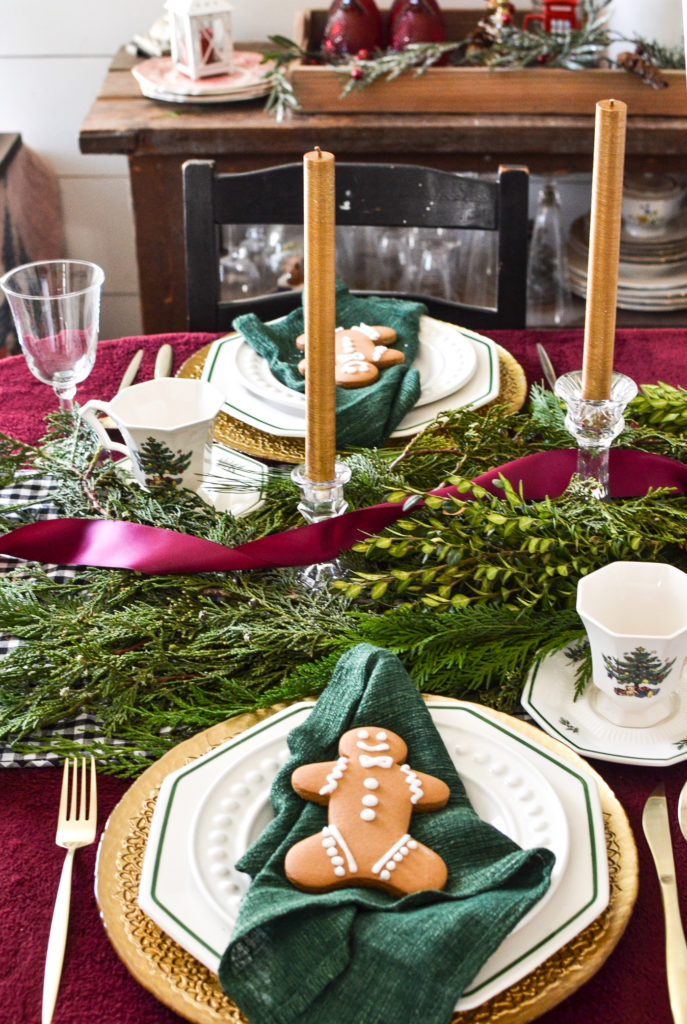 I remembered one I bought a couple of years ago for Halloween, that was reversible to black and white check pattern. Just the edges peek out underneath the fresh green runner, and it gives that touch of cozy informality.
After I had arranged the greenery and candles down the centre, I decided it needed a pop of cranberry. I checked my stash of ribbon and found a spool with just enough to arranged amongst the greens and candles.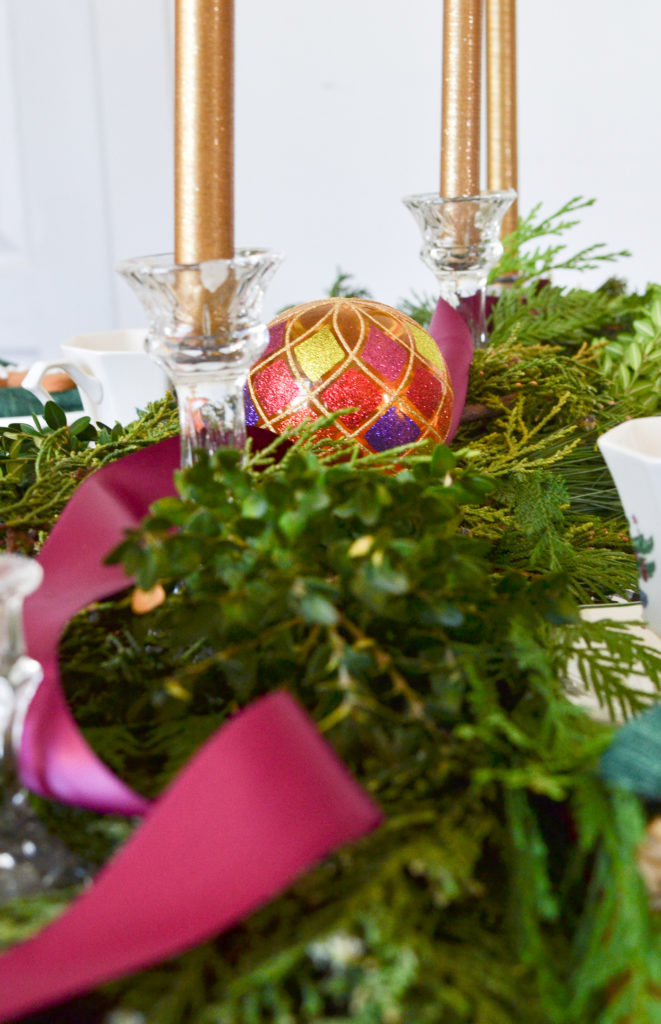 But, when I stepped back to have a look, it was clear that I needed something for the centre. I didn't have an extra gold candle, so I had to get creative!
One of my favourite Christmas ornaments to the rescue. I have had it for years, and treat it with kid gloves for fear of breaking it. It is sparkly, with gold, green, cranberry, and touches of purple so it fit perfectly with the colour theme.
Mismatched tableware makes for a less formal, cozy look
Initially I was going to use matching dinner and salad plates. These are my everyday plates purchased at Homesense some years ago. They often make an appearance on my tables.
But, after I started to set them out, it didn't feel right. Again, all that white made the table appear more formal than I wanted.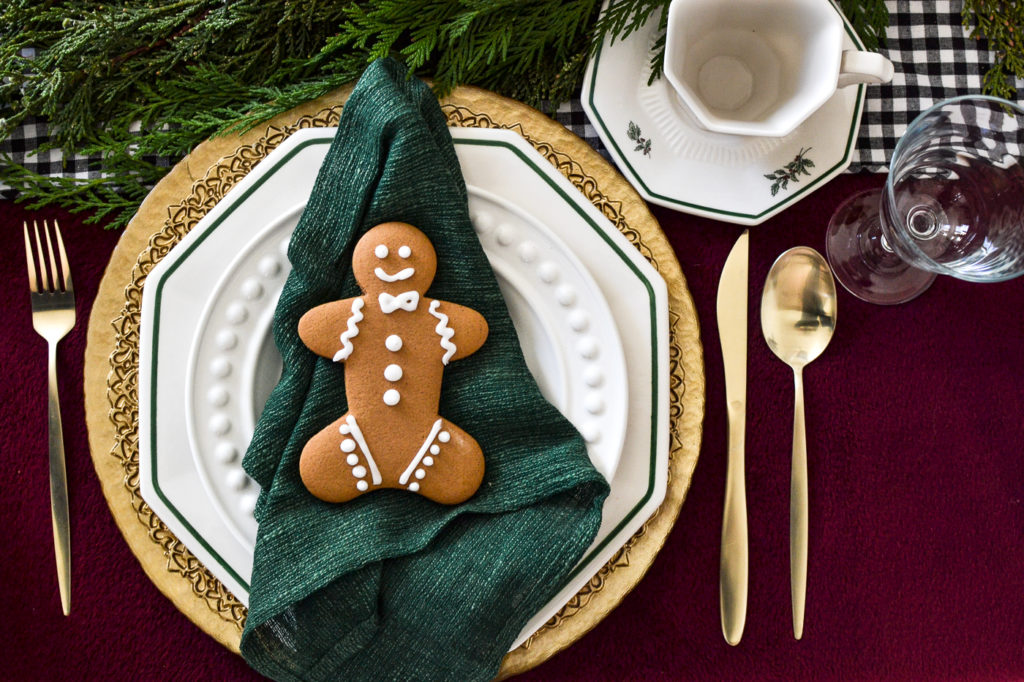 So, I decided to use my Octagon shaped dinner plates under the plain white salad plates. The edge of the dinner plates matched the napkins that were set on top.
I chose my dark green Ralph Lauren linen napkins both for their deep green colour, and their texture.
Simple gold flatware finish off the place setting. I kept the glassware simple with bell shaped wine glass and Christmas tree teacup and saucer that match the dinner plate.
Can we talk about the gingerbread men!?
I always want to add something extra special for my guests. Christmas tablescapes are all about those extra touches after all.
This table certainly would not have been nearly as charming with these adorable decorated gingerbread cookies!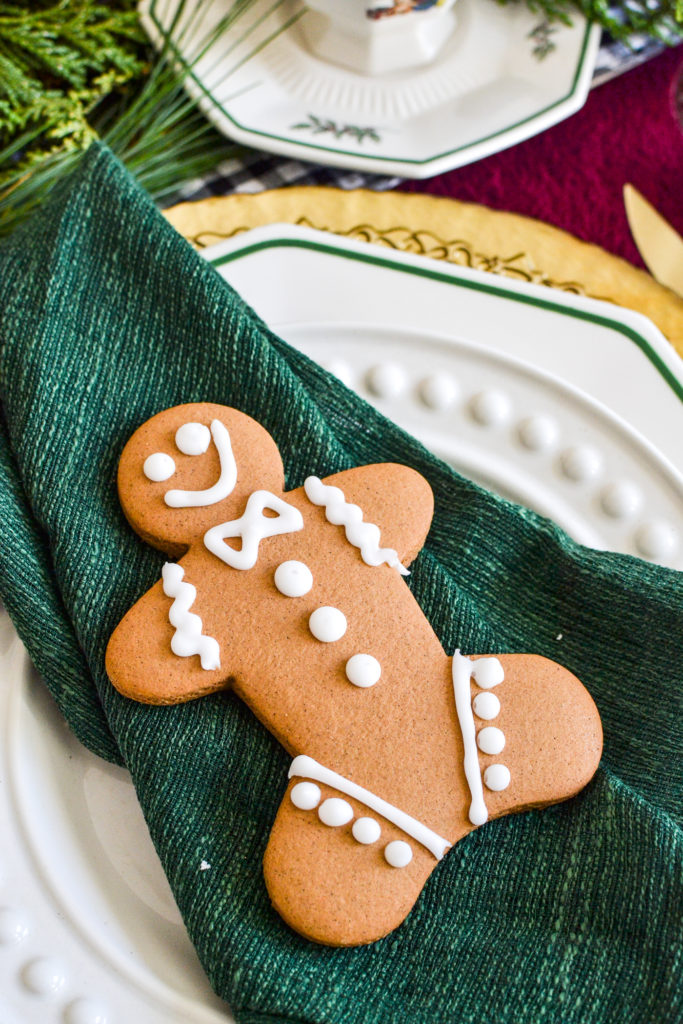 And between you and me, these gingerbread men took all of 5 minutes!
I purchased a the undecorated gingerbread men from a local bulk food store and simply mixed some confectioners sugar with water to form a thick frosting. A very simple, yet whimsical design was piped on each one.
Don't you think they add that casual English country feel to this cozy table?
Styling a tablescape is always a labour of love for me, and this one was no exception. A combination of colour, texture, treats and seasonal elements come together to create a cozy, comfortable table that could easily be found in the country side of England as it could anywhere around the world!
Don't forget to PIN IT for later!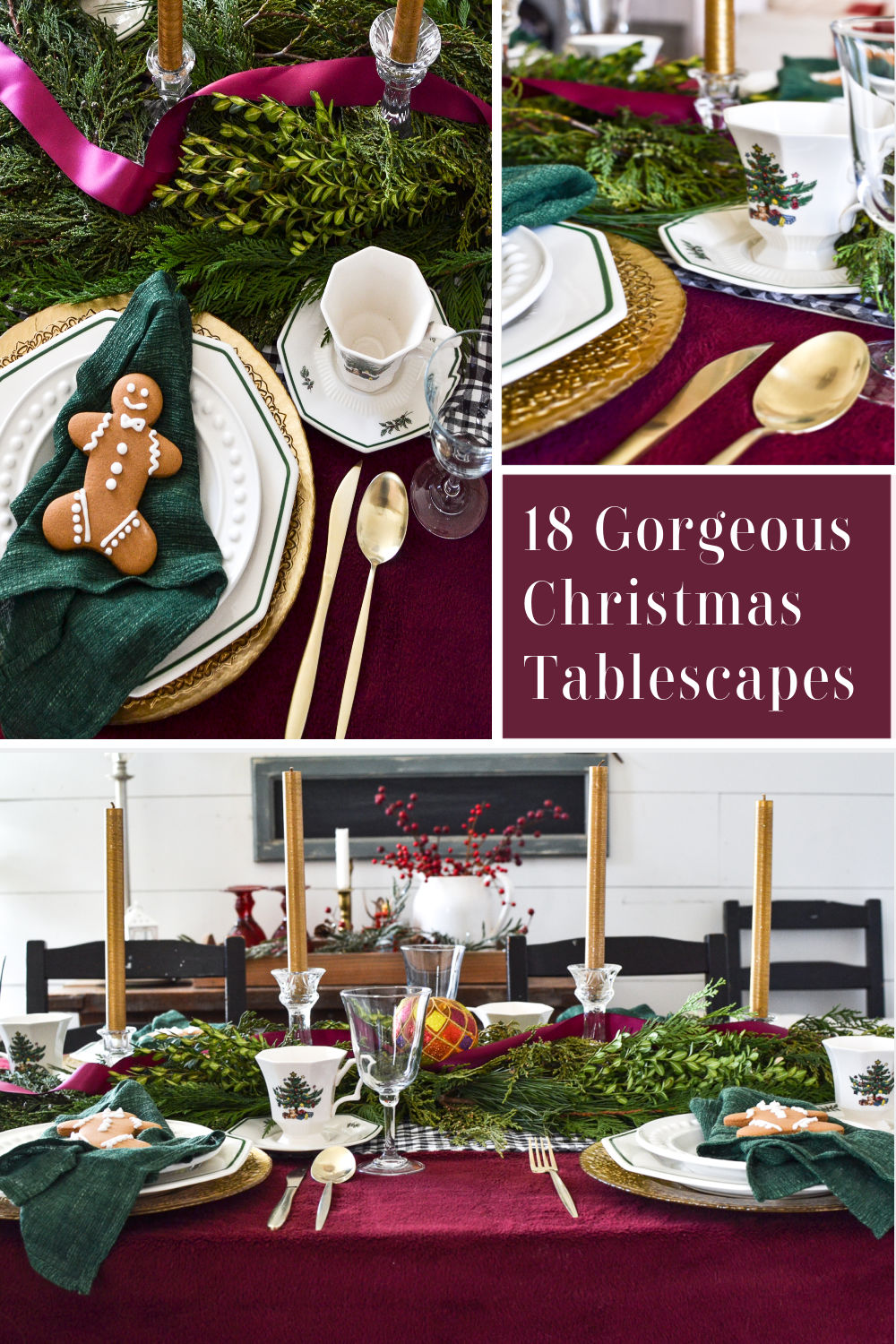 I think I have nattered on long enough!
Before you head off to enjoy all the other Christmas tablescapes linked below, I have taken a few photos after the sun went down and the candles lit. The glow and sparkle makes it even more cozy!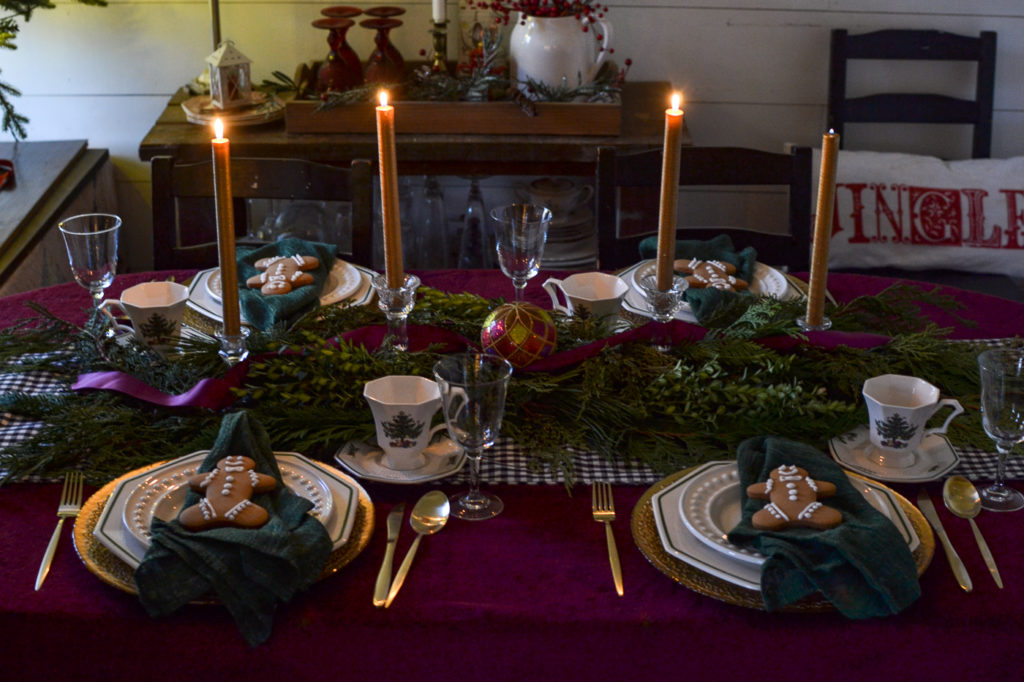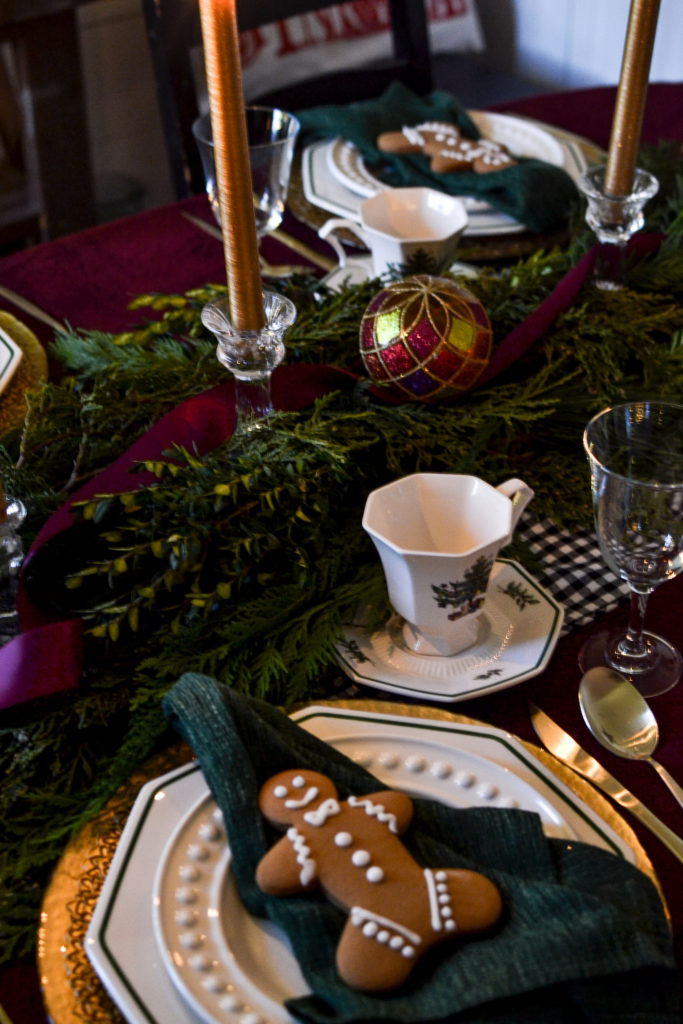 More of my Christmas tablescapes you might like
How to Style an Elegant Christmas Tablescape
Winter Wonderland Christmas Tablescape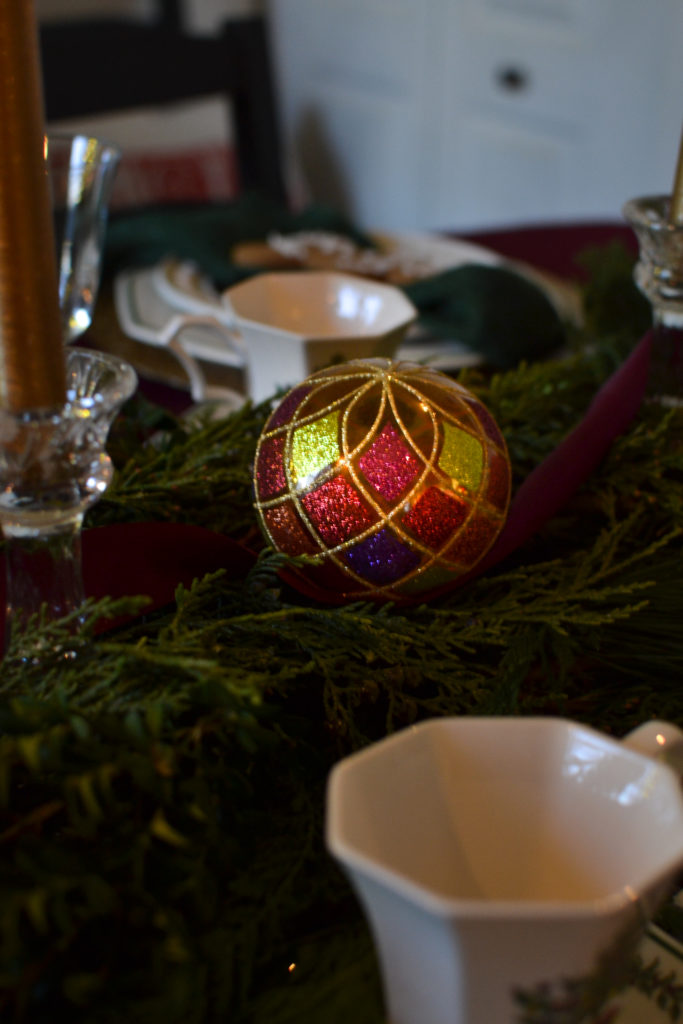 Be sure to visit all the lovely Christmas tablescapes below for more table style inspiration
Debbee's Buzz – Unique Holiday Peacock Theme Tablescape
Home Is Where the Boat Is – 'Tis The Season for Plaid & Peppermint
Panoply – Nutcracker Classic Christmas Tablescape
Everyday Living – Old TIme Christmas
My Thrift Store Addiction – Enchanted Forest Christmas Tablescape
Thrifting Wonderland – A Hunt Breakfast Christmas Tablescape
Hyacinths for the Soul – Christmas Joy
From My Carolina Home – Vintage Christmas Tablescape
The Painted Apron – December Birthday Celebration
The Little Yellow Corner Store – A Candy Land Breakfast
Life and Linda – Plaid Tidings with Santa
Pandora's Box – Where the Treetops Glisten
Celebrate and Decorate – A Christmas Tablescape Wrapped Up for the Holiday
Me and My Captain – Snow Was Falling Gently on the Streets
Corner of Plaid and Paisley – Dreaming of a Christmas White and Sweet
Dinner at Eight – Cozy, Bright and Classic – A Holiday Table
Red Cottage Chronicles – Cranberry and Gold Christmas Tablescape
The Bookish Dilettante – Christmas Sweets