Hosting game night with friends? Or maybe just a casual get together with your best gal pals? Why not create a yummy dessert grazing board that is sure to please both the sweet and salty dessert lovers!
Recently we attended a fun trivia night hosted by our local Lions club. It was a 'bring your own snacks" event, which I thought was a fantastic idea! Pizza was included in your ticket price and beverages were available for sale, but we were welcome to bring whatever snacks and goodies we wanted.
And, since I am all about elevating the every day, I decided to make a dessert grazing board! And, it really was a hit with everyone at our table! No boring bags of chips for us!
This post contains affiliate links. Should you click a link and make a purchase I may receive a small commission with no increase in cost to you.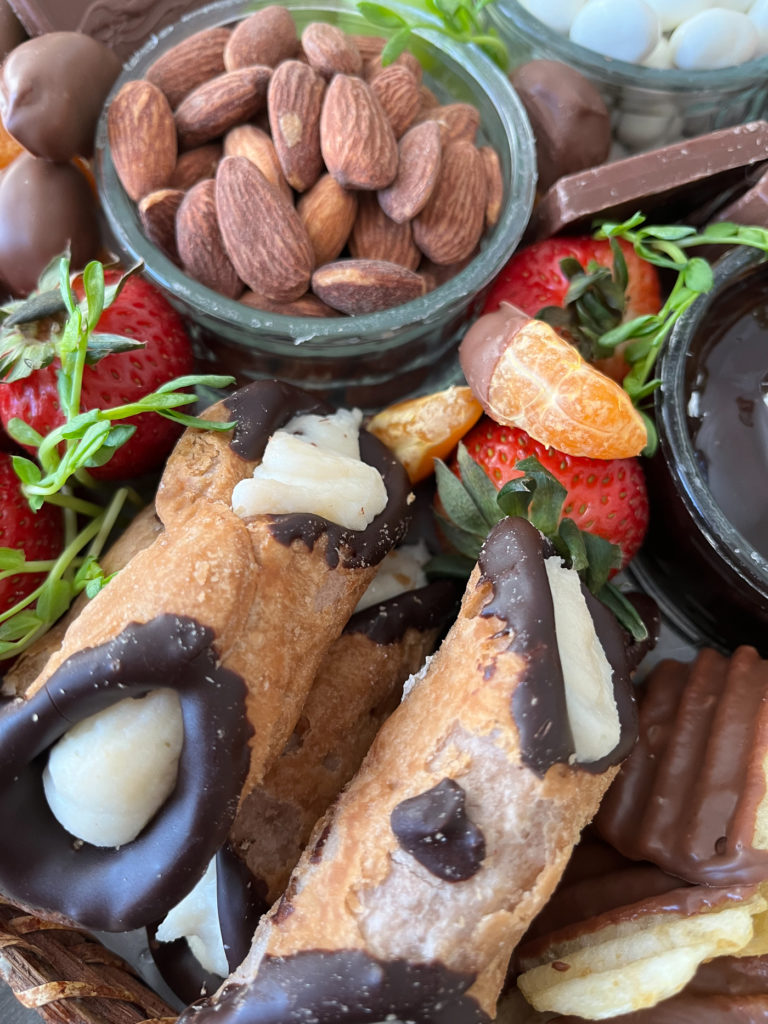 Sometimes called a dessert charcuterie board, creating a collection of yummy desserts and nibbles really is so easy. This how-to guide will having you creating drool worthy boards of your own!
Planning your grazing platter
A few tips:
consider choosing a mix of sweet treats and salty snacks
ask about nut (or other) allergies to be considerate to all who will be enjoying it
pre-dip some oranges in melted milk and dark chocolate and allow to set in the refrigerator
include a variety of store bought and homemade desserts if you so desire
for larger desserts (like the cannolis and macarons) plan for 1 or two per person
choose fresh fruit that is ripe and vibrant, wash well and blot dry with paper towels a few hours before assembling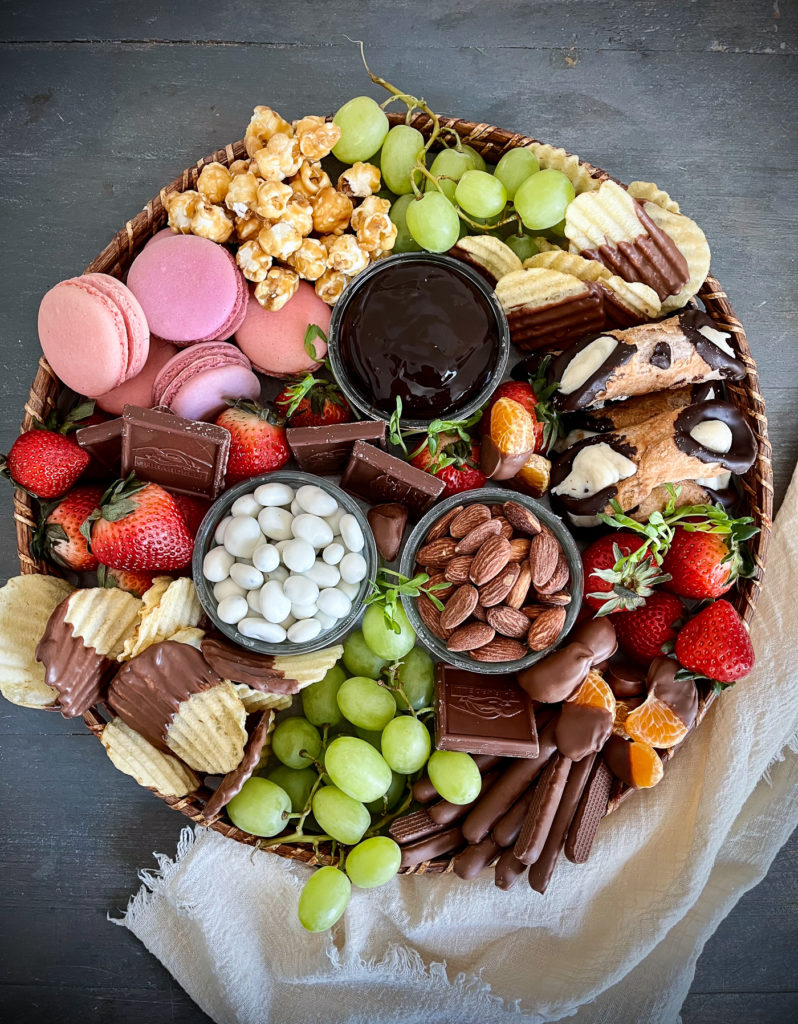 What to include on a dessert board?
The possibilities are endless, but here are some ideas to get you started.
fresh fruit that is easy to pick up and will stay fresh at room temperature such as strawberries and grapes
tangerine slices dipped in milk chocolate
small "two-bite" desserts that are easy to pick up such as brownies, cannolis, macarons, and cookies
one or two types of nuts such as cashews, or smokey roasted almonds
caramel corn
chocolate dipped ruffled potato chips are the ultimate sweet and salty treat
caramel filled chocolate wafers, truffles or chocolate covered cherries
yogurt covered raisins
whipped chocolate dip (either homemade or purchased)
Feel free to use homemade treats, store bought or a combination of both. The goal is to make it as easy and stress free as you choose!
Additional supplies are needed
large sturdy board, platter, plate or tray size dependent upon how many people you will be serving (I used this 14″ round wicker tray lined with parchment paper to serve 8 people)
small bowls for holding dips, nuts and other small bits and bobs
small serving tongs
small plates for serving
How to Build the Ultimate Dessert Grazing Board
If using a wicker tray, cut a circle of parchment paper to fit and line the bottom. Arrange the bowls for the smaller items.
Add the larger desserts like these macarons and cannolis. These marshmallow brownies or raspberry jam bars would be excellent additions.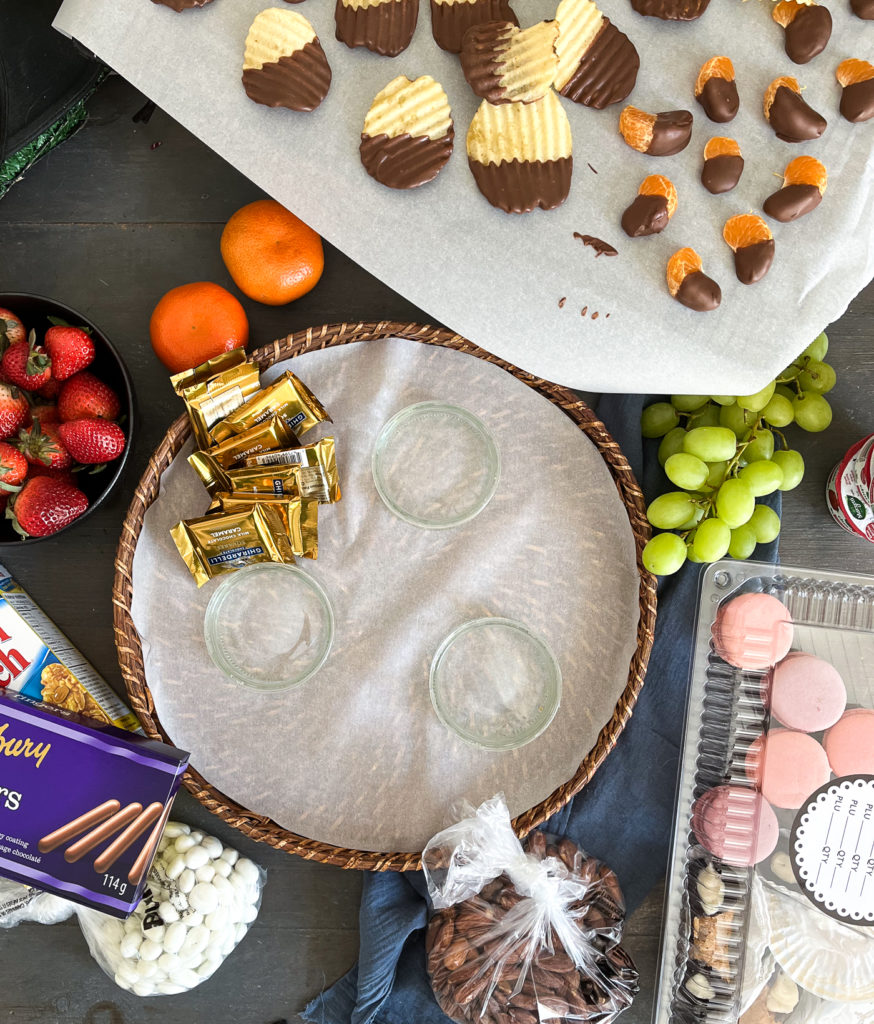 Add the grapes, allowing them to spill over the edges slightly. Add the strawberries and fill the small bowls with chocolate dip, nuts and other small nibbles, such as yogurt covered raisins.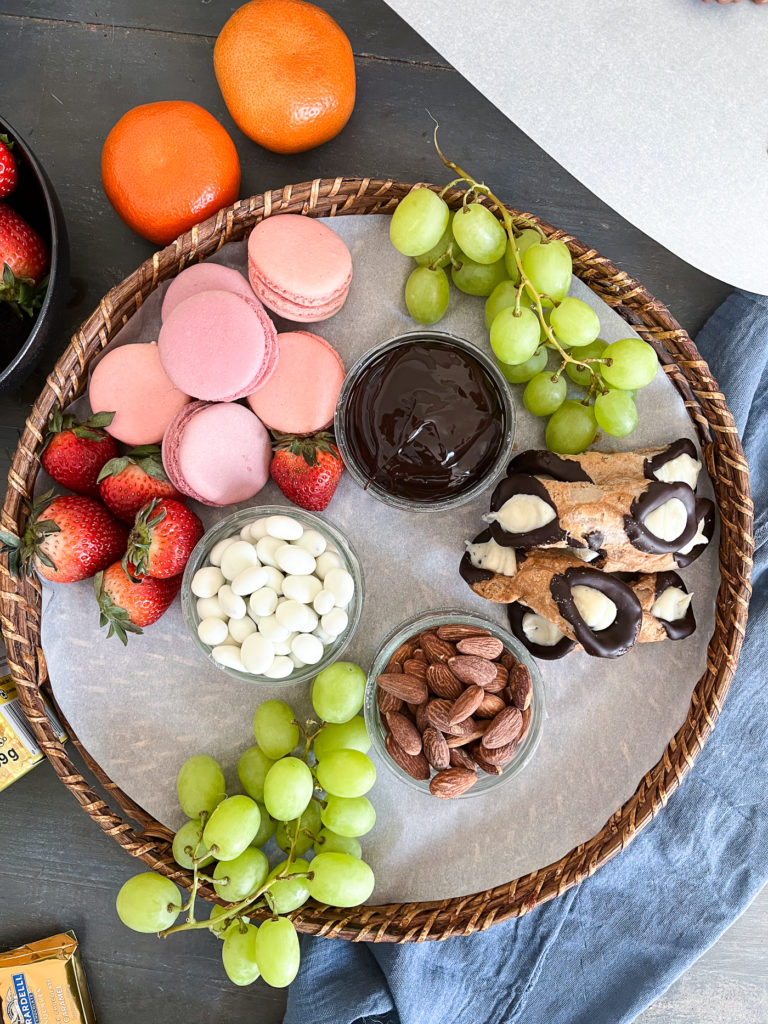 Fill in gaps with large handfuls of caramel corn. Add the chocolate dipped oranges and chocolate covered finger cookies.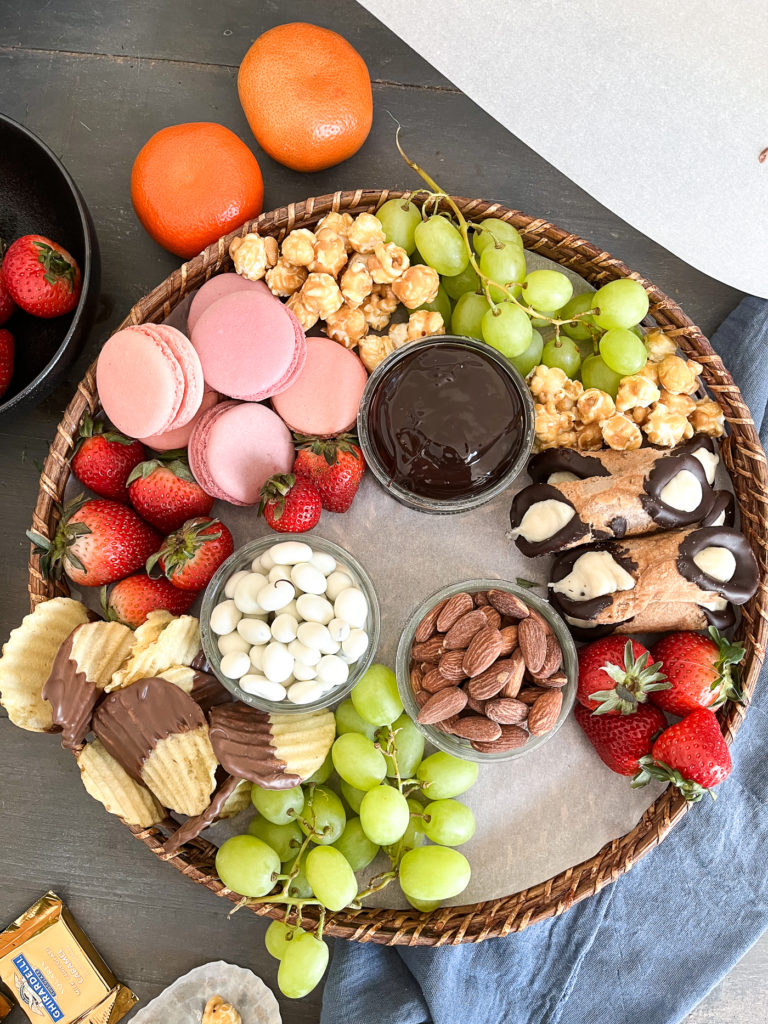 Tuck more strawberries and chocolate squares in the centre, between the bowls. Add a bit of garnish such as sprouts or tiny flowers for that extra something special.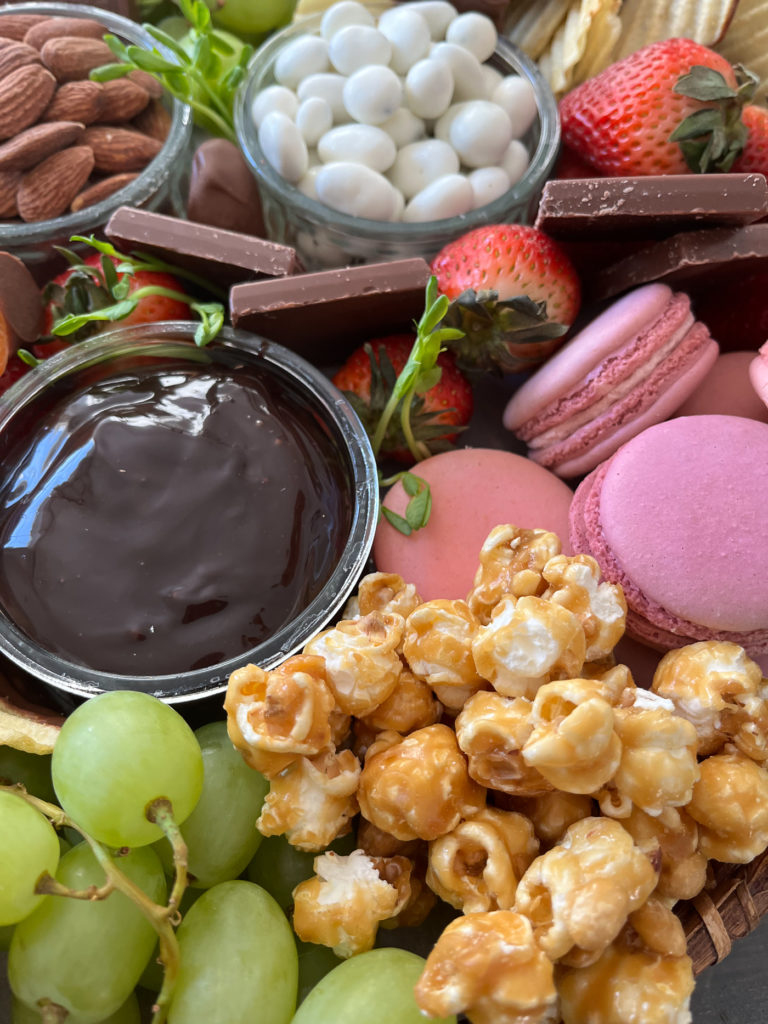 Now that you know that dessert grazing boards are such an easy and creative way to share desserts and sweet nibbles for to please all your guests.
Healthy eaters can enjoy the fresh fruit and dark chocolate, while those of us wanting to indulge a little bit will nibble on the sweeter treats!
So, now it's your turn. I would love to know. What would you add to your dessert board?