Do you have special Christmas traditions that you hold near and dear? We have several, but breaking bread with family and friends always tops my list.
Every year we host a Christmas brunch at our home on the morning of Christmas Eve. To be honest, Christmas brunch is my husbands baby. He starts planning the menu sometime in November. He looks so forward to welcoming family and friends into our home, feeding them well and allowing them to tune out the busy-ness of life for just an hour or two. He loves the noise of the lively conversations, and feels content to see the smiles of those people he loves the most enjoying his hospitality.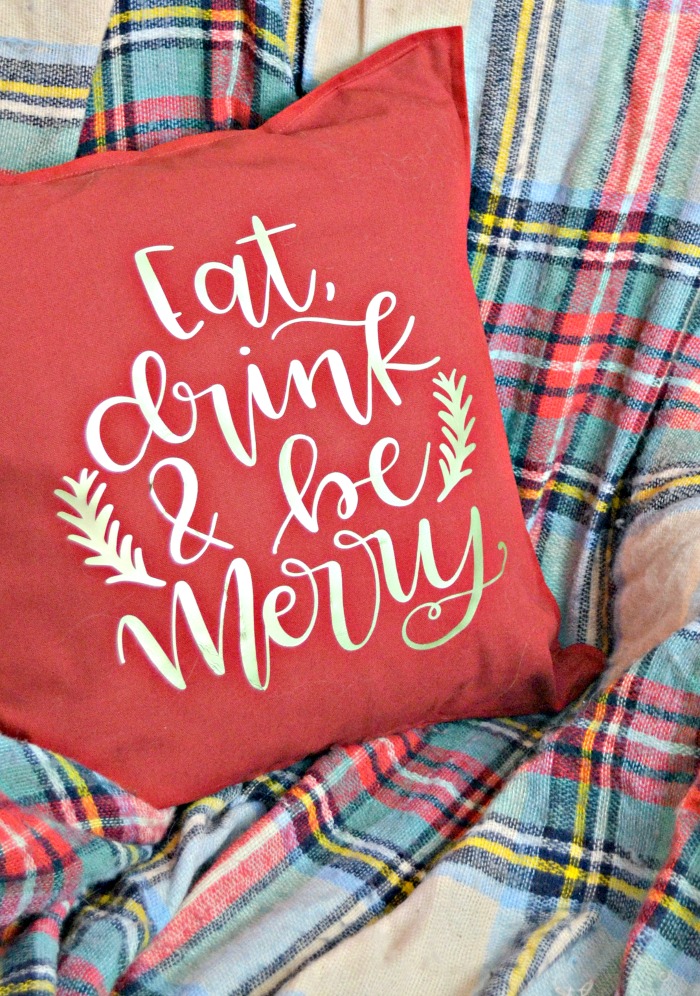 In case you didn't know, we live in a really small home. Like, less than 700 square feet small! Every year I ask him, "do you really want to do brunch again this year"? Our family has grown over the years and some years I just feel like everybody is squished in. But, without fail his answer is YES!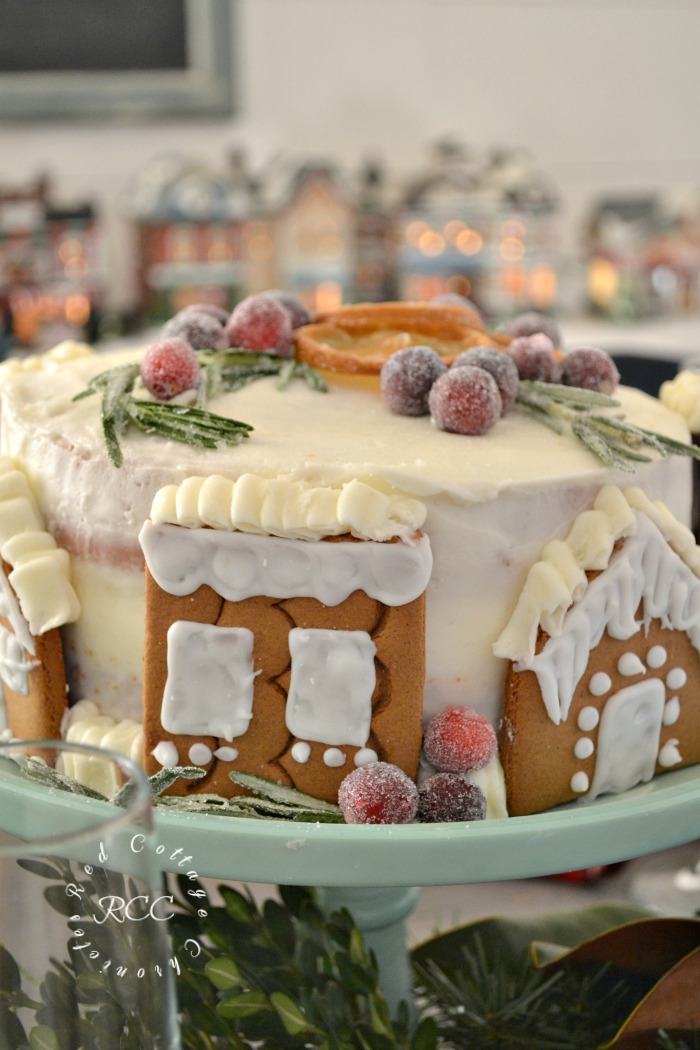 Invitations go out with our Christmas cards in early December to our family and friends. Some years everyone on our list is able to attend, other years the crowd is a little leaner. But, no matter what, our guests are invited to Eat, Drink and Be Merry!
By the time our first guests have arrive I am no longer worried about the house being to small or who could come and who couldn't.
One of the things I love best about our brunch is that we keep it simple, which makes it easy for us to relax and enjoy a visit with family and friends at this most special time of year.
How we do Christmas Brunch
Beverages – we keep the beverage choices to a minimum and serve just cranberry mimosas, coffee and hot chocolate, sparkling water and orange juice.
Menu – don't feel like you have to slave over the stove. Every year we serve honey glazed spiral sliced ham that we cook the day before reheat with the juices in the morning. It stays nice and moist. Scrambled eggs are easy to prepare and keep warm for serving. I always make an overnight casserole that incorporates potatoes and cheese. I get it all prepped the night before and bake it in the morning. Fresh fruit, cheese tray, mini quiches and pastries purchased at the grocery store are great time savers.
We invested in a warming tray several years ago when it was on sale. It has three separate compartments that keep things nice and warm. A slow cooker is also a wonderful way to both cook and keep things hot.
Consider making it a pot-luck brunch. You can take care of all the necessities like plates and napkins, beverages and a main (like the spiral sliced ham we serve), and ask everyone else to bring their favorite dish.
Dishes – if facing a load of dishes after every one heads home is not your thing, feel free to use disposable plates, napkins and glasses. There are so many pretty Christmas themed ones available that make clean up a breeze. Or, consider renting them for your nearest party store. Just scrape clean of food, and you return them dirty where they are cleaned and sanitized for the next renter. Our local rental place charges just $4 to $5 dozen for plates, glasses or cutlery sets. Essentially for just $15 you have all you need for 12 people.
Serving and Seating – casual is the way to go! We serve everything buffet style from the kitchen and everyone can sit where they like. The dining room table is kept clear except for the fruit, cheese and pastry platters, which leaves 6 places for those who wish to sit at the table. Otherwise comfortable seating and end tables are there for drinks and it is easy to balance a plate on your lap!
Music (or movie) – create a varied playlist with Christmas songs from different eras. Or, do like we do and put a couple of Christmas moves in the DVD player for guests to enjoy! Just keep the volume to a minimum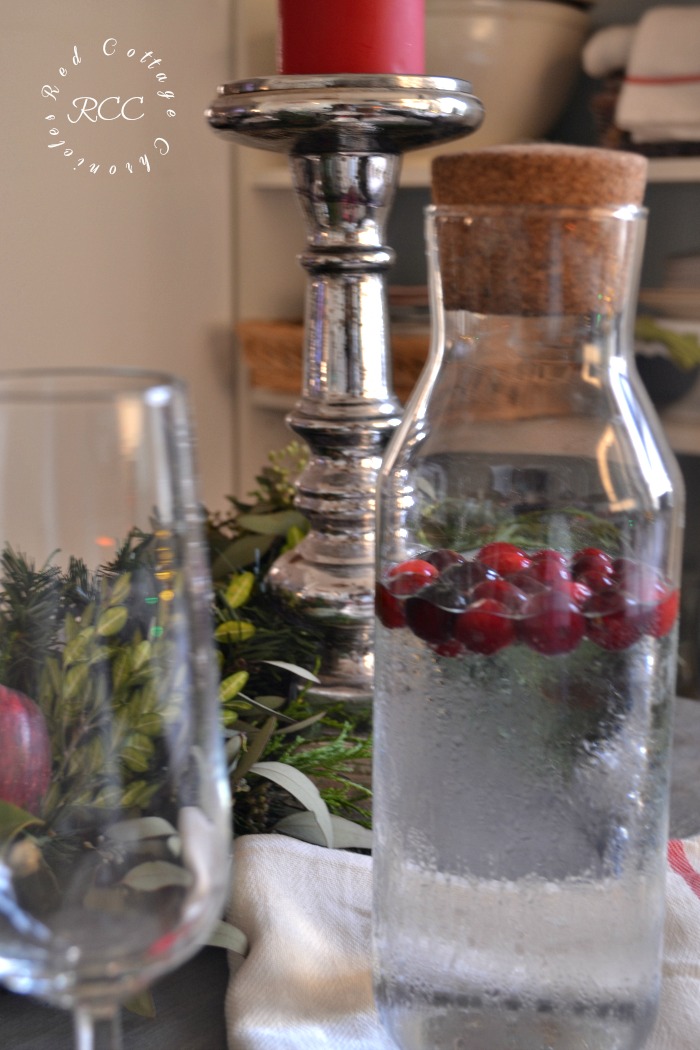 Leave them with a special treat – a little cellophane bag filled with Christmas candy or homemade cookies is a nice little way to send each guest off to enjoy the rest of their Christmas season.
Decorating – since our home is already fully decked out for the holidays, there really is nothing special that needs to be done other than a few candles on the dining table, and fluffy Christmas cushions on those extra chairs we bring in.
And speaking of fluffy Christmas pillows! I couldn't resist whipping up this cushion cover with my Cricut Maker and EasyPress 2.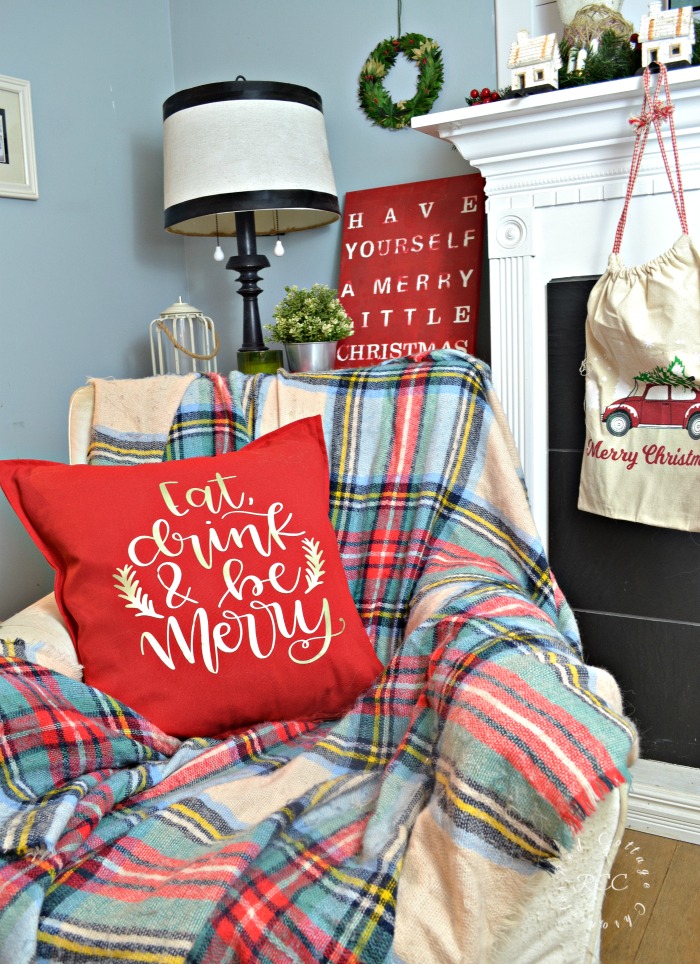 Let me show you just how easy it was to make. Took me all of about 15 minutes.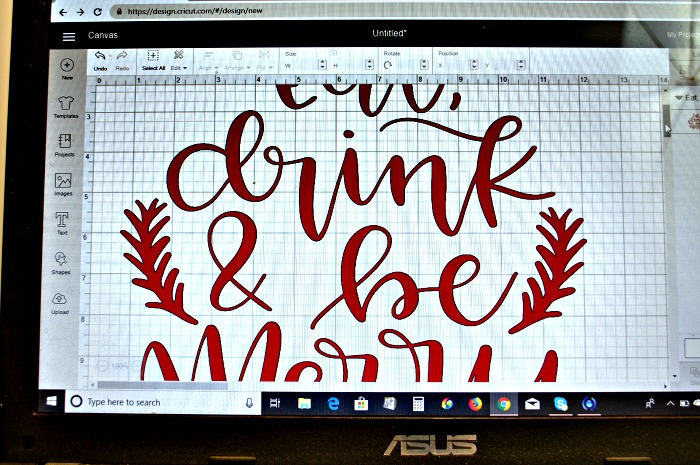 I started by selecting the "Eat, Drink & be Merry" image from the Cricut Design Space. As a member of the Cricut Access Subscription plan I have access to over 30,000 images and I had no trouble finding exactly what I wanted.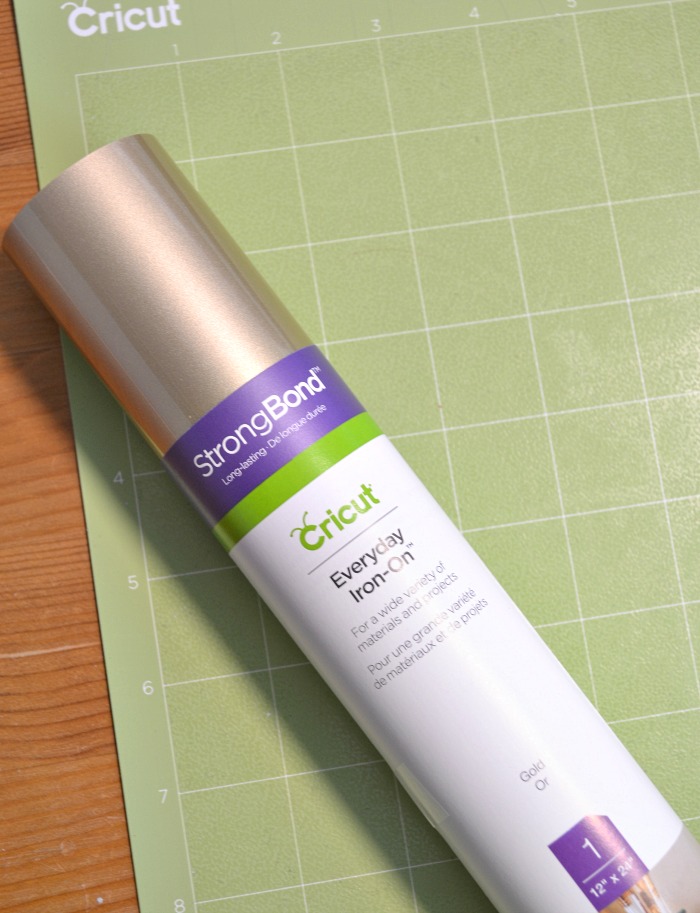 In Design Space I customized it to the dimensions that I needed for my pillow cover. I then clicked the "make it" button and followed the steps to cut my image onto Everyday Iron-On heat transfer vinyl.
When you are using heat transfer vinyl be sure to mirror your image before starting the cutting process.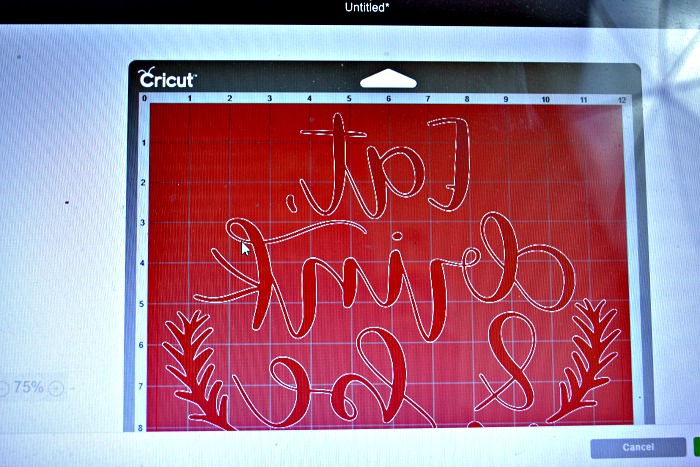 Using a standard mat, position the heat transfer vinyl shiny side down.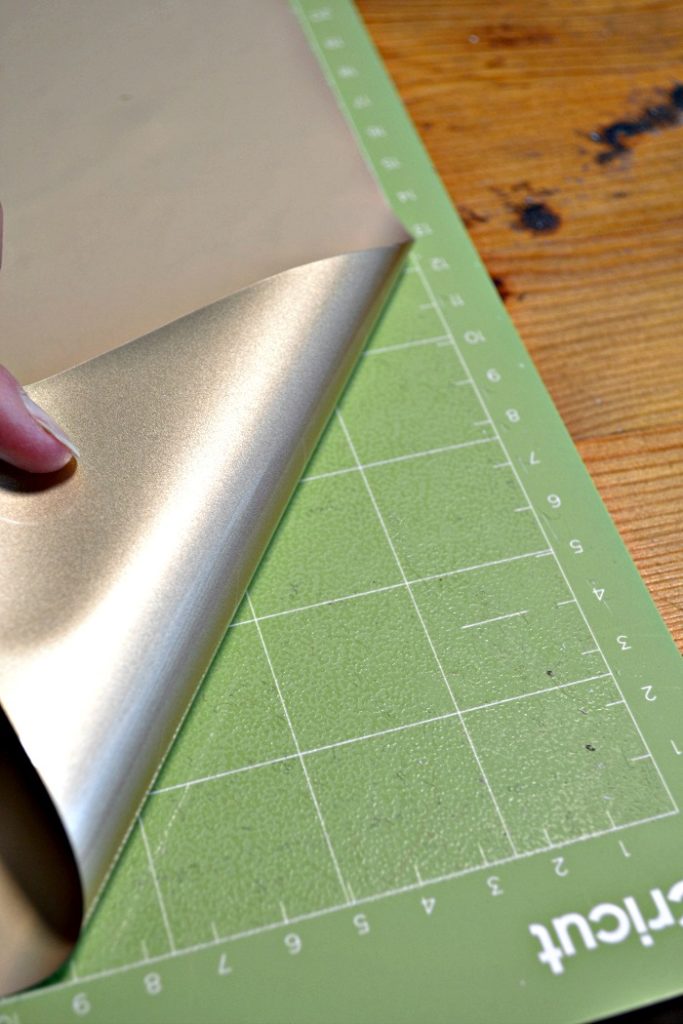 Feed the mat into the Cricut Maker using the flashing up and down arrow, and then click the 'C' when prompted to do so.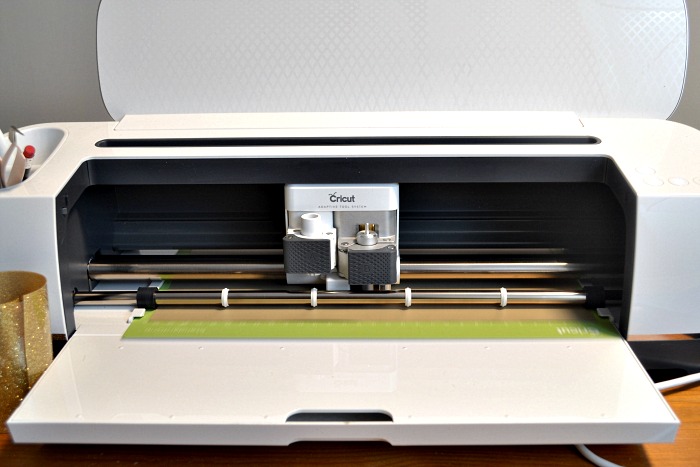 Let the machine do the work, and remove the cutting mat when the up down error flashes to signal the end of the cutting process.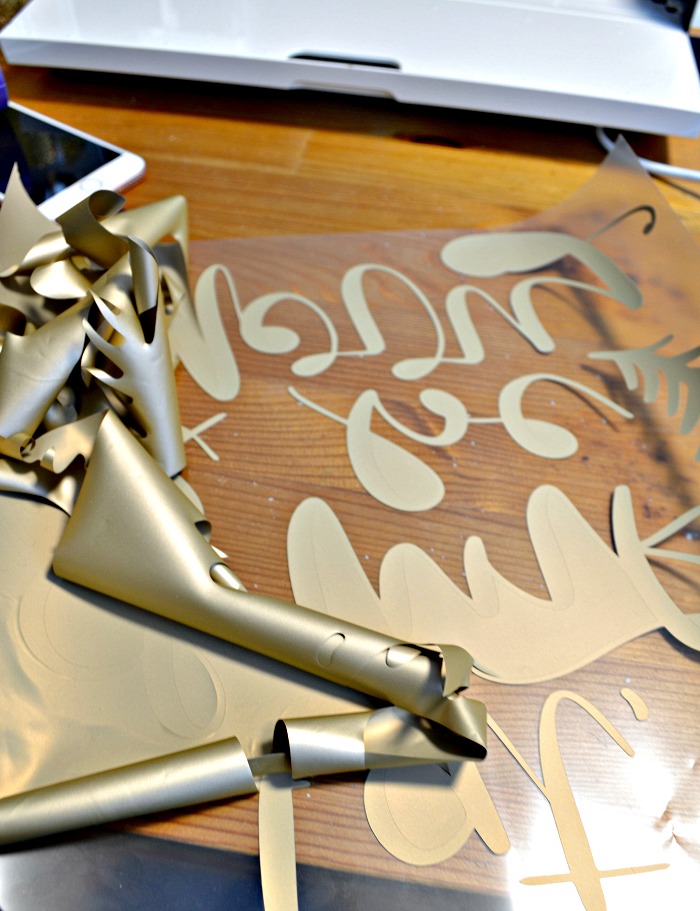 Carefully weed away all the excess vinyl, leaving your image intact on the clear backing.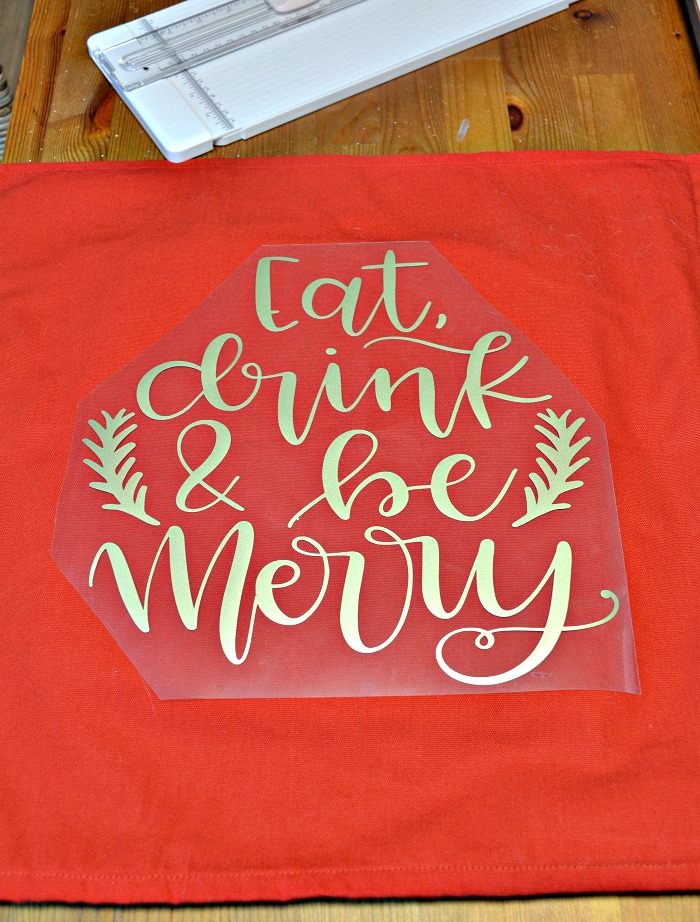 Position the image onto the cushion cover to your liking.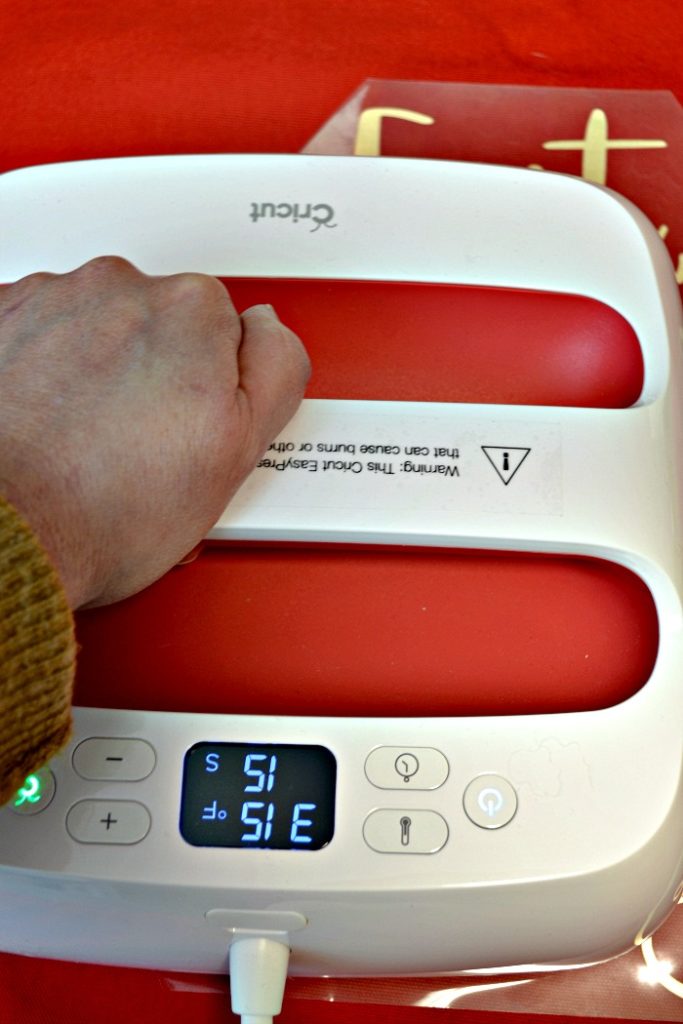 Using the EasyPress 2 or a regular iron press the image onto the cushion cover. If using the EasyPress 2 consult the interactive quick reference guide to select the correct temperature and time for the material you using.
And, there you have it. A Christmas Brunch themed cushion cover!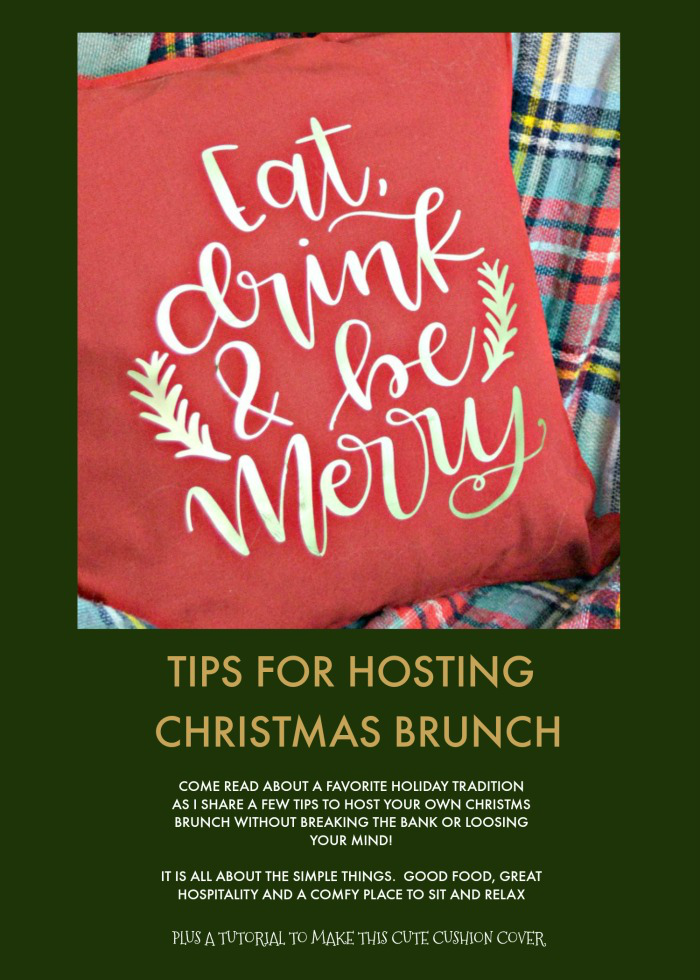 Eat, Drink & Be Merry. How perfect is that for Christmas Brunch!
By the time the last guests have gone, the Mr. and I are relaxed and happy. Dishes are loaded into the dishwasher and the kitchen tidied up. Then, we head out for a quiet walk in the crisp, cold Canadian air. We take the dog and walk along the Niagara River Parkway and remind ourselves how truly blessed we are to have such loving family and friends.
If you have ever wanted to host a Christmas brunch but thought your home is too small, or not "perfect" enough, or insert your reason here, think again! If your heart is to host your family or friends, then just go for it! There is no right or wrong. Just memories to create!
Until next time…..

This is a sponsored conversation written by me on behalf of Cricut. The opinions and text are all mine.