These peanut butter M&M cookies are an easy to make twist on a classic. Perfect for holiday cookie trays, gift giving, or dunking in a cold glass of milk!
Some of my earliest memories of watching my mom bake are peanut butter cookies. Rolling the dough into little balls. Dipping the fork into a warm glass of water and then pressing each ball in a criss-cross pattern.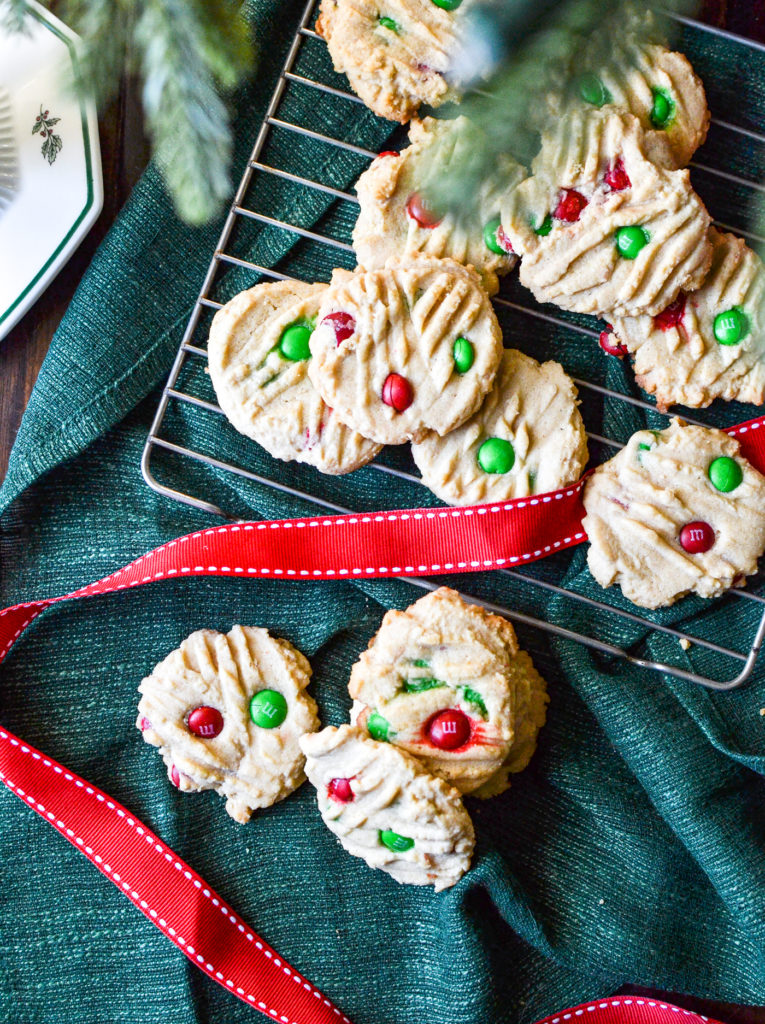 I would wait ever so patiently for them to come out of the oven. As soon as they cooled enough to touch, I savoured them warm and fresh from the oven.
Mom always managed to get them to crisp up ever so slightly on the outside while remaining chewy and moist on the inside.
Feeling rather festive, I decided to take her peanut butter cookie recipe and add red and green M & M candies to the mix.
This post contains affiliate links. Should you make a purchase, I may earn a small commission at no additional cost to you.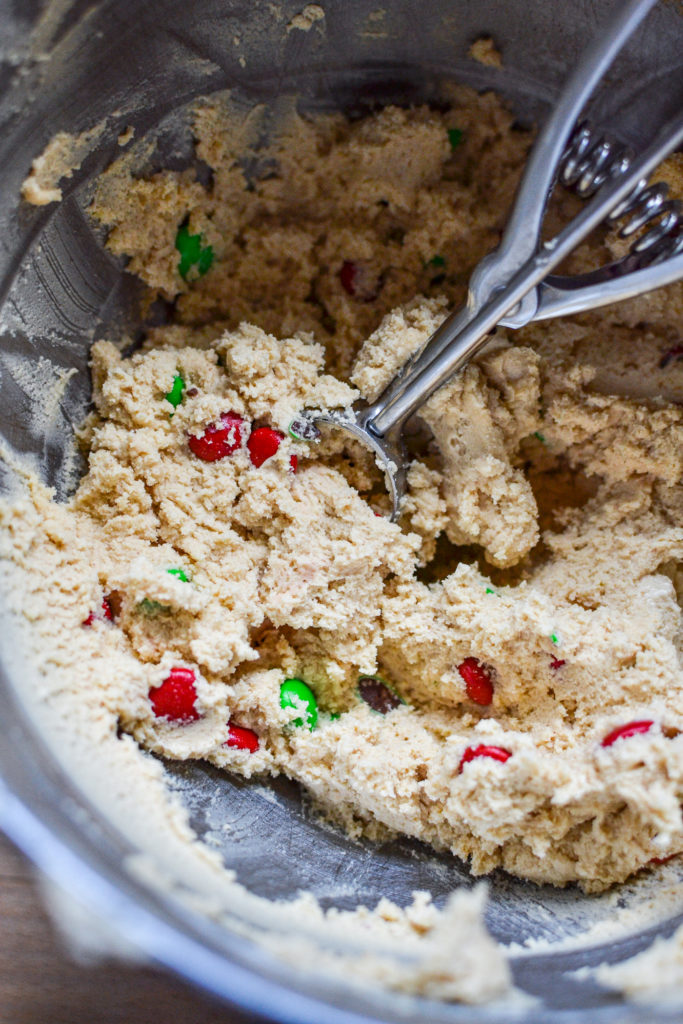 The result is a moist and delicious cookie that blends peanut butter and chocolate in every bite.
Ingredients needed to make peanut butter m&m cookies
All purpose flour – any quality brand is fine, but I do recommend unbleached.
Baking Powder – fresh is best, and aluminum free if possible
Baking Soda – again, fresh is best. It is inexpensive, so I replace it every 3 months or so. After opening, it should be used within 6 months.
Salt – just a titch is fine, but can be omitted if you are using salted butter
Butter – room temperature, unsalted butter
Sugar – a scant cup of granulated sugar provides just the right amount of sweetness
Eggs – 2 large eggs, however I have made eggless peanut butter cookies and they have turned out just fine!
Peanut Butter – any quality brand of smooth peanut butter. I prefer Kraft or Jif for the most rich peanut butter flavour. I don't recommend using natural peanut butter for this recipe.
M & M Chocolate Candies – you will want the plain chocolate ones in festive red and green for the holidays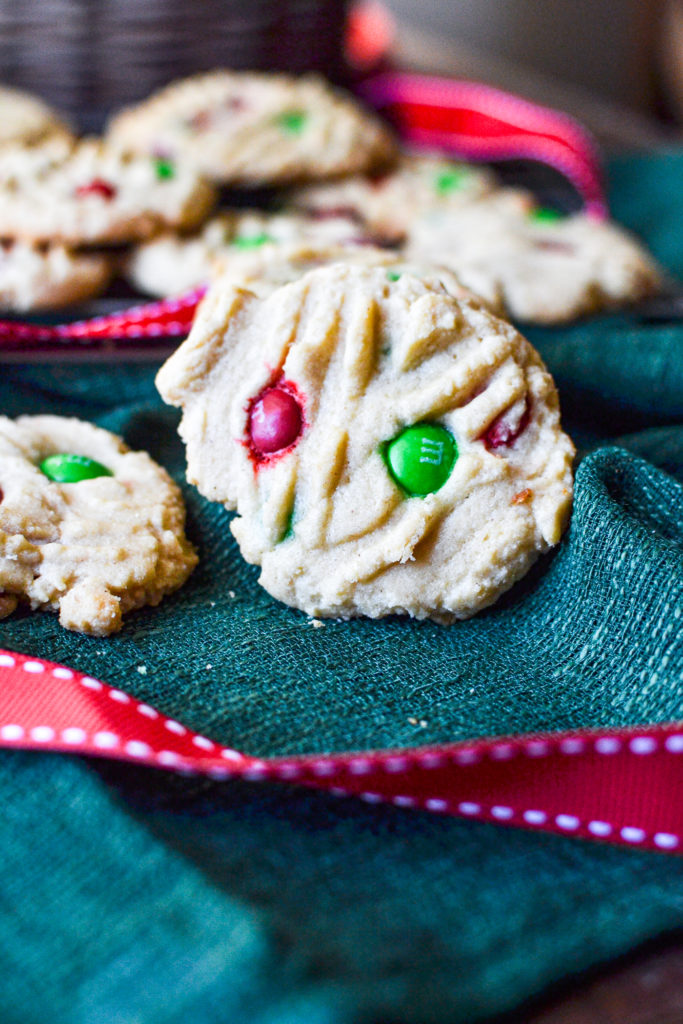 Essential kitchen tools for making cookies
Mixer – A stand mixer, I love my KitchenAid Artisan mixer, but a hand mixer works just fine too!
Baking Sheets – Having at least 2 rimmed half-sheet baking pans makes it easier to bake more cookies at one time.
Cookie Scoop – cookie scoops make easy work of scooping just the right amount of cookie dough every time. You will need a 1 tablespoon size for these peanut butter m&m cookies.
Non-stick Baking Mats – silicone baking mats can be used over and over again making them a cost effective solution to easy clean up, non stick baking. And helps to get evenly baked cookies.
Measuring Cups & Spoons – standard measuring cups and measuring spoons are fine, but I do love this sliding measuring cup that makes measuring soft ingredients like peanut butter easy peasy.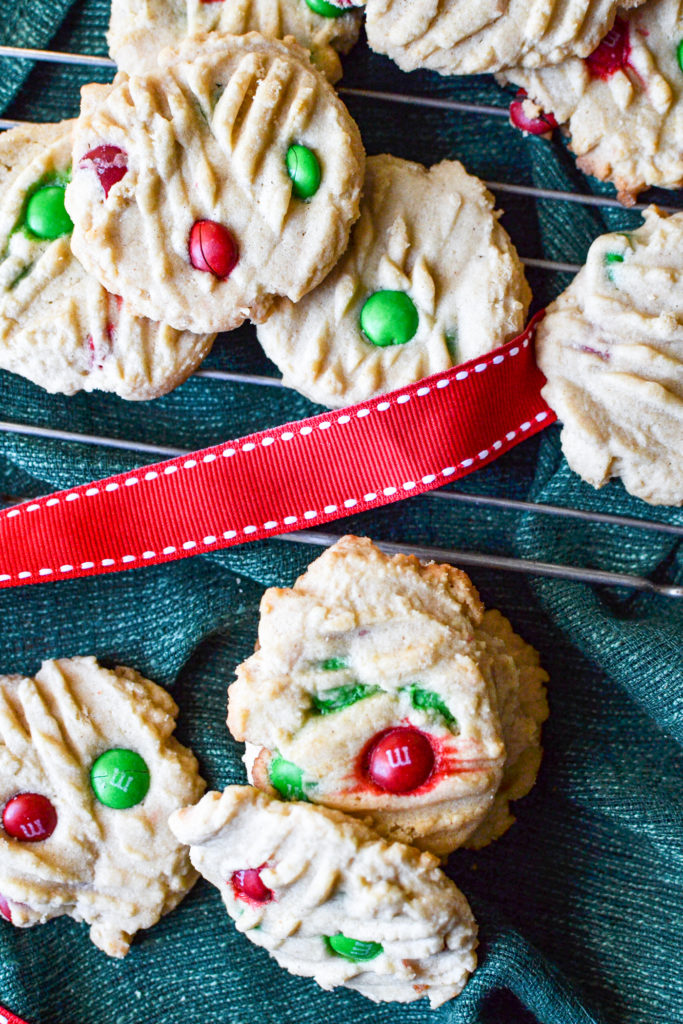 FAQ's
These cookies freeze well, but can be stored in an airtight container at room temp for 3-5 days
You can make the dough 2 or 3 days ahead, wrap tightly in plastic wrap and keep well chilled until ready to bake. Bring the dough to room temperature before baking.
These peanut butter m&m cookies are a sturdy and when wrapped well are perfect for boxing up and gift giving
Make these cookies any time of the year. Simply use regular M & M chocolate candies instead of the red and green ones.
Arrange on holiday cookie trays with other holiday treats like these cherry chews.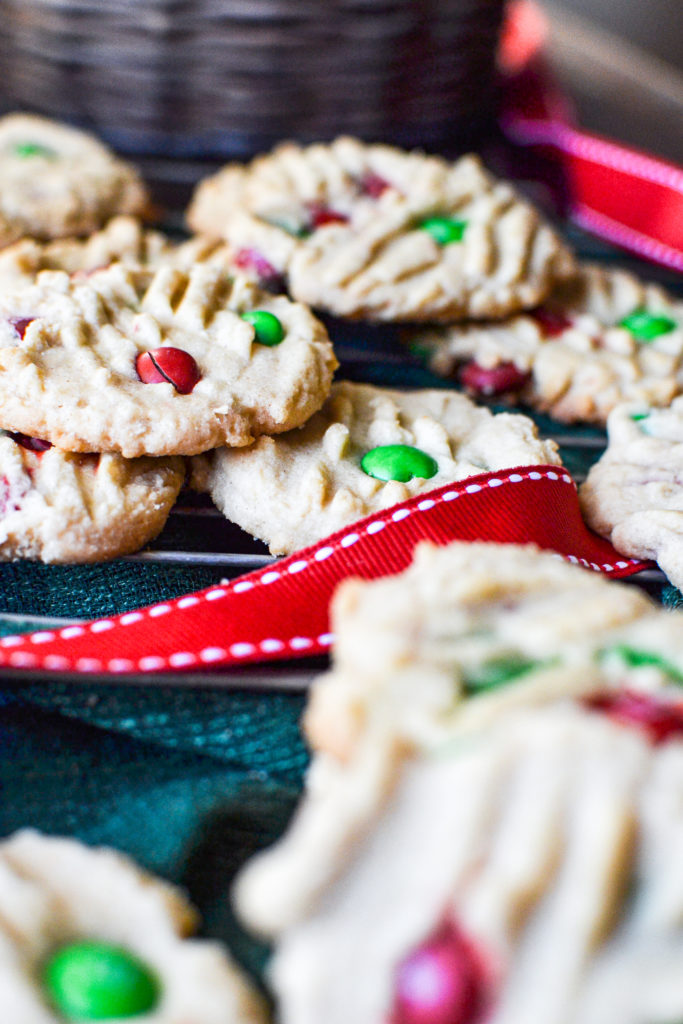 I am so grateful for having a mom who loved to bake from scratch. I have always taken the time to bake since my girls were littles too. And, it seems to have paid off! I am often the lucky recipient of cookies and squares that my girls bake in their own kitchens now.
And these peanut butter m&m cookies are the perfect, easy recipe to make with the kids!
More Christmas Cookie Recipes You Might Like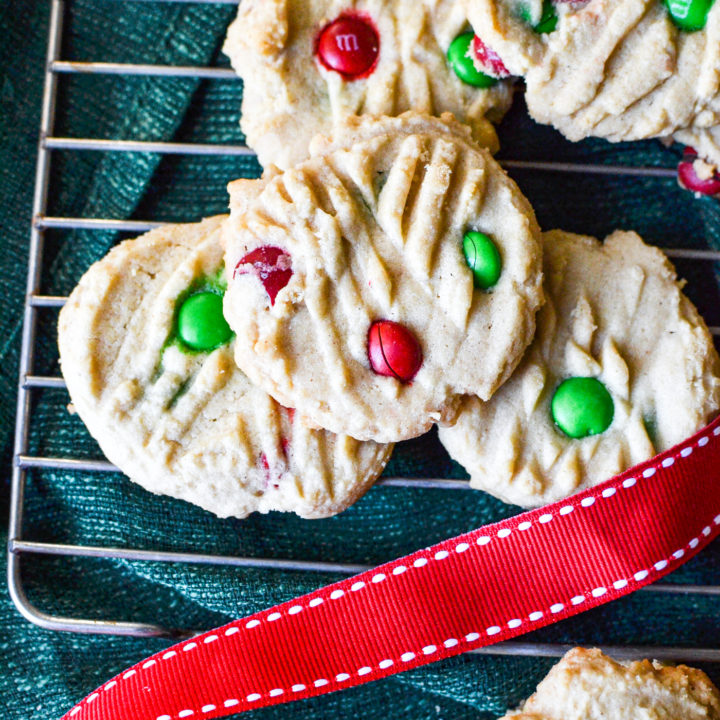 Peanut Butter M&M Cookies
A holiday twist on a classic cookie. These peanut butter m&m cookies are perfect for dunking into a cold glass of milk, look festive on Christmas cookie trays, and pretty enough for gift giving too!
Ingredients
1 cup butter, room temperature
1 cup smooth peanut butter
Scant 1 cup granulated sugar
1 teaspoon salt
2 eggs
2 1/2 cups all purpose flour
2 teaspoons baking powder
1 teaspoon baking soda
1 cup plain M&M chocolate candies
Instructions
Preheat oven to 350 degrees. Line baking sheets with parchment


Cream butter, peanut butter and sugar and salt in the bowl of mixer, until light and fluffy. Add eggs one at a time beating between each addition.

Sift remaining ingredients into the creamed mixture and beat until dough comes together. Add M & M's and mix on low until combined.

Scoop 1 heaping tablespoon of dough and roll into a ball. Place on prepared baking sheets and press with a fork. Dipping the fork into warm water between each cookie will prevent it from sticking.

Bake for 10 to 11 minutes. Just until bottoms are golden. The may appear undercooked on top. Remove from oven and cool on rack before storing in airtight container
Notes
Use red and green M & M candies for the holidies and regular ones to make these cookies any time of the year.