Welcome! I am delighted to once again be joining our talented group of tablescape enthusiasts as we share our Valentines tablescapes! Rita from Panoply has brought together 20 lovely ladies, all with a passion for pretty tables! You will find links to all the bloggers at the bottom of this post.
Whether you celebrate a cozy Valentine's Day with your significant other or host a fun dinner party for friends, I think you are going to love my table this year.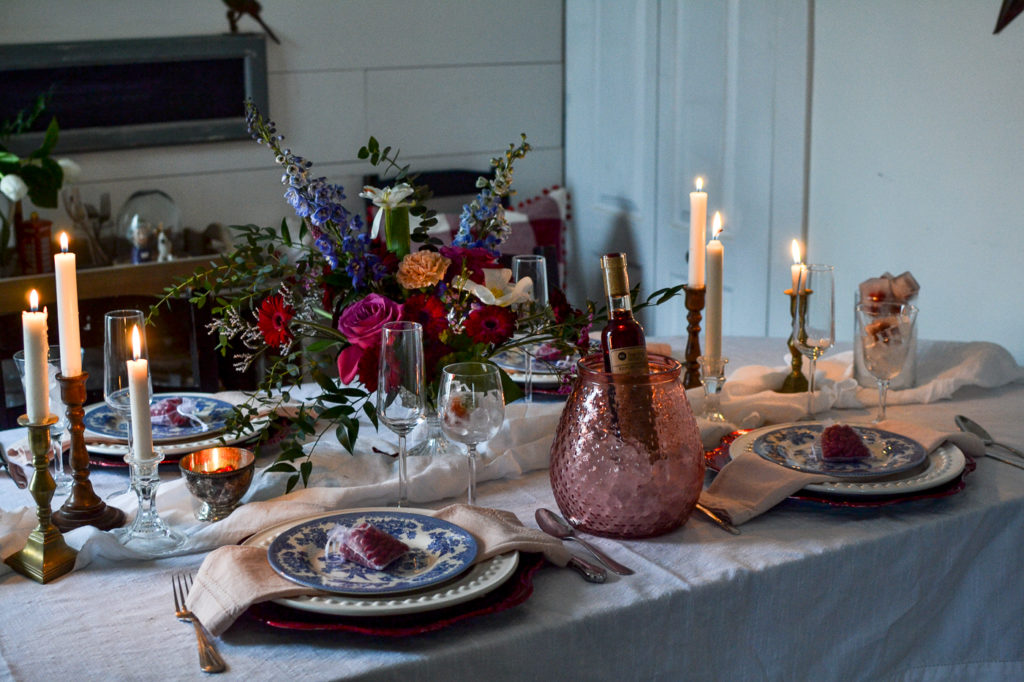 This post may contain affiliate links for products I own and use myself. If you click the link and decide to make a purchase, I may earn a very small commission with no increase in cost to you.
Deciding on a theme had me stumped as to how to style this years' table. In fact, I have felt in a bit of a creative slump lately. It has been such an unusually rainy and gray January for us. We are used to having bright, white fluffy snow this time of year
Since the weather has been so gloomy, we haven't ventured out much, and I knew I had to do something to break out of this rut!
After a 2 year hiatus, the Niagara On The Lake Ice Wine festival was back this year! It was just the change of pace that we needed to get back in the swing of things.
It also inspired this fire & ice tablescape!
When it comes to Valentine's Day tablescapes, I always try to think outside the box a little bit. I usually gravitate to pink, like this romantic pink and gold tablescape or this pretty in pink tablescape with the most gorgeous pink roses.
This year, I wanted to do something different and I kept getting a visual of lots of flickering candles down the centre of the table. Not only do they provide a romantic vibe, but more so a warm and cozy ambiance.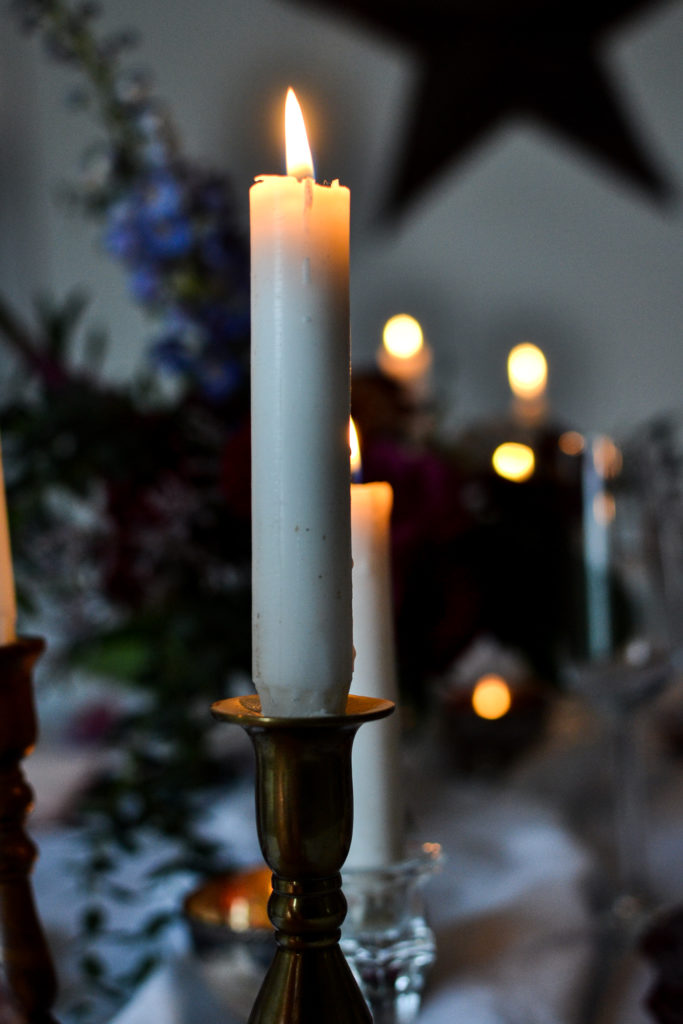 But, what to do about the ice?
I thought about making some 'ice' ice buckets and tea light holders and freezing flowers into them, but they wouldn't survive long in the heat of the house.
When I was wandering around the festival and tasting all the delicious vintages, it hit me!
Ice Wine!!
If you are not familiar with ice wine, it is a deliciously sweet dessert wine that is the result of grapes left on the vine to freeze. They are harvested in the middle of the night in freezing temperatures (a minimum of -8 degrees celsius) and are crushed while still frozen. The result is a highly concentrated and sweet juice that after fermentation becomes the sweetest wine you have ever tasted.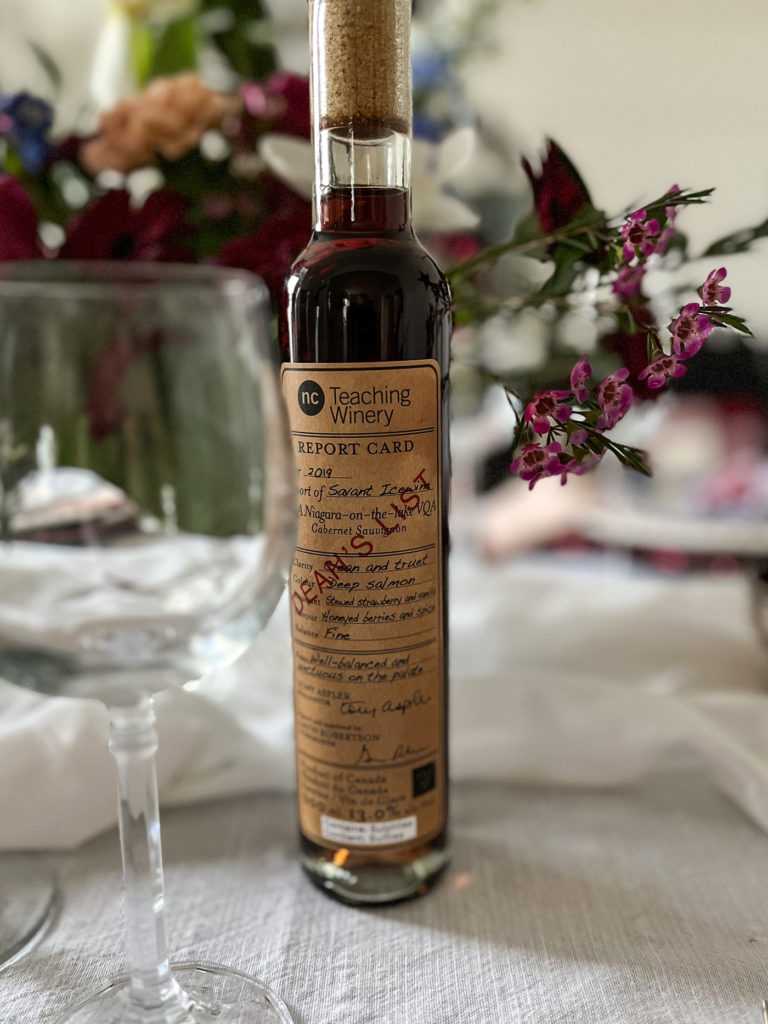 Oh, did I mention it smells heavenly! I would recommend serving it in flared or tulip shaped wine glasses to get the most of that delicious aroma!
After tasting several, we were left swooning over the 2019 Dean's List Savant Icewine, from Niagara College Teaching Winery. It tastes just like a raspberry, strawberry jam, with hints of honey. And, it was on the Dean's List!! It is a Cabernet Sauvignon ice wine, and the only red that I tasted.
Ice Wine is not just for drinking!
While it certainly is a decadent after dinner wine to be served with fruit or a sweet dessert, it's uses don't stop there.
When cooking with ice wine, in my opinion it is best used in dessert recipes. I made this delicious ice wine cheesecake more than a few times. And these apricot cupcakes with ice wine frosting are easy and delicious!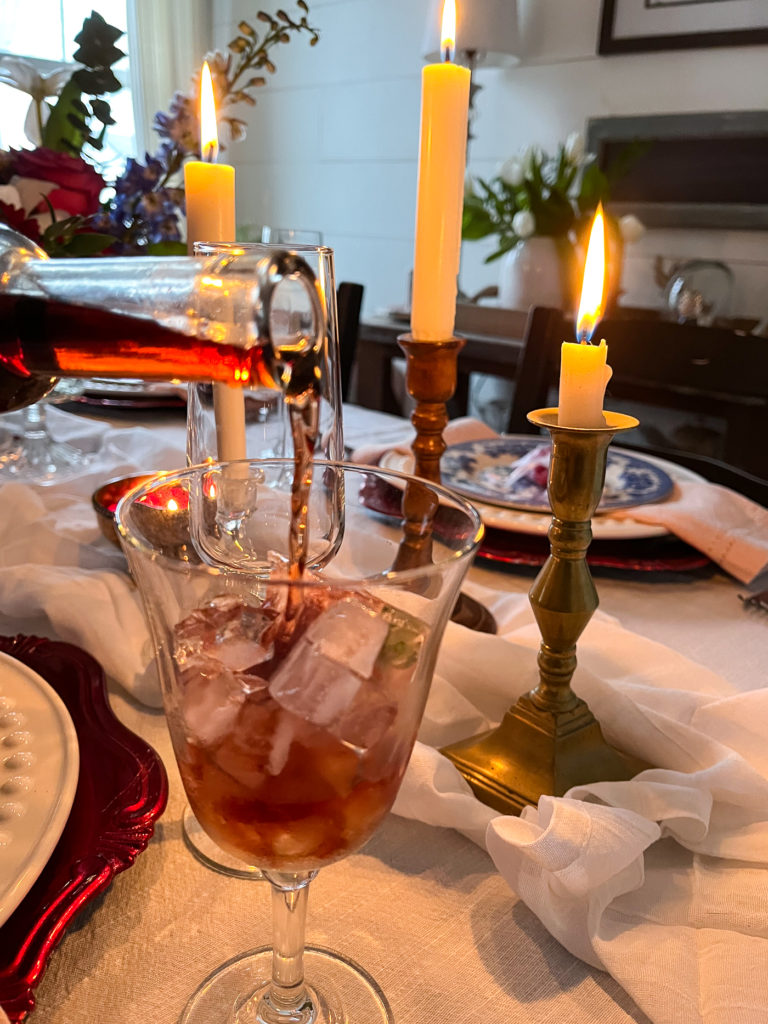 One of my favourite ways to serve it, is to combine it with dessert! Drizzle it over vanilla ice cream for an easy yet elegant dessert.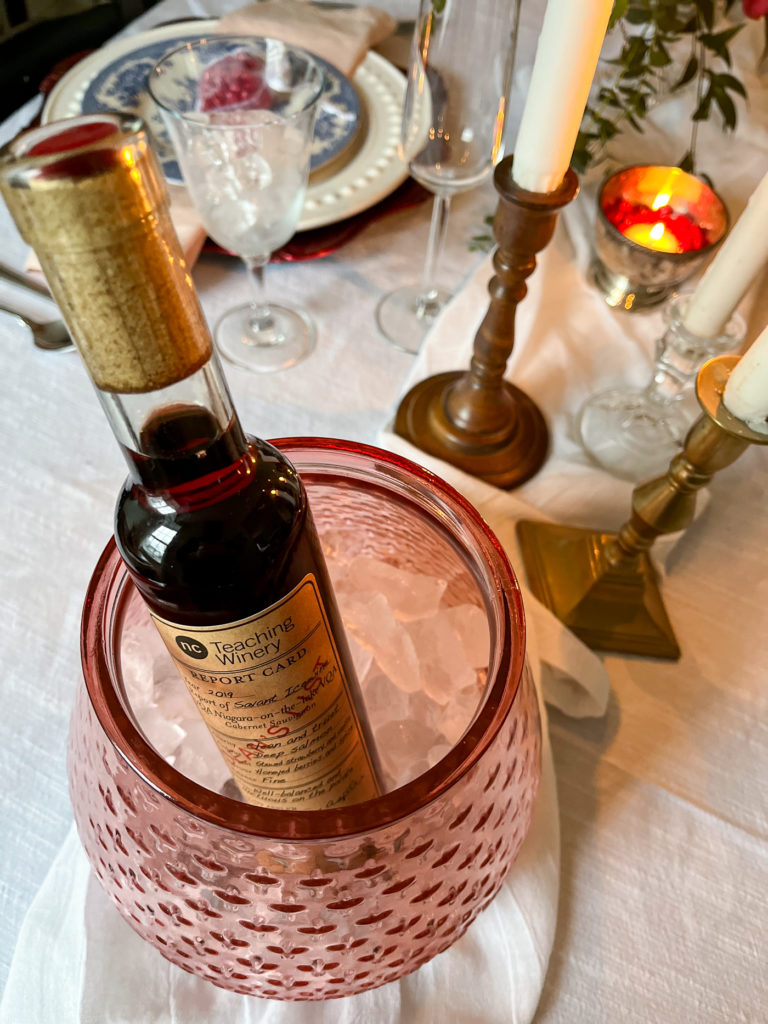 I filled a pink glass vase to use as an ice bucket to chill the wine. Wine glasses are filled with mini ice cubes and fruity ice cubes, just waiting for the wine to be poured!
A little goes a long way, as this delicious nectar is incredibly sweet.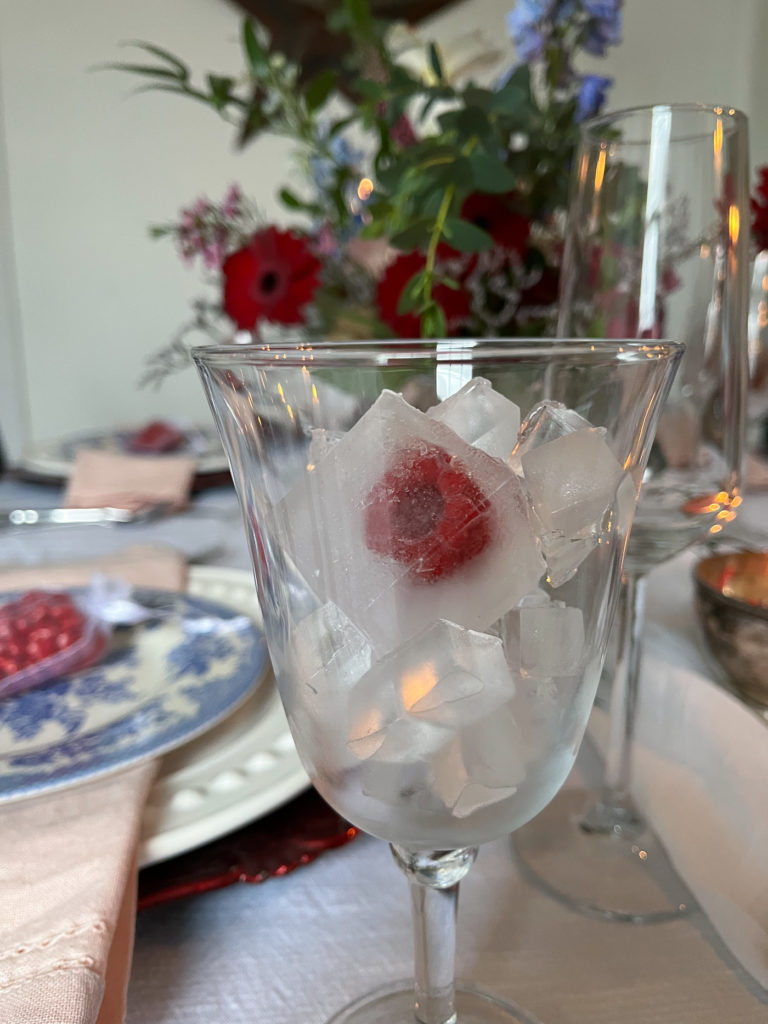 And now for the fire!
I gathered up all the clean burning taper candles that I could find. There is just something so elegant about taper candles. Especially when the are several grouped together. Admittedly, lots of lit candles makes the safety girl in me a little nervous!
This set of flameless taper candles with the lovely flickering flame and dancing wicks are on their way to me, but sadly they didn't arrive in time for this tablescape. I actually prefer to use realistic looking faux candles on the dinner table as they are much safer.
I used mismatched candlesticks for the taper candles, including wood, brass and crystal. Little silver dishes filled with cinnamon heart candies for the tea light candles.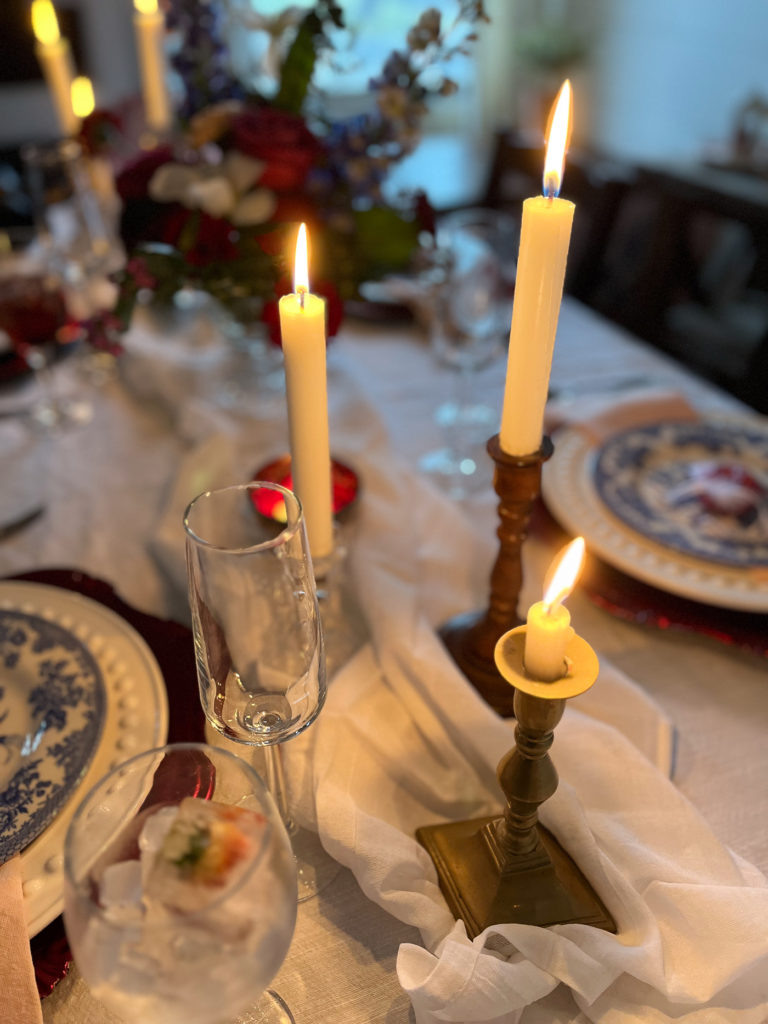 Little bags of "fiery" cinnamon hearts sit atop each plate stack for guests to take home!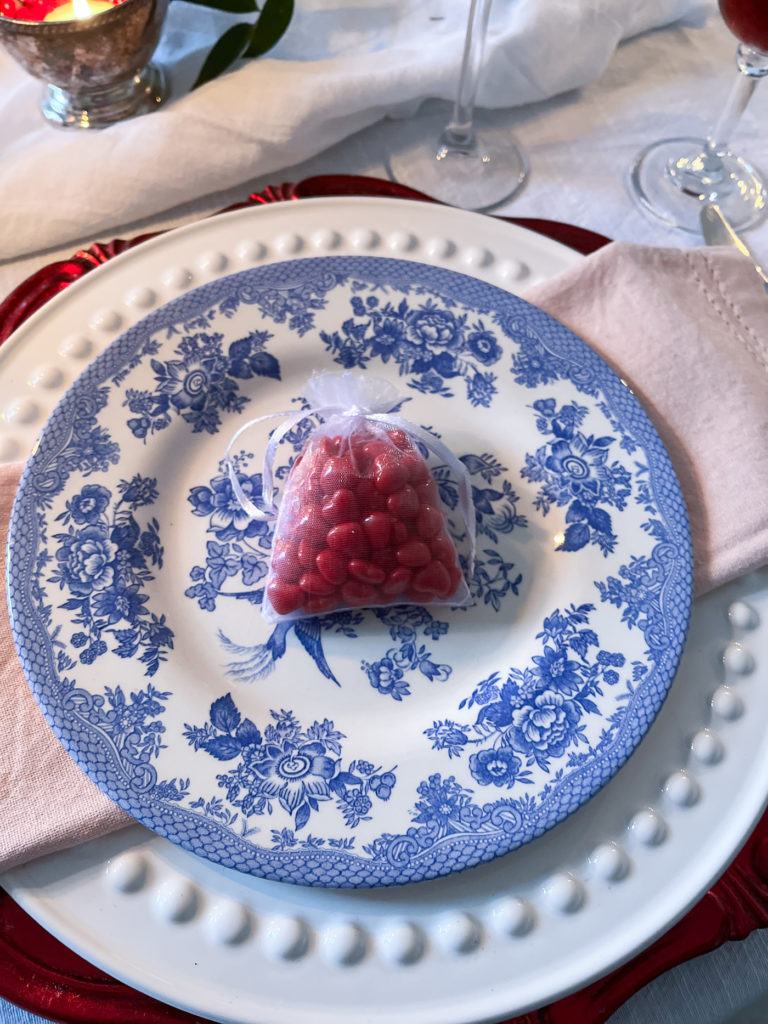 Valentines tablescapes are even more charming when you mix and match!
I find Valentine's Day tables that are set with a collected mix of elements are incredibly romantic. On this table, I have added these pretty blue transfer ware plates atop pink napkins, white dinner plates and bold red chargers.
The silverware and wine glasses are also mismatched. I hadn't planned to use mismatched glasses, until my husband accidentally broke one of a set of four when bringing them up from the bar. I was left with three of one style and only 2 of another. A happy accident, as far as I am concerned!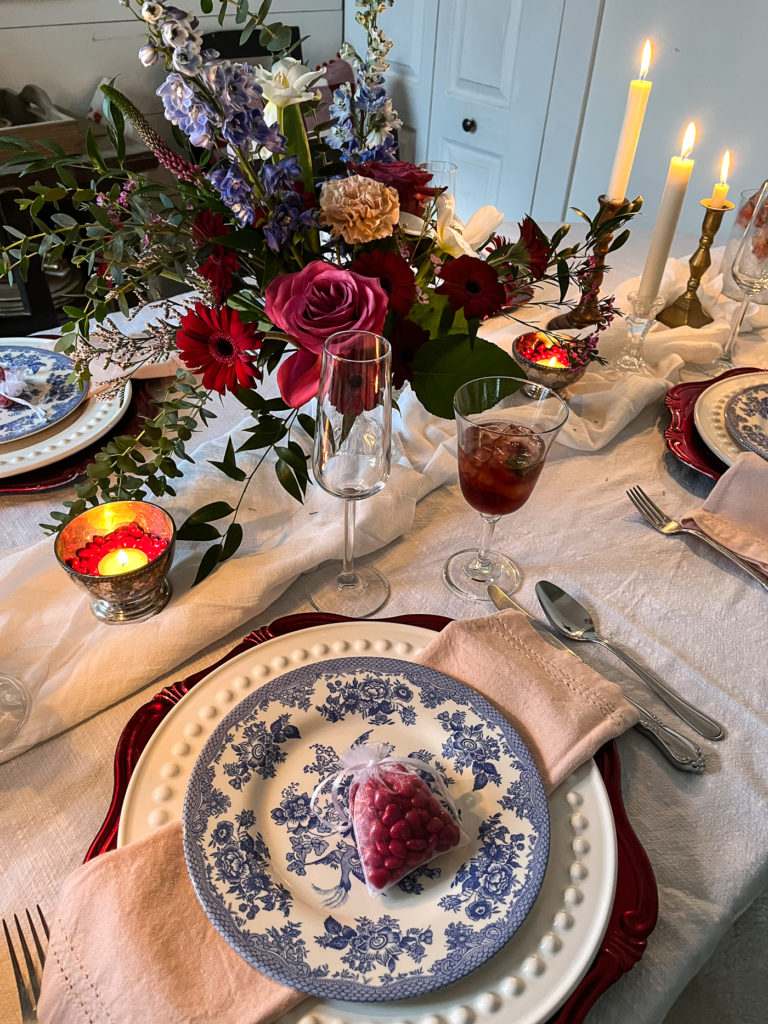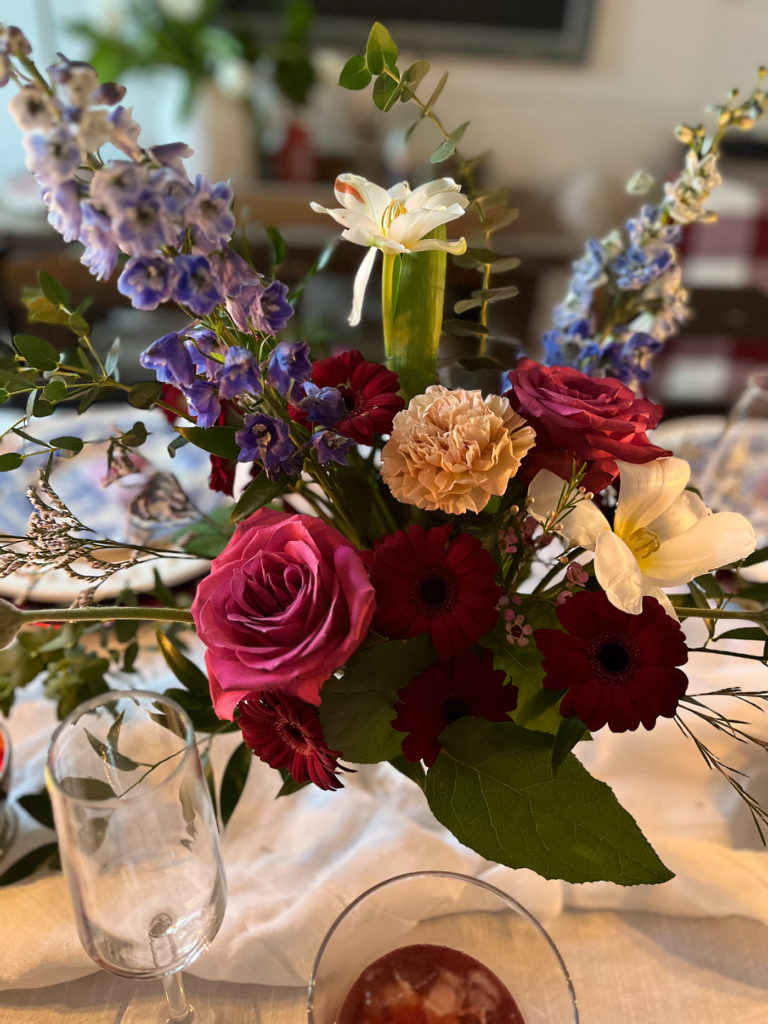 In keeping with a gathered style, I made a centrepiece using bright pink roses, peach carnations, white tulips, purple delphinium, pink wax flowers, and mini gerbera daisies in a deep burgundy colour. Just like flowers that might have been picked from an English country garden!
I styled them to look like they are dancing and floating with movement, just like the flickering flames of the candles.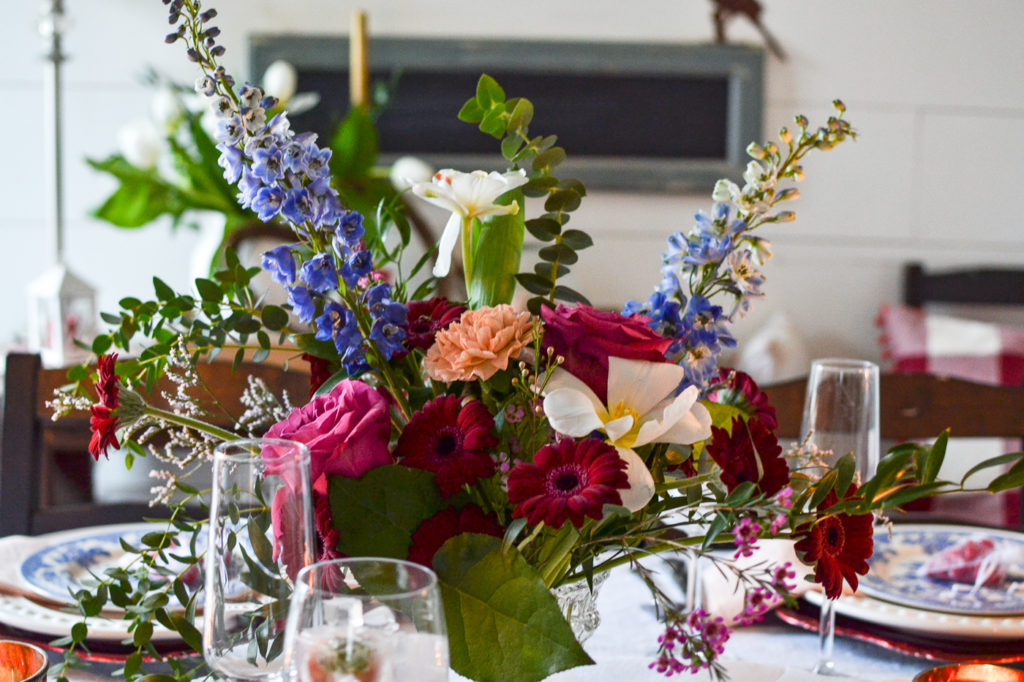 A white linen table cloth is the foundation for this tablescape. I wanted a billowy white table runner, but didn't have time or the inclination to purchase one. So, I made one using 4 of these flour sac tea towels and fluffed them up down the centre of the table.
I hope you have enjoyed my fire and ice themed tablescape! Styling it was certainly fun!
Just a few more pictures before you go!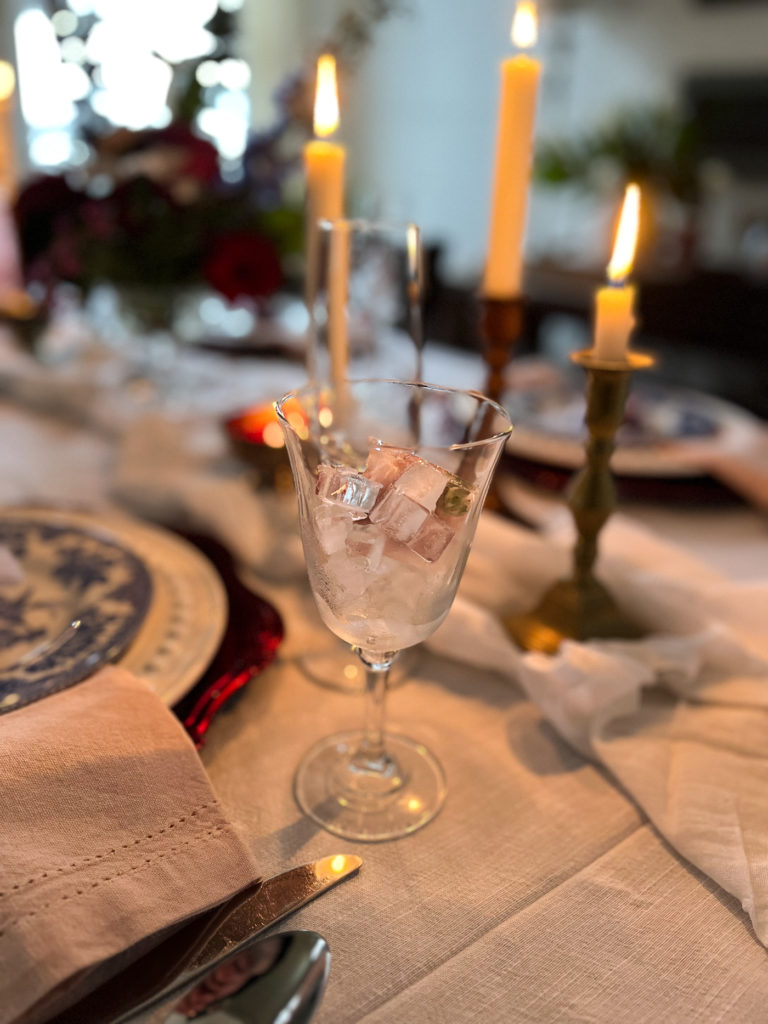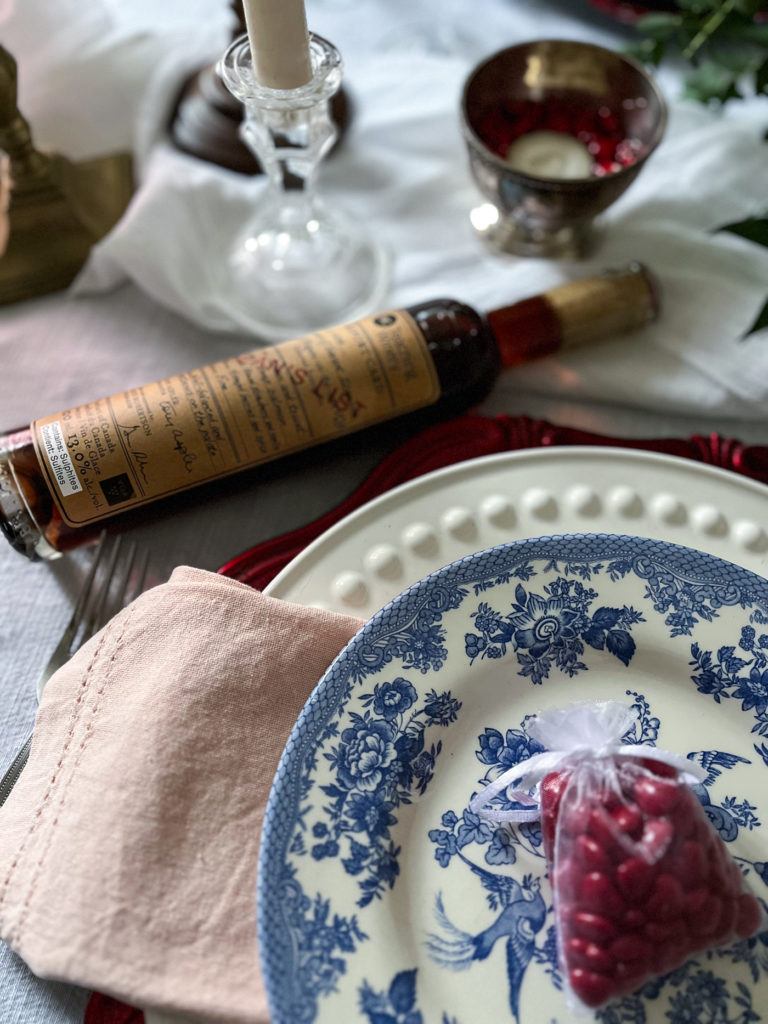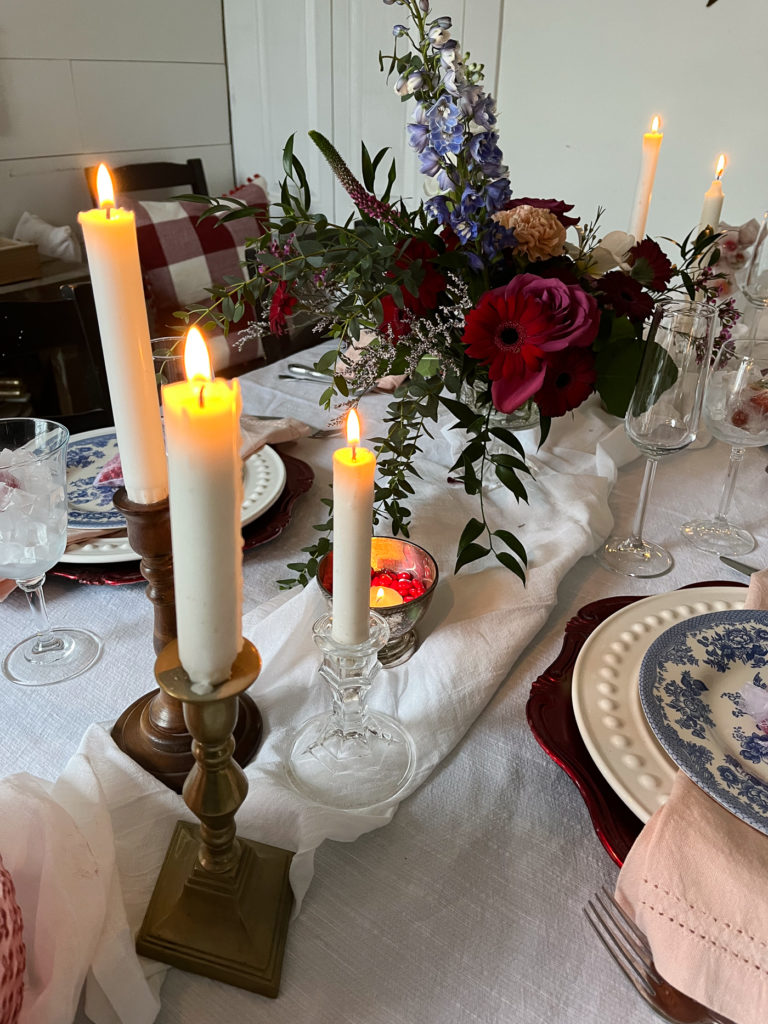 Now it's time to visit 19 equally charming Valentines tablescapes with fun, fresh ideas for making your celebration extra special!
Panoply – Valentine Tablescape for 'Just You and Me'
Home is Where the Boat Is – Love Birds' Bed & Breakfast
My Hubbard Home – Vintage Inspired Rose and Gold Valentine's Table
Life and Linda – Sealed With a Kiss Tablescape
The Bookish Dilettante – Valentine's Day Tablescape Blog Hop: Paris Is Always a Good Idea
Everyday Living – Colors of Love
thecatswhiskerz – A Frosty Galentine's Day Tablescape
Pandora's Box – A Galentine's Table
Living With Thanksgiving – Let Me Call You Sweetheart
The Little Yellow Corner Store – A Glamorous Winter Snowman for Valentine's Day
Karins Kottage – Pink and Red Valentine's Table for Kids
The Painted Apron – Hearts and Flowers
My Thrift Store Addiction – Cupid's Valentine Dessert Buffet
Celebrate and Decorate – A Romantic Valentine's Tablescape for Two
Belle Bleu Interiors – A Day for Love
Dinner at Eight – Valentine's Day – A Table Set for Tea
Hyacinths for the Soul – Where You Go, My Heart Follows
Thrifting Wonderland – Start With Flowers Tablescape
Corner of Plaid and Paisley – Sweet Valentine Tablescape
DON'T FORGET TO "PIN IT" FOR LATER