I have always wanted to style a white Christmas tablescape, but thought it might be a bit stark and cold! I am so glad to to show you just how wrong I was!
With another crazy year coming to an end, and another year of uncertainly around the holidays, I am finding myself craving a peaceful and cozy home even more than usual!
Today I am happy to be joining a very talented group of 20 table decor enthusiasts, as we share our visions for a festive Christmas tablescapes! Many thanks to our host, the lovely Rita from Panoply. You will find all the links at the end of this post!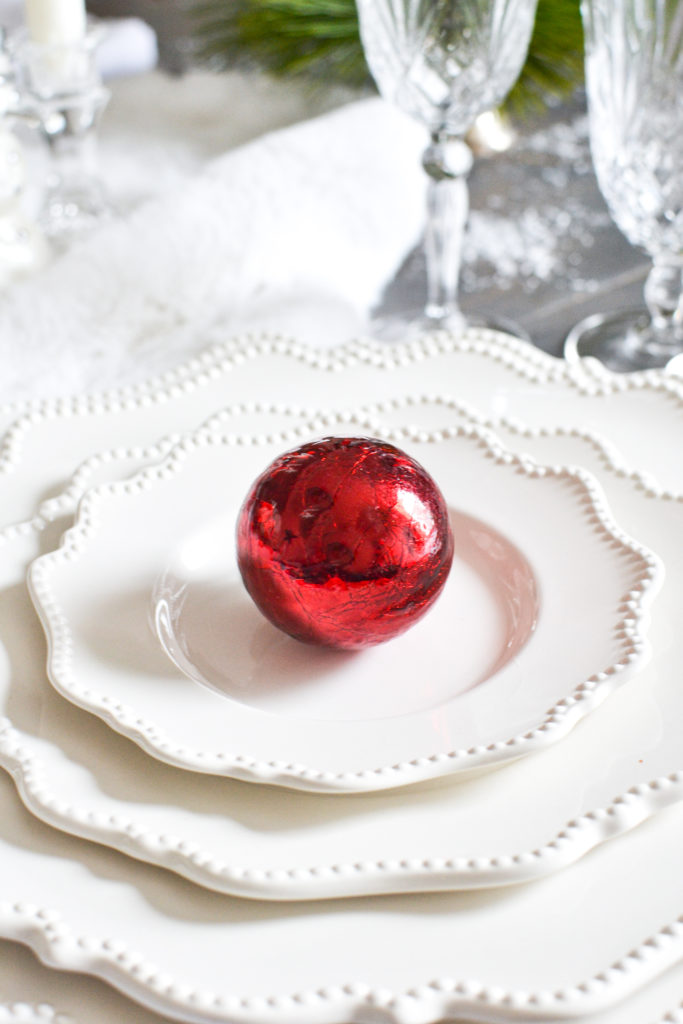 I do love a traditional tablescape, and this red and White Christmas table with the gingerbread cake centrepiece is one of my favourites. But, oddly enough I do also think that white can be very cozy too! Especially in the wintertime.
Grab a hot cocoa or a hot cup of tea, sit back and enjoy the photo tour of my Christmas table, and all the other holiday tablescape links I am sharing below!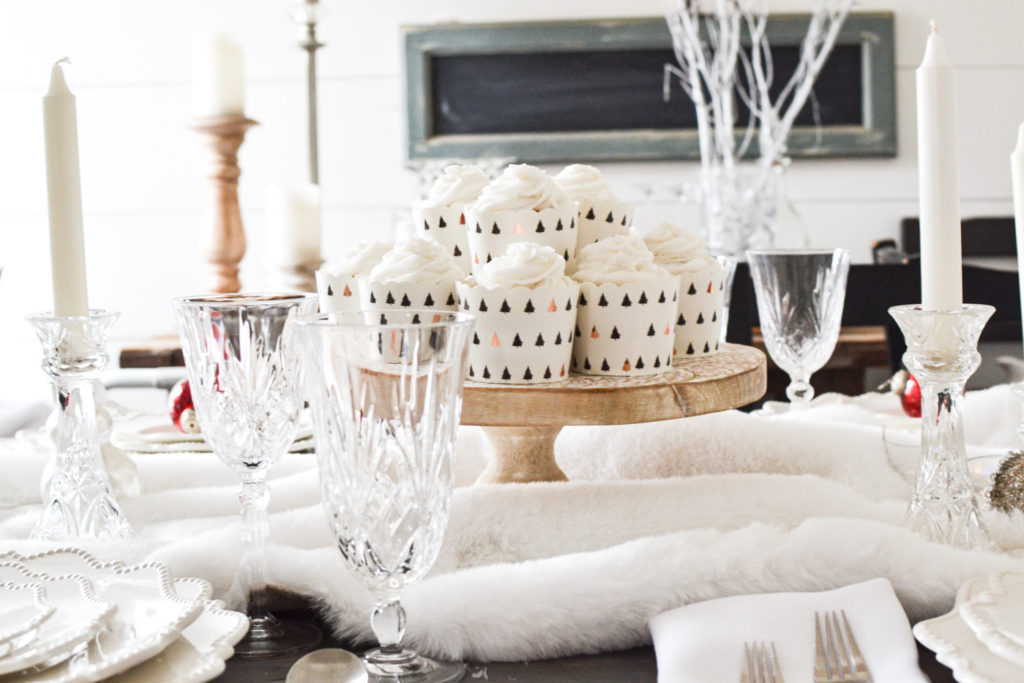 This post contains affiliate links, which means if you click the link and make a purchase, I may receive a small commission with no increase in cost to you!
How to Style A White Christmas Tablescape
Here are a few tricks to creating white Christmas Tablescape that still looks and feels warm and cozy:
Use different shades of white
If you have ever tried to pick out a white paint colour, you are well aware that there are endless shades of white! When creating an all white Christmas tablescape, utilize the various shades of white to create interest and layers to your table. It is best however, to stick to either warm whites (think whites with a yellow undertone) or bright whites (whites with a blue undertone)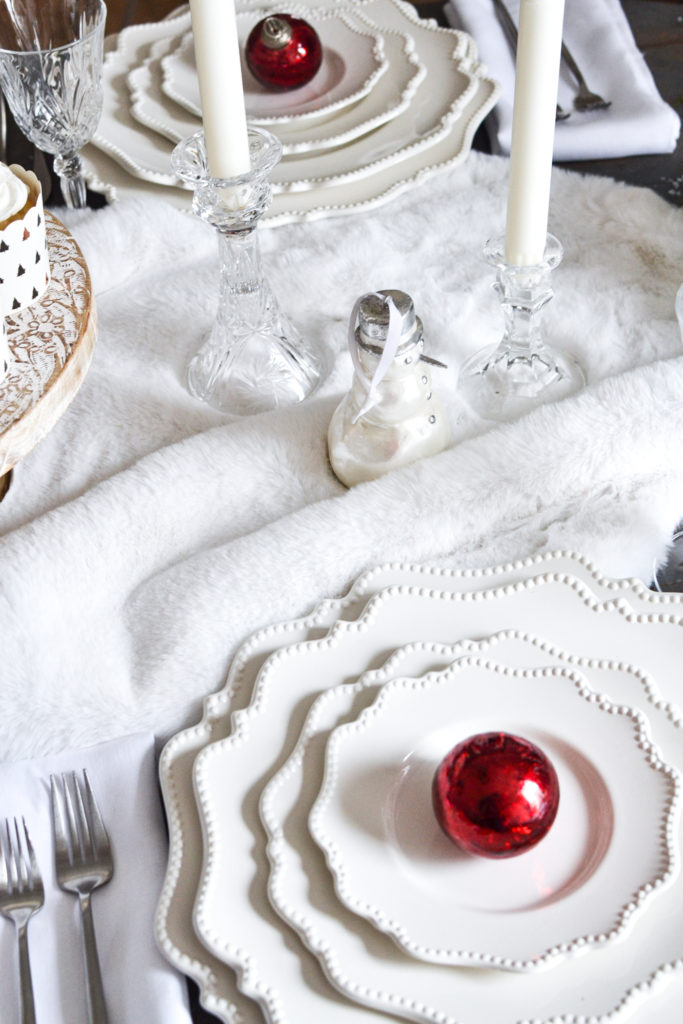 Texture
Using a few different textures on your table will create more visual interest and give the tablescape more depth and dimension. No need to go overboard, just a couple of different textures repeated throughout is all you need.
You will notice that even the plates of a nice textural detail on the edge. Using a soft faux fur rug creates that soft, warm and cozy feeling. The detailed cut of the crystal water and wine glasses creates both sparkle and texture!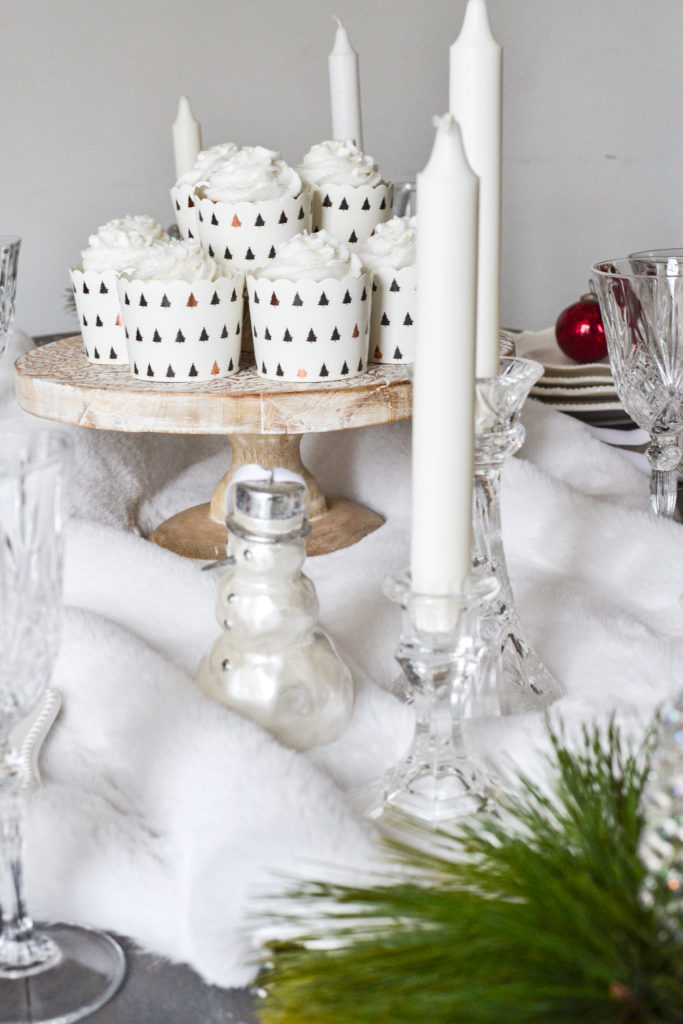 Add just a touch of colour
Don't be afraid to add subtle natural colour, such as I did with the wood cake stand and the pine branches.
A touch of silver compliments the white very nicely, and provides a bit of visual texture to the overall look.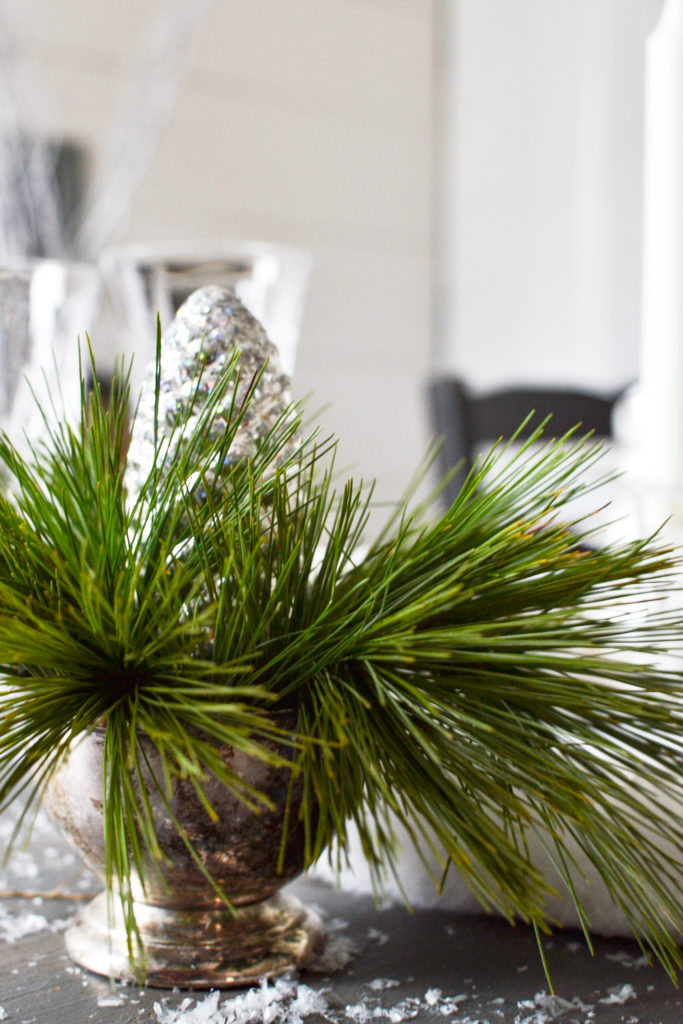 And speaking of colour, adding a single pop of festive colour, like these bold red Christmas ornaments, confirms that there is no mistaken that this is a very festive Christmas table!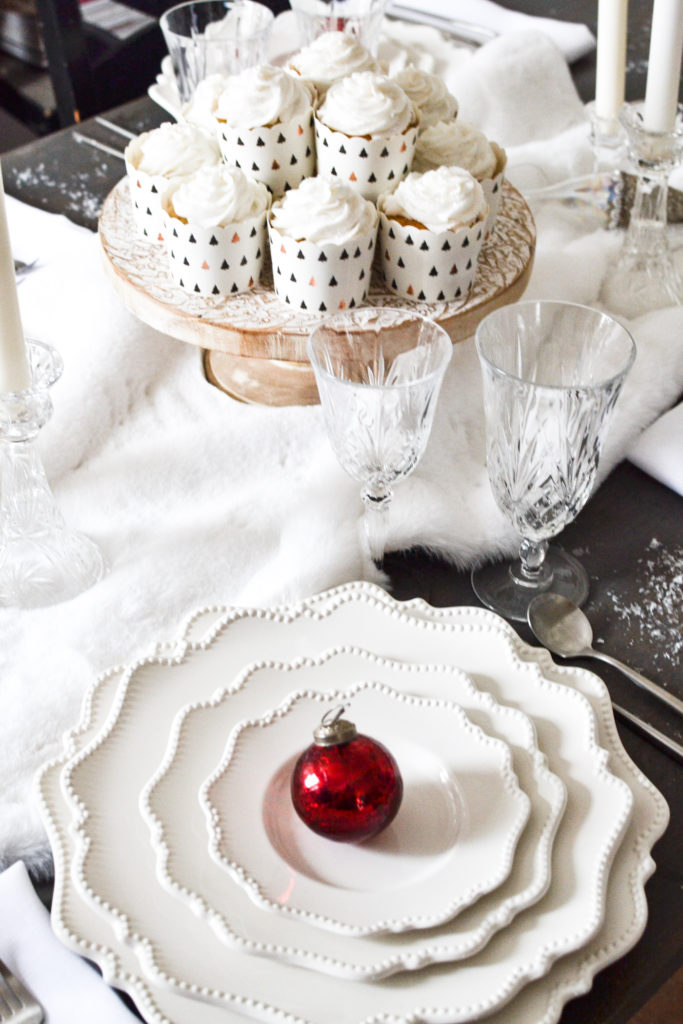 `
Where to find white Christmas table decor
Before you purchase anything, shop your home for what you already have and make it work! I often find that after a quick look around my own home I find almost everything I need to create a festive tablescape no matter what the season!
Renting tableware, flatware and glasses is also a great option. No need to store extra "stuff" that you may only use on occasion. It can be very cost effective too!
If you do need to add a few things to your table, I am always for shopping local and supporting small businesses whenever possible, but here are a few links to help you find some of the products (or similar ones) that I used.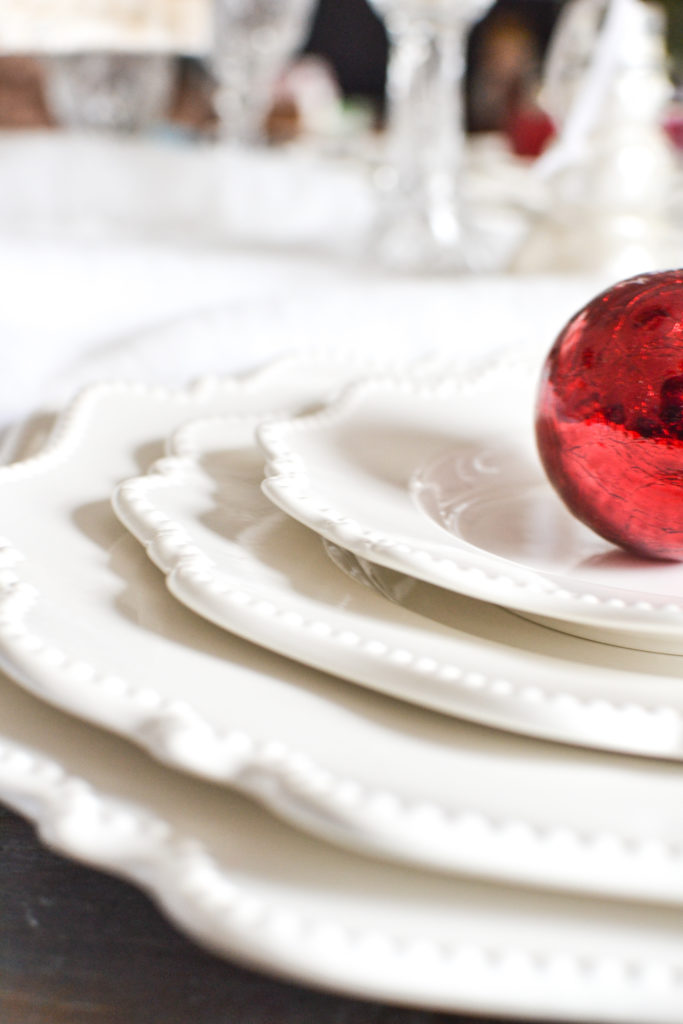 Any pure white dinnerware will do. If you enjoy styling tables and do so on a somewhat regular basis, investing in some quality white dinnerware is a must. Mine are from a local business and are called Pinpoint by Red Vanilla.
Crystal stemmed water glasses are always a nice touch, and need not be expensive!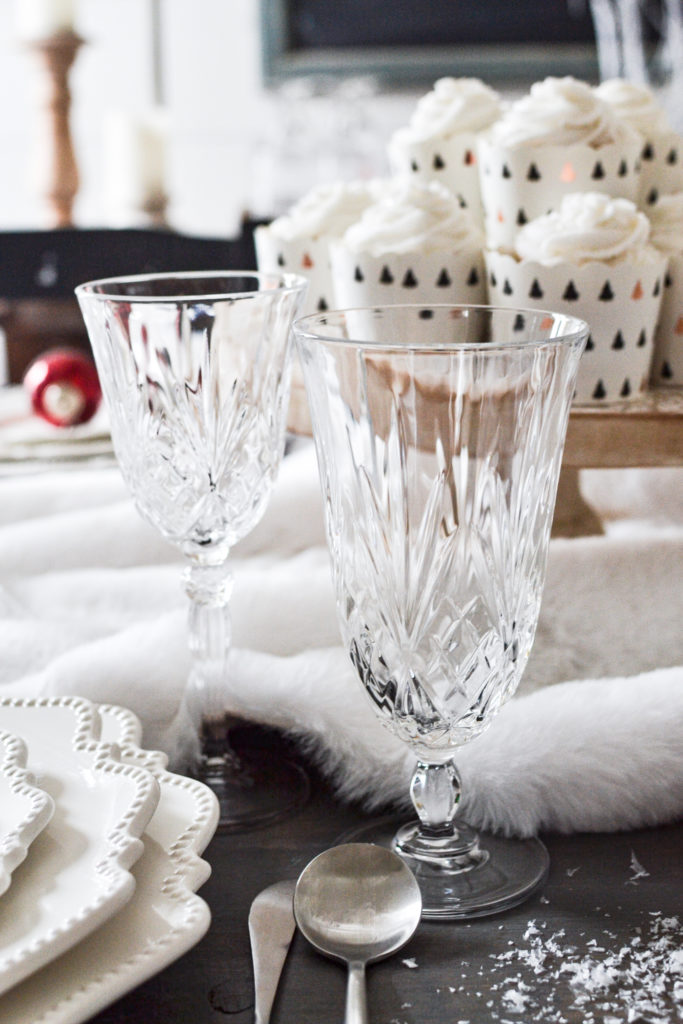 A white faux fur rug makes the perfect backdrop for a winter white tablescape. I have seen them at Ikea, but I purchased mine at a local Home Sense.
You know you are officially an adult when you start to buy cloth napkins instead of paper! And, everyone needs a set of white linen napkins. They are appropriate for every occasion and can be dressed up and embellished to change their look. Not to mention they are sustainable and can be used over and over again!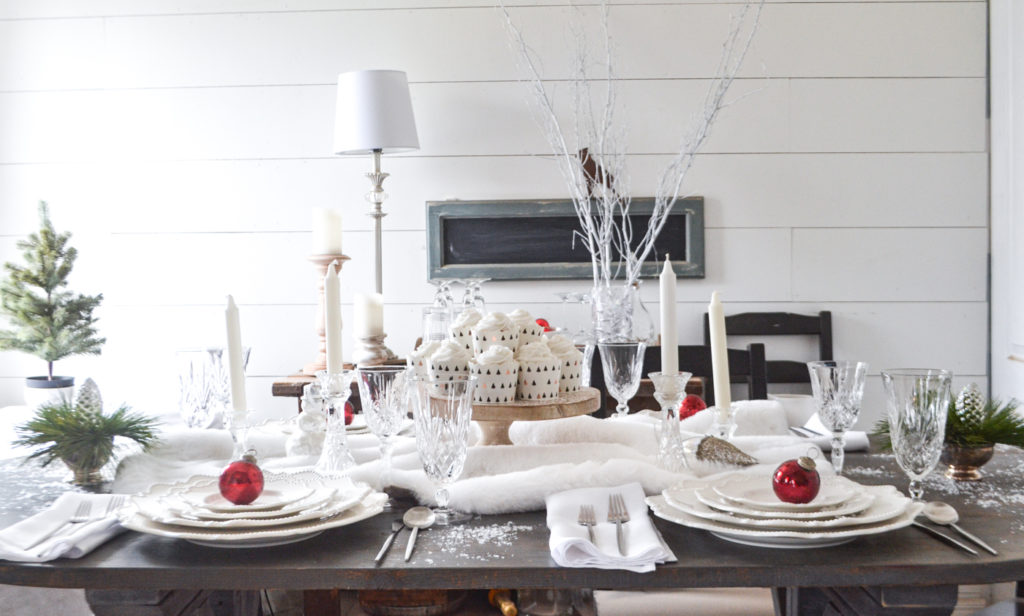 This wood cake stand with the white detail on the top was a birthday gift from my daughter. This wood cake stand with the white wood beaded edge is pretty, and just the right blend of white and natural wood.
The little white glass snowman is a Christmas ornament that I purchased from Pottery Barn many years ago. The red ornaments are also from my ornament stash!
Basic brushed silver flatware reflects the white without being too flashy.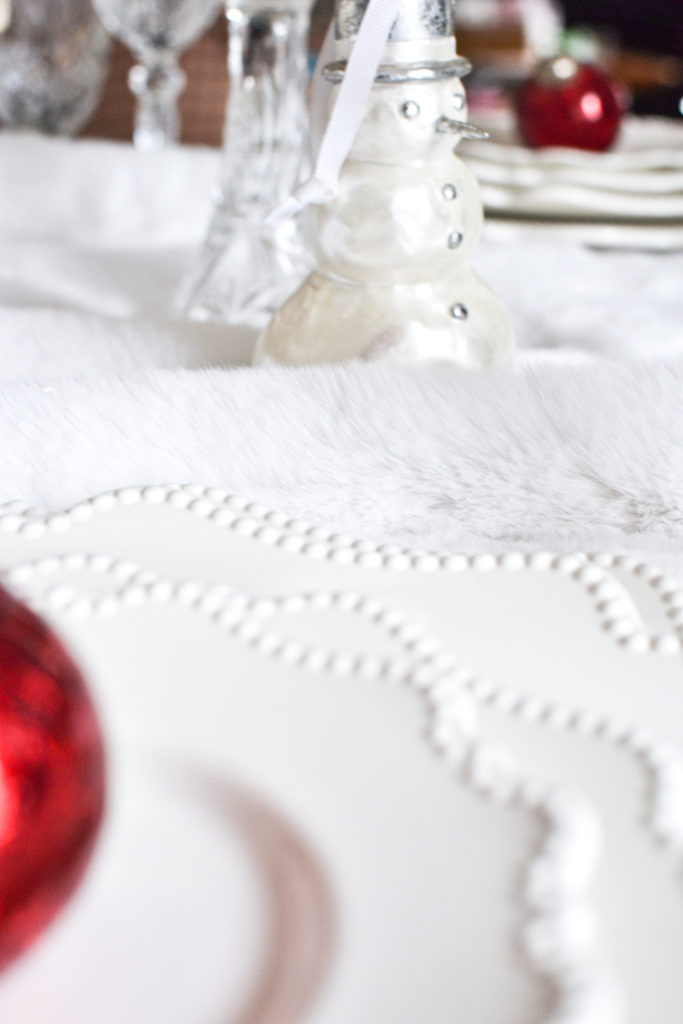 Ideas for White Christmas Centrepieces
Think inside the box….the cake box that is! White frosted cupcakes make a show stopping centrepiece and doubles as a delicious dessert! Inexpensive cupcake cups were found at Home Sense, and are compostable too!
Course sugar and little white edible pearls are super inexpensive from our local bulk food store.
Simple white Poinsettias would make beautiful centrepieces. They tend to be a more creamy shade of white, so keep that in mind.
For a more cool white centrepiece, try a bowl of paperwhites or white amaryllis flowers.
A big silver bowl filled with White Christmas ornaments of different sizes and textures would be stunning too.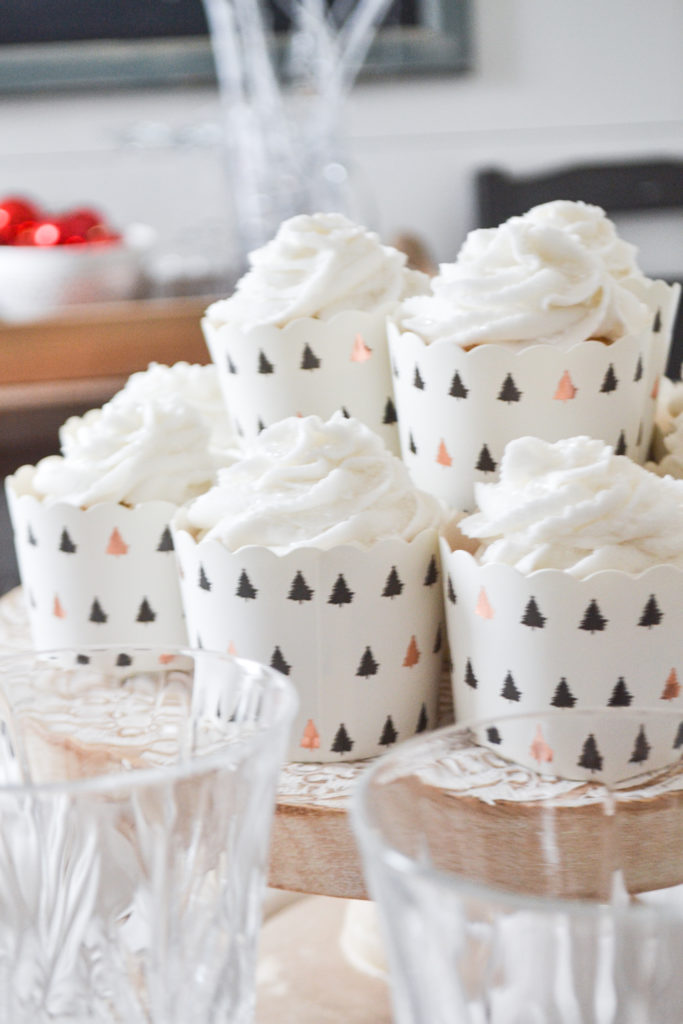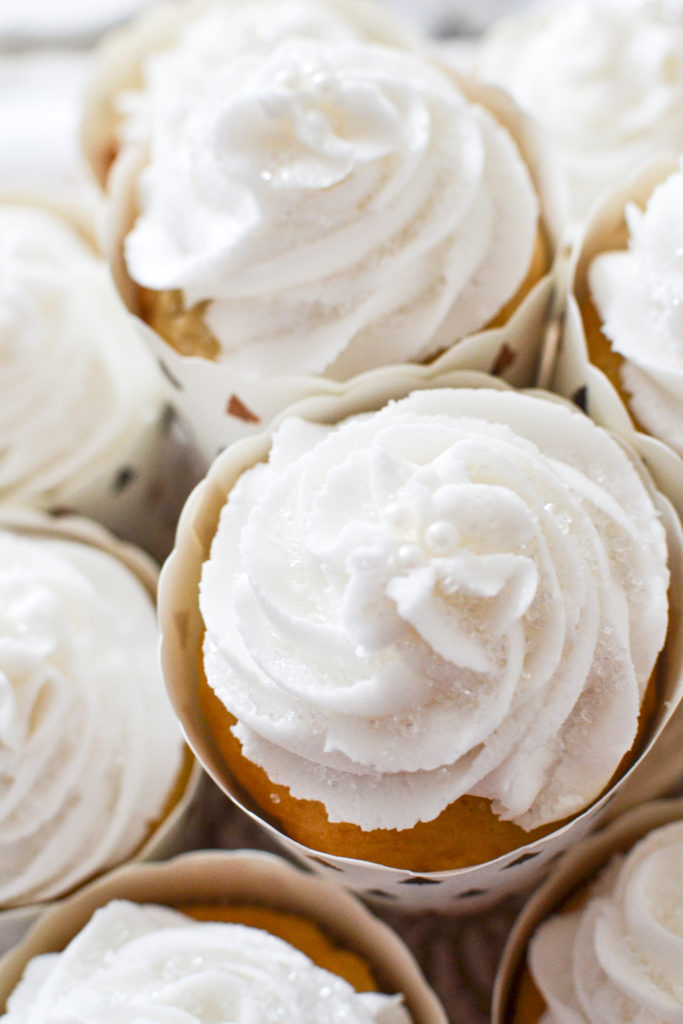 Couldn't resist taking loads of photos of this table decor! I was so pleasantly surprised how warm and cozy it looks. Hope you will indulge me as I share a few more!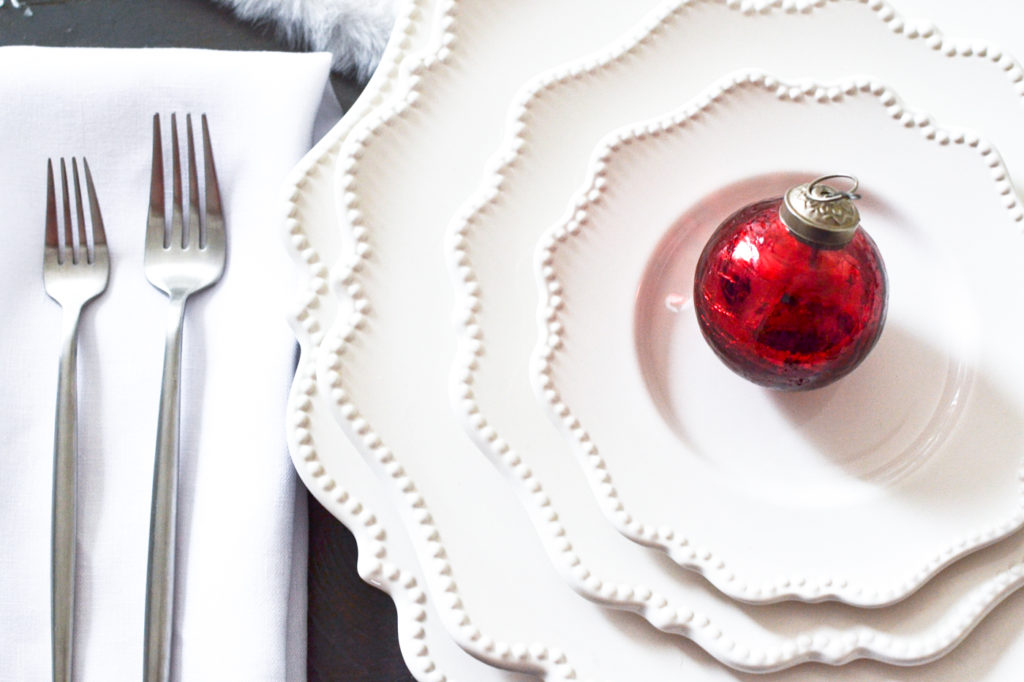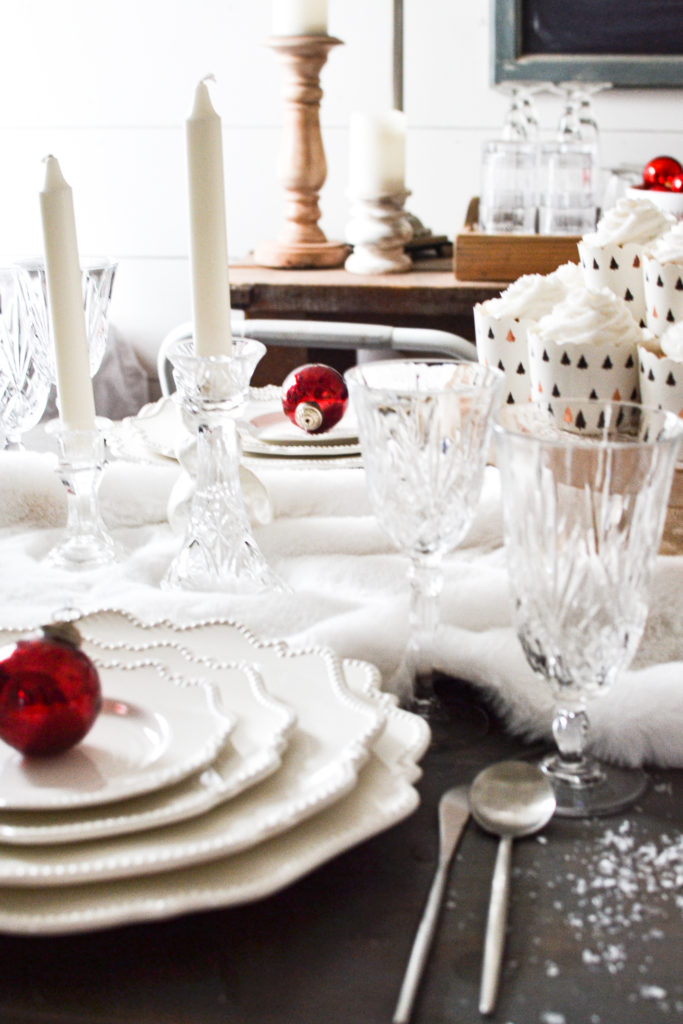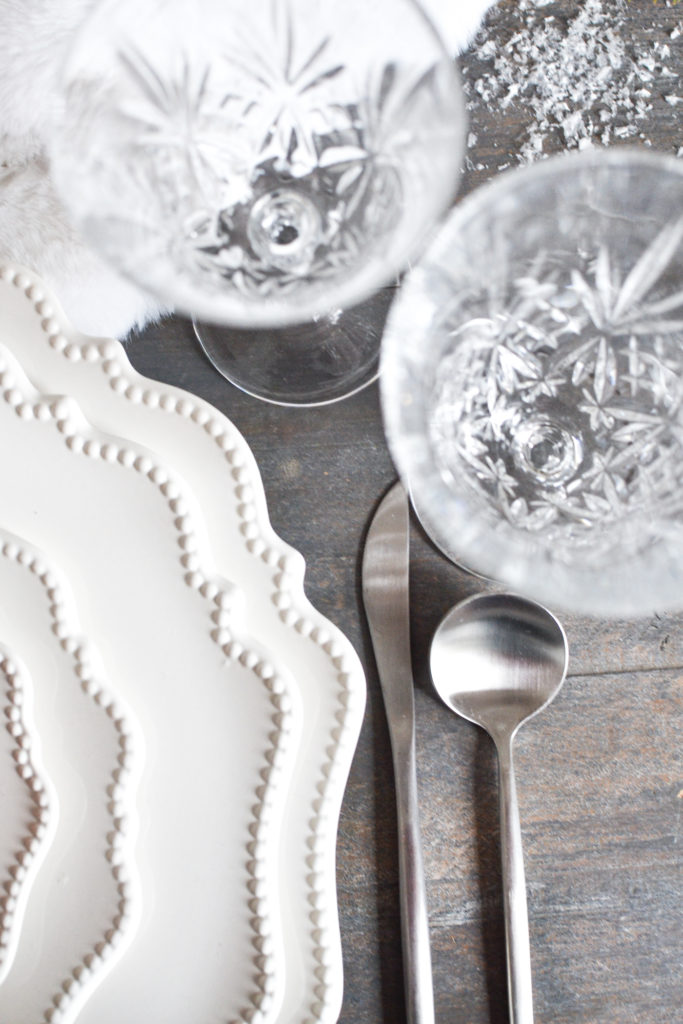 I hope I have convinced you that white need not be stark and cold when it comes to a White Christmas tablescape! I think I say this every time I style a table, but this is one of my favourites so far!!
Want to see more Christmas and other seasonal tablescapes? Check out my tablescape page for my full collection of table decor ideas!
Christmas Recipes you might enjoy….
Chocolate Chip Cherry Cheesecake bars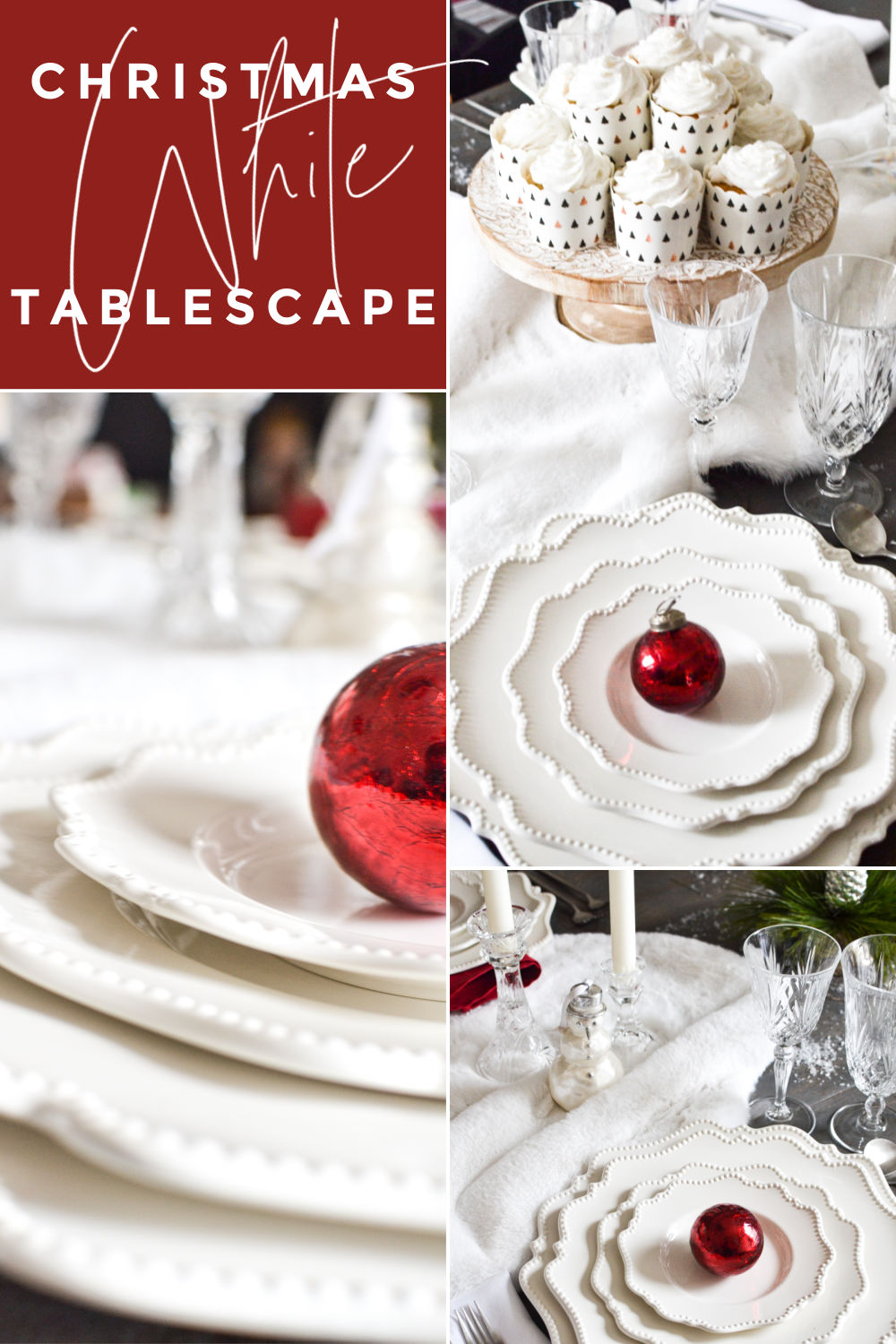 Now, it's time to visit all the other wonderful Christmas and Holiday themed tablescapes! Be sure to check out each and every one for endless inspiration this holiday season!
21 Christmas Tablescape Ideas