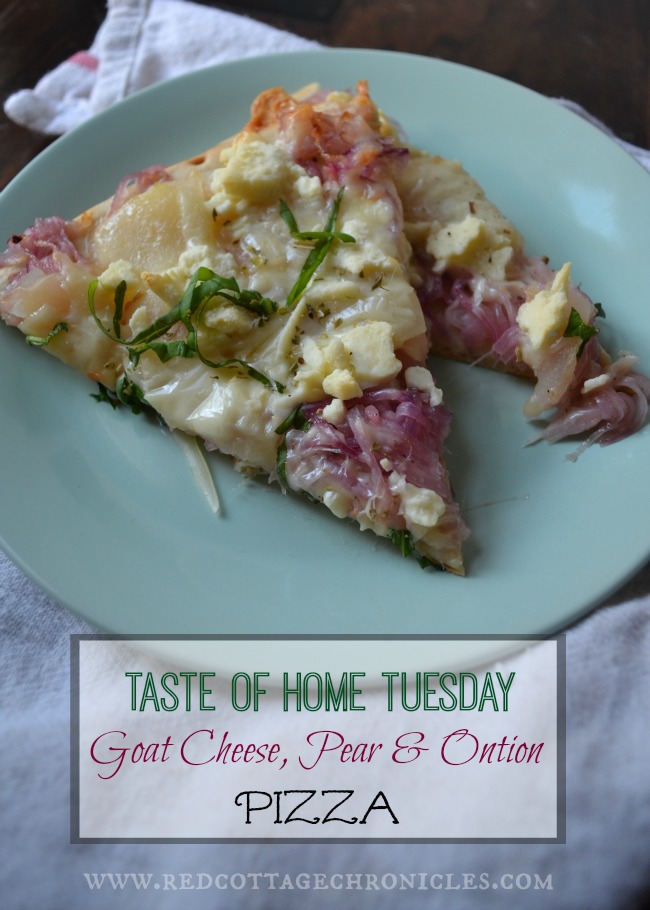 Welcome to another edition of Taste of Home Tuesday!  I always look forward to this post because that means Monday is done.  Thank goodness.  If I told you how my Monday went yesterday, you probably wouldn't believe me.  In fact, I wouldn't believe it either if I didn't live it!
Raise your hand if you love pizza.  Homemade pizza is a favorite at our house!  You can customize it to your liking and the possibilities are endless.  Loaded with veggies and other healthy toppings it can be downright nutritious.
I love pizza, but am a little tired of the same old, same old.  I went in search of a pizza recipe that was a little bit more "gourmet" than our standard White Pizza or Veggie Pizza, and this Goat Cheese, Pear & Onion Pizza fit the bill.
It just so happens this is another winner for my vegetarian daughter.  No need to prepare two different meals!
I have tried the flavor combination of cheese, pear and onion in a sandwich before, but never thought to top a pizza with it!
While I followed the recipe to a tee, here a few tips that I found streamlined the process.  I had it in the oven in 15 minutes.
Chefs Tips: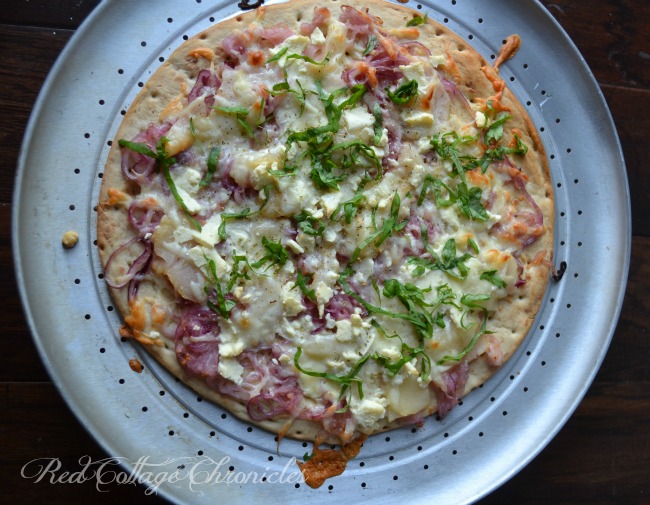 You can find this delicious Goat Cheese, Pear & Onion pizza recipe at www.tasteofhome.com by clicking here or follow the directions below.
This homemade pizza is really easy to make and is ready, start to finish it about 30 minutes, with only 15 hands on.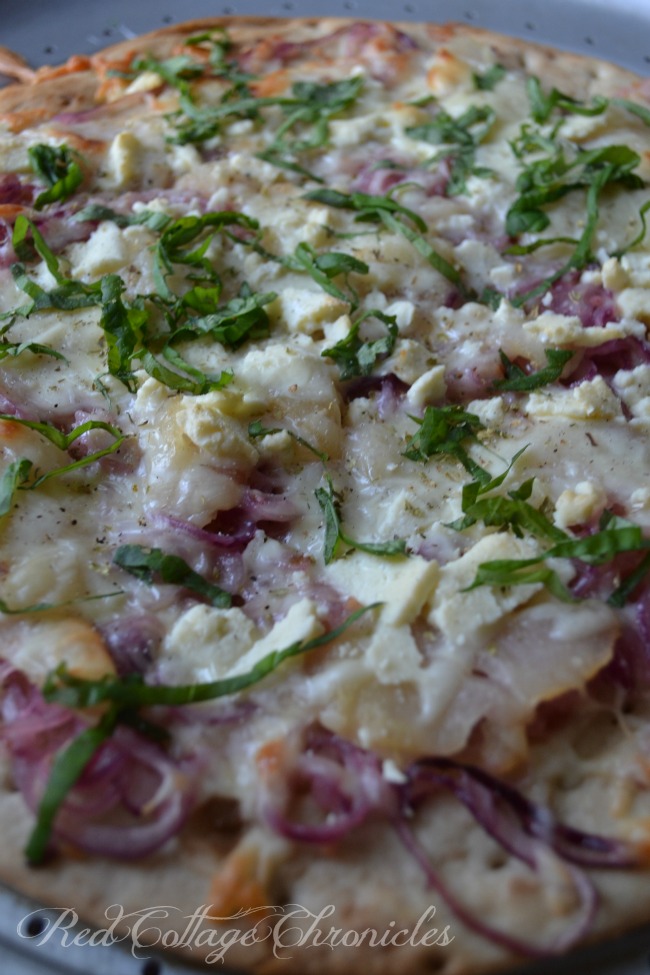 Simply slice 2 medium red onions really thin (to equal 3 cups) and add to a skillet with a splash of olive oil and 2 cloves minced garlic.  Cook over medium heat until softened, about 2 to 3 minutes.  Spread the onion mixture over the crust spreading it out to reach the edges.
In the same skillet sauté the pears for a minute or two and then arrange on top of the onions.  Top with 3/4 cup mozzarella cheese and 1/3 cup crumbled feta (goat cheese).
Bake at 425 degrees for about 10 minutes, remove from oven then sprinkle with shredded fresh basal and a bit of dried oregano.
If you want a yummy dessert to go with your pizza, check out these Caramel Pecan Shortbread.
Until next time…
Maureen
*this post contains affiliate links.  If you decide to make a purchase through one of these links, it will be at no extra cost to you and will send a few pennies my way to support the many recipes and projects here at redcottagechronicles.com