This delicious and versatile Irish Boxty bread is made with potatoes and other simple pantry ingredients.
With a name like Maureen, I can't help but feel like I have some Irish in me. And, with St.Patrick's Day just around the corner, I couldn't help but share a recipe with Irish roots.
This post contains affiliate links, that should you click the link and make a purchase, I may earn a small commission with increase in cost to you.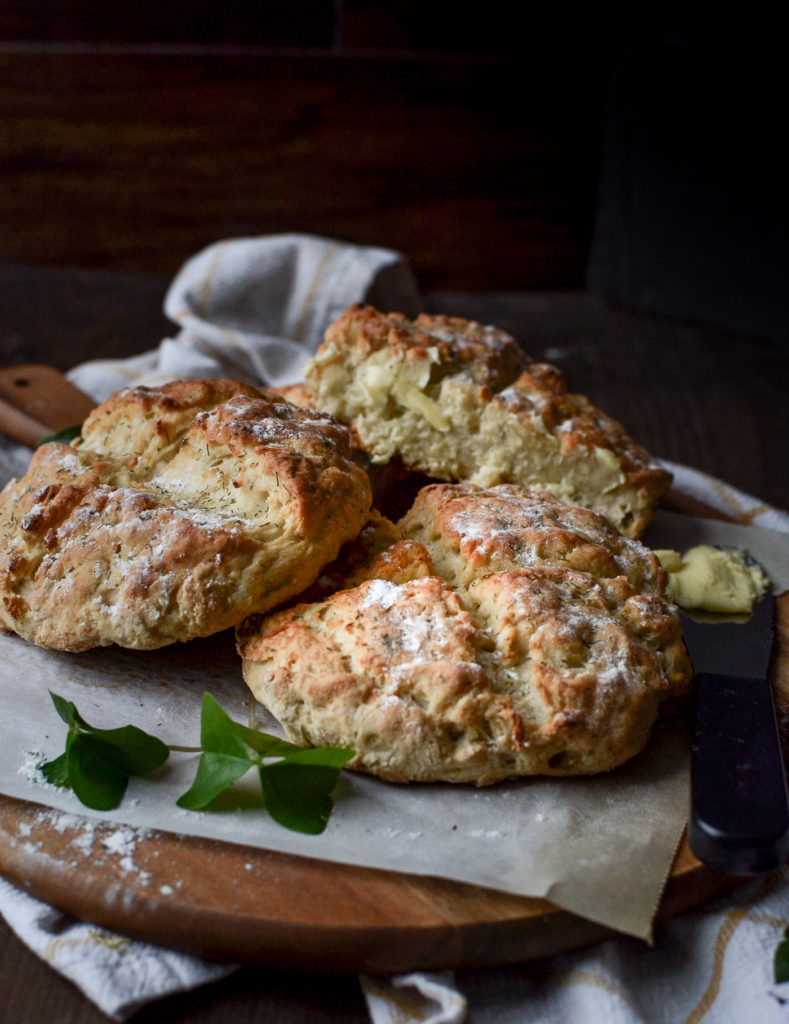 What is Boxty
Traditionally boxty is Irish potato pancakes. Made from a blend of mashed and grated starchy potatoes and fried until gold brown. Boxty bread however is made by lightly kneading the dough and shaping it into round disks, scoring the tops and baking in the oven.
Why you will love this recipe
Easy to make, with no rising time required
Made with simple pantry ingredients
A great way to use leftover mashed potatoes
Makes 4 little loaves that break up into 4 wedges each
Ingredients you need
Starchy potatoes such as russet or Yukon Gold
milk
salt
butter
baking powder
dried dill (optional)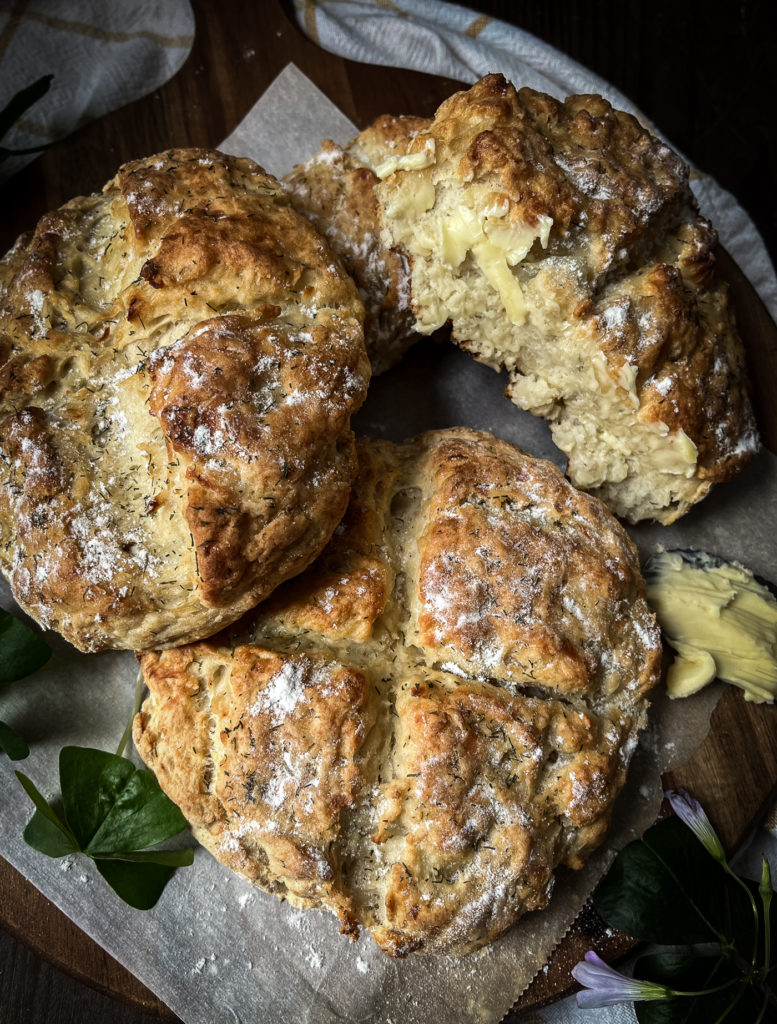 Kitchen tools you will need
pot to boil potatoes
kitchen box grater
measuring cups
measuring spoons
wooden spoon
hand mixer (optional)
pastry brush
You can watch the video to see the process and/or see (and print) the recipe down below!
How to serve Irish Boxty bread
While I am quite happy just to pull off a section warm from the oven and spread it with butter, there are several ways to enjoy this yummy loaf!
delicious when served alongside a hearty stew or vegetable soup
it is especially yummy snack or easy breakfast when drizzled with a bit of honey or jam
Slice and toast, and serve alongside eggs and bacon for a "breakfast for dinner"
Tips
Gather all your ingredients before beginning
Don't be alarmed if the grated potatoes and their liquid turn a rusty or pink colour. This is just the result of the oxidization that occurs when raw potatoes are peeled. They are perfectly safe to eat.
If you have left over mashed potatoes equivalent to about 2 to 2 1/2 cups mashed you can use those in place of chopping and boiling 4 potatoes. Just be sure to melt the 2 tablespoons of butter and mix into the prepared mash potatoes before proceeding with the rest of the recipe
Use a sharp knife to cut a cross deeply into the dough, but not all the way through
Immediately upon removing from the oven, carefully brush with butter, letting it melt all over the tops of the bread and sprinkle with dried dill.
Boxty bread is best enjoyed with a day or two. Wrap any leftovers tightly in plastic wrap and freeze. When ready to serve, remove from freezer to defrost. Warm in the oven just before serving.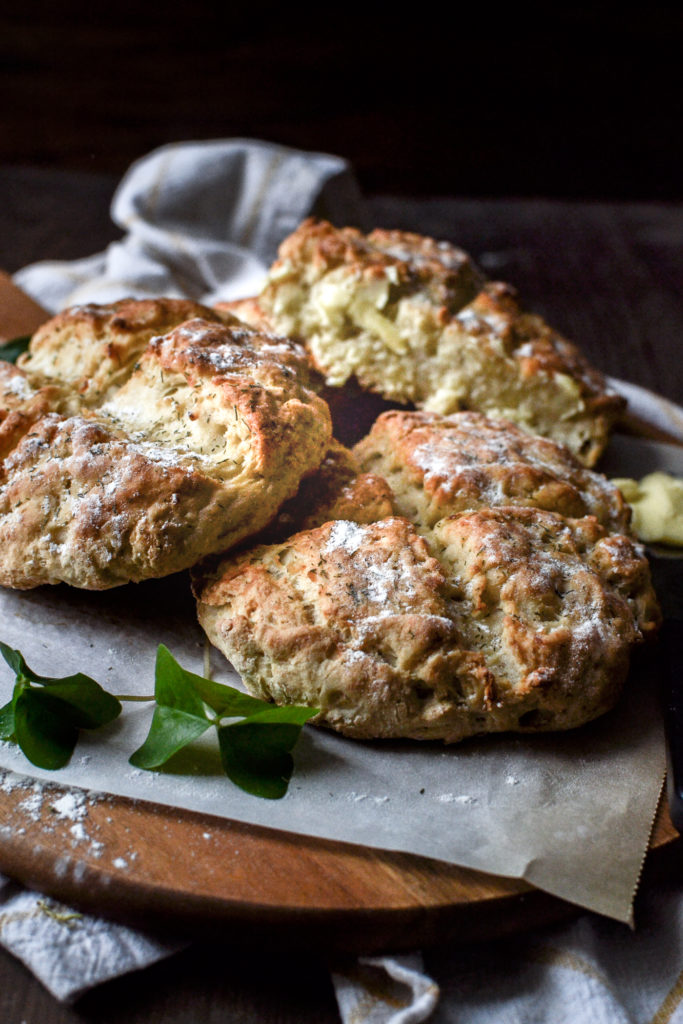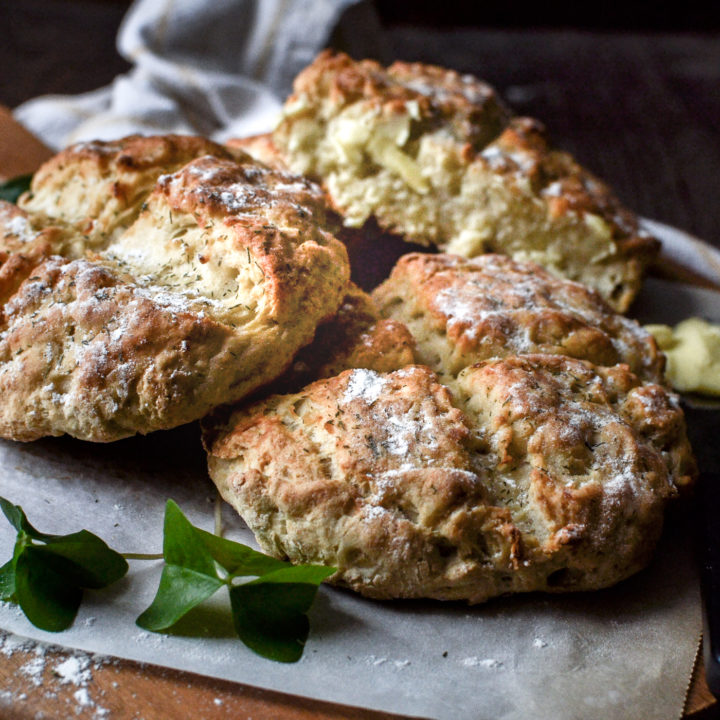 Irish Boxty Bread
Additional Time:
20 minutes
Total Time:
1 hour
15 minutes
Irish Boxty bread is an easy to prepare, versatile bread made with both mashed and grated potatoes, plus a few more pantry staples. It is equally delicious served with a hot bowl of stew or soup, or sathered with jam or honey for a yummy breakfast.
Ingredients
7 medium russet or Yukon gold potatoes
4 tablespoons butter, divided
2/3 cup milk
2 teaspoons salt
1/2 pepper
2 3/4 cups all purpose flour
5 teaspoons baking powder
dried dill (optional)
Instructions
Preheat oven to 375 degrees. Line a baking sheet with parchment paper and set aside.
Wash and peel potatoes. Cut four of the potatoes into cubes and place in a saucepan. Cover with cold water and bring to boil. Boil for 15-20 minutes, until they break apart when pierced with a fork. Drain, add 2 tablespoons of the butter and mash until smooth.
Grate 3 remaining potatoes on the course side of a box grater. Over a colander squeeze out as much of liquid from the grated potatoes as possible. Lay them out between two sheets of paper towel and pat until dry.
Add grated potatoes to a large mixing bowl. Add milk, salt and pepper, and stir. Beat in mashed potatoes until smooth.
Sift together flour and baking powder and add to the potato mixture. Stir until dough starts to come together. Using your clean hands, knead lightly until you have a smooth dough.
Divide dough into 4 equal parts and shape into 4 round, flat loaves, place on prepared baking sheet and cut a deep cross into each loaf, careful not to cut all the way through.
Bake 35-40. minutes, until tops are gold brown and loaves have risen.
Remove from oven and brush remaining 2 tablespoons of butter over each loaf, sprinkle with dried dill if desired.
Other recipes you might enjoy
Simple Whole Wheat Everything Bagels in Under an Hour