I bet you can't eat just one of these yummy raspberry jam bars! Seedless raspberry jam nestled between a simple shortbread crust and crumble topping, these bars will be a hit no matter what time of year!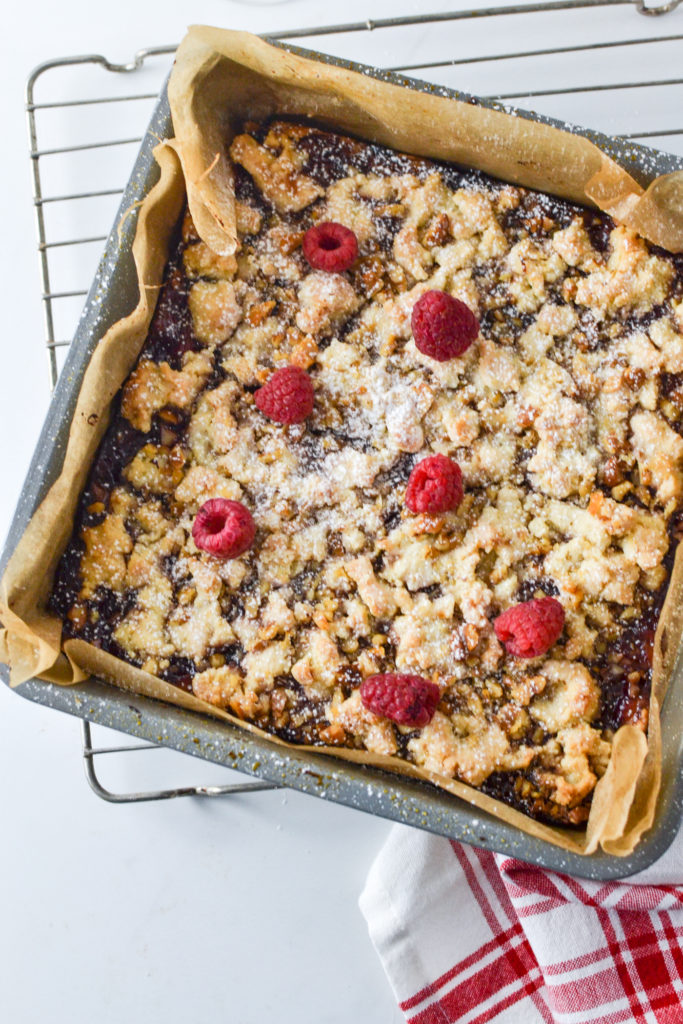 Seriously though! These yummy bars are so easy to make, and can work for any season, although they are a stunning and delicious addition for that Christmas Cookie exchange party!
Creating Memories Through Baking
Growing up we were blessed to have a stay-at-home mom, and many days we would come home from school to the smell of something baking in the oven. For some reason when I was baking these, the aroma that filled the kitchen brought me right back to those days!
Maybe it is just that I have been extra nostalgic lately and feeling the need to slow down. It reminded me that the simple act of baking can create a happy life-long memory!
Why not create a memory by recruiting your kids to make a pan of raspberry jam squares! The older kids could easy make these with your supervision or how fun would it be for the littles to add the final touch of sifting powdered sugar all over the top!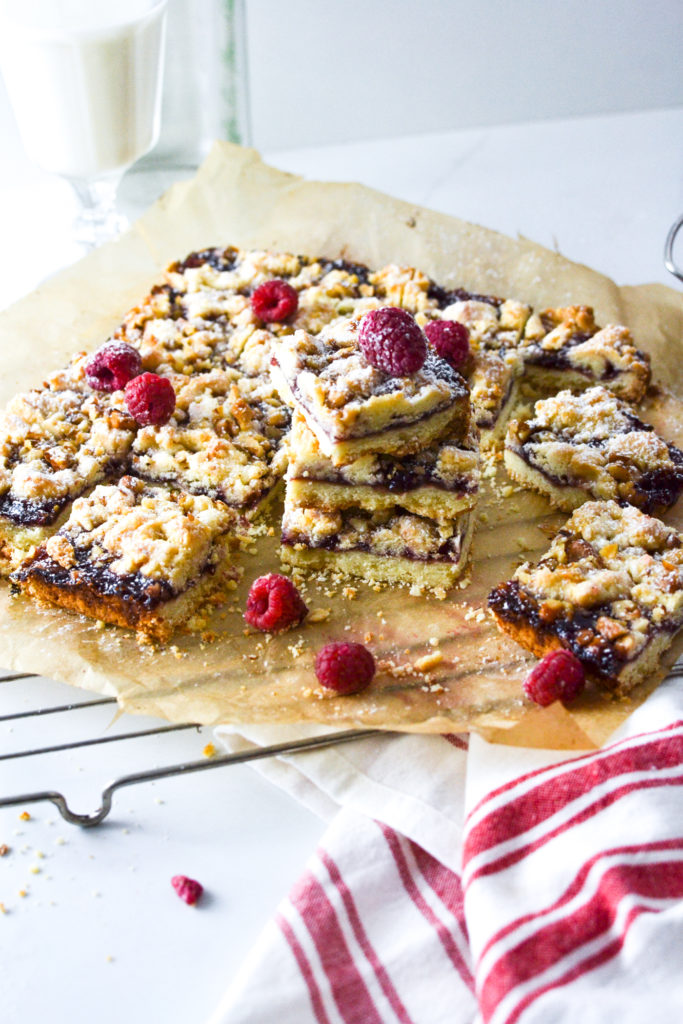 This post contains affiliate links to help you easily products I use myself. I may receive a small commission if you make a purchase through a link, but with no additional cost to you.
What makes these the best raspberry jam bars?
simple ingredients
ease of preparation
using only one mixing bowl makes for easy clean-up
these jam bars are made without oatmeal, which in my opinion make them in a league of their own
freeze very well
Easy to customize
Ingredients
egg yolks (save the whites to make this easy pumpkin spice pavlova)
flour
butter
sugar
raspberry jam (or any other jam or preserve that you prefer)
chopped nuts (optional)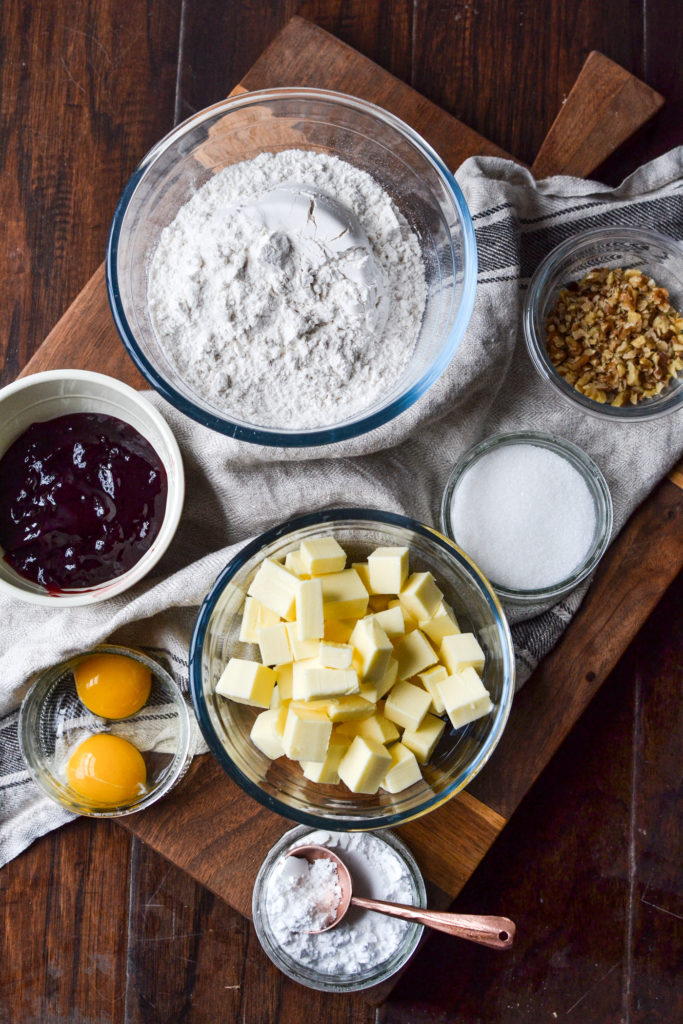 Ease of preparation
I don't know about you, but when I am baking I am often a bit impatient for the final result! To make these bars it is just a matter of gathering your ingredients beating all the crust ingredients together, pressing into a pan, spreading on the jam, and crumbling on the topping!
In the words of the Barefoot Contessa herself…how easy is that!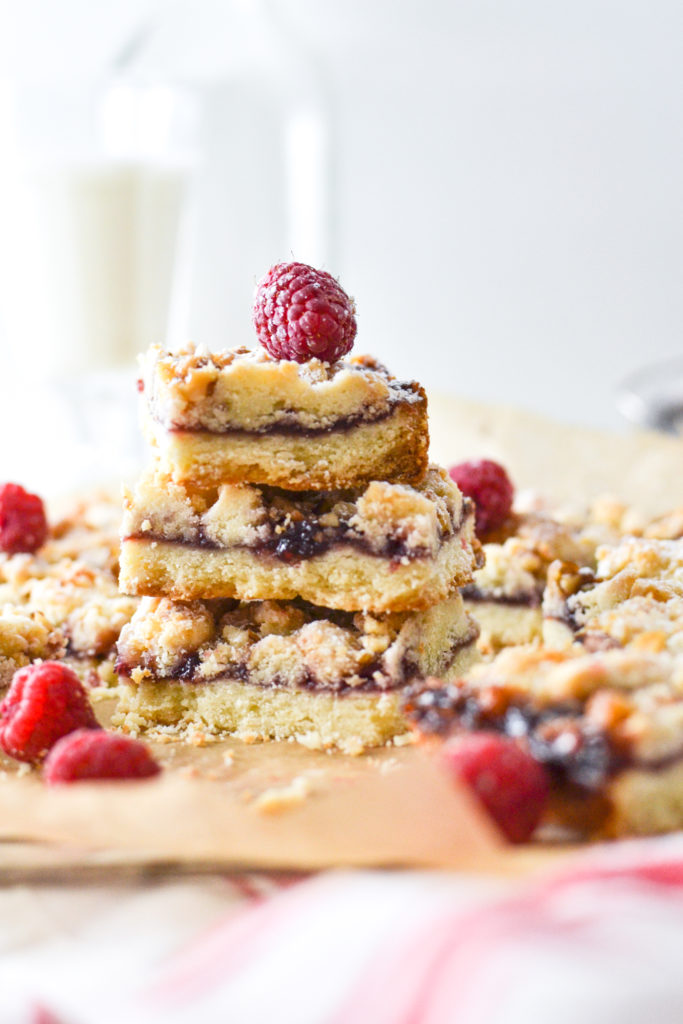 Easy to Customize
The beauty of jam bars is how easy it is to customize to your liking! While I do enjoy this combination of raspberry jam and walnuts, you really don't have to add nuts at all! Here are a few other flavour combinations to try.
try cherry jam filling and slivered almonds
blueberry preserves and top with a drizzle of a simple glaze made by combining confectioners sugar with a bit of water
strawberry jam and pecans
orange marmalade and macadamia nuts for a bit of a tropical flavour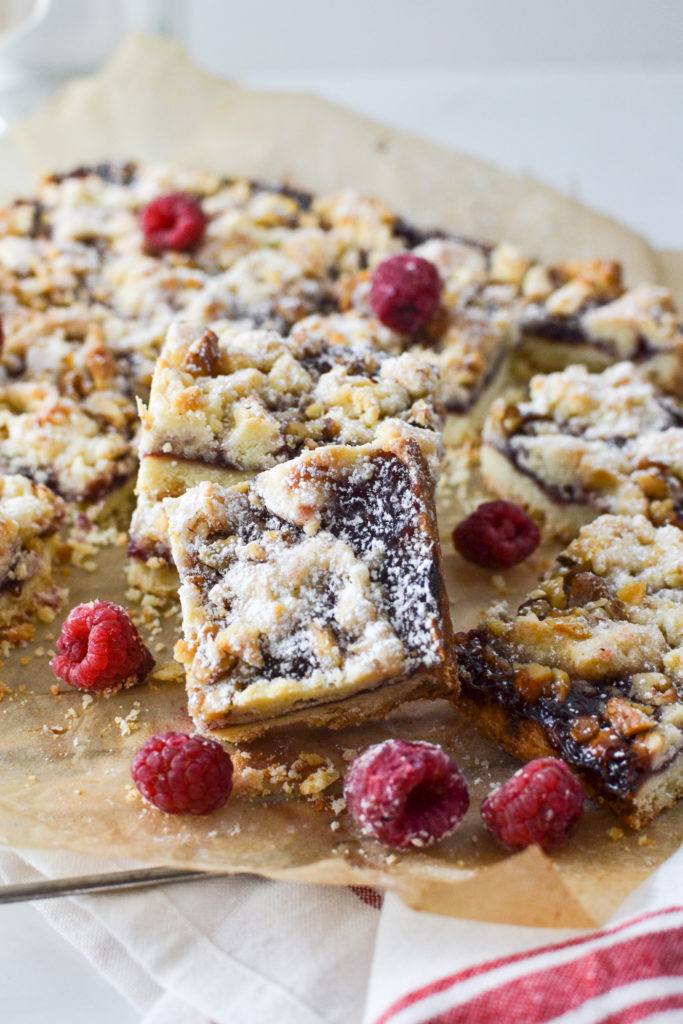 The one thing I never change is a dusting of confectioners sugar over the top of the bars! Not only does it look pretty, but adds a subtle layer of sweetness to the mix!
They are perfect for gift giving too! I love these window boxes for packaging and sharing my baking with family and friends!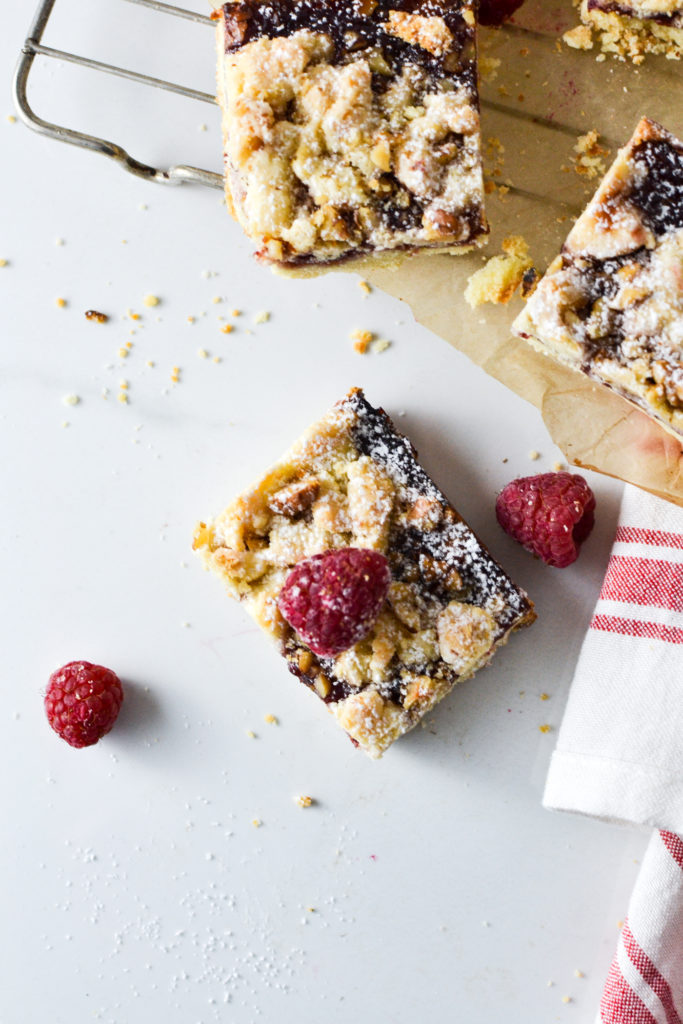 Oh, one more thing I LOVE about these bars is the edges taste just as good as the centre squares! I love how the jam kind of caramelizes on the edges making it a little extra gooey! Every piece is as good as the next!
Other Recipes You May Like
Coconut Crusted Key Lime Napoleons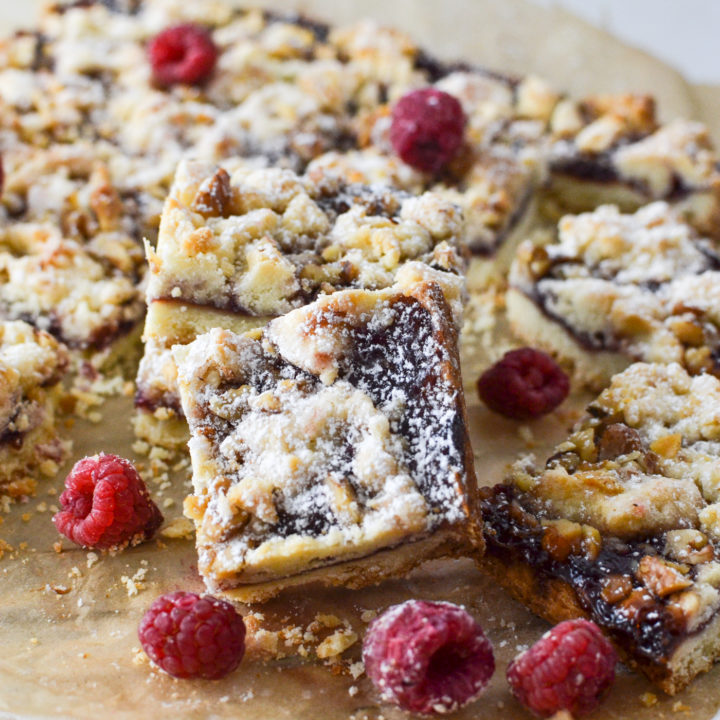 Raspberry Jam Bars
Cook Time:
35 minutes
30 seconds
Total Time:
45 minutes
30 seconds
These raspberry jam squares feature seedless raspberry jam layered between a shortbread like crust and crumble. Topped with chopped nuts and confectioners sugar. Easily customize them to your liking using whatever jams and nuts you prefer.
Ingredients
1 cup unsalted butter
1/3 cup granulated sugar
2 large egg yolks
2 cups all purpose flour
1/2 seeded raspberry jam
2 tablespoons confectioners sugar
1/3 cup chopped walnuts
Instructions
Preheat oven to 375 degrees. Line an 8" square baking pan with parchment paper.
In the bowl of an electric mixer (or with a hand mixer) beat butter and sugar until fluffy, about 2 minutes on med-high speed.
Add flour, 1/2 cup at a time, mixing between each addition.
Press 1 1/2 cups of the dough into the parchment lined baking pan, spread the jam on top. Crumble the remaining dough evenly over the top of the jam and pat down lightly. Sprinkle with nuts.
Bake for 30-35 minutes, until the crumble on top is golden brown.
Remove from oven and cool completely on a wire rack. When completely cooled, lift out of the pan using the parchment paper.
Sprinkle with confectioners sugar and cut evenly into 20 squares or 16 for larger portions.
Notes
Store in an airtight container for up to 3 days, or wrap well and store in the freezer for up to three months.