Make The Best Marinara Sauce with Simple Pantry Ingredients
Dinner recipes with pantry ingredients, like this Marinara Sauce recipe, are not only easy, but a great way to use up what you already have.
Hello friends! I hope you are well and staying safe and healthy in these crazy times we find ourselves in.
I don't know about you, but I have found one way to feel grounded and optimistic is to look for the silver linings. One such silver lining comes in the form of creating dinner recipes with pantry items.
It has really opened my eyes as to how much food we have been wasting. Which translates into how much money we have been wasting! Not to mention the extra time spent running to the grocery store to pick up one or two items because we failed to use what we had instead of buying more!
This post contains affiliate links to help you find products a I use and love.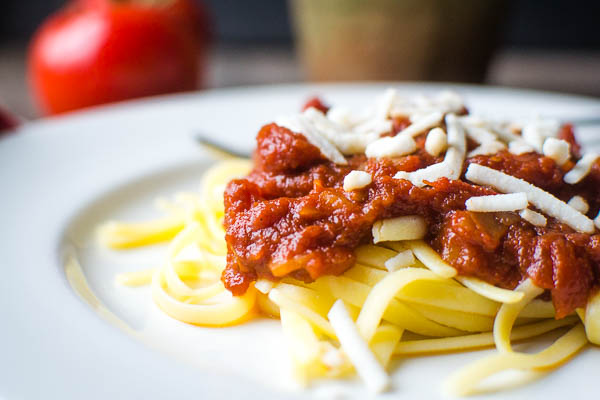 Getting out the grocery store to do a weekly grocery shop is no longer something I will take for granted. Let alone being able to just pop out to the store to pick up an ingredient or two.
We are now taking advantage of curb-side grocery pick-up, but pick-up time slots are at a premium. Shopping only once or twice a month is how it has to be for right now.
I have always tried to keep a well stocked pantry. Now more than ever I find myself relying on only what I have on hand to put together a tasty and healthy meal.
Creating dinner recipes with pantry ingredients is also a great money saver!
Are you struggling to put healthy and delicious meals on the table? I think you are going to love this homemade marinara sauce
One of my long-time favorite recipes is this thick and rich marinara sauce. I always have a can of tomatoes and onions on hand. I can throw it on the stove and have it ready in about 30 minutes.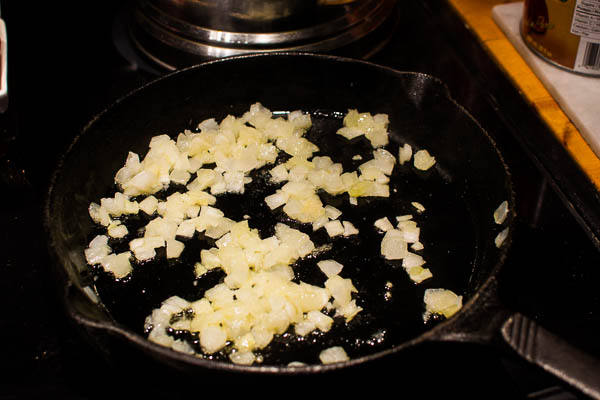 I have made this marinara sauce in a non-stick pan, but much prefer to make it in my cast iron pan. Mine has been for years, but this one is of similar excellent quality.
I love my cast iron pan. It perfect for savory recipes like this one or this easy taco pie. But, it is also perfect to make sweet treats like this old fashioned blueberry slump.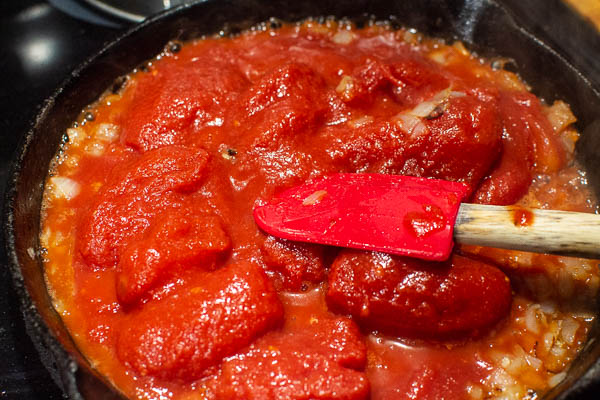 Canned tomatoes are one of the most versatile pantry staples. You will find diced, stewed, strained, fire roasted and whole tomatoes in my stash!
For this recipe I use whole tomatoes. I prefer the San Marzano variety from Italy for their rich flavor, but have made it on plenty of occasions with regular whole tomatoes and never been disappointed.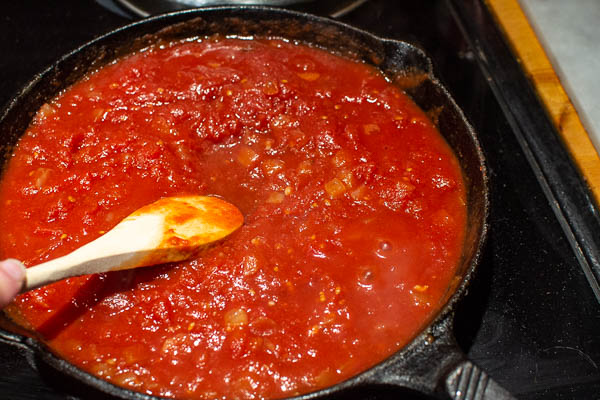 Don't be fooled by the liquidy appearance at the beginning. After crushing up the tomatoes with a wooden spoon, you will have a thick and rich sauce in no time.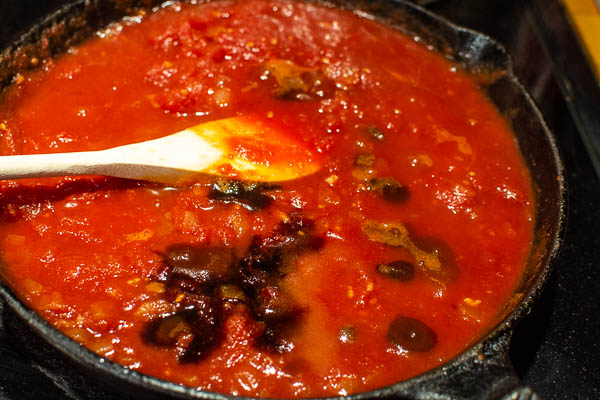 A tiny 1/4 teaspoon of sugar and a splash of balsamic vinegar add a depth of flavor that make this marinara sauce so irresistibly delicious.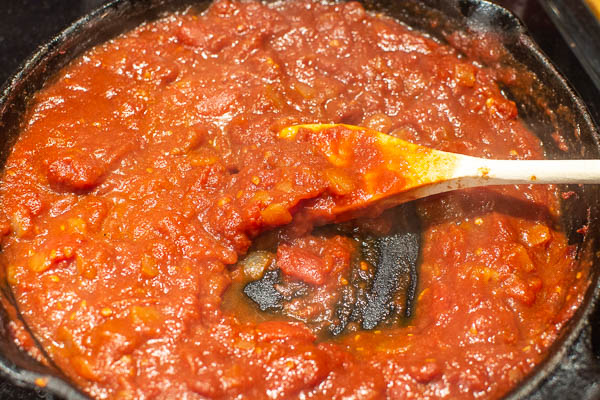 Leave it thick and chunky, or if you prefer puree it with an immersion blender for a smooth thick sauce. Either way, you are going to love it!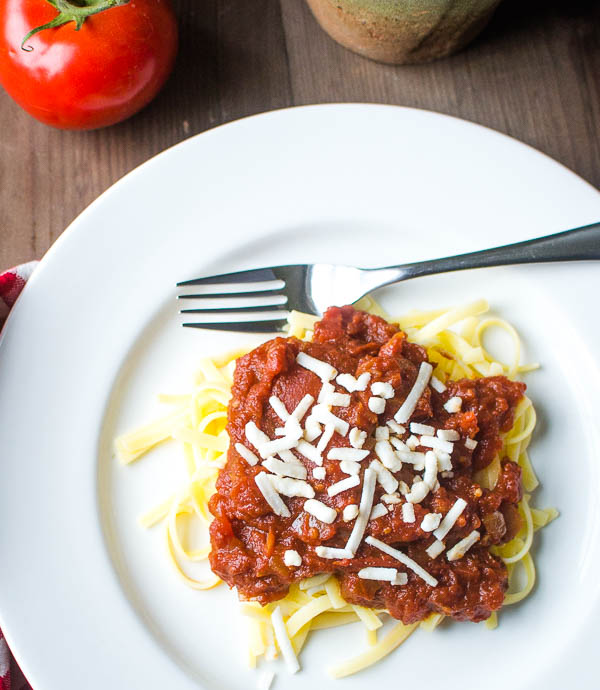 Serve over any type of pasta, with a little bit of (dairy free in our case) cheese, and you have an easy weeknight meal straight from the pantry.
Having easy basic recipes made with pantry ingredients has definitely been a silver lining for me. It keeps me on my toes and challenges me to be creative when planning and preparing meals with things I already have!
And in some cases….things that got pushed so far back in the pantry, I forget I even had!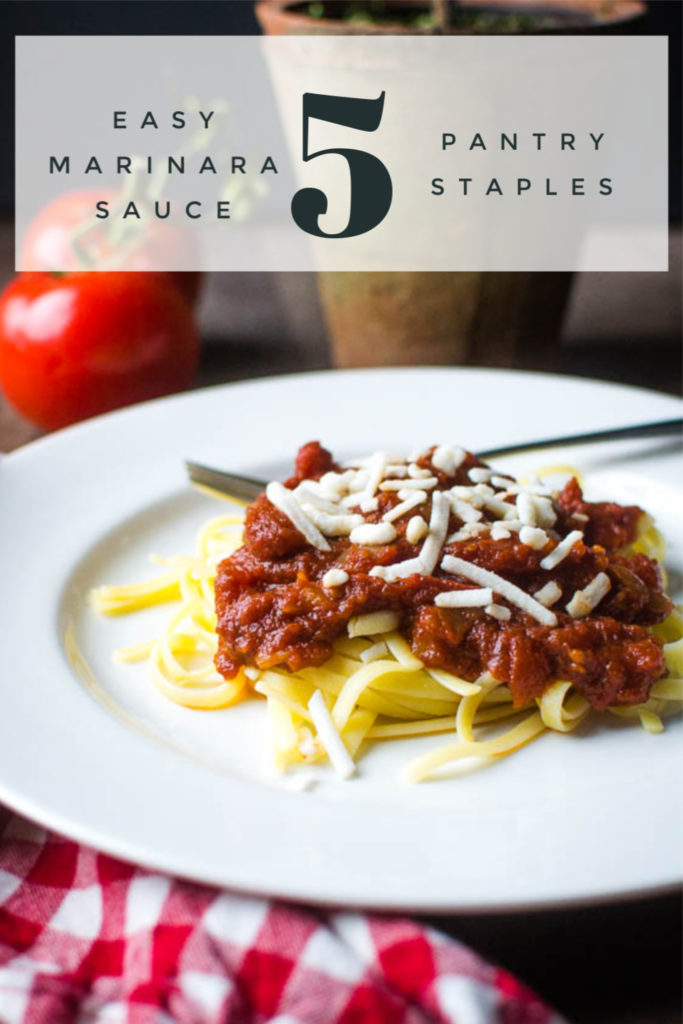 Be in the know! It may be a delicious recipe, a stunning tablescape, or decor tips to make your house a home! Simply click here to subscribe. I never sell or share your information, and you can unsubscribe at any time!
Until next time…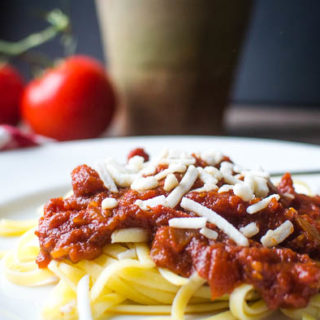 Easy Marinara Sauce
Ingredients
1 tablespoon olive oil
1 onion, finally chopped
1 clove garlic, minced
1 28 ounce can whole tomatoes
1 tablespoon balsmic vinegar
1/4 teaspoon granulated sugar
fresh basal leaves, thinly sliced (optional)
Instructions
In a large cast iron frying pan, heat oil over medium heat. Add onion and cook, stirring, for about 3 minutes just until golden. Add garlic and stir for about a minute, until fragrant.
Stir in tomatoes, breaking them up with the back of a wooden spoon.
Add balsamic vinegar and sugar, stirring to combine.
Bring to a boil and then reduce heat so simmer, stirring occasionally to break up any large pieces, cook for 30 minutes.
Add chopped basal, if using, and heat through.
Serve thick and chunky, or use immersion blender to serve a smoother sauce, over prepared pasta.