There is nothing quite like a piping hot bowl of this slightly sweet soup on a cold autumn evening. This maple roasted butternut squash soup is easy and oh-so-good!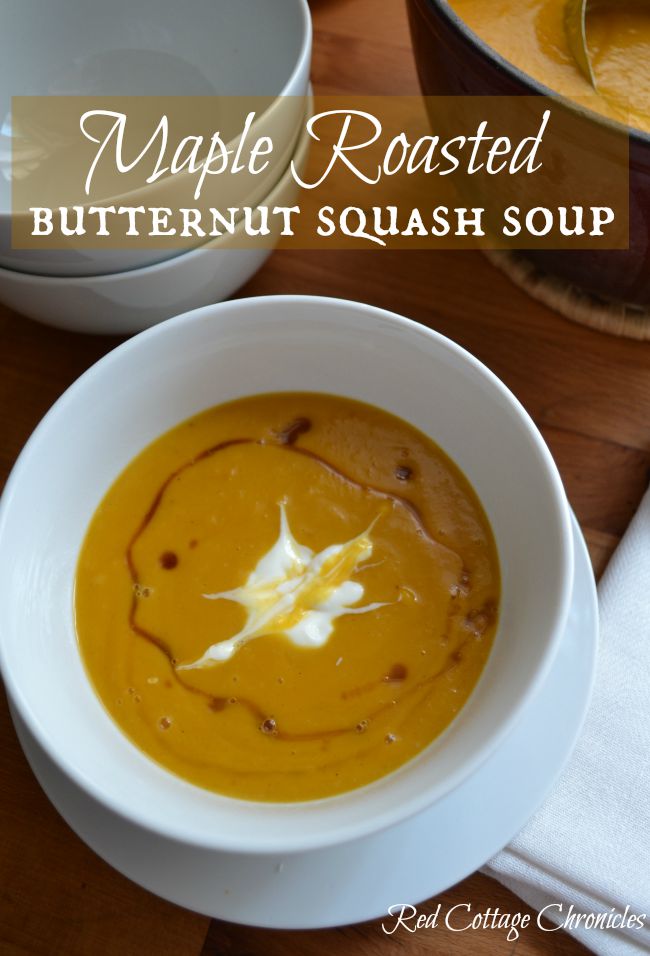 Reason #3 why I love autumn best. Butternut squash soup.
This recipe makes a great big pot of soup perfect for a crowd during football season, or just for lots of leftovers for your family.
Eating it for breakfast is not out of the question at our house!
Maple syrup is packed with essential minerals and like calcium, magnesium, and zinc just to name a few.
Can this be made in the slow cooker?
Although I have never tried it, you could roast the squash the night before, add it to the slow cooker in the morning with all the other ingredients, set on low, and at dinner time simply puree and serve.
Is this butternut squash soup vegan?
This butternut squash soup is vegan friendly! I use organic vegetable broth that is also low in sodium.
Cooking Tip: after maple roasting the squash, make sure you add all the roasting juices into the broth as well. You want all the maple flavor you can get!
I always garnish with a swirl of vegan sour cream and an extra drizzle of maple syrup but these are optional. Some toasted croutons or roasted pumpkin seeds would be good too.
Looking for more yummy recipes to try?
Easy One Pot Vegetable Noodle Soup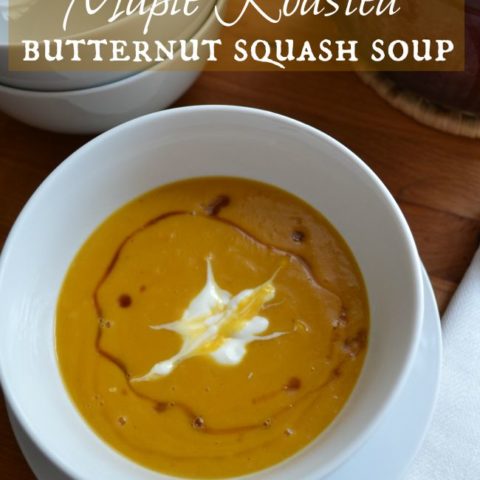 Maple Roasted Butternut Squash Soup
Cook Time:
35 minutes
30 seconds
Total Time:
45 minutes
30 seconds
This roasted butternut squash soup is sweetened with maple syrup that coats the squash while roasting. It makes the perfect meal on a cold winter day. Vegan friendly.
Ingredients
5 cups peeled and cubed butternut squash
1/2 cup pure maple syrup
3 tablespoons olive oil
salt and pepper
1 medium onion, chopped
4 cups vegetable broth
Instructions
Preheat oven to 425 degrees
Whisk together olive oil and maple syrup in a large bowl. Add squash and stir to coat well.
Spread squash onto a parchment lined, rimmed baking sheet. Season with salt and pepper and roast for 30-45 minutes, or until soft. Remove from oven and set aside.
In a large soup pot or dutch oven saute onion in 1 tablespoon olive oil for 5 minutes over medium heat. Add broth and roasted squash with all the roasting juices. Bring to boil and remove from heat.
Cool slightly, and carefully puree with a hand blender, or in batches in a high speed blender (keeping the lid vented and covering with a towel as soup will be hot.
Serve with a dollop of sour cream and a drizzle of maple syrup.
Until next time….
Maureen