Not only is this an easy fudge recipe without condensed milk, but it also doesn't require any chocolate chips! Just It gets it's rich chocolatey flavour from cocoa!
When I was a kid I remember my dad loved fudge! In fact, back in those days when it was common to get homemade treats at Halloween (yes, I am that old!) he would check over our treats and they would always come back missing the fudge!
As much as my dad loved fudge, my mom disliked making it! If I remember correctly, she could never get it to set up just right. This meant dad didn't get as much fudge as he would have liked!!
I am happy to report that this fudge recipe is pretty much foolproof!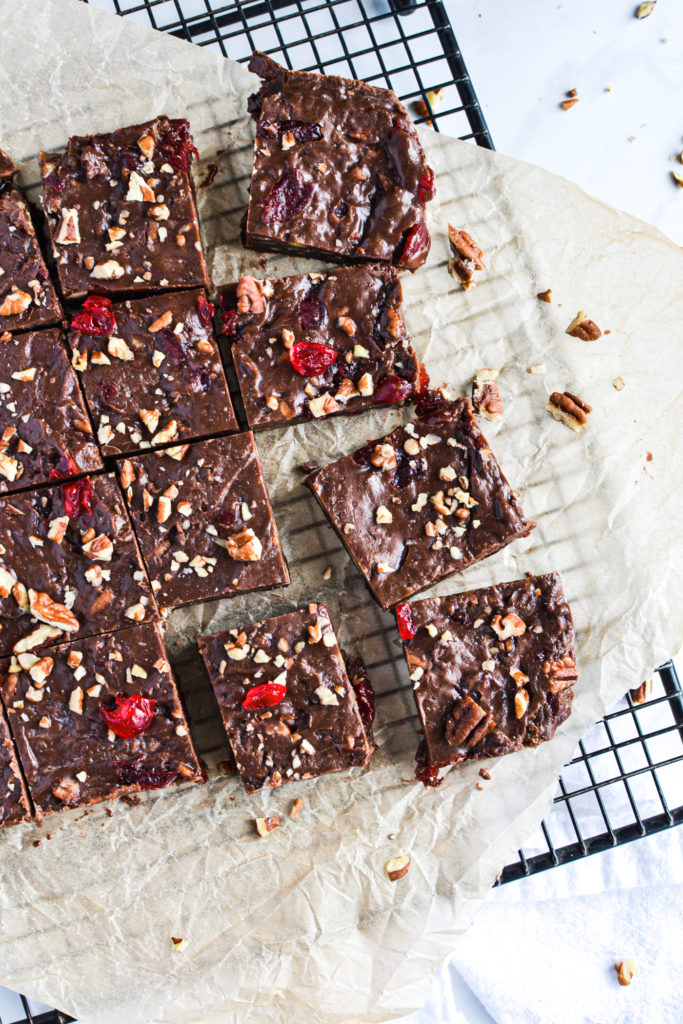 Does fudge made without condensed milk still taste creamy and rich?
Instead of sweetened condensed milk, this rich chocolate fudge is made with evaporated milk. And, it is just as rich, creamy, and well…fudgy!!
It gets its' sweetness from confectioners sugar and its' chocolatey goodness from unsweetened cocoa powder.
Can you make fudge in the microwave?
Yes, you most definitely can!
There is also no need for a candy thermometer or to stand over a boiling pot on the stove. Just two to three minutes in the microwave is the only cook time required for this recipe.
The only kitchen tools you will need are
a whisk
a rubber spatula
a casserole dish
an 8 inch square pan
parchment paper
And of course a knife to chop up the pecans and cherries!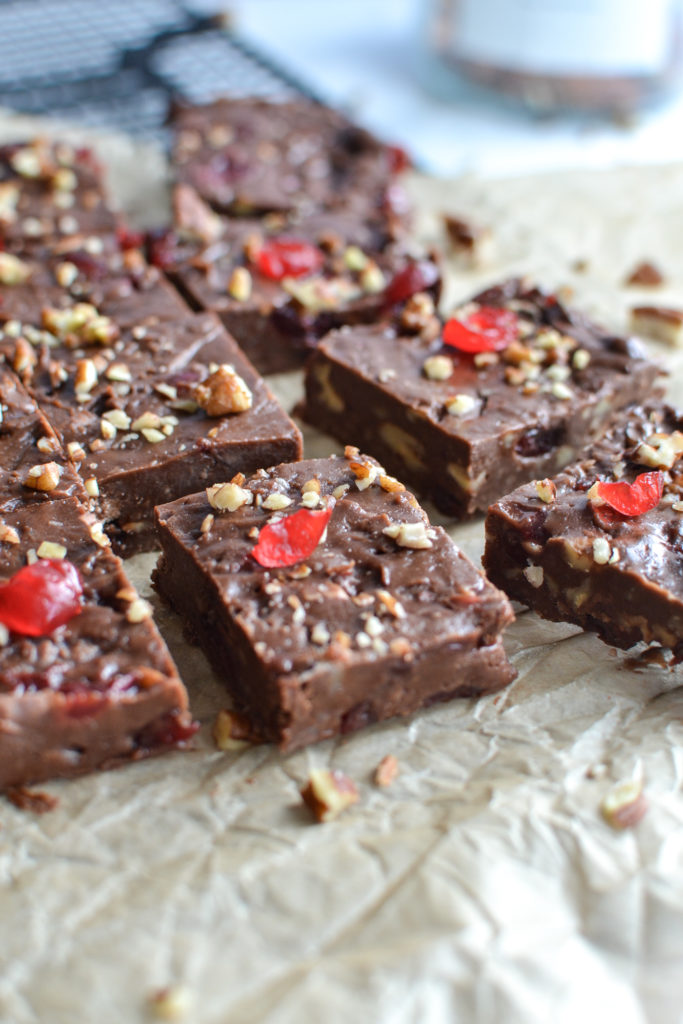 What can you add to your fudge for extra flavour
My favourite is chopped pecans and maraschino cherries like I have made here, but feel free to try things like:
coconut
pistachios
any dried fruits like cranberries or blueberries
dried ginger
white chocolate chips
a swirl of peanut butter
anything that you fancy!
How to make this chocolate fudge recipe without condensed milk…
Step one!
Mise en place! Gathering your ingredients before you start ensures that you have everything you need and won't have to make any last minute trips to the grocery store!
For this recipe you will need cocoa, confectioners sugar, butter, evaporated milk, vanilla, maraschino cherries and chopped pecans.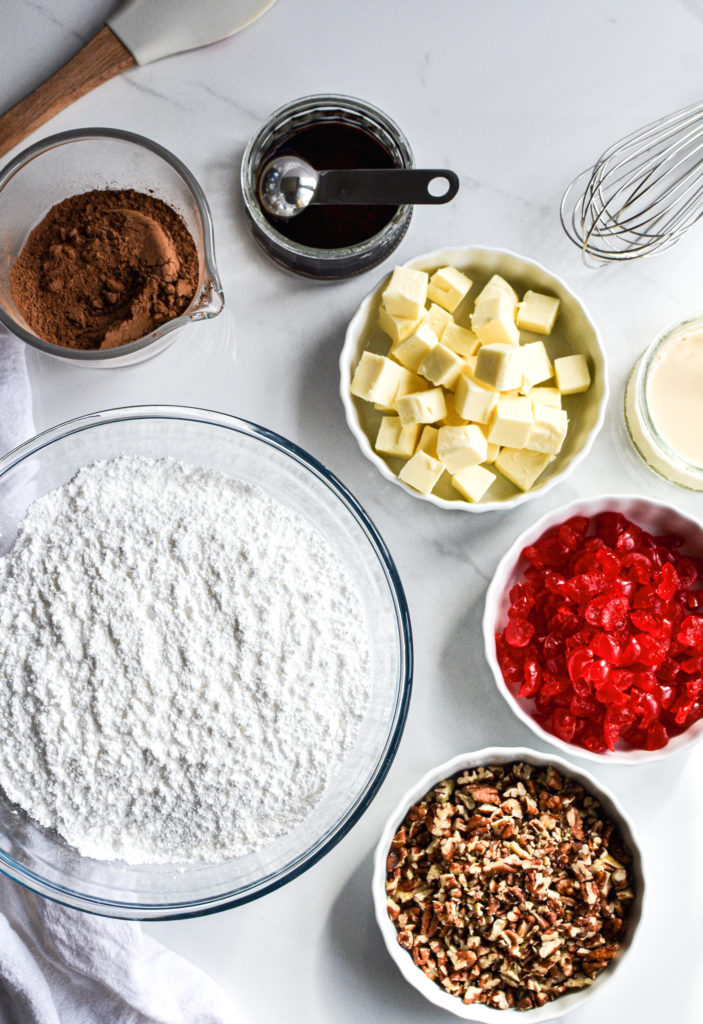 Step 2
In a shallow casserole dish (make sure it fits in your microwave!) mix the confectioners sugar and cocoa with a wire whisk until well combined.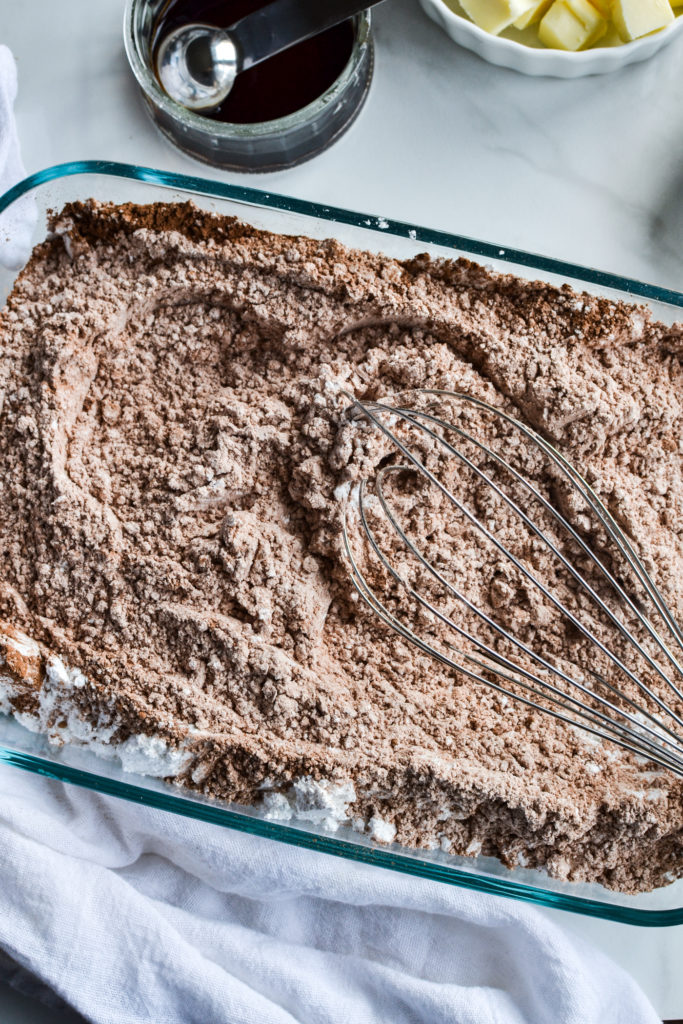 Step 3
Dot the mixture with cubes of butter and pour over the evaporated milk. DO NOT STIR!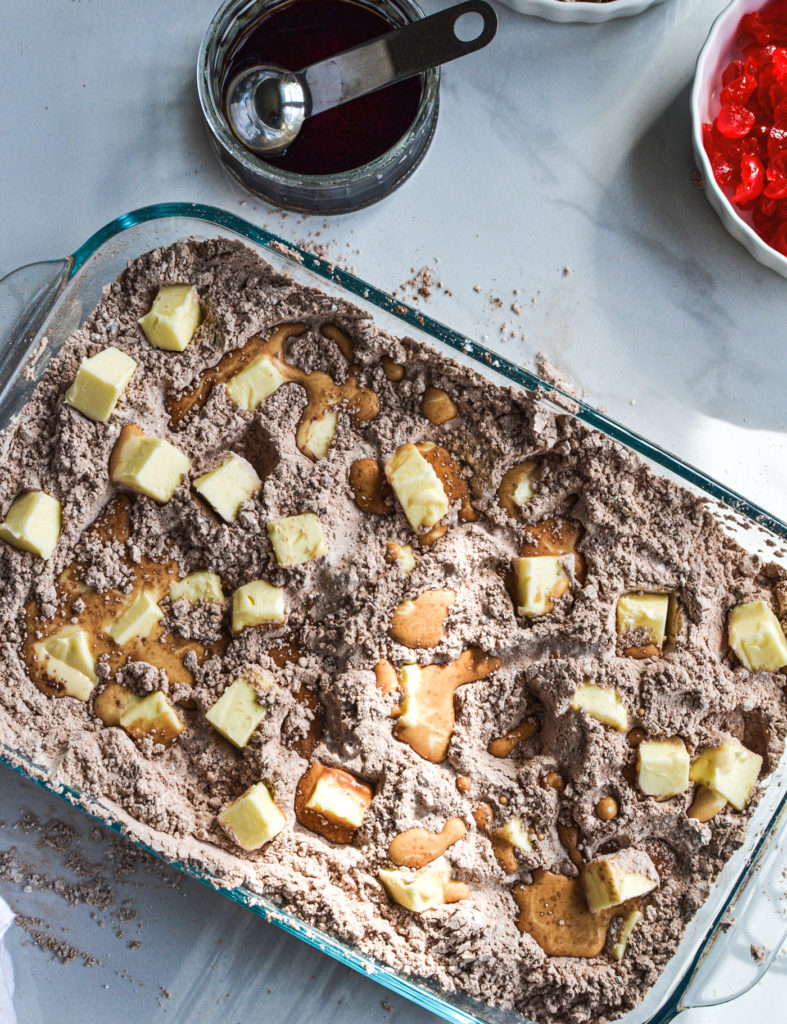 Step 4
Place the dish into the microwave, and heat on high for 2 1/2 to 3 minutes (until butter is melted).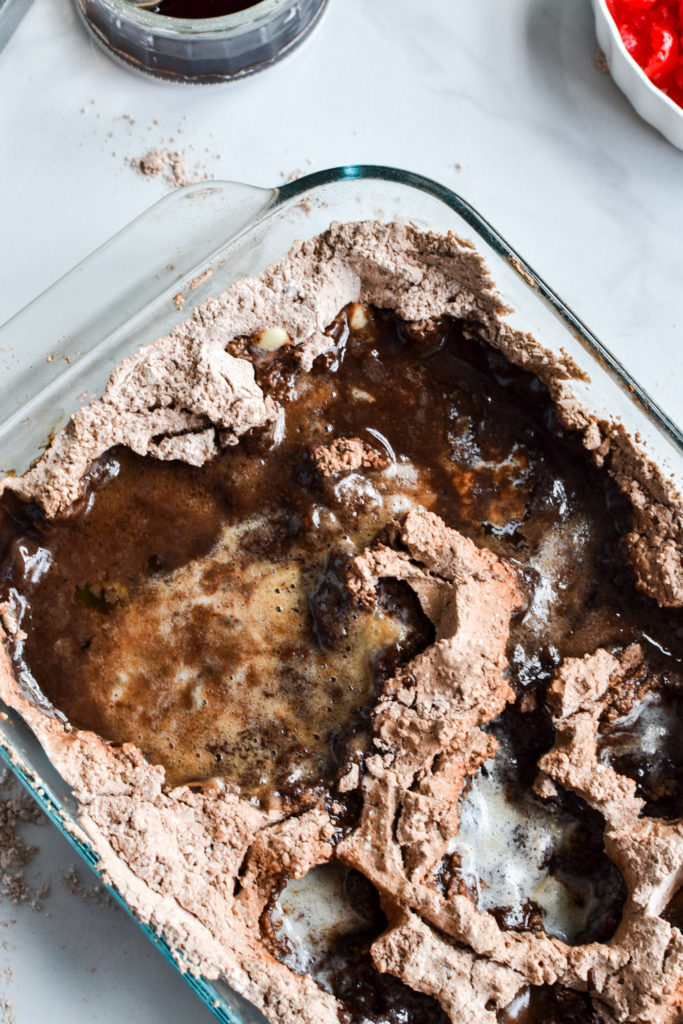 Step 5
Remove from the microwave, add vanilla, and stir until the cocoa powder is thoroughly incorporated.
Add chopped cherries and pecans (or whatever fixings you have chosen). Stir just until combined.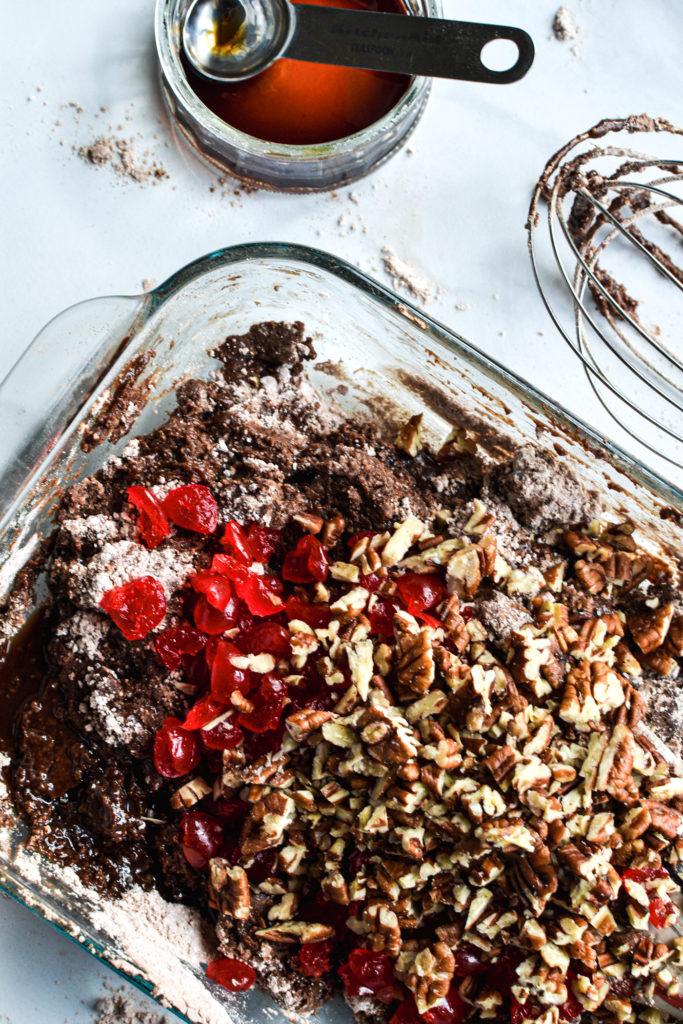 Step 6
Transfer to a parchment lined 8 by 8 baking pan and refrigerate until firm. Sprinkle with extra chopped pecans and cherries if you wish.
If you are inpatient like I am, you can set the fudge in the freezer in about 20 minutes!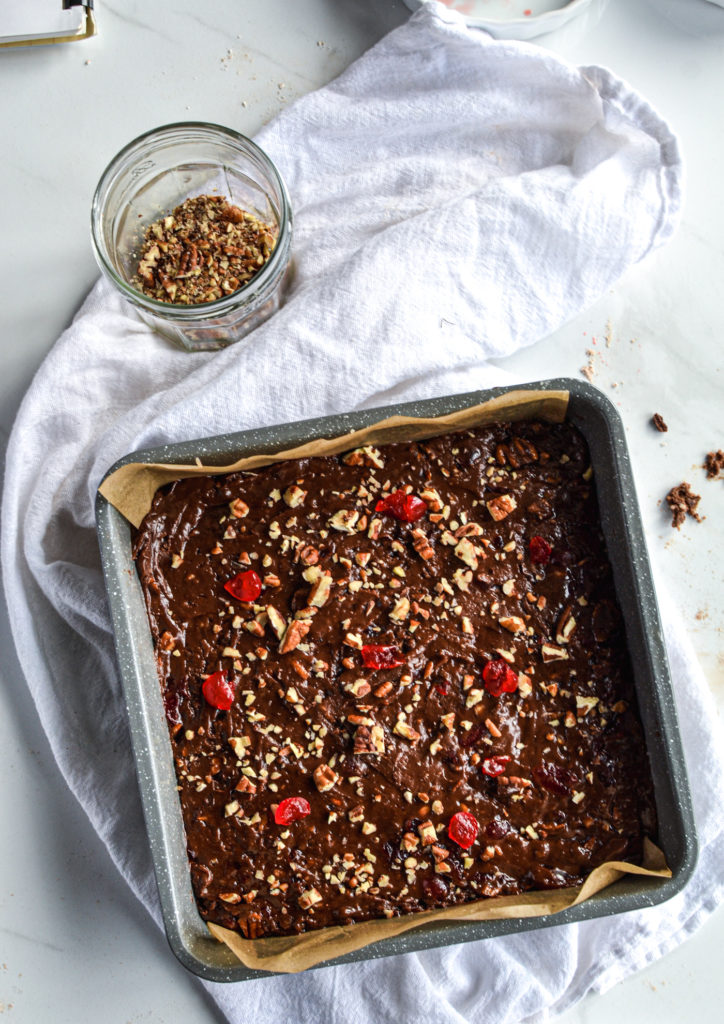 Want to make it extra special? When the fudge is set, dust with a bit of cocoa powder before serving.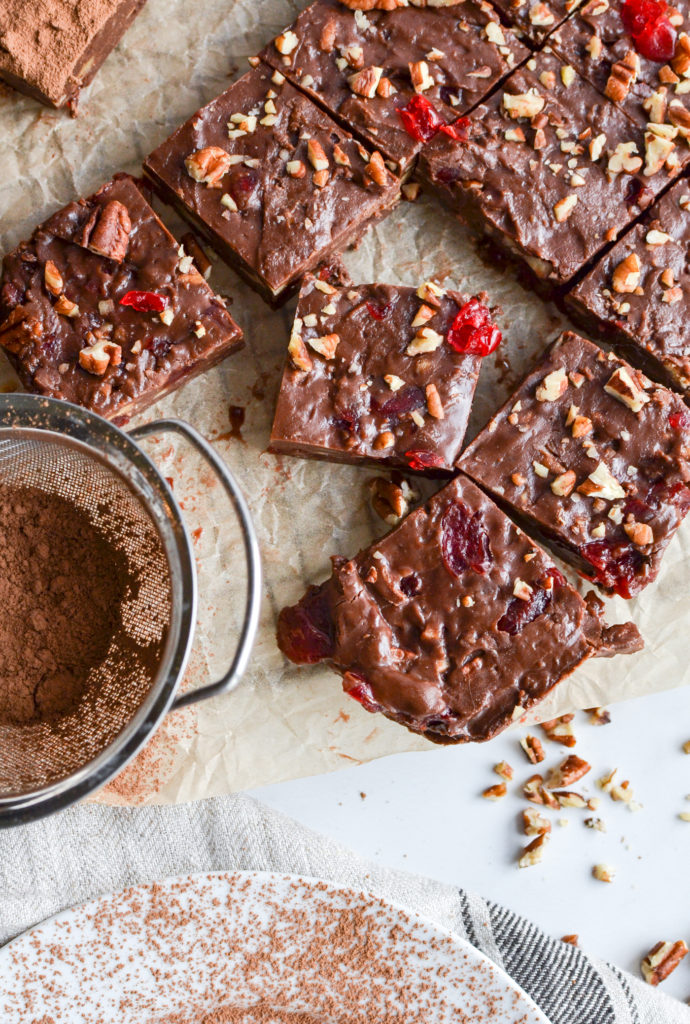 How to store fudge
Fudge should be stored in the fridge to keep it from getting too soft. Store it in an airtight container in the fridge for 2 to 3 weeks.
It is also perfect for freezing. Wrap tightly in plastic wrap and place in a freezer bag. It can last up to a year, but would recommend no longer than about 4 months for the most fresh flavour.
But, let's be honest! Unless you are making ahead and freezing for the holidays, it probably be gone in a flash!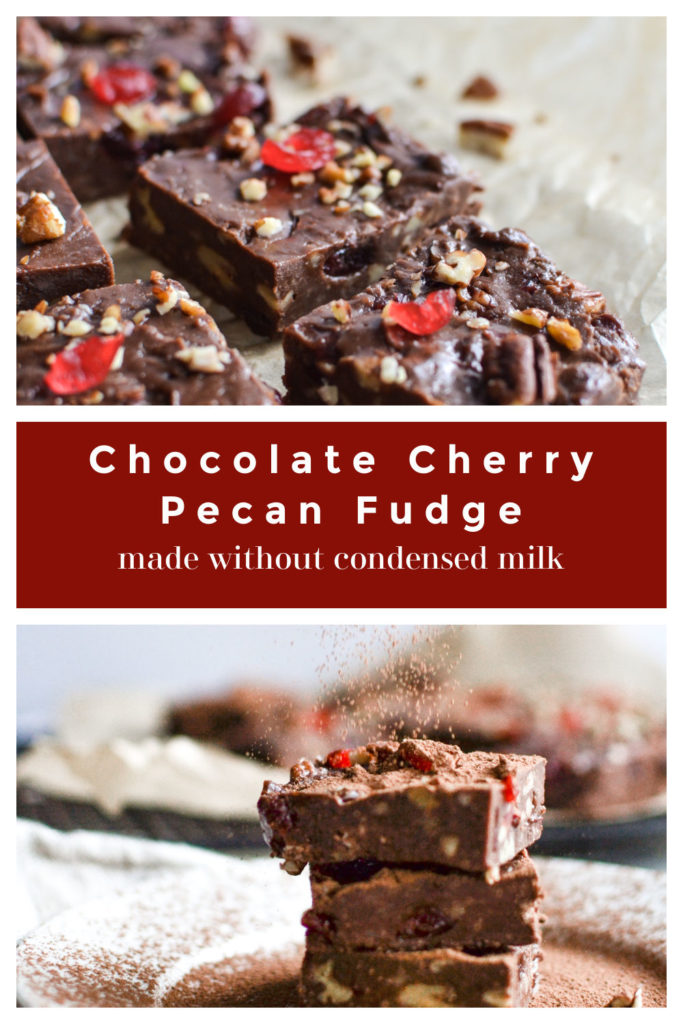 More sweet treat recipes you will love!
White Chocolate Cranberry Shortbread Cookies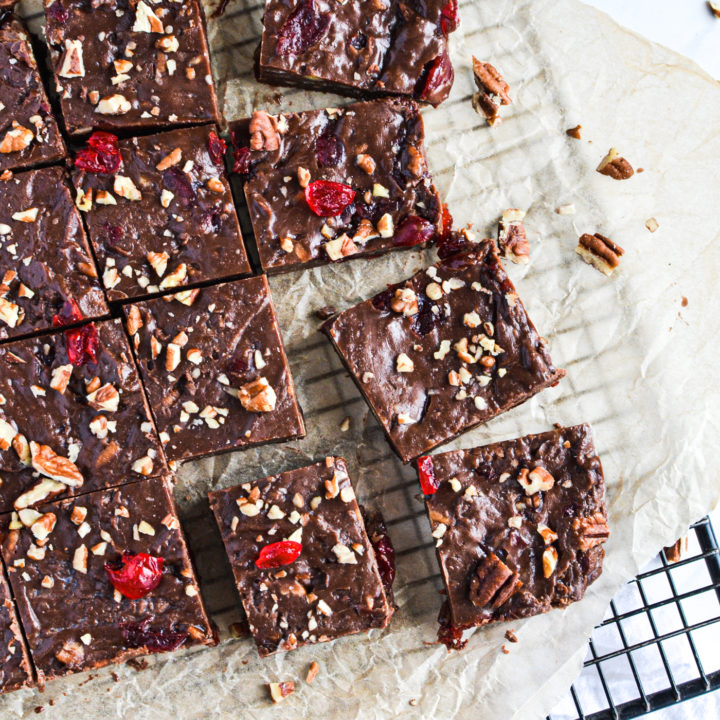 Chocolate Cherry Pecan Fudge Recipe Without Condensed Milk
Additional Time:
8 hours
1 second
Total Time:
8 hours
13 minutes
1 second
This yummy chocolate fudge recipe made without condensed milk takes just about 3 minutes in the microwave. It doesn't require any chocolate chips. It gets its rich chocolate flavour from cocoa powder. You can customize it with whatever mix-ins that you prefer!
Ingredients
4 cups confectioners sugar, sifted
1/2 cup good quality cocoa unsweetened cocoa powder
1/2 cup unsalted butter, cut into small cubes
1/4 cup evaporated milk
2 teaspoons pure vanilla extract
3/4 cup chopped pecans
3/4 cup chopped well drained maraschino cherries
Instructions
Prepare an 8 inch square baking pan with cooking spray and line with parchment paper to overhand the edges. Set aside
In a large casserole dish (that fits in your microwave) whisk together the confectioners sugar and cocoa powder
Dot with the cubed butter. Pour the evaporated milk over the mixture.
Microwave on high for 2 1/2 to 3 minutes, just until butter is completely melted.
Remove from microwave, add vanilla and stir until well incorporated. Add pecans and cherries and fold in just until combined.
Transfer fudge to the 8 by 8 baking pan and spread to fill the pan evenly.
Refrigerate until set.
Cut into small squares and dust with cocoa powder if desired.
Notes
Store your prepared fudge in and air tight contaner in the refrigerator for up to three weeks or wrap tightly and freeze for up to 4 months.
This fudge is very rich and a little bit goes a long way! Cutting into small squares will yeild about 40 servings.