Vegan Strawberry Shortcake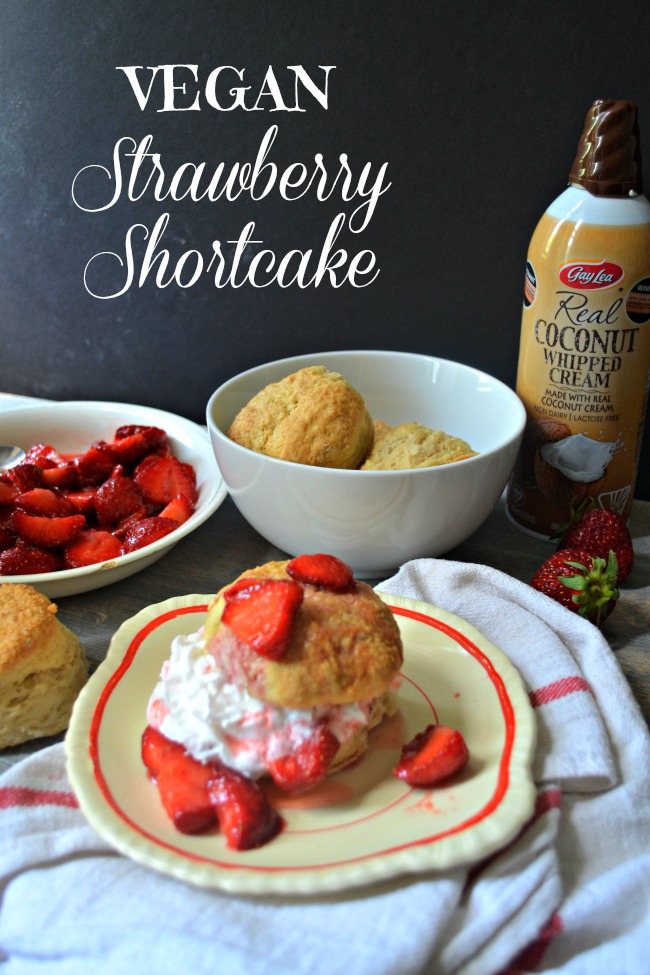 Two of my favourite things. The weekend and strawberry season! Here in Niagara strawberry season doesn't last long. A couple of weeks at best. I try to make as many strawberry desserts as I can while they are at their peak. This season I started with vegan strawberry shortcake.
Last weekend we celebrated Father's Day at my sisters house and I was in charge of dessert. She had a group of teachers visiting from Florida, which meant I was making dessert for about 20 people. No problem!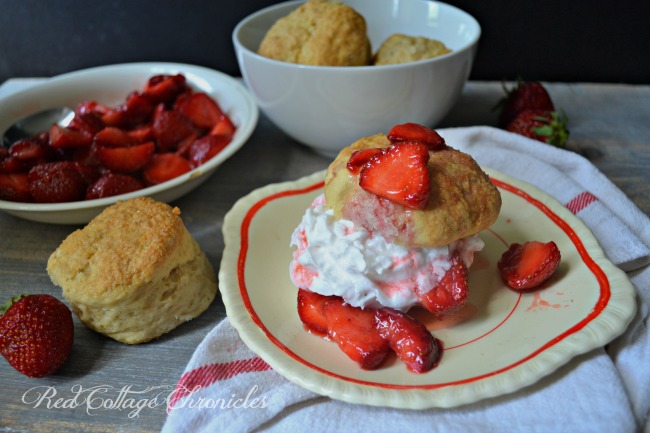 The ladies from Florida teach at the very first school my nephew taught at when he graduated from University. That school left a huge impression on him, and after meeting these teachers it is very clear he left a pretty good impression on them too! He has been back in Canada teaching for a couple of years now, and they had the chance to shadow him at his school before they went back home. They were singing his praises. But, we already know that he is an awesome teacher!
When I am putting together a dessert for such a crowd I want to make sure everyone gets a chance to enjoy it. I played it safe and made a vegan strawberry shortcake simply by using vegan "butter" and cashew milk in the biscuits and Gay Lea Coconut Whipped Cream for the topping.
Made with real coconut cream, gluten, lactose and dairy free I knew it would be a hit, and I would cover everybody's dietary preferences.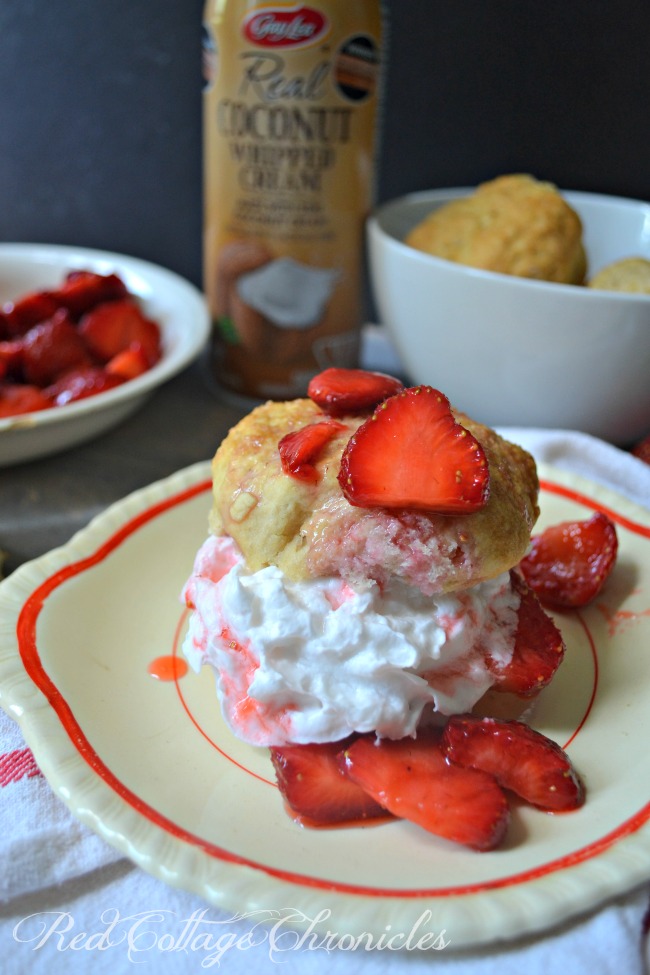 With so many people to feed, it was a self serve meal where everything was laid out and we all helped ourselves. We were spread out all over the house and yard! It was a pretty warm day, and I had to laugh that the ladies from Florida opted to stay inside because it was too hot!! Go figure!
When it came time for dessert I simply put out the biscuits, a huge bowl of prepared strawberries, and a couple of cans of Gay Lea Coconut Whipped Cream. Whether you go for a big dollop or a small one, it's convenient and easy to add as much as you like. It turns out coconut tastes pretty amazing with the fresh strawberries!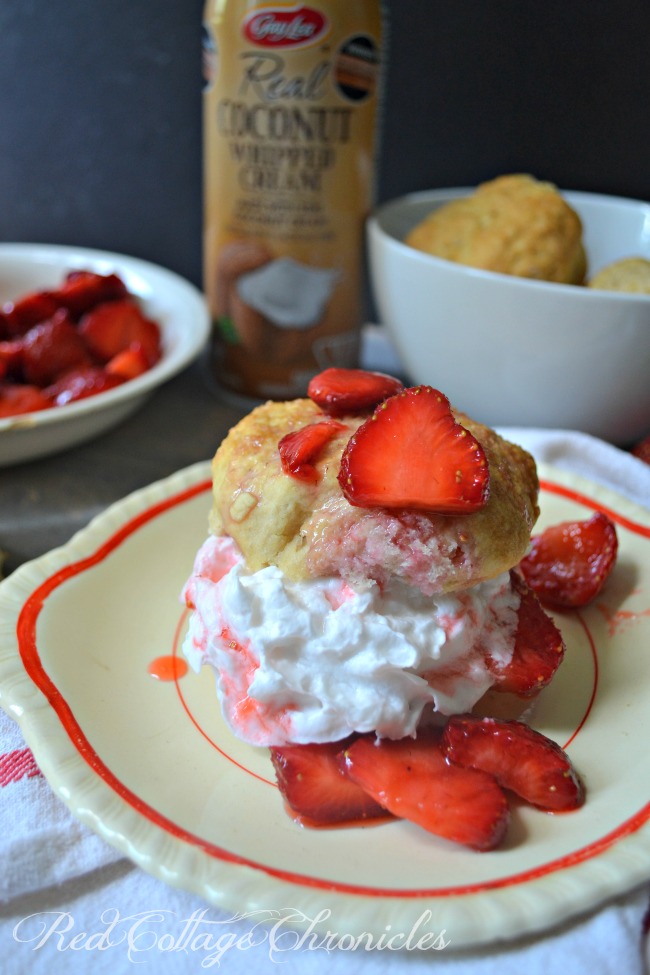 We had a wonderful visit with the guests from Florida and with the family of course. My nephew and is lovely girlfriend are off overseas for a four week tour of Europe (I believe!) as soon as the school year lets out here next week, so the summer will be half over before I get to see them again!
It was late in the evening when we headed for home with just a few biscuits leftover to bring with us, I think the vegan strawberry shortcake was a good choice. And now that I know how amazing strawberries and coconut go together I will be stocking up on the Coconut Whipped Cream and checking out Gay Lea on line and on Pinterest for some recipe ideas while the strawberries are still in season!
until next time…


"Disclosure: I am part of the Gay Lea Ambassador Campaign and I receive special perks as part of my affiliation with this group. The opinions on this blog are my own."
Vegan Strawberry Shortcake
2016-06-26 06:04:10
Serves 7
Ingredients
1 cup non-dairy milk (I use cashew milk)
1 tbsp vinegar
1 pint strawberries
1/3 cup sugar
2 cups all purpose flour
1 tablespoon baking powder
1/2 teaspoon baking soda
3/4 teaspoon salt
4 tablespoons vegetable shortening, chilled and cut into small pieces
Gay Lea Coconut Whipped Cream
Instructions
Preheat oven to 450 degrees.
Add vinegar to non-dairy milk and allow to sit for 10 minutes
Hull and slice strawberries and combine with the 1/3 cup sugar and set in the refridgerator.
In a large mixing bowl sift together flour, baking powder, baking soda and salt
Add cold shortening and using your fingers rub into the flour until shortening is well combined and mixture resembles course peas
Make a well in the flour mixture and pour milk/vinegar mixture into the middle, a little at a time and begin stirring with a wooden spoon until dough comes together. Dough will be sticky, you may not need all of the milk. DO NOT OVER MIX!
Turn dough onto a floured surface and gently kneed four or five times. (do not use too much pressure when kneeding) Again, do not over work the dough.
Pat the dough into a 1 inch thick rectangle. Using a biscuit cutter, cut into circles and place on parchment lined baking sheet so they are just touching each other. Gather dough scraps and again gently pat into a 1" rectangle and cut additional biscuits. You should get 7 or 8.
Brush tops with cashew (or other non-dairy) milk and poke a small indent into the top of each one.
Bake at 450 degrees for 12-15 minutes, just until lightly browned.
Remove from oven and serve warm old cold with a few spoonfuls of prepared strawberries and a generous spray of Gay Lea Coconut Whipped Cream
Red Cottage Chronicles https://www.redcottagechronicles.com/