These coconut lime bars are full of that yummy tropical flavour that welcome in spring with the promise of warmer, tropical weather to come!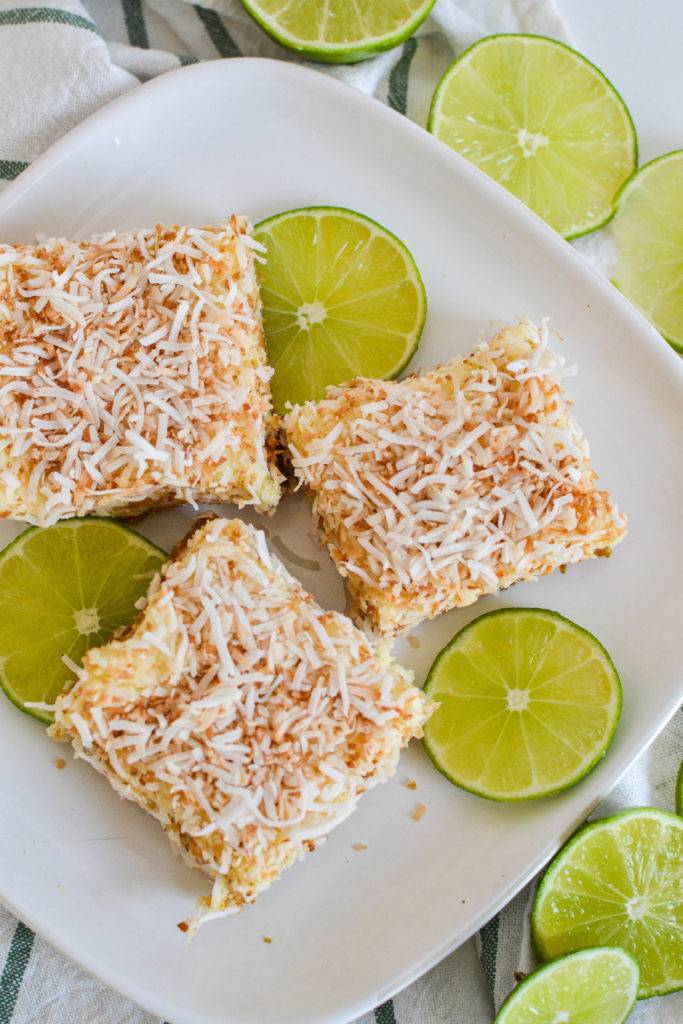 Do you find that as we emerge from the cold, dark winter, that you are craving light and bright flavours?
I definitely am! When the weather starts to warm up and the sun is shining bright I always gravitate to flavours like lemon and lime. This triple lemon cake is one of my favourite spring time recipes! It is perfect for Mother's Day Brunch.
Local fruit won't be ready for a couple of months when the first crops of strawberries are upon us, but I just can't wait that long to start baking with fresh fruit!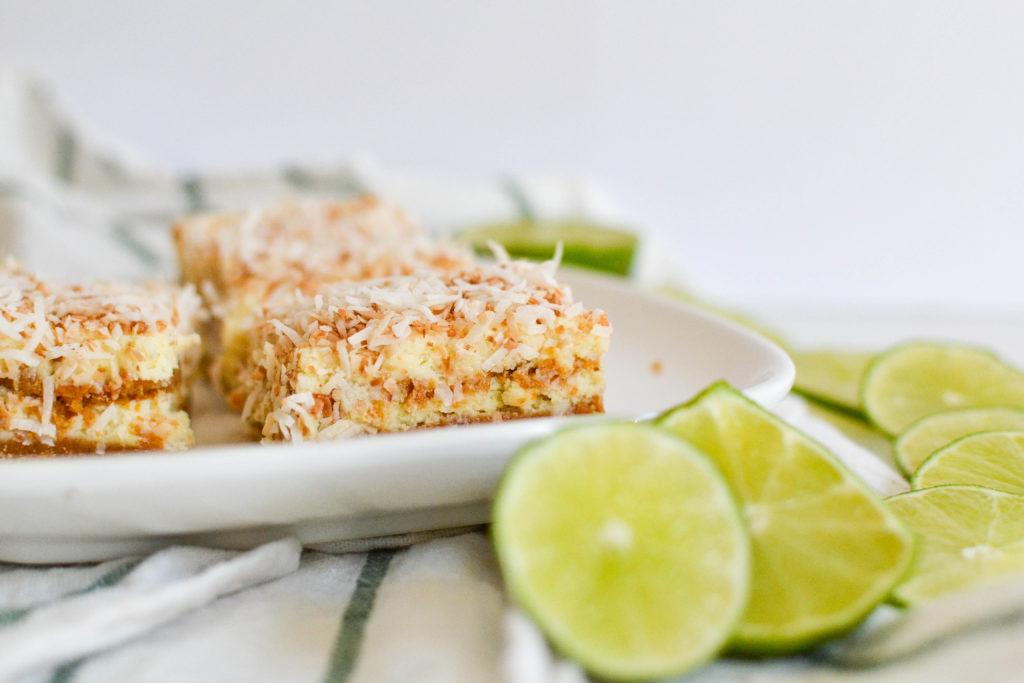 These double layer coconut lime bars are bursting with fresh lime flavour. With not one, but two layers of the creamy lime filling, buttery graham crackers and toasted coconut!
This post may contain affiliate links that make it easy to find the products I use and recommend. I may receive a small commission with no increase in the cost for you!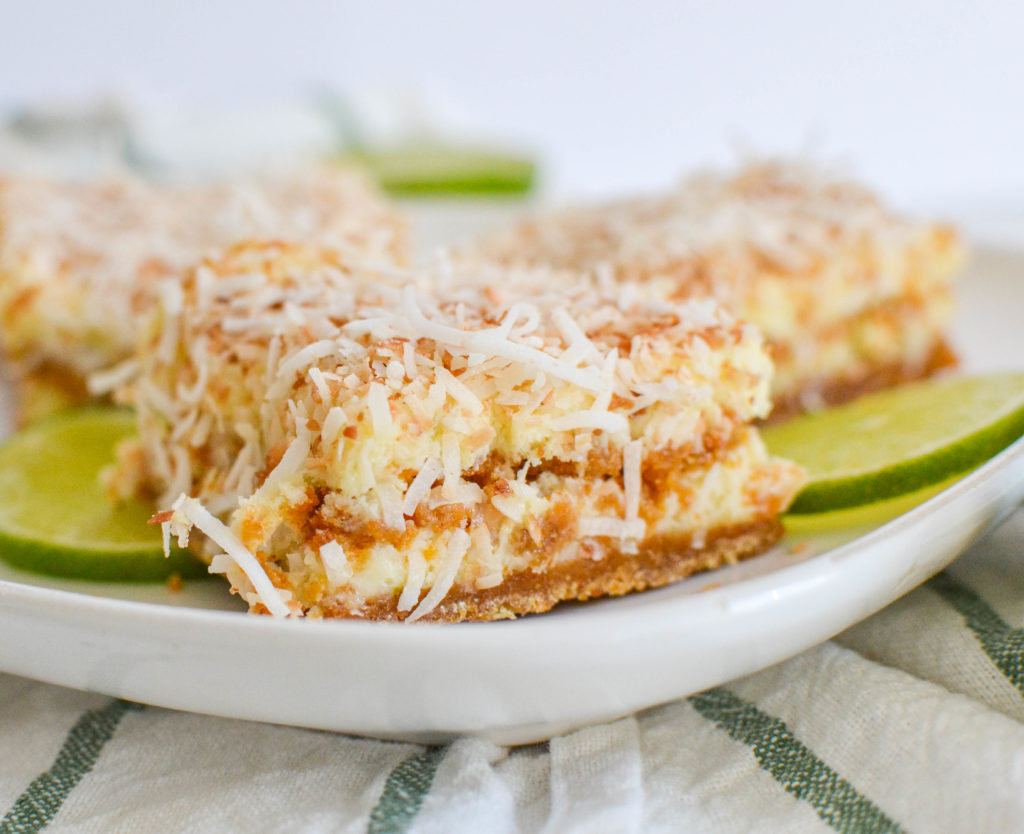 Serve these coconut lime bars cut small for a treat or large for a decadent dessert
Tips for the perfect bar:
lining your baking pan with parchment paper makes it easy to lift them out for easy cutting
run a sharp knife under hot water before each cut will give you nice, cleanly cut edges
the coconut can be toasted in the oven or in a frying pan up to 3 days before and stored in an airtight container
feel free to substitute regular limes if you can't find key limes, the flavour is just as yummy
cut small for a snack or cut into larger squares and serve with whipped topping and garnish with fresh limes for a delicious dessert
I always use parchment paper when baking bar or squares. When it is time to cut the squares simply lift them out of the pan by gripping the parchment paper and lifting out.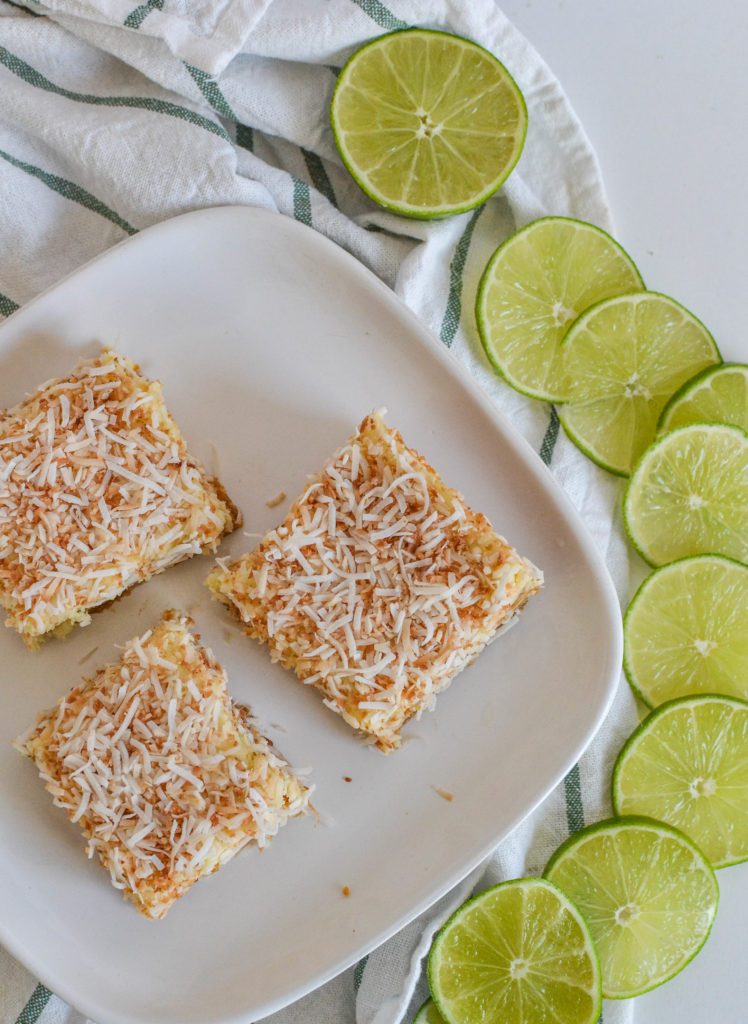 If I am serving these as a dessert, I will make a thin cut all the way around the edges before cutting into large bars. Trust me, those edges won't go to waste!!
These coconut lime bars are exactly the flavours I look forward to each spring while waiting for fresh local fruit to hit the market!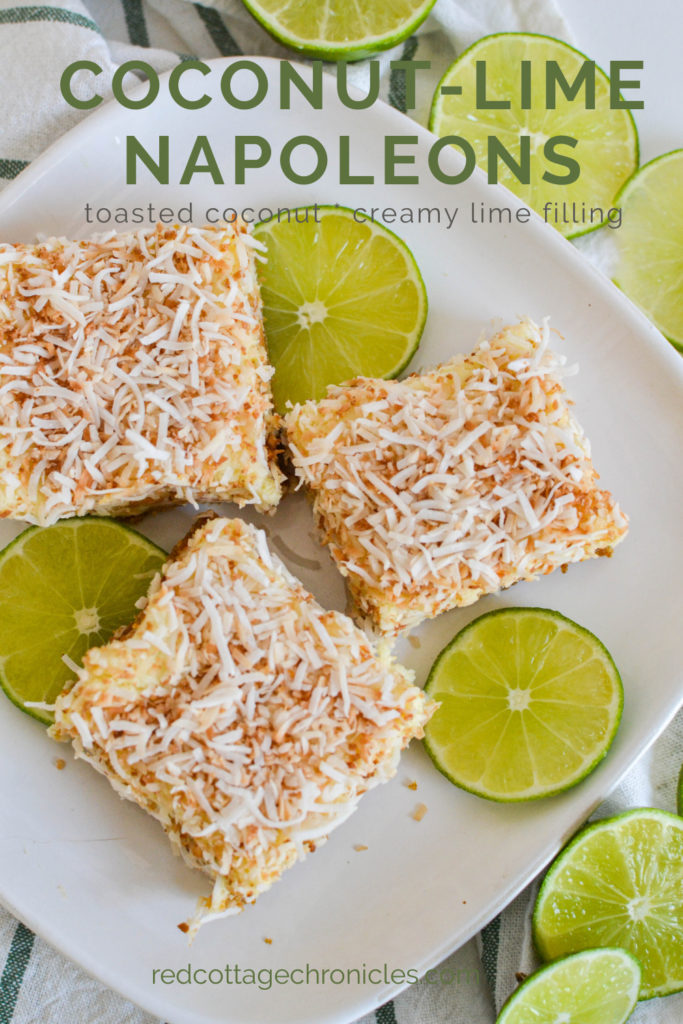 But, they often make an appearance throughout the summer too! Pair them with this Lime and Melon Sangria and you have a winning combination on a hot summer evening!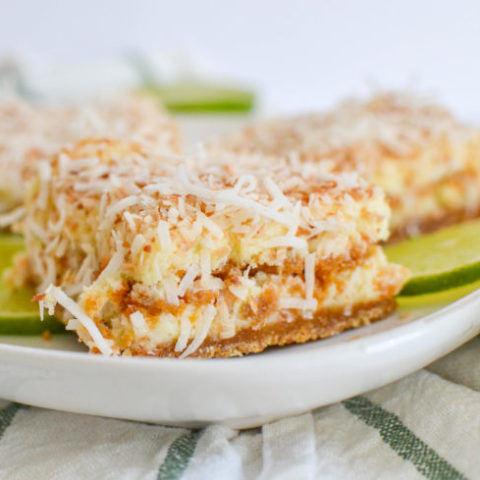 Coconut Crusted Keylime Napoleons
Total Time:
5 hours
50 minutes
These luscious coconut lime bars are bursting with tropical flavour. Cut them small for treat size, or large for a decadent dessert!
Ingredients
6 tbsp butter, melted
1 1/2 cups graham cracker crumbs
2 1/2 tbsp sugar
3 egg yolks, large
1 14 ounce can sweetened condensed milk
1/2 cup Key lime or lime juice
2 tsp freshly grated lime zest
3/4 cup sweetened coconut, toasted
Instructions
Preheat oven to 350 degrees. Prepare 8 inch cake pan by lining with parchment paper, allowing it to fold over edges of pan.

1. Add graham cracker crumbs and sugar to melted butter and stir to combine
Press 1 cup of the crumb mixture into the prepared pan, pressing firmly into pan
Bake at 350 degrees for 8 minutes.

2. Prepare filling
In the bowl of electric mixer, using whisk attachment, beat egg yolks until lightened in color, approximately 4 minutes
Add sweetened condensed milk and continue beating with whisk attachment for 5 minutes.
Reduce speed to medium low and add lime juice and rind. Mix thoroughly to combine.

3. Remove crust from oven and allow to rest for a few mintues.

4. Spread 1 cup filling over top of baked crust and spread with off set spatula.
Return pan to oven and bake for 10 minutes.

5. Spread remaining crumbs over top of baked filling and gently tamp down.
Return to oven for 8 minutes. Remove from oven and allow crust to rest for 2 to 3 mintues.

6. Pour remaining filling over second crust layer and return to oven for 10 minutes.

7. Finally, remove from oven and allow to rest for 2 or 3 minutes.
Sprinkle half of the toasted coconut over filling and press in gently.
Sprinkle remaining toasted coconut over top and refrigerate for 4 to 5 hours
Remove from pan and cut into 20 small squares or 9 large dessert size squares.