Looking for gluten free pumpkin recipes for the holidays? Look no further than this easy pumpkin cream pavlova!
We all know that pumpkin desserts are synonymous with Thanksgiving and Christmas! I do love pumpkin pie, but I am always trying to create something a little different while still keeping that pumpkin spice flavour I so enjoy. This marshmallow pumpkin cheesecake is a favourite, but this year I wanted to make a dessert that would please those in the family who cannot eat gluten.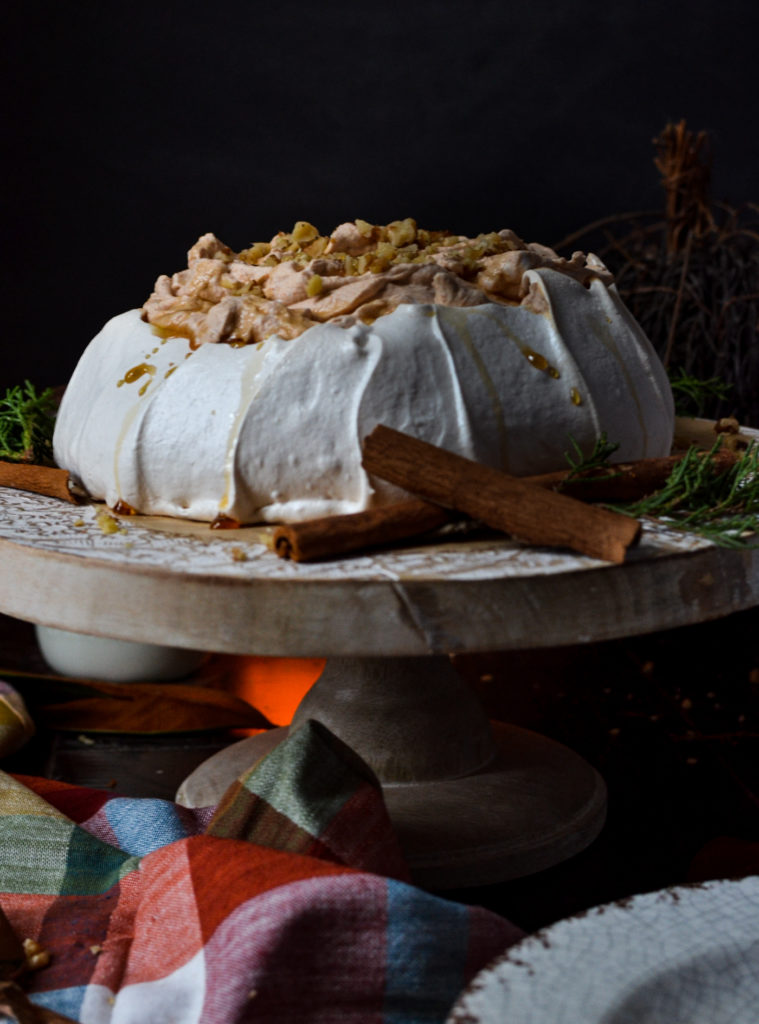 When I was searching for gluten free pumpkin recipes, lots of pie and bread recipes came up, but I wanted something a little different. Also I wanted a recipe that didn't require flour since I don't often have gluten free flour in my pantry.
I always think of the fall and winter holidays as cozy holidays! I love the warmth of the autumn colours that come with Thanksgiving. Same goes for Christmas. The deep reds, greens and all the coziness of winter fires and hot chocolate!
All these things came to mind when I set out to make the filling for this pavlova. Fluffy fresh whipped cream is combined with pure pumpkin puree that is seasoned with a bit of sugar and pumpkin pie spice. So simple, but so, so good! And, so cozy too!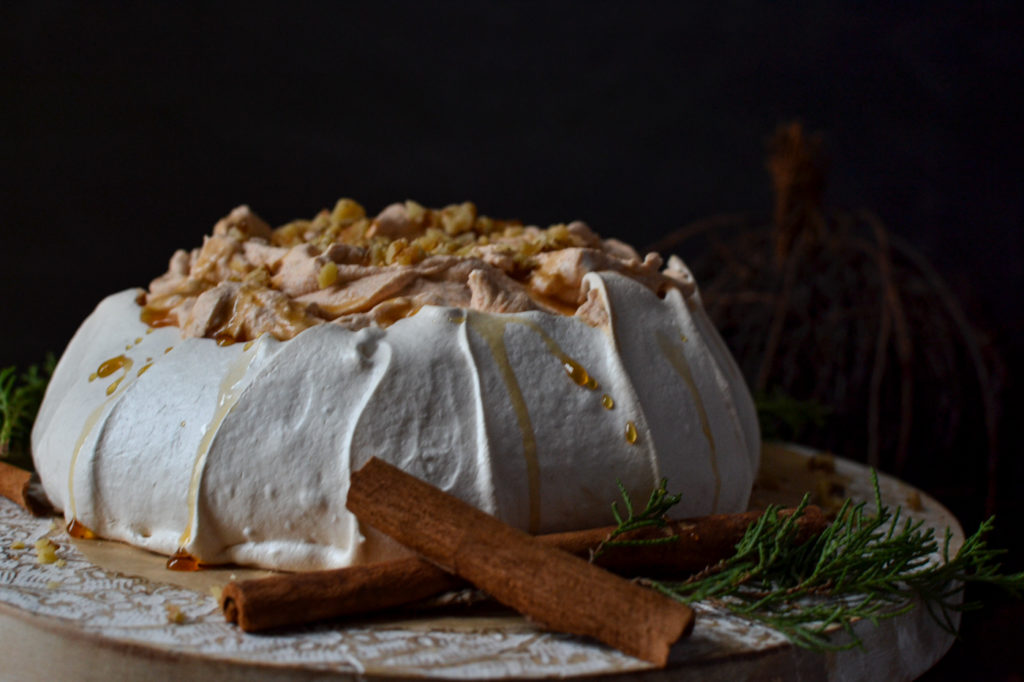 What you will love About this Recipe
Gluten Free – This is the perfect holiday dessert recipe. Whether you're looking for gluten free Thanksgiving desserts or gluten free Christmas desserts, pumpkin is always a go-to holiday flavour and this is sure to please all your family and friends!
No flour required – many gluten free pumpkin recipes require special gluten free flours. This pavlova is made without the need for flour, and is made with ingredients you likely already have on hand.
Can be made ahead – You can prepare the meringue shell 2-3 days ahead of time and store in an airtight container at room temperature. When you are ready to serve simply whip up the pumpkin cream filling and assemble the pavlova.
What is a Pavlova?
Despite the fancy name (named after a Russian Ballerina Anna Pavlova) a pavlova is simply egg whites beaten til stiff and glossy, otherwise known as meringue. But, the magic happens when it is baked.
The result is a perfectly crunchy shell with a centre that is soft and chewy. Like a biting into a tender marshmallow. Traditionally it is topped with fresh whipped cream and fresh fruit.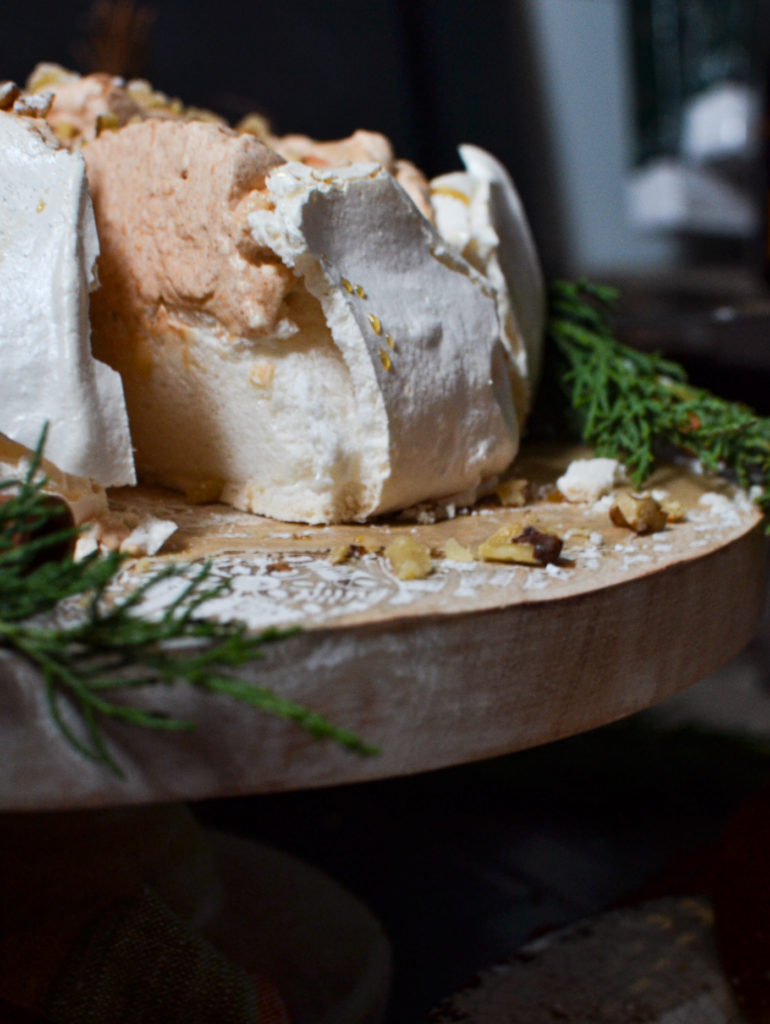 Other Topping Ideas
Ingredients you will need to make this pavlova
4 egg whites
1 cup granulated sugar
1 teaspoon cornstarch
1/2 teaspoon cream of tarter
1 teaspoon vanilla
for the filling you will need 1/2 cup pumpkin puree, 1 tsp pumpkin pie spice, 1 tablespoon sugar and 1 cup whipping cream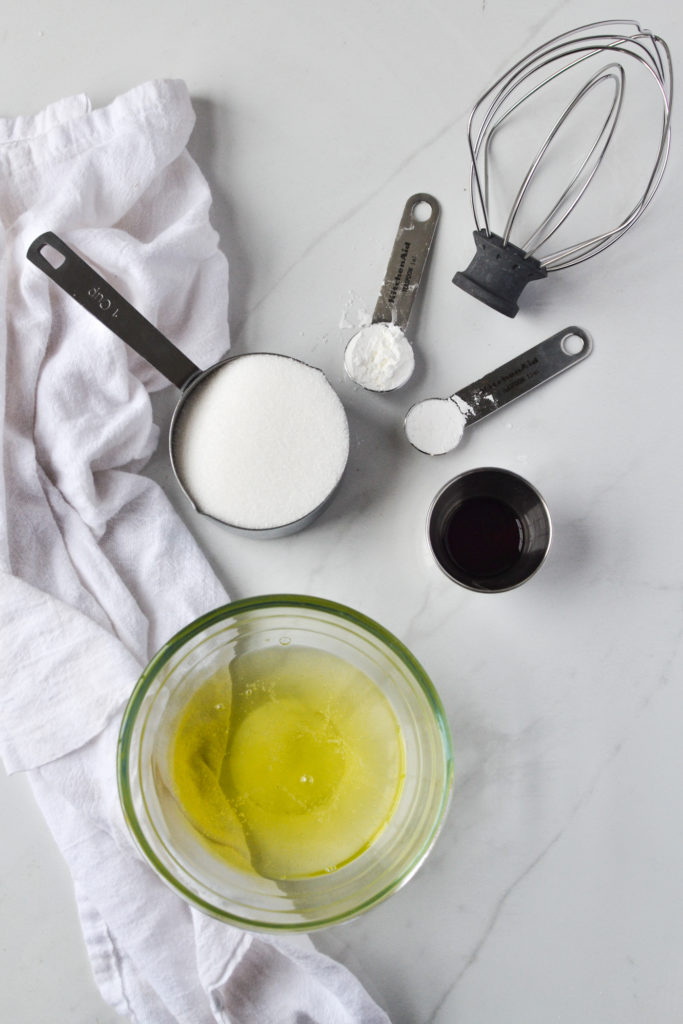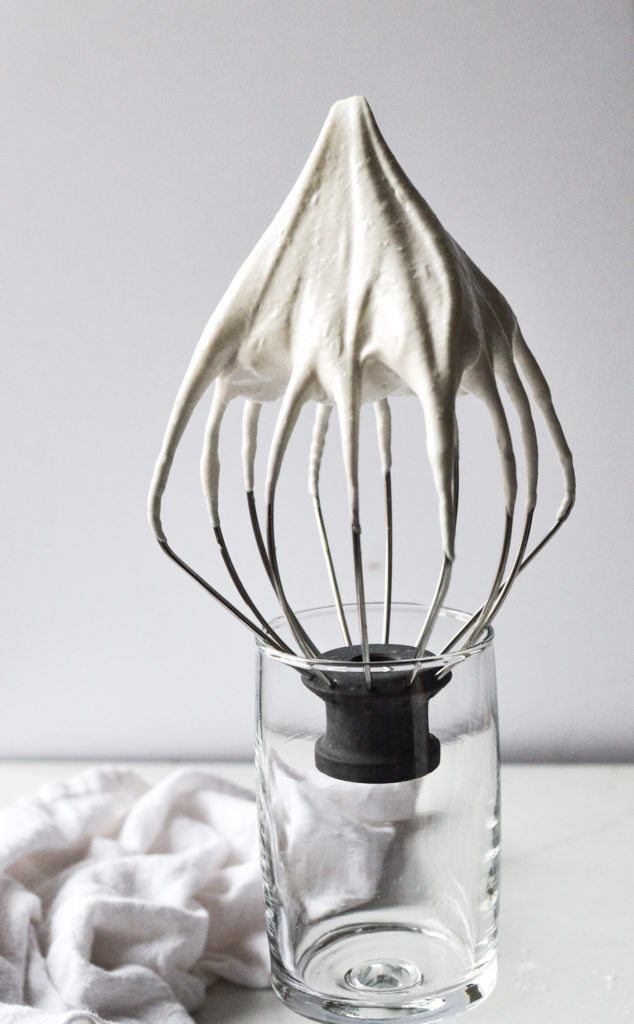 How to shape a pavlova
Using an 8 or 9 inch round cake pan as a guide, trace the perimeter onto a sheet of parchment paper. Turn the parchment over and spoon the meringue into the centre of the circle. Spread it out to the edges using a spatula, into a large round mound. Use a spoon to create a indent into the centre of the meringue to hold the toppings you will be adding after it is baked.
You really only have to swirl the meringue into a circle, but I use an off-set spatula and sweep up all around the perimeter to create a bit of a pattern around the outside.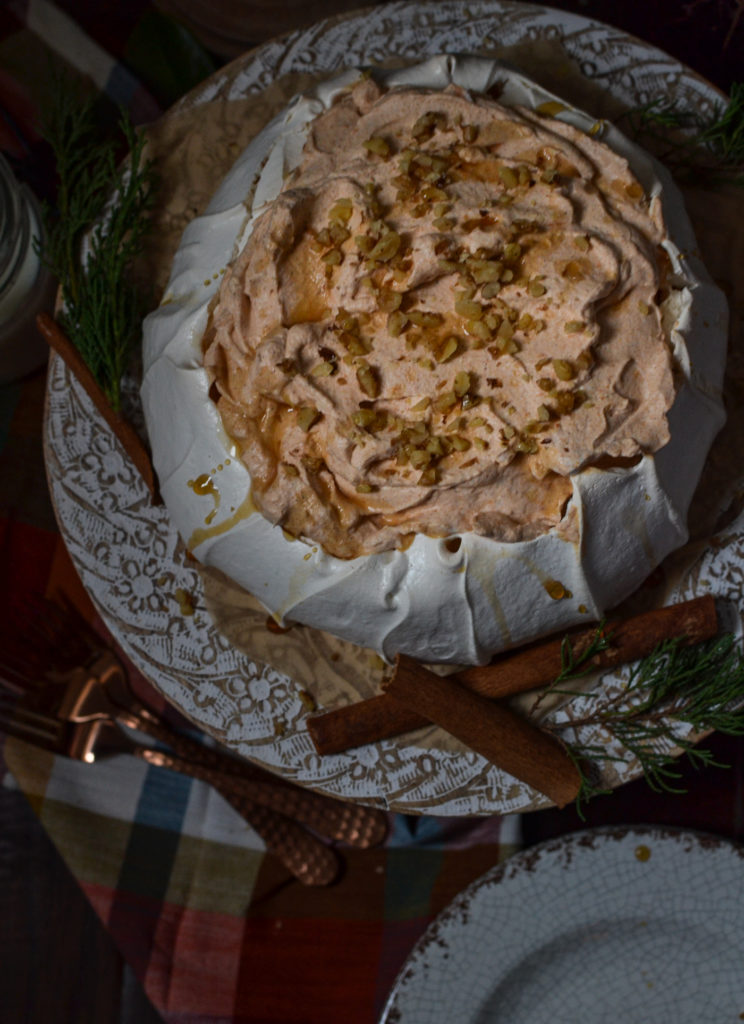 Tips for making the perfect pavlova
Use room temperature egg whites
Make sure the bowl you will be using to whip your egg whites is free of any greasy residue
If you don't have cream of tarter, use 1 teaspoon of lemon juice in its' place.
Once your pavlova is in the oven, resist the temptation to open the door. A slow steady, even bake is best to ensure that crispy outer shell.
You know it is done when it is perfectly dry. I find 90 minutes to be the perfect amount of time in my oven.
With the pavlova still in the oven, crack the oven door open with the handle of wooden spoon and leave to cool for at least 3 to 4 hours or overnight of you prepare it in the evening.
Wait until the pavlova is completely cool before adding any topping. And, don't add the topping until almost ready to serve.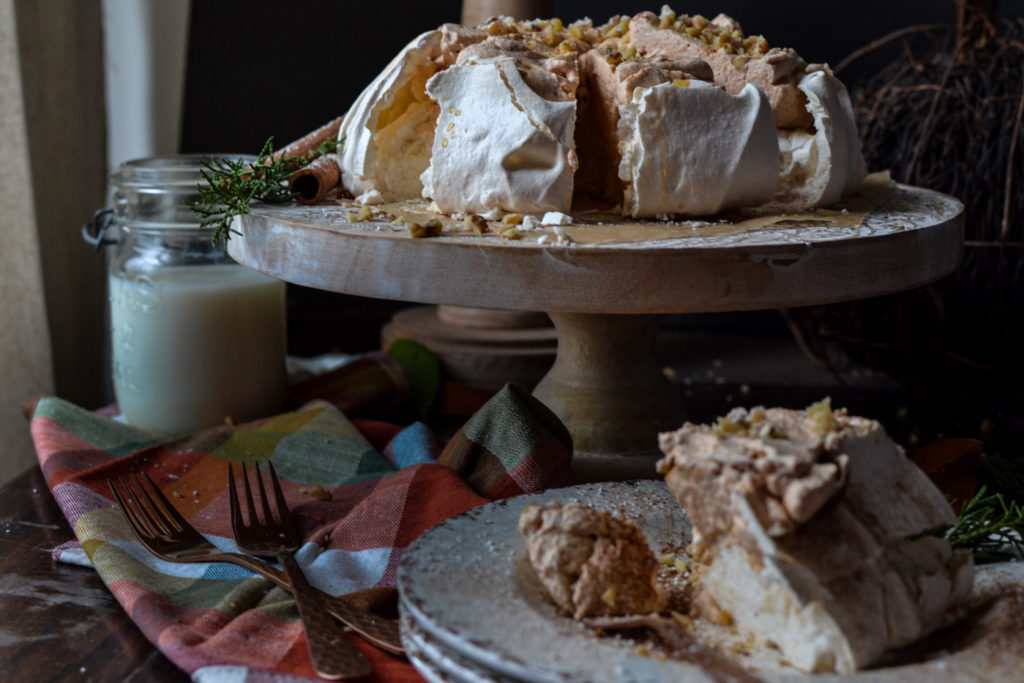 When it comes to gluten free recipes for the Thanksgiving and Christmas, I knew that choosing a pavlova was the perfect option. Filling it with the pumpkin cream makes it the perfect holiday dessert.
Other Gluten Free Holiday Recipes You Will Want to Try
White Chocolate Pistachio Pavlova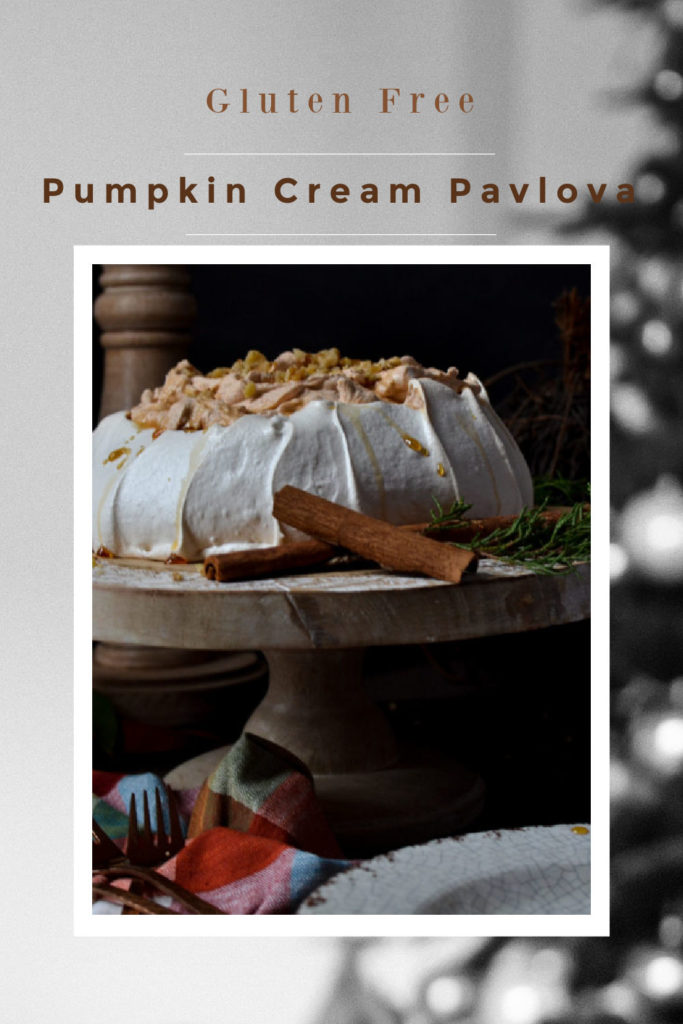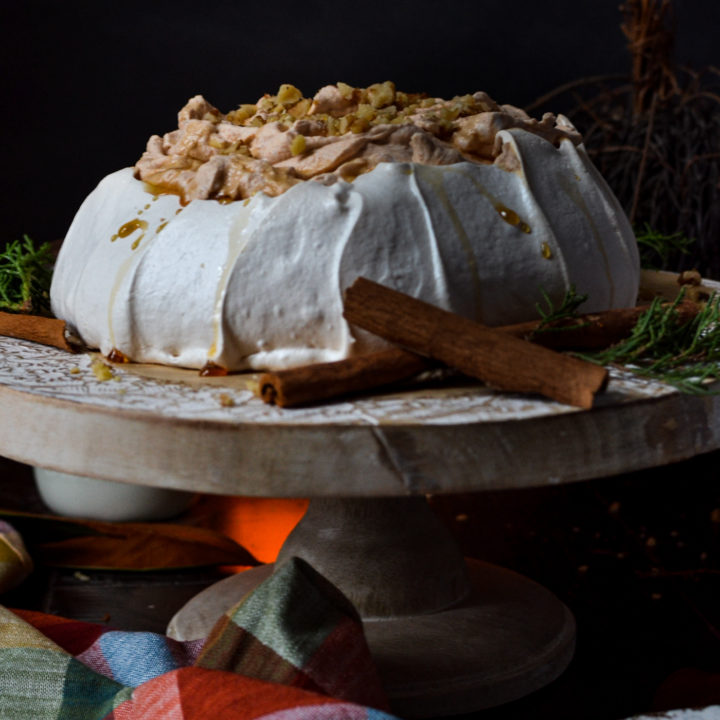 Easy Gluten Free Pumpkin Cream Pavlova
Cook Time:
1 hour
30 minutes
Additional Time:
4 hours
3 seconds
Total Time:
5 hours
45 minutes
3 seconds
This gluten free pumpkin dessert recipe is perfect for Thanksgiving or Christmas. It's crispy shell and marshmellowy inside is the delicious base for the lightly spiced pumpkin cream topping.
Ingredients
4 egg whites at room temperature
1 cup granulated or superfine sugar
1 teaspoon vanilla extract
1/2 teaspoon cream of tarter
1 teaspoon cornstarch
1/2 cup pure pumpkin puree
1 teaspoon pumpkin pie spice
1 tablespoon sugar
1 cup whipping cream
chopped walnuts (optional)
Instructions
Preheat oven to 340 degrees. Line a baking sheet with parchment and draw an 8 or 9 inch circle, and turn parchment over. Set aside.
In the bowl of an electric mixer (or using a hand mixer) beat egg whites to soft peak, about 2 minutes. While the mixer is still running slowly add sugar. Continue to whip for an additional 5 minutes, until glossy and stiff peaks form.
Transfer the meringue to your prepared parchment paper, spreading to fill the circle. With the back of a large spoon create a bit of an indent in the top. It doesn't have to be very deep. This will hold your topping after it is baked.
Place in the oven and immediately reduce heat to 220 degrees. Bake for 90 minutes undisturbed.
At the end of the baking time, open the oven door and check for doneness. Do not poke or insert a knife into the pavlova. It should be dry to the touch.
Turn off oven but do not remove the pavlova. Crack the oven door open with the handle of a wooden spoon and leave the pavlova to dry until completely cool, 3 to 4 hours.
Just before serving prepare your pumpkin cream filling by combining pumpkin puree with sugar and spices. Whip the fresh cream until thickened and nice peaks form. Gently fold the pumpkin mixture into the whipped cream. Spread over the top of the cooled Pavlova. Top with chopped nuts and a drizzle of caramel or maple syrup if you like.
Notes
A good idea is to make your pavlova shell in the evening and leave to cool in the oven overnight.
If you don't have cream of tarter, use 1 teaspoon of lemon juice in its' place.
The shell can be made 2 -3 days ahead and stored in an airtight container at room temperature.
Filling can be made 1 to 2 hours ahead and stored in the refrigerator
Do not add topping until just before serving.