Who doesn't love a frozen treat in the summertime. One of my childhood favorites is the orange creamsicle. So, when Valentina of The Baking Fairy put a call out to bloggers to celebrate Cupcakes for Cupcake Lover's Day I decided to create an orange creamsicle cupcake!
A close second choice, especially this time of year, are these Fresh Strawberry Cupcakes, since strawberry season is here!
Below you will find my orange creamsicle cupcake recipe plus 38 other yummy cupcake recipes!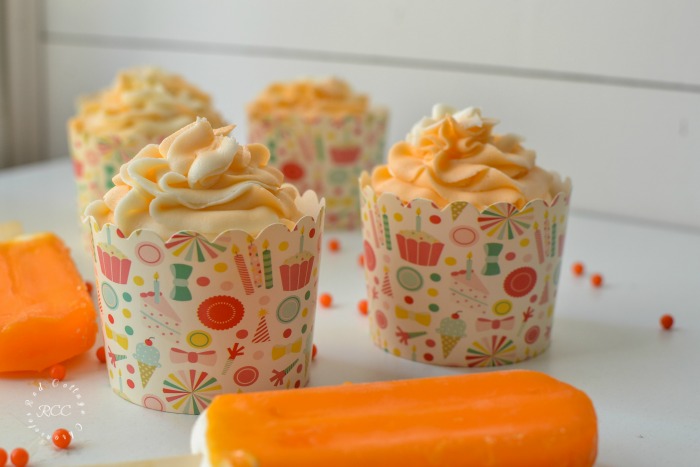 Since my youngest daughter bought her own little home in a nearby community, she was excited to tell me they have an old fashioned ice cream truck come through her neighborhood on the weekends! I was immediately brought back to my youth when all the kids would run home to grab some change when we heard the first ding ding of the ice cream truck bells!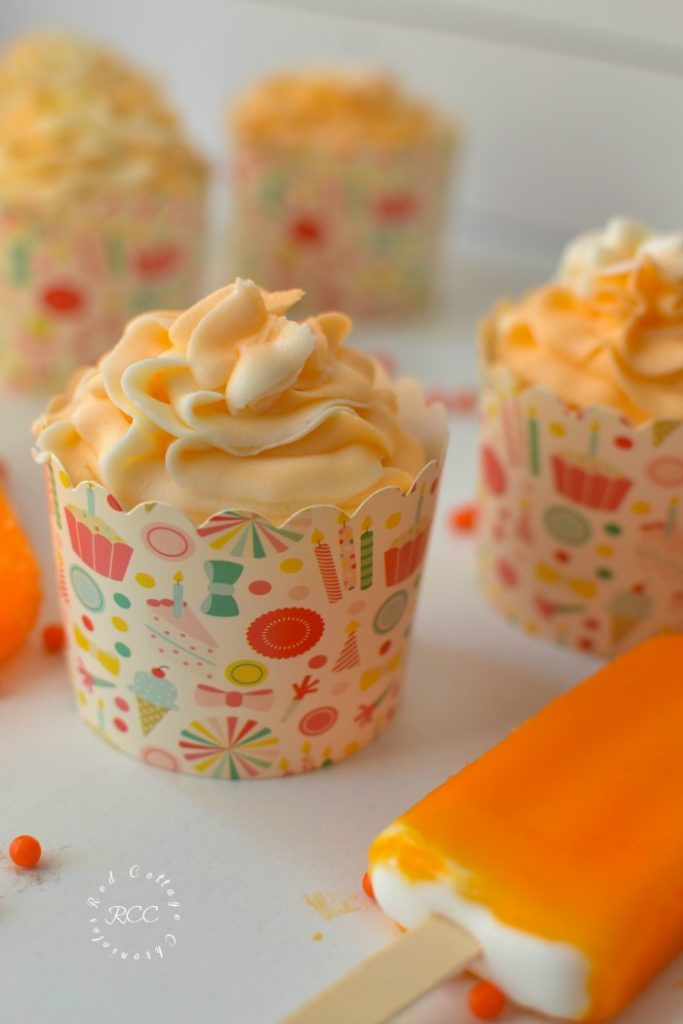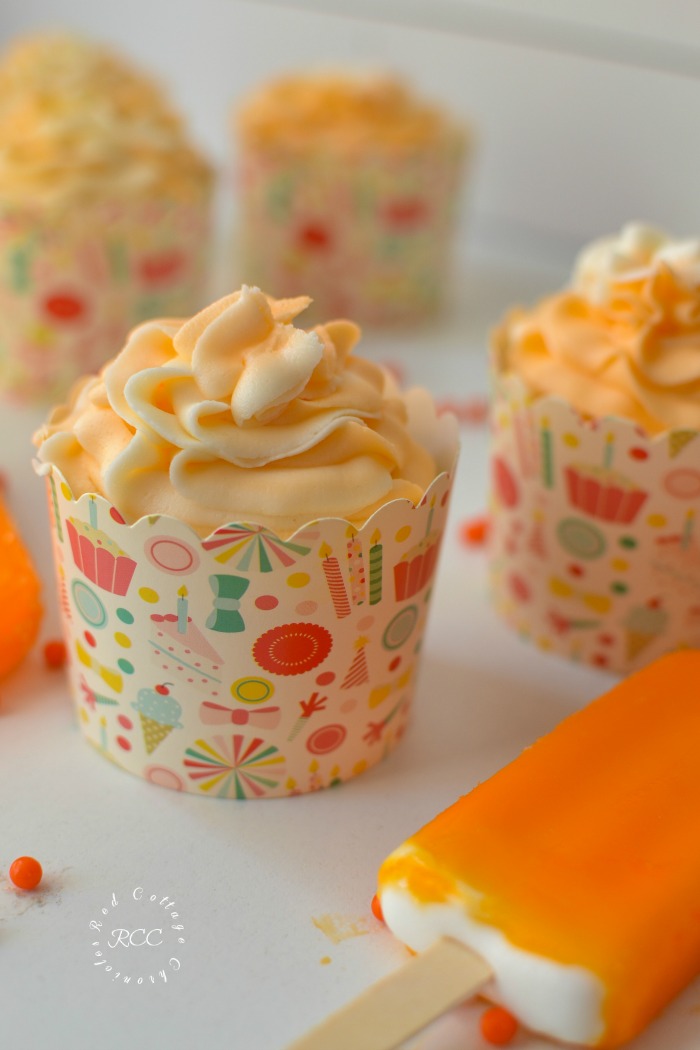 Nothing was better in the summertime then the frozen orange juicy coating combined with the creamy vanilla ice cream. Those were the days. I am aging myself, but if I recall correctly they only cost about 25 cents back then!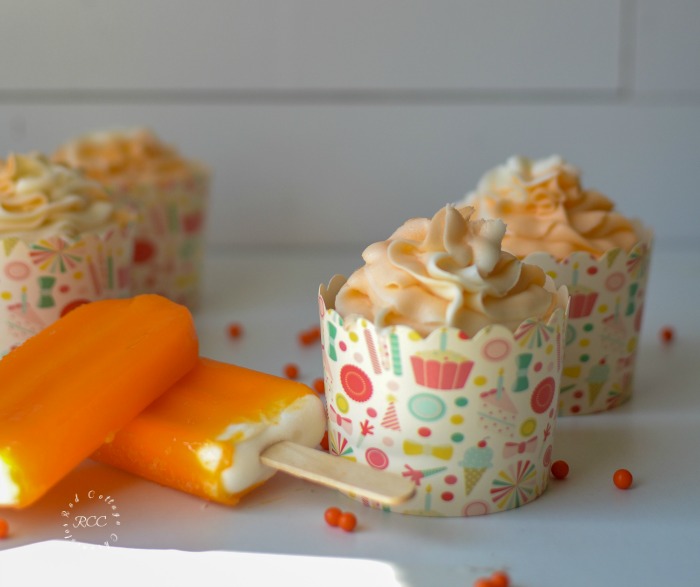 These cupcakes were so easy to make. While I love to bake from scratch, I also like to use a simple boxed cake mix and fancy it up to my liking. That is exactly what I did with these orange creamsicle cupcakes. And, no-one was the wiser!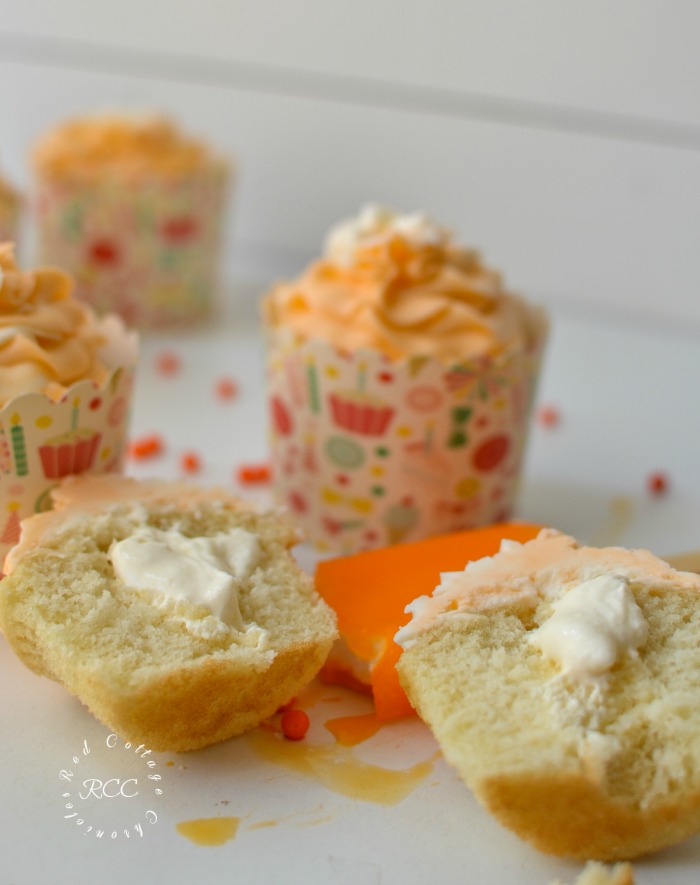 I stuffed the cupcakes with an orange mascarpone cream filling that, combined with the french vanilla cake mix gives these that delicious creamsicle flavor that I remember from summers gone by.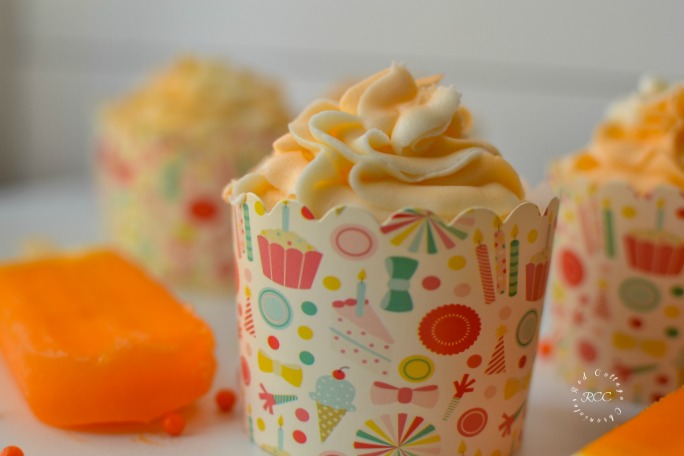 A swirl of orange and vanilla buttercream frosting is the perfect compliment to the cupcake itself! Swirling two colors of frosting is so easy. Simply fill a large frosting bag with vanilla frosting on one side and orange on the other!
To make these Orange Creamsicle Cupcakes you will need:
white paper cupcake liners
Wilton 230 tip for filling cupcakes
Wilton 1M to swirl icing (this set is a great starter set of tips)
Piping bags
Decorative cupcake cups (optional)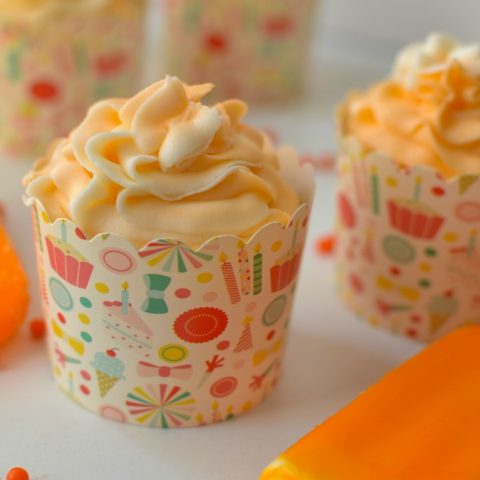 Orange Creamsicle Cupcakes
Additional Time:
15 minutes
A vanilla cupcake filled with orange mascarpone cream and topped with a swirl of orange and vanilla frosting! The perfect summer time treat!
Ingredients
1 French Vanilla Cake Mix (plus ingredients to prepare)
For the filling:
1/2 pound mascarpone
1/2 cup granulated sugar
1/2 cup orange juice
1 tablespoon pure orange extract
1 cup whipping cream
For the frosting:
7-8 cups confectioners sugar
1 cup butter, softened
1/2 cup milk
1 teaspoon vanilla extract
1 teaspoon pure orange extract
Instructions
Prepare cake mix as per directions and divide among 18 cupcake tins lined with white paper cupcake liners. Bake for 15-17 mintues. Remove from oven and allow to cool.
To prepare filling, combine mascarpone, confectioners sugar, orange juice, and orange extract. Whip heavy cream until stiff peaks form and gently fold into the mascarpone mixture.
To prepare frosting, in the bowl of electric mixer combine butter, 4 cups confectioners sugar, milk and vanilla extract. Whip for 3 to 5 minutes, until light and fluffy. Continue adding confectioners sugar one cup at a time, mixing 2 minutes between additions, until it has reached desired consistency. Remove half the frosting and set aside. To remaining frosting add 1 teaspoon orange extract and enough orange paste food coloring to create a soft orange color.
To assemble, use a Wilton # 230 filling tip fitted in a piping bag, fill bag with mascarpone filling and fill each cupcake. Using a second large piping bag fitted with an 1M Wilton tip, carefully fill one half with vanilla frosting and the other half with orange frosting. Swirl frosting on each cupcake.
P I N I T !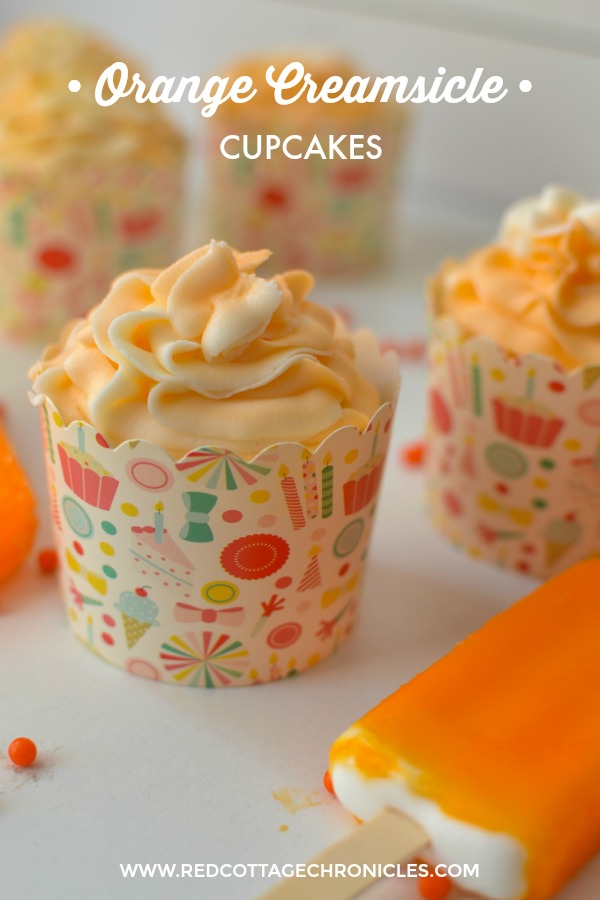 Cupcakes for Cupcake Lovers Day!
Vegan Birthday Cake Oreo Cupcakes by The Baking Fairy
Avocado Cupcakes with Lime Frosting by A Day in the Life on the Farm
Brown Cow Cupcakes by Palatable Pastime
Brown Sugar Cinnamon Cupcakes by Hezzi-D's Books and Cooks
Busy Bee Honey Vanilla Cupcakes by For The Love of Food
Butter Pecan Cupcakes with Cream Cheese Frosting by A Little Fish in the Kitchen
Cheesecake Cupcakes by Walking on Sunshine Recipes
Cherry Limeade Cupcakes by That Recipe
Cherry Vanilla Cupcakes by The Freshman Cook
Chocolate Cupcakes with Dulce de Leche Frosting by Cooking for my Soul
Chocolate Irish Cream Cupcakes with Irish Cream Frosting by Daily Dish Recipes
Cookies & Cream Cupcakes by Karen's Kitchen Stories
Creamsicle Cupcakes by Red Cottage Chronicles
Dark Chocolate Cupcakes with Fluffernutter Frosting by A Kitchen Hoor's Adventures
Gluten Free Rocky Road Cupcakes by Frugal & Fit
Honey Lemon Bee Cupcakes by Simply Inspired Meals
Lemon Cupcakes with Coconut Frosting by The Olive Blogger
Lemon Lavender Blackberry Cupcakes by Culinary Adventures with Camilla
Lost Princess Cupcakes by Seduction in the Kitchen
Orange You Glad Cupcakes by Cindy's Recipes and Writings
Peanut Butter & Jelly Cupcakes by The Beard and The Baker
Pineapple Coconut Cupcakes by Crumb Top Baking
Pink Lemonade Cupcakes by Bowl Me Over
Pudding Pop Cupcakes by Nik Snacks
Small Batch Birthday Cake Cupcakes by Cheese Curd in Paradise
Small Batch Chocolate Cupcakes with Cookie Dough Frosting by Join Us, Pull Up a Chair
Strawberry Basil Cupcakes with Chocolate Balsamic Frosting by The Spiffy Cookie
Strawberry Cupcakes by Confessions of a Baking Queen
Strawberry Jello Cupcakes by Kelly Lynn's Sweets and Treats
Sweet Summertime Cupcakes by Cooking with Carlee
Tres Leches Cupcakes by Cookaholic Wife
Vanilla Bourbon Bacon Cupcakes by Our Good Life
Vegan Red Velvet Cupcakes by Simple Family Crazy Life
Watermelon Themed Cake & Cupcakes by The Mandatory Mooch
White Chocolate Truffle Cupcakes by Triple Chocolate Kitchen