Looking for the ultimate appetizer for autumn? Look no further than this ooey, gooey good apple brie puff pastry!
Loaded with tender of apples that have been caramelized in brown sugar and butter, with a hint of cinnamon.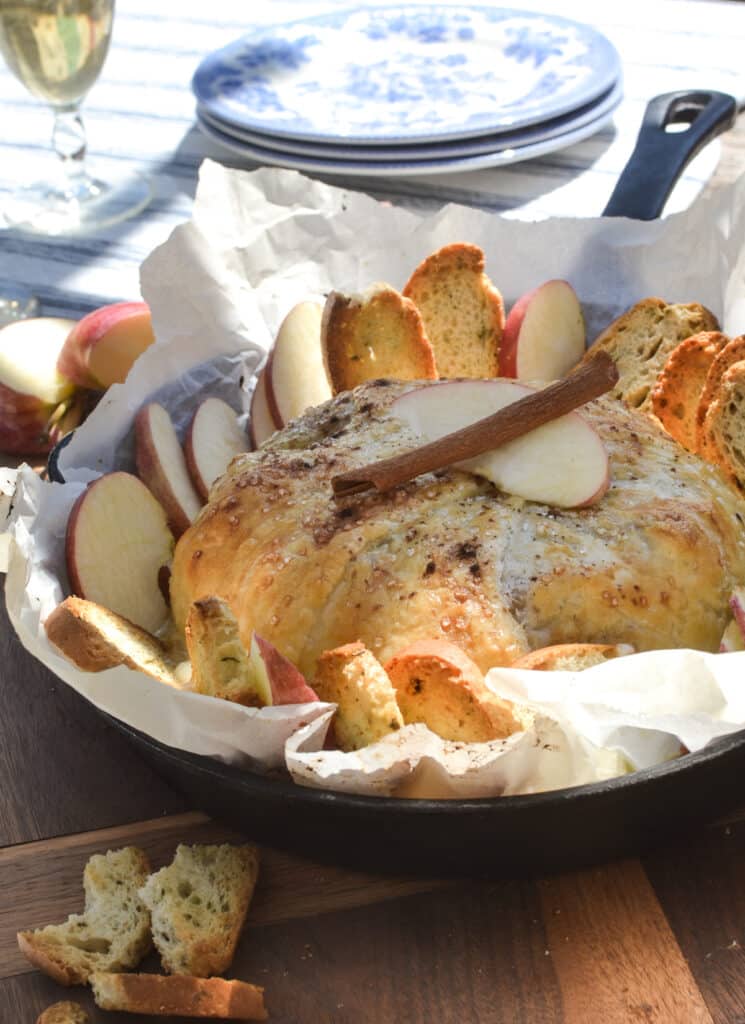 In our family apples and cheese have always been enjoyed together. It all started with my Nana's apple pie paired with slices of old cheddar cheese!
This is so easy to make, I have already made it twice in the last two weeks! I made it for our for an early autumn brunch, and again for a family bbq ushering out the unofficial end of summer.
Why you will love this apple baked brie in puff pastry
it is a show stopper, but so easy to make
the brie melts perfectly, blending so well the apple brown sugar
the filling an be customized to your liking
serve it with crackers or apple slices, or slices of baguette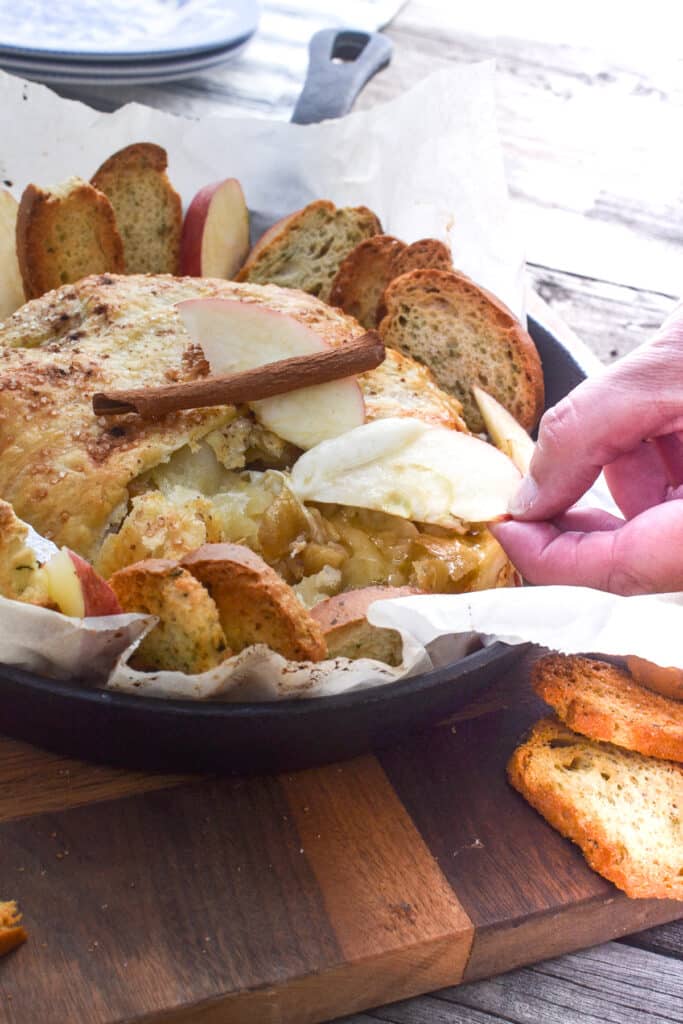 What kind of brie is best?
Double cream brie is the most commonly used. It is a soft cheese made from cows milk, however there are varieties that are made from goats milk as well. Its' soft creamy texture and high fat content results in a perfectly creamy, gooey melt when baked. You will want to choose a wheel of brie in a 10 to 16 ounce size for this recipe.
Camembert may be substituted, however brie has a milder, buttery flavour. Camembert has a stronger, more earthy flavour and a rather strong (not necessarily pleasing) aroma.
Do I have to remove the rind before baking brie?
The white soft rind that surrounds the wheel of brie is completely edible. There is no need to remove it before wrapping in the pastry and baking. In my experience, the rind helps the brie to keep its shape and prevents it from oozing out of the pastry as it bakes, while allowing the creamy cheese to melt perfectly.
Can you prepare the apple brie puff pastry ahead of time
Yes, you can make and assemble this ahead of time. Get it all ready in the morning, wrap it snuggly in aluminium foil that has been sprayed with non-stick spray and store in the refrigerator for a few hours before baking.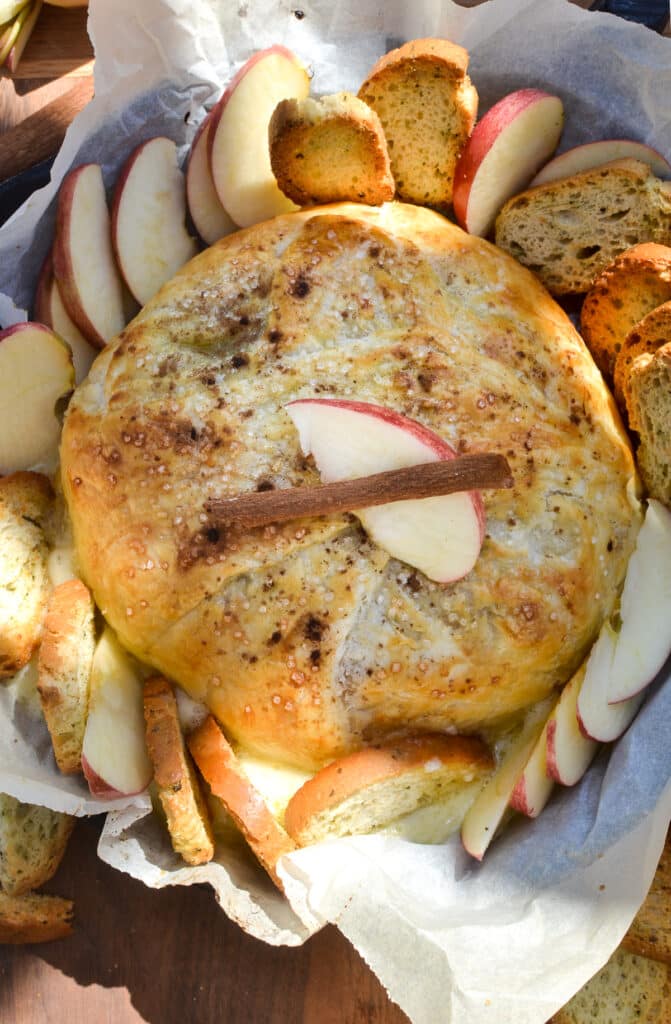 How to customize your puff pastry baked brie
While I personally love this combination of the sweet apple with the savoury brie, there are endless possibilities when it comes to customizing this recipe. Here are few ideas for both sweet and savoury:
Pumpkin Apple Butter from In Our Spare Time would be a delicious way to prepare the baked brie for Thanksgiving
Raspberry jam
caramelized onions
honey and chopped figs
Brown sugar and walnuts
fried mushrooms
You an also customize the size. I used a 450 gram wheel of brie for this recipe, but feel free to use a smaller wheel, just reduce the amount of apples, brown sugar and butter accordingly. The puff pastry can be cut to fit!
Ingredients
apples, frozen puff pastry, brown sugar and 450 grams (1 pound) wheel of brie.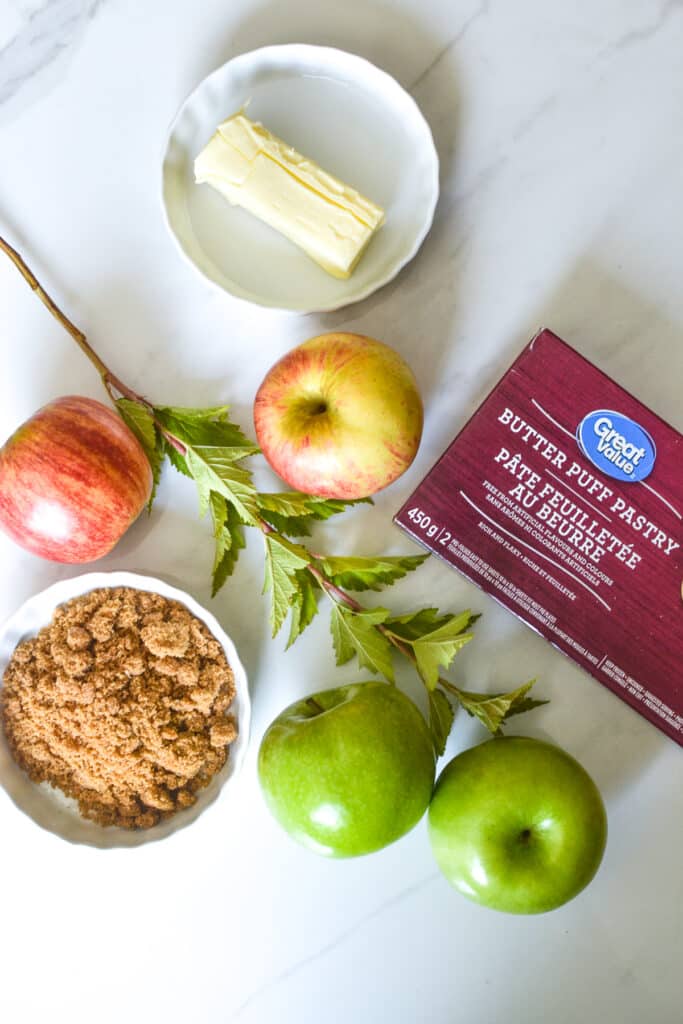 How to make apple baked brie in puff pastry
melt butter and brown sugar, add chopped apples and stir to coat
place wheel of brie in centre of puff pastry sheet
top with brown sugar/apple mixture
fold puff pastry over the brie, using an egg wash and pressing each layer in place
brush entire pastry in egg wash before baking, sprinkle with course sugar and cinnamon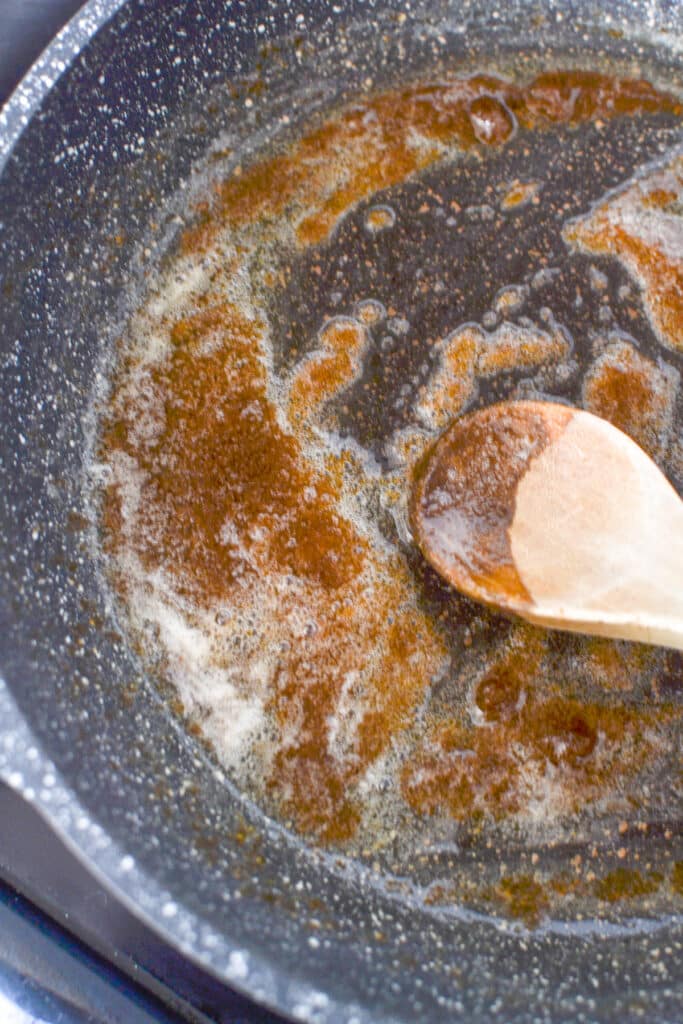 This apple baked brie is the perfect appetizer for anything from game day get-togethers to holiday gatherings and everything in between. The smooth buttery, melted brie paired with the sweetness of the caramelized apples is the perfect combination of flavours. The flaky layers of buttery puff pastry elevates it to an irresistible treat everyone will love!
More apple recipes I think you will love
Caramel Apple Crisp
Easy Apple Cake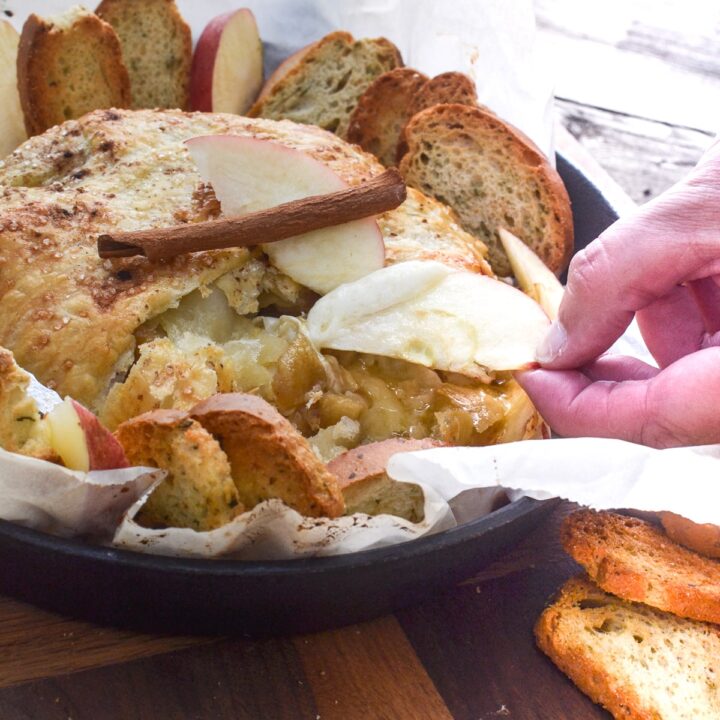 Apple Baked Brie Puff Pastry
This caramelized apple bake brie puff pastry is the perfect appetizer for every occasion, from game day get togethers to holiday gatherings, it is sure to be a hit.
Ingredients
1 sheet frozen puff pastry, thawed in the refrigerator
450 gram (16 ounce) wheel of double cream brie
3-4 medium apples (Granny Smith, Macintosh or Honey Crisp), chopped into small pieces
1 tablespoon butter
scant 1/2 cup dark brown sugar
cinnamon
egg wash (1 egg beaten with 1 tablespoon of water)
course sugar (optional)
Instructions
Preheat oven to 400 degrees and line a baking sheet or cast iron skillet with parchment paper.
Melt butter and brown sugar in a small frying pan over medium heat, add a pinch of cinnamon if desired. Add chopped apples, stir to coat and cook, stirring often until just tender (easily pierced with a fork).
Unroll sheet of puff pastry on lightly floured surface. Place brie in the centre. Spoon the apples over the top of the brie, just to the edge.
Wrap the pastry around the brie, one section at a time, brushing with egg wash before pulling up next layer (see photos above) and press lightly to seal. Brush the entire pastry top and sides with egg wash. Sprinkle with course sugar and a pinch of cinnamon if desired.
Bake for 30-35 minutes until golden brown. Remove from oven and allow to cool for a 5 to 10 minutes. Serve with sliced apples or crackers, cutting into the brie and releasing the melted cheese. Or slice into wedges. Cheese will be very hot, so allow it to cool but still be slightly gooey before serving.
Notes
If apples aren't your thing, feel free to customize with whatever topping suits your fancy. Anything from jams and jellies to caramilzed onions all pair well with brie.