Fresh Fruit Meringue Tart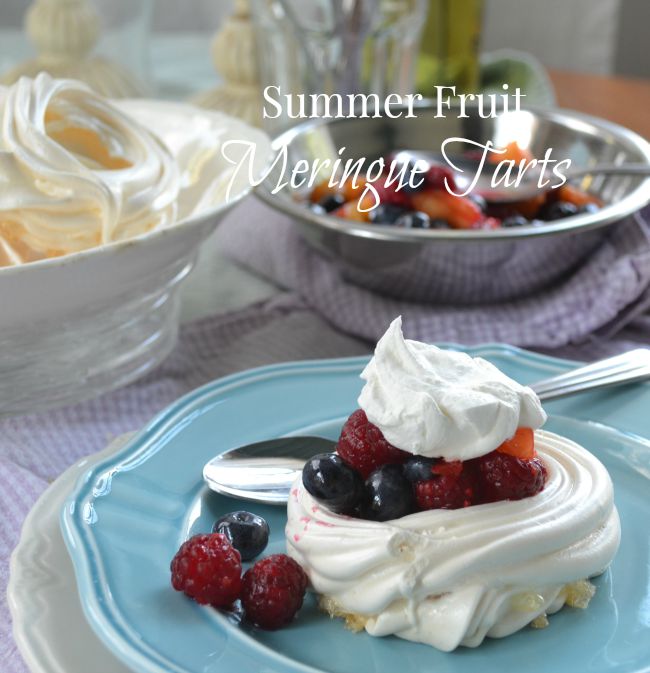 While it is no secret that my favorite season is autumn, I have to admit the limitless fresh fruits and veggies that are available this time of year is pretty amazing. On-Farm markets are everywhere in Niagara and there is nothing quite like eating produce that has been picked fresh that morning!
I recently found a local organic farmer who offers annual CSA memberships, but also has started bringing his produce to the market each Saturday. Chez Nous is their name, and I was zeroed in on finding their stall at the market the moment we arrived! And find them I did. Not surprisingly there was already a bit of a line! I would encourage anyone local to Niagara to check them out!
While they didn't have any fruit, the vegetables were plentiful. We picked up some tomatoes, cucumbers, eggplant, garlic and zucchini!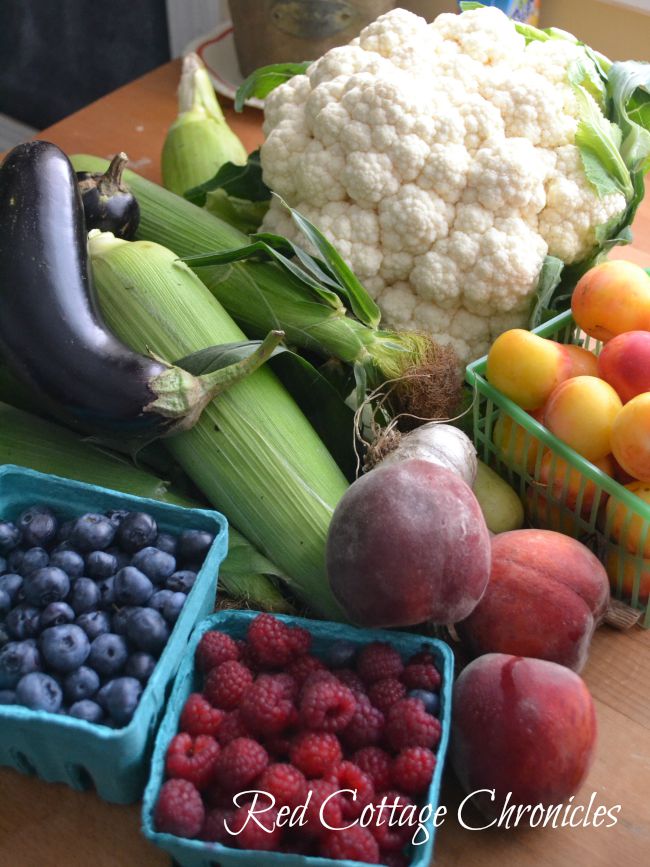 Next it was off to visit the on-farm market on the Niagara River Parkway. There are several, but our favorite is almost directly across from McFarland House. It is just a small stand in the front yard of a farmhouse!
We picked up some local raspberries, blueberries, peaches, a basket of tiny plumbs called sugar babies (Oh. My. Word. Best plumb ever!), and some of the first corn on the cob of the season.
I couldn't wait to whip up a dessert with all this fresh fruit, but given the weather has now decided to reach temperatures in the high 30's (celcius) I didn't really want to heat the oven too high.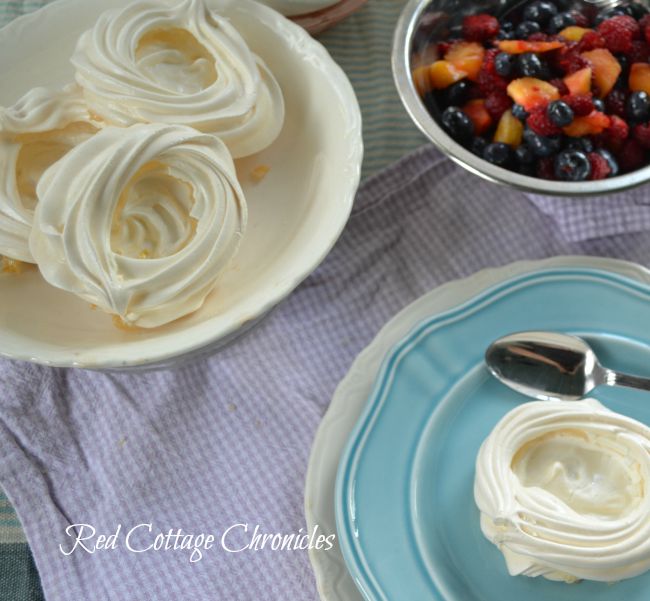 I decided on a fresh fruit meringue tart.
A simple meringue shell only requires a 225 degree oven to bake hence not heating up the kitchen too much!
Just whip up 4 egg whites until frothy, continue beating and slowing add 1 cup granulated sugar. Continue whipping until firm peaks form and egg whites are glossy. Spoon into a piping bag with a star tip and pipe a round base, building up the sides with a row or two piped around the outside edge.
Bake for 1 1/2 hours, turn off heat and allow the shells to remain in the oven for an additional 30 minutes. (Store any leftovers in an airtight container to be used within 3 days, or freeze for longer storage).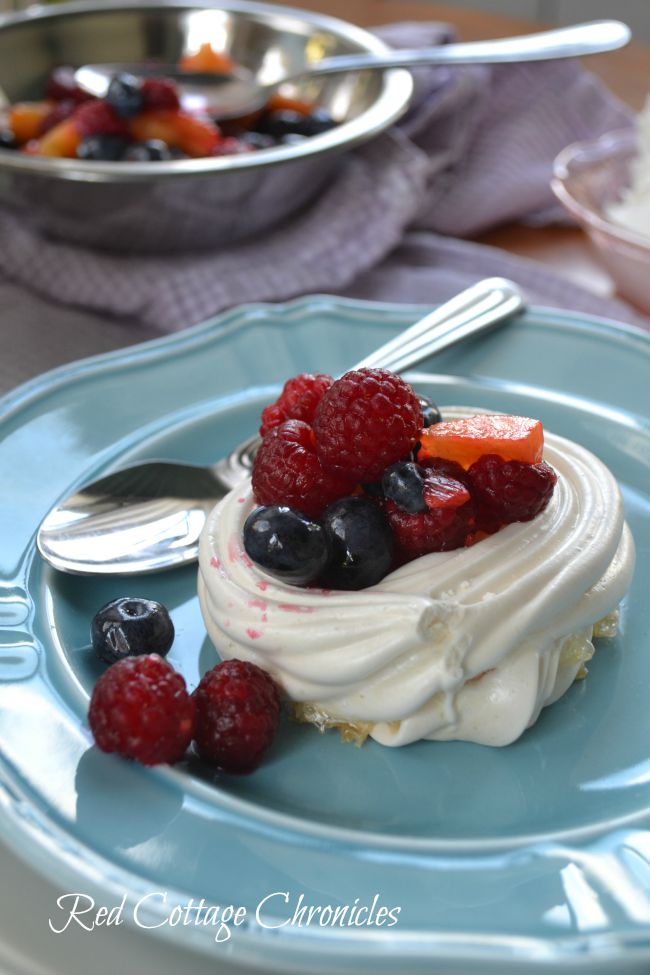 While the meringues were in the oven I simply combined 3 cups of the fruit (raspberries, blueberries, peaches and plumbs) with 2 tbsp of sugar and set it in the refrigerator to draw out the juices.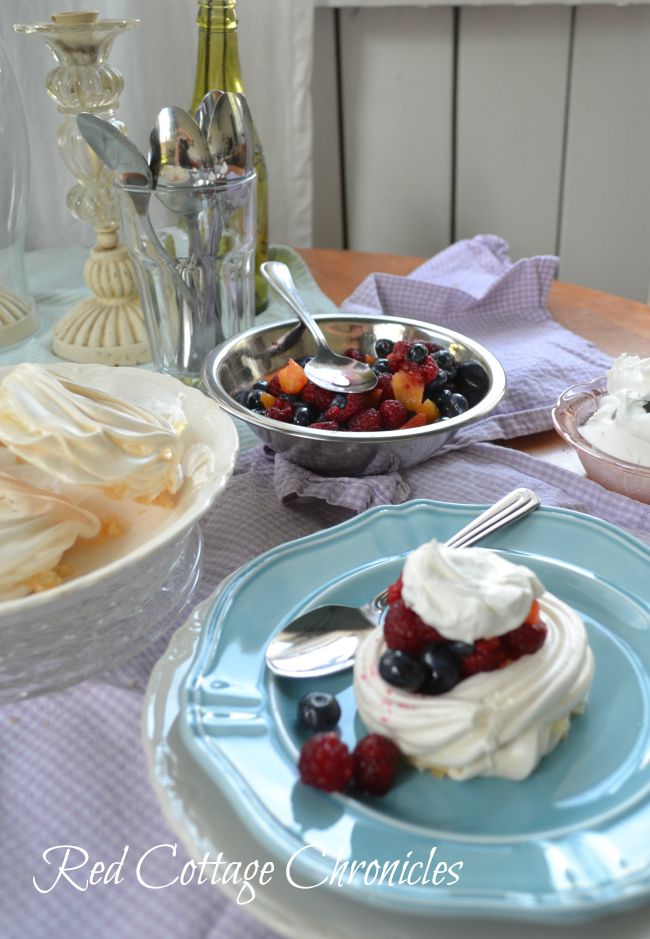 Topped with a dollup of whipped cream made for the perfect end to a summer dining Al fresco.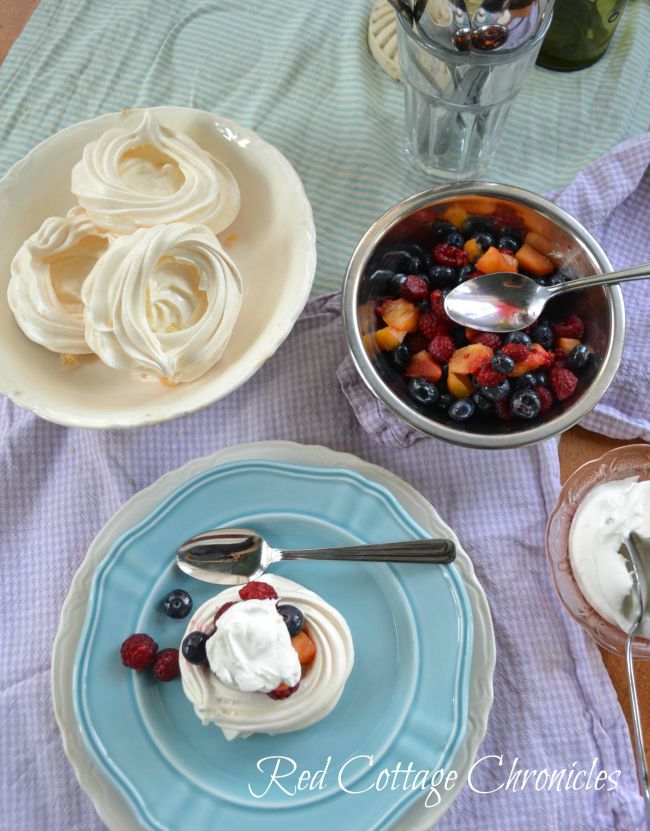 I could have easily whipped up some coconut whipped cream, but in the spirit of not being wasteful, I thought I would use up the left over whipped topping I add first. But this got me to thinking about sprinkling a bit of toasted coconut over top of the berries next time.
The extra meringue shells freeze well, making it even easier to make the second time.
Needless to say we ate very well the entire weekend!
Until next time…
Maureen
Subscribe to Red Cottage Chronicles and stay up-to-date with all things home! Simply enter your email address in the subscribe box at the top of the sidebar!