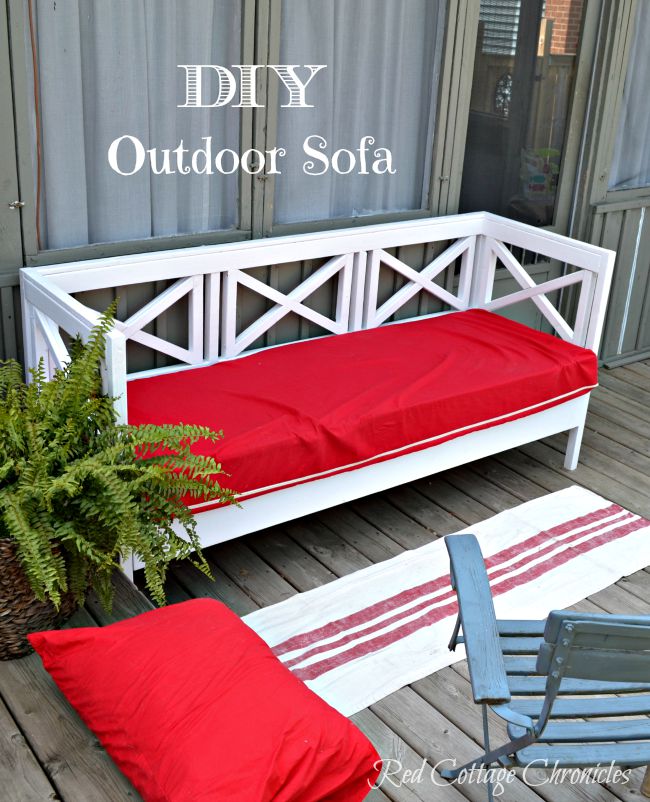 I cannot even remember where I came across this gorgeous outdoor sofa for the first time.  But I knew when I saw it, Tim was going to have another project!
I have been looking at similar outdoor furniture but the sticker shock was too much!
Do people really pay those prices?!
I am all for paying for quality but if I can figure away to save me money, I am all for giving it a go! In my experience DIY is often the best bang for your buck!
When Tim gets a bee in his bonnet to build something, he is laser focused on getting it done.  He put this sofa together over the course of a day and a half!
For a total cost of around $50.00 in lumber supplies.  We already had white paint.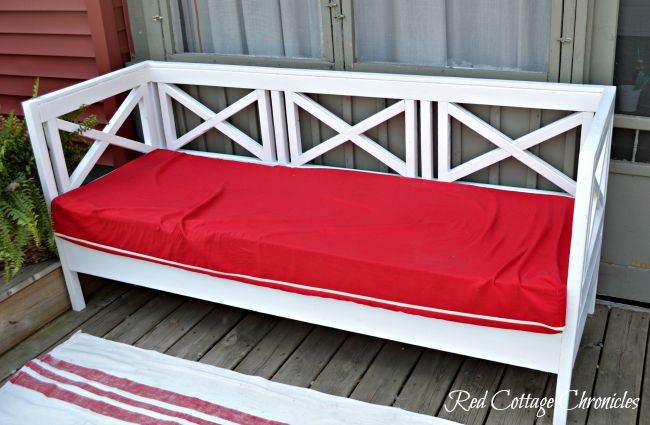 The cushions on the other hand.  An entire other story!
Who would think it would be so difficult to find 24 by 24 by 6 inch cushions in June?  The beginning of patio season for goodness sake!  There were literally none to be found locally, and I was not about to pay $650 for a set ordered on-line.
The whole idea of this project was to save money!
My idea was to purchase custom sized foam from an on-line source at a much more reasonable $60 each.  Discount fabric from Fabricland and I would be good to go!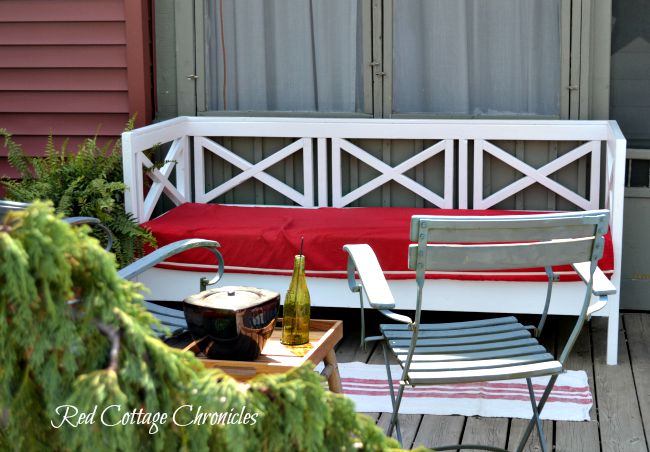 But the frugal side in me was determined to find an even better price!
After a bit of research we purchased a 6 inch thick twin foam mattress from a local furniture store.  As luck would have it the regular price was $99, but we got their on a scratch and save day and ended up spending only $89!  And it was also bonus day so we got 2 free queen size pillows!
The mattress is firm enough to hold its shape really well, yet soft enough to be really comfortable.  It has turned out to be a perfect spot to relax and put your feet up!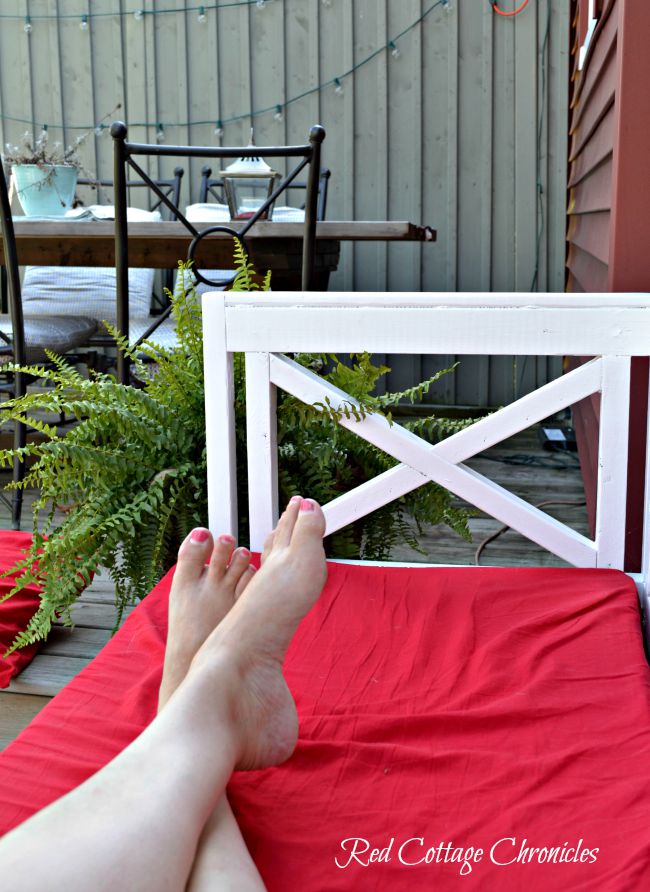 I really want to have 3 individual cushions covered in navy fabric with white piping.
My mother with the killer sewing skills decided to cruise on over the England and Ireland, followed by a lesiurely 12 day cruise back.  She would be gone for 6 weeks.  Her departure coincided with the completion of the bench.
I tend to be a bit really inpatient and needed a solution ASAP!  Sewing them myself was not an option.  I am entirely without any skills when it comes to needle and thread.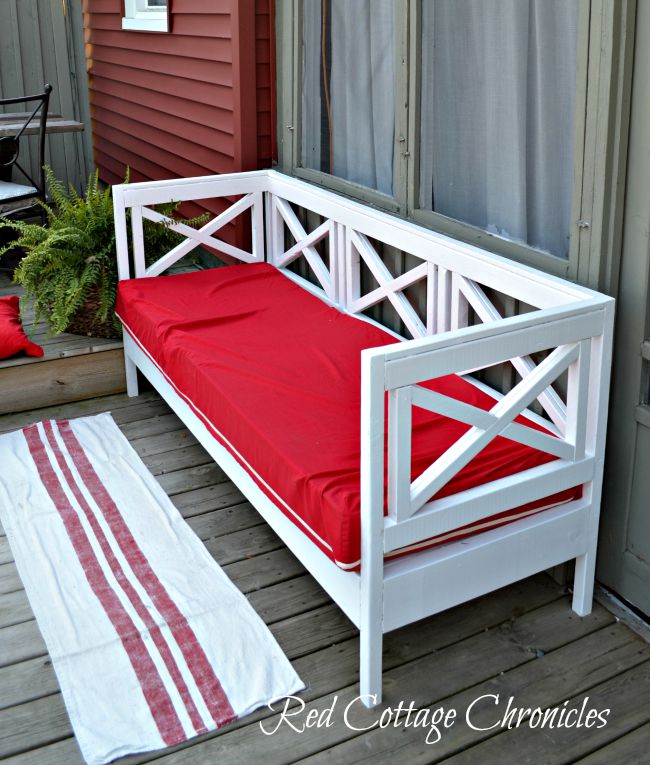 As a temporary solution we decided to cut the foam to make one solid cushion the entire length and width of the bench. The existing red cover complete with zipper and white piping wasn't all that horrible, we decided to live with that this summer!  We simply folded it underneath the back side.
My mom will be pleased to know she has a winter project waiting for her!
So all in, we have ourselves a gorgeous, incredibly strong and sturdy outdoor sofa for just under $150.00!
and…….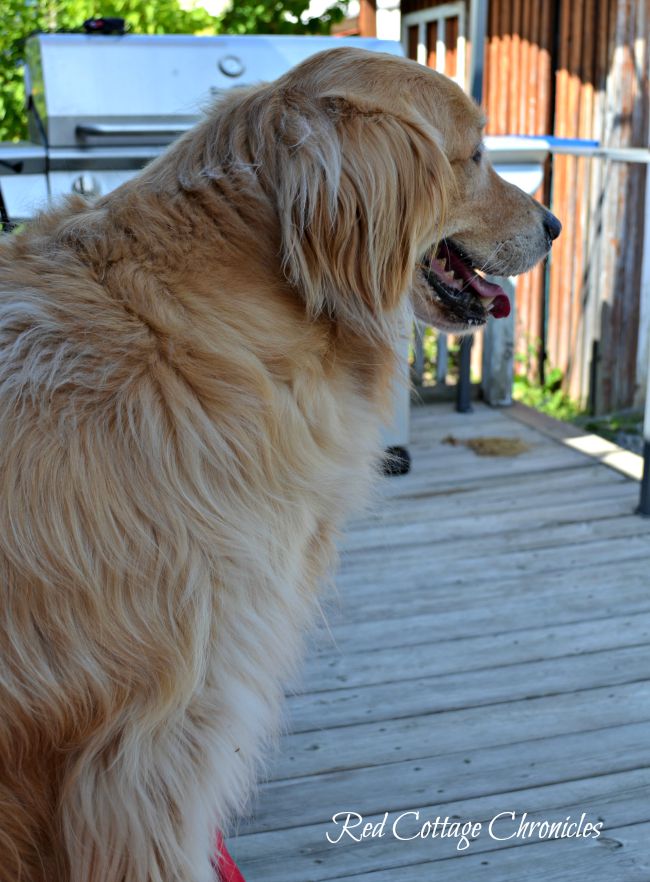 ……….Tripper has a better vantage point to watch the birds and squirrels in the park behind our yard!
The plans for this DIY outdoor sofa can be found here at Ana-White.com!  It is from the Weathery collection.  The original plan includes finials on the corners, but I haven't decided if I want to add those or not!
You can see other Ana White projects we have done here and here!