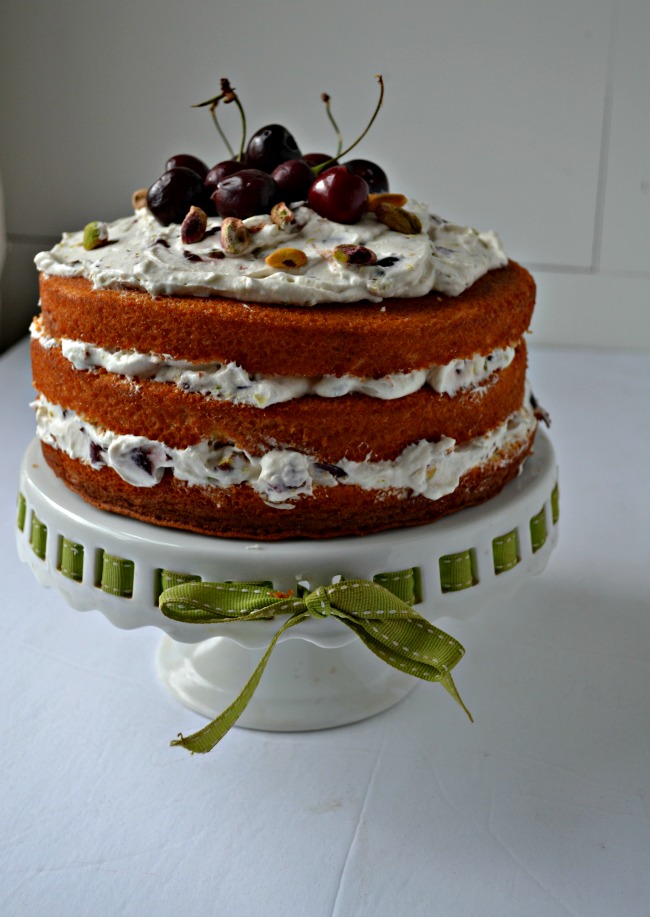 I have no idea why, but this Cherry Pistachio Naked Cake was kind of inspired by my love of the Royal Family!
Please tell me I am a not the only Royal watcher. I blame it on my grandparents. Well, more my Nana really. Although my Poppa was from England, my Nana did bear quite a resemblance to the Queen. I remember her being in England during the Silver Jubilee and being quite excited about all the pomp and circumstance. Even though I was only 12 years old at the time I do remember waking up before dawn to watch all the festivities.
Waking up before dawn to watch Royal events has been a mainstay over the years. Prince Charles and Diana's wedding, and then Prince Andrew and Sarah Ferguson was particularly eventful because they got married just 3 days before my husband and I. Watching a royal wedding just a few days before your own can really take the excitement to a whole other level! I am happy to report we have long outlasted that royal marriage!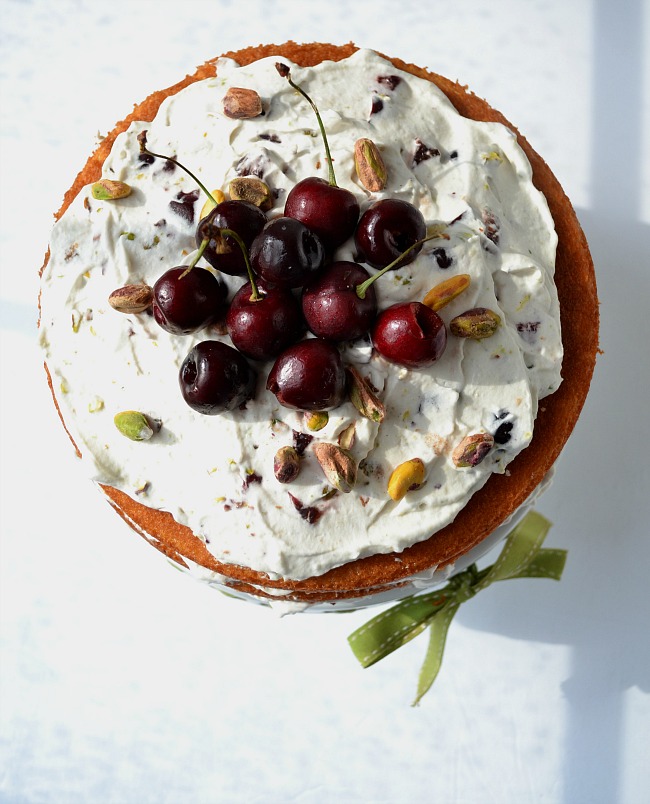 This last royal wedding was of course was that of Prince William and Kate. That day my sister and I converged on my mom's house in the wee hours of the morning to watch the ceremony. Such a royal event requires the appropriate refreshments. Homemade scones and clotted cream. Or should I say clotted cream with a bit of homemade scone on the side!
This heavenly cherry pistachio naked cake reminds me of not only the clotted cream and scones, but also reminds me a bit of the crown jewels!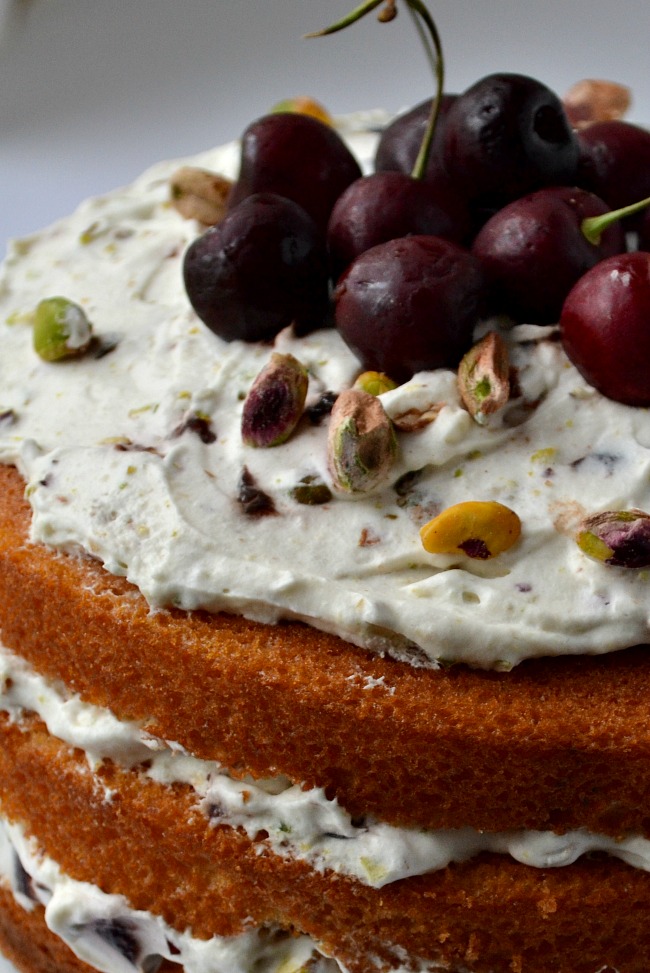 The rich color of the fresh sweet cherries and the subtle color of the the pistachios make it just as pretty to look at as it is delicious to eat!
The best part of this yummy dessert is that it is so easy to make I feel silly calling it a recipe! It looks like a lot of pomp and circumstance, but is so simple!
When it comes to summertime, the easier the recipe the better. Like these fresh fruit meringue tarts. Although I made the meringue shells, you could just as easily use prepared shells from the grocery store.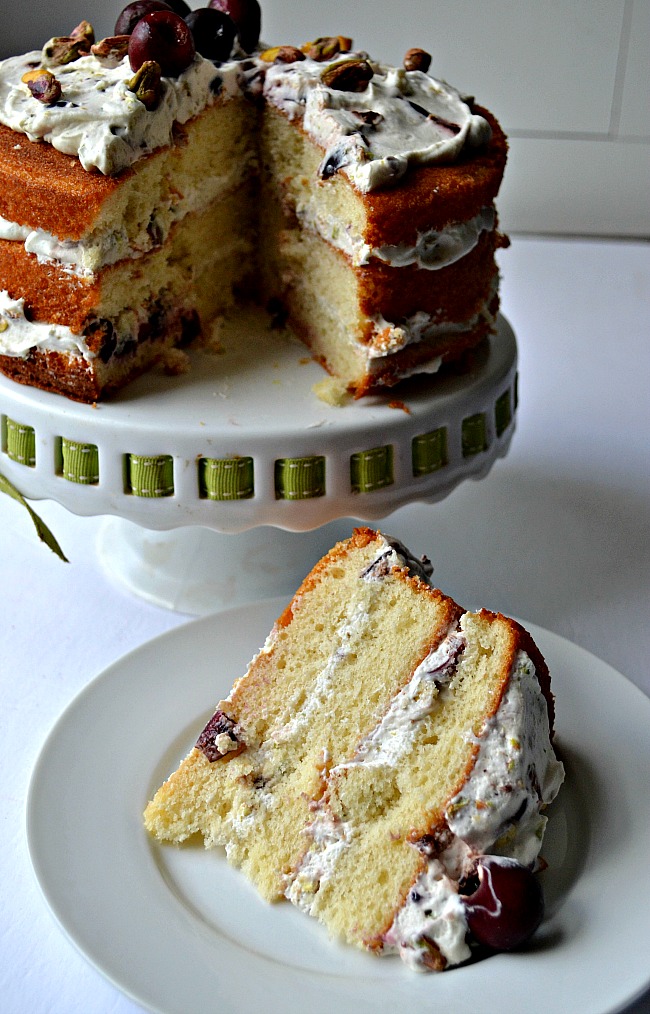 As far as the Royal Family goes, since Prince Harry is reportedly seriously involved with an actress living right up the highway in Toronto maybe there will soon be another reason to get up in the wee hours of the morning and eat scones and cream!
Until next time…..

Cherry Pistachio Naked Cake
2017-06-28 17:54:31
Serves 8
Ingredients
1 French Vanilla boxed cake mix plus ingredients to prepare
1 1/2 cups fresh sweet cherries
1/2 cup shelled pistachio nuts, chopped
2 cups whipping cream
2 envelopes Whip It (whipped cream stabilizer)
5 tablespoons confectioners sugar
Instructions
Prepare cake mix according to package directions using 2 - 8" round pans, bake and set aside to cool completely.
Meanwhile chop cherries into small pieces, reserving a few for decoration, rough chop pistachios and set aside
In the bowl of electric mixer add whipping cream, Whip It, and confectioners sugar; whip just until stiff peaks form. Do not over whip.
Gently fold cherries and pistachios into the prepared whipped cream.
When cake is completely cool cut each layer in half horizontally.
Using a spatula add a generous layer of whipped cream mixture to bottom cake layer, spreading just to the edges. Carefully top with a second cake layer and whipped cream layer. Carefully add third cake layer. Finally add a large dollop of whipped cream mixture to the top and spread just to within an inch or so of the edges. Top with whole cherries and sprinkle with some additional whole pistachios.
Notes
Feel free to add the full four layers, however 3 layers do create a very tall cake which is still manageable to cut and serve without any layers sliding out! I had some leftover whipped cream mixture and just a small dollop to slices of the extra cake layer!
Red Cottage Chronicles https://www.redcottagechronicles.com/
(Visited 1 times, 1 visits today)