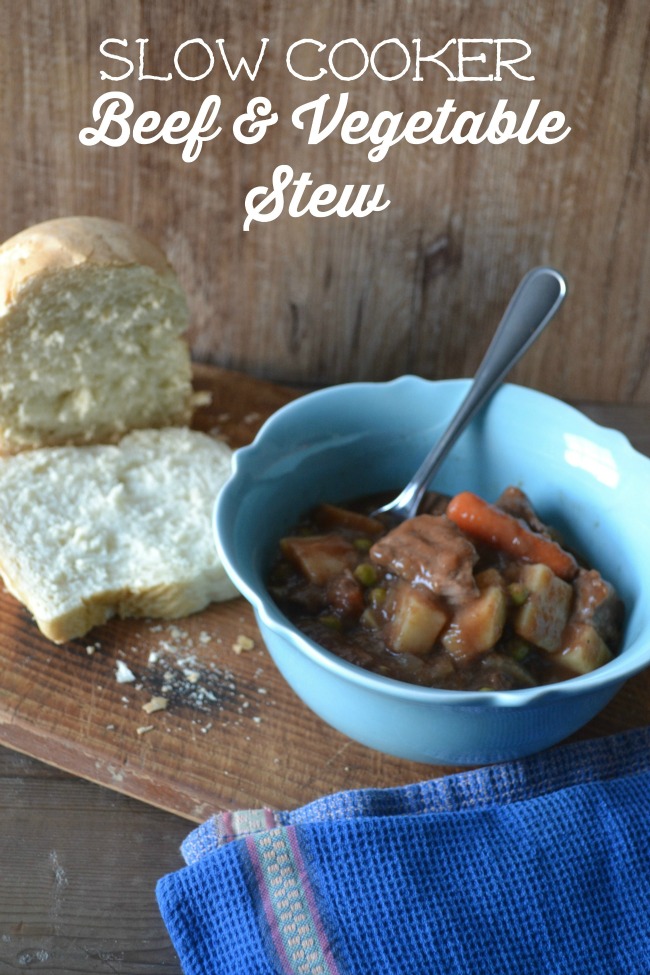 Here we are at the last Taste of Home Tuesday of January!  Am I the only one who thinks the month has gone by way too fast?  But we are one month closer to spring!
Although I am thankful I didn't have to go through the blizzard that hit the US northeast this past weekend, I was a tiny bit jealous of the amount of snow they got.  I live in Canada for gawd sake!  I like our winter to have snow!  Thankfully we did manage to have cold enough temperatures and a few flurries for the Ice Wine Festival to have another successful year!
Since Sunday was going to be a very busy day I wanted to pop something into the slow cooker and have it ready for dinner time.  I picked this Slow Cooker Beef & Vegetable stew since I had everything on hand already, not to mention it looked pretty darn good.
We weren't disappointed!  It was full of flavour and the beef was cooked to a tender perfection.  Big chunks of potato and baby carrots made it a real hearty meal.  I had picked up a fresh baked loaf bread from the market and spread a bit of sweet creamy butter on top.
The perfect Sunday dinner for a cold winter day!
Here are a few of my tips to make prep even easier:
use stewing beef that is already pre-cubed
I buy large bags of pre-chopped frozen onion
baby carrots are called for in this recipe, but using regular carrots thickly sliced would work just fine
use a better quality tomato soup for a richer flavour
when preparing the cornstarch thickener, use a jar with a tight fitting lid to shake up the cornstarch and water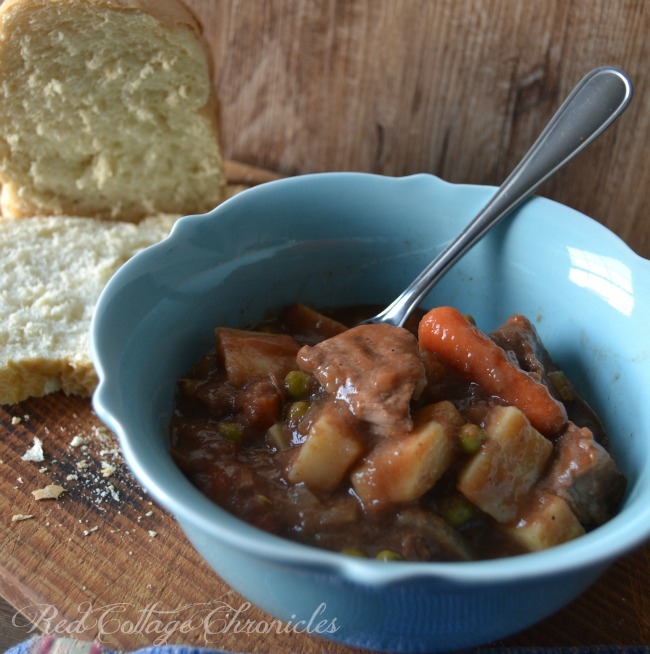 You can find the recipe for Slow Cooker Beef & Vegetable Stew at here at www.tasteofhome.com.   And while you are there, have a look around.  Maybe you have a tried and true recipe that you would like to submit.  You never know, it could end up in the pages of Taste of Home magazine!
Until next time….
Maureen
If you want to stay up-to-date with all the recipes and DIY projects at Red Cottage Chronicles be sure to add your email below!  Or follow us on Facebook or Twitter!