Spring is finally, slowing starting to show its face.  Mind you, it is still mixing it up with a bit of what feels like winter but still the right side of zero degrees!!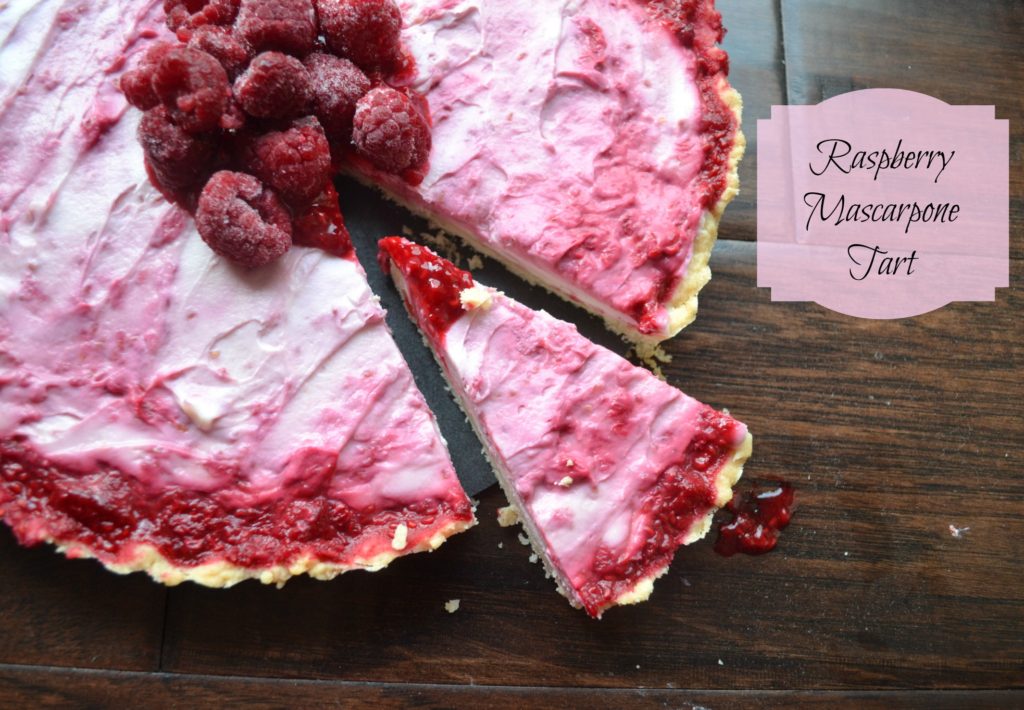 To celebrate I decided to make this raspberry mascarpone tart!  The original recipe calls for rhubarb, but it is a bit too early to find it fresh in stores and no matter how I tried, I could not find any frozen either.  I am sure next week, when I don't need any, I will see it in every store.  That's just my luck.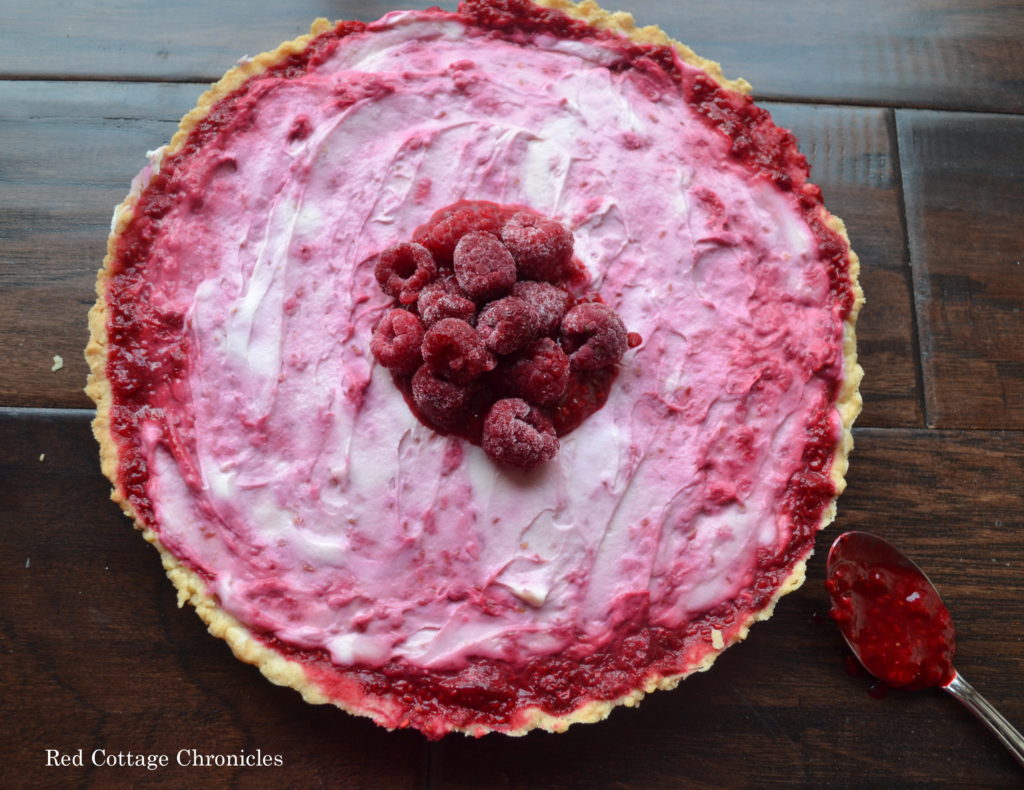 Thankfully I always have lots of frozen raspberries in the freezer.  Always have them in my daily smoothie!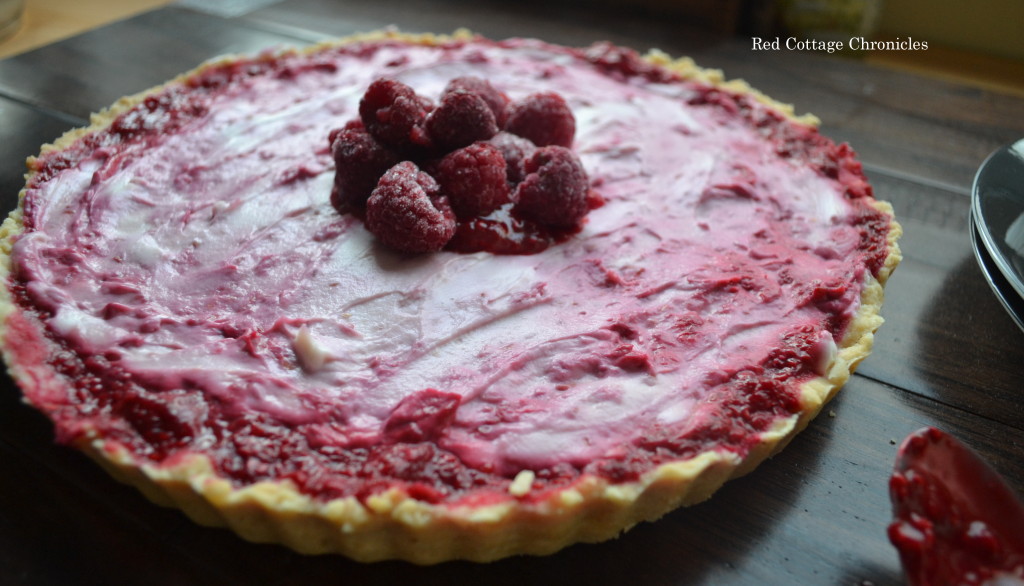 The sweetness of the sugar and mascarpone cheese blended with the slightly tart raspberries make a perfect pairing.
I adapted this recipe from one I found in a brochure promoting Ontario grown fruits and vegetables.
I really can't wait to try it with the rhubarb, another tart fruit!  I remember when I was a youngster, our neighbour had a huge rhubarb patch in her back yard.  We would cut it fresh and dip into a bowl of sugar one bite at a time.  We would even share the sugar bowl and double dip!  Gasp!  But, we all lived to tell about it!!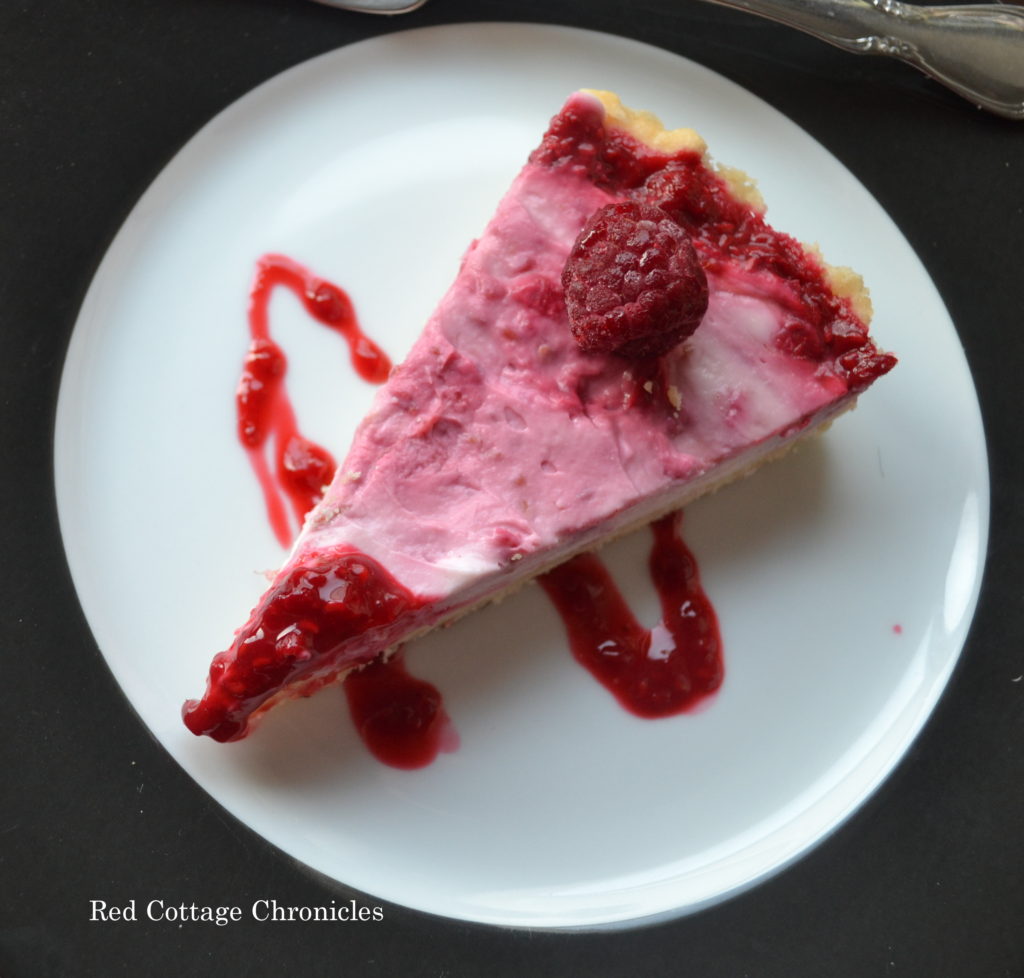 I love how pretty this tart is.  All swirly and creamy and incredibly decadent!
Why not make it for your Easter table!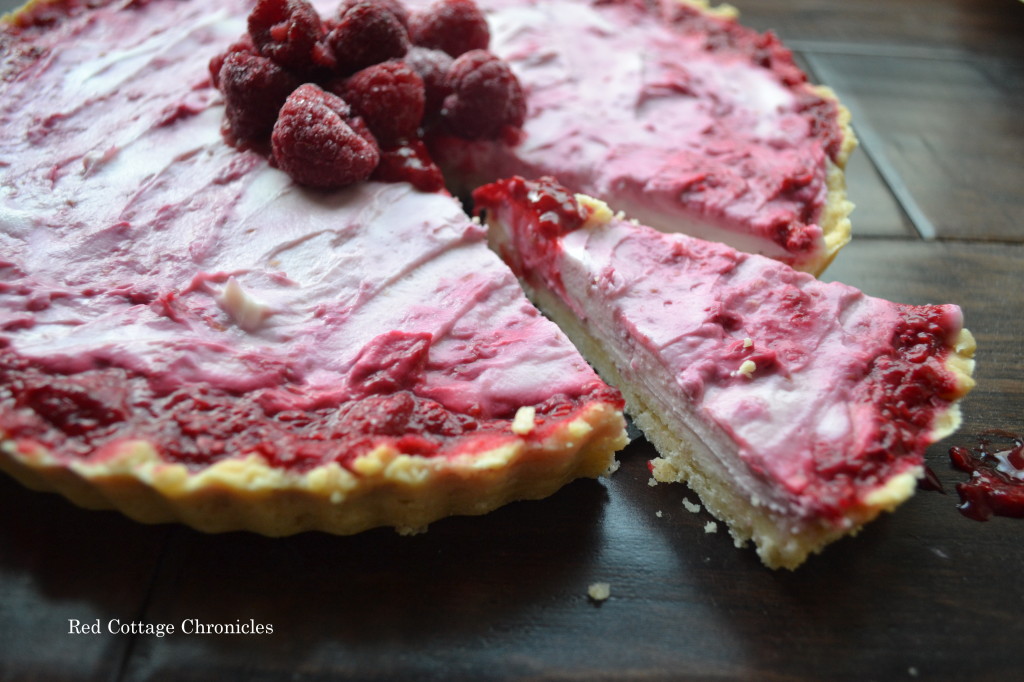 ENJOY!!
Raspberry Mascarpone Tart
Prep time:
Cook time:
Total time:
Ingredients
1 1/4 cups all purpose flour
3 tbsp. confectioners sugar
2/3 cup cold butter, cut into cubes
3 1/2 cups frozen raspberries
3/4 cup granulated sugar
2 tbsp. cornstarch
1 cup mascarpone cheese
1/2 sour cream
1/4 tsp grated lemon zest
Instructions
In a large mixing bowl sift together flour and icing sugar. Add butter and rub in until mixture is crumbly.
Press evenly into bottom and up sides of 9 inch flan pan with removable bottom. Dock the dough by pricking with a fork in several places. Bake at 350 degrees for 18 minutes, or until lightly browned. Cool completely before filling.
While tart shell is cooling combine raspberries, 1/2 cup of the granulated sugar and cornstarch in a saucepan, stirring and cooking over medium low heat until sugar dissolves. Continue to cook until raspberries are tender. Cool to room temperature and then chill.
In a large bowl combine mascarpone chest, sour cream and remaining 1/4 cup sugar. Stir in grated lemon cyst.
Spoon cheese mixture into flan shell and alternately with half the raspberry sauce. Swirl gently with a knife to create rippled effect.
Chill for at least 1 hour before serving. Top with reserved raspberry sauce and a few fresh berries before serving.
Want to keep up with the Red Cottage Chronicles?