This dreamy Orange Creamsicle Poke Cake is reminiscent of many summers spent waiting to hear the bell of the ice cream truck!
Here in Canada today is the unofficial start of summer! We are enjoying a quiet day off here at the Red Cottage, and sadly there have been no ice cream trucks in our neighbourhood for years.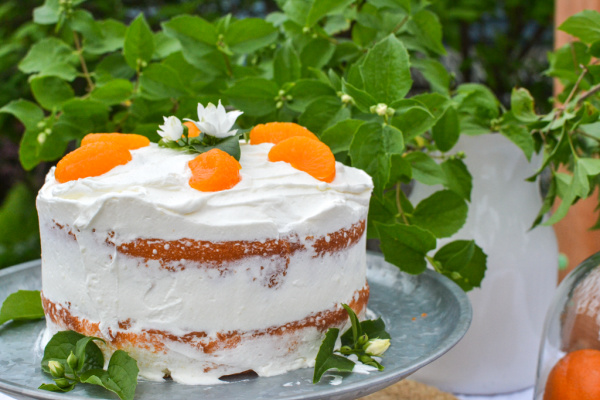 Looking for an easy summer dessert, I came across lots of poke cake recipes in all different flavours. They all looked divine, but I wanted something just a little bit more special than a 9 by 13 slab cake to celebrate the arrival of sunshine and warmer weather!
I decided to try a round 2 layer orange creamsicle poke cake, and I was so glad I did! Using French vanilla cake mix makes this delicious dessert insanely easy.
I knew that pairing vanilla cake and orange is a winning combination when I made these orange creamsicle cupcakes.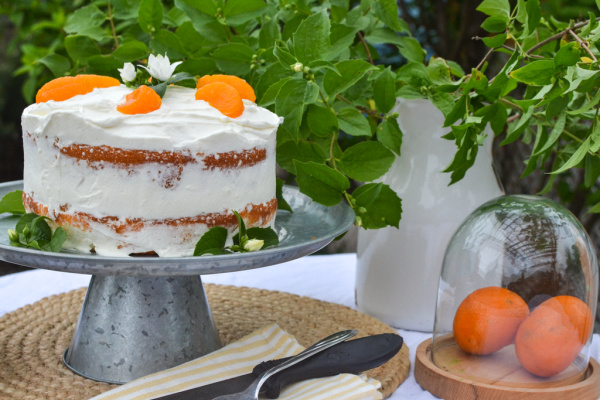 How to make a poke cake
You will find the full recipe below, but really when you break it down, a poke cake requires just three steps:
Bake the cake according to package directions
Prepare the jello by adding 1 cup boiling water
Whip the cream with a bit of sugar and flavour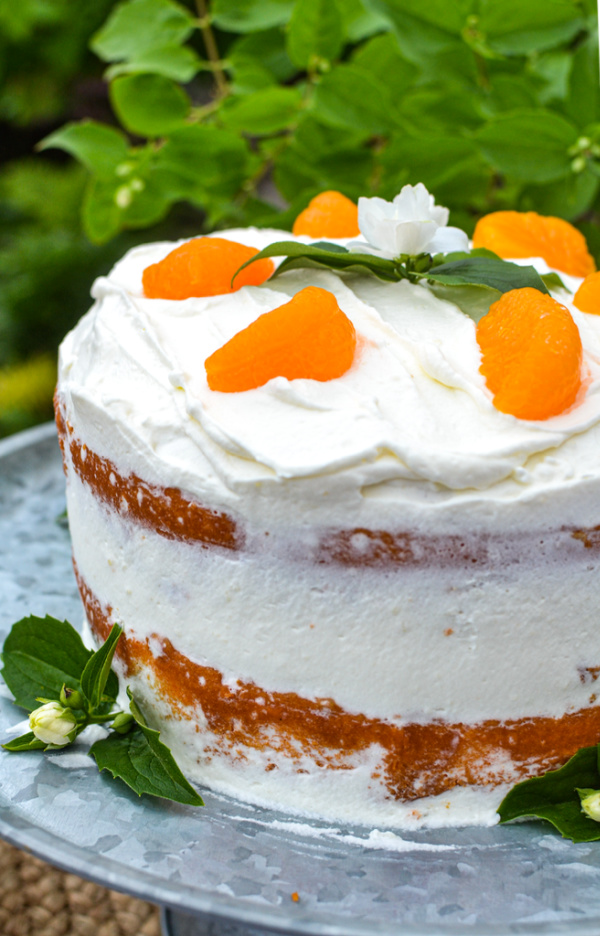 Bake the cake and allow it to cool for about 20 minutes. Poke it with a fork, skewer or narrow wooden spoon handle and pour over the jello. Allow it to completely cool and decorate with whipped cream and orange slices.
Orange Creamsicle Poke Cake ingredient substitutions
You can use a few teaspoons of granulated icing sugar to sweetened the whipping cream, but since I was using canned mandarin oranges for garnish, I used a bit of the drained juice as a sweetener. Plus a dash of orange extract for extra punch without making it too sweet!
Two or three tablespoons of freshly squeed orange juice and a bit of orange zest can also be used to add a touch of sweetness and orange flavour to the whipped cream.
Alternatively, you could opt for pure vanilla whipped cream, using the seeds scraped from a vanilla bean pod.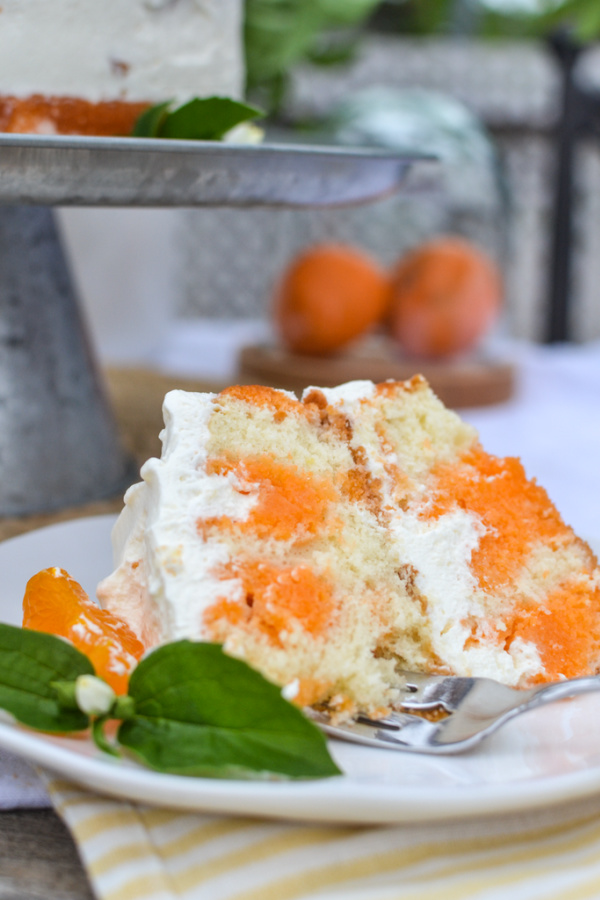 The combination of orange and vanilla makes for a light and refreshing summer dessert. Opting for making two layers elevates (pardon the pun) the wow factor to a whole other level!
Our mock orange blossom tree is just coming into bloom, so I clipped a few for addition garnish.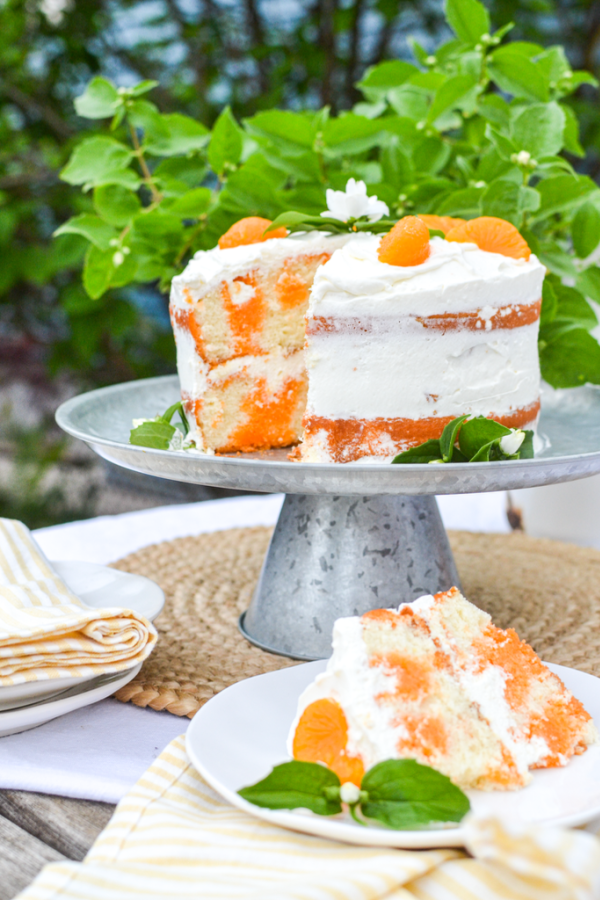 I love how this cake starts with a simple boxed cake mix and a package of jello. This Essential Summer Layer Cake is another easy summertime cake that starts with a boxed cake mix and jello!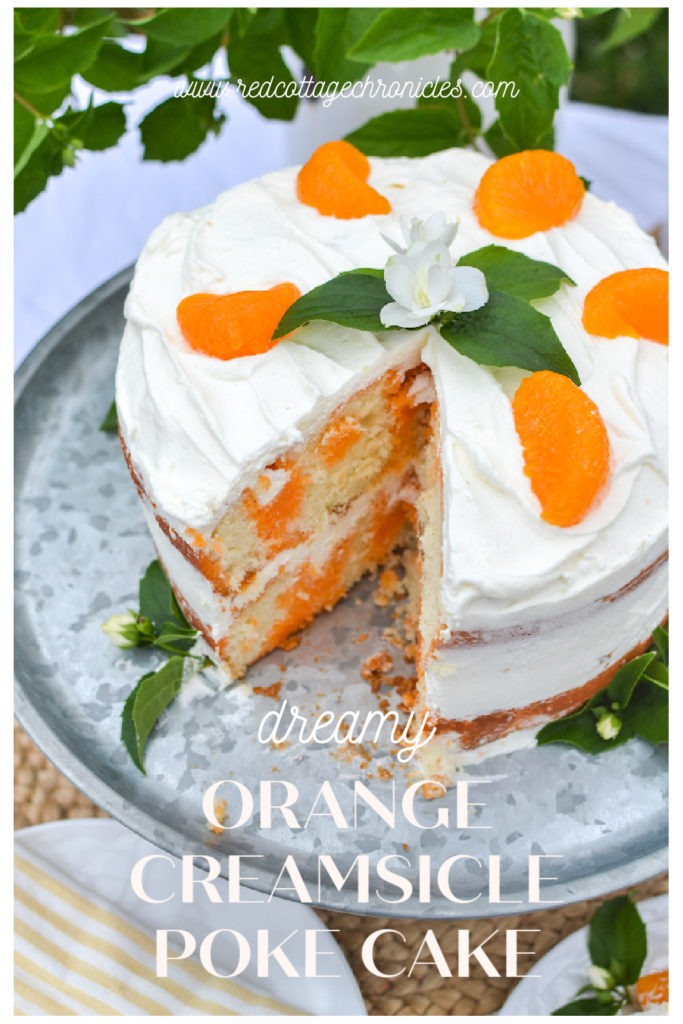 This dreamy orange creamsicle poke cake is pretty enough to be served at a garden party, but simple and delicious enough to be served every day!
Plus, it makes me not even think about the lack of a neighbourhood ice cream truck!
Until next time…..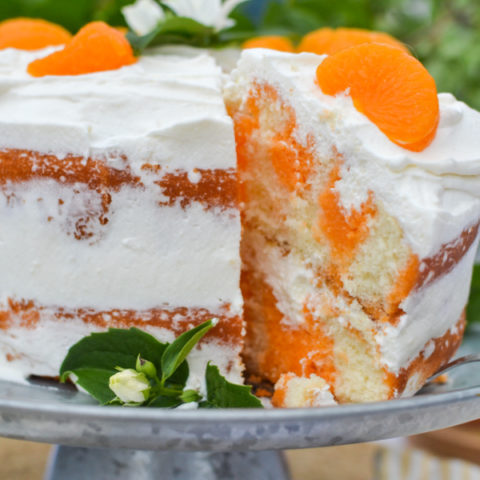 Dreamy Orange Creamsicle Poke Cake
Total Time:
1 hour
40 minutes
The dreamy orange creamsicle poke cake is reminsence of those summer days gone by, listening for the bells of the ice cream truck! The combination of vanilla and orange, dressed with fresh whipped cream is simply divine.
Ingredients
Vanilla cake mix plus ingredients to prepare
1 box orange Jello powder
1 1/2 cups 35% heavy whipping cream
orange extract
3 teaspoons sugar
fresh or canned mandarin oranges (liquid reserved)
Instructions
Preheat oven to 350 degrees. Grease and flour 2 - 8 inch round cake pans, line bottoms with parchment and set aside
Prepare cake mix according to package directions. Bake for approximately 25 minutes, or until toothpick inserted in centre comes out clean.
Remove from oven and cool in the pans for about 20 minutes. While cake is cooling, put mixing bowl and whisk attachment into the freezer for about 15 minutes.
When mixing bowl is sufficiencly chilled, add the heavy cream 3 teaspoons of sugar and 1 teaspoon orange extract (or using canned or bottled manderin orange slices, use 2 to 3 tablespoons of the reserved liquid to sweeten and flavour the whipped cream). Whip until stiff peaks form. Refrigerate until ready to use.
Prepare the Jello by adding 1 cup boiling water and stirring until fully dissolved. The cake should now be sufficiently cooled, use a fork, skewer or narrow handle of a wooden spoon to "poke" holes into the cake, spaced about 1 inch apart. Poor prepared jellow powder evenly over both layer cakes.
Allow to cool completely before carefully turning the layers out of the pan, stacking them onto a cake plate with a thick layer of whipped cream between them. Finish with a skim coat of whipped cream on the sides, and a thick layer on the top.
Garnish with fresh orange or mandarin slices.