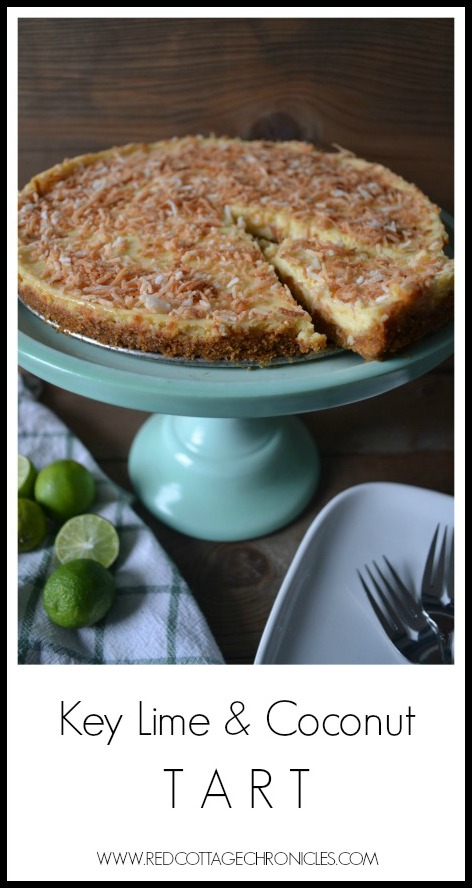 Here in Southern Ontario Mother Nature has been dangling spring in front of our noses like a carrot in front of a rabbit. Then she pulls it up out of sight and dumps a winter storm on us. Upwards of 15 cm of snow, freezing rain and wind.
Now more than ever do I need to taste the light and fresh flavours that come with the warmer weather!
Way back in 2012 when I first started this little blog I featured this recipe. I decided to take that recipe and change it up a bit to make a decadent Key Lime Coconut Tart.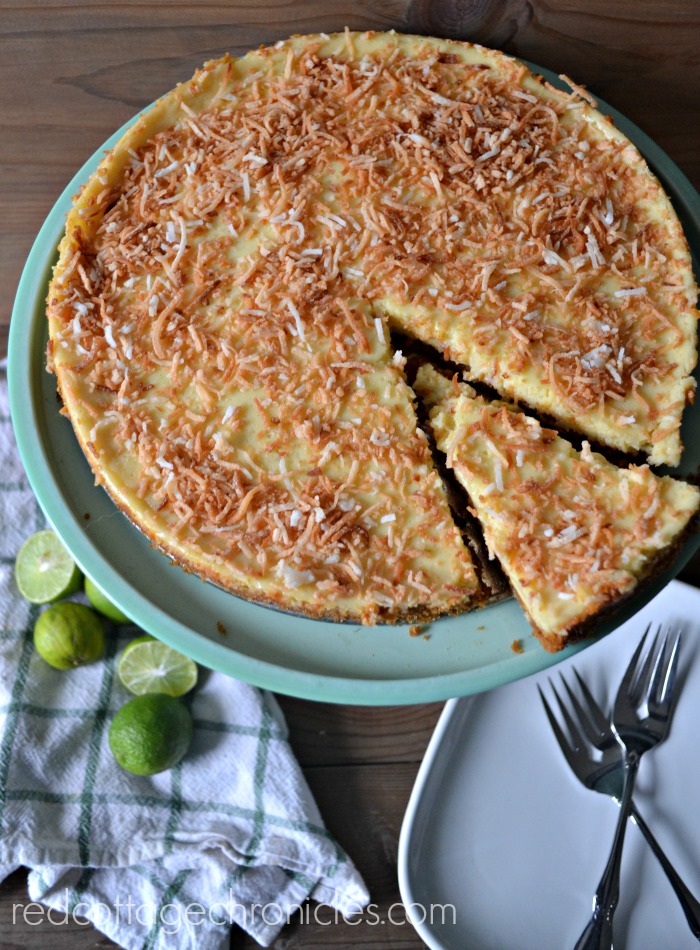 Whether you are entertaining and want an impressive (yet easy) dessert, or you just want to surprise your family with a delicious treat this tangy tart fits the bill.
Key Limes are the cutest little fruit. It takes quite a few to get the half cup of juice you need for this recipe, but I pick them up by the bag for less than $4 at the grocery store. Sweetened condensed milk adds the sweet to balance the tang of the limes.
Crunchy toasted coconut is the "icing on the cake"!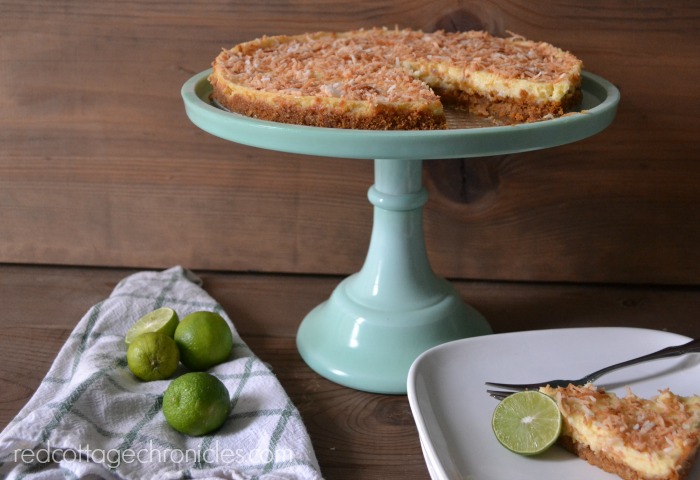 I made my tart in a spring form pan, but it could just as easily be made in a 8 or 9 inch tart pan with removable bottom.
What light flavours are you craving these days? Do leave a comment to share!
Until next time…….
Maureen
Key Lime Coconut Tart
2016-04-04 06:29:39
Serves 8
Ingredients
6 tablespoons butter, melted
1 1/2 cups graham cracker crumbs
2 1/2 tablespoons sugar
3 egg yolks
1 14 ounce can sweetened condensed milk
1/2 cup key lime juice
2 tsp lime freshly grated lime rind
3/4 cup sweetened shredded coconut, toasted
Instructions
Preheat oven to 350 degrees
In a large bowl stir together graham cracker crumbs, melted butter and sugar; spread into a spring form pan sprayed with non-stick spray and press down firmly. Bake for 9 minutes. Remove from oven and set aside
At the same time crust is baking spread coconut on a baking sheet and toast in the oven for 15 to 20 minutes, stirring occasionally. When lightly toasted remove from oven and set aside.
In the bowl of electric mixer fitted with the whisk attachment, beat egg yolks on high speed until slightly thickened and pale yellow (about 4 minutes).
Add the sweetened condensed milk to the beaten egg yolks and continue beating mixture on high for 5 minutes.
Reduce speed to medium and add lime juice and rind until well blended.
Spread filling mixture evenly over prepared crust. Return to oven and bake for 20-22 minutes, until centre is set.
Remove from oven and sprinkle with the toasted coconut, pressing it down very gently.
Allow to cool to room temperature before running a knife carefully around edges and then removing spring form pan rim.
Refrigerate for a minimum of 1 hour before serving.
Notes
An 8 or 9 inch tart pan with removable bottom can easily be substituted for the spring form pan.
Red Cottage Chronicles https://www.redcottagechronicles.com/