Now that I have had a bit of time to decompress from the busy weekend I am excited to share with you the recipe for my mom's birthday cake.  Triple Lemon Buttercream cake with lemon curd and honey mascarpone cream filling.  I will admit it is a bit time consuming to prepare, but so worth the effort!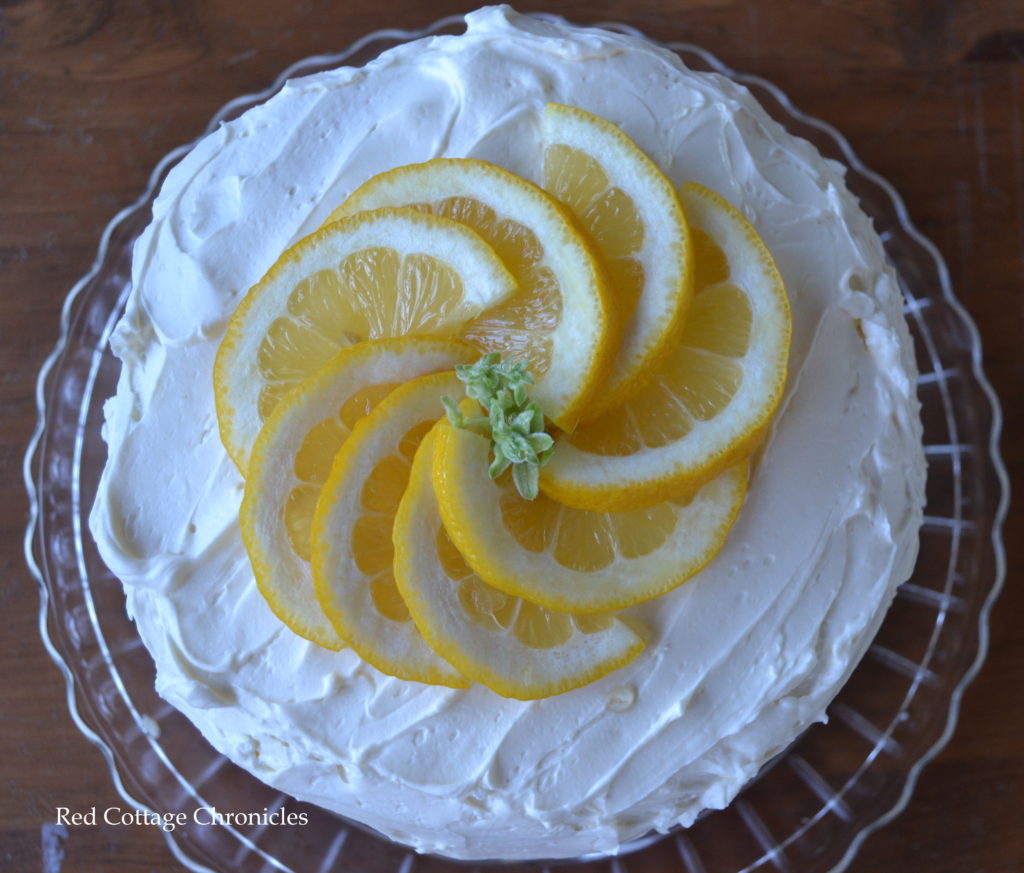 I love how busy I am on the weekends when the weather turns nice!  I especially love being busy in the kitchen baking up something yummy for my family.  And I have to admit it was a bit of comedy of errors yesterday when I started to prepare the buttercream frosting.  The cake layers, lemon curd and honey mascarpone came together without a hitch.  The buttercream however, was a bit of a challenge, and for no other reason than I was letting my mind wander to all the things I had to get done and was rushing a bit more than I should have been.  Lets just say this….one batch ended up all over the stove top, the second try didn't get past separating the eggs because I got a whole chunk of yolk mixed in, which is a no-no.  The third try the egg whites did make it into the bowl yolkless, but when I picked up the measuring cup with the sugar the handle caught the edge of the bowl and I promptly dumped all the sugar over the floor!  It was my last 4 eggs, so thankfully they were unharmed!   I  almost threw up my arms and said forget it, but all the other steps were done and I really wanted this to turn out well! All I could do is laugh at myself and remember why I love to bake!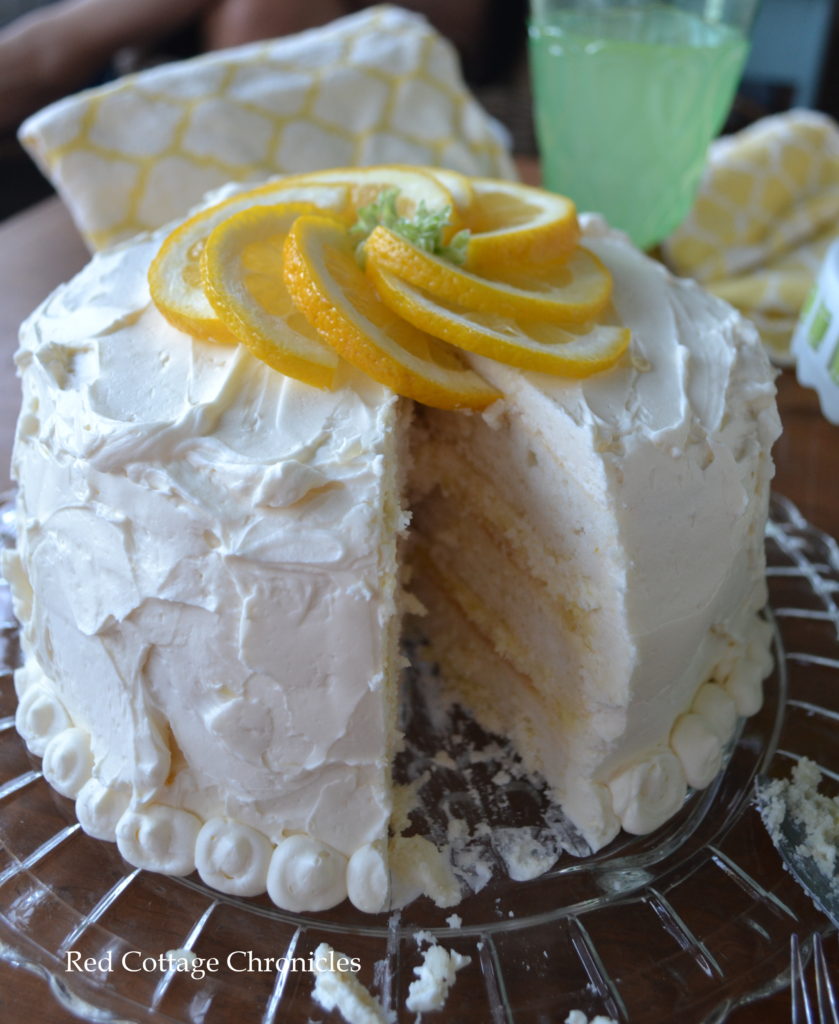 The recipe is adapted from Anna Olson's Lemon Layer Cake with Lemon Curd and Buttercream Frosting.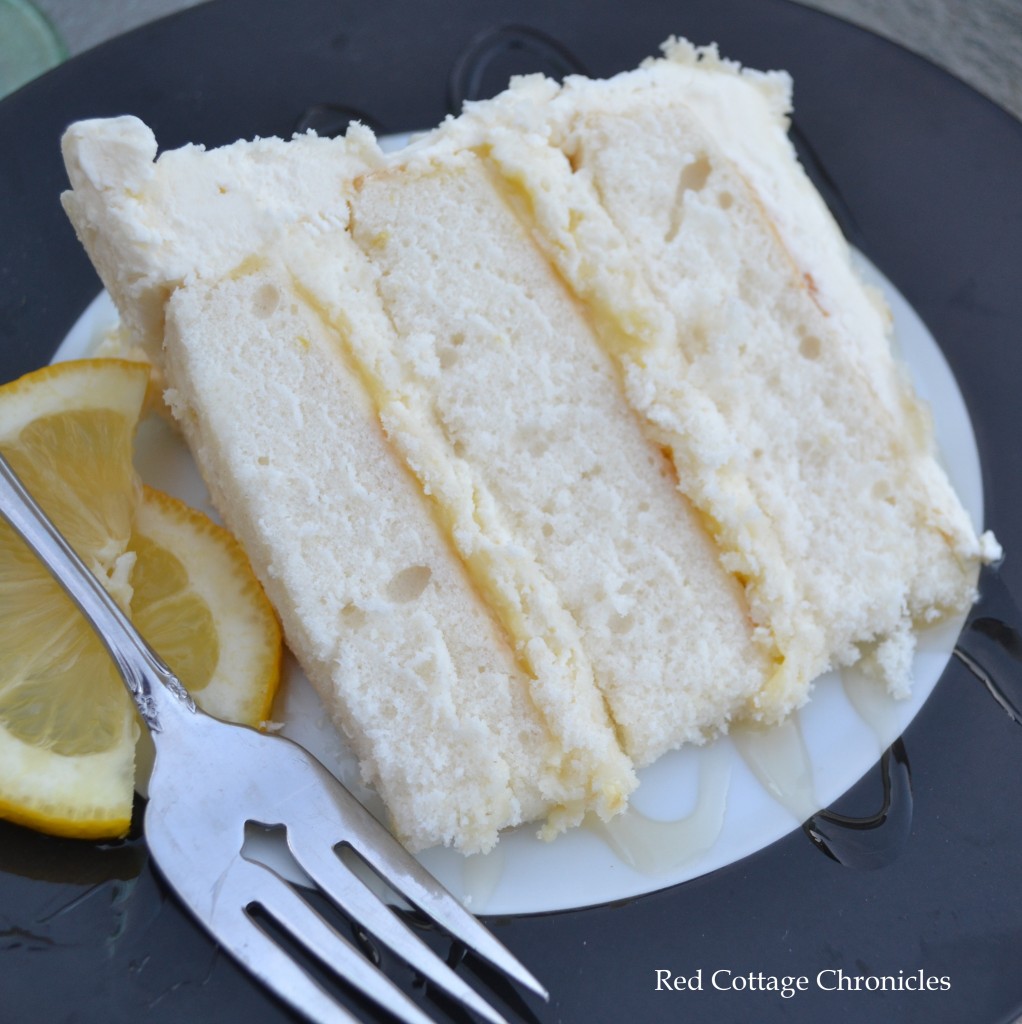 For the Cake Layers you will need 3 8″ round pans.  I think 8″ square pans would give it a bit of an elegant touch as well.
Even though the buttercream frosting should be refrigerated if not being used promptly, I would recommend preparing the buttercream and frosting the cake only an hour or two prior to serving, which will ensure it is silky smooth and creamy. Given its' butter content it does firm up when chilled. If you do make the whole cake and chill it, just be sure to remove it from the fridge a least an hour before serving.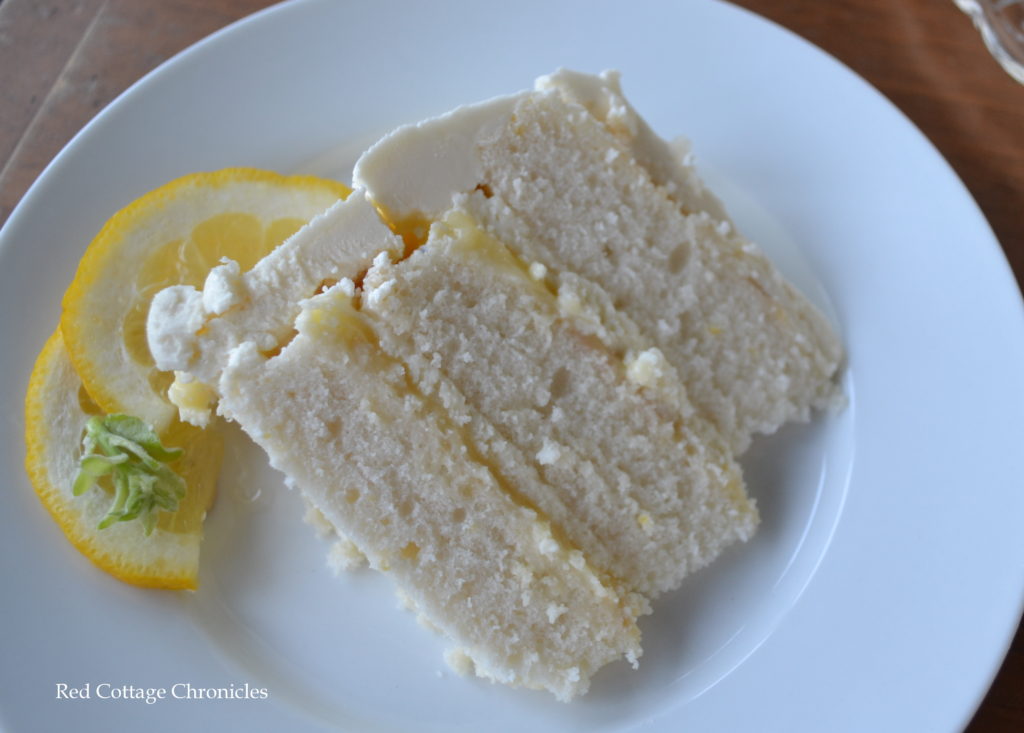 I  wanted to add a touch of honey to the flavor and decided the best way to achieve this while elevating the wow factor was to prepare a mascarpone cream by beating mascarpone cheese and honey and then folding this mixture into whipped cream!
Assembling the cake was a "piece of cake"!  (sorry I couldn't resist)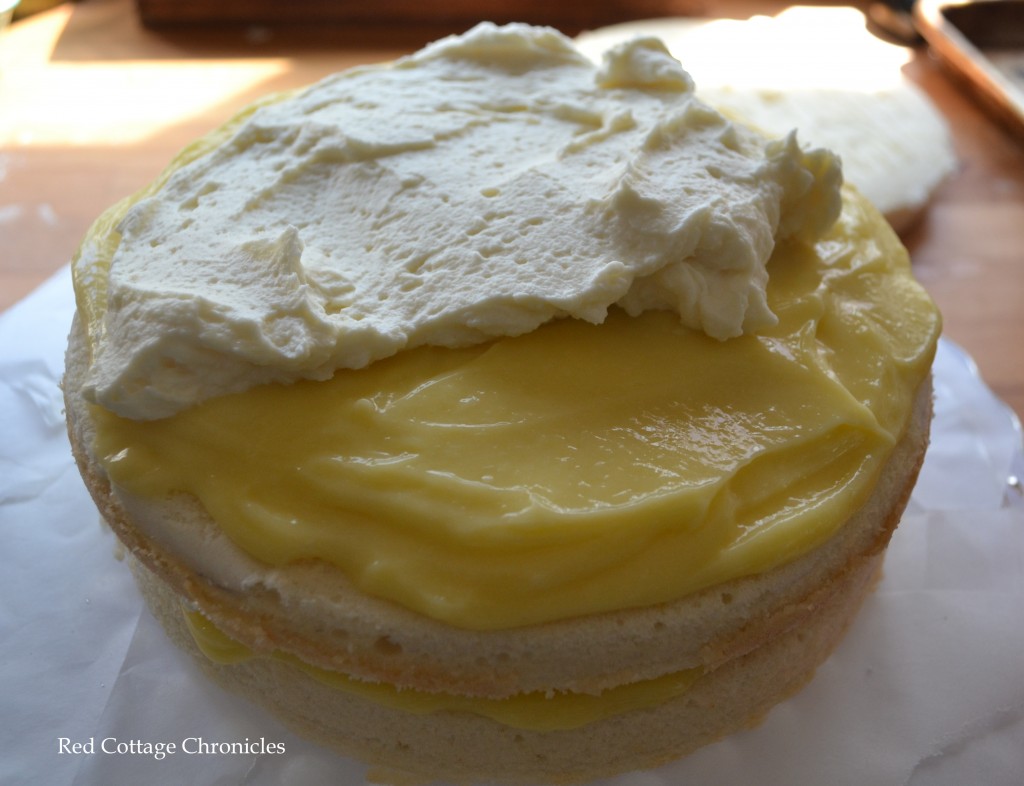 Decorating was just as easy.  I choose to slice up some fresh lemon and drizzle with honey, but you could easily top with fresh berries or even just leave that silky butter cream in all its' glory!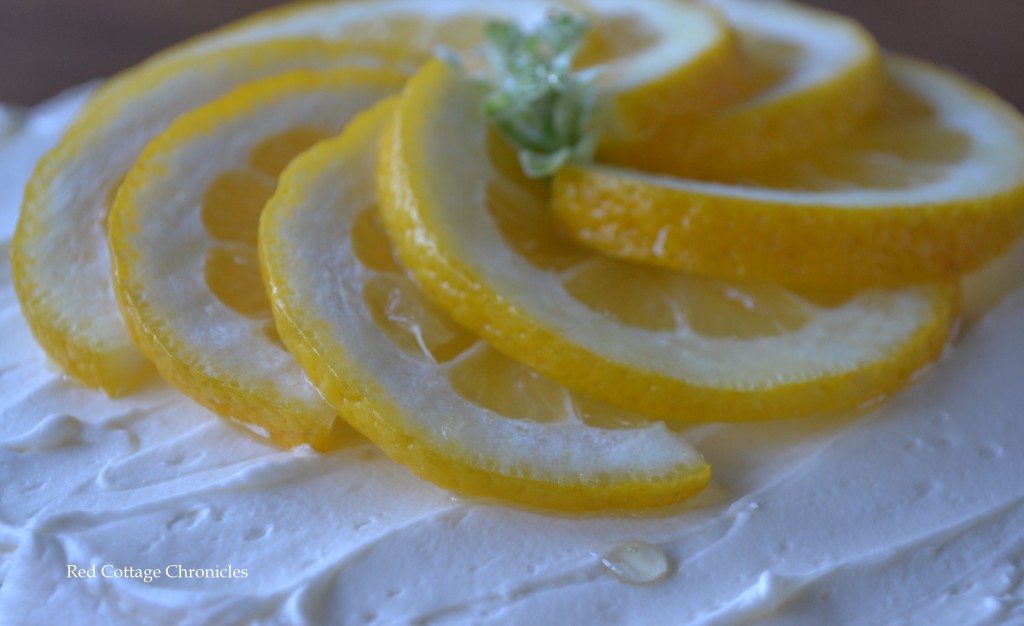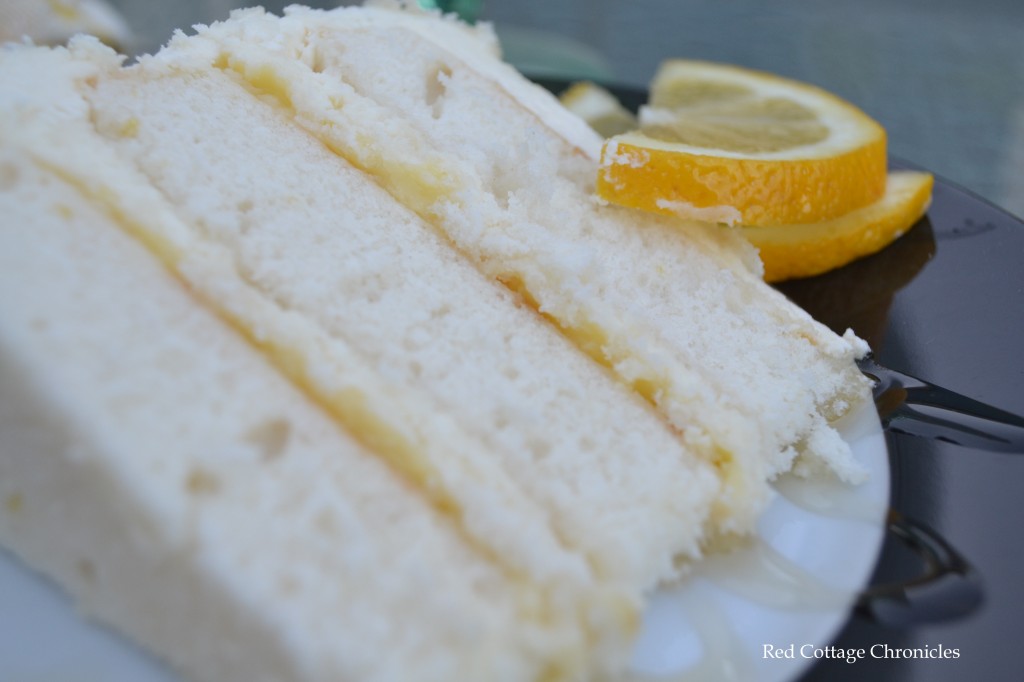 It truly does make a cake worthy of any bake shop!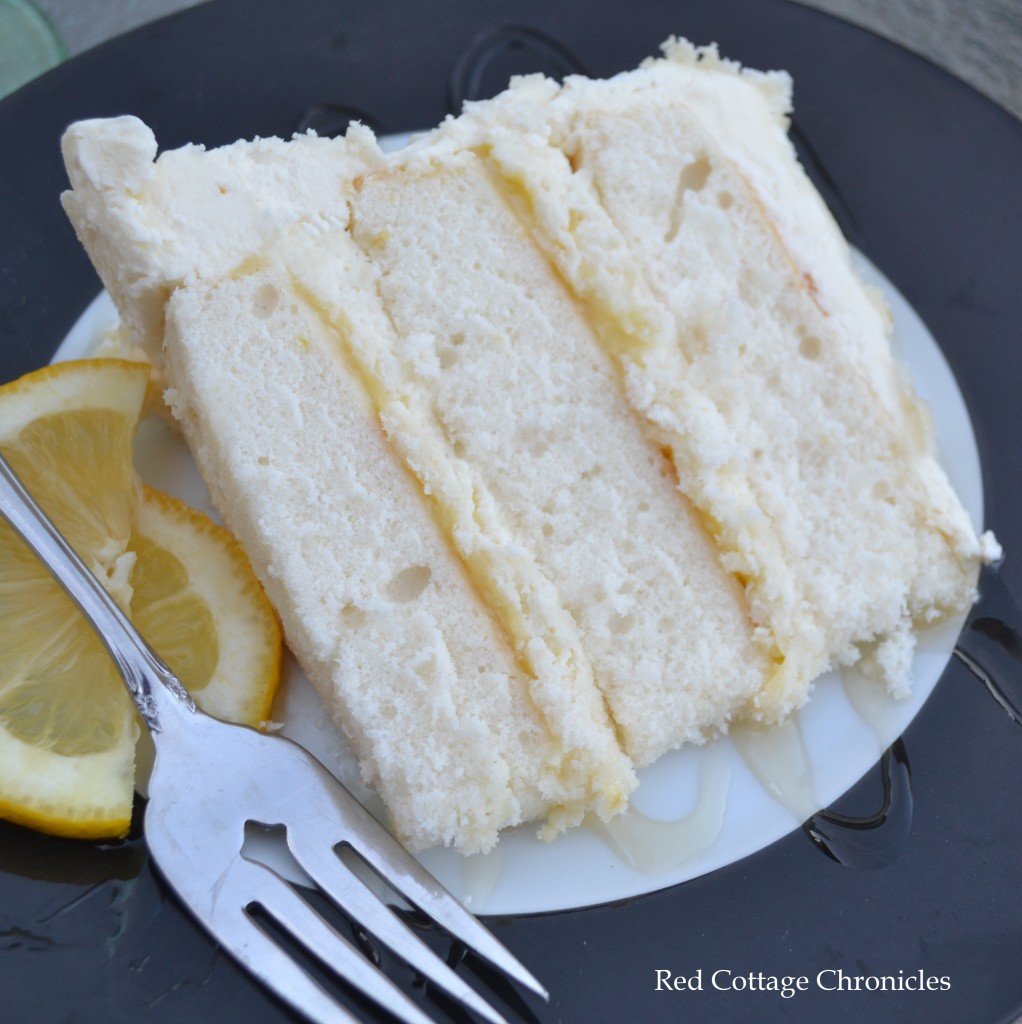 I have babbled on quite enough……now go bake a cake!
Triple Lemon Buttercream Cake
Author:
Prep time:
Cook time:
Total time:
Ingredients
CAKE
1/2 cup unsalted butter, room temperature
1 1/2 cup granulated sugar
2 tbsp. grated lemon zest (I use organic lemons when using the zest)
2 cups + 2 tbsp. cake and pastry flour
1 tbsp. baking powder
1/2 tsp salt
1 1/4 cup buttermilk, room temperature
4 egg whites (reserve yolks for lemon curd)
1 tsp pure vanilla extract
BUTTERCREAM
1 cup sugar
4 egg whites
1 1/2 cups unsalted butter, room temperature
1/4 cup fresh lemon juice
1 tsp pure vanilla extract
CURD
2/3 cup granulated sugar
1/2 cup fresh lemon juice
2 tsp grated lemon zest
2 egg yolks
1 whole egg
1/2 cup unsalted butter, room temperature
HONEY MASCARPONE CREAM
8 oz container mascarpone cheese
1/4 cup + 2 tbsp. honey
1 cup 35% whipping cream, whipped
Instructions
LEMON CURD (I should note I always make this first to allow sufficient time to cool)
Whisk all ingredients except butter in a heatproof bowl.
Place bowl over pot of simmering water.
Gently whisk the mixture until it has thickened and will make a ribbon on top of itself when whisk is lifted. You do not need to whisk quickly, and can step away now and again). This process should take about 15 minutes. It will be done when the curd has thickened and if you lift the whisk it will leave a ribbon on itself.
Remove from heat and stir in butter. Allow to cool until set.
CAKE
Preheat oven to 350 degrees. Grease three 8″ cake pans and line bottoms with parchment paper. Lightly coat sides of pan with sugar.
Cream the butter and sugar with the lemon zest by beating at high speed until well blended.
In a separate bowl sift together flour, baking powder and salt.
In a second bowl whisk egg whites with buttermilk and vanilla.
Add the flour and buttermilk milk alternatively into the creamed butter mixture in small additions, beginning and ending with the flour. Mix well after each addition.
Divide the batter between the three pans. It amounts to approximately just under 2 cups per cake pan.
Bake at 350 degrees for 20 minutes, or until skewer comes out clean.
Cool in pan for 15 to 20 minutes before turning out on rack to cool completely.
BUTTERCREAM FROSTING
Whisk the sugar and egg whites in a metal bowl.
Place the bowl over a pot of simmering water and whisk until the sugar is completely dissolved and mixture is hot, approximately 3 minutes.
Remove from heat and carefully pour mixture into the bowl of electric stand mixer (or use handheld mixer). Whip the hot egg whites until they cool to room temperature.
While beating, add the butter a bit at a time. Then add lemon juice and vanilla.
The mixture will still be quite runny at this point. Continue beating until it reaches a smooth and fluffy texture. This will take several minutes.
Set aside while you assemble cake
HONEY MASCARPONE CHEESE
Beat cheese and honey until smooth and creamy
Whip cream and fold into the mascarpone cheese mixture
ASSEMBLY
Place one layer onto cake plate. Using an offset spatula spread a generous amount of lemon curd to cover entire layer leaving only a small border around edges. Then, spoon an equally generous amount of honey mascarpone cream over curd and gently spread to completely cover the lemon curd.
Place second layer of cake on top and repeat with lemon curd and mascarpone cream.
Place last layer of cake on top. Again, using an offset spatula gently spread buttercream icing over top and down sides of cake. Decorate around bottom edge with piping bag if you wish, and top with lemons, berries, or decorate by piping on a design of your choice!