Now that I have had a bit of time to decompress from the busy weekend I am excited to share with you the recipe for my mom's birthday cake.  Triple Lemon Buttercream cake with lemon curd and honey mascarpone cream filling. 
(Updated August 2022)
I will admit it is a bit time consuming to prepare, but so worth the effort!
Time saving tip: purchase a good quality store bought lemon curd instead of making your own as is called for in this recipe.
This post contains affiliate links to help you find the products I use. Should you make a purchase through one of these links I may earn a small commission with no additional cost to you.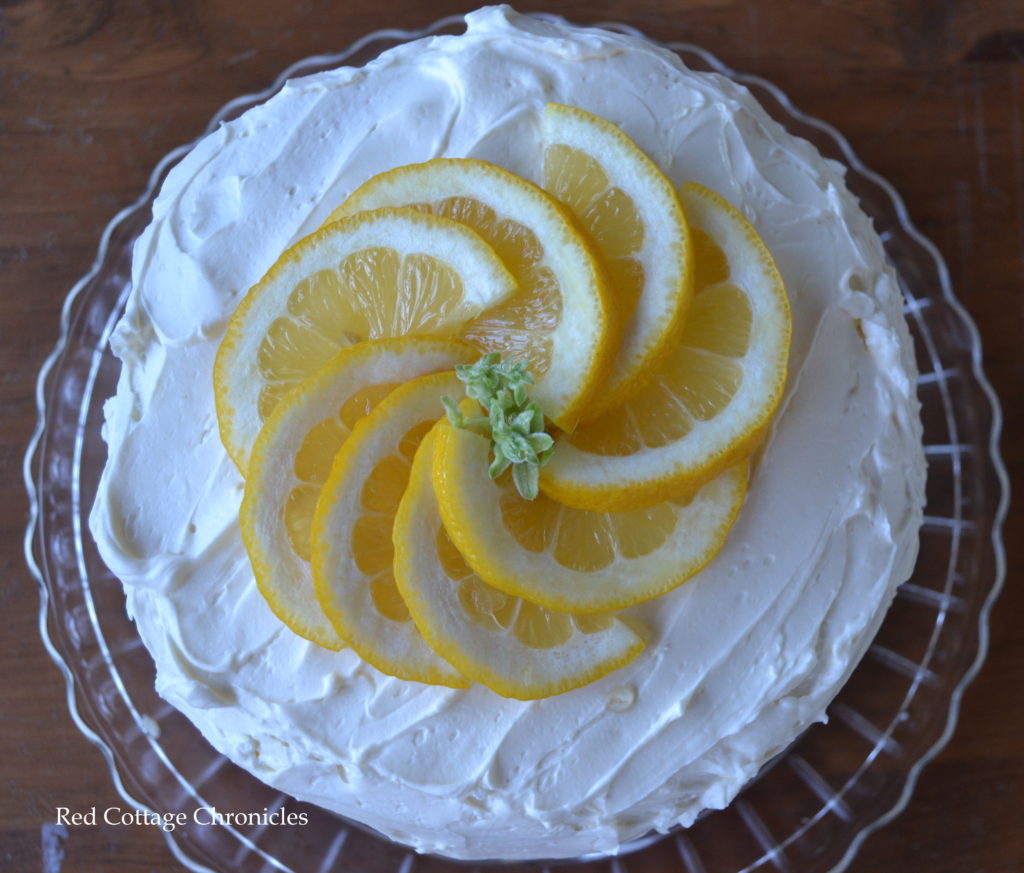 I love how busy I am on the weekends when the weather turns nice!  I especially love being busy in the kitchen baking up something yummy for my family.  Admittedly, it was a bit of comedy of errors when I started to prepare the buttercream frosting. 
The cake layers, lemon curd and honey mascarpone came together without a hitch.  The buttercream however was a bit of a challenge And, for no other reason than I was letting my mind wander to all the things I had to get done and was rushing a bit more than I should have been. 
Lets just say this….one batch ended up all over the stove top. The second try didn't get past separating the eggs as I got a whole chunk of yolk mixed in, which is a no-no.  The third try wasn't much better. The egg whites did make it into the bowl yolkless, but when I picked up the measuring cup with the sugar the handle caught the edge of the bowl and I promptly dumped all the sugar over the floor! 
It was my last 4 eggs, so thankfully they were unharmed!   I  almost threw up my arms and said forget it. I could throw together our favourite 10 minute birthday cake. Since all the other steps were done and I really wanted this to turn out well,  all I could do is laugh at myself and remember why I love to bake!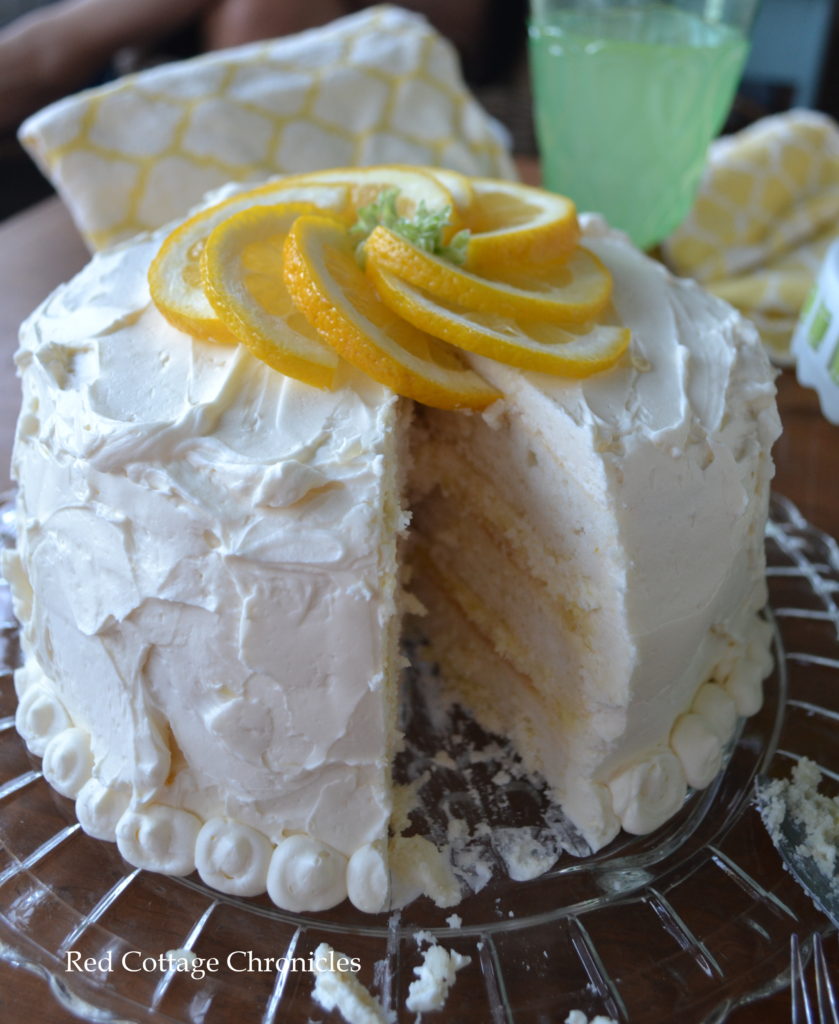 The recipe is adapted from Anna Olson's Lemon Layer Cake with Lemon Curd and Buttercream Frosting.
What baking pans will I need to make a 3 layer cake
I used 3 eight inch round baking pans for this cake. You could also use 3 eight inch square pans, but I find frosting a round cake a bit easier.
How long do you bake cake layers?
These layers bake for about 20 minutes each in a 350 degree oven. However, start by checking for doneness at 20 minutes, but bake until a toothpick or cake tester comes out clean.
How to get flat cake layers
The pan heats up faster than the cake batter. Hence the edges of the cake will bake and set faster than the centre. This results in that dome in the centre of the cake. To bake cakes that are nice and flat the secret is to insulate the outside of the pan.
In a pinch you can use 2 or 3 layers of aluminum foil to line wrapped around the outside of the pan. However, for a very small investment you can purchase cake pan insulating strips that are reusable.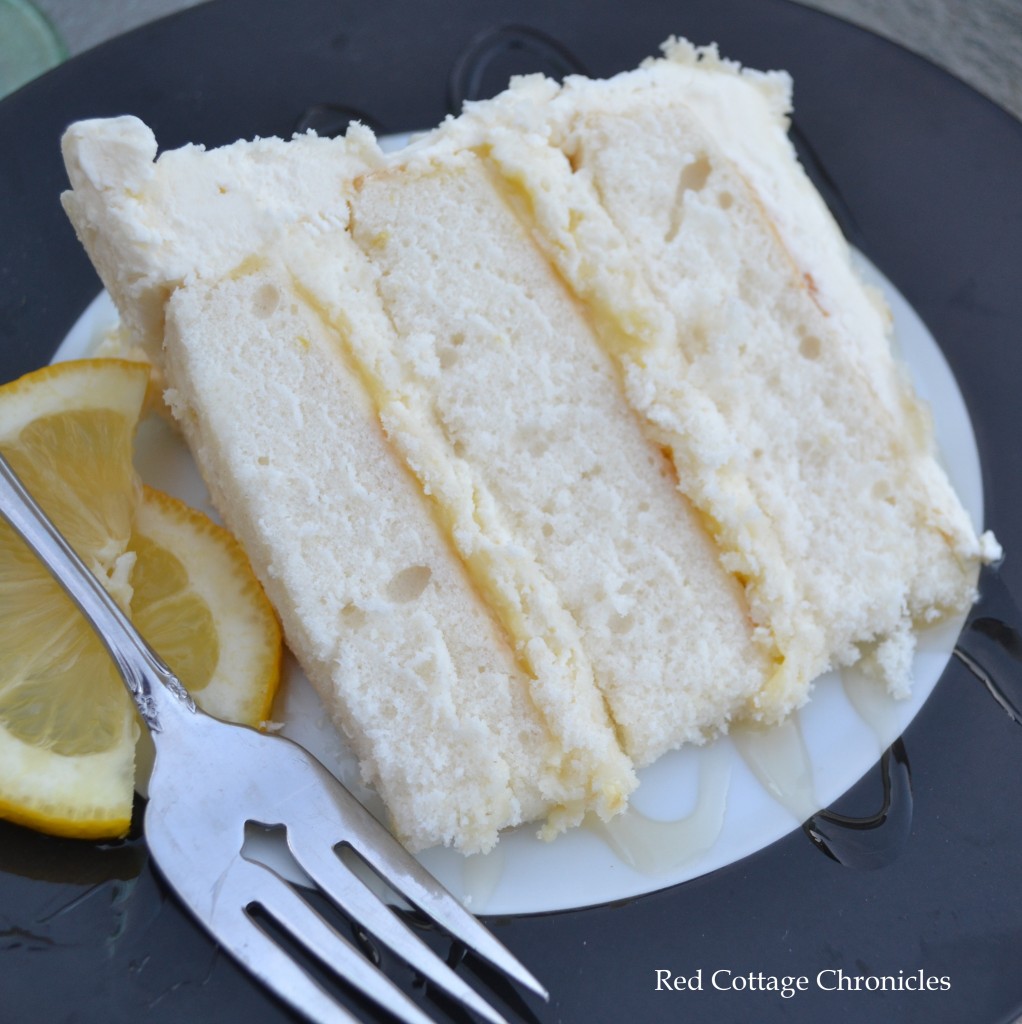 How can you fix a domed cake
If you forget to insulate your pan or prefer not to, fixing a domed cake is very simple. You can buy a cake levelling tool, but a simple serrated bread knife is all you really need. Laying the blade of the knife flat against the edge of the cake, with the sharp side facing in towards the centre, gently slide the knife straight across the cake, slicing off the domed part.
The only problem you may encounter is that you are left with an exposed crumb cake that can make frosting difficult without getting the frosting full of crumbs. When layering your cake, simply place the cut side of the cake down to avoid this problem.
How to make Swiss Buttercream Frosting
While it seems complicated, making Swiss buttercream frosting is not that difficult. It is however a bit finicky in that it needs constant attention. The result however is a rich and thick creamy frosting that is slightly sweet, and oh so buttery.
separate eggs carefully as you will only be using the whites
whisk the egg whites and sugar in a metal bowl that will fit over a saucepan
fill the sauce with about 2 inches of water (you do not want the bowl to touch the water) and bring to a simmer
place the bowl of egg whites over the simmering water and whisk until all the sugar is dissolved. This should take about 3 minutes. Carefully (it will be hot) rub a bit of the mixture between two fingers to make sure you can't feel any sugar granules.
Transfer the egg white mixture to the bowl of an electric mixer and beat until stiff peaks form and the mixture has cooled to room temperature
Add butter, a tablespoon or so at a time, mixing completely between each addition until all of the butter is incorporated.
Beat in vanilla
I find it is best if used immediately, but an be refrigerated (bring bake to room temp before using to frost your cake)
Even though the buttercream frosting should be refrigerated if not being used promptly, I would recommend preparing the buttercream and frosting the cake only an hour or two prior to serving, which will ensure it is silky smooth and creamy. Given its' butter content it does firm up when chilled. If you do make the whole cake and chill it, just be sure to remove it from the fridge a least an hour before serving.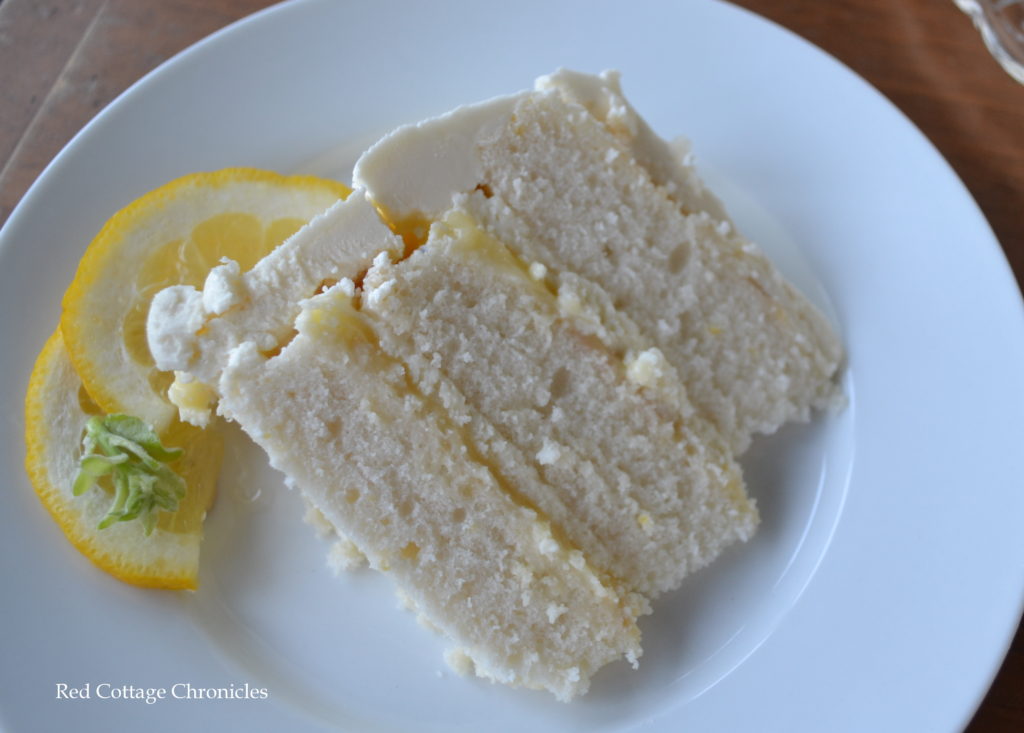 I  wanted to add a touch of honey to the flavor and decided the best way to achieve this while elevating the wow factor was to prepare a mascarpone cream by beating mascarpone cheese and honey and then folding this mixture into whipped cream!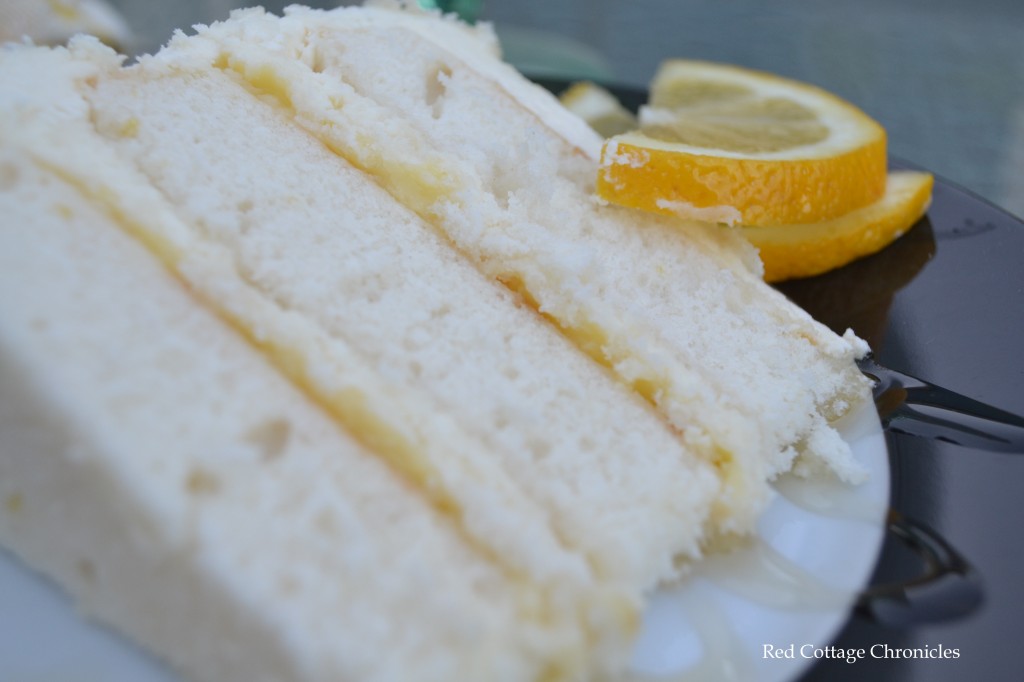 How to assemble a layer cake with filling
Assembling the cake was a "piece of cake"!  (sorry I couldn't resist). I used two different fillings for this lemon buttercream cake. Lemon curd, and mascarpone filling.
Use an off-set spatula to spread filling onto the bottom cake layer. Spread only to about a 1 inch of the edges. If you are using two different fillings, add the heavier of the two first. Since the lemon curd was a thicker, heavier filling I added that first. The mascarpone is whipped and fluffy so I spread that over top of the lemon curd.
Carefully place the second cake layer on top of the filling. Repeat the step above if you have more than 2 layers as I did with this triple layer cake.
Bakers' Tip
To easily keep the filling from spilling out of the layers, using a wide decorating tip pipe a wide border around the perimeter of each layer before adding the filling. Spread the filling within the frosting border.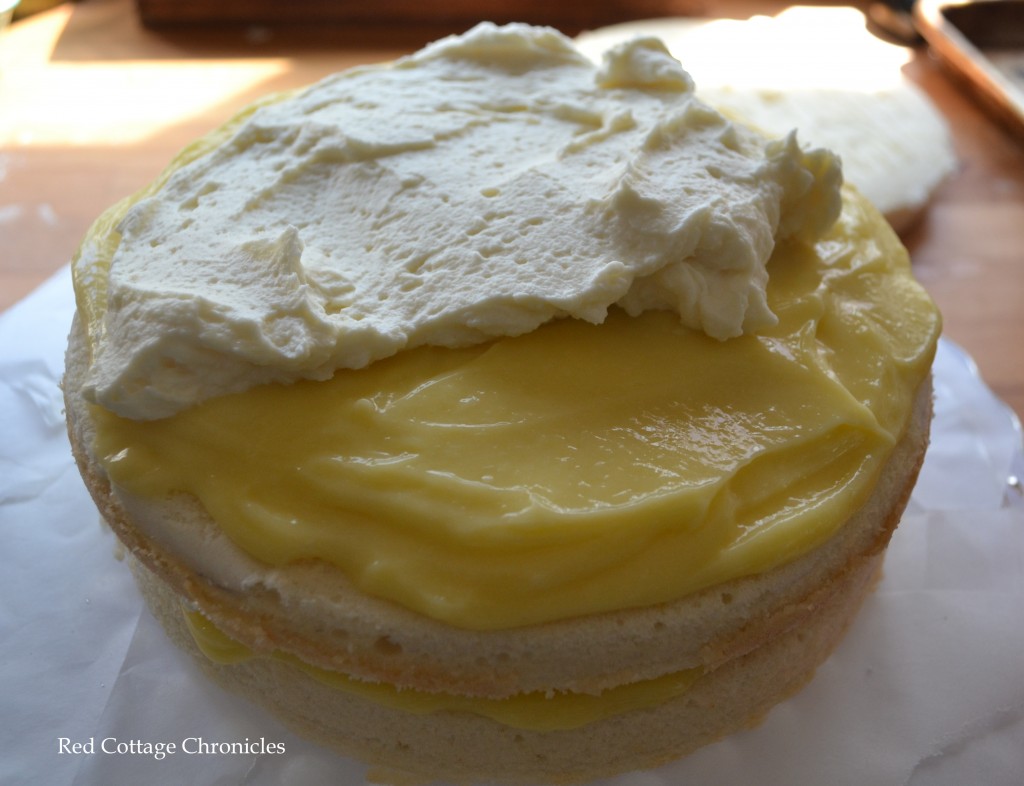 How to frost a layer cake
The first step is to be sure that your layers are even and not leaning in any one direction.
Begin by adding a large dollop of frosting on the top of the cake. Using an off-set spatula spread a thin layer across the top of the cake, spreading over and down the sides. This is what is known as a crumb coat and does not have to be perfect.
This is similar to how I frosted this berry semi-naked cake, however you want a slightly thicker coat of frosting on the sides.
Add another mound of frosting to the top of the cake and spread a generous layer across the top and down the sides.
Using the top of the spatula gently create swirls throughout the frosting for a pretty finish.
Slice up some fresh lemon and drizzle with honey, but you could easily top with fresh berries or even just leave that silky butter cream in all its' glory!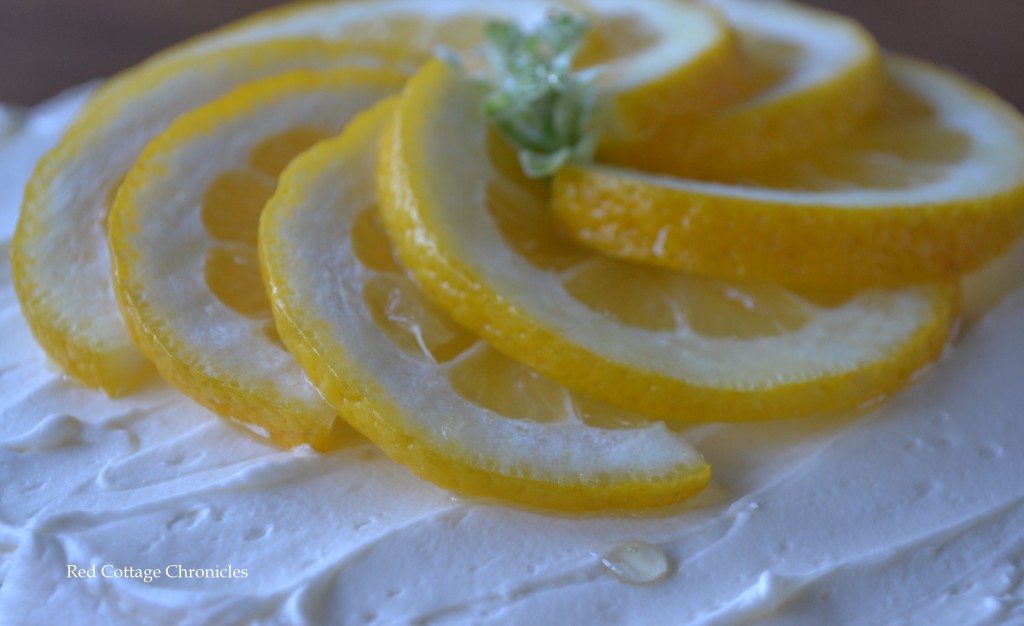 It truly does make a cake worthy of any bake shop!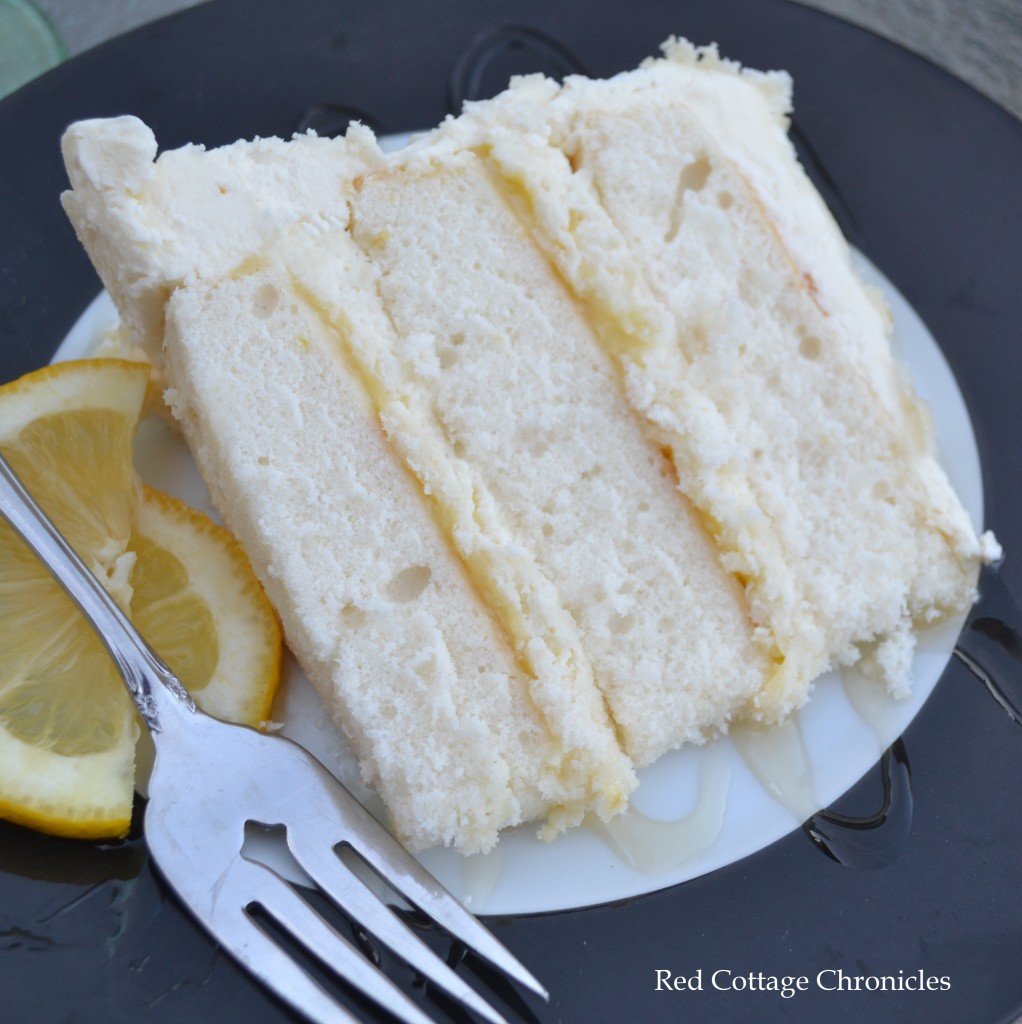 I have babbled on quite enough……now go bake a cake!
Other Lemon Desserts you May Enjoy
Lemon Meringue Pie (And the Secret to the Best Meringue!)
Boozy Frozen Linoncello Dessert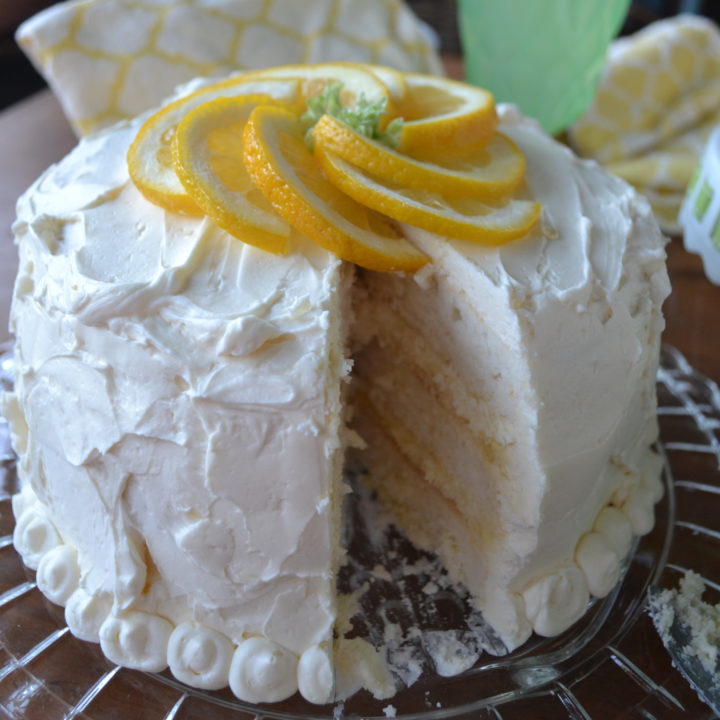 Triple Lemon Butter Cream Cake
Prep Time:
1 hour
15 minutes
Total Time:
1 hour
35 minutes
This decadent triple layer butter cream cake is filled with both lemon curd and a honey mascarpone whipped filling. Iced with swiss butter cream, it is truly worthy of any occasion
Ingredients
CAKE
1/2 cup unsalted butter, room temperature
1 1/2 cup granulated sugar
2 tbsp. grated lemon zest (I use organic lemons when using the zest)
2 cups + 2 tbsp. cake and pastry flour
1 tbsp. baking powder
1/2 tsp salt
1 1/4 cup buttermilk, room temperature
4 egg whites (reserve yolks for lemon curd)
1 tsp pure vanilla extract
BUTTERCREAM
1 cup sugar
4 egg whites
1 1/2 cups unsalted butter, room temperature
1/4 cup fresh lemon juice
1 tsp pure vanilla extract
CURD
2/3 cup granulated sugar
1/2 cup fresh lemon juice
2 tsp grated lemon zest
2 egg yolks
1 whole egg
1/2 cup unsalted butter, room temperature
HONEY MASCARPONE CREAM
8 oz container mascarpone cheese
1/4 cup + 2 tbsp. honey
1 cup 35% whipping cream, whipped
Instructions
LEMON CURD

(I should note I always make this first to allow sufficient time to cool)
1. Whisk all ingredients except butter in a heatproof bowl.
2. Place bowl over pot of simmering water.
3. Gently whisk the mixture until it has thickened and will make a ribbon on top of itself when whisk is lifted. You do not need to whisk quickly, and can step away now and again). This process should take about 15 minutes. It will be done when the curd has thickened and if you lift the whisk it will leave a ribbon on itself.
4. Remove from heat and stir in butter. Allow to cool until set.

CAKE
1. Preheat oven to 350 degrees. Grease three 8″ cake pans and line bottoms with parchment paper. Lightly coat sides of pan with sugar.
2. Cream the butter and sugar with the lemon zest by beating at high speed until well blended.
3. In a separate bowl sift together flour, baking powder and salt.
4. In a second bowl whisk egg whites with buttermilk and vanilla.
5. Add the flour and buttermilk milk alternatively into the creamed butter mixture in small additions, beginning and ending with the flour. Mix well after each addition.
6. Divide the batter between the three pans. It amounts to approximately just under 2 cups per cake pan.
7. Bake at 350 degrees for 20 minutes, or until skewer comes out clean.
8. Cool in pan for 15 to 20 minutes before turning out on rack to cool completely.


BUTTERCREAM FROSTING
1. Whisk the sugar and egg whites in a metal bowl.
2. Place the bowl over a pot of simmering water and whisk until the sugar is completely dissolved and mixture is hot, approximately 3 minutes.
3. Remove from heat and carefully pour mixture into the bowl of electric stand mixer (or use handheld mixer). Whip the hot egg whites until they cool to room temperature and have formed stiff peaks.
4. Beat in the butter a bit at a time, beating well between each addition. Then add lemon juice and vanilla.
5. Continue beating until it reaches a smooth and fluffy texture. This will may several minutes.
6. Set aside while you assemble cake but do not refrigerate if you are frosting the cake right away.
7. HONEY MASCARPONE CHEESE
8. Beat cheese and honey until smooth and creamy
9. Whip cream and fold into the mascarpone cheese mixture


ASSEMBLY
1. Place one layer onto cake plate. Using an offset spatula spread a generous amount of lemon curd to cover entire layer leaving only a small border around edges. Then, spoon an equally generous amount of honey mascarpone cream over curd and gently spread to completely cover the lemon curd.
2. Place second layer of cake on top and repeat with lemon curd and mascarpone cream.
3. Place last layer of cake on top. Again, using an offset spatula gently spread buttercream icing over top and down sides of cake. Decorate around bottom edge with piping bag if you wish, and top with lemons, berries, or decorate by piping on a design of your choice!


Notes
If you want to save time, you an use store-bought lemon curd and omit the necessary ingredients and steps to make it yourself.