Just a quick thank you to all who visited my virtual Christmas open house!  I was so happy to have you visit!
Is everybody ready for Christmas? Even though my girls are in their 20's, we still put out a plate of cookies and a cup of milk for Santa every year.  I assure you, he enjoys them every single year 😉
This year I made a fairly basic cookie, smoothed on a chocolate ganache and then sprinkled crushed peppermint candy cane.  This recipe makes about 5 dozen cookies.  I sprinkled half of them with chopped pecans as well for a bit of variety.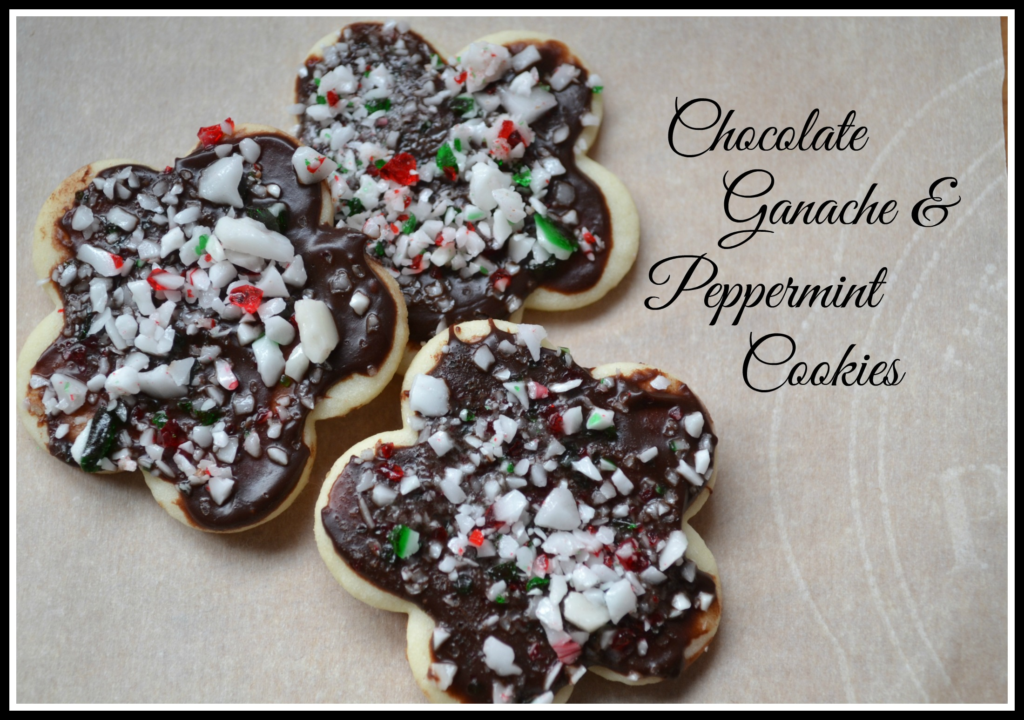 Topping some with pecans as well!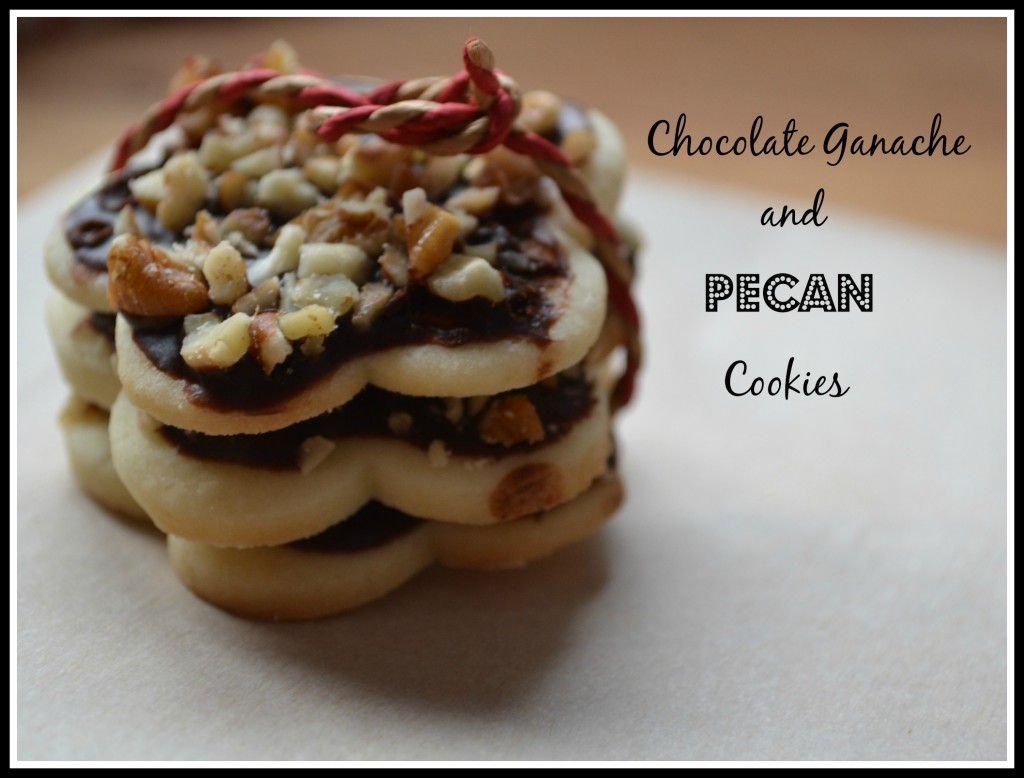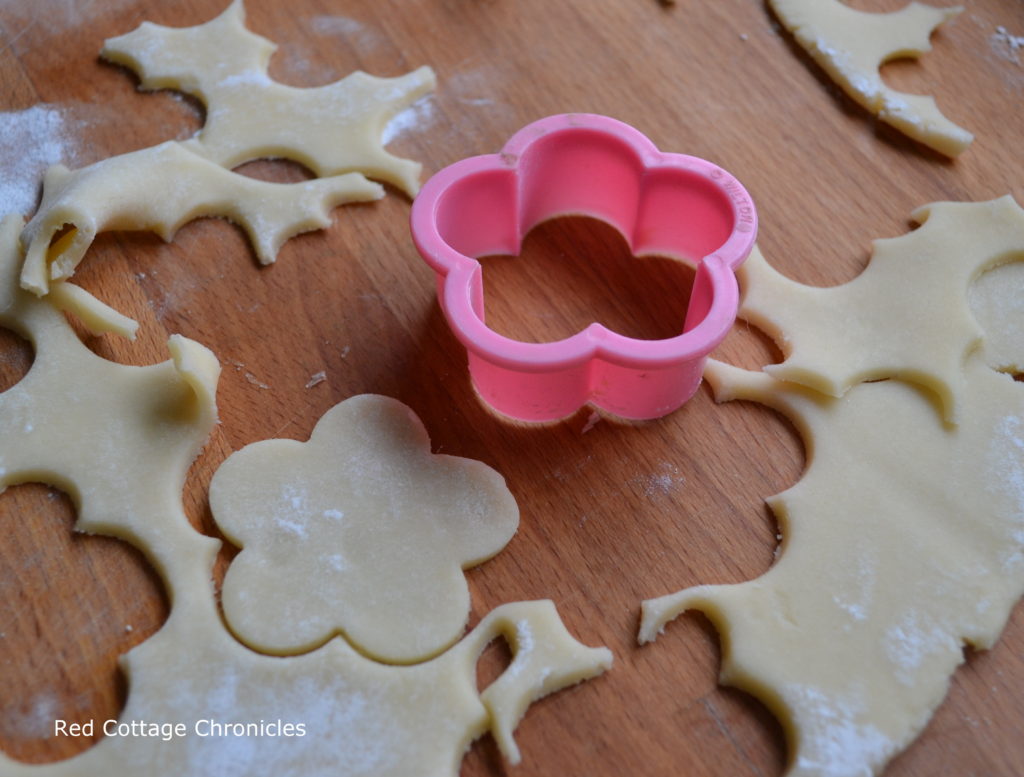 Prepare, chill, roll and cut the dough!  Bake and allow to cool.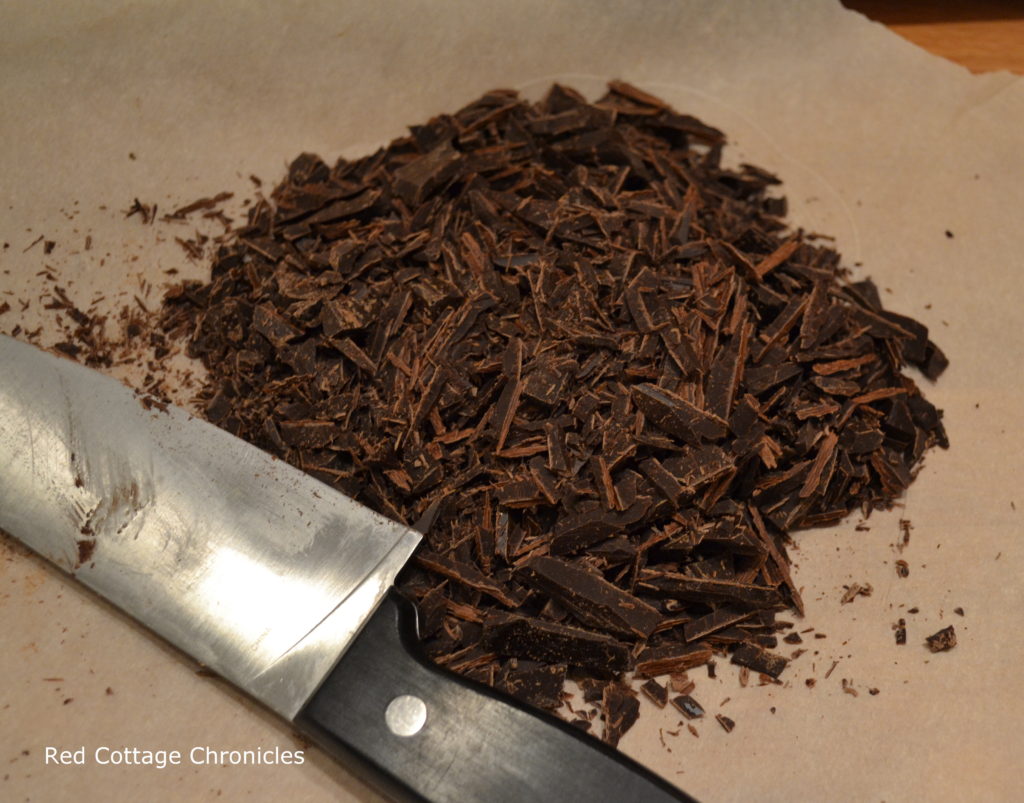 Chop the extra dark chocolate fairly fine for the ganache.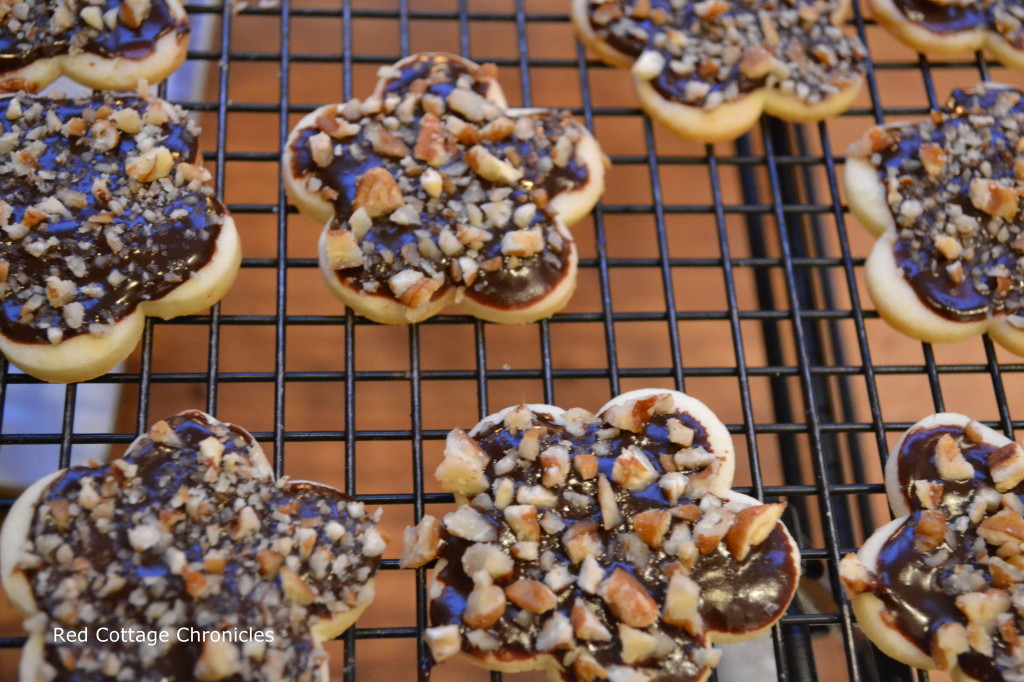 Spread cooled cookie with ganache, sprinkle with crushed peppermint and/or pecans and allow the ganache to firm up at room temperature.
These cookies freeze well.  Just be sure to place parchment or wax paper between layers.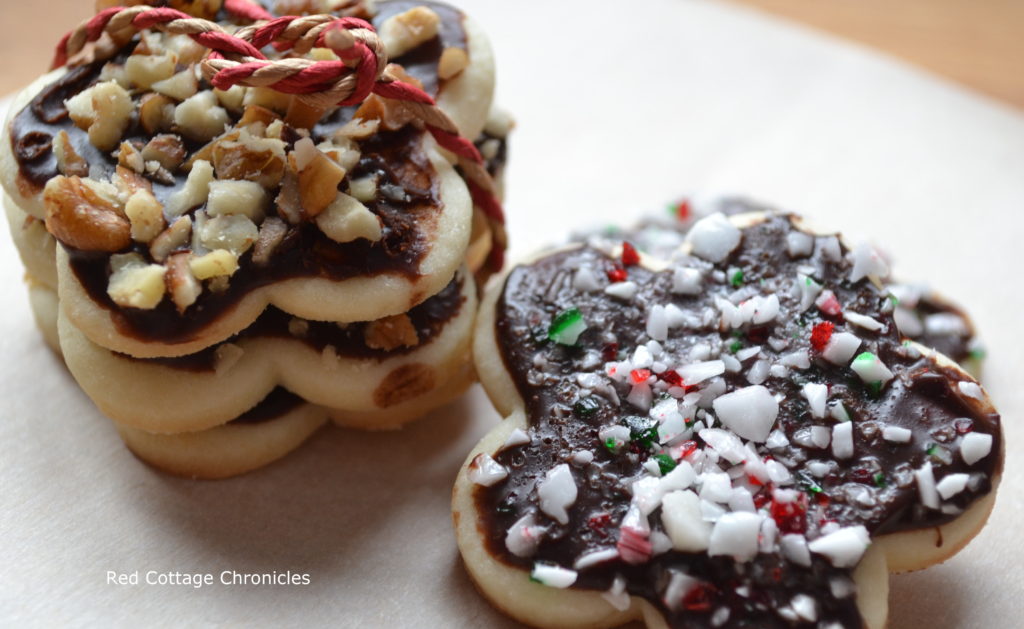 Perfect for Santa!
Since the recipe makes 5 dozen, they are also perfect for your Christmas cookie exchange!
Enjoy!
Chocolate Ganache and Pepperment Cookies
Prep time:
Cook time:
Total time:
Adapted from the cookbook Great Cookies, Secret to Sensational Sweets
Ingredients
3 cups flour, sifted
1/4 teaspoon baking powder
1/2 teaspoon salt
1 cup butter, room temperature
3/4 cup granulated sugar
1 large egg
1 1/2 teaspoon pure vanilla extract
6 ounces extra dark Belgian chocolate very finally chopped
1/4 cup whipping cream
1 tablespoon light corn syrup
3/4 teaspoon pure vanilla extract
chopped peppermint candy canes
chopped pecans
Instructions
Sift together the flour, baking powder and salt, and set aside. In a small bowl whisk the egg and vanilla together and set aside. In the bowl of electric mixer cream together the butter and sugar. Add the egg mixture to the butter mixture and beat until blended. Add the dry ingredients one half at a time and mixing only until dough comes together. Transfer dough to a well floured surface and knead a few times, until smooth. Divide into 4 equal parts, flatten into discs and wrap well in plastic wrap. Refrigerate 15 minutes.
Meanwhile preheat oven to 350 degrees. Position the oven racks in the upper and lower third of the oven.
Remove the dough from the refrigerator and on a lightly floured surface roll dough to approximately 3/16th of an inch. Cut into the shape of your choice. Place on a parchment lined baking sheet and bake for 10 to 12 minutes, rotating the trays front to back and top to bottom after about 7 minutes.
Remove from oven and place on a wire rack to cool.
To prepare ganache,
Finally chop chocolate and place in a metal or glass bowl. In a saucepan over low heat, warm the cream and corn syrup together just until it comes to a simmer. You will see small bubbles around the edges and steam rising from the surface. Remove from the heat and pour over the prepared chocolate. Let it sit for a minute, or so, and then stir with a rubber spatula until the chocolate is evenly melted and mixture is smooth. Add the 3/4 teaspoons of vanilla and stir to incorporate. Let the ganache sit for about 10 minutes to allow it to thicken.
To prepare cookie,
using an offset spatula spread a thin layer of ganache neatly over each cookie. Dip some into the crushed candy cane and some into the finally chopped pecans.
Allow to sit on a wire rack to firm up before refrigerating or freezing for storage.