Triple Chocolate Caramel Brownies
What is better than brownies? Triple Chocolate Brownies!! These chewy, moist brownies are made with semi-sweet chocolate, cocoa powder and chunks of caramel filled chocolate bar!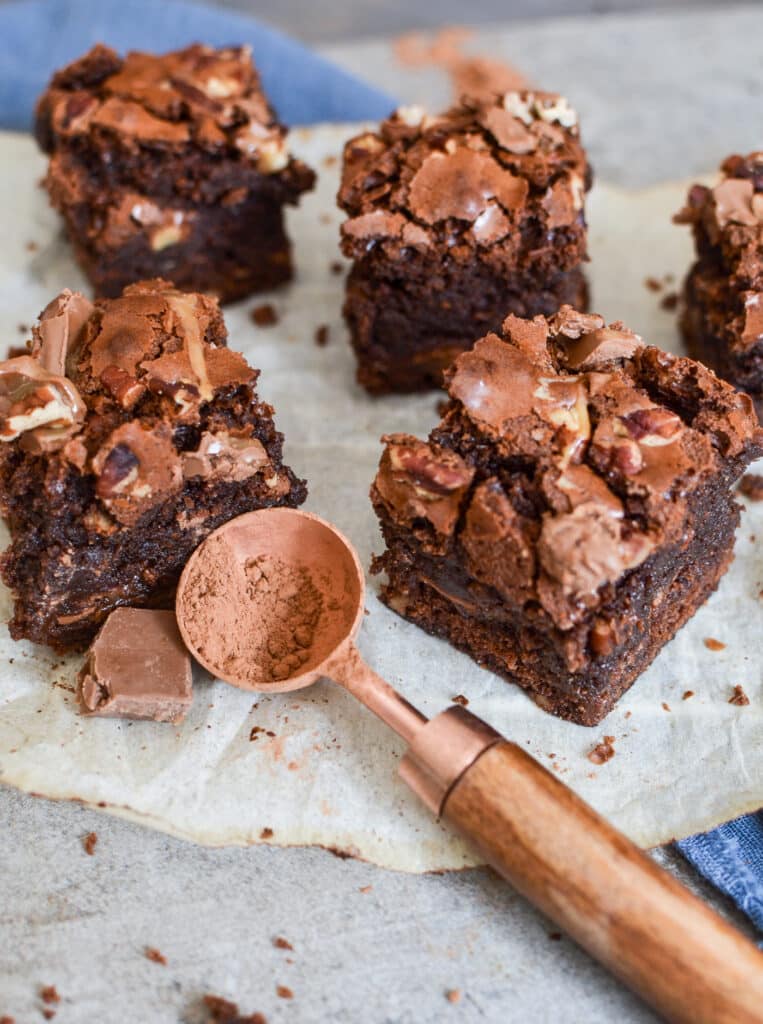 Brownies are such easy things to make, but are the ultimate sweet treat! These frosted marshmallow brownies are another family favourite!
They would also be a great addition to a dessert grazing board!
Who doesn't remember coming home from school to a yummy chocolate brownie and cold glass of milk! "Back in the day" there was often a freshly baked treat waiting for us when we got home. When my own girls were younger, brownies were my go-to for lunch box treats since they were so easy to make and I always had the ingredients on hand.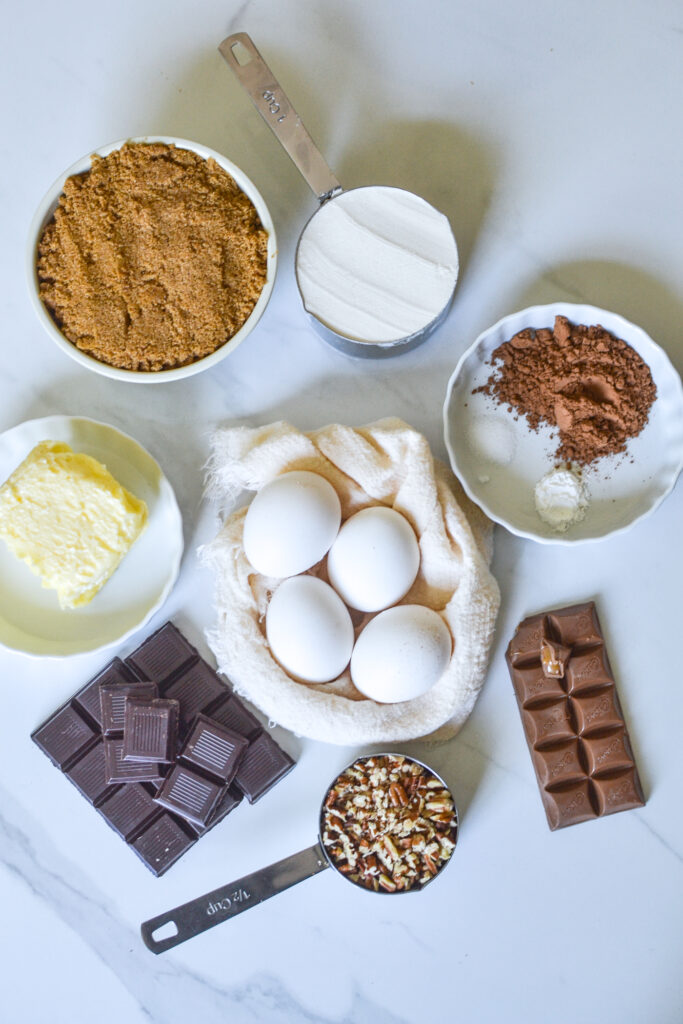 Why you will love these brownies
they have a rich dark chocolate flavour and the caramel adds a nice sweet touch
easy to make with simple ingredients
moist and fudgy brownie with the perfect crunchy top
similar to the flavours of Turtles with the caramel and pecans
make ahead and freeze for the holidays or lunch boxes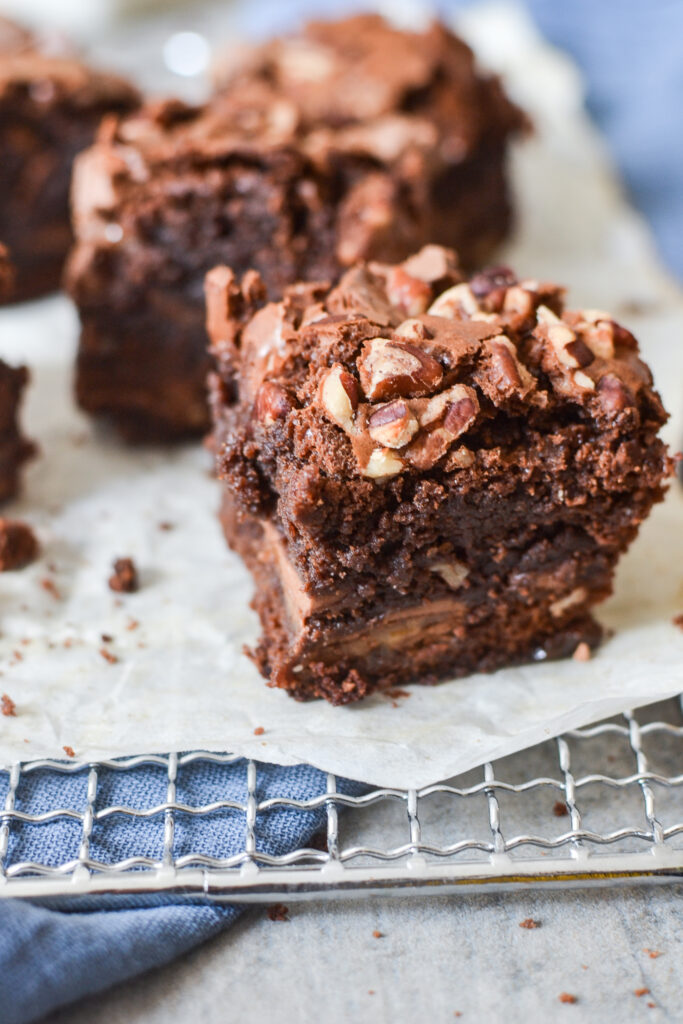 What makes these brownies fudgy
Melting the butter will result in a fudgy, moist brownie. This recipe involves melting the butter along with the chocolate. Using dark brown sugar helps to make the brownies moist and adds a nice depth of flavour with its high molasses content.
What are the brownie ingredients?
all purpose flour, baking powder and salt
semi-sweet or bittersweet chocolate
caramel filled chocolate bars that break into squares, such as Caramilk
brown sugar
butter
eggs
pure vanilla extract
chopped pecans (optional)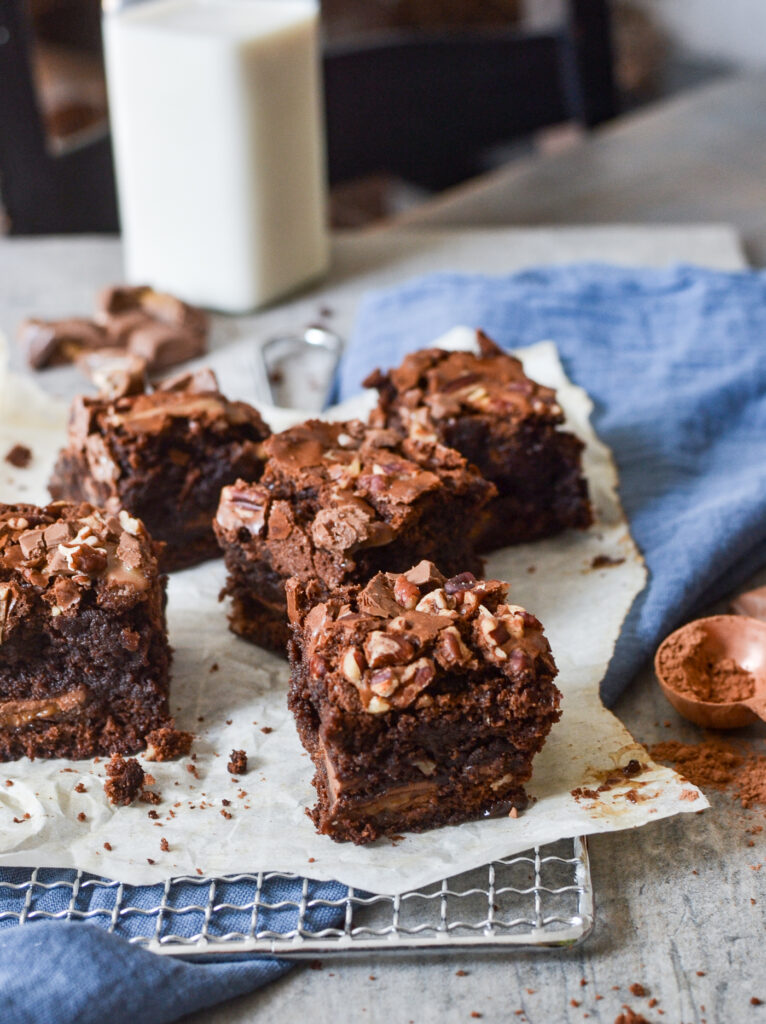 Kitchen Equipment you will need
medium glass bowl
rubber spatula
8 inch square baking pan
parchment paper
double boiler
8 inch square baking pan
What is a double boiler?
A double boiler is simply a set of two pots that fit into one another leaving a large space between the two when nested together. This classic doubler boiler is an example of that. You can also purchase a single double boiler pot designed to fit over your own pots or pans.
An inch or two of water is added to the bottom pot and brought to a simmer. The top pot is placed nested over the simmering water with the chocolate (or other ingredient you are melting) is placed inside. The heat and steam from the water below gently melts the chocolate.
If you don't have a double boiler you can easily use a metal bowl on top of a pot, just be sure that there is adequate space between the bottom of the bowl and the bottom of the pot, as you want the simmering water to be several inches below the bottom of top bowl. This will avoid over heating and burning your chocolate.
Bakers Tips
Lining the pan with parchment paper makes it so easy to remove them from the pan and cut them into perfect squares
Dust chocolate bar squares with cocoa powder to help them from sinking to the bottom of the batter
You can also pour half the batter into the pan, line with full chocolate bars, and then top with the remaining batter
Top the batter with extra chunks of chocolate bar and chopped nuts if desired
If you don't have dark brown sugar, light brown or golden brown will do
SCROLL UP TO SEE THE VIDEO ABOVE FOR A QUICK STEP BY STEP LOOK AT HOW THESE BROWNIES WERE MADE
Fun Fact: The ancient Aztecs used cocoa powder to fight fatigue! Cocoa powder is a rich source of flavanols, compounds that naturally increase blood flow to the brain – all for just 12 calories per tablespoon!! (source – Woman's Day Magazine)
So no need to feel guilty about enjoying one of these treats. Just think of it as your energy boost for the day!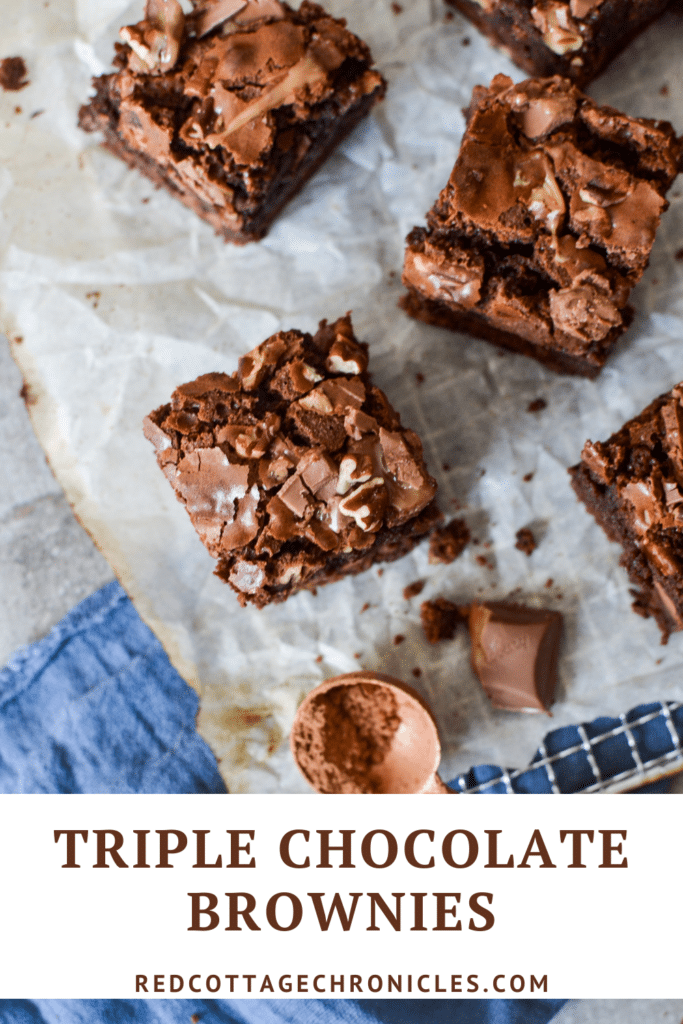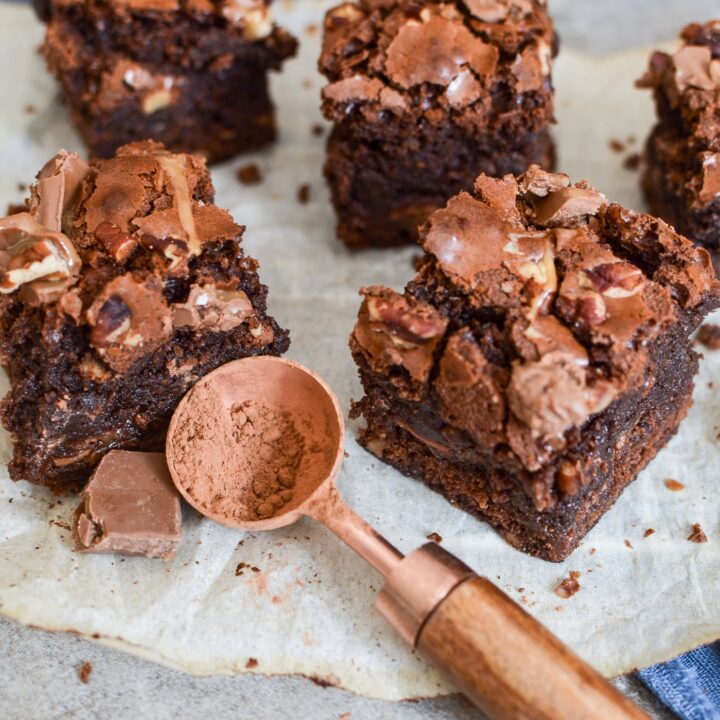 Triple Chocolate Brownies
These fudgy triple chocolate brownies are made with simple indgredients and get their rich chocolate flavour from cocoa powder, melted semisweet chocolate and caramel filled chocolate bars!
Ingredients
1 cup all purpose flour
1/2 teaspoon baking powder
1/4 teaspoon salt
2 tablespoons cocoa powder
6 ounces bittersweet or semisweet chocolate, chopped
3/4 cup butter
2 cups dark brown sugar, lightly packed
4 large eggs
2 teaspoons pure vanilla extract
4-5 caramel filled chocolate bars, such as Caramilk bar
Instructions
Preheat oven to 350 degrees. Prepare double boiler by placing 1-2 inches in the bottom saucepan and bringing to a simmer. Line an 8 inch square baking pan with parchment paper and set aside.
In a medium mixing bowl add flour, baking powder, salt and cocoa powder, stir to combine well.
When the double boiler is ready, add chopped chocolate and butter, stirring often with rubber spatula until completely melted and well blended.
Remove from heat and add brown sugar to the chocolate, stirring until dissolved and well combined.
Add eggs and vanilla and whisk to combine.
Stir the flour mixture into the chocolate mixture and stir well.
Add 2-3 tablespoons of cocoa powder to a bowl, add the squares of chocolate bar and toss gently to coat, remove the chocolate and fold it and the chopped pecans (if using) into the brownie batter.
Transfer to a parchment lined square baking pain and smooth down with spatula. You an add a few broken pieces of chocolate bar and a few chopped nuts to the top of the batter, pressing down slightly. Bake for 35 to 45 minutes, until toothpick comes out with just a few crumbs.
Remove from heat and allow to cool completely before cutting into squares.