It just seems like yesterday that I was sharing ideas for Easter table settings. How is it that a year that felt like slow motion went by so fast?!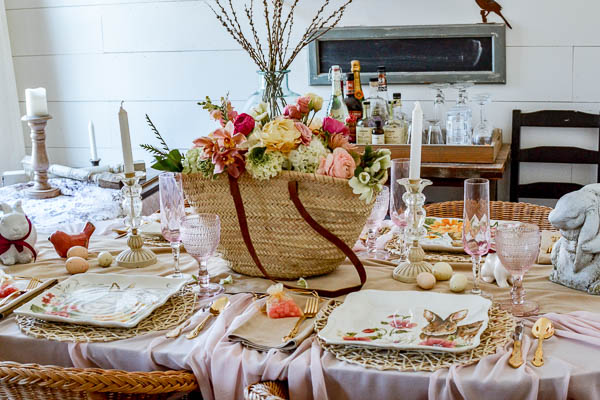 If you are stopping by for the first time, or are a regular visitor, welcome! Today I am very excited to share even more ideas for Easter table settings.
Chloe from Celebrate and Decorate is hosting this talented group of table stylists as we share our vision of the perfect Easter tablescape!
If you haven't already guessed, I LOVE styling tables for special occasions, holidays, and entertaining!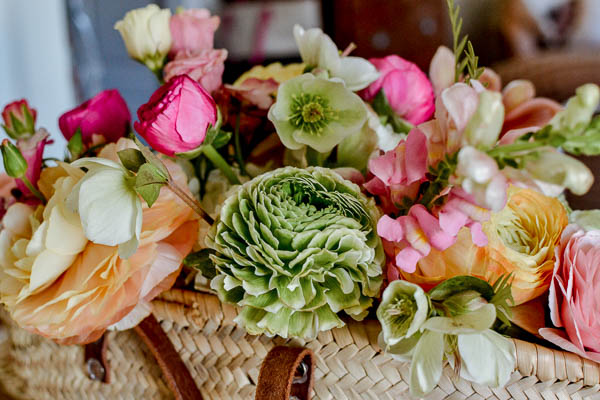 You might be curious as to how I go about planning and actually styling my tables.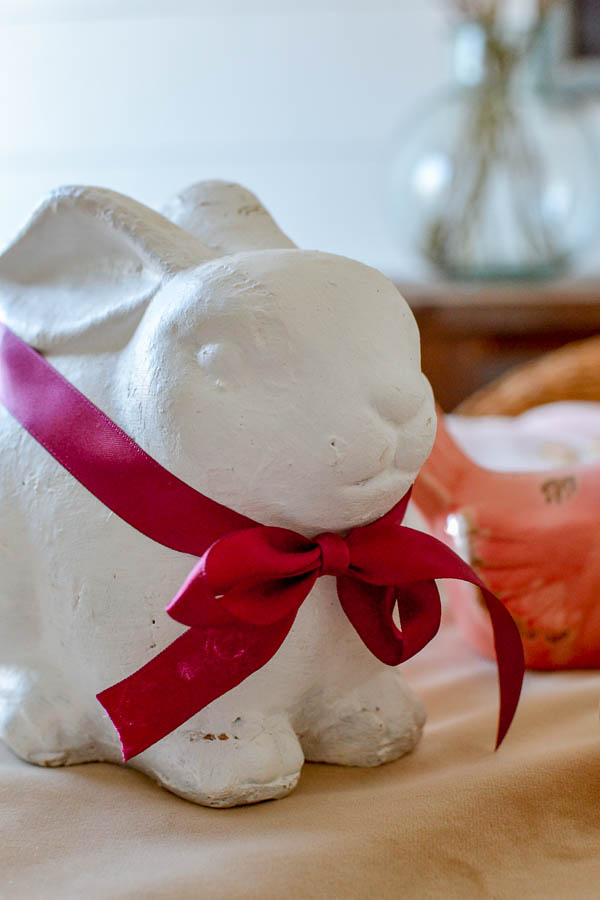 Today I thought I would break down my process since Easter is one of my favourites. I look forward to styling my Easter table every year.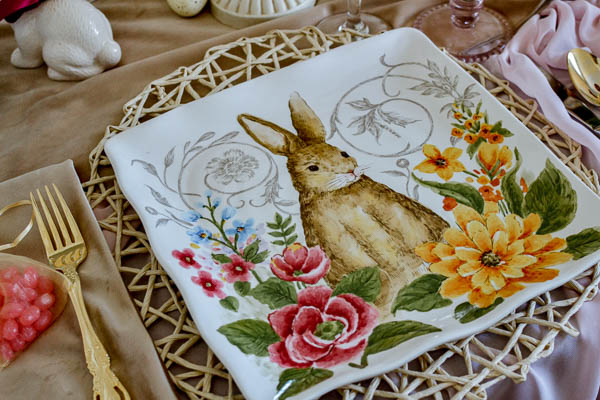 How do you decorate an Easter Table (or any table)
Decide on a theme – although Easter itself is the occasion, you will want to decide on an overall theme for your table decor.
Last year I styled an Easter table that the kids would love, but this year it is all about the adults!
Elegance with a touch of whimsy is my "theme" this year!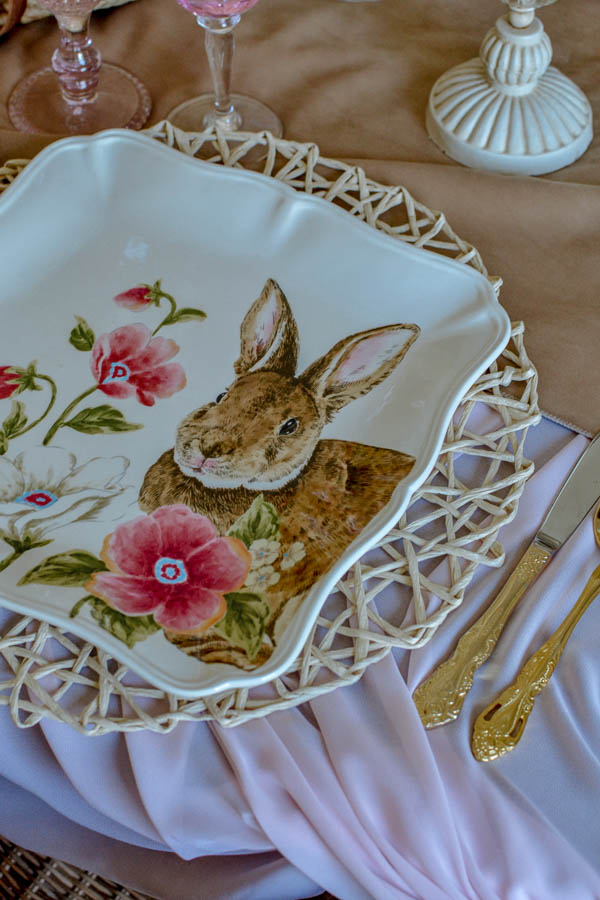 Choosing a color scheme for your dining table decor – next step is to narrow down a two or three colors that will be the focus of my table. This orange and pink spring table is a good example of that. It was fun, bright and bold.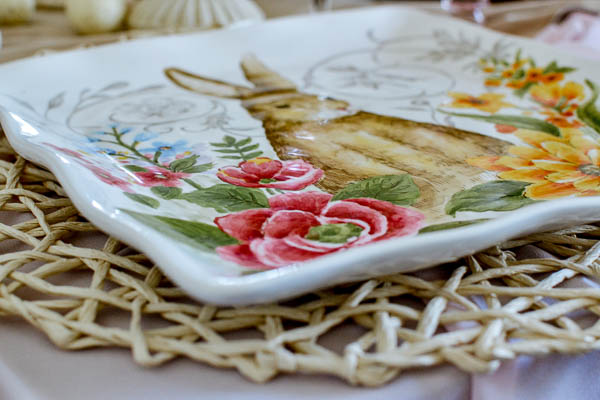 Keeping with my theme of elegant with a touch of whimsy, I choose pink and gold with pops of spring colour. There is just something about a blush pink paired with gold that sparks a feeling of elegance.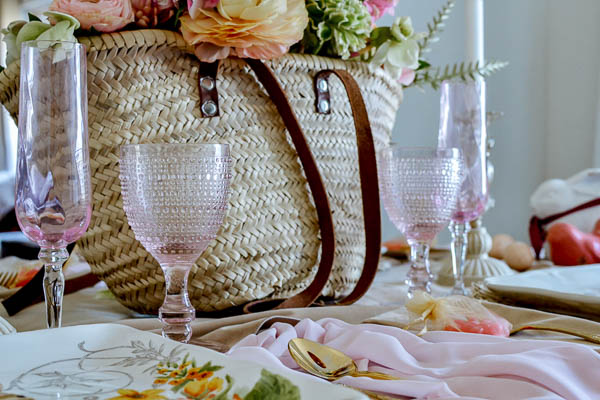 The all important centerpiece – if you know me at all, you know I am all about fresh flowers! So, it is no surprise they often are the star of the show!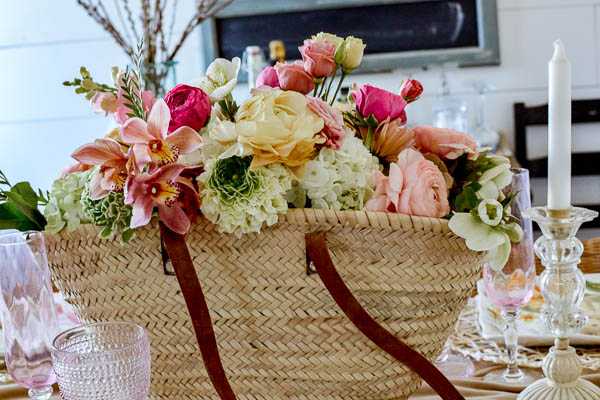 A little something for your guests – putting together a small treat for your guests is always a fun idea, and easy way to add another element that reflects the theme and colours you have chosen.
I choose a small organza bag filled with pink jelly beans. Simple, inexpensive, but a fun touch! Placed atop a gold velvet napkin, it adds layers and interest to the table.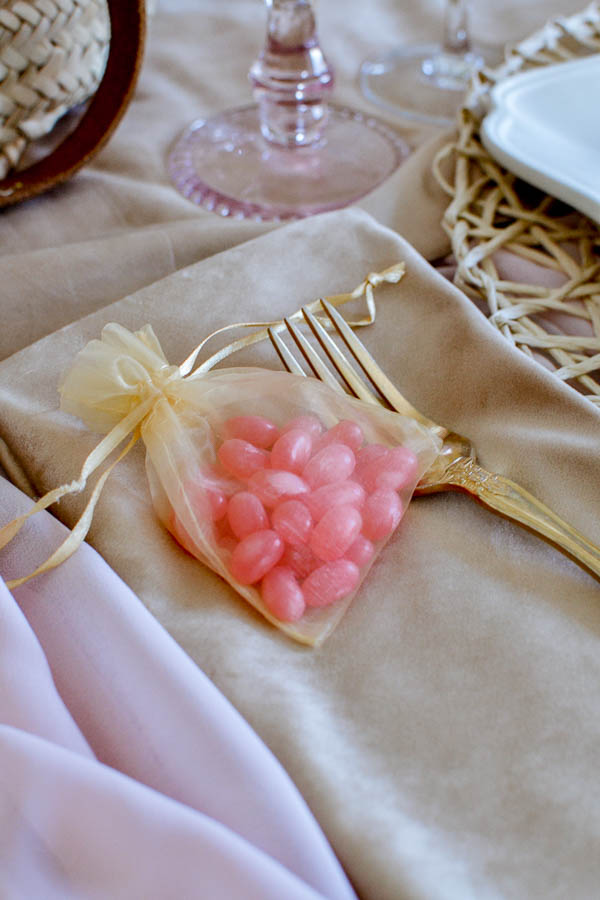 Theme, color, centerpiece and favors. Those are the four elements I think about first when I start out to style a table.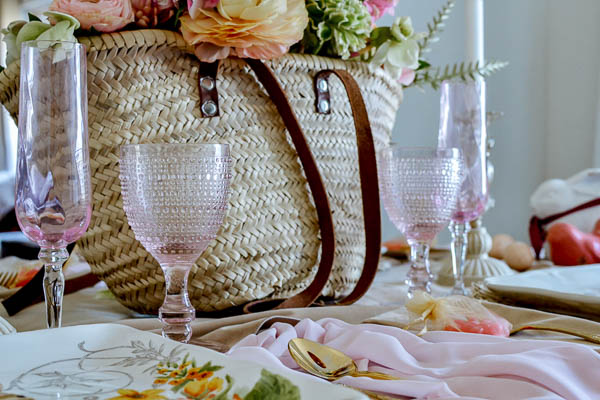 The rest is really just all about choosing all the elements that work within those decisions.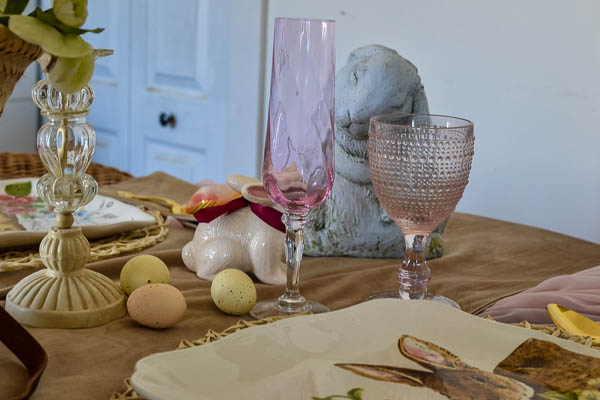 I choose pink hobnail water goblets and pink champagne flutes. They add color and give the table dimension by adding height.
A voluminous pink chiffon table scarf is gathered across the table, pooling in areas to again add layer and interest. A gold velvet table runs the length of the table, bringing in the gold tones.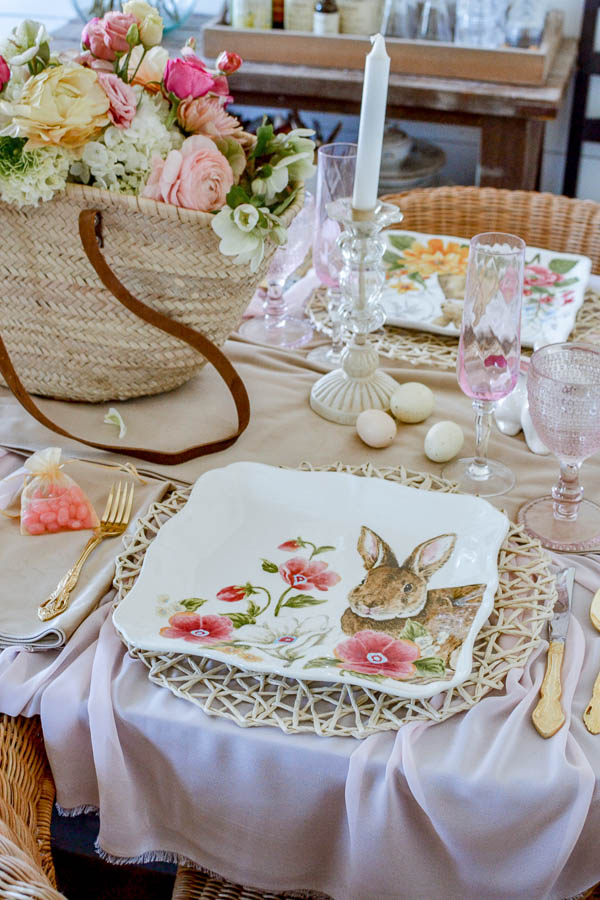 I love these square bunny plates that I found at HomeSense. Placed atop a woven placemat which pair well with the natural French market basket that holds the flowers.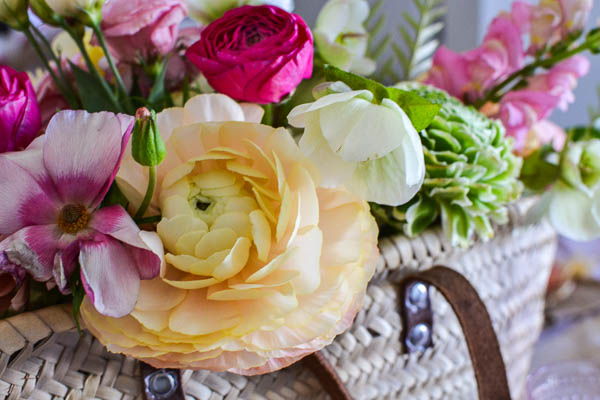 With Easter still a few weeks away, I am not sure whether we will be back into a lockdown situation (COVID restrictions) or whether we will be able to gather with a few family members. While I am hoping for the latter, I suspect that won't be the case.
For a less formal, but still pretty table, I switched out the linens for a more simple pink linen table runner and matching napkins. Removed the champagne flutes, and used less formal everyday flatware.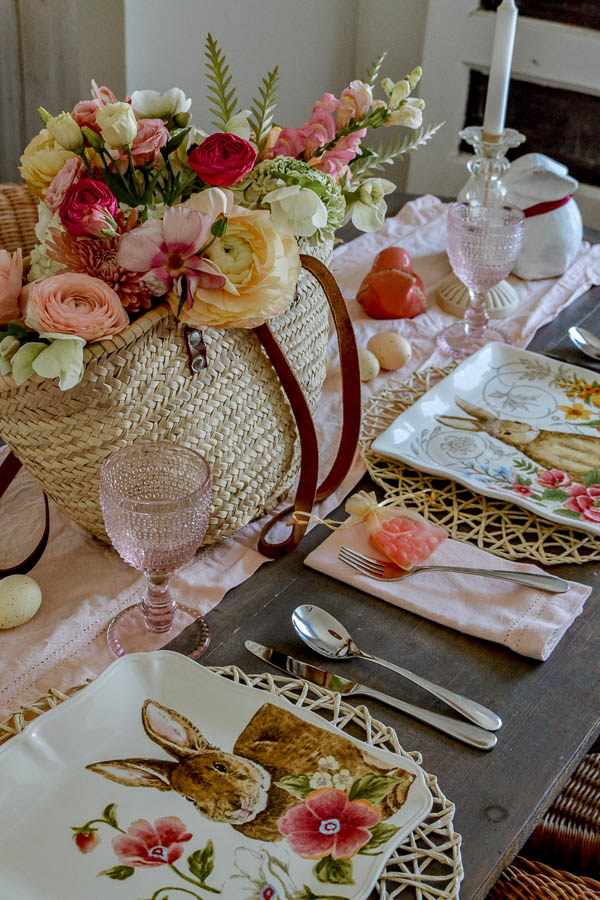 Either way, Easter is always a time to celebrate. It has always given me the feeling of starting anew. Like I can rise up and move forward with whatever plans and dreams I may have.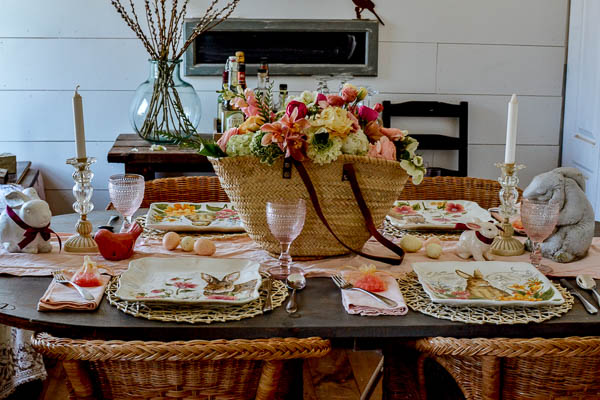 No matter how you will be spending Easter this year, you will find lots more inspiration and ideas for Easter table settings by following all the links below!
Until next time….

Celebrate & Decorate
Design Morsels
Home is Where the Boat Is
Living With Thanksgiving
Panoply
The Little Yellow Corner Store
My Hubbard Home
Everyday Living
Corner of Plaid and Paisley
The Sweet Sensations
Belle Blue Interiors
Red Cottage Chronicles
Zucchini Sisters
Life and Linda
Mantel and Table
Life at Bella Terra
Bluesky at Home
Calypso in the Country
The Painted Apron
Me and My Captain
My Thrift Store Addiction