White Chocolate Raspberry Scones
These white chocolate raspberry scones are made with raspberries fresh from the Farmer's market. They are so easy to make. The recipe is actually completely different than any I have tried before.
Welcome to Farmers Market Week! This is the week we celebrate all things found at the Farmers Market. There are over fifteen bloggers sharing over 50 recipes this week. From drinks and desserts to entrees and sides, there's something for everyone this week.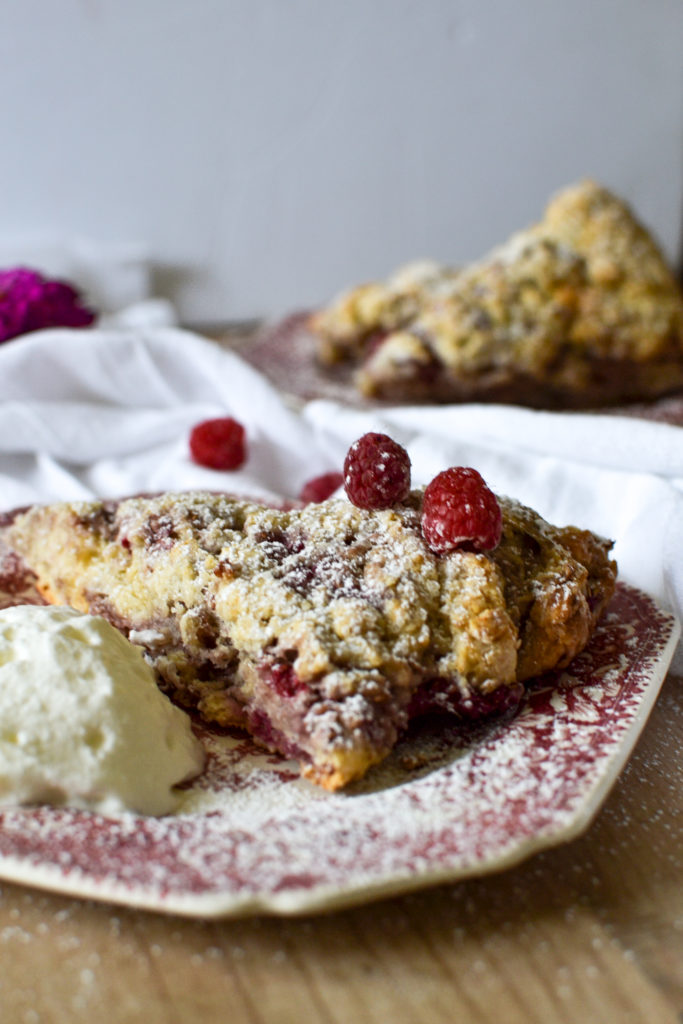 Farmer's markets are bursting with fresh produce right now. When I saw the luscious red raspberries they just had to come home with me!
Funny story….we my husband planted a single raspberry bush last summer. It pretty much shrivelled up and died in the heat. As luck would have it, it came back with abundance this summer and has pretty much taken over my raised garden. Sadly, not a single berry was to be had. If it doesn't produce fruit next season, I give up and it is coming out!
I love browsing through old cookbooks that belonged to my mom and my grandmother before her for recipe inspiration. When I came across this recipe for raspberry scones, I was surprised to see it called for melted butter.
In fact, if you know anything about scones, you know that using anything other than cold butter will pretty much result in a failure.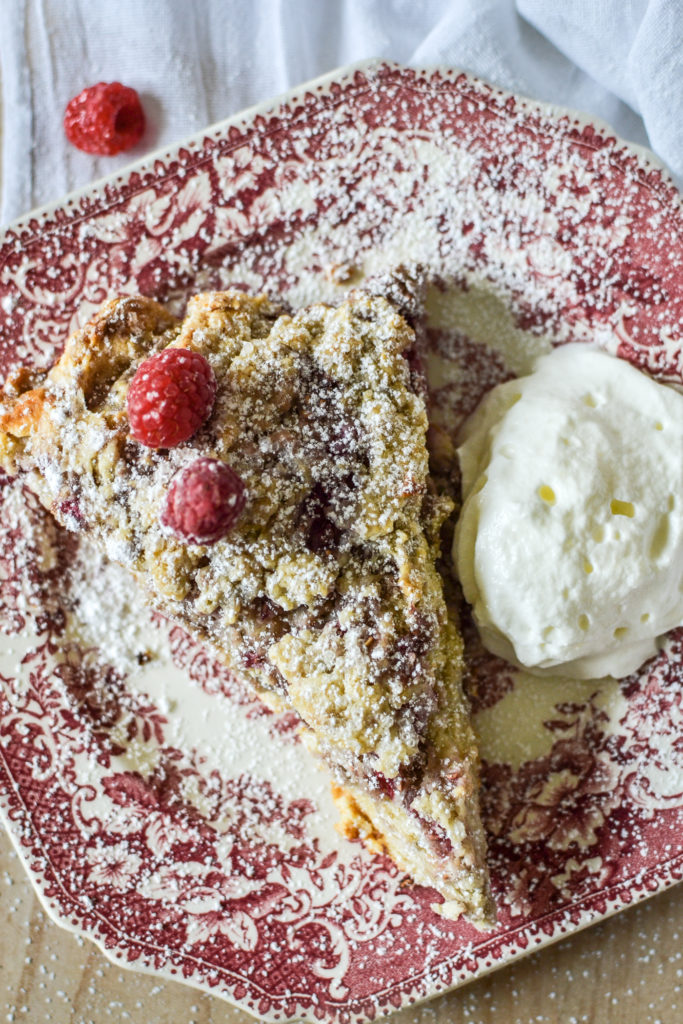 I decided to give it a try, but was disappointed when they came out wet and dense, and incredibly bland on my first try. Not be back down from a baking challenge I changed a few things up and tried again.
I tweaked the recipe, added white chocolate and changed the order of adding the ingredients and the result was a light and fluffy, delicious scone with just a hint of sweetness.
There is nothing better than a delicious scone served with cold clotted cream. In fact, this English scone recipe is one of my popular posts!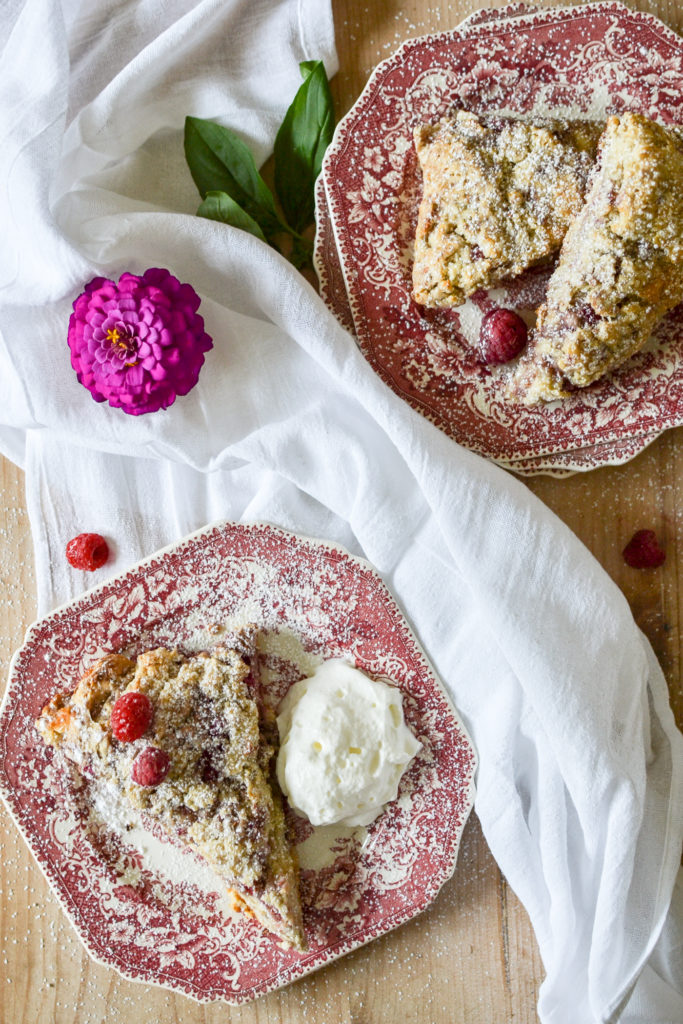 What makes these scones easy to make
Unlike regular scone recipes that call for cold butter, sugar, and sometimes even an egg, these easy to make raspberry scones are made with melted butter, no sugar and no eggs. In under 10 minutes you can have a batch in the oven.
The batter for these scones are shaped into a loaf shape and are cut into triangles halfway through baking.
How to keep fruit from sinking to the bottom of scones
The secret, I have found, to keeping the fruit evenly dispersed throughout the batter AND not adding to much extra moisture to the dough is to add them to the dry ingredients right after adding the melted butter.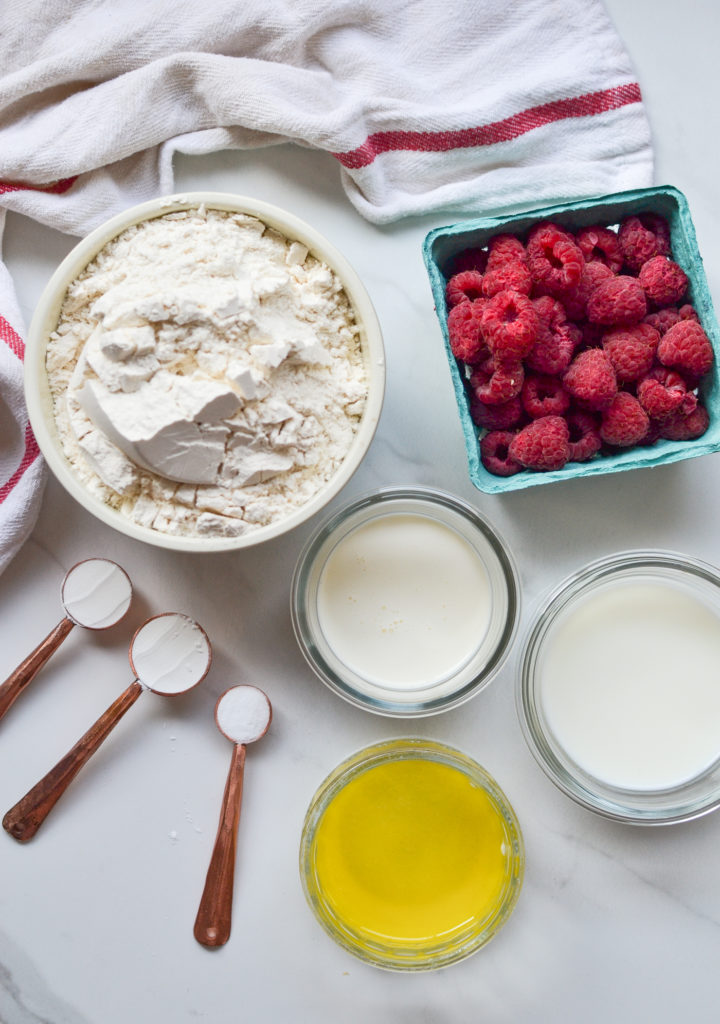 Ingredients required for these easy white chocolate raspberry scones
all purpose flour
baking soda and baking powder
melted butter
buttermilk
cream
fresh raspberries
white chocolate
course sugar (optional)
Baker's tip: choose fresh, plump, firm raspberries to prevent a soggy dough with crushed raspberries
How to make White Chocolate Raspberry Scones
in a large mixing bowl whisk the flour, baking soda and baking powder
stir in melted butter
fold in raspberries to completely coat with flour, stir in chopped white chocolate
add buttermilk and cream, mixing gently until dough comes together
turn out onto a parchment lined baking sheet and shape into a long narrow loaf shape or a circle
brush with cream and sprinkle with course sugar if desired
bake for 15 minutes at 350 degrees, remove from oven and carefully slice into 6 wedges
return to oven and continue baking for 15 minutes
SCROLL DOWN FOR FULL RECIPE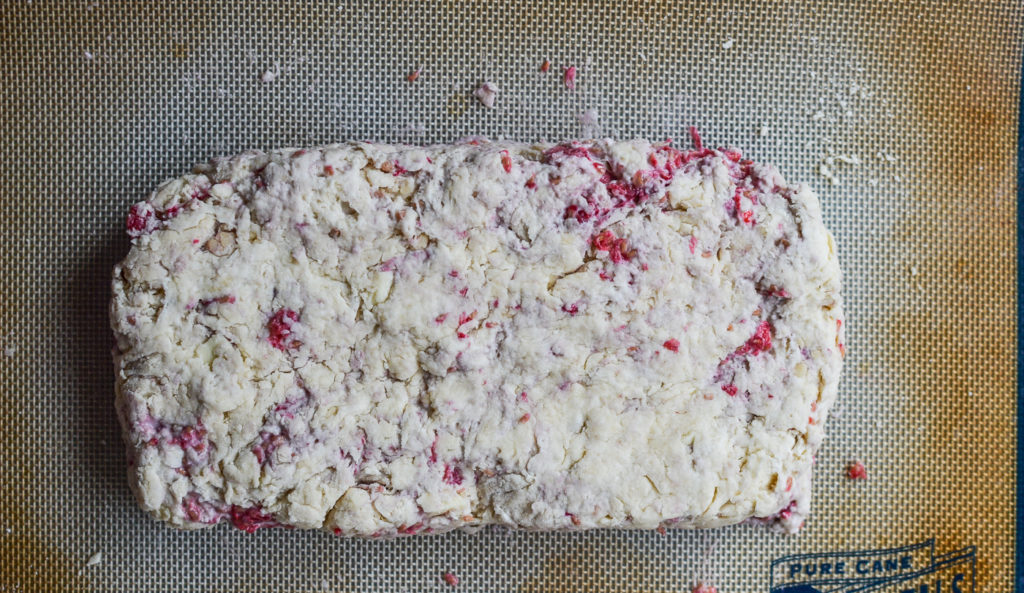 Baker's tip: it is my experience that scones are best enjoyed the day they are baked, but these ones can be stored in an airtight container for up to 3 days or frozen for up to 1 month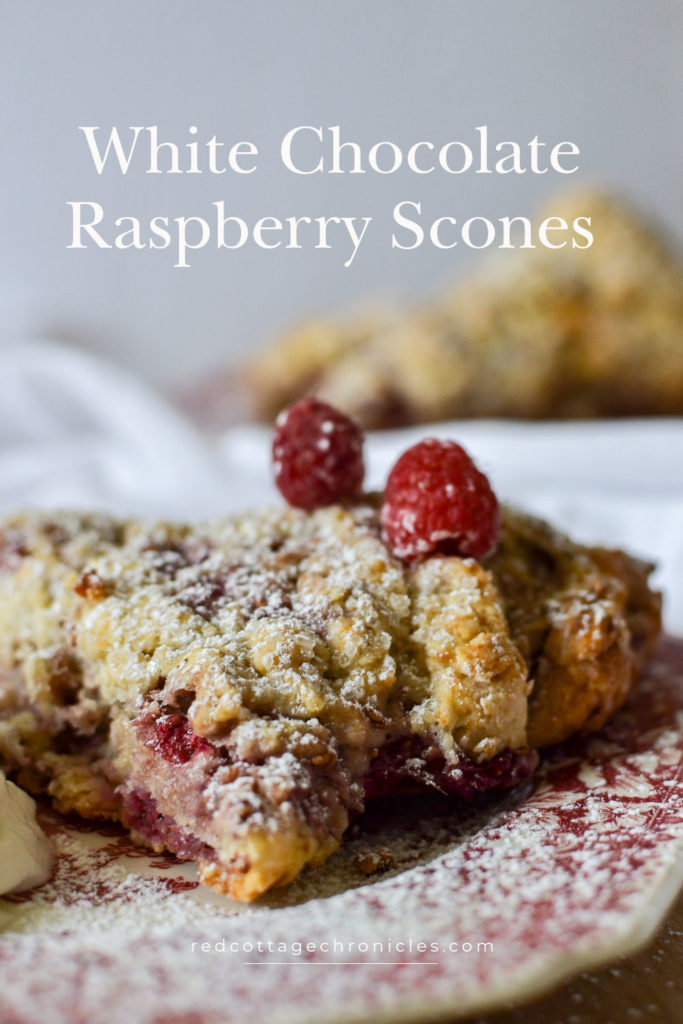 If you love raspberries as much as we do, you might want to try these raspberry jam bars or this raspberry ripple ice cream!
Don't forget to check out the other recipes below featuring fresh ingredients from local Farmer's Markets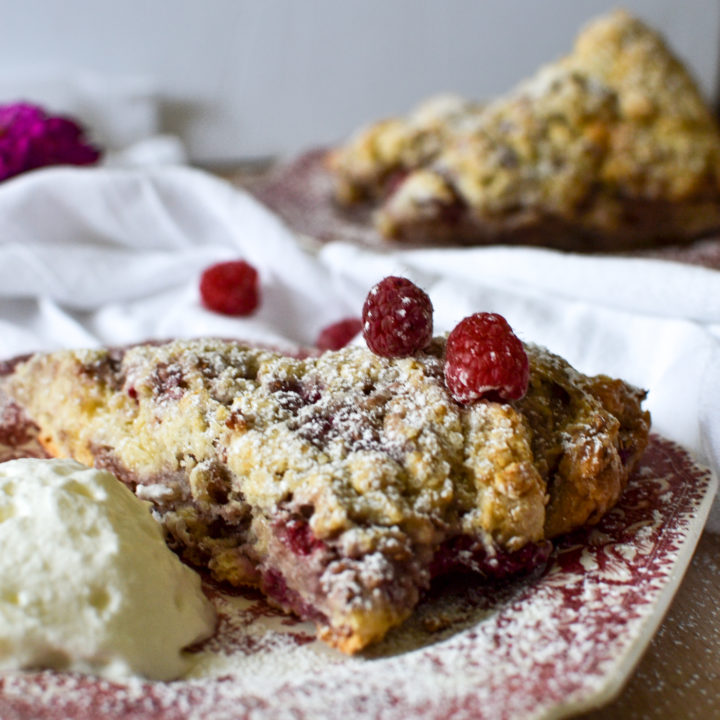 White Chocolate Raspberry Scones
These easy whte chocolate raspberry scones don't require any sugar or eggs and use melted butter instead of cold, yet come together to make a delicious fluffy scone bursting with fresh raspberries and a touch of sweetness from the white chocolate
Ingredients
2 cups all purpose flour
1/4 teaspoon bakin soda
1 1/2 teaspoons baking powder
2 tablespoons butter, melted
1 cup raspberries
2/3 cup chopped white chocolate
1/2 cup buttermilk (or soured milk)
1/4 cup heavy cream
Instructions
Preheat oven to 350 dgrees and line a baking sheet with parchment or a non-stick mat
Whisk flour, baking soda and baking powder in a large mixing bowl.
Add melted butter and stir with spatula until well incorporated.
Gently fold in raspberries until completely covered with flour mixture, gently fold in chopped white chocolate
Add buttermilk and cream and mix until dough comes together.
Turn dough out onto prepared baking sheet and shape into a long narrow loaf or a circle. If desired brush with cream and sprinkle with course sugar
Bake for 15 minutes, remove from oven and carefully cut into wedges, return to oven and bake for an additional 15 minutes or until lightly golden and baked through
Remove from oven and enjoy warm fresh from the oven. Serve with clotted cream or whipped cream.
Notes
If you don't have buttermilk, soured milk will work fine. Just add 1 tablespoon of vinegar or lemon juice to a one cup measure. Fill with milk to the 1 cup mark and allow to sit for 10 minutes.
If you find the dough is too sticky, as this can happen if the raspberries are over ripe, just add a bit more flour.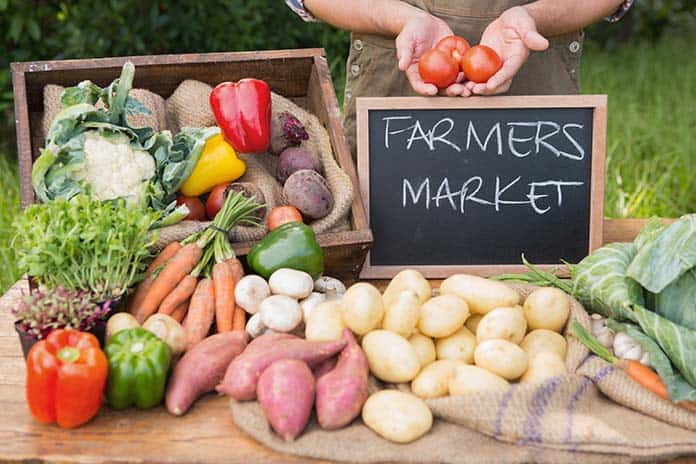 Monday Farmers Market Recipes
Drink Recipes
Savory Recipes
Sweet Recipes