This cheesy zucchini quiche recipe is ready for the oven in as little as 15 minutes!
It is that time of year again. If you grow zucchini or have a neighbour that does, you know what I am talking about!
You are probably at the point that you are searching Pinterest for a new recipes to use up all those zucchini's you now find yourself with!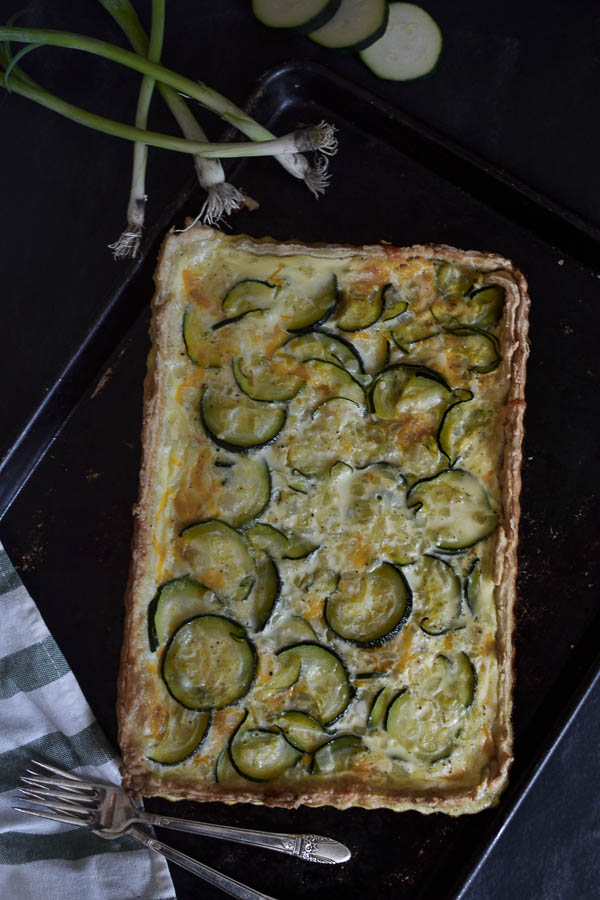 Maybe you have already made a loaf my very best zucchini bread, or maybe a batch of muffins, or even a casserole or two, but you still have loads of fresh zucchini staring back at you in the kitchen.
Well, this zucchini quiche recipe will be something a little different, but definitely something you will want to make over and over again!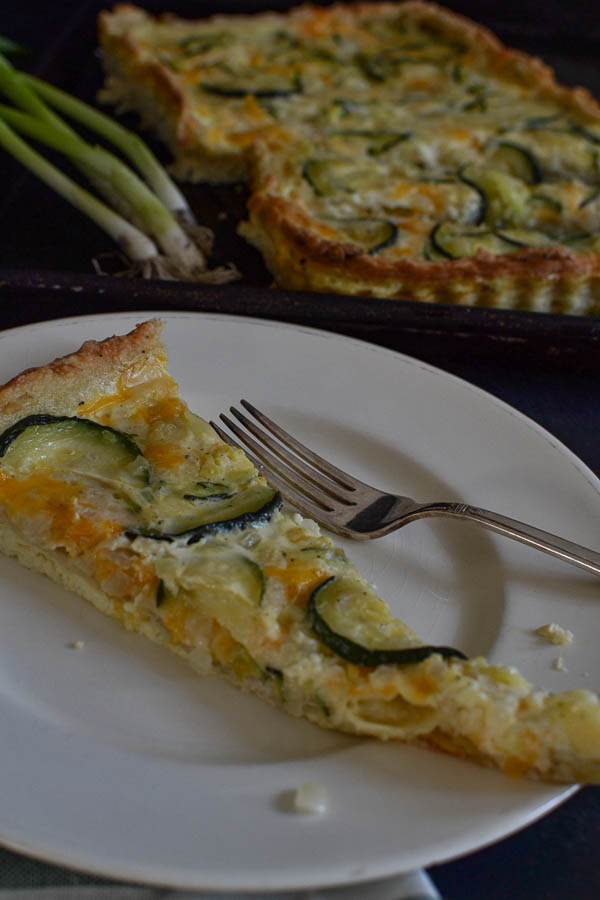 The best part is that is very easy to make, and can be ready to pop in the oven in less than 15 minutes if you use a pre-made pie crust like I did.
Loaded with fresh zucchini, onions, garlic, and cheese, this delicious quiche makes a hearty, protein packed dinner, but also tastes delicious warmed up in the oven for lunch the next day!
I'm not going to lie, eating it cold got some rave reviews too! So, there is breakfast on a busy day for you too.
Who knew one zucchini quiche recipe could be so useful!
And, did you know that zucchini is quite a nutritional powerhouse. With just 55 calories in a medium sized zucchini (around 325 grams by weight). It has just 1 gram of fat, and almost 4 grams of fibre. Plus it is a good source of vitamin C. It also contains iron, magnesium, potassium and antioxidants! Source
I mentioned you could have this ready for the oven in under 15 minutes and that is absolutely true. Just a few minutes to slice the veggies and whip up the eggs and milk. Five minutes to saute the veggies while grating the cheese, and less than 5 minutes to assemble it all in a premade (thawed) frozen pie crust.
Quick tip use a mandolin to quickly and evenly slice the zucchini.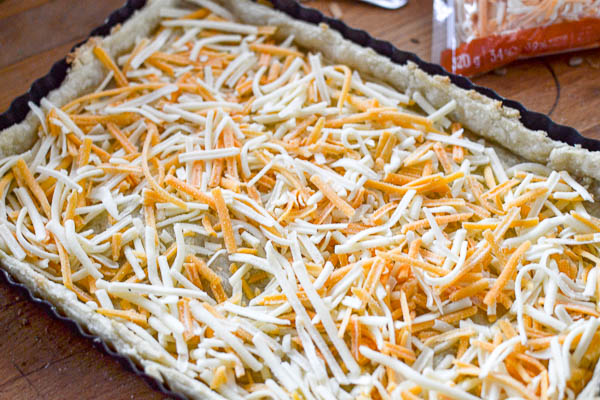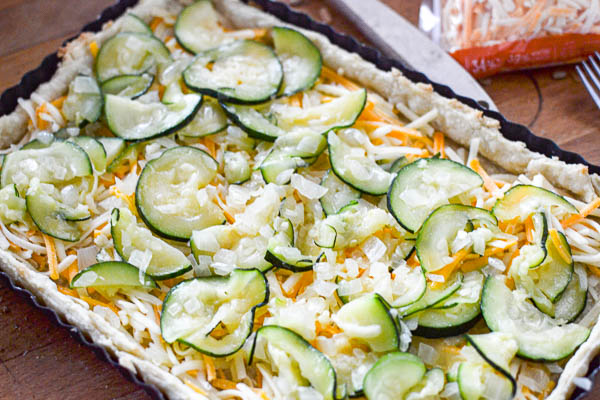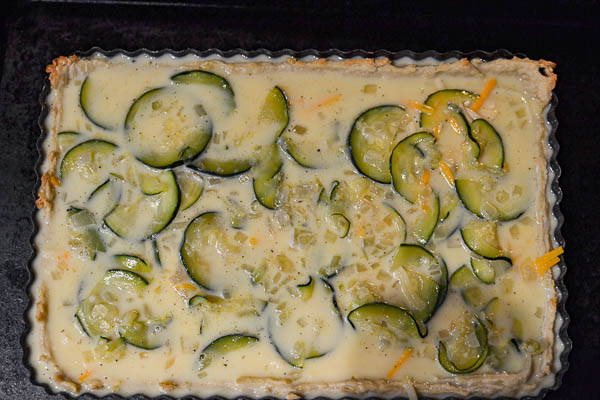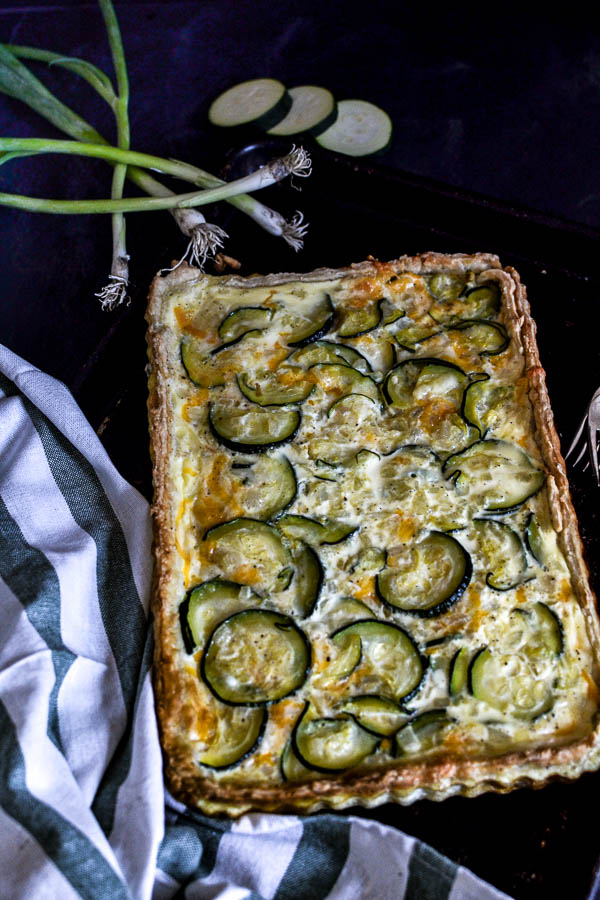 I took it up a notch by using two thawed pie crusts, rolling them up in a ball and rolling into a rectangle. Then I transferred it into my favorite rectangle fluted tart pan and arranged the cheese, veggies and egg mixture.
It takes it up a notch from the standard round pie shaped quiche. But, it is still easy to serve by cutting it into rectangles or squares.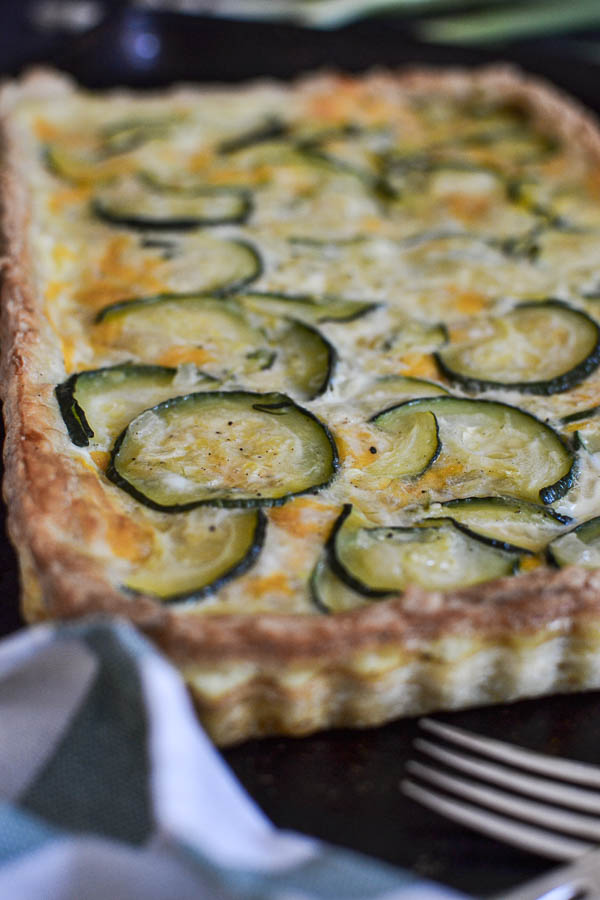 Quick tip transfer the quiche to the preheated oven rack (pulled out from the oven a bit) and then carefully pour over the egg mixture to save spills when transferring it from the counter to the oven.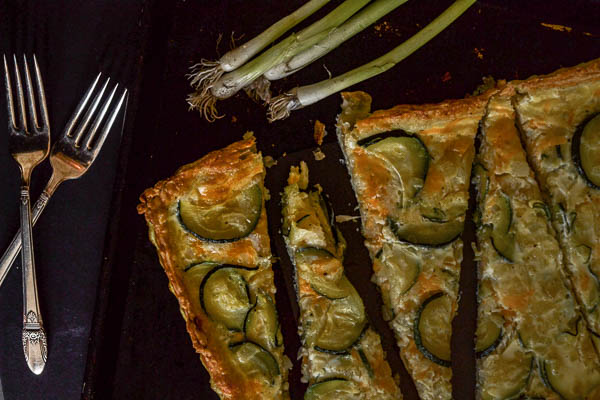 If you have a bit of extra time I do encourage you make your own pie crust from scratch. Or, if you are short on time purchase a pre-shredded cheese blend to save a step!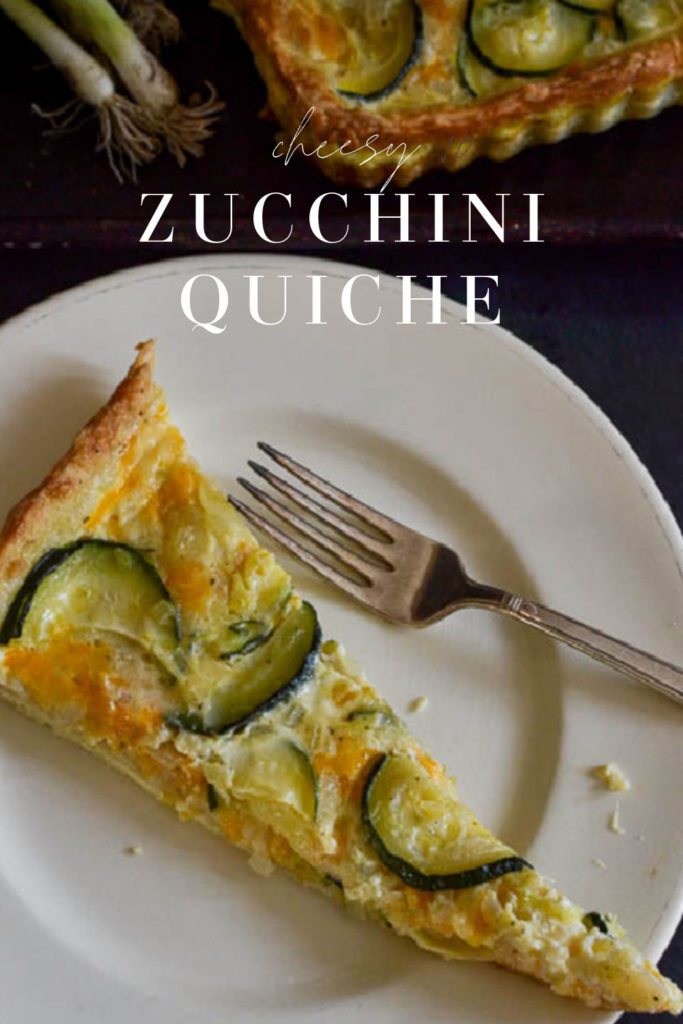 So next time your neighbour pops over with an armful of freshly picked zucchini, don't hide behind the curtains and pretend your not home! Grab all you can and pull out this zucchini quiche recipe. You will be glad you did!
Be in the know! It may be a delicious recipe, a stunning tablescape, or decor tips to make your house a home! Simply click here to subscribe. I never sell or share your information, and you can unsubscribe at any time!
Until next time…..

Zucchini Quiche
This easy cheesy fresh zucchini quiche recipe is ready for the oven in as little as 15 minutes!
Ingredients
1 9-inch unbaked pie shell
2 tablespoon olive oil
1 1/2 cups thinly sliced zucchini (green or yellow)
1/2 cup chopped onion
1 small clove garlic, minced
1 1/2 cup grated cheese
4 eggs, beaten
1 1/3 cup milk (2%)
1 teaspoon salt
1/2 teaspoon pepper
Instructions
Preheat oven to 400 F degrees
Prick bottom of pie shell lightly with a fork and bake in preheated oven for 6 minutes.
While pie shell is baking, heat oil over medium high heat and saute zucchini and onion until onions are transparent (about 3-4 minutes). Add minced garlic and continue to cook for 1 minute more. Remove from heat
Whisk together eggs, milk, salt and pepper.
Remove crust from oven after 6 minutes and reduce oven to 350 degrees.
Sprinkle cheese evenly across the bottom. Next, distribute the zucchini mixture evenly over the cheese. Lastly, pour egg mixture over top, filling the pie shell.
Bake at 350 until set, approximately 30 to 35 minutes.
Notes
Save time by using a (defrosted) frozen pie shell and pre-shredded cheese.
Or if you have lots of time use your favourite homemade pie crust recipe and shred the cheese yourself.
You can also use two pie crusts and roll out to a rectangle to line a fluted rectangle tart pan, like I did!