What's your story morning glory?! Morning Glory Muffins! Just the name alone makes me love these muffins. The fact that they are loaded with goodness just makes them that much better!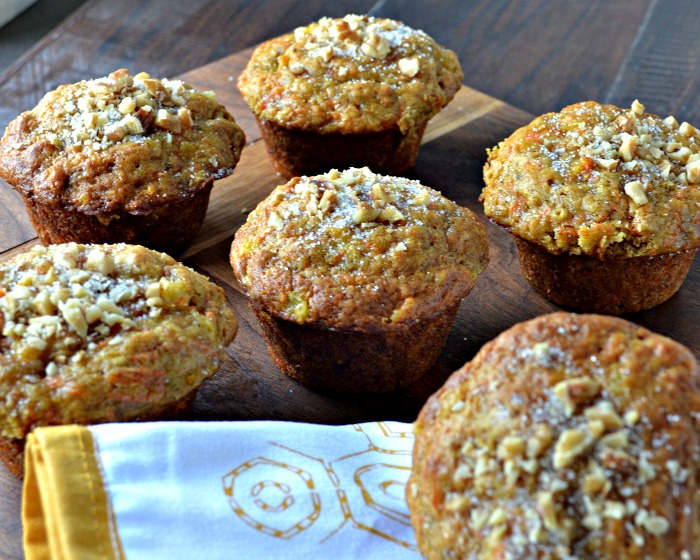 I bake a batch of muffins at least once a week. Especially in the summer and fall when there are so many fruits and vegetables in season locally. I bake a couple of batches of these
Blueberry Oat Bran Muffins
in blueberry season, wrap them individually and pop them in the freezer for an easy breakfast on the go!
My version of these delicious muffins bake up nice and high. They are moist and delicious and never disappoint. Perfect for breakfast, brunch or packing in a lunch box. This time I made them with chopped walnuts, but the are equally yummy when sprinkled with a few raw pumpkin seeds sprinkled on top.
If you are anything like me, breakfast is often the last thing on my to-do list in the morning during the busy weekdays. I love that I can pair a fresh baked muffin with a tall cold glass of milk (dairy on non-dairy) and you have a winning breakfast. Mornings can be glorious!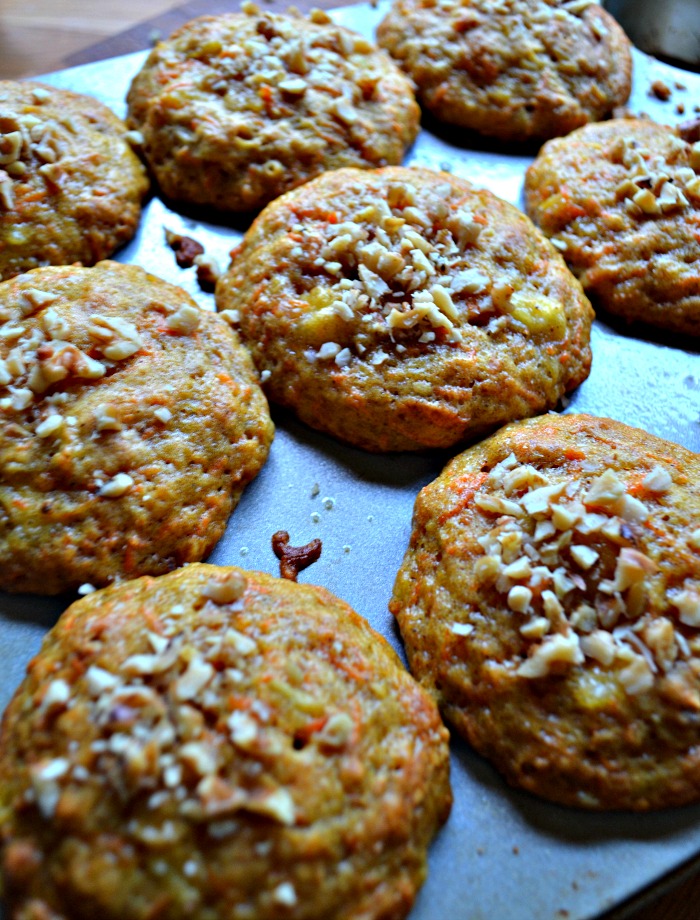 The thing about morning glory muffins is that they are packed with carrots, banana, pineapple, raisins and delicious spices that give them that comfort food quality. But, switch out the raisins for dried cranberries, the walnuts for pecans or pumpkin seeds, whatever you have on hand, and you really can't go wrong!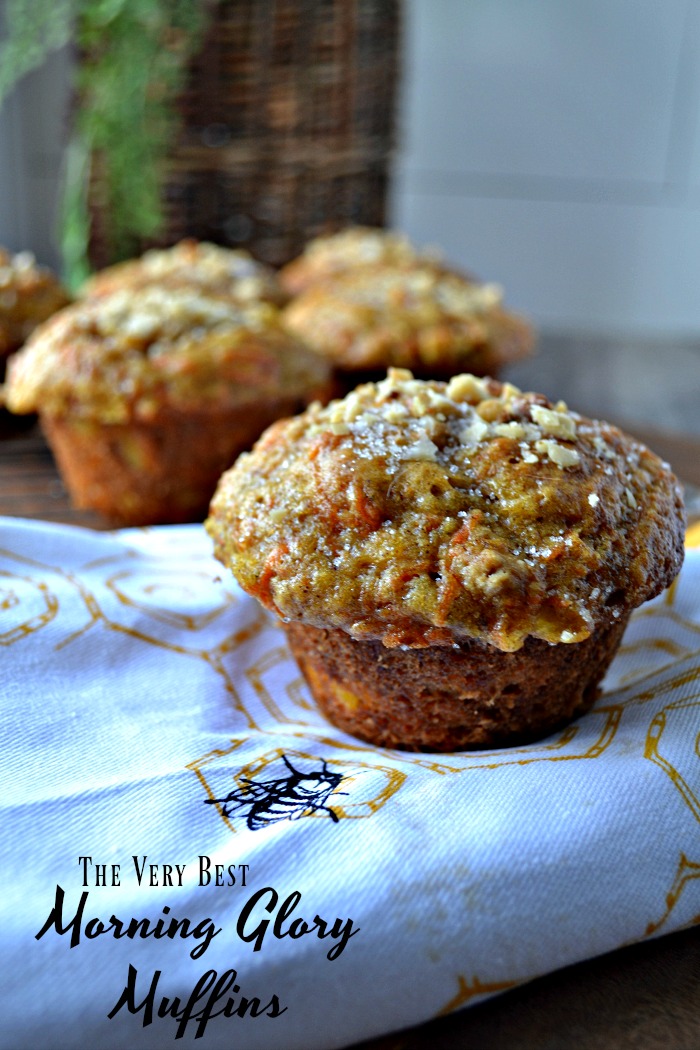 Truth be told, the best time to enjoy one of these soft and fluffy muffins is with a leisurely weekend morning breakfast! Warm from the oven. With a touch of creamy butter. A hot cup of tea. And, your favorite magazine or morning paper!
So, what are you waiting for? Get baking!
Thanks for stopping by the blog today! Enjoy today's post? Why not subscribe to keep up with all latest happenings at the Red Cottage! Simply
click here to subscribe
and as a bonus receive your password to access or VIP printable library!
Until next time……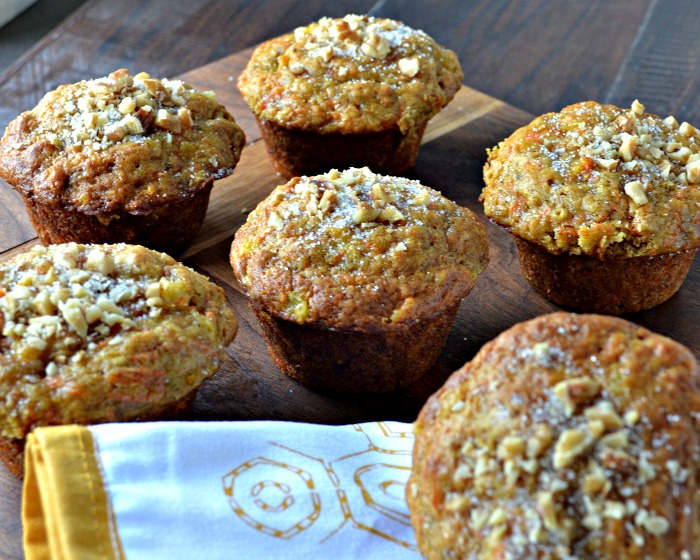 Morning Glory Muffins
2018-07-27 18:25:50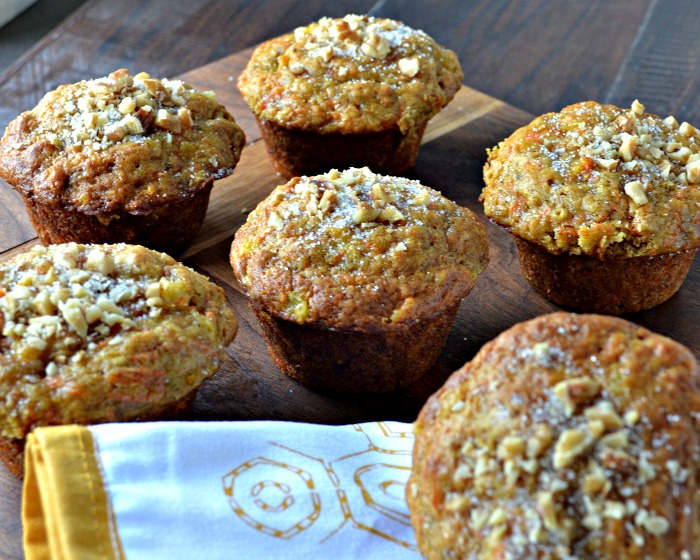 Serves 10
A moist and delicious bakery style muffin
Ingredients
• 1/4 cup olive oil
• 3/4 cup granulated sugar (or a mix of granulated and brown sugar = to 3/4 cup
• 2 eggs
• 1 tsp pure vanilla extract
• 1 medium banana, mashed
• 1 1/2 cups fine grated carrots
• 1/2 cup sultana raisins
• 1/3 cup crushed pineapple, drained
• 1/3 cup lemon yogurt
• 1 1/2 cups unbleached all purpose flour
• 1 tsp baking powder
• 1 tsp baking soda
• 1 tsp cinnamon
• 1/4 tsp ground nutmeg
Optional - chopped walnuts and raw
Instructions
1. Beat oil and sugar until smooth and no lumps remain.
2. Add eggs and vanilla extract, whisk until well blended.
3. Add banana, carrots, raisins, pineapple and yogurt and stir until well combined.
4. In a separate large bowl combine all dry ingredients.
5. Add wet ingredients to dry and fold just until combined. Do not over mix.
6. Divide between 10 to 12 muffin tins sprayed with non-stick spray, depending on how big
you want the muffins to be. Sprinkle with nuts and raw sugar if using.
7. Bake at 350 degrees for 18 to 20 minutes.
8. Remove from oven, allow to sit for 5 minutes on wire rack. Remove from tins and enjoy
warm or allow to cool completely.
Notes
Swap out the raisins for other dried fruit and the walnuts for other nuts or seeds
Red Cottage Chronicles https://www.redcottagechronicles.com/