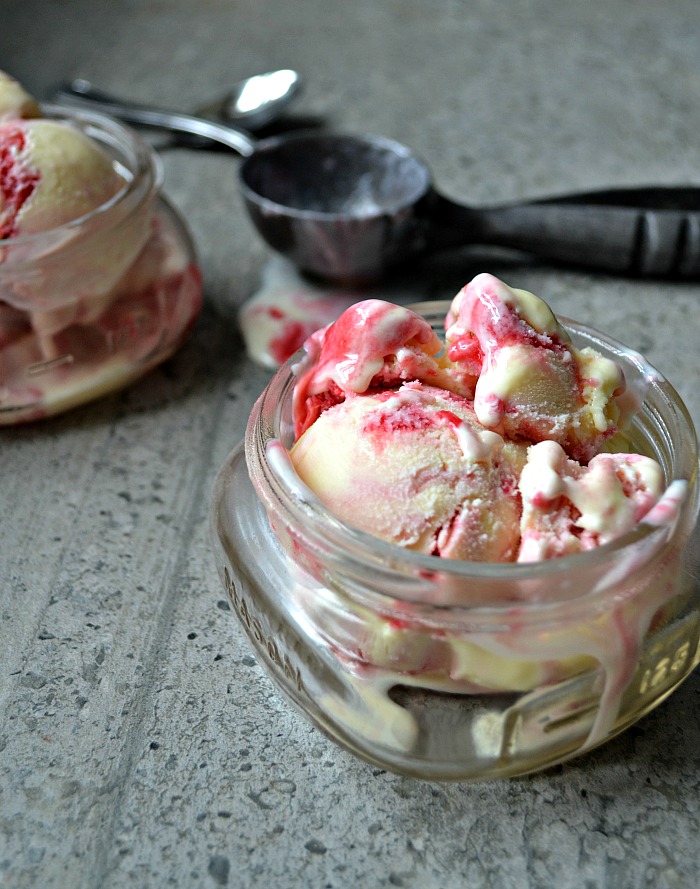 Well, the dog days of summer have arrived. I have been so enjoying the moderate temperatures and low humidity that June brought this year. By the look of the weather forecast, that is all about to change.
It is officially ice cream season! And since July is National Ice Cream month, it's time to start sharing some of my favorite ice cream recipes. Starting with this homemade Raspberry Ripple! I am honored to be joining a very talented group of bloggers today for an Ice Cream Social. Check out all the frozen goodness below.
Honestly though, it is always ice cream season at our house!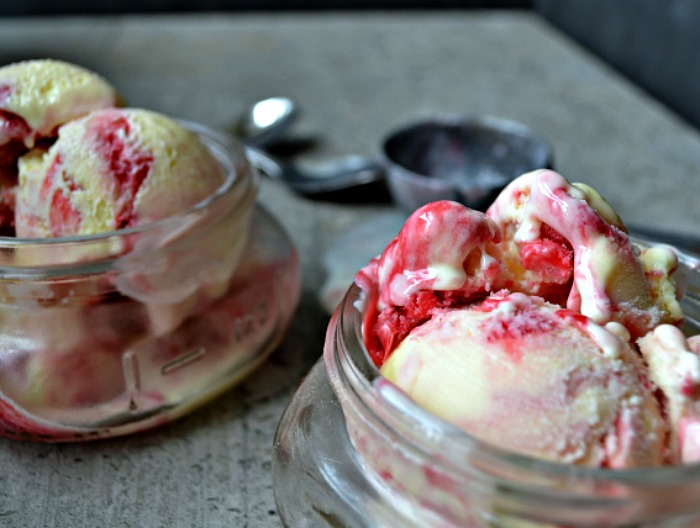 Before I started making my own ice cream we had many a heated discussion in the freezer section of the grocery store. When it comes to ice cream I am an all in kind-a girl. Bring on the chocolate, the peanut butter, and throw in some caramel. Tim on the other hand likes is a minimalist when it comes to ice cream. I usually win!
When it comes to home made ice cream recipes, my absolute favorite is Lavender Honey. Tim's is Raspberry Ripple. Since there were fresh picked raspberries at the Farmer's Market last weekend, Tim wins this time!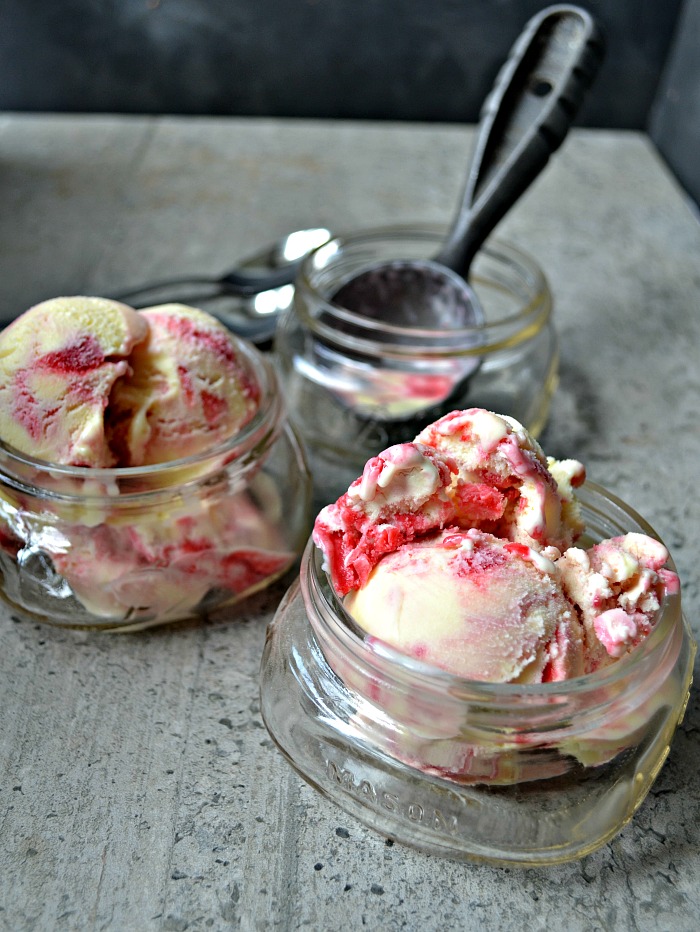 Making ice cream at home is so easy. Some ice cream recipes require no churning, but I really do prefer those that do. Some recipes, like this raspberry ripple, require a cooked custard base and allowing it to sufficiently cool before churning, while others require no cooking at all.
I am not really a kitchen gadgety person given the small space that is our kitchen. But, the one appliance I am so glad I invested in was this Cuisinart ice cream maker. I have had it for many years and it is still going strong. Investing in an extra freezer bowl is a good idea. You will always have one frozen and ready to go!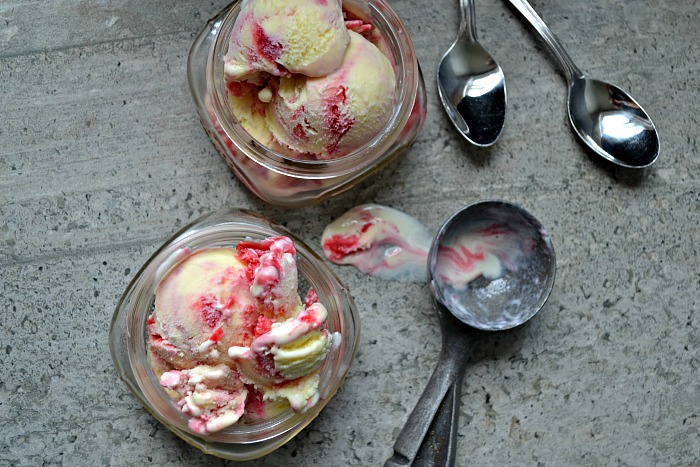 Now, when we hit the grocery store there no more arguing about ice cream flavors. Just as long as we have milk, cream, some fruit and a few other mix-ins we are good to go!
Raspberry Ripple Ice Cream
2017-06-30 17:06:19
Ingredients
1 cup whole milk
1 1/2 cups heavy cream
6 large egg yolks
3/4 cup sugar
1/4 teaspoon salt
1 1/2 pounds raspberries
1/4 cup sugar
2 teaspoons lemon juice
Instructions
Combine milk and cream in a medium saucepan. Bring mixture to a simmer over medium-high heat, stirring occasionally; remove from heat.
Whisk together egg yolks, sugar, and salt in a large bowl. Gradually whisk in a third of the milk mixture. Pour egg-milk mixture back into pan and cook over medium heat, stirring constantly, until thick enough to coat the back of a wooden spoon, 8 to 12 minutes.
Pour custard through a fine sieve into a bowl set in a larger bowl of ice water; discard vanilla pod. Let cool, stirring occasionally. Cover and refrigerate until cold, at least 1 hour; custard base can be refrigerated up to 2 days ahead.
For the raspberry sauce combine raspberries, sugar, and lemon juice in a saucepan over medium heat; cook and stir until raspberries break down, sugar dissolves, and sauce is heated through, 3 to 7 minutes. Remove from heat and press sauce through a fine-mesh strainer to remove seeds. Cool to room temperature, cover the bowl with plastic wrap, and refrigerate until chilled, at least one hour.
When custard is sufficiently cool, add to ice cream maker and freeze according to manufactures directions.
Once frozen, spread half the custard into a chilled loaf pan. Pour a layer of raspberry sauce over top, carefully spoon the remaining custard over the sauce and spread to cover. Add a final layer of raspberry sauce on top. Swirl the layers together using two knives until marbled to your liking. Return the ice cream to the freezer to freeze completely.
Red Cottage Chronicles https://www.redcottagechronicles.com/
The summer fun doesn't stop here! Check out all these frozen treat recipes…..
#IceCreamSocial Recipes