Muffins are the perfect on-the-go breakfast! These gluten free blueberry muffins have only 1/2 cup brown sugar making them a delicious start to the day.
Welcome to Farmers Market Week! This is the week we celebrate all things found at the Farmers Market. There are over fifteen bloggers sharing over 50 recipes this week. From drinks and desserts to entrees and sides, there's something for everyone this week.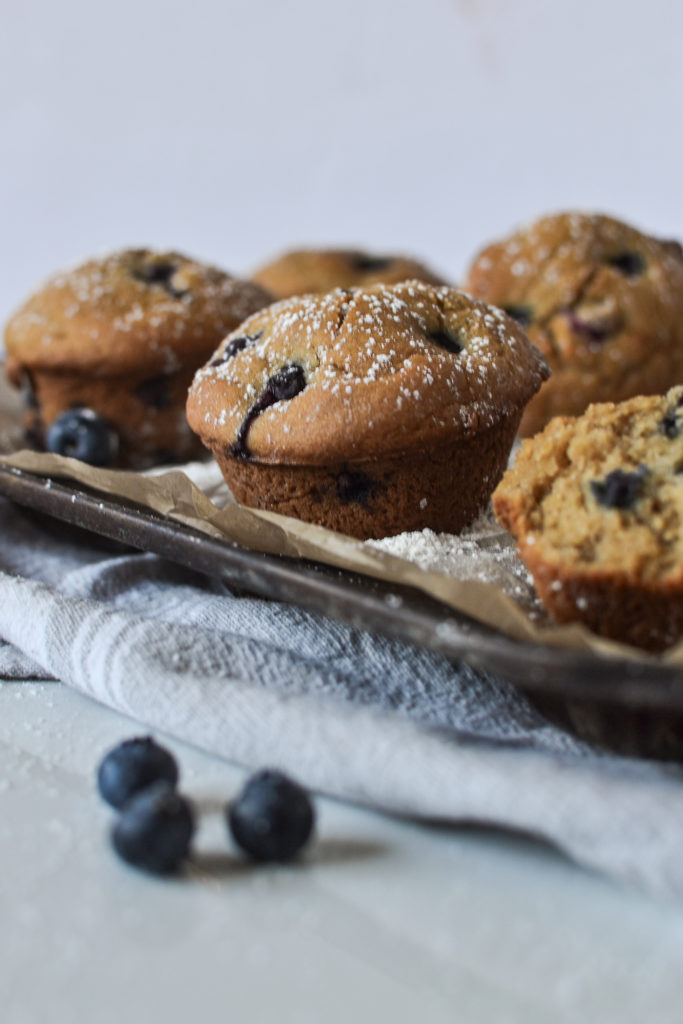 Blueberry muffins have long been a favourite of mine. And although I do not need to eat a gluten free diet, I do have relatives who require a gluten free diet and wanted to create a recipe that they could enjoy but also taste delicious.
I wanted them to be light and fluffy and no dense like so many gluten free baked goods I have had.
How to make gluten free muffins fluffy
I did a little research and found a couple of tips that might help baked goods and I do believe they worked with this recipe.
over mix the batter – despite what you know about mixing regular muffin batter, over mixing gluten free muffin batter helps to give the batter more structure and creating a muffin with a fluffier texture
allow the batter to rest for about 20 to 30 minutes before adding blueberries – this allows liquid to absorb (and hence soften) the flour resulting in a softer, fluffier muffin
You an find more tips to successful gluten-free baking at America's Test Kitchen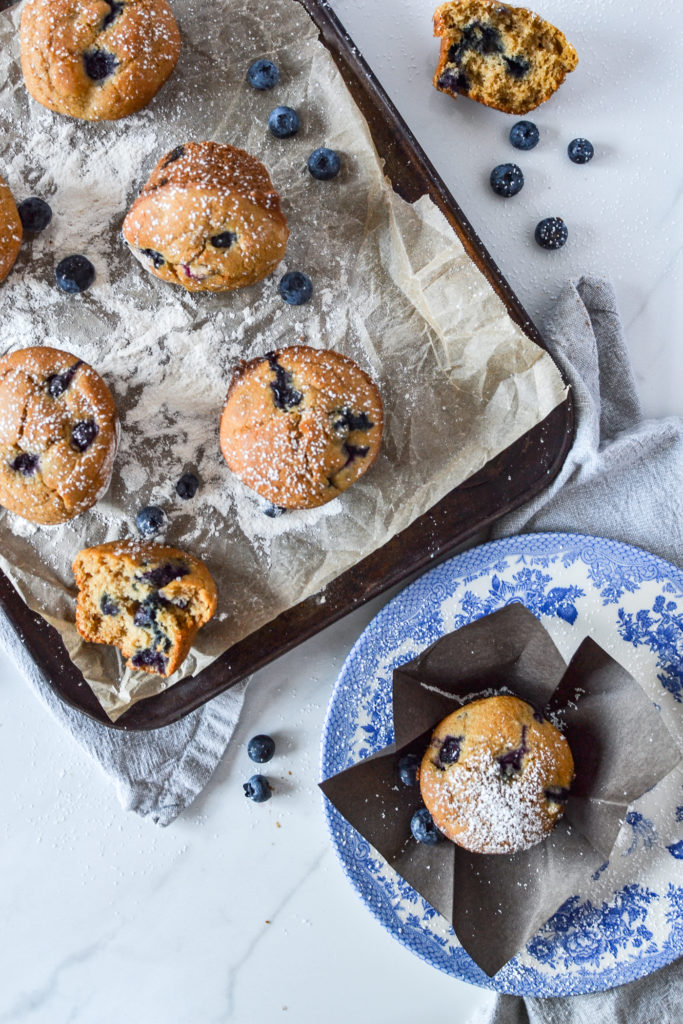 Why you will love these gluten free blueberry muffins
only 1/2 cup brown sugar
made with buttermilk which give them nice texture and help them rise
a touch of cinnamon gives them a hint of spice
perfect for a pack-and-go breakfast or lunch
Baker's tips
use a 1 to 1 blend gluten free flour such as King Arthur Measure for Measure
spray muffin tins with non-stick spray instead of using muffin liners for less waste
store at room temperature in an air-tight container for 3 days or in the refrigerator for a day or two longer
these gluten free blueberry muffins can be frozen for up to 2 months
Find the full recipe below. And, don't forget to visit all the wonderful recipes at the end of this post featuring fresh produce from local farmer's markets.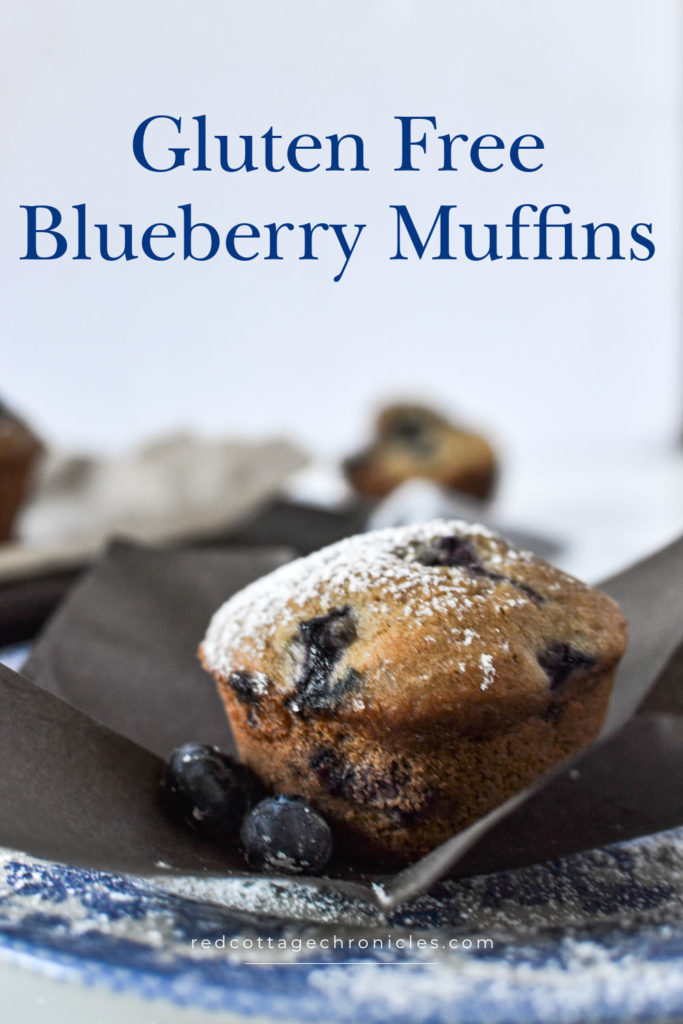 More muffin recipes you will love
Bran Muffins. made without buttermilk
The Very Best Morning Glory Muffins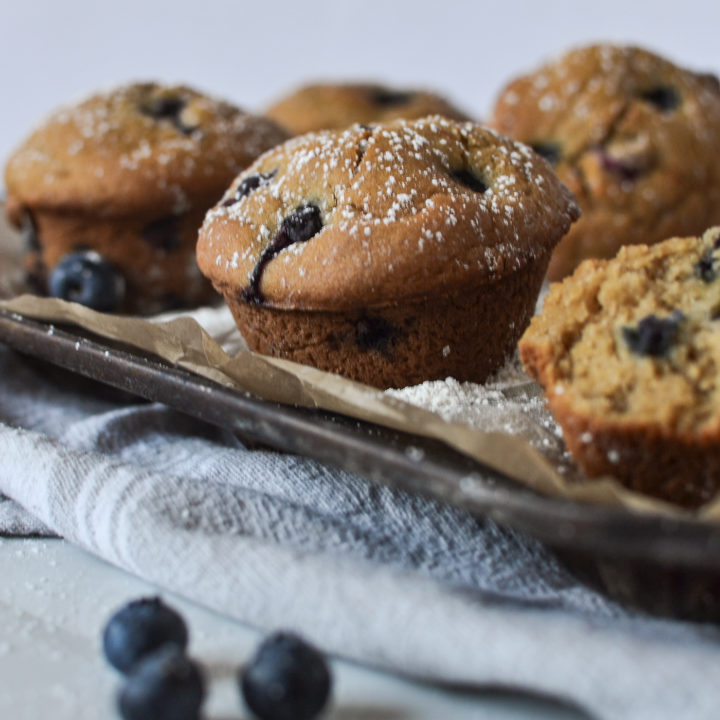 Gluten Free Blueberry Muffins
These light and fluffy blueberry muffins are gluten free and have only a 1/2 cup brown sugar making them a healthy an delicious treat
Ingredients
1 1/2 cups gluten free flour (I use a one to one blend)
1/2 teaspoon baking soda
1/2 teaspoon baking powder
1/2 teaspoon salt
1/4 teaspoon cinnamon
1/2 cup brown sugar
1 egg
1 cup buttermilk (or soured milk)
1/4 cup melted butter
3/4 cup fresh blueberries
Instructions
Preheat oven to 400 degrees and spray muffin tins with non-stick spray.
In a large bowl whisk together gluten free flour, baking soda, baking powder, salt and cinnamon.
In an another bowl whisk together egg, buttermilk, and melted butter.
Make a well in the dry ingredients and pour the wet ingredients into the well. With a spatula mix the ingredients well, until the batter is smooth. Let sit for 20 to 30 minutes.
Meanwhile wash and dry blueberries and coat with gluten free flour. After batter has rested, fold blueberries into the batter gently, and divide batter between 8 muffin tins.
Bake for 20 to 25 minutes. Check at 20 minutes and if toothpick comes out clean, bake for 1 additional minute and then remove from oven. Allow to cool`for 5 minutes before removing to a cooling rack to cool completely.
Store at room temperature for 2 to 3 days, or in an airtight container in the freezer for up to 2 months.
Notes
I find that allowing the batter to rest for about 30 minutes before baking results in a fluffier, less dense gluten free muffin
Wednesday Farmers Market Recipes
Savory Recipes
Sweet Recipes