I found this easy apple cake recipe in one of my mother's cookbooks from the 1960's. Just a few tweaks later it not only looks amazing, but tastes even better! Plus, I made it gluten free!
Autumn is my favourite season for being in the kitchen! The smells of the season just add to the cozy comfort of a cool fall day.
I know autumn has arrived when it is time to head to the apple orchard! This past Sunday was a stellar day for apple picking, so off we went.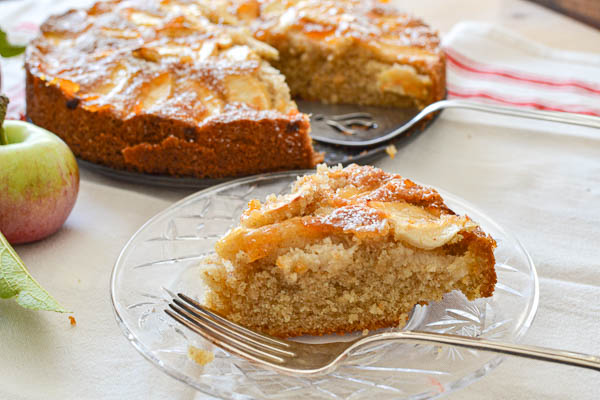 Apple picking has been a tradition in our family for the last eight years, since my daughter discovered a little hidden gem called Windwood farms. It felt like we had the whole orchard to ourselves back then!
Sadly for us, it has become incredibly popular, and for good reason. Wonderful apple orchards to wander through, loads of varieties of apples, friendly staff, and great prices!
And, now also a tradition, I bake a new apple recipes when we get home! This I made this scrumptious apple cake!
This post contains affiliate links, which if you click the link and make a purchase I may receive a small commission with no increase in cost to you.
What are the best apples to bake with?
Whenever I am baking with apples, I always include a few different varieties in the recipe. Some of my favourite baking apples are:
Gala
McIntosh
Granny Smith
Cortland
Honeycrisp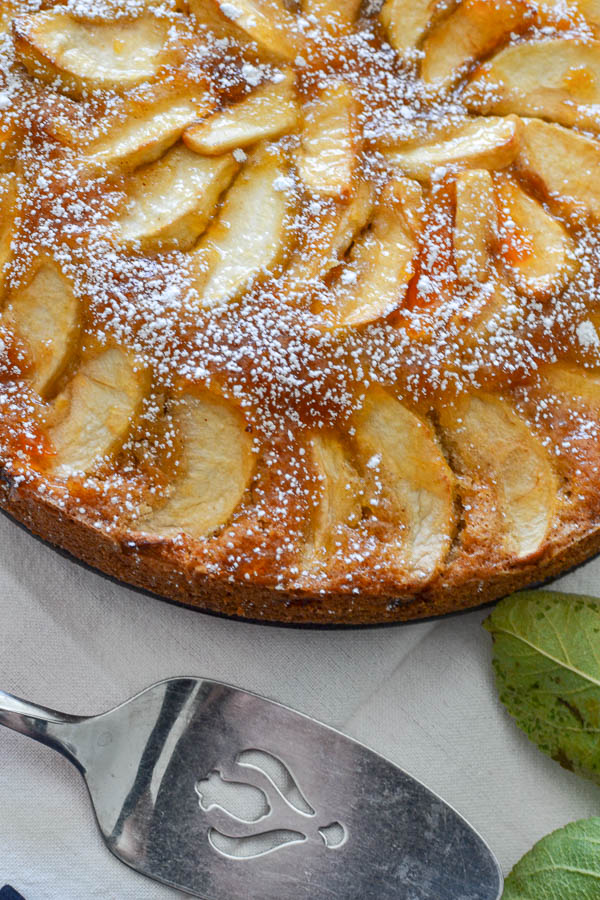 I actually came across this recipe in a cookbook I found at my mom's. She must have got it from my Nan, as it looks like it from the late 60's from what I can tell.
I changed it up a bit to suit my taste, as it didn't have any spices and the proportions were not enough to fill a spring form pan.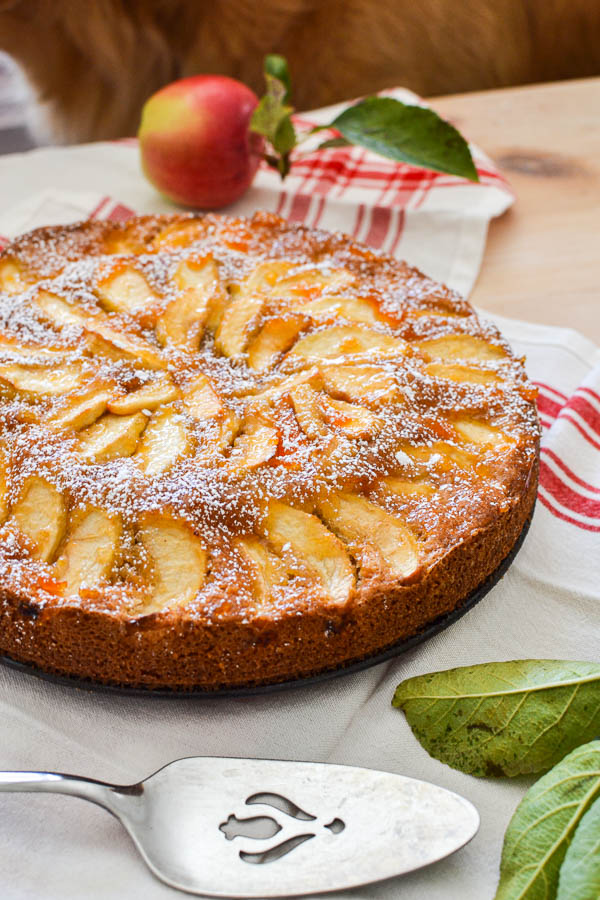 It turned out perfectly! The apples were cooked to perfection, and the cake was moist, buttery with just a hint of cinnamon.
I brought it for our Sunday dinner with our family bubble! My husband was golfing and had to miss dinner, but I was sure to send him a picture to show him what he was missing!
What can I bake with apples
There are loads of things you can bake when you find yourself with lots of apples! Everything from this delicious apple cake, to crisps, to tarts and more. Here are a few of our family favourites: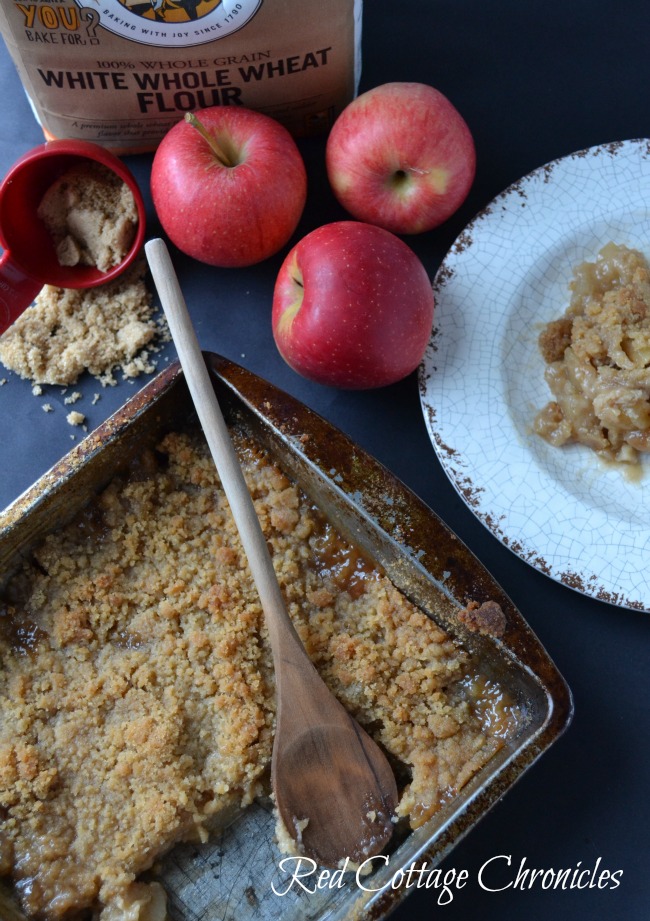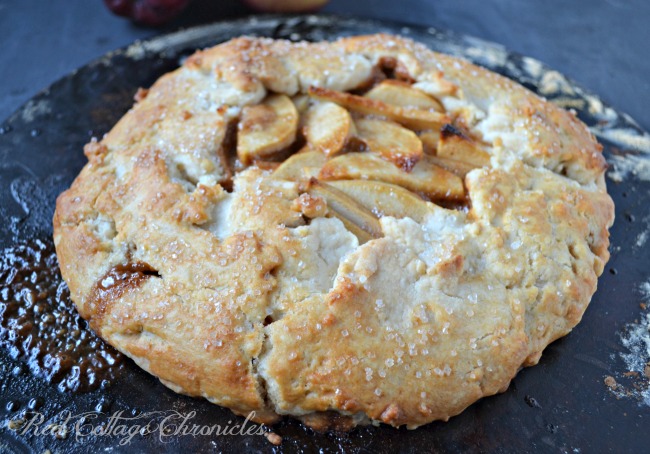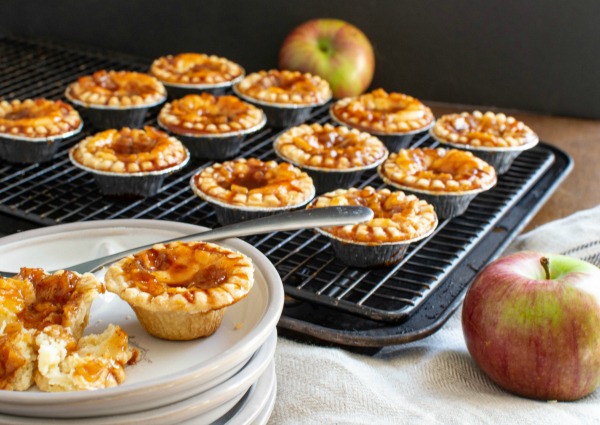 How to prep apples for baking
Whether you pick your own apples, or purchase them from the grocery store, the first step to prepping them for baking is to give them a good wash.
I have a few different tools for peeling, coring and slicing apples, depending how what you plan to bake.
A sharp paring knife is often all you need to peel your apples, but a good apple peeler is a handy tool. I have had one similar to this one for over 20 years and it still works like a charm! It also works for peeling carrots and potatoes making it a good multi-tasker for the kitchen!
A simple and quick way to core and slice apples is with one of these little tools!
Have lots of apples to peel and core? Try one of these apple corer/peeler/slicer gadgets. I prefer this one, that attaches to your counter with a clamp rather than the ones that use suction, but both are a good option.
Tossing peeled apple slices with a little lemon juice helps to delay browning while you get other ingredients ready.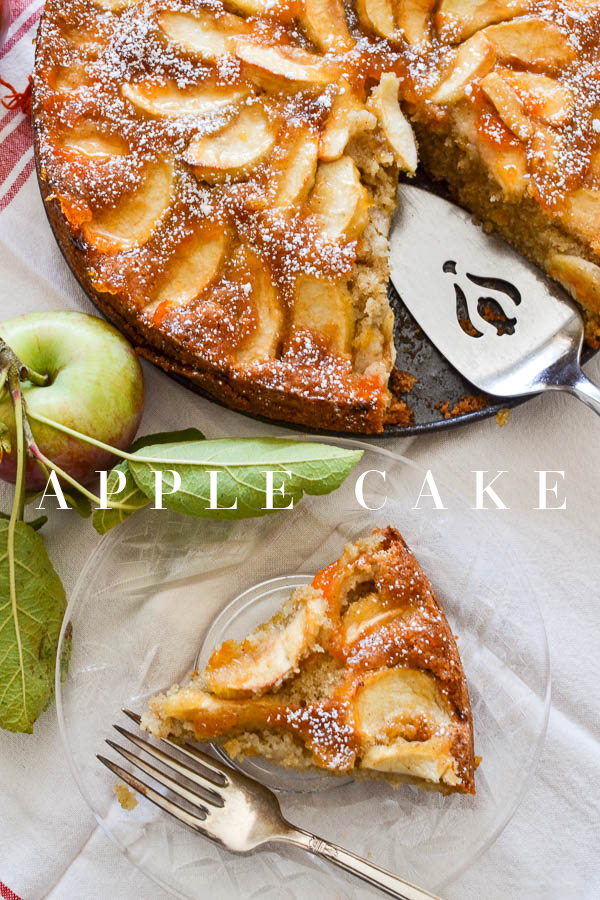 Whether it's apple picking, cozying up the home, long walks amongst the changing leaves, or celebrating my birthday, these are all the things that make this time of year so special.
Be in the know! It may be a delicious recipe, a stunning tablescape, or decor tips to make your house a home! Simply click here to subscribe. I never sell or share your information, and you can unsubscribe at any time!
Until next time…..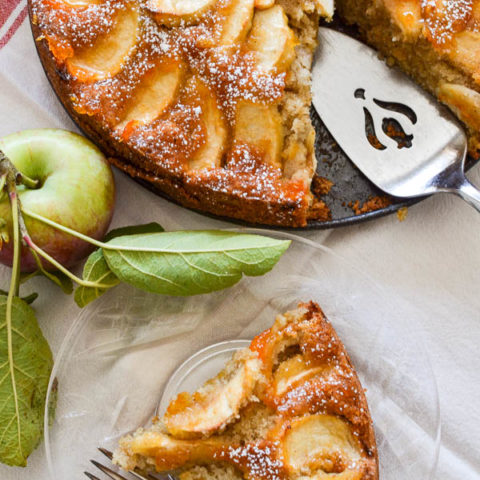 Old Fashioned Apple Cake
This old fashioned apple cake is the perfect dessert for fall. Made from fresh picked apples, it is easy to make and oh, so good!
Ingredients
3/4 cup butter, room temperature
1 1/3 cup sugar
2 teaspoons vanilla extract
4 eggs
1 teaspoon salt
1 1/3 cup flour (I used 1 to 1 gluten free flour)
2 teaspoons baking powder
8 large apples, sliced thin
apricot jam
confectioners sugar
Instructions
Preheat oven to 375 degrees, and spray 9 inch springform pan with non-stick spray.
In the bowl of electric mixer, combine butter, sugar and vanilla and beat well. Add eggs, one at a time, mixing well after each addition.
Combine salt, flour and baking powder, and add to butter mixture. Beat on low until well combined, about two minutes.
Pour batter into prepared pan, and arrange apple slices on top.
Bake for 35-40 minutes, until toothpick comes out clean.
Remove from oven and immediately brush with apricot jam.
Allow to cool before removing springform and dusting with confectioners sugar.
Notes
Serve with fresh whipped cream or ice cream.